6 Ways Hygge Can Help Transform Your Work Life
Mar 29, 2017
Whether you're working on bouncing back from generosity burnout, aiming for better work-life balance, or trying to invite a little more luck into your life this year, hygge (pronounced "hoo-gah") is the concept you need to know about. The Danish trend is all about enjoying life's most *simple* pleasures, like spending time with friends, treating yourself to delicious dishes, and curling up in a cozy nook. Ahh, bliss! It's super easy to embrace hygge at home (hello, IKEA hacks!) and work. Scroll on for six things you can do to totally transform your daily grind.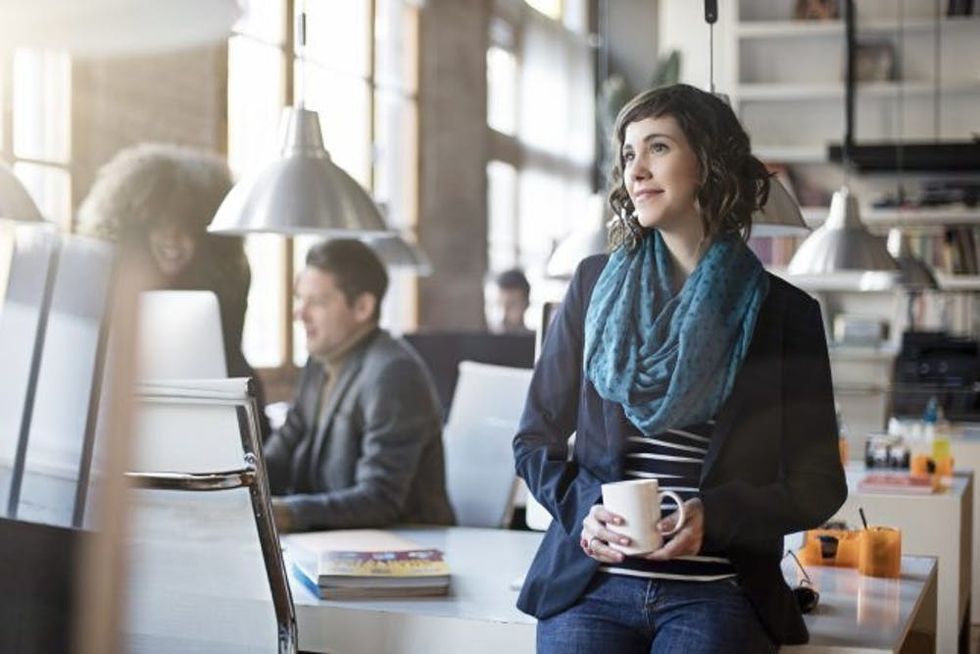 ---
1.Personalize your space. Heading to your desk shouldn't be something you dread! Make the most of your space by filling it with things that light you up inside, like a framed photo or two of people you love, an inspirational candle with your fave quote, and a couple of books.
2. Go green, girl. Love the feel-good vibes that come with being outside? Bring a bit of the greenery inside, and deck out your desk with a vase of fresh flowers — we love the simple, inexpensive bouquets at Trader Joe's — a small fern, or a couple of succulents. You'll love the instant mood boost.
3. Fall in love with lunchtime. Hygge is all about indulging in a tasty, enjoyable meal. Make a conscious effort to use your lunch break to eat with other people, instead of eating alone at your desk. Take it up a notch by treating yourself to a new restaurant every week or month, and make it a point to invite colleagues you might not know super well. Forging friendships is always more fun over good food.
4. Keep it cozy. You might not be able to bring your mermaid blanket to work, but you can create a cozier space by keeping extra layers nearby. Bring your favorite sweater, comfy cape, or a chunky cardigan to work, plus an extra pair of socks or a scarf. This will make keeping warm on cold days (or when the AC is on full blast in the summer) a total cinch.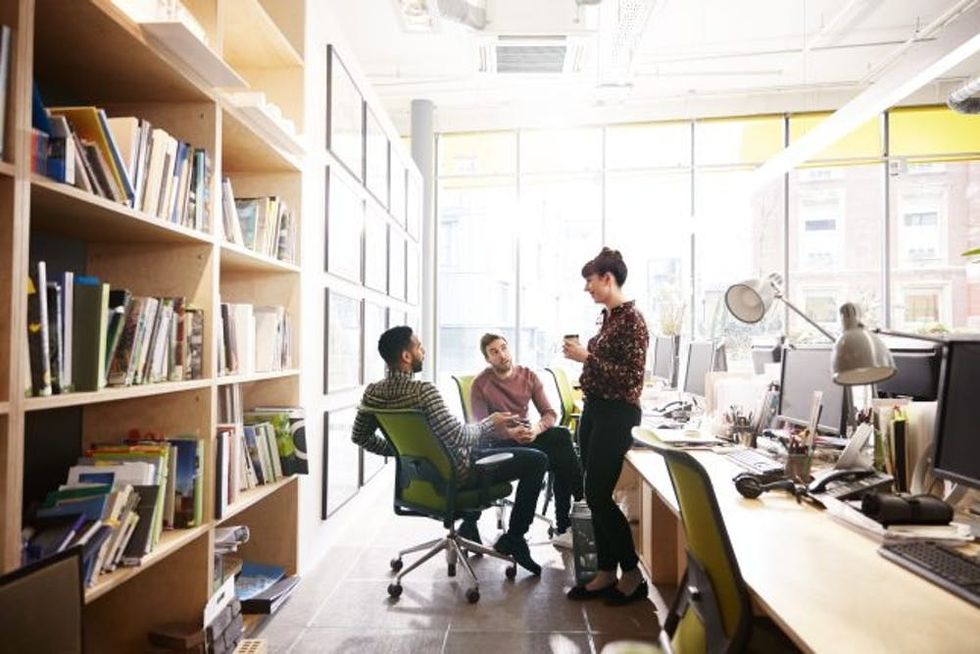 5. Take a real break. Since hygge is all about enjoying simple pleasures, it's the perfect excuse to take mid-morning and afternoon breaks. Use yours to take a walk around the block, do some stretches, chat with coworkers, flip a few pages, or even make a fresh cup of tea.
Reach for a specific blend to make the most of your hygge moment of bliss: If you're having a tough morning, a refreshing cup of green tea with mint can help you hit the reset button. A sip of energizing gunpowder green tea is perfect before sitting down for some goal setting or career planning. Ready to unwind? Black tea with vanilla can help you relax at the end of a long day.
6. Get the work gear you LOVE. Feel bad about pulling the trigger on the pricey carryall you've been eyeing — even though you've been nailing it at the office? Still carrying your laptop or uniform to work in the backpack you've had since undergrad? It might be time to treat yourself and upgrade your gear, bringing you a little bit of extra joy when you get ready to go to work every day.
Want to channel some seriously authentic Danish vibes? Skagen's dreamy leather bags and functional backpacks have been specially designed for a better, less complicated life. They're pretty much perfect, and we want them all!
How do you incorporate hygge into your life? Show us the deets on Instagram @BritandCo!
Brit + Co may at times use affiliate links to promote products sold by others, but always offers genuine editorial recommendations.
(Photos via Getty)
Krista Gray
Krista Gray is a web producer and freelance writer who lives in San Francisco. When she's not working with clients through her company GoldSquare, she loves reading, traveling, and learning new things.
Work