Abby Finkenauer's Iowa Primary Win May Lead to Her Becoming the Youngest Woman Ever Elected to Congress
Jun 06, 2018
Tuesday marked a handful of primaries across the US ahead of November's midterm elections in which many women answered the call of political service, making history in the process. In New Mexico, Deb Haaland handily won her 1st Congressional District primary and may become the first Indigenous woman ever elected to Congress. And in Iowa, 28-year-old Abby Finkenauer is on track to potentially become the youngest woman ever elected to Congress.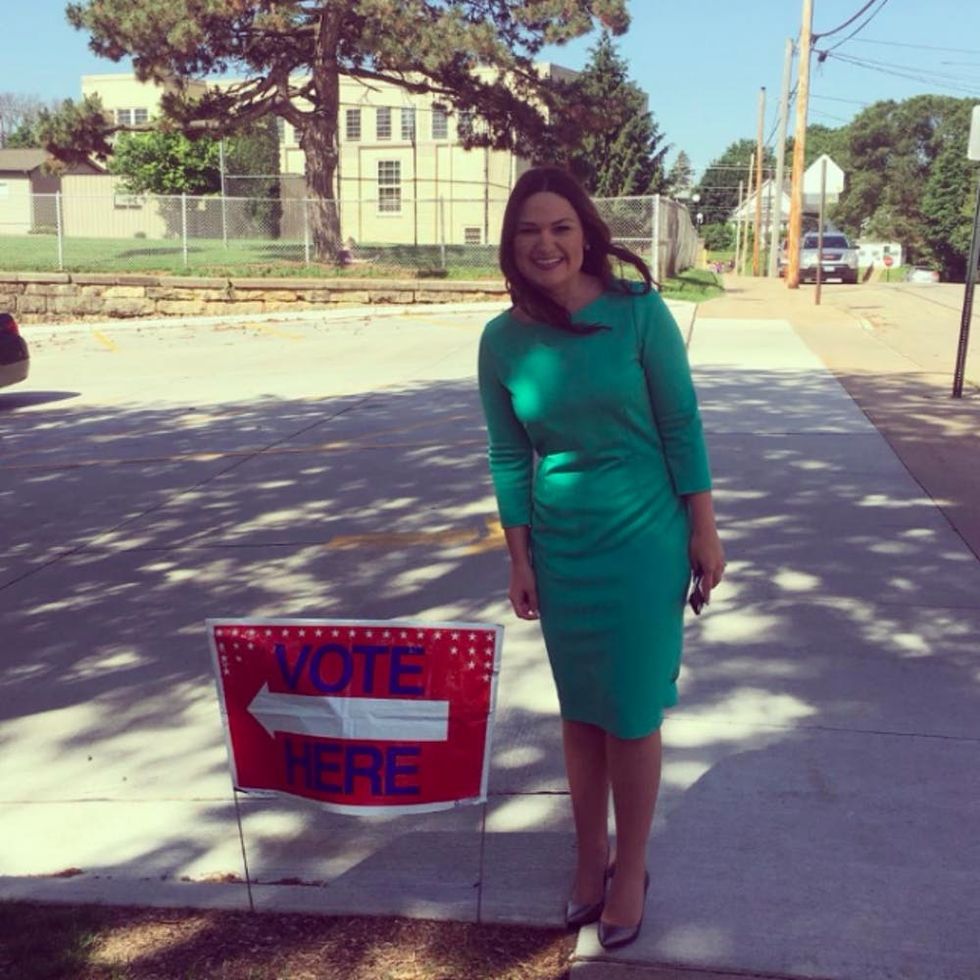 ---
Finkenauer is no stranger to politics, however. At the young age of 24, she was elected to the Iowa State Legislature, focusing her work on women's rights and the rights of workers in her district.
"In the State House Abby led the fight for Iowa's working families, small businesses and main streets," her bio says. "Never one to back down from a fight, she has opposed massive corporate giveaways to out of state companies, fought to make high-quality healthcare available to all Iowans and supported affordable education for all students."
After her win in the primaries, the newly minted congressional candidate tweeted, "Thank you, Iowa! I'm honored to be your nominee in the First District. From day one I've said this campaign is about winning back #ia01 for our working families, and I won't stop until that work is done. Onward!"
In a feature in Elle in February, Finkenauer explained that she's always been interested in politics, even at a young age, and that the call to work for the working class and women in particular was too strong a draw in the wake of changes happening throughout the country, which was why she decided it was important to face off against Republican incumbent Rod Blum in November.
"I decided to get into this race, because, yes, I'm different than Rod Blum, because I understand what folks here have experienced," she said. "He has no idea what their lives are like. I'm still paying off student loans. I can't buy a new car, because my payment would be what my new car payment would be."
And while detractors believe that a young woman may not have the experience or resources, the Democrat isn't deterred.
"These races are expensive, and Rod Blum is a wealthy man who can write his campaign a check whenever he wants…I decided I would go to voters and tell them, 'I will have your back, but I am going to need your help,'" she said. "We are here to prove that you don't have to be a millionaire to run for office. You don't have to sell your soul. Because I'm not. And I sure the heck won't."
(Photo via Abby Finkenauer for Congress/Facebook)
Kat Armstrong
Kat has been a writer, social media maven and mom for longer than she's willing to admit. She's also spent time in front of and behind the camera, interviewing celebs, politicians and acting as a producer for fashion and artistic photography shoots. When she isn't writing for various orgs and publications, she's hanging with her kids, husband and French Bulldog, Peter, in Toronto, Canada.