Aly Raisman Is Putting Her Twitter Feud With Gabby Douglas to Bed With a Powerful Show of Support
Nov 23, 2017
USA Gymnastics has had a very tumultuous year. In July, the team's volunteer doctor of 30 years, Larry Nassar, pled guilty of multiple child pornography charges, exposing a tangled web of sexual assault that has since unraveled with US Olympians McKayla Maroney, Aly Raisman, and Gabby Douglas all coming forward to share their personal stories — though not without some controversy between the two latter parties. Now, Raisman and Douglas, who have been sparring on social media over a remark Douglas made on the issue at hand, are making amends, with Raisman showing her former teammate support online.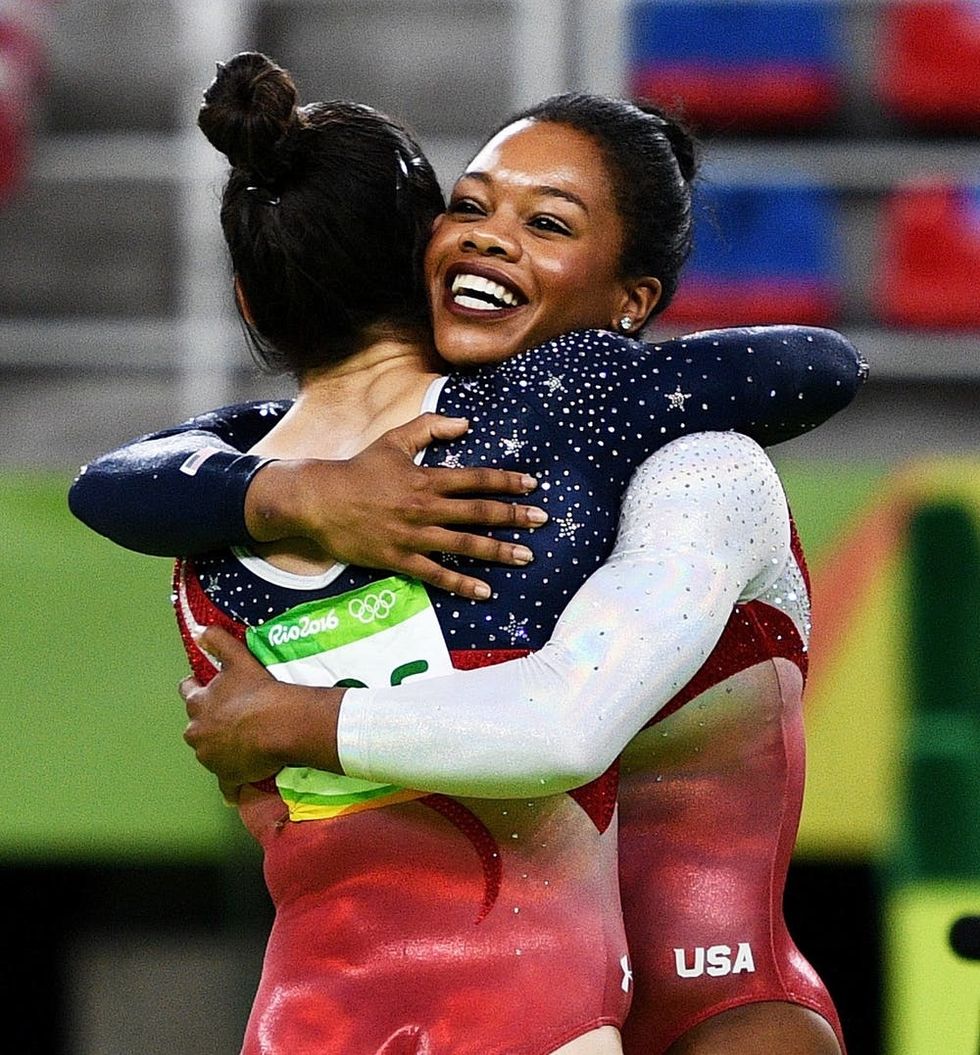 ---
Their feud initially began after Raisman took to social media to sound off against those who would victim-shame the women coming forward to speak out against their abusers, saying, "Just because a woman does a sexy photoshoot or wears a sexy outfit does not give a man the right to shame her or not believe her when she comes forward about sexual abuse."
We are all in this together. If we are going to create change I need all your help. pic.twitter.com/q9d12z0KHn

— Alexandra Raisman (@Aly_Raisman) November 17, 2017
Douglas responded via Twitter with a now-deleted comment that had many eyebrows raised, saying,"However it is our responsibility as women to dress modestly and be classy. Dressing in a provocative/sexual way entices the wrong crowd."
shocks me that I'm seeing this but it doesn't surprise me… honestly seeing this brings me to tears bc as your teammate I expected more from you & to support her. I support you Aly 💕 & all the other women out there!
STAY STRONG pic.twitter.com/CccTzhyPcb

— Simone Biles (@Simone_Biles) November 17, 2017
When the girls' teammate, Simone Biles clapped back at Douglas, saying that she expected more of her, the latter clarified her comment, admitting that she, too, had been assaulted by the former doctor.
Raisman was quick to respond to the admission, speaking out with message that included three very important words that appeared to put the feud to rest: "I support you."
I applaud your bravery @gabrielledoug I support you.

— Alexandra Raisman (@Aly_Raisman) November 22, 2017
"I applaud your bravery @gabrielledoug I support you," she wrote.
Other fellow Olympians, including Dominique Moceanu and the sport's official governing body, USA Gymnastics, also showed support for the athlete, thanking her for coming forward.
You have our family's support @gabrielledoug. Don't feel alone. No victim should.

— Dominique Moceanu (@Dmoceanu) November 22, 2017
Maroney, Raisman, and Douglas are just three of the more than 130 women who have come forward to accuse their former doctor of sexual abuse. Nassar has plead guilty to multiple charges and will be sentenced in January 2018, for which he could receive up to 25 years in jail in addition to the life sentence he faces for July's charges.
What do you think about Aly's message of support? Tell us @BritandCo!
(Photos via David Ramos + Jason Kempin/Getty)
Kat Armstrong
Kat has been a writer, social media maven and mom for longer than she's willing to admit. She's also spent time in front of and behind the camera, interviewing celebs, politicians and acting as a producer for fashion and artistic photography shoots. When she isn't writing for various orgs and publications, she's hanging with her kids, husband and French Bulldog, Peter, in Toronto, Canada.
Current Events
We all have a million dollar business idea (or 2...or 3…) that we think *someone* should do. Why not you? Part of the motivation for Brit + Co's new interactive business course Selfmade is to help women develop their business idea into an actual living/breathing/thriving business. But it's also a way to figure out what that idea is. Maybe you have a few ideas, or need to refine a really good one, or maybe you have something with potential but just need to brush up on the business side of things. Well you're in luck. Thanks to Office Depot, we're here to share a quick recap on how we're helping our students figure out how to pick an idea and run with it. Feeling a little Selfmade fomo? Check out these tips for knowing if your idea is fully baked.
<p><strong>Know your audience:</strong> Who are they? Where are they? And what pain point are you trying to solve for them? "How would you define who that audience is?," said Brit Morin during this week's session. She goes on to suggest you develop a persona of your core customer: What's her name? Does she have children? Have visuals of who she is and what her day looks like and what she thinks about every day. "A lot of times I see businesses fail to scale because they're just trying to serve everybody and are very generic," adds Brit.</p><p><strong>Understand your market:</strong> How big is the market you're targeting? Is it growing? You can find market reports online for anything from weddings to babies. Does your business have potential for repeat business? For example, a wedding client will likely (hopefully!) only need you one time so how do you plan to grow? Will you target the same client or will you evolve your services to cater to that changing demographic? Martha Stewart is a business that evolved with her audience while most fashion mags stay focused specifically on 20- and 30-somethings for the long haul.</p><p><strong>Level up your business idea:</strong> What's your twist? Think about what differentiates you from your competitors. For example, if you're a photographer, maybe you focus on newborns and hook up with a maternity ward or sell seasonal packages. Brit talks about <a href="https://punkpost.com/stories/about-us" target="_blank">Punkpost</a>, created by Alexis Monson, a Brit + Co alumni who, instead of selling greeting cards in a dying snail mail market, she created an online marketplace for greeting card designers. How does your business stand out in your market's crowd?</p><p>Committing to an idea is hard, and SO exciting. Once you've figured out your direction, Office Depot OfficeMax can help turn your idea into a reality with a full suite of<a href="https://www.officedepot.com/cm/services/office-depot-services?cm_mmc=bl-_-aq-_-url-_-bc&amp;cm_mmca1=internal&amp;cm_mmca2=uf&amp;utm_source=blog&amp;utm_medium=social&amp;utm_campaign=bc_na_url_internal_uf_aq&amp;utm_content=tea_na&amp;utm_term=tea" target="_blank"> business services</a> &amp; solutions to help you &amp; your business succeed. From<a href="https://www.officedepot.com/cm/print-and-copy/print-services?cm_mmc=bl-_-aq-_-url-_-bc&amp;cm_mmca1=internal&amp;cm_mmca2=uf&amp;utm_source=blog&amp;utm_medium=social&amp;utm_campaign=bc_na_url_internal_uf_aq&amp;utm_content=tea_na&amp;utm_term=tea" target="_blank"> print &amp; copy services</a> to help build your brand to products to help you<a href="https://www.officedepot.com/cm/multi-category/work-from-home?cm_mmc=bl-_-aq-_-url-_-bc&amp;cm_mmca1=internal&amp;cm_mmca2=uf&amp;utm_source=blog&amp;utm_medium=social&amp;utm_campaign=bc_na_url_internal_uf_aq&amp;utm_content=tea_na&amp;utm_term=tea" target="_blank"> work from anywhere</a>, learn about all the ways they can help<a href="https://www.officedepot.com/cm/marketing/small-business?cm_mmc=bl-_-aq-_-url-_-bc&amp;cm_mmca1=internal&amp;cm_mmca2=uf&amp;utm_source=blog&amp;utm_medium=social&amp;utm_campaign=bc_na_url_internal_uf_aq&amp;utm_content=tea_na&amp;utm_term=tea" target="_blank"> businesses</a> like yours, accomplish more.</p>
Lifestyle