Beautiful DIY Candle Stick Holders and Votives
Feb 24, 2016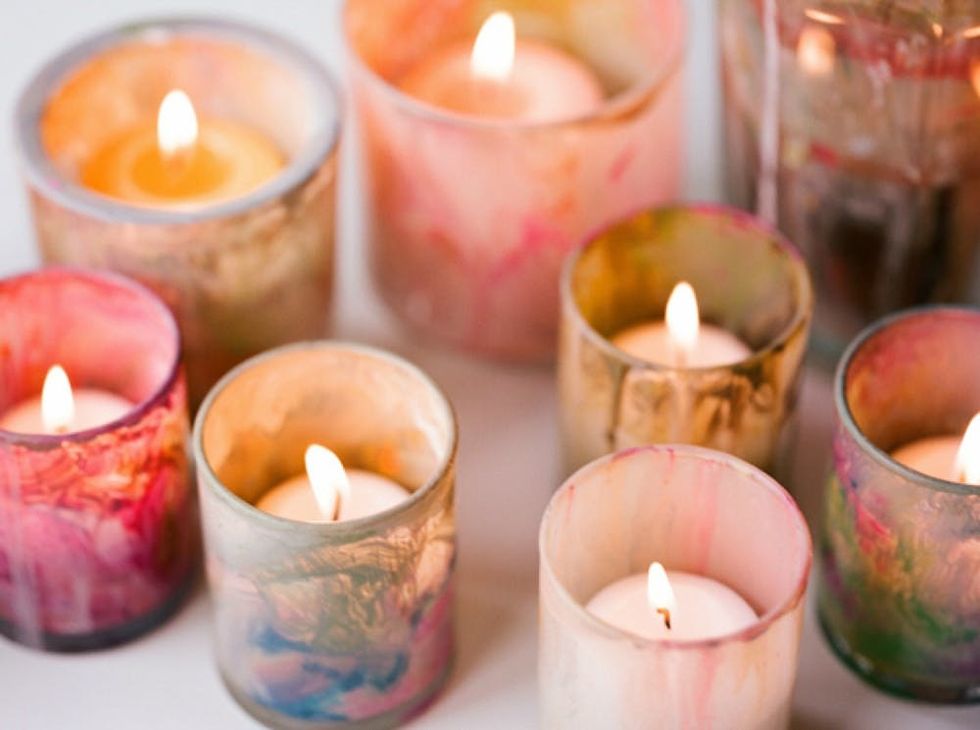 There's something about candles that we just love. Is it the radiating low light, the subtle fragrance, or the beautiful illuminated containers they come in? Whatever the magic, we are happy that we don't have to drop big bucks on fleeting pleasures of a little wax, scent and glass. The glass jar containing the candle is one half of a candle's charm, and if ever there were a "perfect" thing to DIY, candlesticks are it. Here are 25 beautiful candle holders you can DIY.
---
Now, let's talk about the candle itself. There's no feeling in the world more comforting than a soft light illuminating a room, its scent soothing your senses. Reasons we love candles:
They're comforting
They add ambiance
They make a house smell like home
Aromatherapists believe that inhaling essential oils stimulates our olfactory system which then signals the limbic system — a part of our brain that controls emotions and retrieves memories. Remembering happy times can release feel-good chemicals in our body that induce relaxation, calm, or even stimulation, depending on the scent.
If you are looking to light a candle that will induce relaxation, choose lavender, bergamot, chamomile, rose, geranium or sandalwood scents. If you are preparing to, say, entertain guests, light candles that stimulate the brain and encourage social interaction. Peppermint, cinnamon, clove, ginger, basil, cardamom or sage are all scents that energize. Here are 19 more DIYs to make your home smell amazing.
Staging your place for a little romance? It's said that in ancient times, Cleopatra used aromatherapy to woo Anthony. If you are looking to create a sensual atmosphere, light a candle scented with lavender or pumpkin pie. A study conducted by the Smell and Taste Research Foundation in Chicago found a variety of scents increase arousal in men, including pumpkin pie, liquorice, doughnuts and lavender. But the most effective was a combination of lavender and pumpkin pie scents. (You're welcome!)
Do you believe in the power of aromatherapy to change our moods? Tweet us at @BritandCo.
Sally Jones
Sally Jones is a writer and editor living in New York City. She has worked at many websites including iVillage, Ladies Home Journal, More, Parenting, Cosmopolitan, The Knot and YourTango, in jobs ranging from editor to COO. Renovation and interior design are her
unhealthy obsessions
hobbies. She has renovated every home she's lived in, including the rentals, and like... whoa, who does that? You can catch her at her blog
Renov8or
.
Home News