We Found the Holy Grail of French Girl Beauty Products
May 07, 2016
Last night Goop opened up a much-anticipated pop-up shop in San Francisco in a little luxurious and quaint alley at 140 Maiden Lane (check it out between now and May 22!). Since Brit HQ is just around the corner, I headed over for the opening party to fully immerse myself in the Goop brand IRL and to snack on the h'orderves (made from Gwyneth's new cookbook) that were going around. The two-story space (which is located in a Frank Llyod Wright building BTW) offers a little something for every Gooper. Whether you're looking for something new for your wardrobe, kitchen or beauty routine, you'll find it there.
---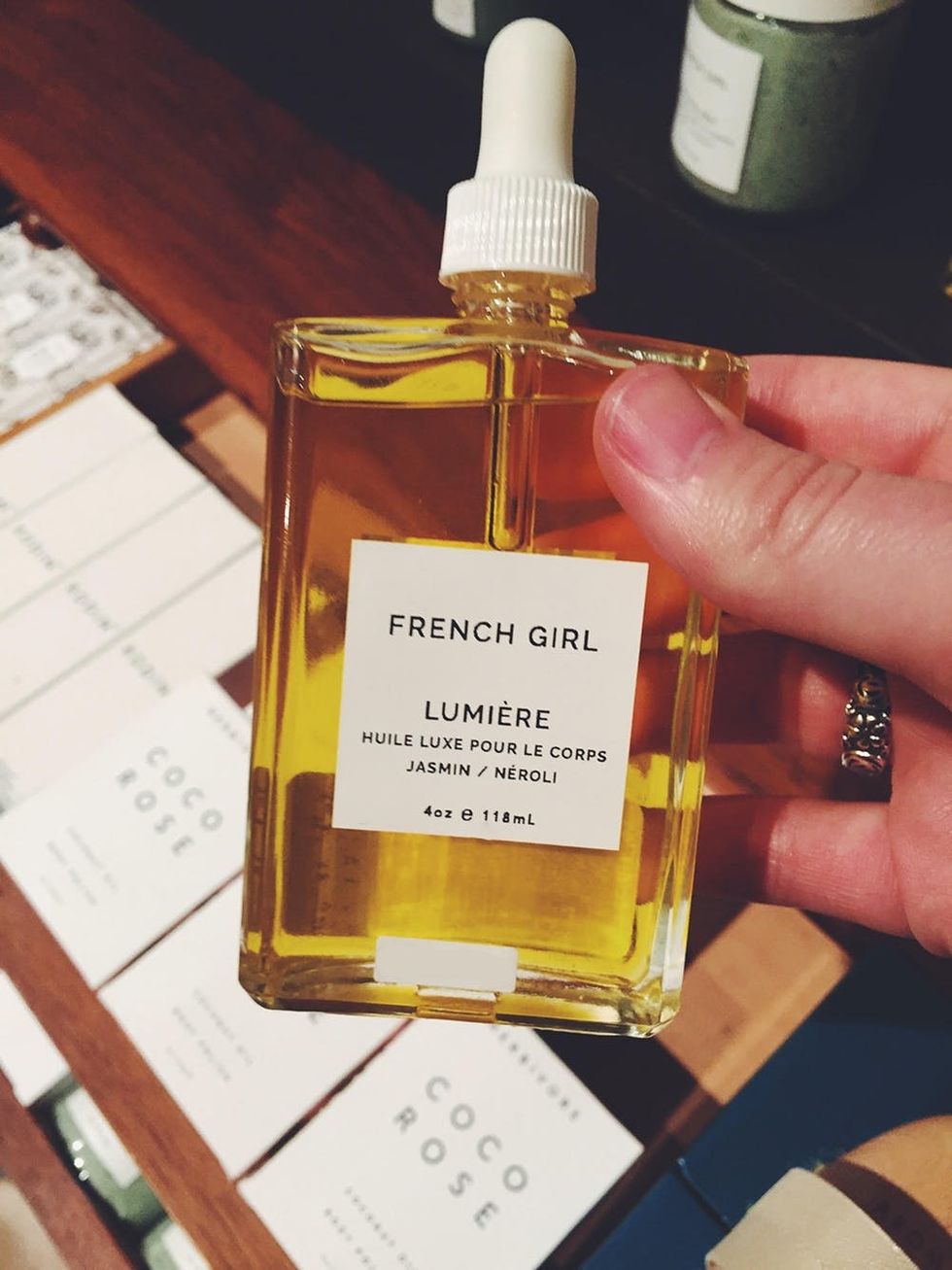 While checking out the impressive beauty section I chatted with Goop's beauty director Jean Godfrey-June about all things natural beauty. Jean is basically a gold mine for beauty recommendations + expert knowledge. She even has a regular column on Goop where she answers readers' beauty Qs, aptly titled "Ask Jean."
While browsing through all the luxury oils and lipsticks, I came across a minimal-looking bottle that caught my eye. All it took was one glance at the name of the company to get me hooked: French Girl Organics. A French girl line that's ALSO natural? Whatever it is I'm buying it. Jean also happens to be a major fan of this brand. As I picked it up she said to me, "She [French Girl's founder Kristeen Griffin-Grimes] is amazing and has an incredible story."
Griffin-Grimes was actually not born in France but in Southwest Washington. However, don't discount her "French girl" label just yet. Her mother is of French-Cajun heritage, and her family lead tours in France of the little-known Languedoc province, which borders the Mediterranean from the Rhone to Spain. She says it was those tours that initially inspired her to start an Etsy shop of beauty products. Everything French Girl sells is handmade, organic and an original recipe that's been tested and used by her family for over 20 years.
You can still find all of French Girl's 77 products on their Etsy shop, but they're now also sold at places like Anthropologie, Nasty Gal and, of course, Goop. I personally tried and tested out the Jasmin Body Oil ($36) and the shimmery Bronzing Oil ($40) and was an immediate fan of both. If you'll excuse me now, I'm off to go stock up on all of the body oils, moisturizers and lip tints that will fit into my cart (and budget).
Which French beauty product do you swear by? Share with us on Twitter @BritandCo.
Brit + Co may at times use affiliate links to promote products sold by others, but always offers genuine editorial recommendations.