Disney World's Limited-Time Holiday Treats Are Deliciously Over-the-Top
Dec 04, 2018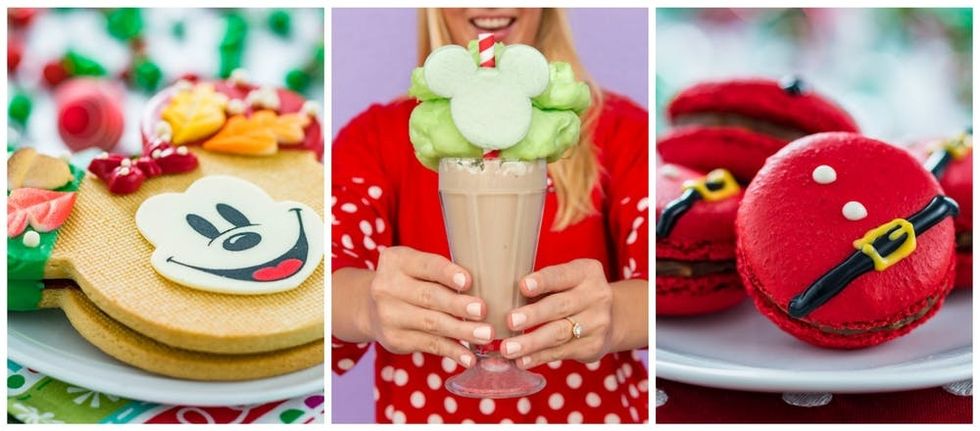 It's the most wonderful time of year —especially if you're a Disney fan with a sweet tooth. This season at Walt Disney World, there's a wide variety of tempting treats. From a boozy hot chocolate flight to Mickey-shaped cookies, it's all (almost) too cute to eat. These limited-time treats are offered at the Flurry of Fun Holiday Celebration at Disney's Hollywood Studios and Mickey's Very Merry Christmas Party at Magic Kingdom Park from now until January 6, 2019. It's the time of year to indulge, so get to it!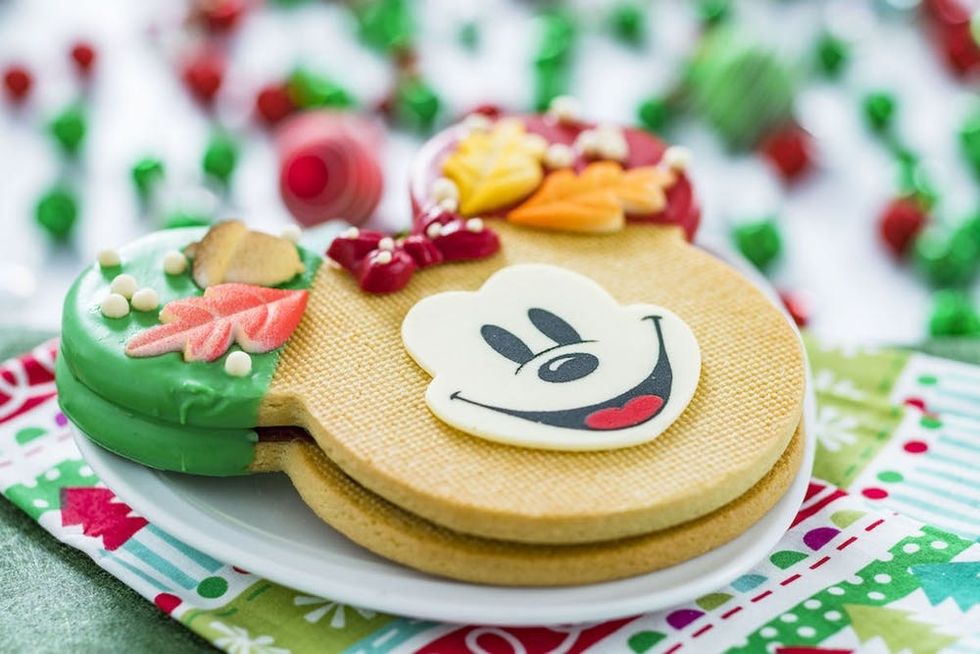 Large Shortbread Cookie: Fact: Everything tastes better when it's shaped like Minnie Mouse. This giant shortbread cookie — filled with raspberry jam and decorated in a sweet frosting — is a perfect example. Find it at the Trolley Car Café in Hollywood Studios.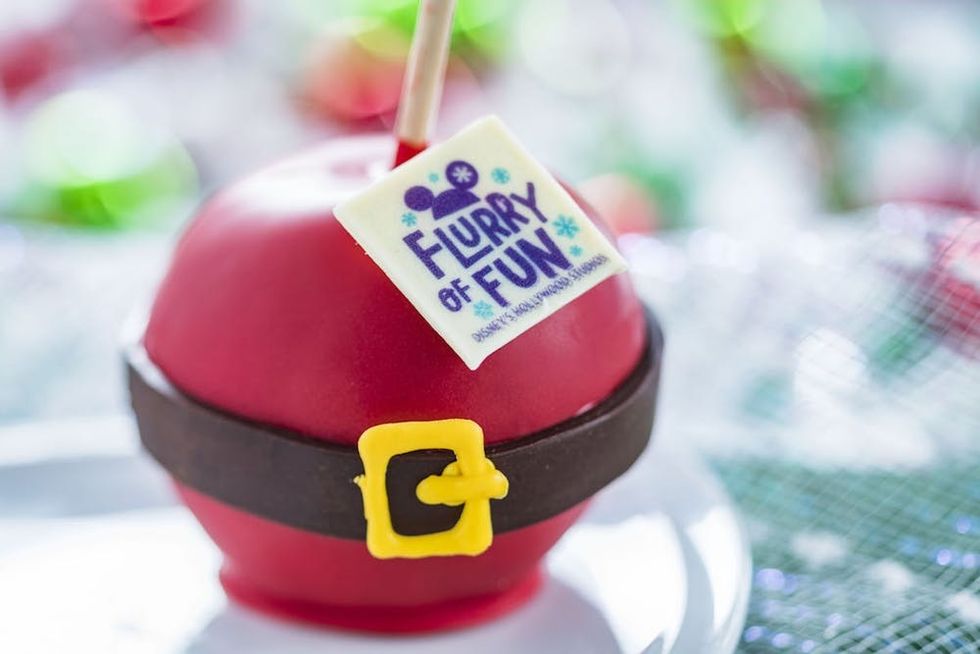 Santa Belt Candy Apple: Take a bite out of this stellar Santa-themed candy apple. It's been dipped in chocolate and decorated with even more chocolate and a cute Flurry of Fun edible logo. It's available at the Trolley Car Café in Hollywood Studios.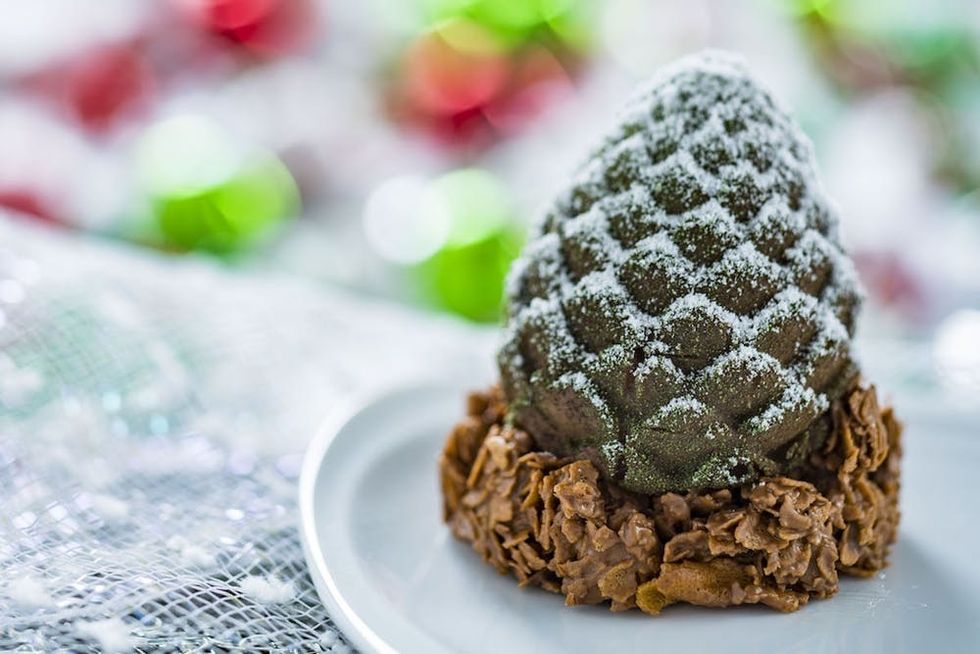 Chocolate Chestnut Cone: This is a seriously stunning treat. The chocolate chestnut cone is nestled in praline for an elegant and delicious dessert. You can sample this treat at Backlot Express in Hollywood Studios.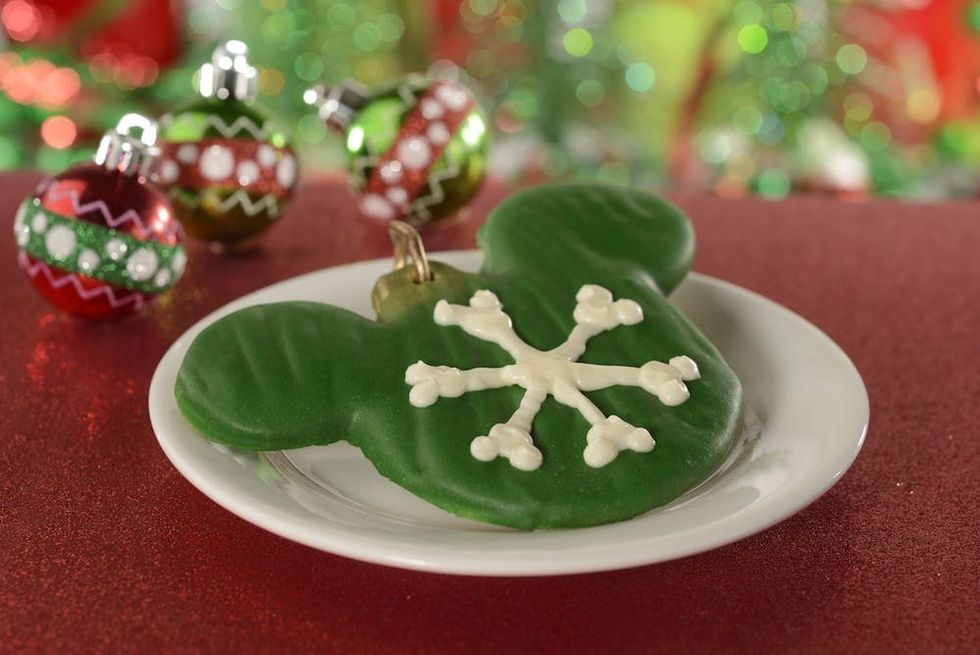 Mickey Ornament Gingerbread Cookie: While this iced gingerbread cookie looks like it should be hanging on your tree, it really belongs in your belly! It's available at the Main Street Bakery in the Magic Kingdom.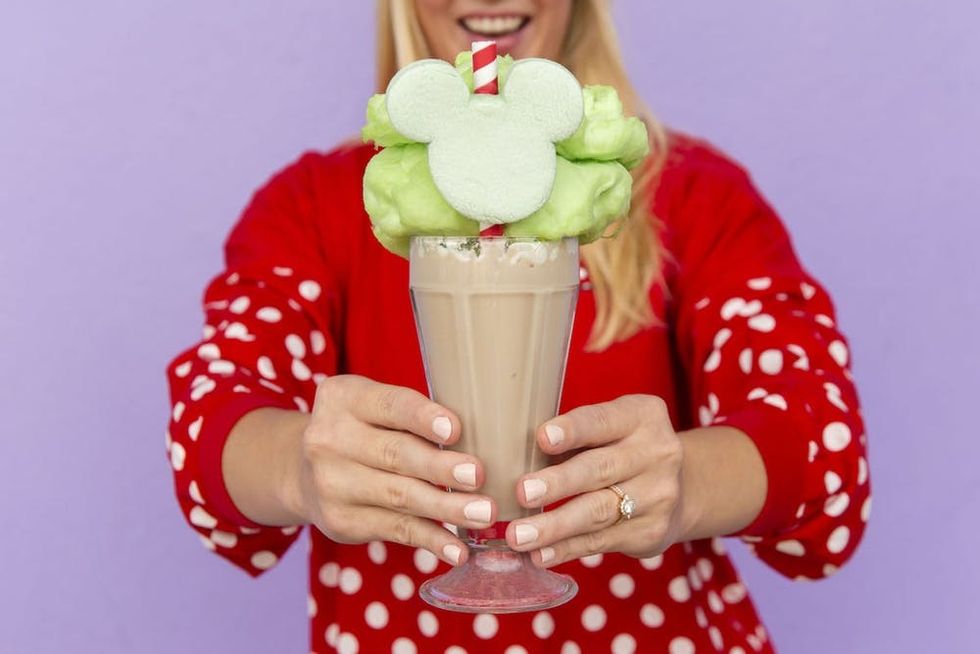 Auntie Gravities Cookie Butter Milkshake: A cookie butter milkshake? Yes, it exists — but just for the holidays. This rich shake is topped with a heaping helping of cotton candy, a Mickey Mouse marshmallow, and a cute candy-cane-like straw. Sample it at Auntie Gravity's Galactic Goodies in Tomorrowland at the Magic Kingdom.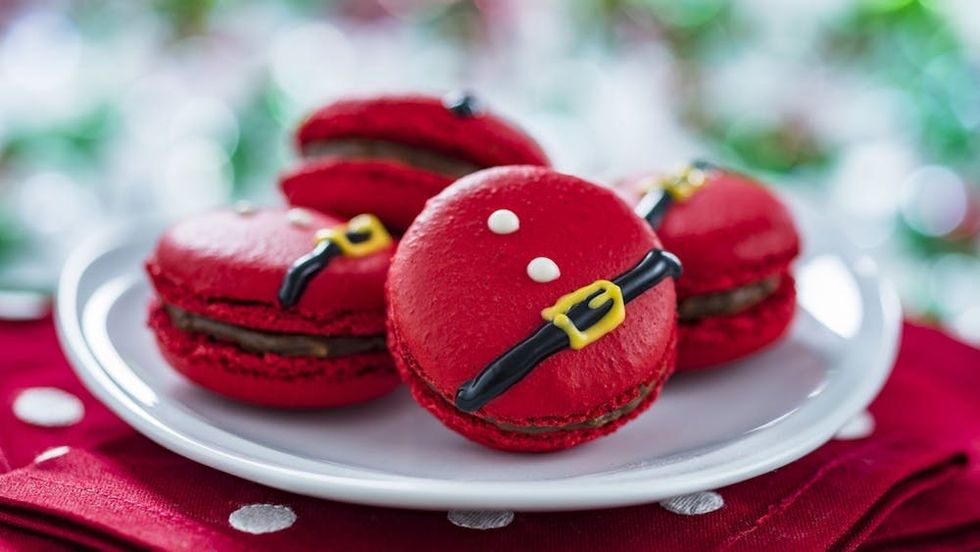 Santa Belt Macarons: All the way from the North Pole, it's a pack of adorable Santa Macarons! These almond macarons are stuffed with a hazelnut filling and detailed with Santa's belt and buttons. These treats are sold in a set of five at the BaseLine Tap House and Oasis Canteen at Hollywood Studios.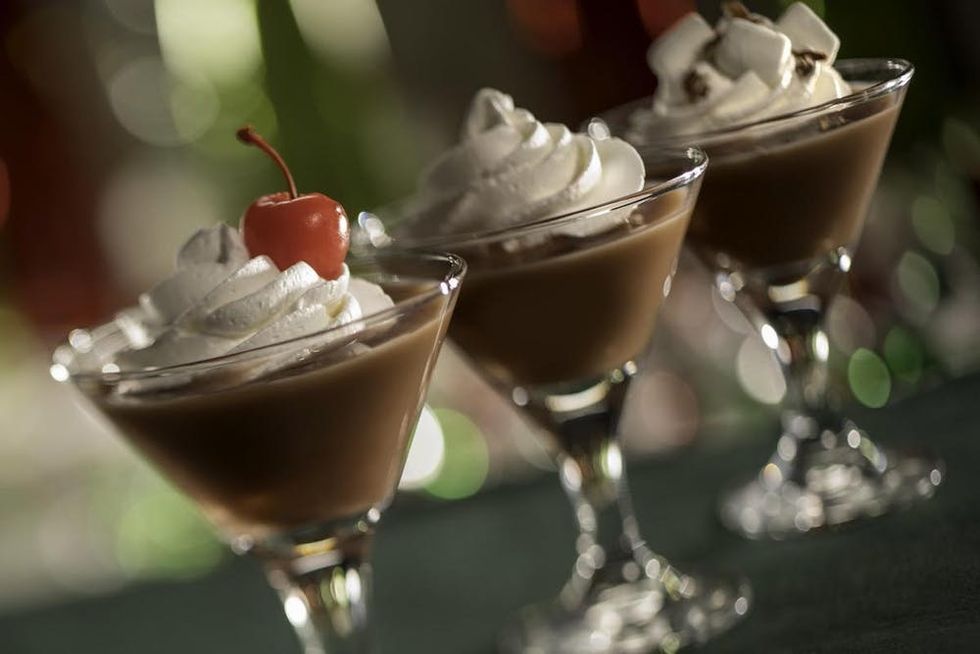 Hot Chocolate Flight: These won't just make you toasty — they might get you a wee bit toasted too! This boozy Hot Chocolate Flight features hot chocolate with Irish liqueur, hot chocolate with vanilla vodka, and hot chocolate with cherry bourbon. Check 'em out at Fairfax Fare in Hollywood Studios.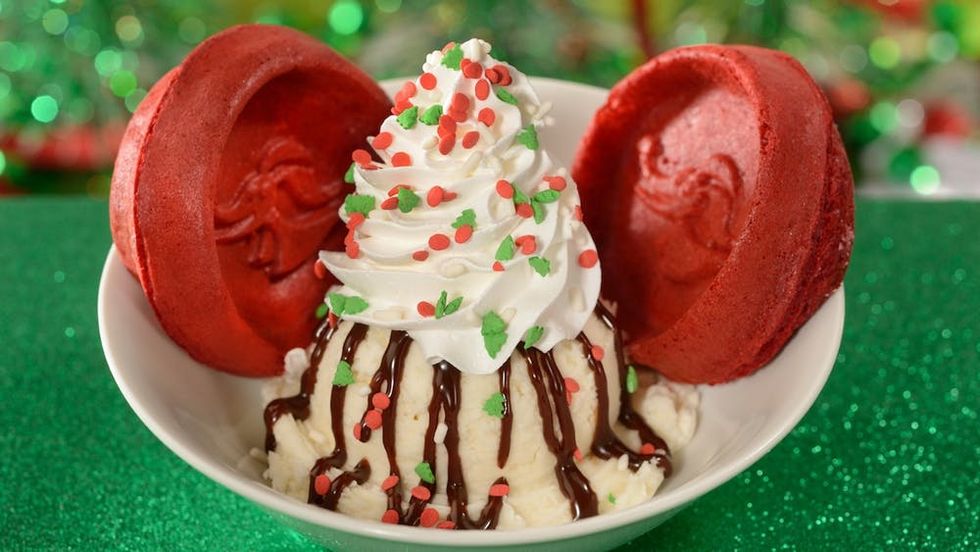 Red Velvet Zero Waffles: These bright red velvet waffles are served with vanilla ice cream, whipped cream, chocolate sauce, and holiday sprinkles. They're available at the Sleepy Hollow in the Magic Kingdom.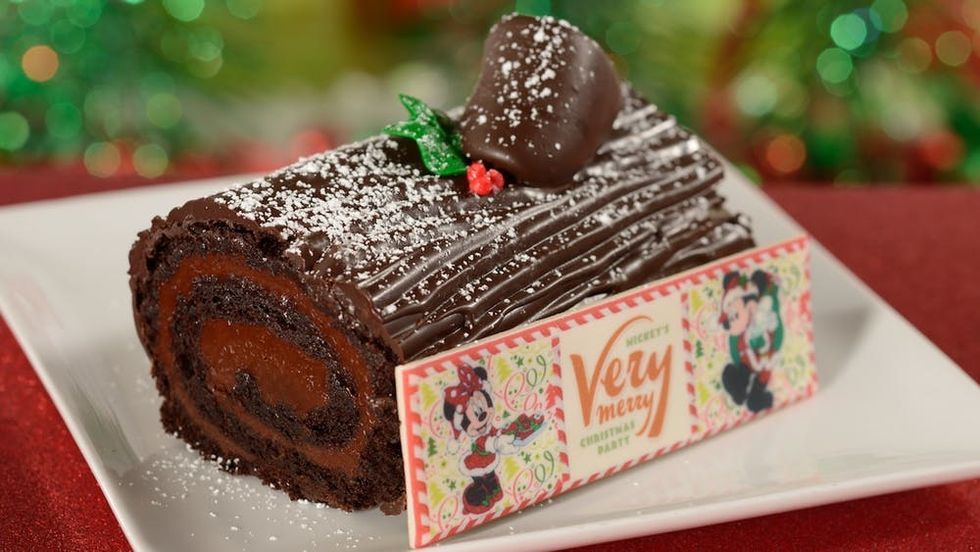 Chocolate Yule Log: This delectable dessert is gluten-free! This rich chocolate cake includes layers of chocolate mousse and chocolate ganache, and a white chocolate piece featuring Mickey and Minnie. Give it a try at the Main Street Bakery in the Magic Kingdom.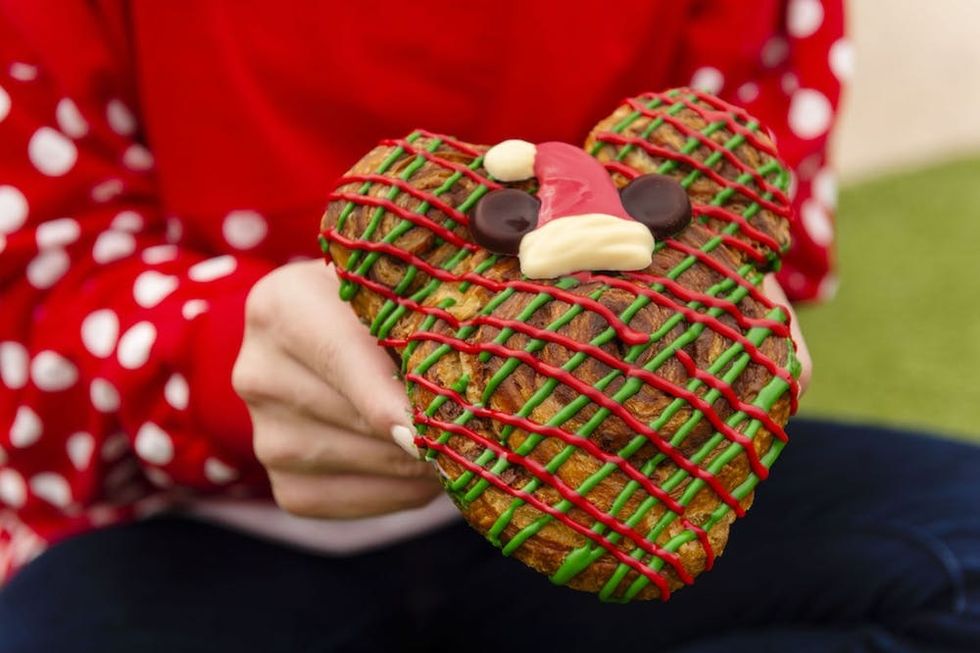 Holiday Mickey Cinnamon Roll: This ain't your everyday cinnamon roll. This way-extra confection is smothered in red and green icing and is accessorized with a Mickey Santa Hat. It's available at the Main Street Bakery in the Magic Kingdom.
Looking for more delicious food? Follow us on Pinterest.
(Photos via Walt Disney World)
Sunny Chanel
Sunny Chanel is a freelance writer as well as the founder of the whimsical site Wonder and Company. When this proud San Franciscan isn't writing, working on her fixer-upper or doing crafts, she is playing dress up with daughter and planning her next trip to Disneyland.