Roll Out: 19 Ways to Organize Drawers
Feb 14, 2014
Closets are okay, and cabinets are something we're willing to work with but let's be real. The drawer is the high-rolling storage solution of choice. In case you've never used a drawer before, basically, it puts all of its contents on full display with just a pull of the handle. So… yeah…. how did we ever come to have a junk drawer from hell? While those pullouts do half the job for you, you do need to give them a little guidance for them to reach their full potential. Not sure what we're talking about. Allow us to lead you toward drawer-organization greatness.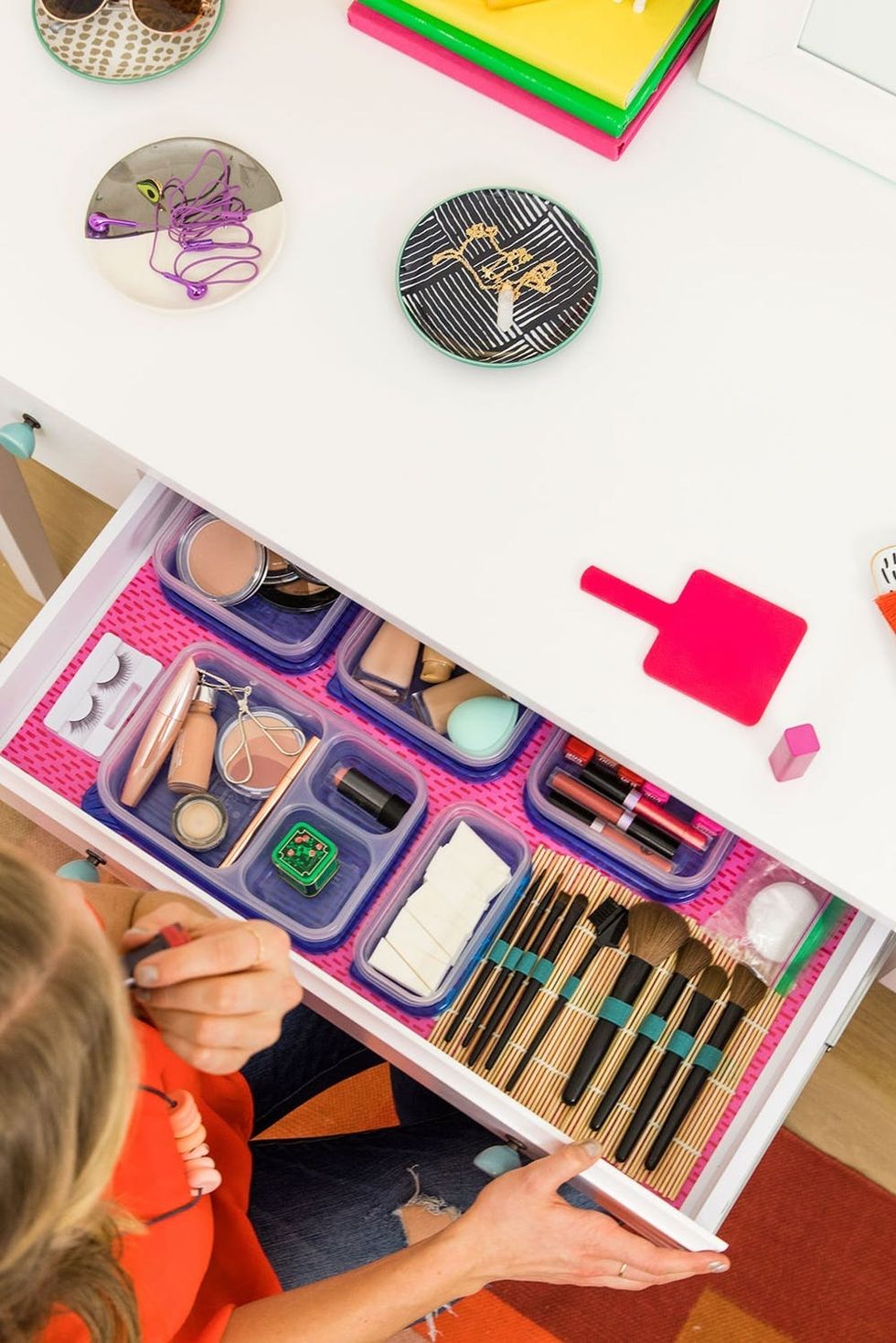 ---
1. Makeup Drawer Hack: What do you get when you cross a sushi mat with a Ziploc container? A very organized makeup drawer! Bonus: the containers are machine washable so you never have to worry about a powder spill again! (via Brit + Co)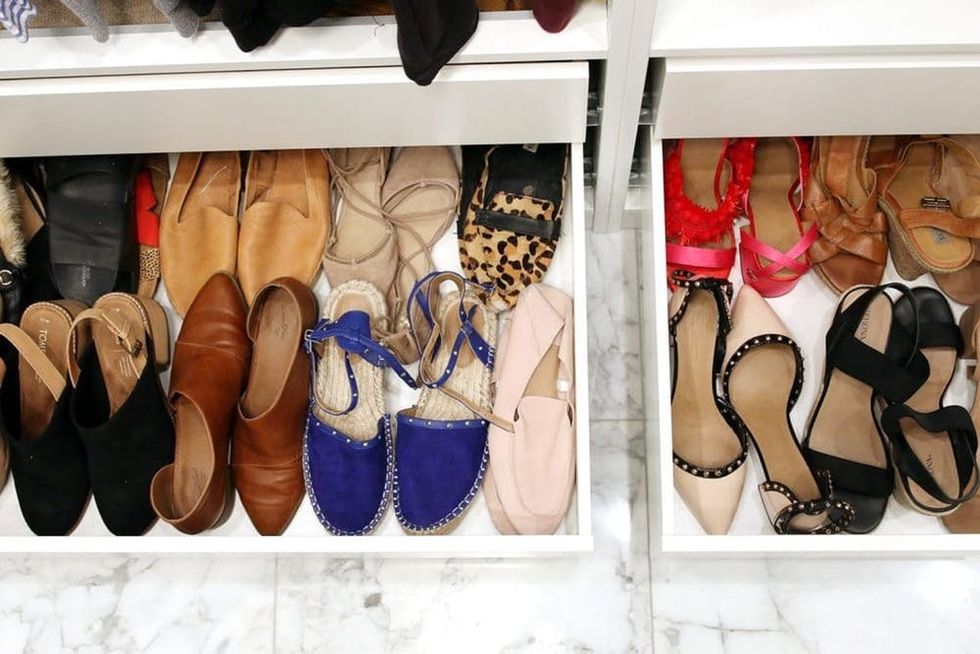 2. Shoe Drawer: Save space and create a more streamlined closet look by storing shoes in drawers instead of out and about. Drawers allow more shoes to be stacked and it keep every pair together too! (via Chris Loves Julia)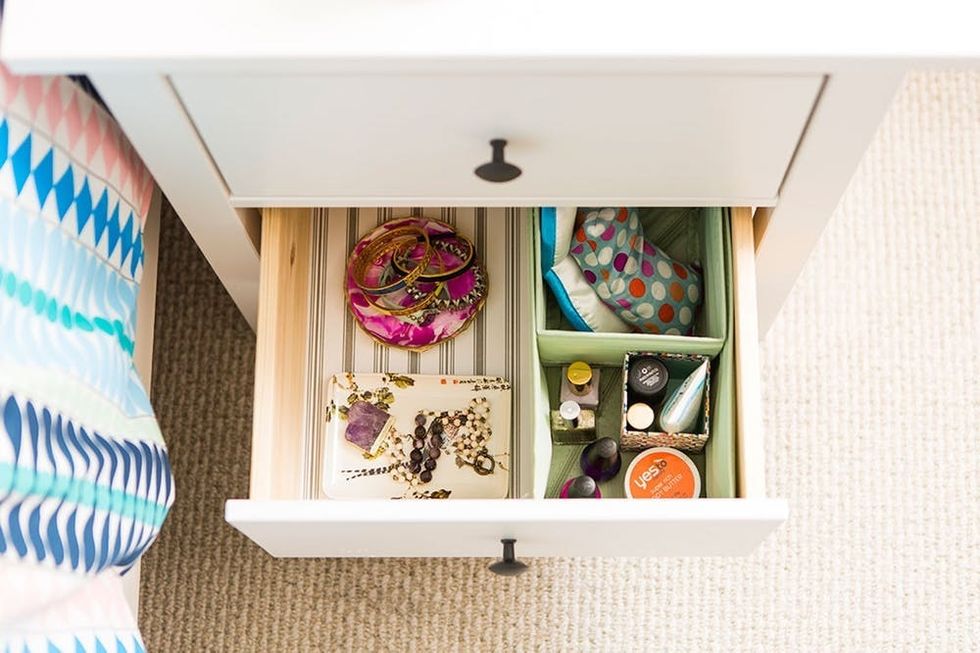 3. Nightstand Compartments: Add inserts to your bedside drawer to minimize those annoying, nighttime fumbles and everyday rummaging. (via Brit + Co)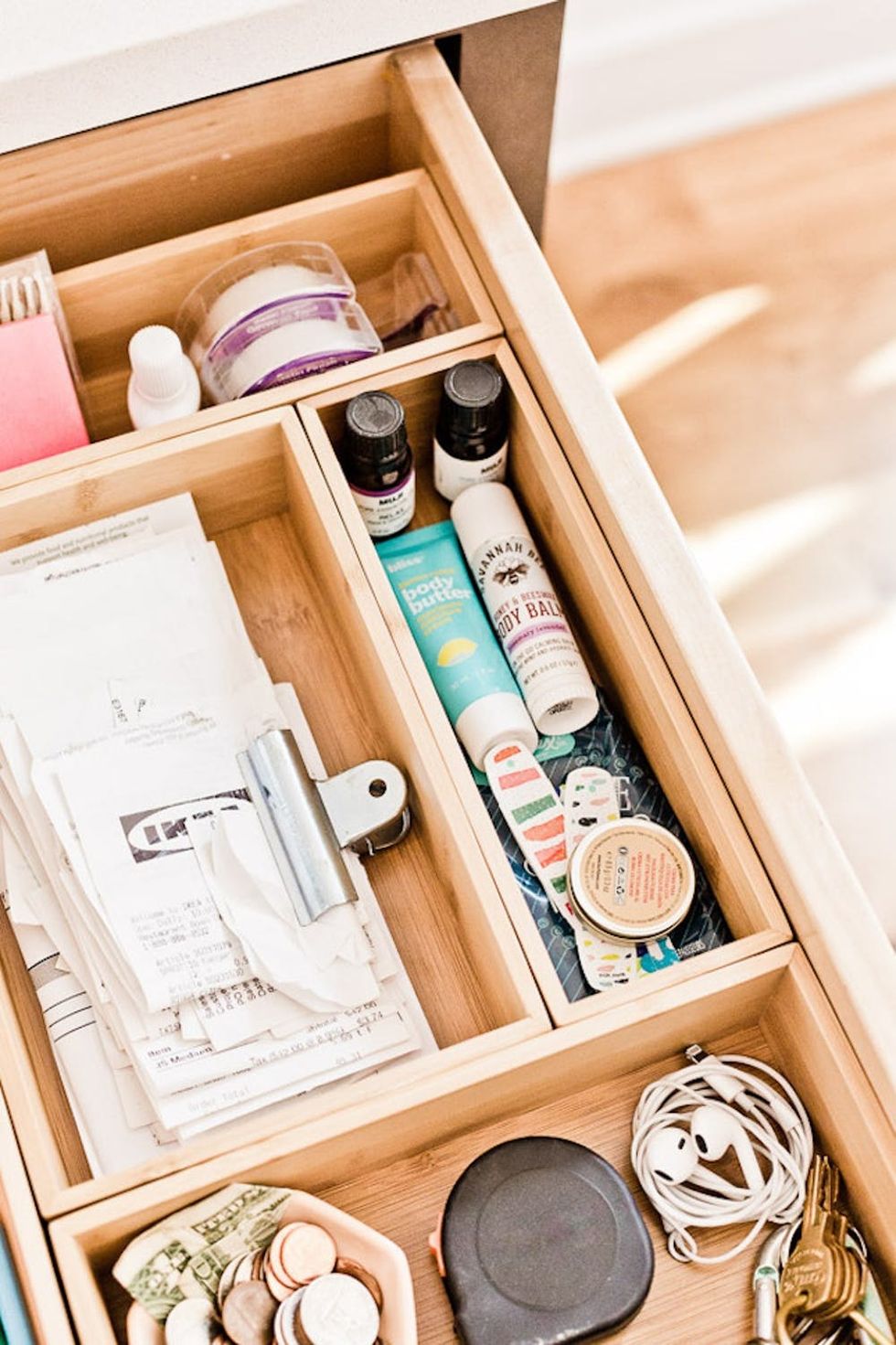 4. Rubbish Drawer: You've got your recycling. You've got your composting. You've got your garbaging. And you've got your mess. Or at least you did before you decided to turn that pull-out cabinet into one smart organization solution. (via Paper & Stitch)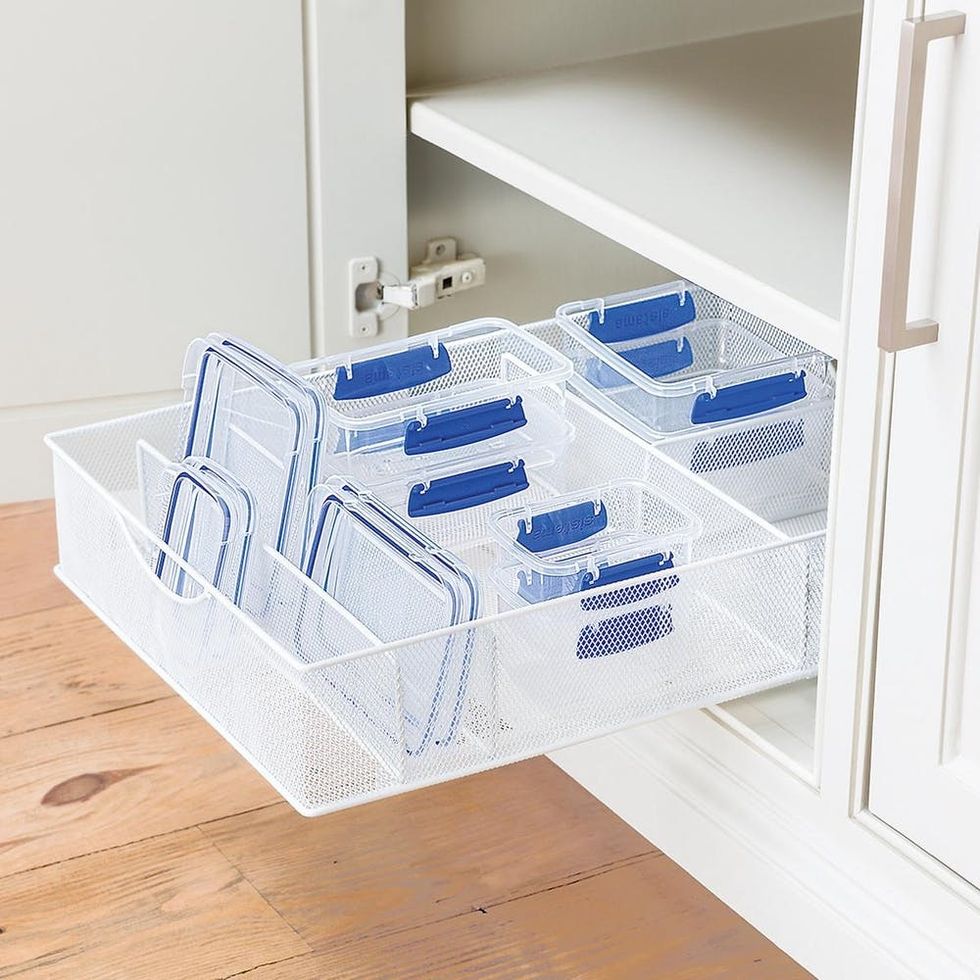 5. Lid Organizer ($13): Alright, we've all been there. In the amount of time you spend looking for your Tupperware tops, you could have gone out and bought an entirely new set. This is never going to happen to you again if you just go out and buy a lid drawer.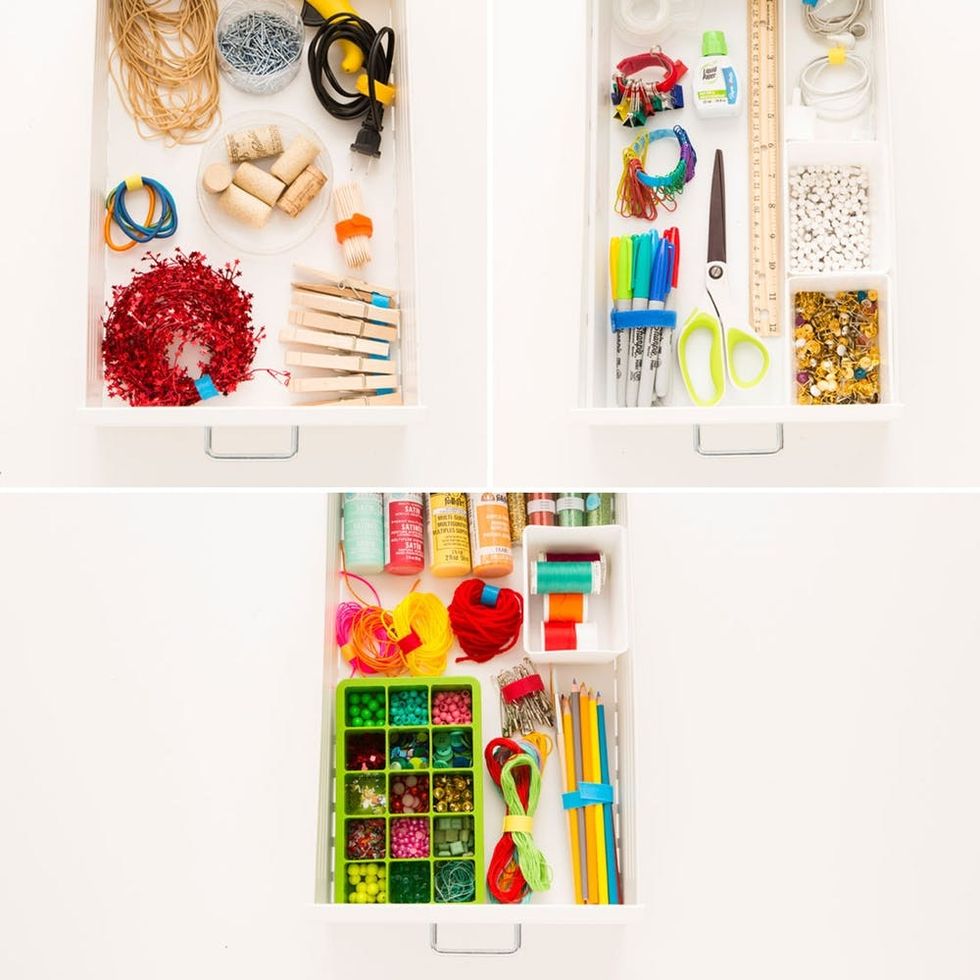 6. Junk Drawer Hack: Say goodbye to messy "junk" drawers that actually hold a lot of important items. If only you could just find them! Now you can! (via Brit + Co)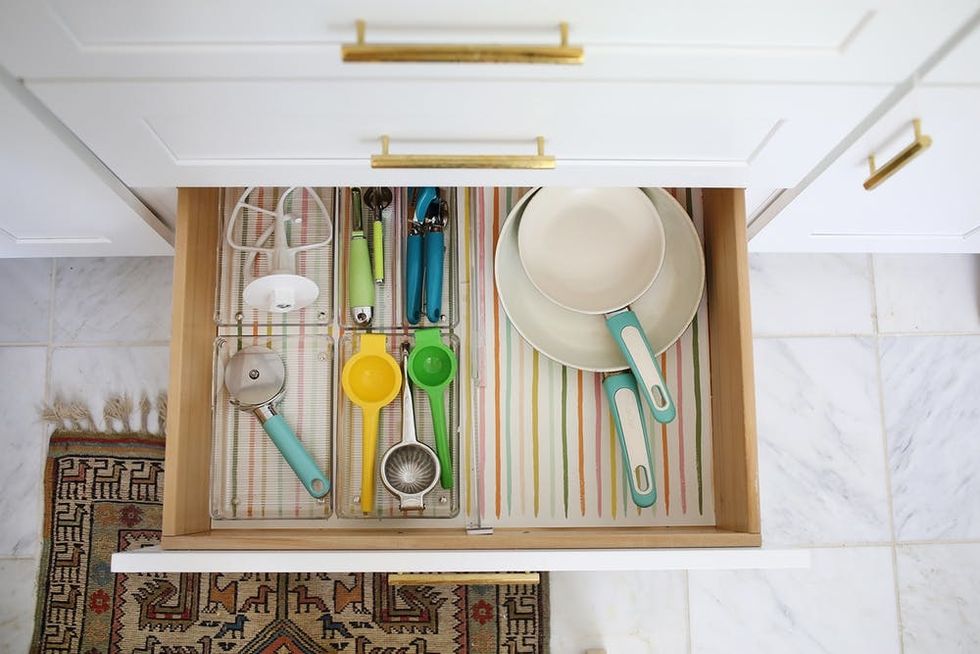 7. Clear Acrylic Trays: Transparency leads to clarity, simplicity, and beauty – life lessons learned while organizing. (via A Beautiful Mess)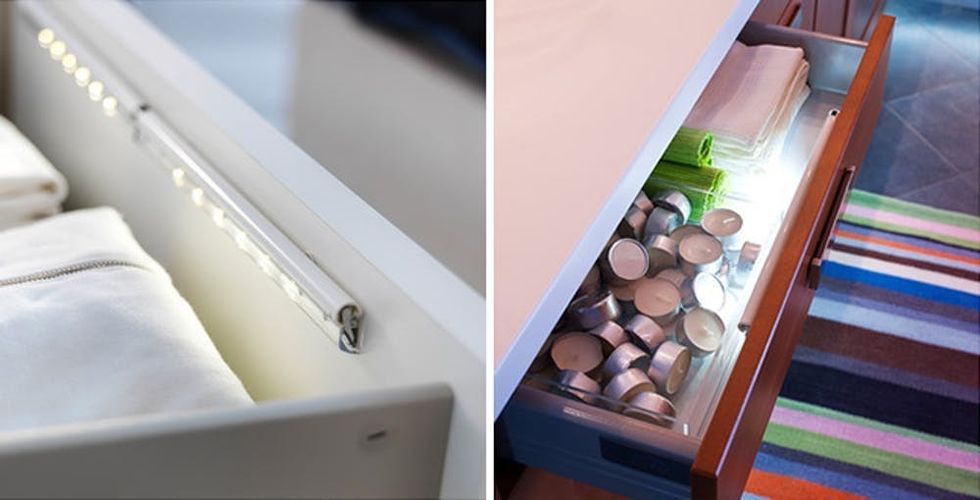 8. Light Up Drawers: Find what you're looking for *without* turning on the lights! It's time to get LIT with these IKEA DIODER LED Lights ($25). (via Brit + Co)
MORE IDEAS TO CONSIDER:
9. Closet: It's a closet. Nope, surprise! It the most efficient use of space you've ever seen in your life. Your pantry just got super-sized thanks to a couple of roll out drawers. (via Shelf Genie)
10. Canisters: Here's salon look for your very own vanity. Buy a simple canister from the likes of Ikea's kitchen section. Instead of putting spoons in it, use it for brushes and blow dryers. You're that much closer to your home blowout bar. (via BHG)
11. Under Sink Storage: Chances are, you have one big cavernous cabinet under your sink which is one gigantic mess of cleaning supplies, garbage, and paper and plastic bags. Trust us, we know: Rummaging around down there is always a big bummer. Turn that frown upside down and make the goods come to you by installing some drawers. (via Apartment Geeks)
12. PVC Pipe: Socks and underwear are hard to keep in place. But put some PVC pipe in place and your mornings spent throwing everything on the floor to find your favorite underwear or that only pair of socks that go with your one pair of boots will vanish. (via BHG)
13. Closet on Wheels: The empty space under your mattress can do so much more than collect dust bunnies. (via Martha Stewart)
14. Wrapping Paper Lined: Making the bottom of your drawers pretty might be the motivation you need to keep things organized. You're actually going to want to see the bottom of your drawer from time to time. (via I Heart Organizing)
15. Ikea Bathroom Beauty: Is it weird to call a drawer beautiful? Because that's what we're calling it. It uses a mashup of organization tools –– baskets, acrylic containers, and dividers — to make some sort of serenely stunning collage. (via Macarena Gea)
16. Charging Drawer: Please excuse the circa-2001 Nokia and focus on the underlying message: All those wires and cords are doing nothing for the zen environment that we'd all like our homes to be. Solution? Turn one of your drawers into a hidden den of power! (via Martha Stewart)
17. Watch Packaging: You know how when you buy a watch how it comes in some crazy complicated packaging which you likely throw away or take to Goodwill? Well, quit that nonsense. The round piece is perfect for keeping those tickers stored neatly 'til the end of time. (via BHG)
18. Zinc Basket: Anytime we can find vintage treasures and put them to use in the modern word, well, that gets a pretty pumped. Here we have zinc boxes and old wooden boxes acting as storage for foodstuffs. (via El Mueble)
19. Decals: Whether it's your tool drawer or your utensil drawer, there's always at least one person in the household who, for some reason, can't figure out what goes where. Help them help you with a few decals. (via Martha Stewart)
Got mad organization skills? Follow us on Pinterest for more hacks and tips!
Brit + Co may at times use affiliate links to promote products sold by others, but always offers genuine editorial recommendations.
Lex Monson
Alexis is the co-founder of
Punkpost
, the app that lets you send handwritten cards (yes, handwritten by a real human) in the amount of time it takes you to send a text message. The exclusive card collections are created by a community of artists and designers and hand letter pressed on high-quality cotton paper. Get the full experience by downloading the app from the
iTunes Store
.
Organization and Cleaning