18 Easter Dinner Recipe Ideas That Can Double-Duty as Brunch
Mar 04, 2019

Some families get together for Easter brunch, while others sit down for dinner. Then there are those that may find themselves eating all day on Easter Sunday. Whatever your plans this year include, find inspiration in this collection of springtime recipes for quiches, vibrant salads, savory tarts, and more. They will hit the spot any time of day.
---
1. Pressure-Cooker Ramekin Eggs: Your favorite veg, eggs, and cream go into individual ramekins, get pressure-cooked, and come out ever-so slightly soft so you can spread the whole thing over toast. It works just as well for dinner as it does brunch. (via Brit + Co)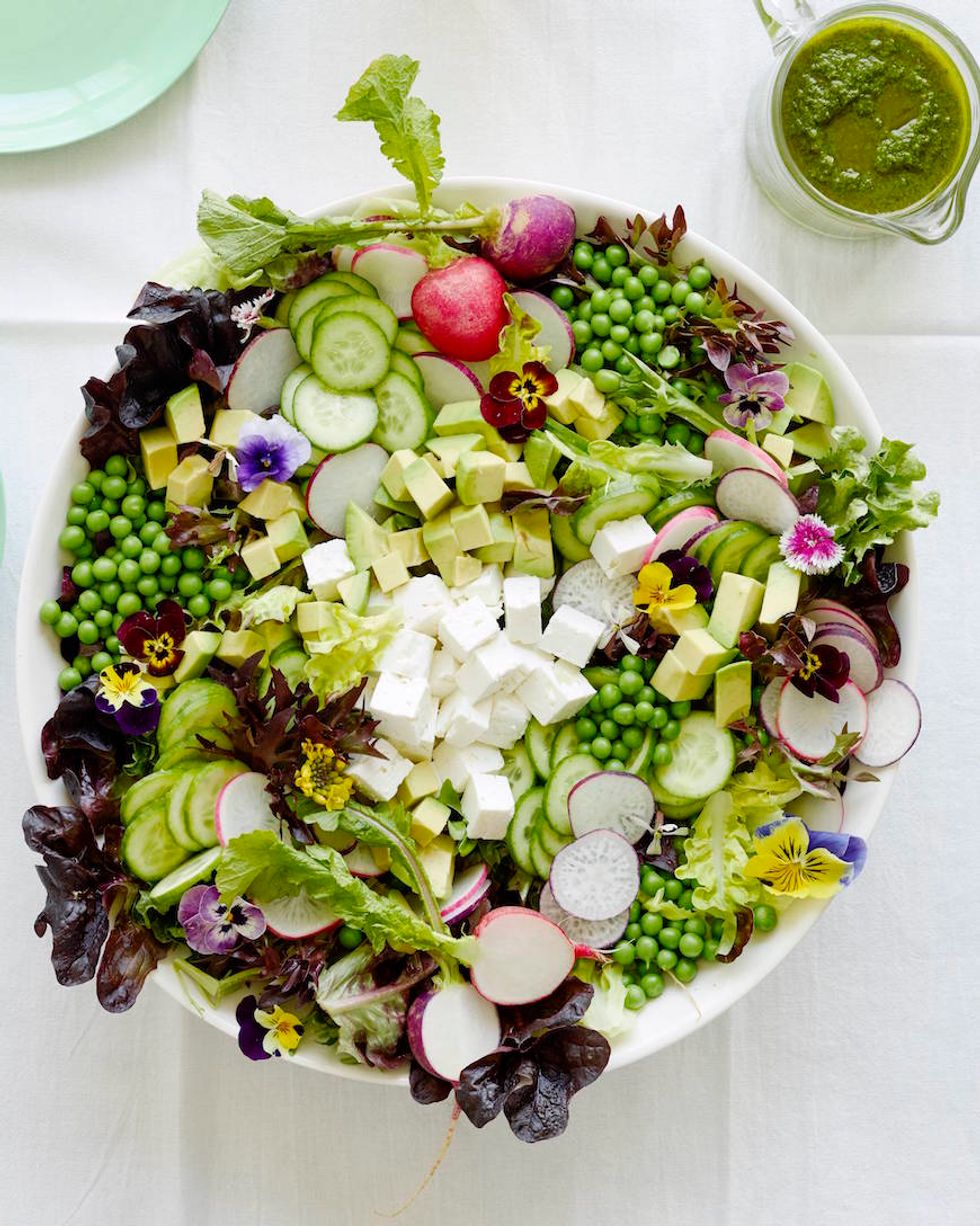 2. Spring Pea Salad: This stunning salad will have your guests' jaws on the floor. Bonus points if you flourish it with edible spring flowers. (via What's Gaby Cooking?)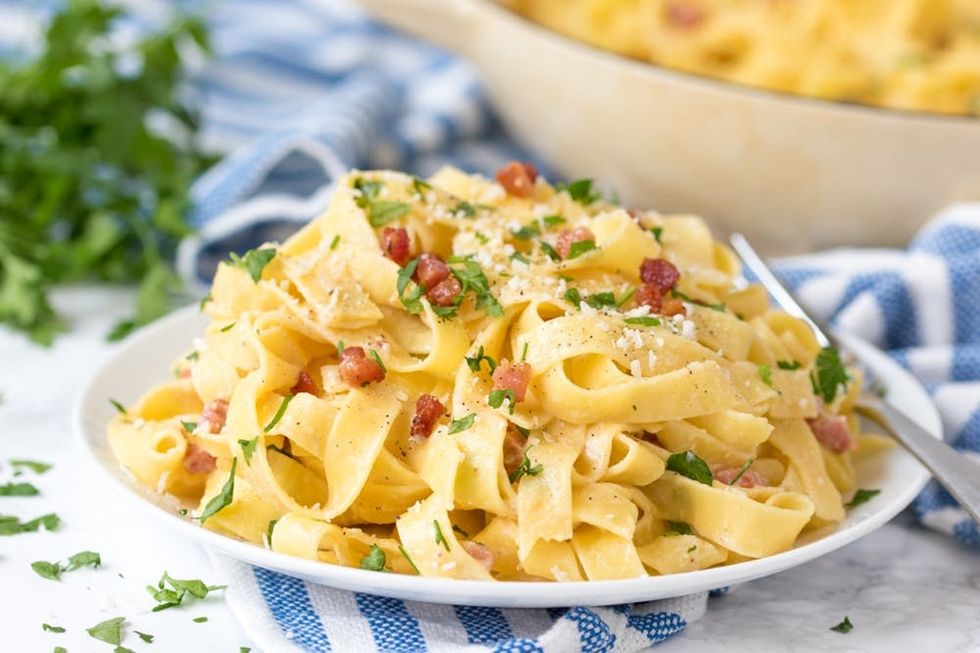 3. Fettuccine Carbonara: This eggs-and-bacon pasta transitions seamlessly from a mimosa-filled brunch to an Italian-themed dinner. (via Brit + Co)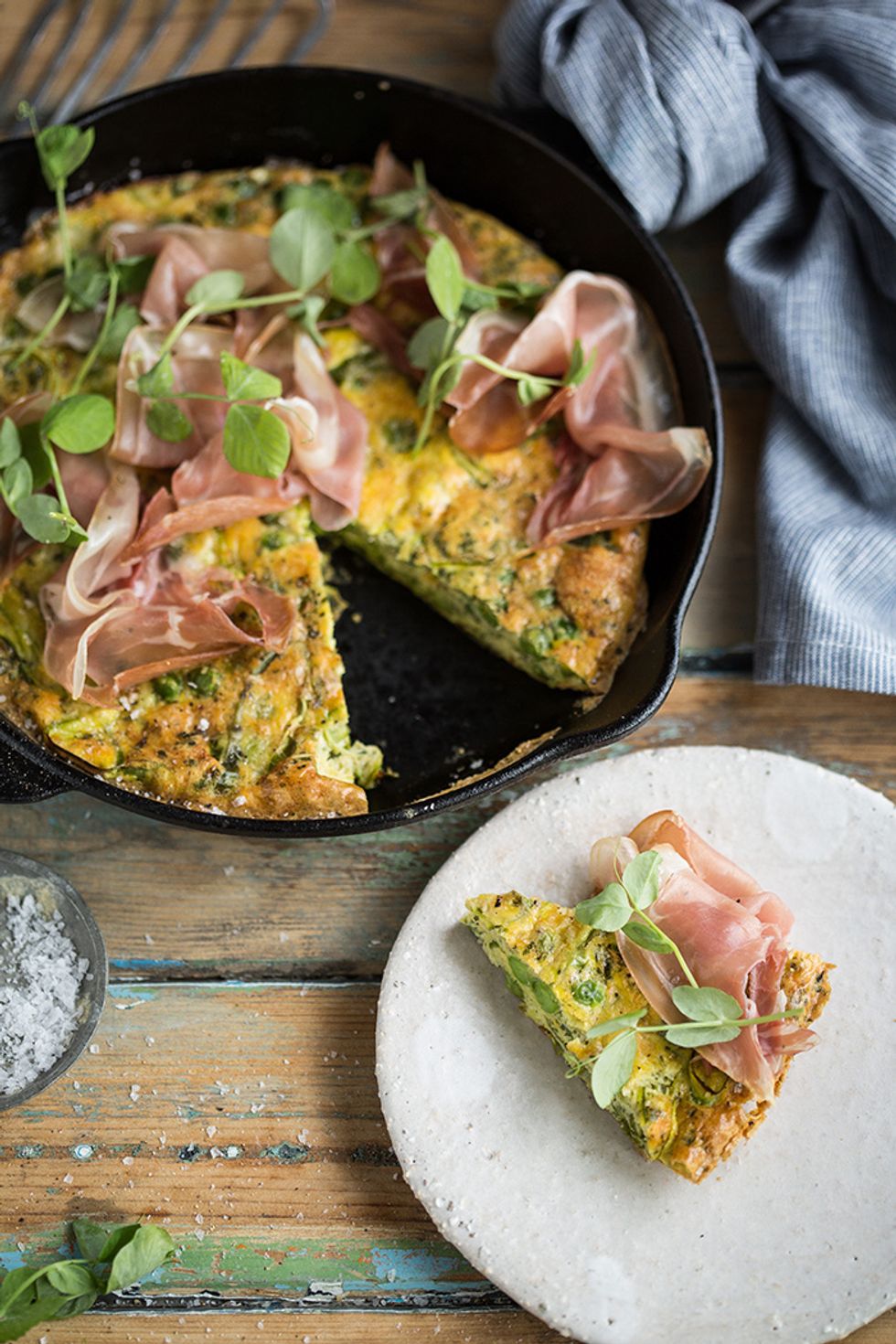 4. Shaved Asparagus and Pea Frittata With Mint and Parma Ham: Breakfast for dinner is always a treat, especially when it comes in the form of a frittata packed with veggies and garnished with salty, dry-cured ham. (via Drizzle and Dip)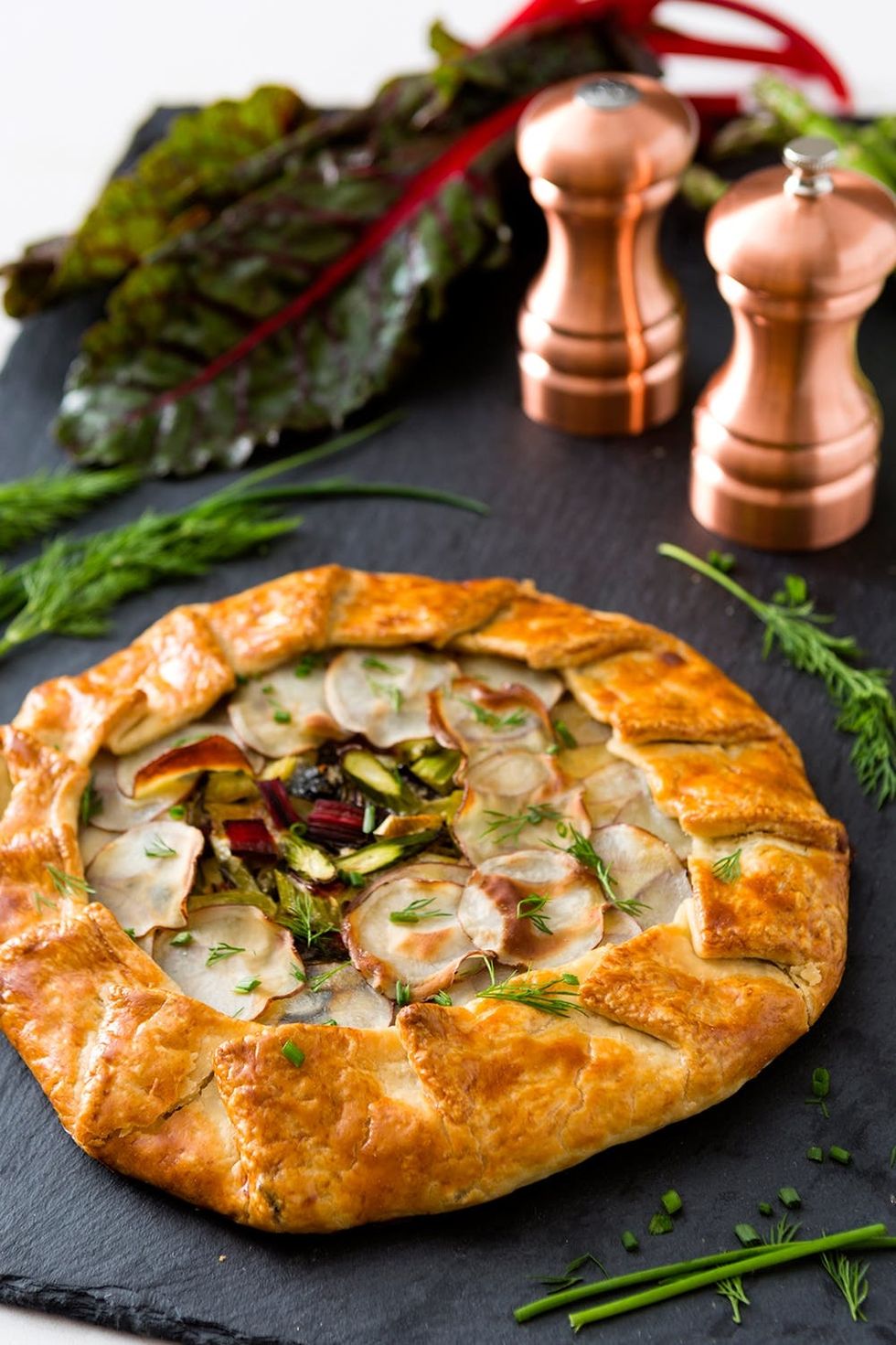 5. Spring Vegetable Galette: You don't need to be a pastry expert to make a beautifully cheesy, crispy galette. The more crags and "rustic" bits there are in the crust, the better it looks. (via Brit + Co)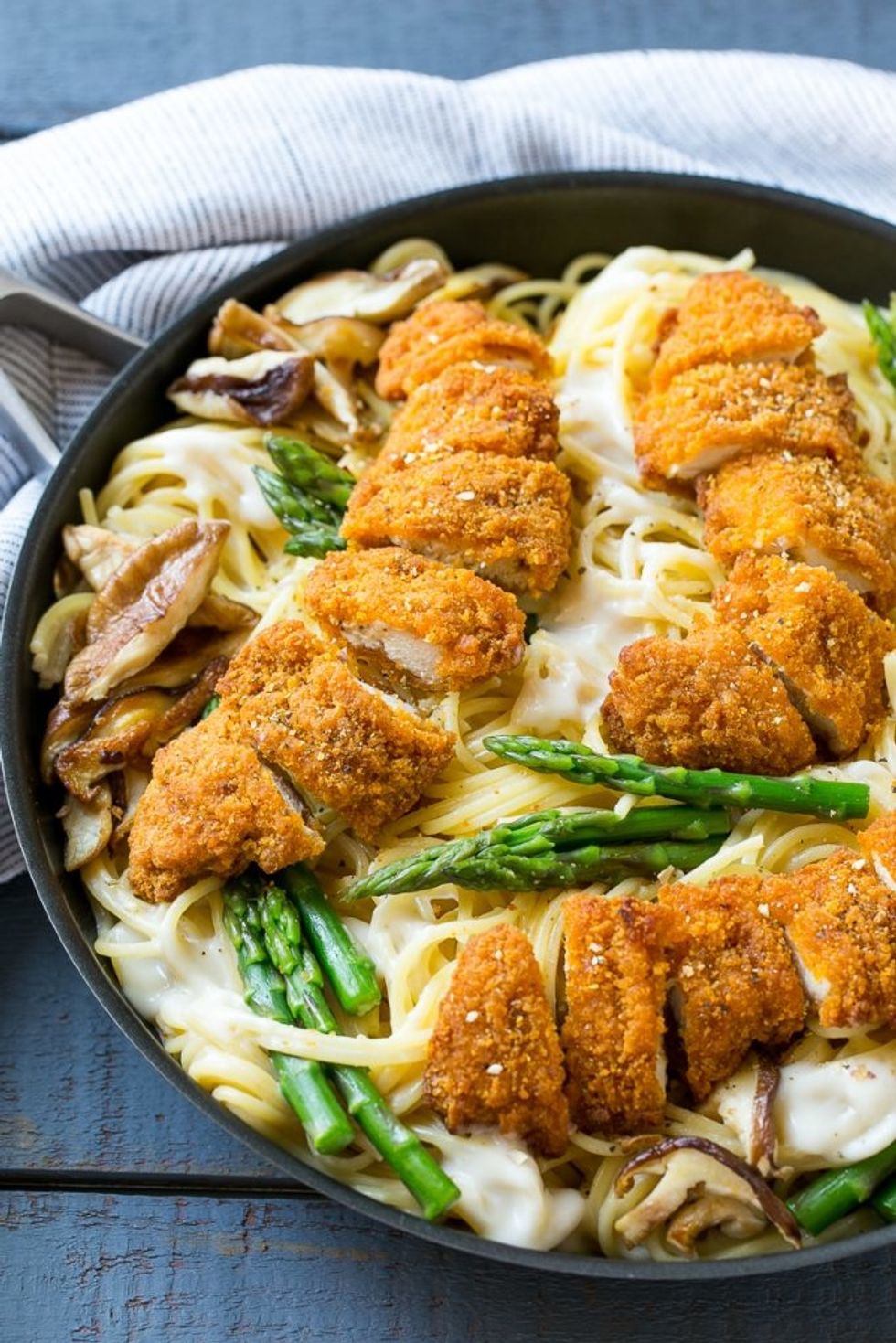 6. Easy Chicken Spaghetti: Your entire family will fall madly in love with this easy-peasy pasta dish. Tossed with crisp asparagus and tender chicken strips, the spaghetti is fancy enough for Easter dinner, yet quick enough to throw together for a last-minute brunch. (via Dinner at the Zoo)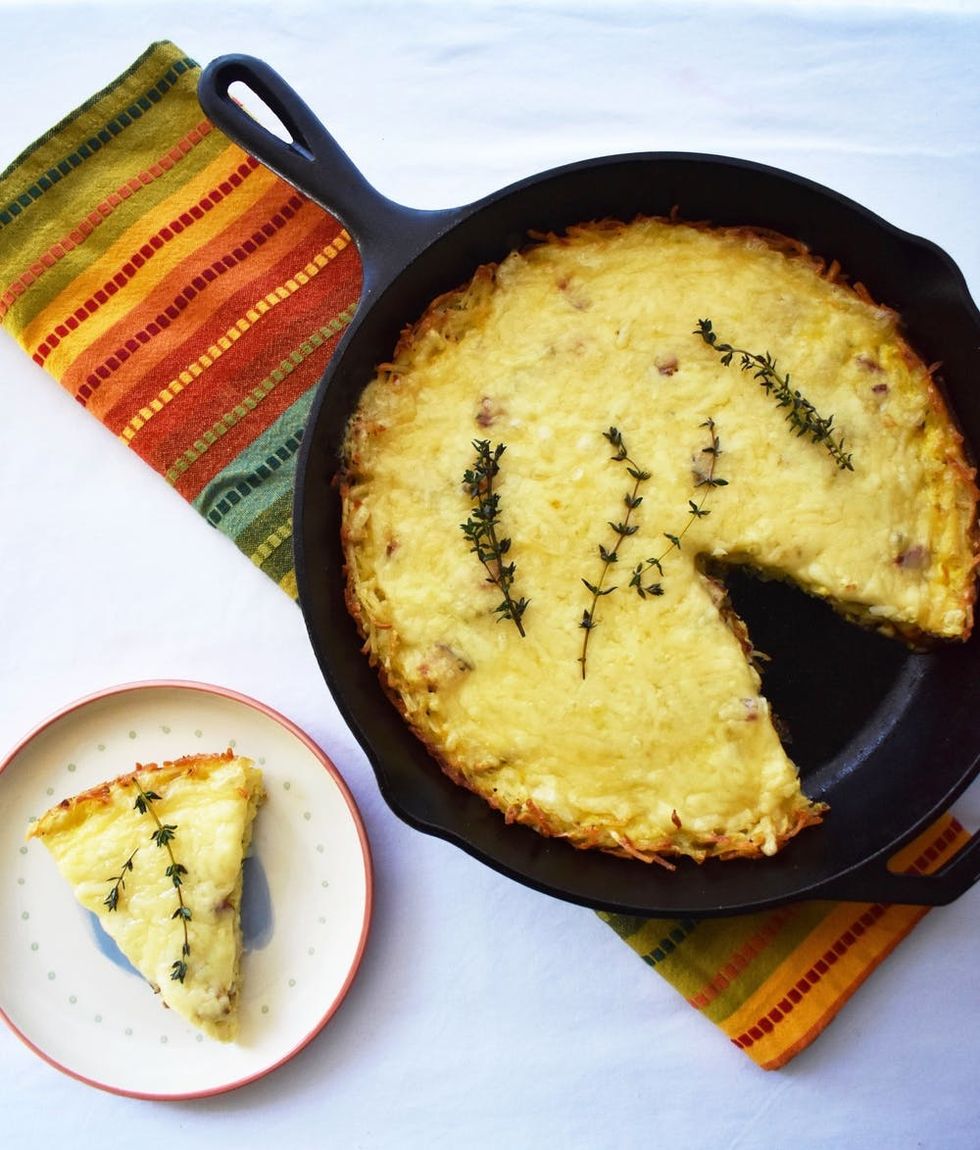 7. Potato-Crust Quiche Lorraine: You'll forget pastry crust ever existed when you bite into this hashbrown-crusted quiche, filled with a silky mixture of eggs, half and half, and shredded Gruyère. (via Brit + Co)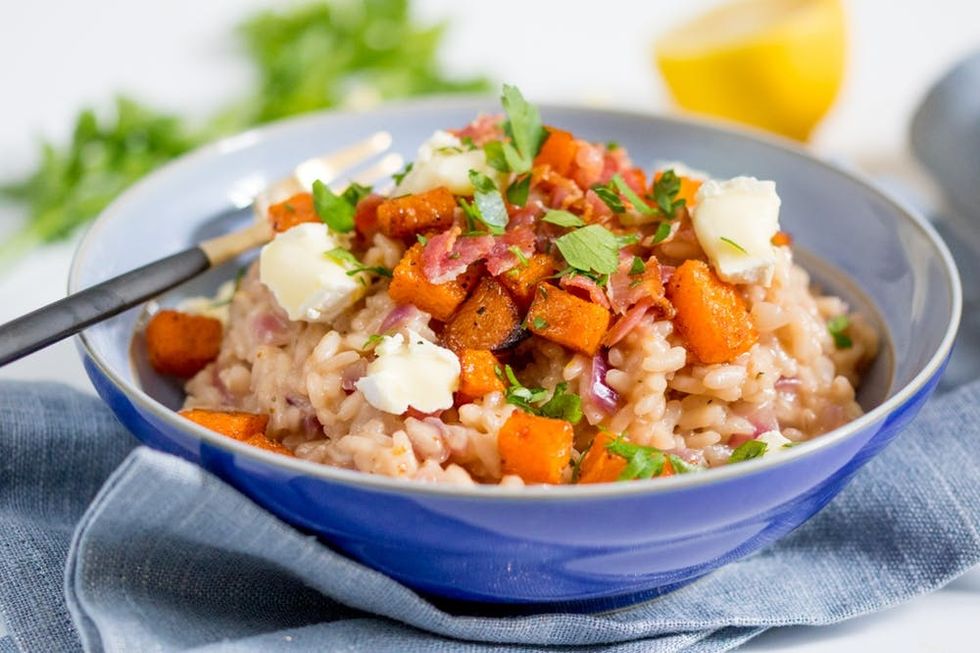 8. Brie, Bacon, and Butternut Squash Risotto: This customizable recipe will be delicious no matter what cheese, veggies, and herbs you choose — just don't leave out the crispy bacon. (via Brit + Co)
9. Rosemary Chicken, Bacon, and Avocado Salad: Healthy, hearty, and fresh, this salad makes a filling main course for even the hungriest of carnivores. (via How Sweet Eats)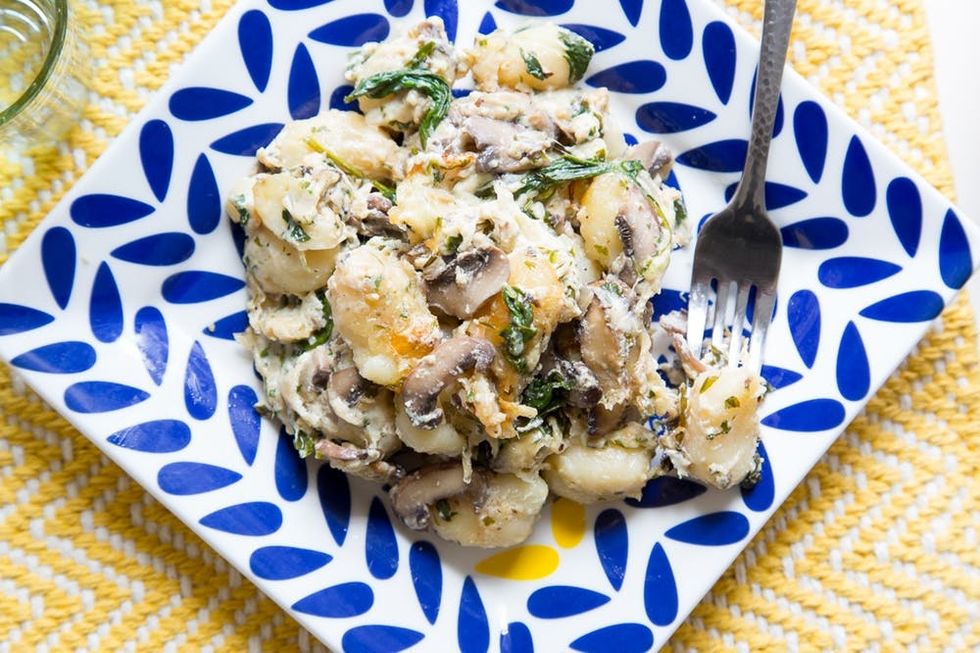 10. Make-Ahead Spinach Mushroom Gnocchi Casserole: Spring veggies get the deluxe treatment when tossed with pillowy gnocchi, three kinds of cheese, and fresh thyme. (via Brit + Co)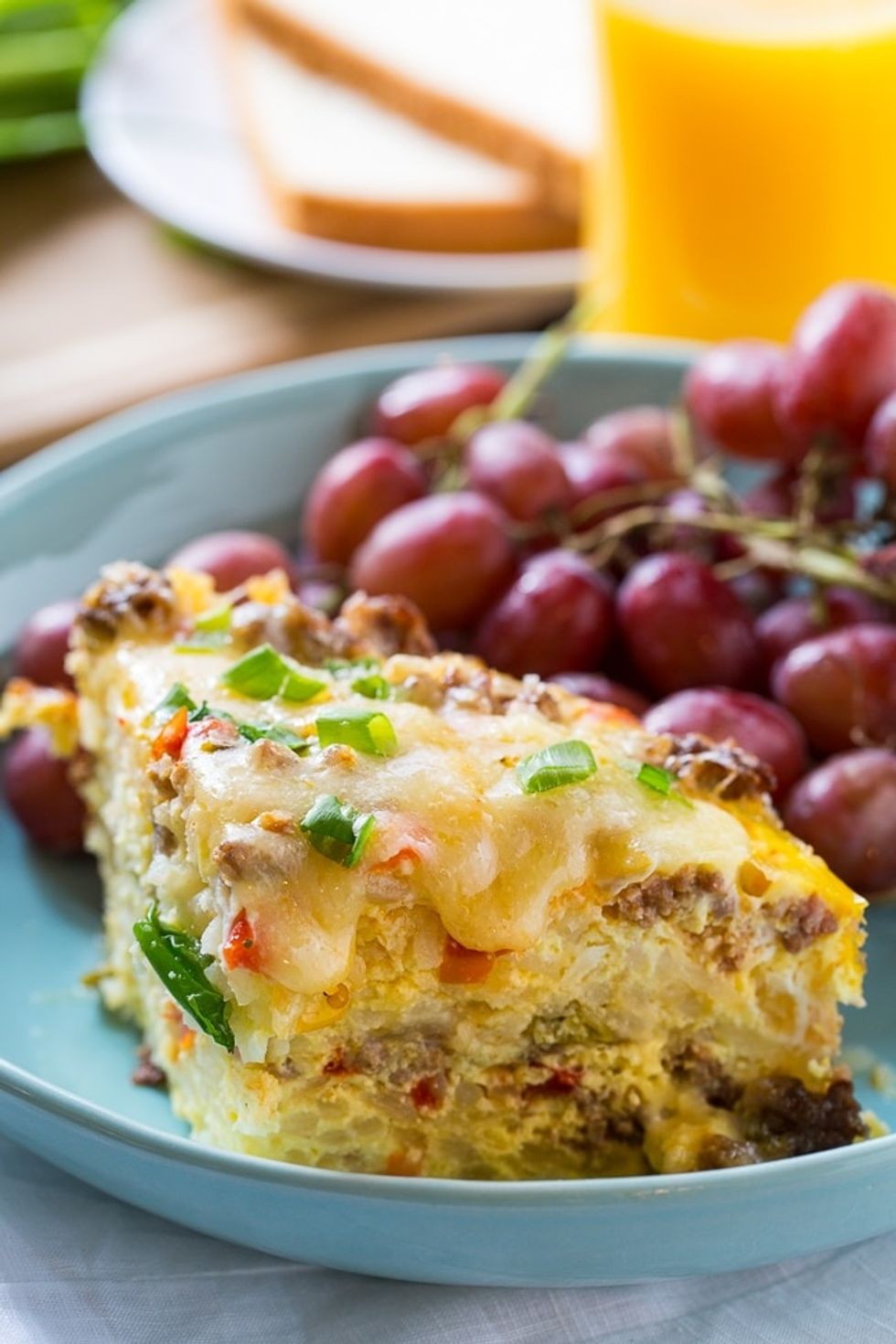 11. Spicy Crock-Pot Brunch Casserole: There's no need to cook a million dishes when you make a one-pot wonder like this brunch casserole. It has everything you need (AKA hashbrowns and cheese) to impress picky eaters. (via Spicy Southern Kitchen)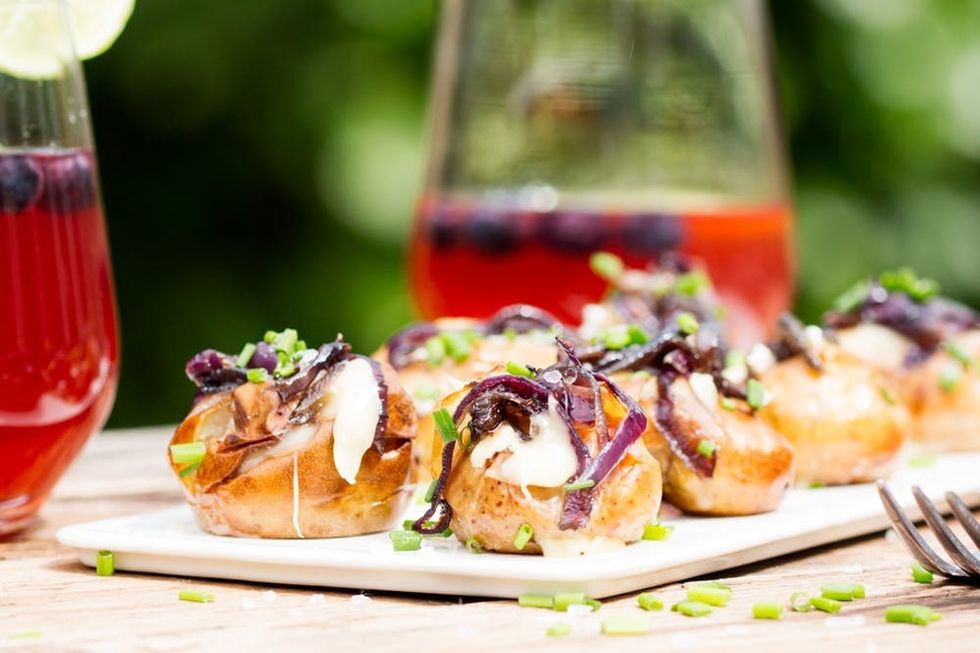 12. Brie-Stuffed Mini Baked Potatoes: Bite-size foods make serving a crowd a breeze. These buttery, crispy potatoes, stuffed with melty cheese and topped with caramelized red onion, will disappear in a flash. (via Brit + Co)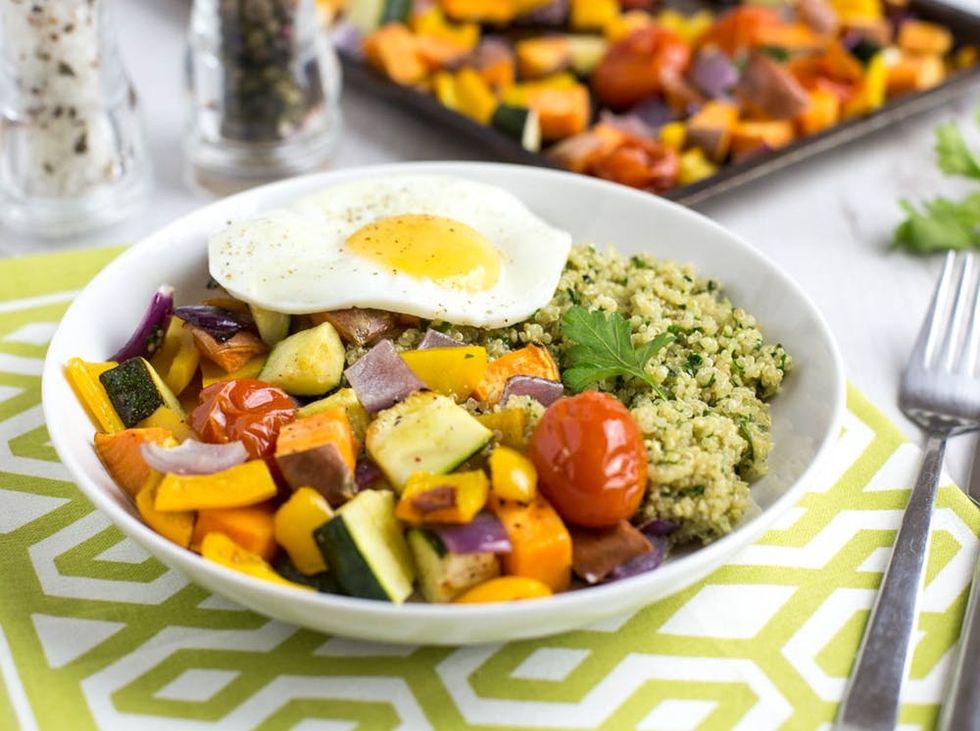 13. Herbed Quinoa Bowls: Guests will feel like they're at a trendy California restaurant when they try these homemade grain bowls, balanced with roasted veggies, pesto quinoa, and fried eggs. (via Brit + Co)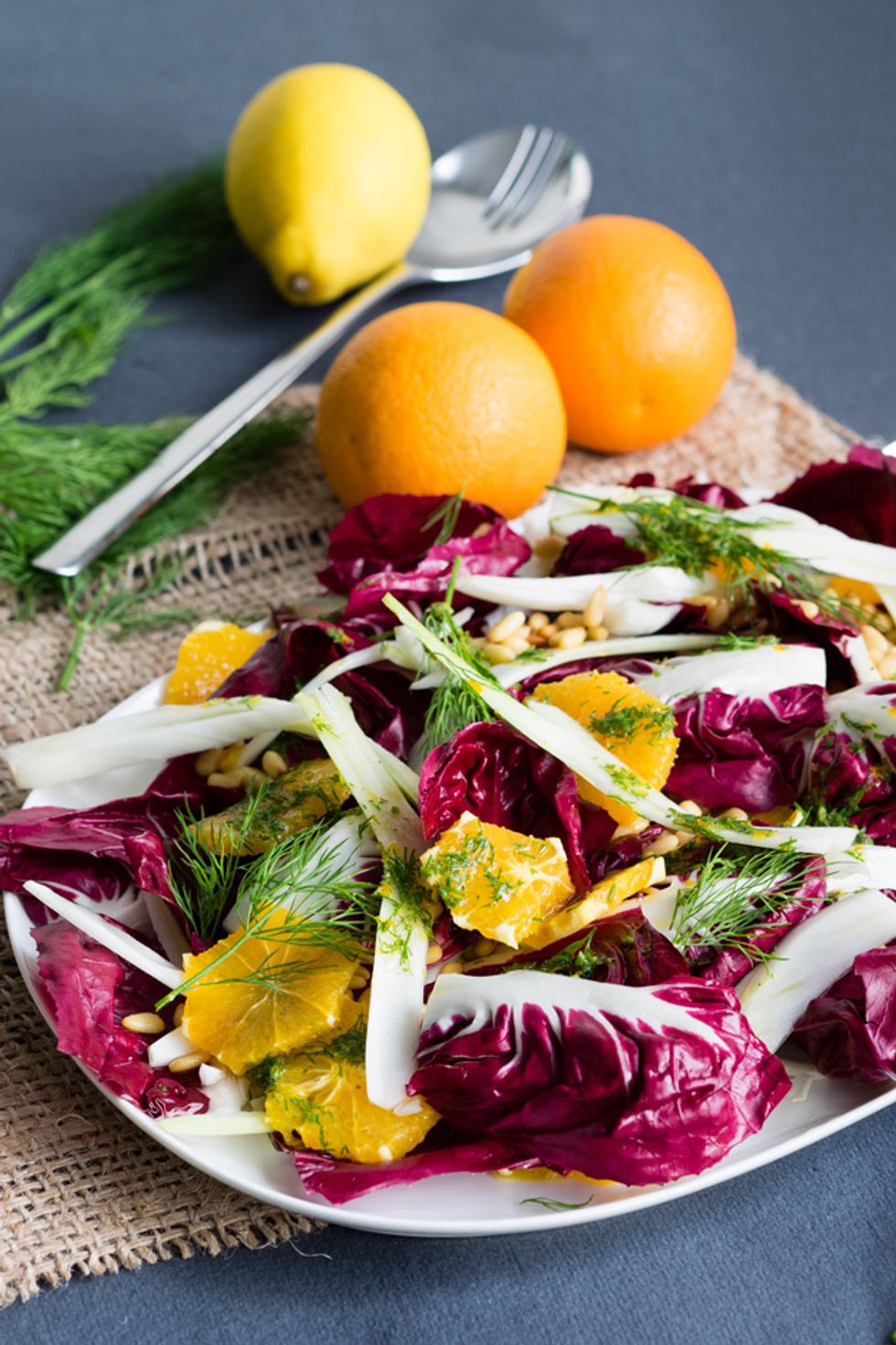 14. Orange and Fennel Salad: The best way to save time when cooking for a crowd is to skip the oven altogether. Try this beautifully colorful salad, filled with juicy oranges and crispy pine nuts. (via The Worktop)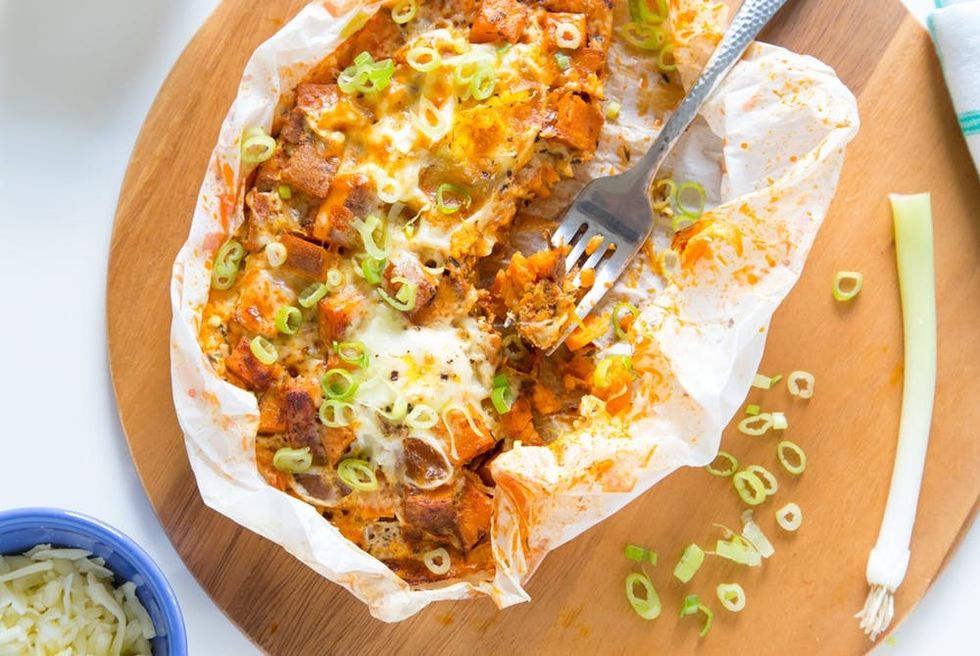 15. Parchment-Paper Baked Eggs: Elegant eggs en papillote can be made with any flavor combination, but we're partial to these pouches of sweet potatoes, mozzarella, and scallions. (via Brit + Co)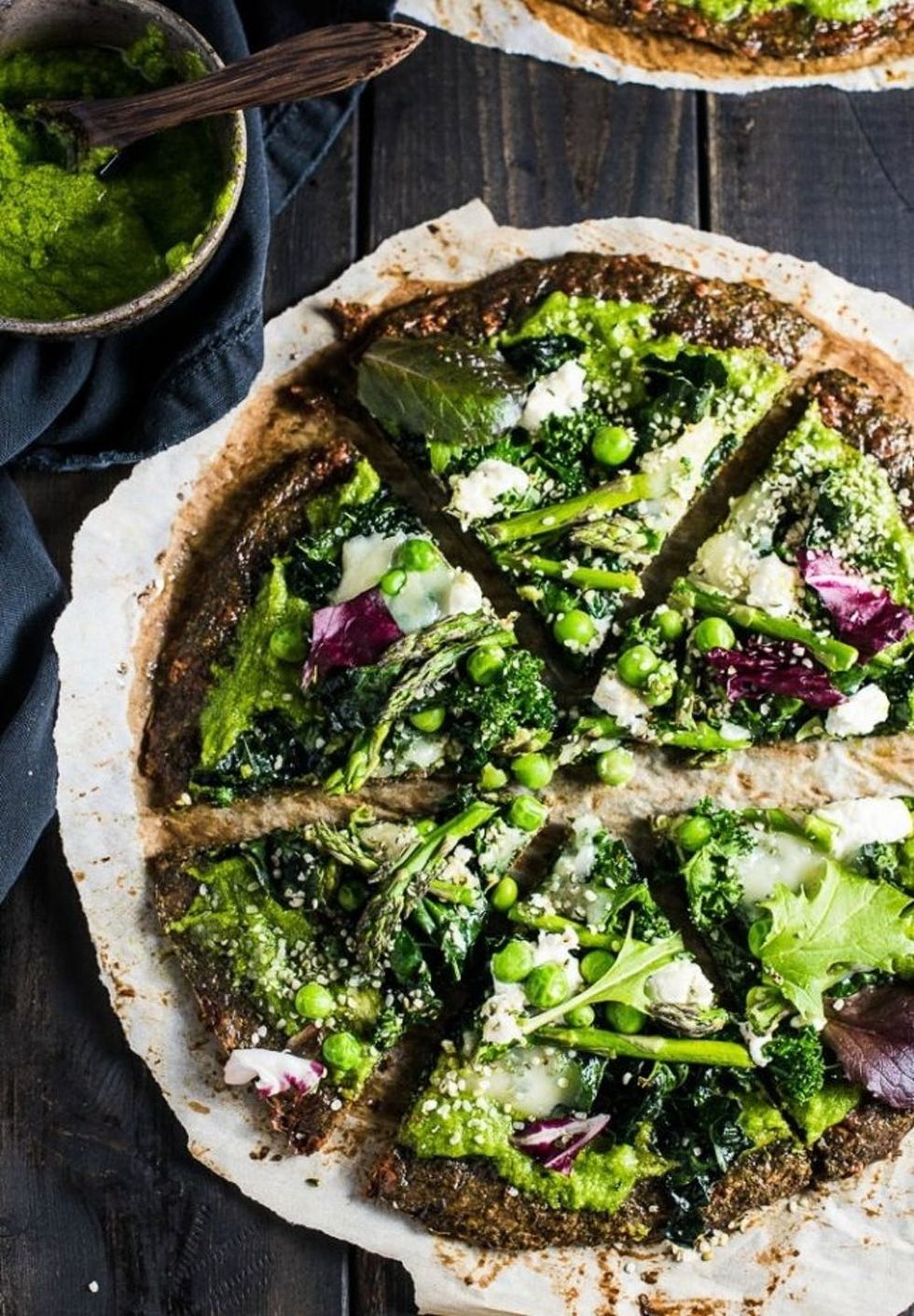 16. Green Goddess Pizza: If you ask us, it's not a celebration until pizza is involved — and this pesto- and spring- veggie-laden pizza is celebratory indeed. (via The Endless Meal)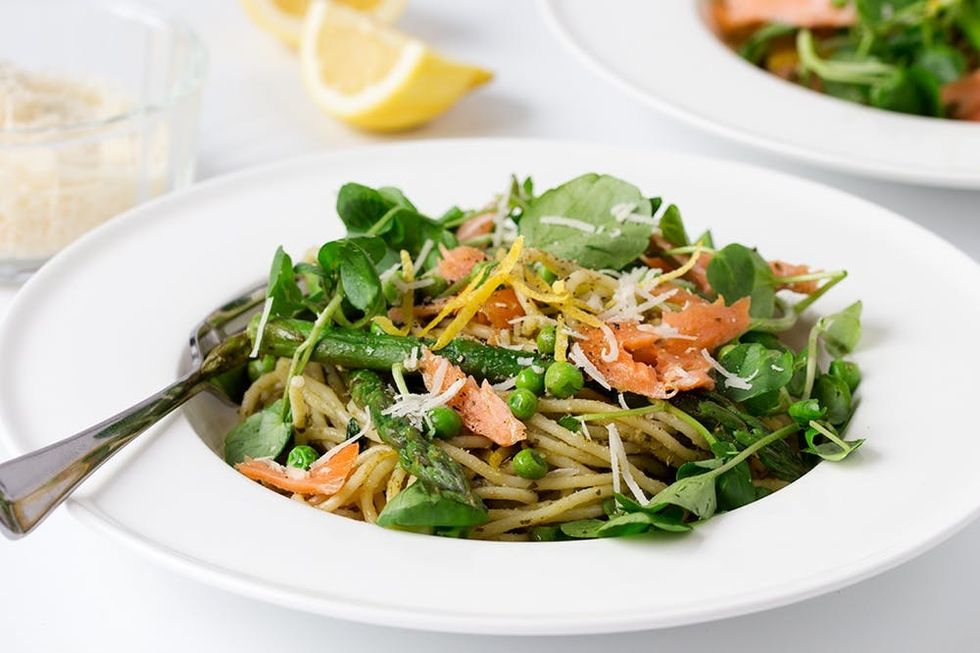 17. One-Pot Pesto Pasta With Smoked Salmon: Smoked fish is right at home on both brunch and dinner spreads. In this dish, it's served with spaghetti, asparagus, peas, and creamy mascarpone cheese. (via Brit + Co)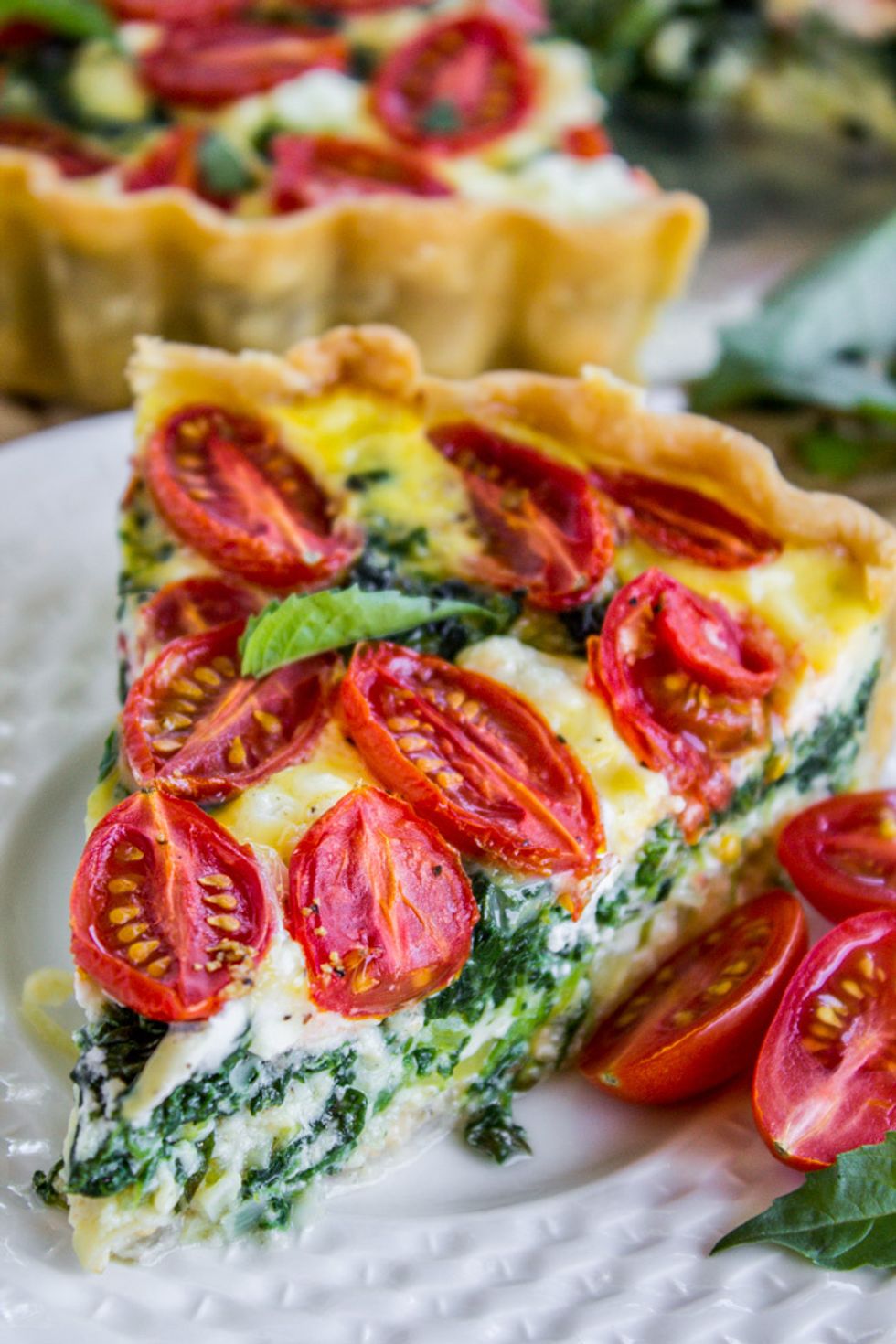 18. Cherry Tomato, Leek, and Spinach Quiche: Pretty much everyone can get behind a silky quiche. Wholesome and yummy, this recipe is bursting with the flavors of fresh veggies. (via The Food Charlatan)
Can't get enough breakfast for dinner? Follow us on Pinterest for more recipes.
Additional reporting by Maggie McCracken
Sara Cagle
Sara is a food and lifestyle freelance writer in Los Angeles. She writes a weekly events column for the Los Angeles Times and loves writing food content for Brit + Co. After all, the English language's most fun adjectives are best applied to delicious foods. In her free time, she's a hip hop dancer, avid moviegoer, and thorough face-mask user.
Recipes