Top Nutritionists Share 7 Tricks for Eating Healthy on Super Bowl Sunday
Feb 05, 2016
Whether you're attending a low-key gathering or hosting your Annual Super Bowl Dinner Party Extraordinaire, it's no surprise that Super Bowl Sunday is filled with many healthy eating landmines. If you're not ready to derail your clean eating or fitness resolutions, there are plenty of simple ways to stay healthy on game day, from healthy Super Bowl recipes to smart eating tricks. We talked to two healthy eating experts, Lisa Hayim, MS, RD, and founder of The Well Necessities and celebrity nutritionist Lisa De Fazio, MS, RD, to get the scoop on their genius strategies for staying on track from kick off to clean up.
---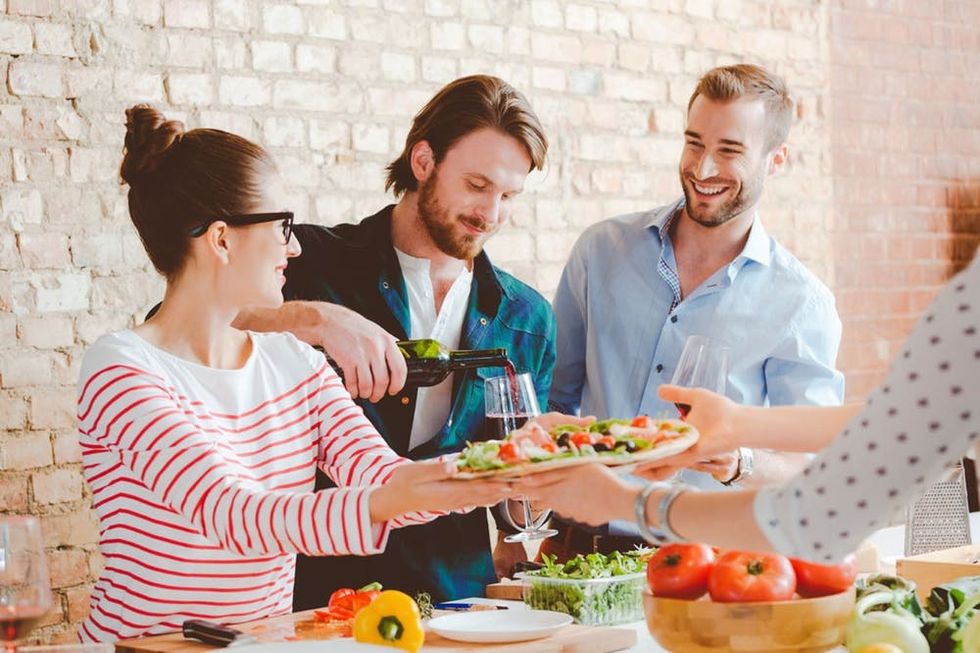 1. Eat before you go. "Whether this is breakfast or lunch, do not show up to your Super Bowl event even just a little hungry. The room will be brimming with savory flavors that will automatically cause you to salivate and crave salty, high-fat foods. If you enter hungry, this response will be stronger," Lisa H. says. On the go all day? Pack some healthy snacks that you can munch on.
2. Beeline straight for the veggie platter. Make it your #GameDay goal to eat as many colors of the rainbow as possible. "A veggie platter is a must! You can crunch and munch with few calories. Dip veggies in salsa, guacamole, hummus or light ranch dip," shares Lisa D. "If you are going to someone's house, take a big fresh veggie platter, or even a fruit plate or hummus and baked pita chips." You might not think all this veggie-crunching adds up, but it really does: "Even if a party's offerings are humdrum, you can always count on crudité lying around somewhere. Filling up on crunchy vegetables will help you avoid the 'not-so-good' stuff later," Lisa H. adds.
3. Stick to dairy-free dips. It wouldn't be a Super Bowl party without allllll the dips. But make your dunking MO strategic. "Salsa is a tasty, low-calorie condiment that can add flavor to many dishes and meals. Guacamole is a flavorful, healthy dip as well," Lisa D. says. What do these two dips and hummus have in common? They're sans dairy. For the most part, when dips have dairy (think: spinach-artichoke dip, ranch and queso), it's a telltale sign they're loaded with excess fat and calories. If you're really craving a silky smooth dairy fix, opt for one with an unsweetened Greek yogurt base that relies on vegetables and spices for the final recipe, like this Greek yogurt spinach and kale dip.
4. Follow the "finger stain" rule. As a kid, your Kindergarten teacher may have urged you to join the "clean plate club."As an adult, you'll want to shoot to be part of the "clean finger club." Lisa H. explains: "If a finger food is out, and you know it will be left on your fingers, put it down. Chances are, it's not so good for you. That goes for chips, cheese doodles or anything with a greasy residue. So before you dive into the apps platter, ask yourself: "Will it stain my fingers?"
5. Offer to clean. Don't worry, we're not telling you to volunteer yourself for dish washing and table clearing duties every night. But come Super Bowl Sunday, it may be a good idea. "The host is burning the most calories of anyone! She/he is hustling and bustling to get food made, bring it out and then clean it up. So if you're a guest, offer to help out. Not only will it distract you from all the mindless eating, but it will help burn some calories too!" Lisa H. says.
6. Be mindful every time you plate. Nope, no need to pop into a cross-legged seat. Just simply do this every time you load up a new plate: "Before you fill your plate, take a moment and visualize how you will feel that night and the next day after you eat the greasy or unhealthy bites (upset stomach, gassy, bloated, etc.)," suggests Lisa D. "Doing so can help you think twice before eating the junk food." On the flip side, whenever you're gulping down a glass of water or have stacked your plate high with greens, take a moment to appreciate your commitment to stay healthy.
7. Glue down, don't graze! As in glue yourself down to your seat when you eat. "Grazing at home, or during work is different than grazing at a Super Bowl party," explains Lisa H. "At home, we can control what's around. At a Super Bowl party, there are nearly limitless amounts of finger foods brought out all day long. If you choose to eat, fill up one plate, sit down with it, and try to be as mindful as possible despite all the distractions." Try doing the same thing every time you refill your wine or beer glass, rather than sticking around the bar area. "No one says you need to go cold turkey while kicking it back, but it is a Sunday night, and no one wants to feel hungover at work the next day! I recommend my clients have a two drink maximum at parties to guarantee they wake up feeling great."
What healthy Super Bowl staple can't you live without? Tweet us @BritandCo!
(Photo via iStock)