17 Ways to Add Waffles to Everything
Mar 25, 2016
If you've been making waffles in your waffle iron exclusively to be topped with butter and syrup for breakfast, sorry, but you're doing it wrong. To get you up to speed for National Waffle Day, we're here to tell you that there's a way to add a waffle to everything — grilled cheese, tacos, chili and more. Besides adding the crisp cake to your favorite meals, get this: If you're preparing a dish like waffle cornbread or even a healthy pizza with a waffle as the crust, making the concoction in a waffle iron can reduce the cook time by at least half. Those are valuable minutes you can now spend kicking your feet up with a Girl Scout cookie cocktail (if you have any left, that is). Here are 17 savory waffle day recipes, so you can eat waffles for breakfast, lunch and dinner to commemorate this very special occasion.
---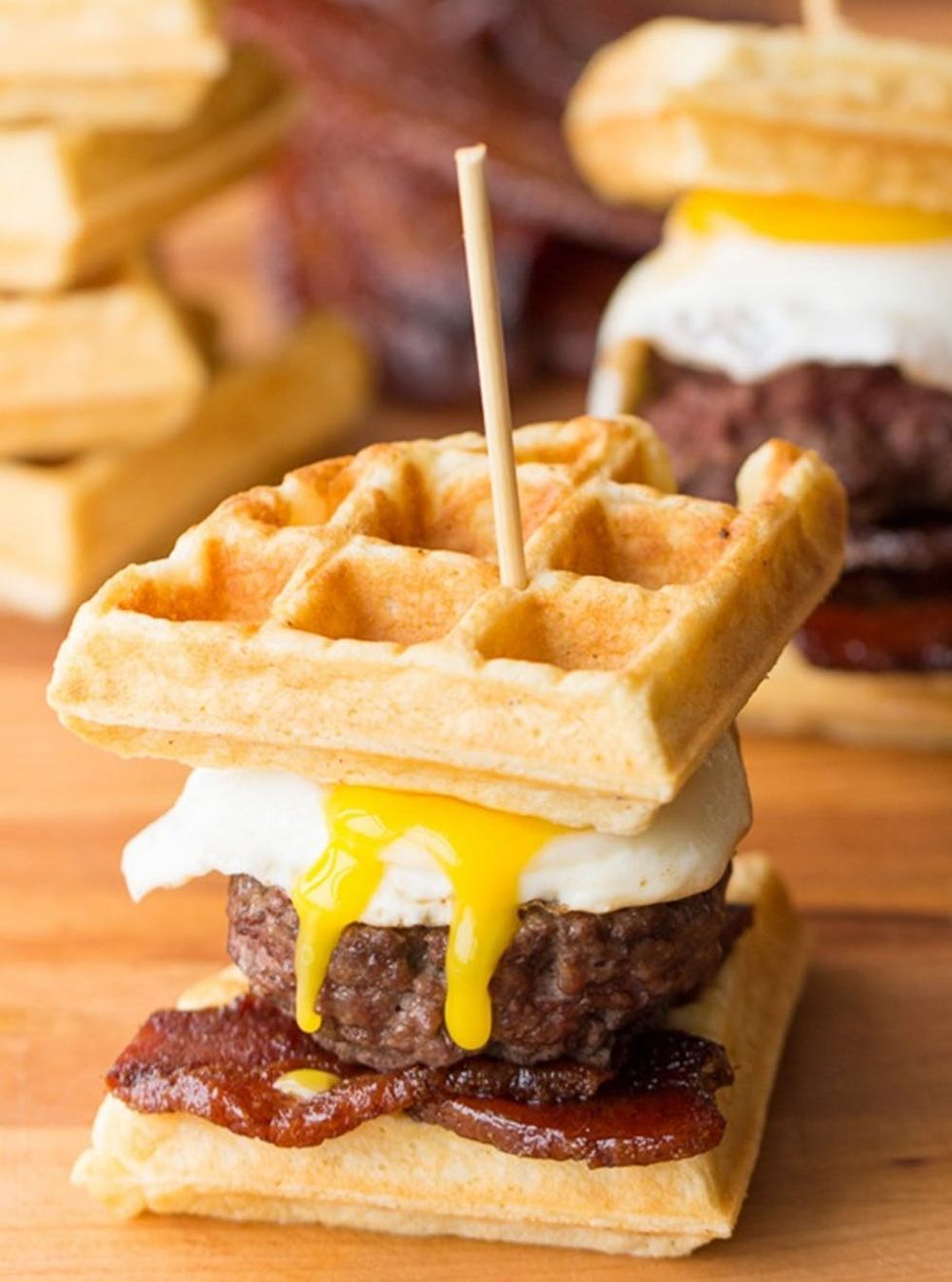 1. Waffle Sliders With Candied Bacon: There are two ways to look at this slider. Either you're having a burger for breakfast or breakfast for dinner. Either works in our book! Freshly made waffles take these sliders to the next level, but you can use frozen ones in a pinch. (via That Oven Feelin')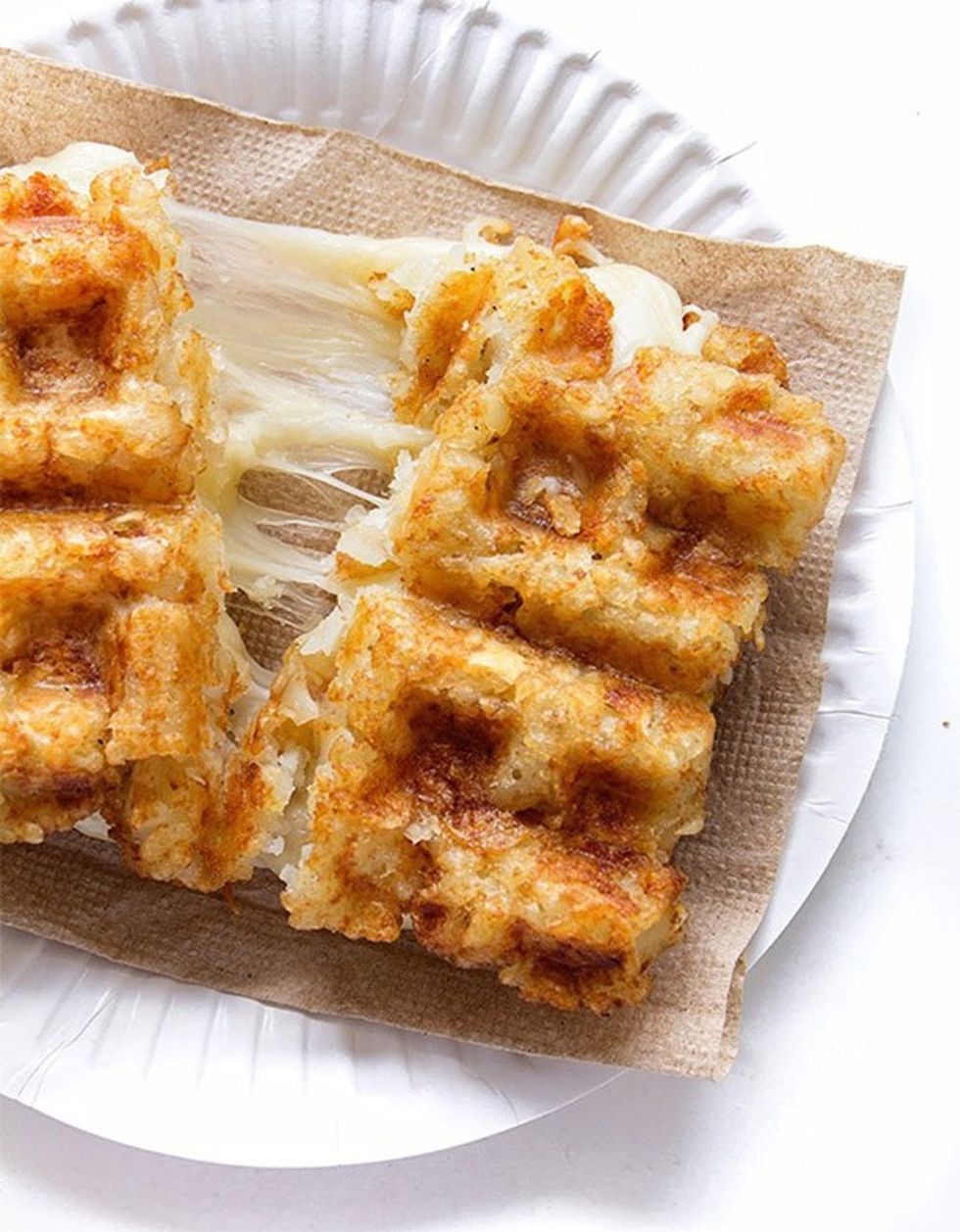 2. Waffled Tater Tot Grilled Cheese: This genius waffle sandwich is the kind of dish you'll randomly crave without warning. The tater tot "bread" gets tantalizingly crispy in the waffle iron. Add the cheese, then bake… And suddenly, you won't be able to decide if you want to dip this sandwich in ketchup or tomato soup. (via Real Food by Dad)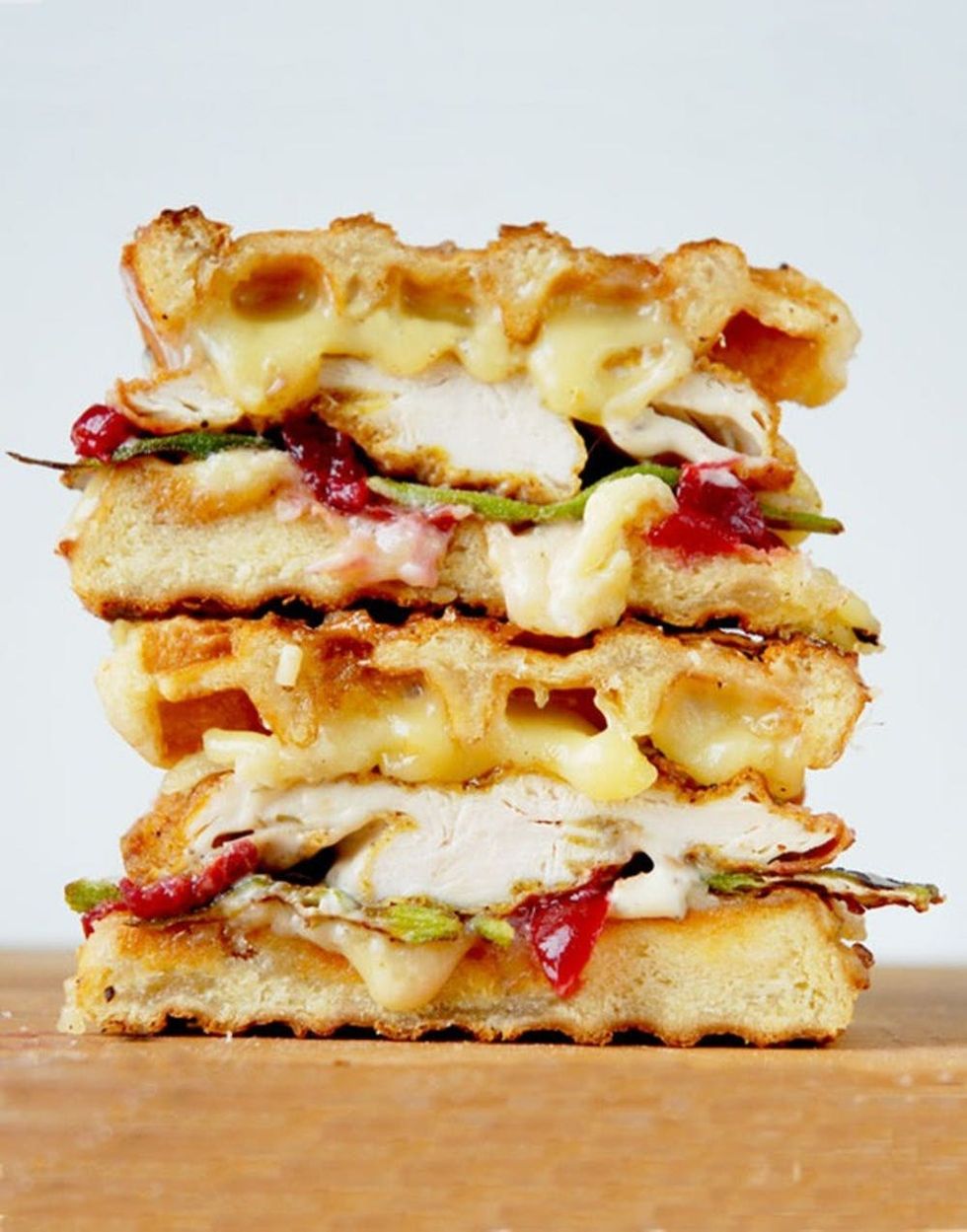 3. Chicken and Waffle Grilled Cheese With Pickled Cherries and Okra: This is not your ordinary chicken and waffles. The sandwich packs a whopping punch of flavor thanks to smoked fontina cheese, pickled cherries and ranch dressing. Don't worry — we've got your daily dose of greens covered too, in the form of grilled okra. (via Grilled Cheese Social)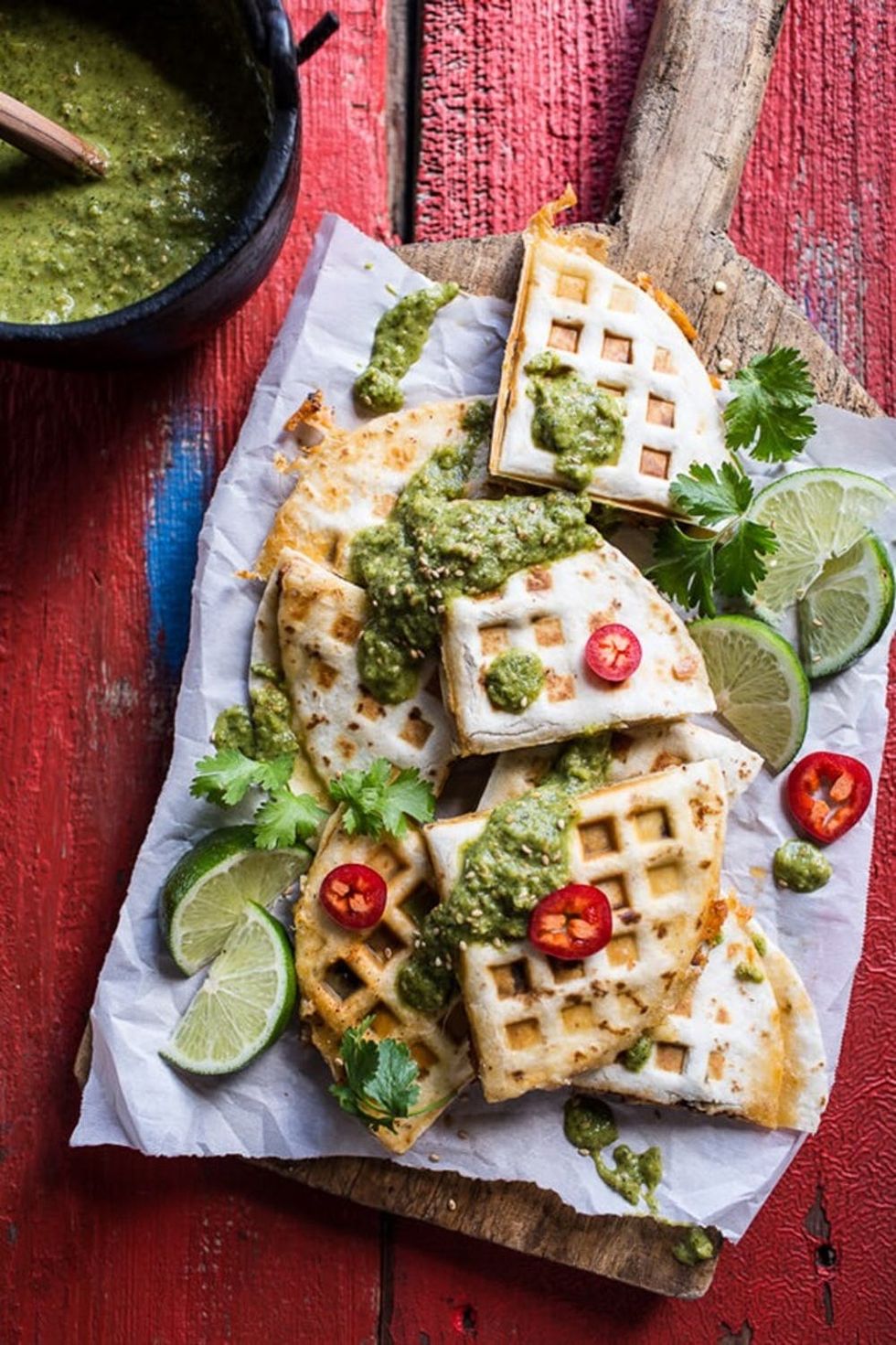 4. Spicy Pork Al Pastor Quesadillas: The best way to make quesadillas doesn't even require the stove. How cool is that? Tortillas fit perfectly on a round waffle maker, and since you're applying pressure on both sides, the cheese melts quicker and more evenly. Consider your quesadilla hacked! (via Half Baked Harvest)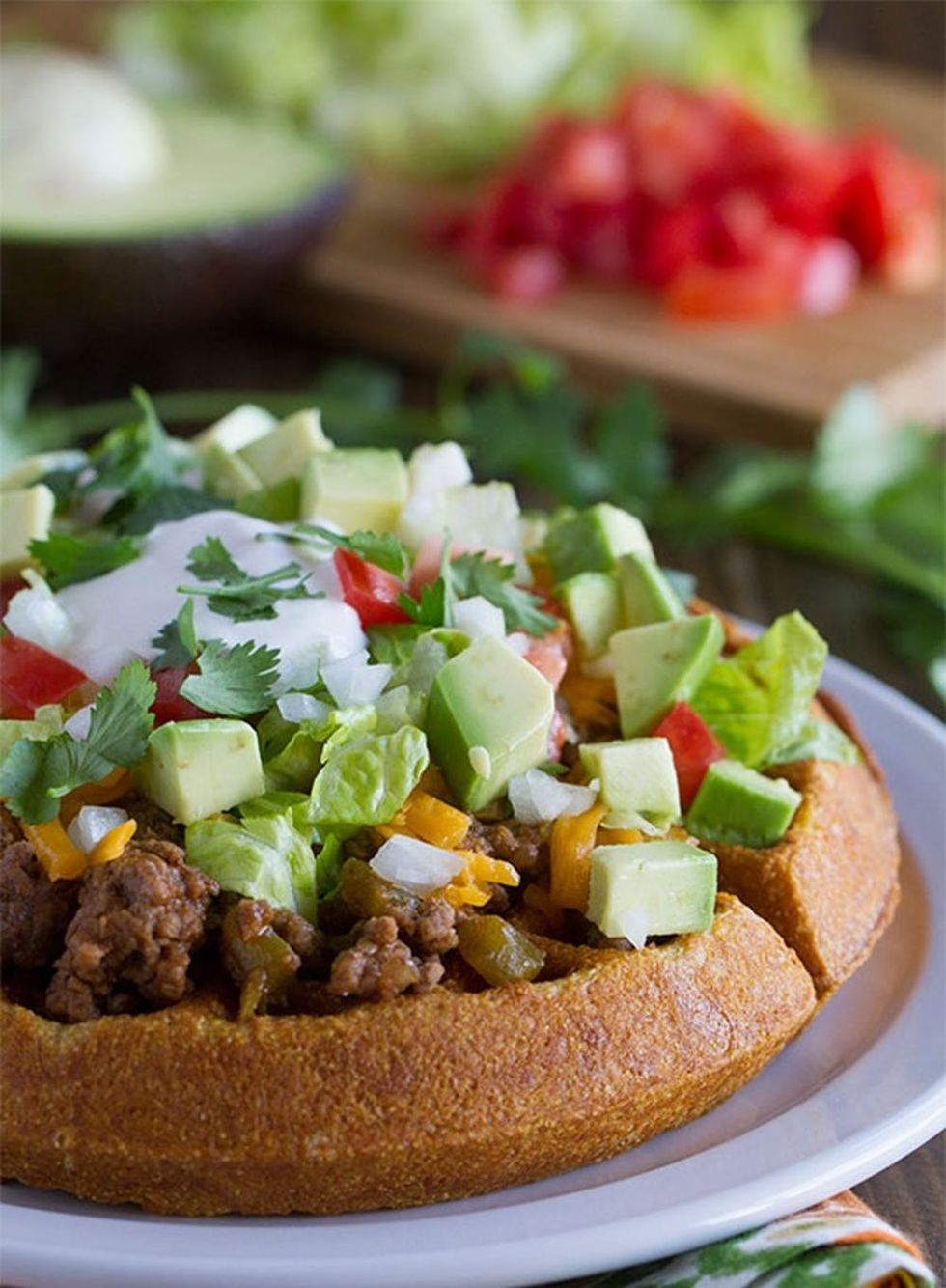 5. Taco Cornbread Waffles: When you're hungry and you still need to cook dinner, people had better get out of the way. Speed up taco night with a waffle iron — it'll cook cornbread in less than half the time an oven would. Then top with your choice of protein, fresh veggies and cheese for a night free of hangry outbursts. (via Taste and Tell)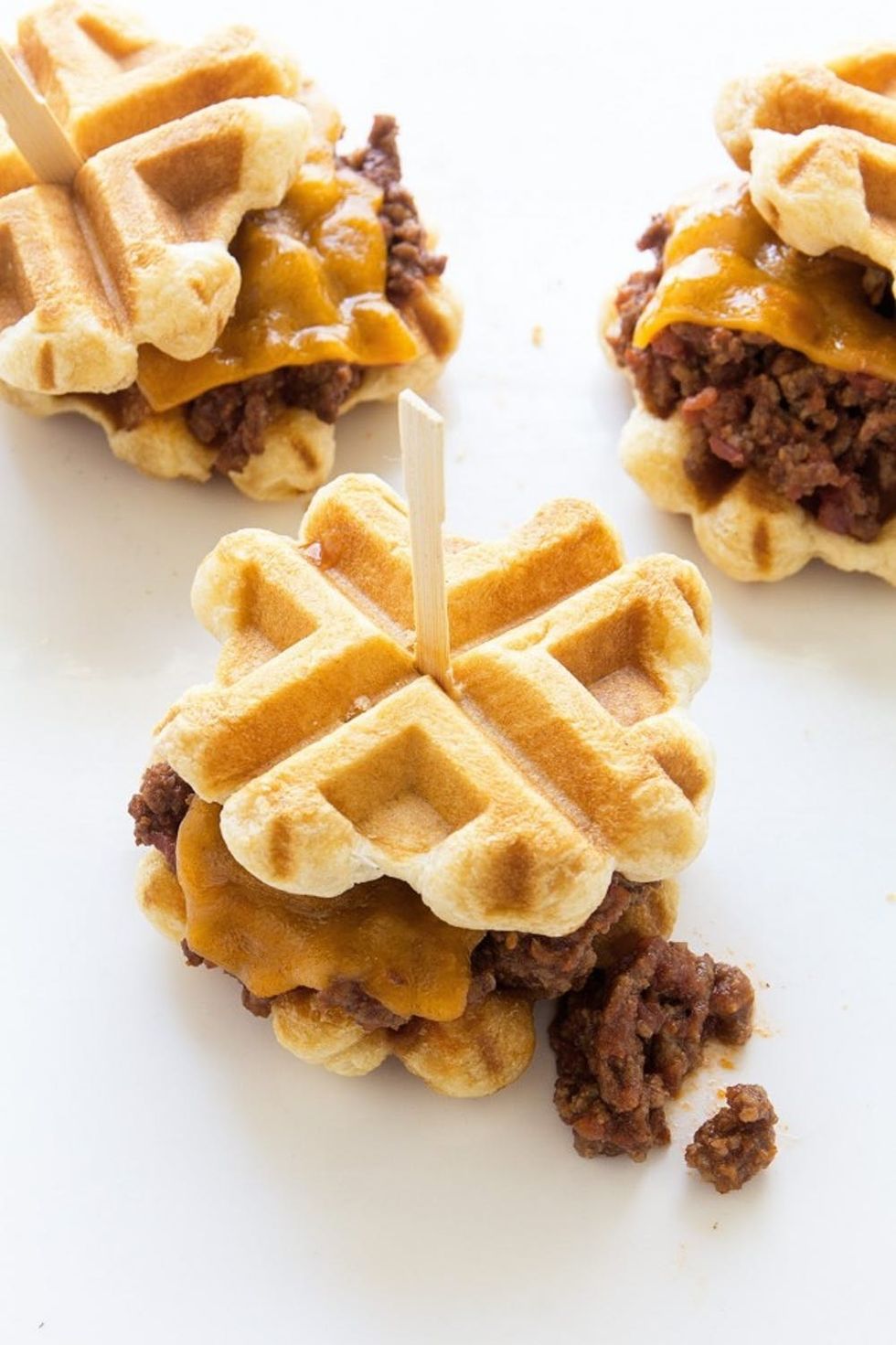 6. Waffled Sloppy Joe Sliders: Elevate the sloppy joes of your cafeteria lunch days with these delicious waffle sliders. Use Pillsbury crescent dough to upgrade the standard flimsy bun. It's the perfect finger food for reminiscing with old friends about the good times on the playground. (via Real Food by Dad)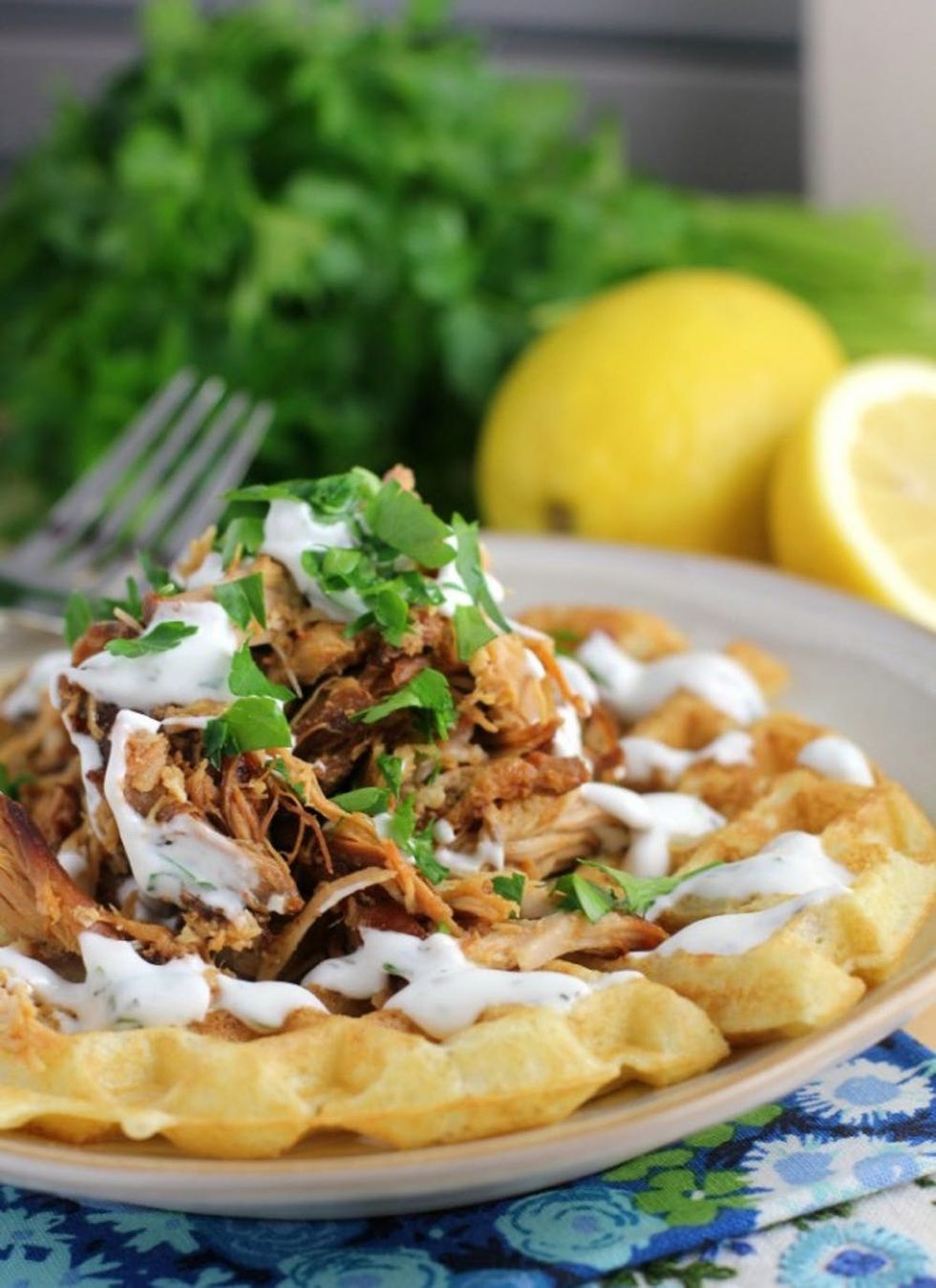 7. Honey Sriracha Pulled Chicken and Waffles With Buttermilk Ranch Dressing: The chicken in chicken and waffles doesn't have to be fried to taste amazing. Case in point: this honey Sriracha pulled chicken. It's like an open-faced sandwich sitting atop a crispy waffle working its magic. Bread = upgraded. (via Erica's Waffles)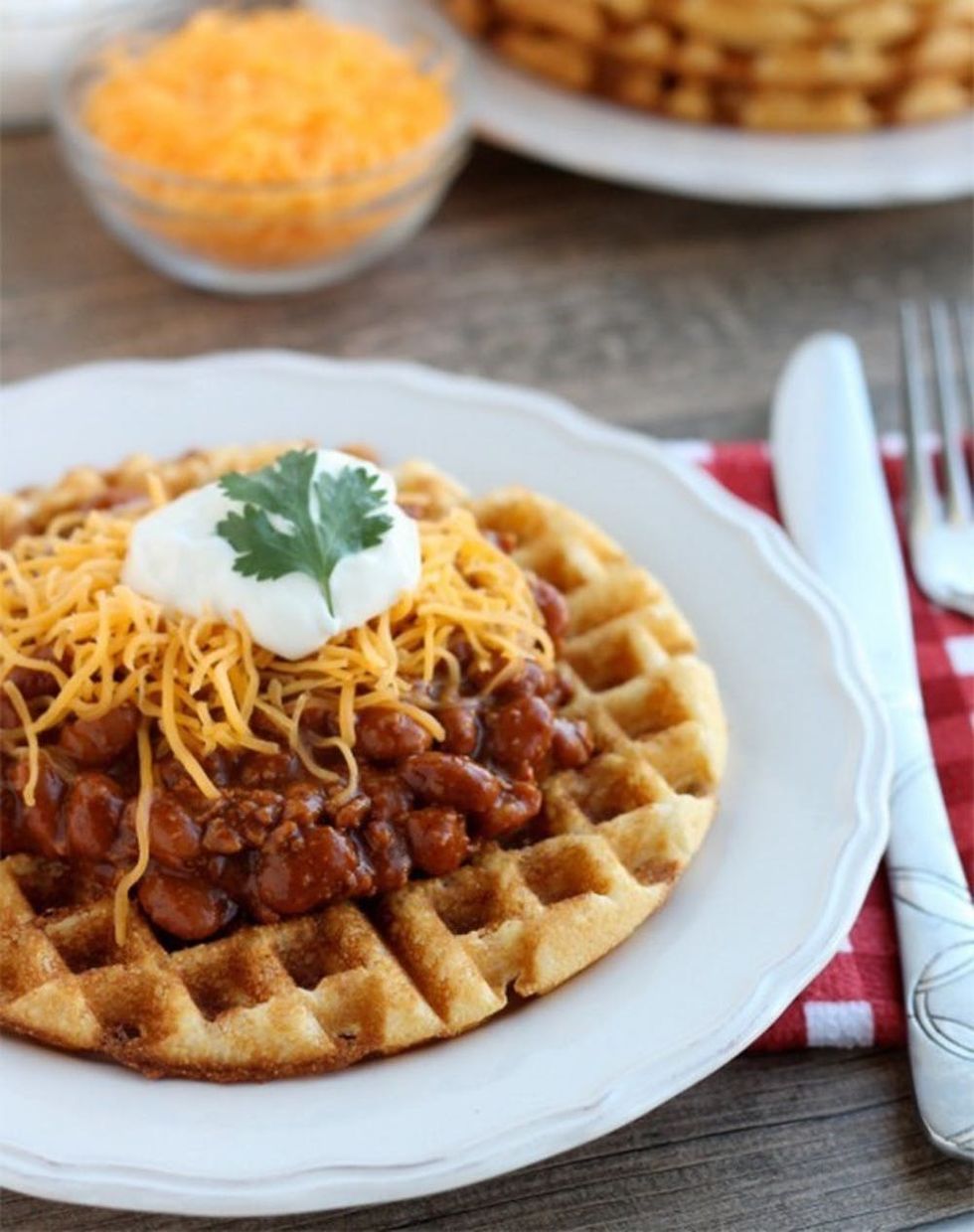 8. Cornbread Waffles With Chili: For a dinner that will make everyone feel special, cook up individual cornbread waffles and top with your favorite chili. If you're pressed for time, canned chili will do too. Bonus: Each serving only takes five minutes to cook. (via Dessert Now, Dinner Later)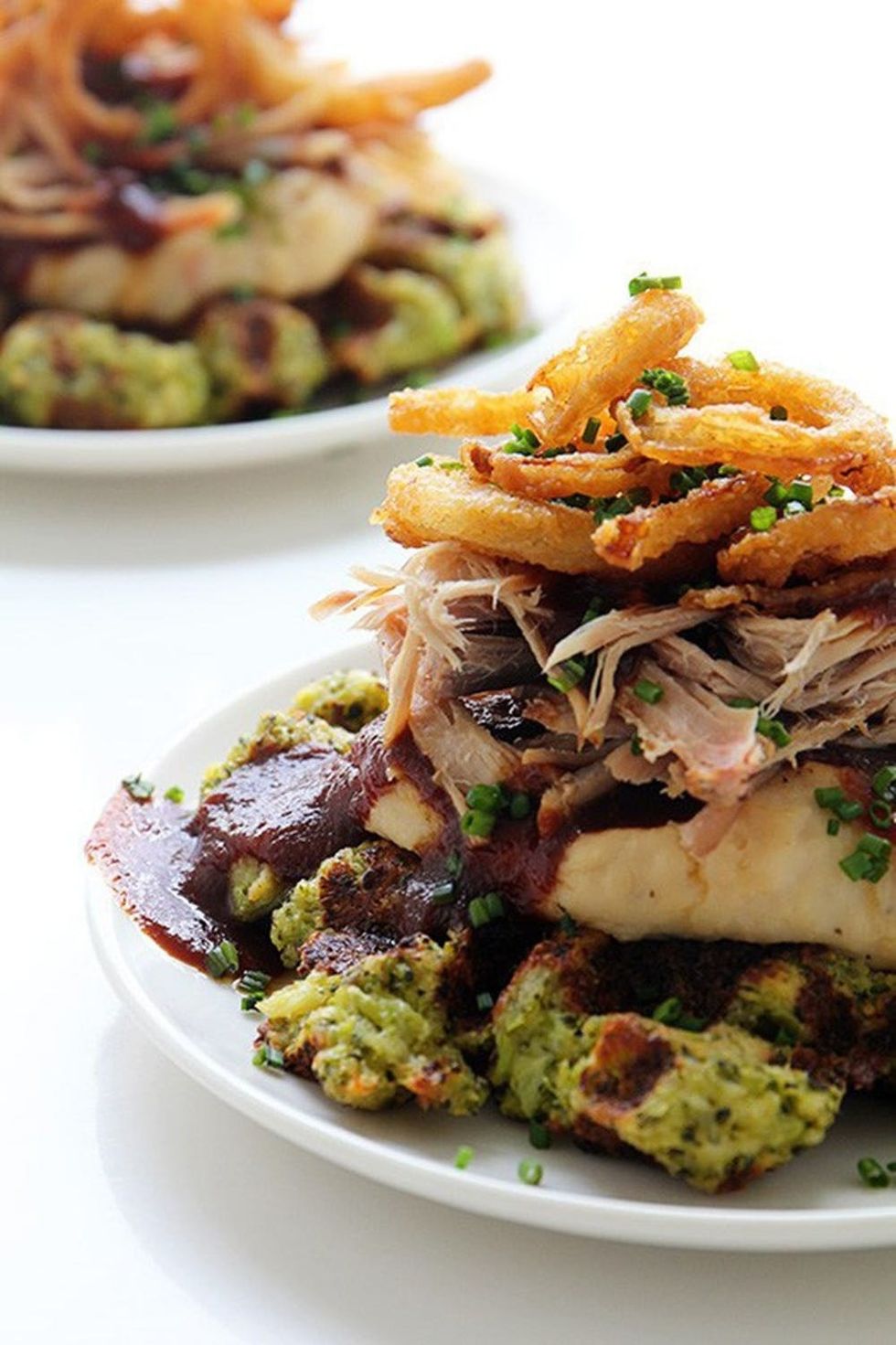 9. Broccaffles: This is a bit of an extreme way to get veggie naysayers to eat their greens, but hey, it's sure to work. This broccoli waffle is like a giant healthy French fry, without all the oil. Treat it like a regular meal with a protein and a starch, but know that this concoction is on a whole other awesome level. (via Real Food by Dad)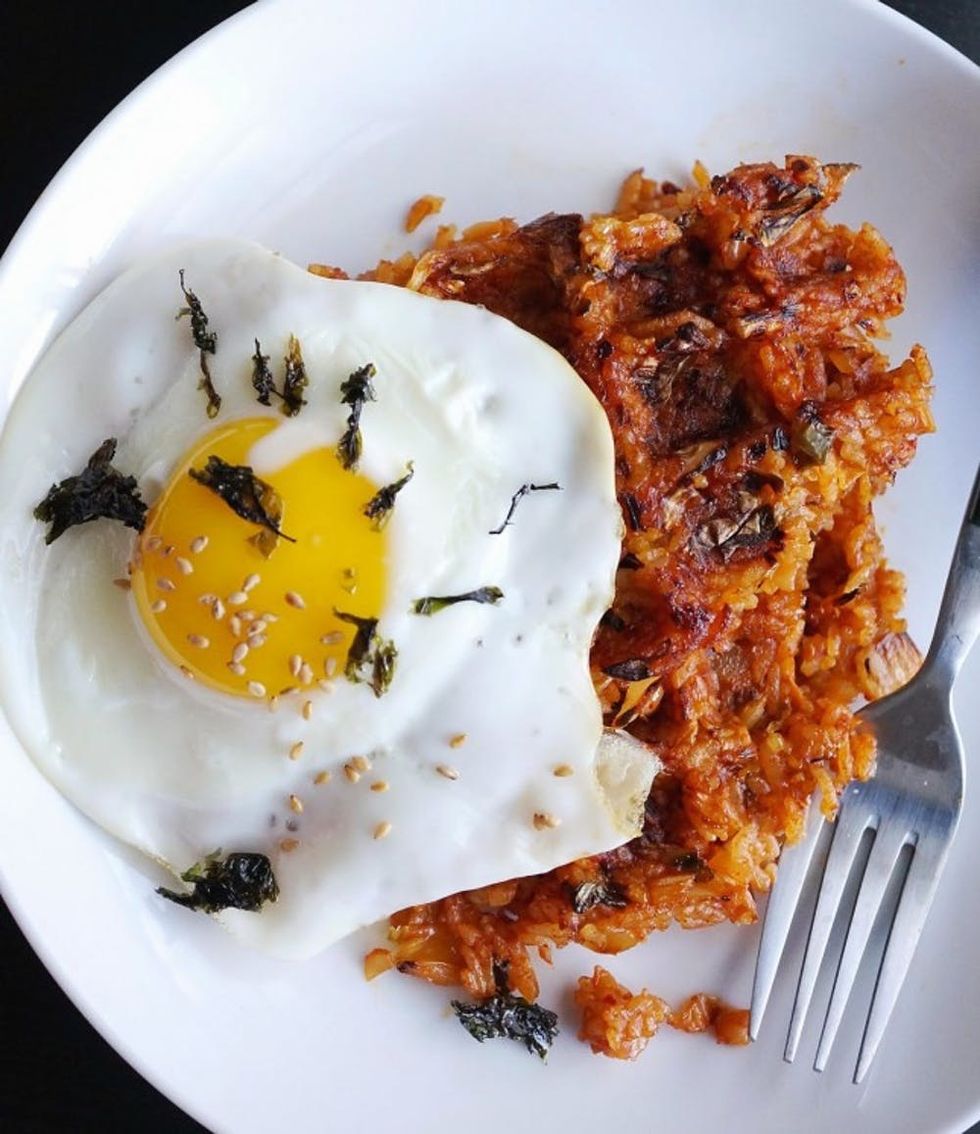 10. Kimchi Fried Rice Waffles: The best part of any rice dish is always the bits that gets stuck to the pan and turn crispy. Harness that crispiness by waffle-frying your favorite grain. Try giving this slightly tangy and spicy kimchi recipe a whirl in your waffle iron for the ultimate take on fried rice. (via Miss Hangrypants)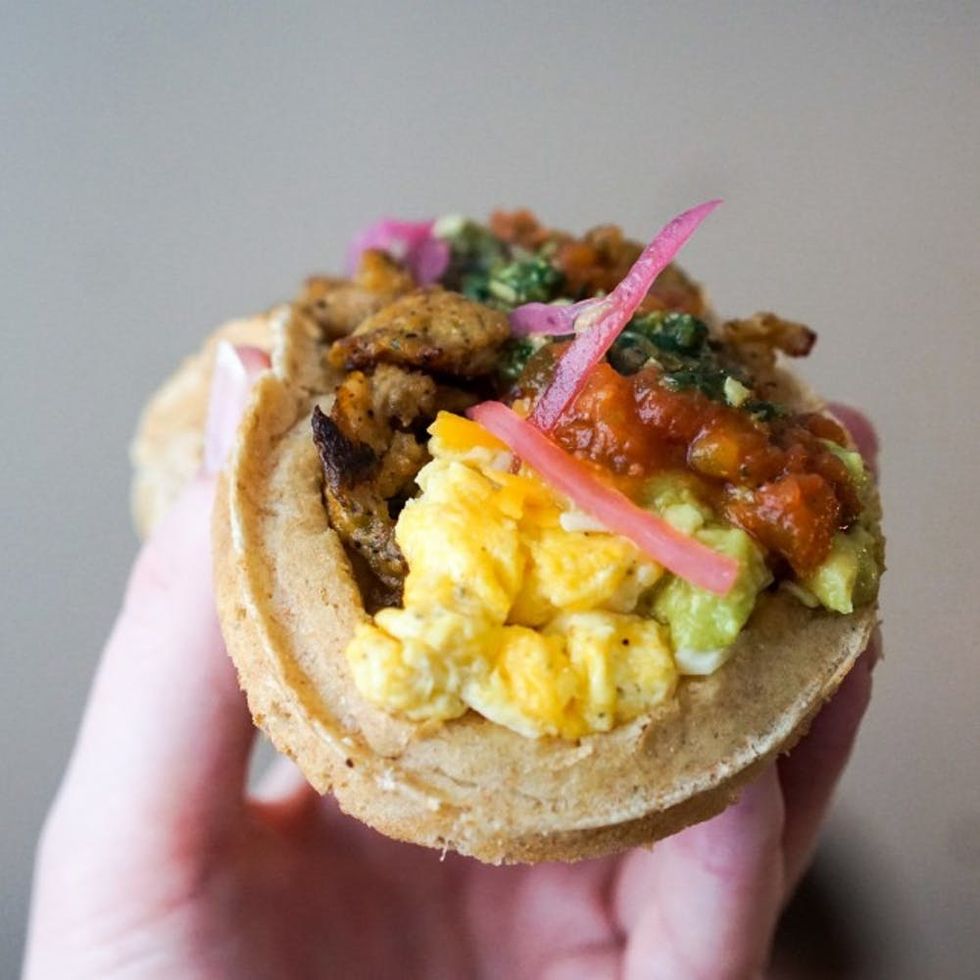 11. Ultimate Breakfast Waffle Taco: This waffle taco with sausage, eggs and taco fixings is basically brunch gone rogue, and it's beautiful. It's also a savior to hangovers and intense workouts. Don't forget to add your favorite hot sauce. (via Go Stuff Yourself)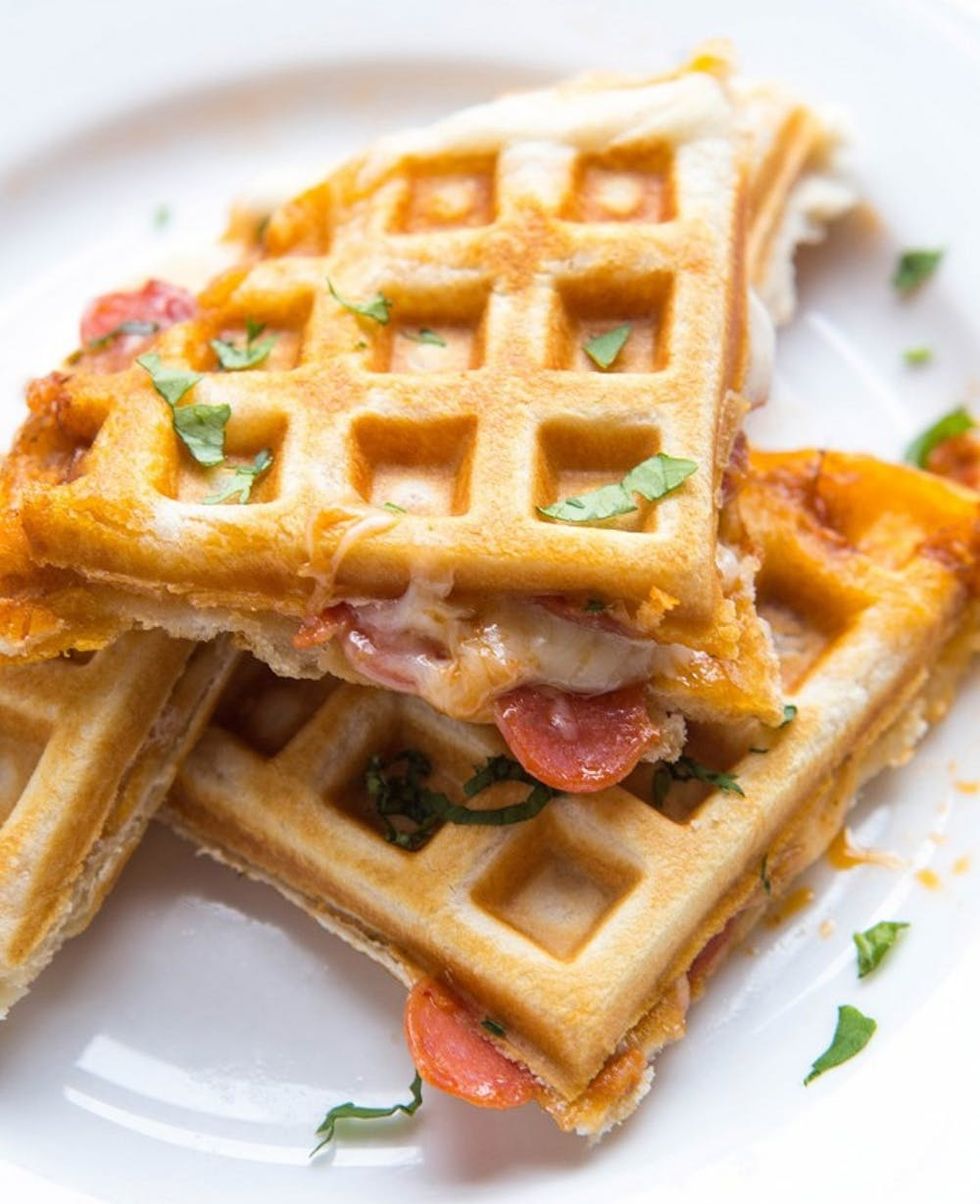 12. Stuffed Pizza Waffles: You're well acquainted with the pizza bagel. Now meet the pizza waffle! Use buttermilk biscuit dough as the crust for this recipe. Then, go about assembling it the way you'd tackle a quesadilla or grilled cheese: filling in the middle and adding another layer of bread on top. Close the waffle iron, and prepare yourself for a treat that your inner child will wish she'd had for an after-school snack. (via Babble)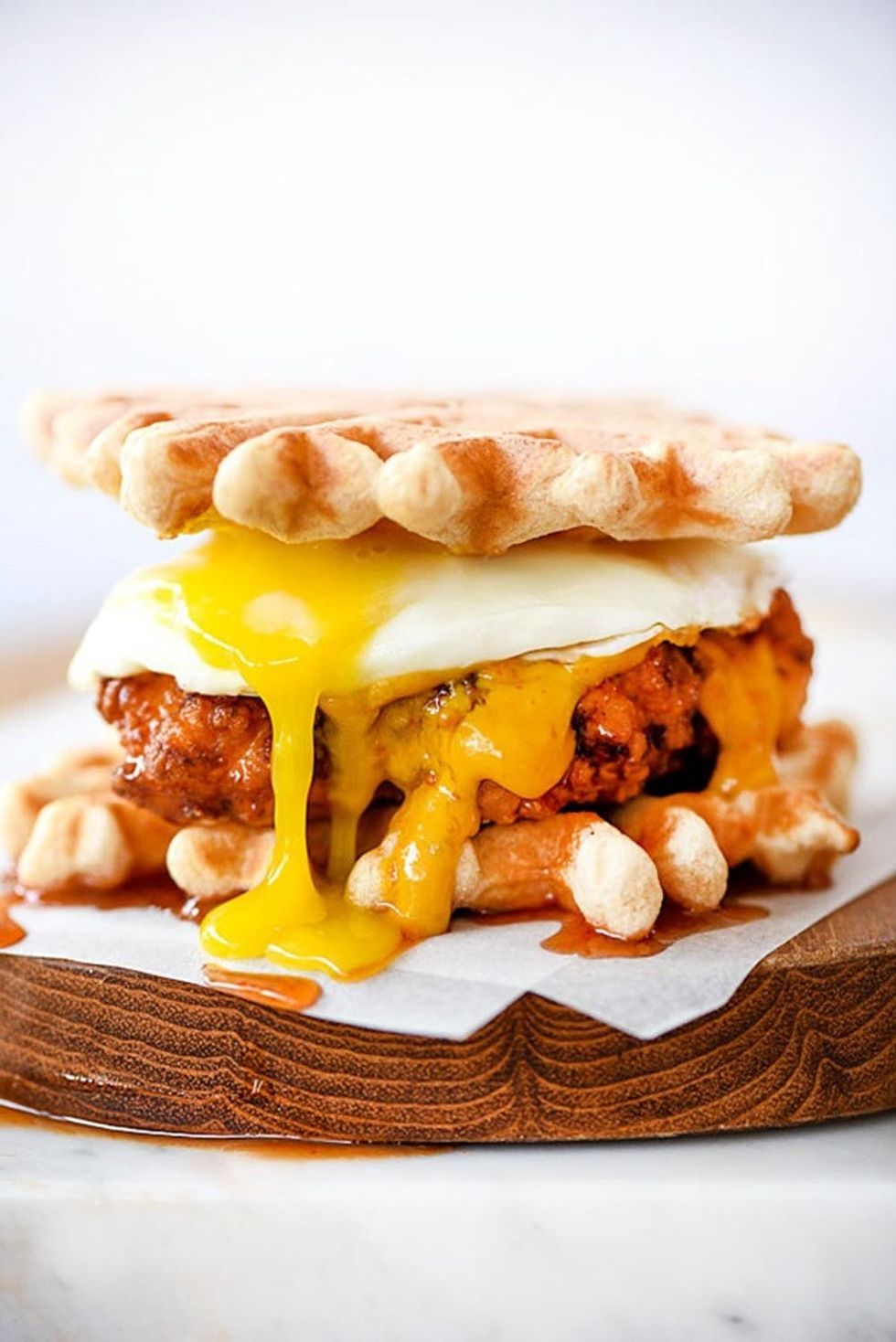 13. Chicken and Waffle Sliders: Watch these chicken and waffle sliders disappear at your next soiree. Set out a toppings bar and let your guests assemble their own, or put them together yourself and serve. Either way, they're bound to go fast. (via Foodie Crush)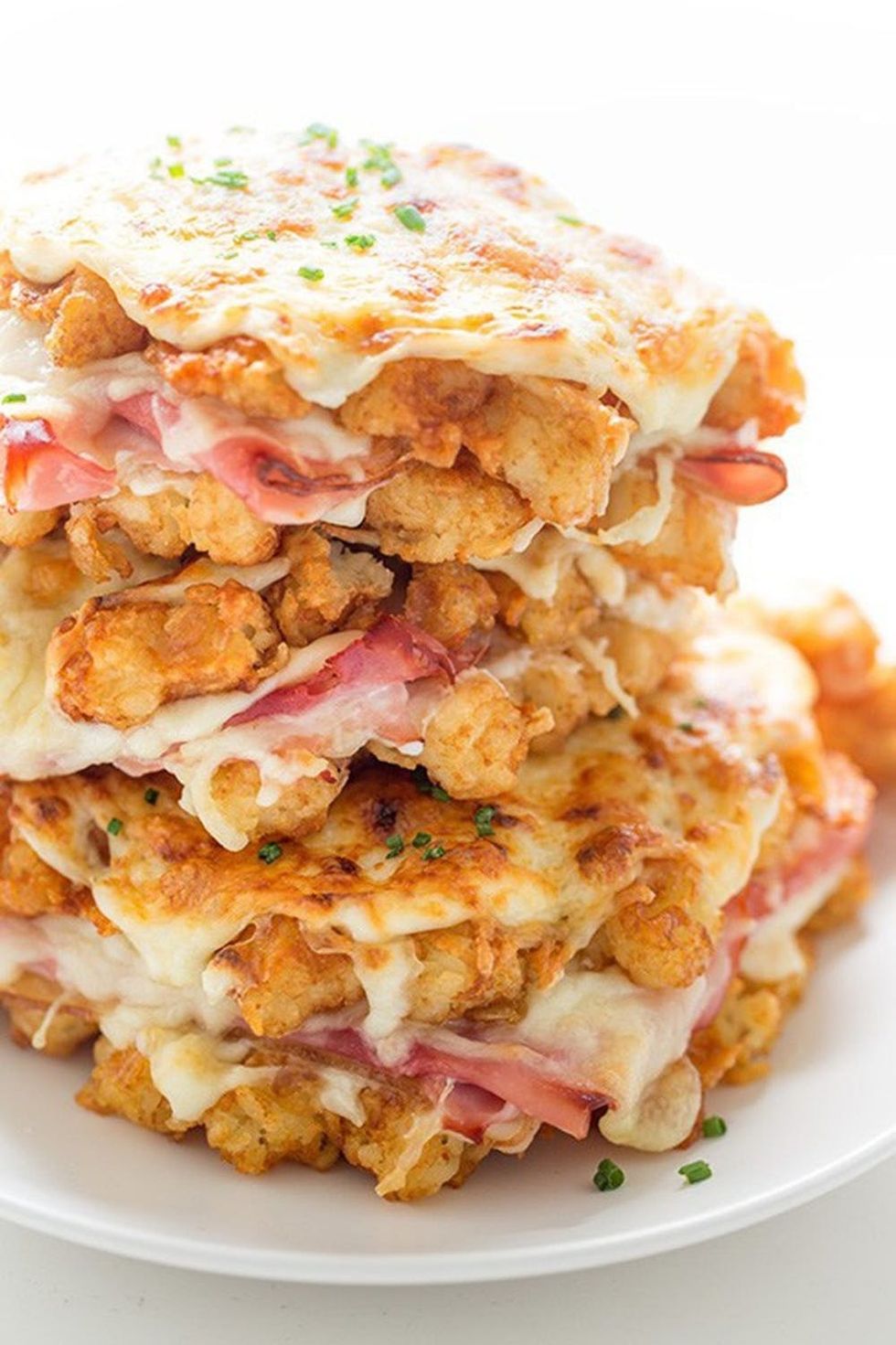 14. Waffled Hash Brown Croque Monsieur: We're not sure what the French would say about this jacked-up croque monsieur that subs out bread for hash browns. But we know what we'd say: Make me another! (via Real Food by Dad)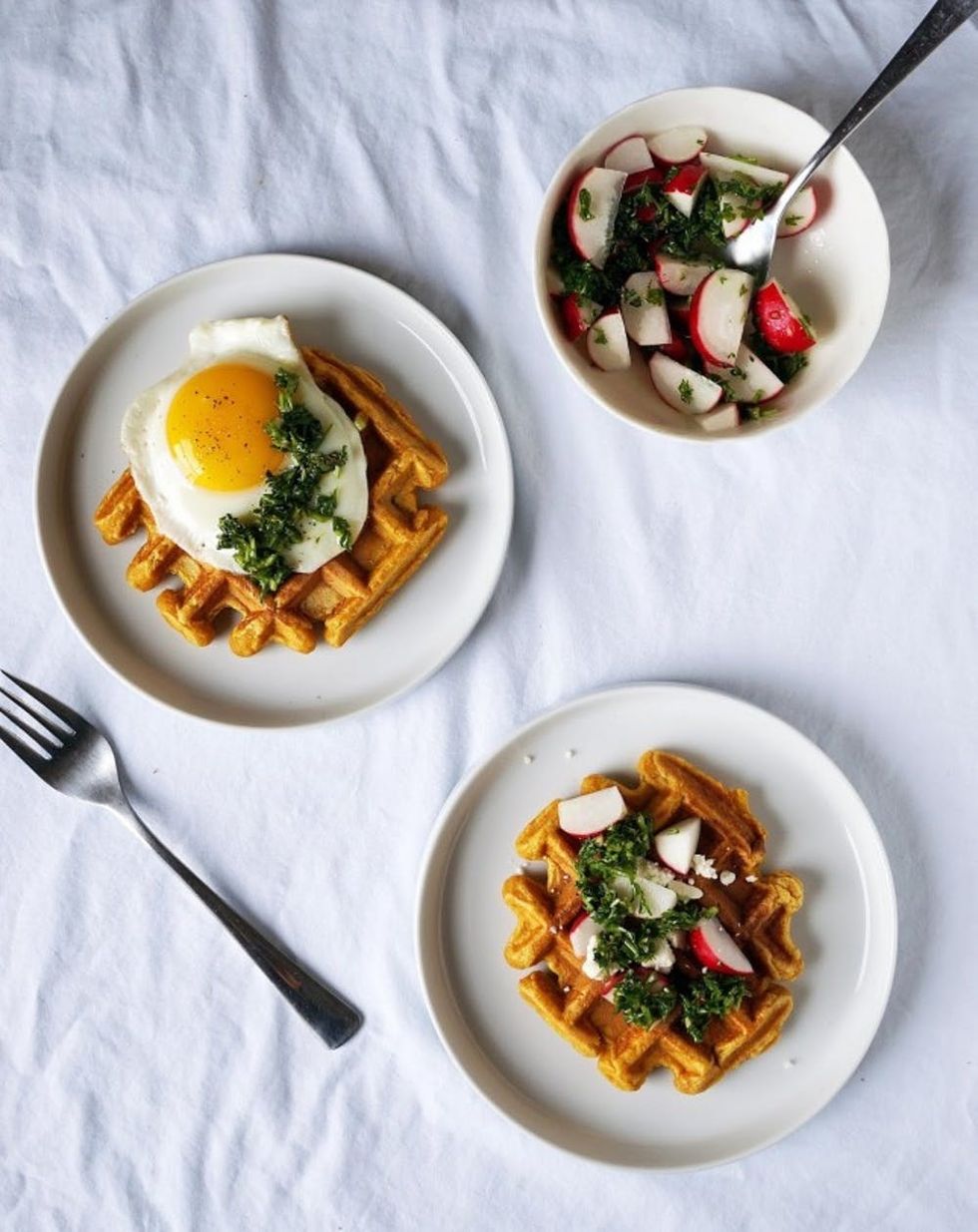 15. Savory Sweet Potato Waffles and Chimichurri: Breakfast for dinner is, quite simply, AWESOME. It takes less time to make, and it's still completely satisfying. This recipe might be a little more labor intensive than your average bacon and eggs (lots of chopping,) so it's really more of a brunch-for-dinner kind of situation. Totally worth it. (via Miss Hangrypants)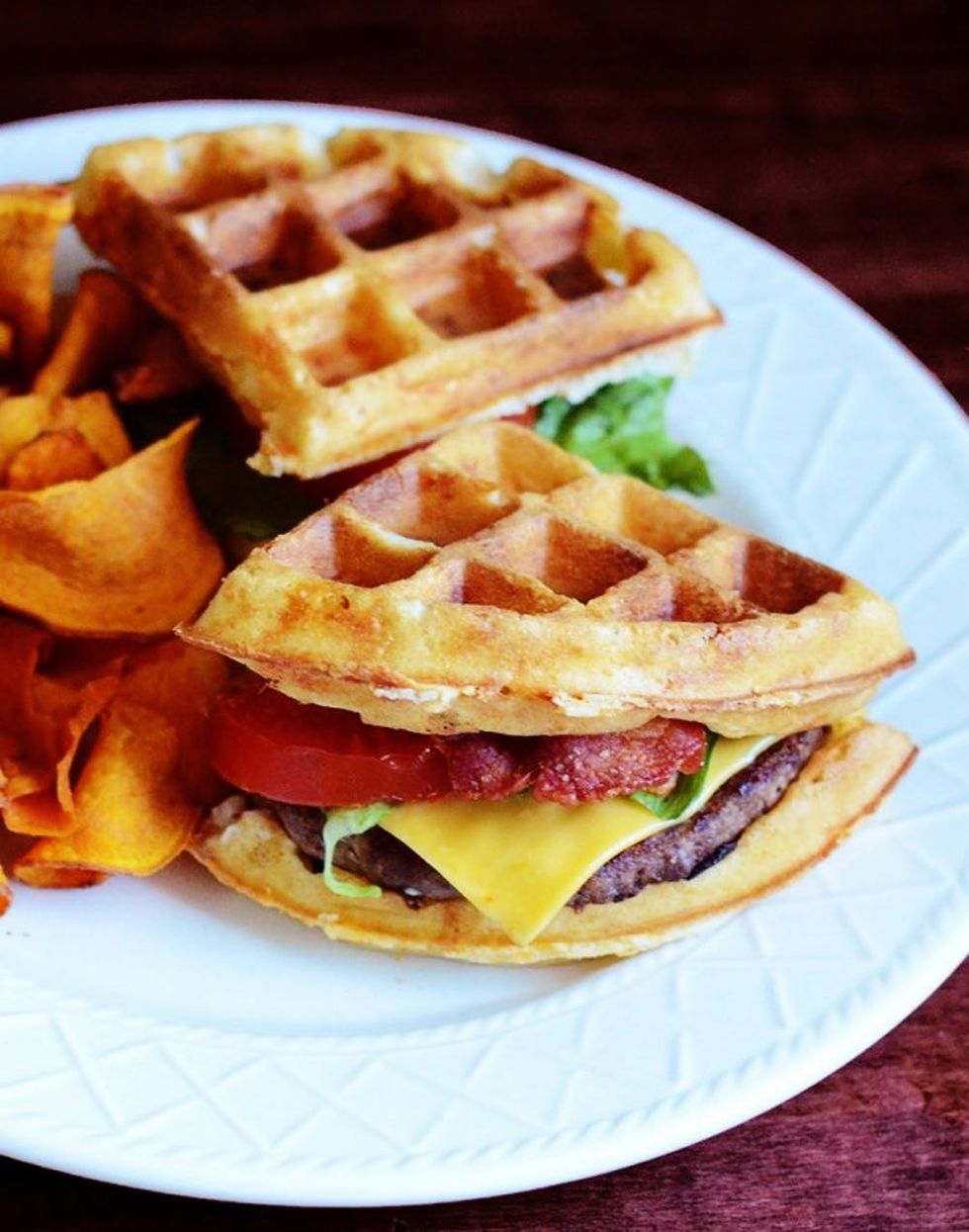 16. Waffle Cheeseburger: If you've ever been so obsessed with a food that you'll put it on anything, this cheeseburger with waffles replacing the bun will make perfect sense to you. The waffles add a little sweetness that work well with the saltiness in the patty. It might not replace all of the buns in your life, but it's definitely worth a try. (via Sprinkle Some Fun)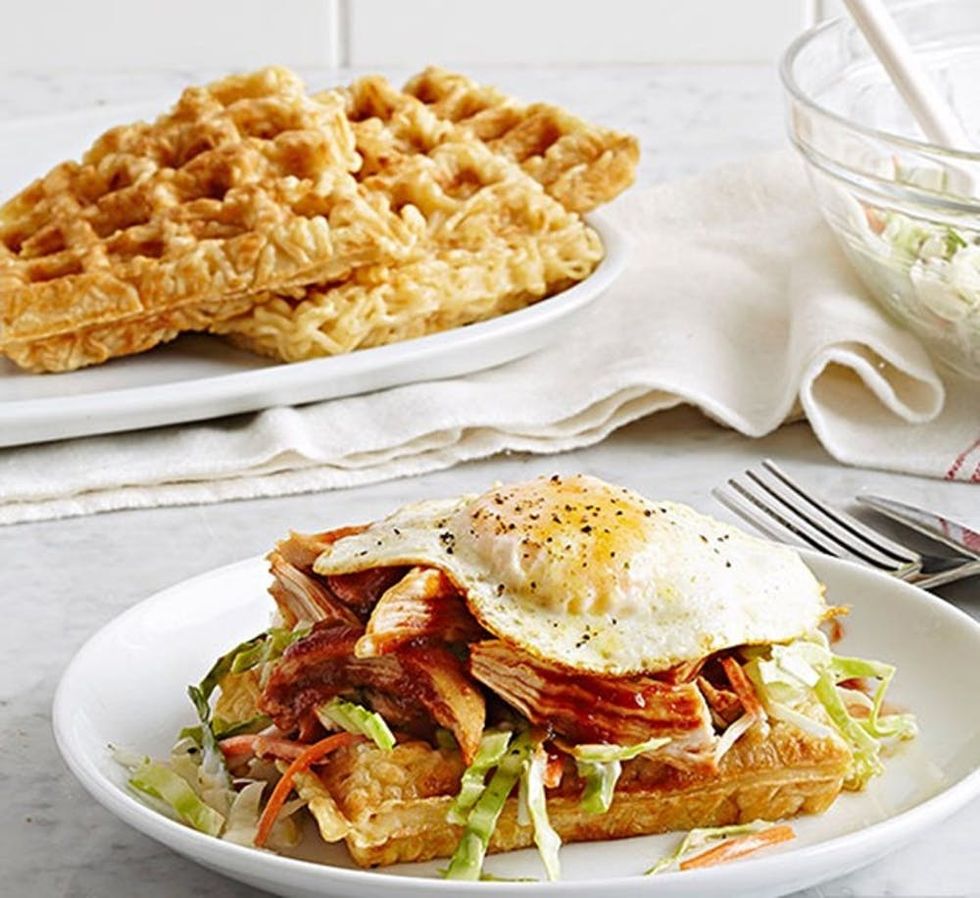 17. Barbecue Chicken and Ramen Waffles: The ramen burger meets chicken and waffles in a food mashup you didn't know you needed. Impress your friends at your next cookout by whipping up these ramen waffles. Top with shredded barbecue chicken, coleslaw and a fried egg for a super indulgent meal. (via Better Homes and Gardens)
Follow us on Pinterest for more easy + delicious recipe ideas.