You're Going to Fall in Love With Hallmark's 2018 'Countdown to Valentine's Day' Movies
Jan 23, 2018
Good news for anyone who's already missing Hallmark's seemingly endless slate of holiday movies: The network is debuting three ridiculously romantic new films for their "Countdown to Valentine's Day," which starts in less than two weeks!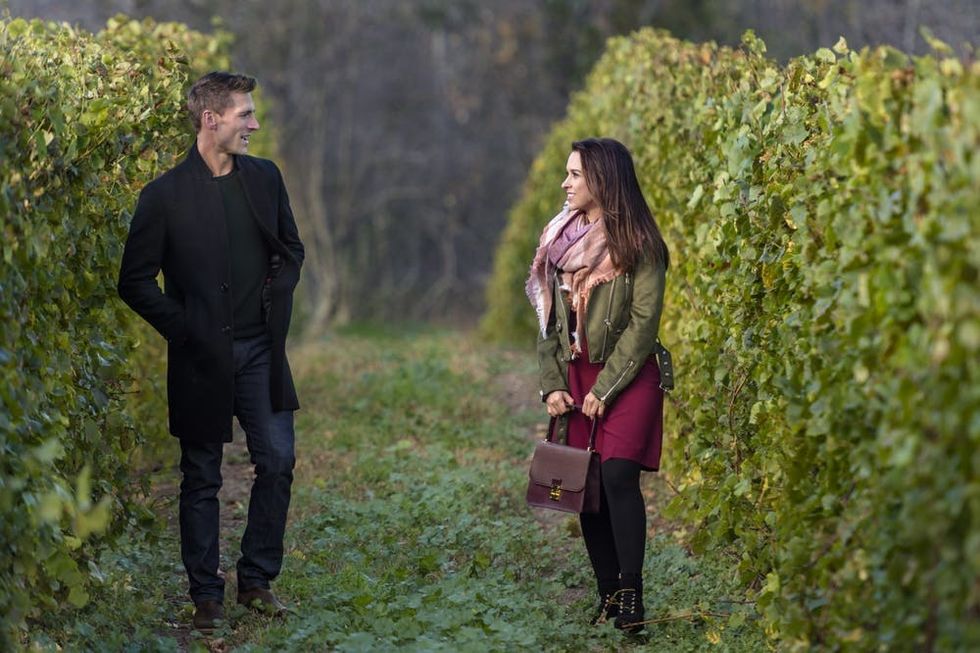 ---
First up: Lacey Chabert and Andrew W. Walker will kick things off in My Secret Valentine. Chabert plays Chloe Grange, a bistro manager whose father wants to sell the family winery, much to her disappointment. The wine rep for the company that plans to buy it, Seth Anderson, is handsome and flirtatious — but Chloe is not interested. When she runs off to her cabin, which has been neglected since her mother passed away, she finds a note from "Handyman" and decides to write back, signing hers "In Need of Repairs." We'll just have to watch the premiere on Saturday, February 3, at 9pm, to find out what happens from there.
The following week, on Saturday, February 10, at 9pm, you can watch Danica McKellar and Cameron Mathison find romance in Very, Very Valentine. When Helen (McKellar), a flower-shop employee, attends a masquerade gala to meet up with her best friend, botanical gardens worker Henry (Mathison), she's charmed by a dashing stranger (who's wearing the same mask as Henry but isn't him). However, she's then disappointed when her mystery man disappears, leaving behind nothing but his rose boutonniere. Shades of Cinderella, perhaps?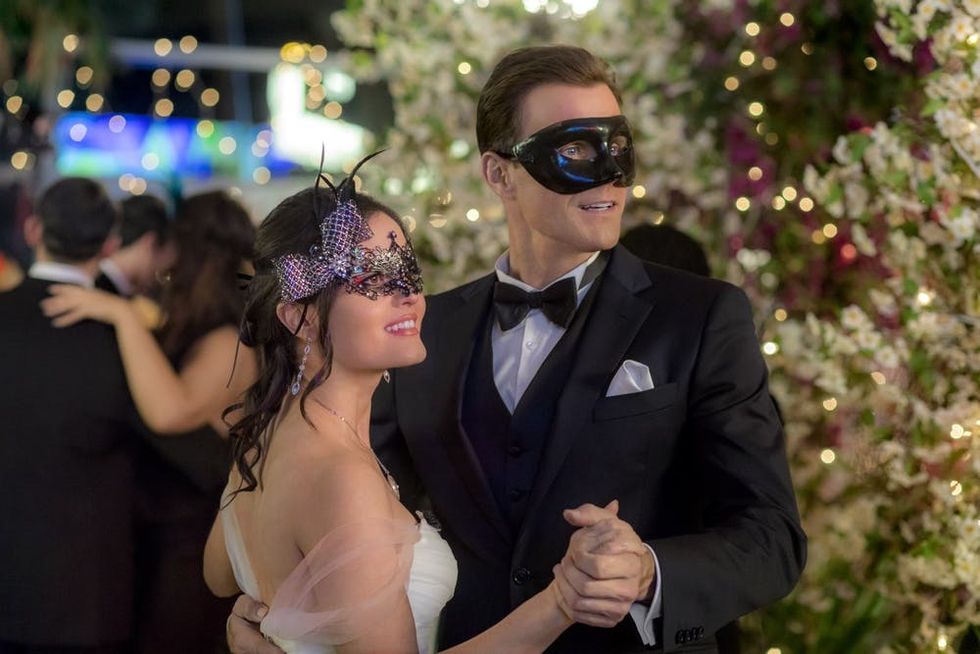 Cooking With Love premieres the very next night, Sunday, February 11, at 9pm ET, and is sure to bring some delicious romantic drama. Things sizzle — in more ways than one — when cooking-show producer Kelly (Ali Liebert) hires controversial Chef Stephen (Brett Dalton).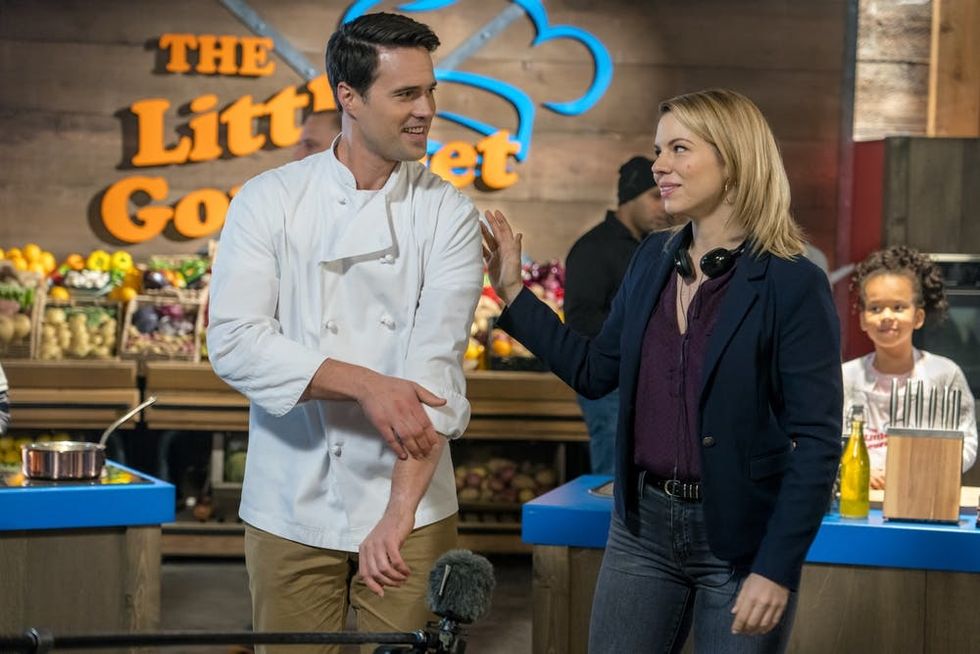 It sounds like Hallmark's "Countdown to Valentine's Day" will be as sweet as the candy we hope to get!
Which of Hallmark's three new Valentine's Day movies are you most excited about? Let us know @BritandCo!
(Photos via Elly Dassas/Crown Media + Shane Mahood/Crown Media + Daniel Power/Crown Media)
Desiree O
Desirée O is a 'Professional Bohemian' who loves anything and everything related to the arts, entertainment, and pop culture. She ADORES being a 'Newsy' for Brit + Co, covering all of the latest tidbits of awesomeness that you want to read about. When she's not writing, she's either making messy art, going on long adventurous walks with her camera, or poking around over at bohemianizm (http://www.bohemianizm.com/). You can find out about Desirée O and her work at http://DesireeO.com/ or follow her on Twitter @DesireeO.
TV
No matter what your holiday plans look like this year, we know you want to feel present and able to embrace the warm and festive spirit to the fullest — not be bogged down by errands, stressful hosting duties, and last-minute shopping disasters. We wouldn't be surprised if one look at your December to-do list sent you into a full-on panic.
<p>Thankfully, there are tried and true ways to relinquish all your stressful tasks this year, or at least make them a touch easier. One such solution is as simple as booking a Tasker on <a href="https://www.taskrabbit.com/?utm_source=org_soc&amp;utm_medium=media&amp;utm_campaign=pulse&amp;utm_content=britco&amp;utm_term=homepage" target="_blank">TaskRabbit</a>. Skilled Taskers can handle everything from <a href="https://www.taskrabbit.com/services/winter-tasks?utm_source=org_soc&amp;utm_medium=media&amp;utm_campaign=pulse&amp;utm_content=britco&amp;utm_term=wintertasks" target="_blank">everyday home to-dos</a> like furniture assembly and sidewalk snow removal to your seemingly endless, <a href="https://www.taskrabbit.com/services/holidays?utm_source=org_soc&amp;utm_medium=media&amp;utm_campaign=pulse&amp;utm_content=britco&amp;utm_term=holidaytasks" target="_blank">holiday-specific needs</a>, such as wrapping or shipping presents. Not only is it kind of like having a personal assistant (for much less!), but it's our go-to tip for avoiding any holiday blunders. </p><p>Ahead, we'll share all of our favorite holiday shortcuts, in addition to TaskRabbit, that will come to the rescue and save you this season.</p><p><div class="htl-ad" data-unit="contentbanner" data-sizes="0x0:1x1,1x2,4x4,320x100,300x250|970x0:1x1,1x2,4x4,300x250,728x90" data-prebid="0x0:contentbanner_mobile|970x0:pagebreak_desktop" data-refresh="viewable" data-refresh-secs="30" data-targeting='{"pos":"1","post_id": "2648853502"}'></div> <div id="teads-ad"></div></p><p class="shortcode-media shortcode-media-rebelmouse-image"> <img type="lazy-image" data-runner-src="https://www.brit.co/media-library/eyJhbGciOiJIUzI1NiIsInR5cCI6IkpXVCJ9.eyJpbWFnZSI6Imh0dHBzOi8vYXNzZXRzLnJibC5tcy8yNDc4MDI4OS9vcmlnaW4uanBnIiwiZXhwaXJlc19hdCI6MTY0NjI1NjYyOH0.GrDeOAa3zgzHcawGDSv8yT_qWowpIdReDA5xYJFeYBY/image.jpg?width=980" id="20814" class="rm-shortcode" data-rm-shortcode-id="7e635898fef312904e77adf744cd28d9" data-rm-shortcode-name="rebelmouse-image"> </p><p><strong>The scenario:</strong> You have what feels like a million holiday gifts to wrap this year and little to no time to do it.<br><strong>The solution: </strong>This is the perfect op to book a Tasker from TaskRabbit who can step in as Santa's little helper and take care of your gift wrapping needs. Taskers can even go the extra mile and ship presents to any out of town friends and family. If you want your gifts to have more of a custom touch, give your kids a roll of paper and let them go to town creating something original and heartfelt. </p><p><strong>The scenario:</strong> Grandma and Grandpa made a surprise visit and you don't have enough supplies for a last-minute meal.<br><strong>The solution:</strong> Voice memo your grocery list needs and connect with a Tasker to go on a grocery run for you. With cashless payment through the TaskRabbit app, and safe contactless drop-off, grocery shopping can be a breeze! Or take a look at our <a href="https://www.brit.co/pantry-staple-recipes/" target="_self">go-to pantry meals</a> that rely on all the staples you probably already have at home. </p><p><div class="htl-ad" data-unit="contentbanner" data-sizes="0x0:1x1,1x2,4x4,320x100,300x250|970x0:1x1,1x2,4x4,300x250,728x90" data-prebid="0x0:contentbanner_mobile|970x0:pagebreak_desktop" data-refresh="viewable" data-refresh-secs="30" data-targeting='{"pos":"2","post_id": "2648853502"}'></div></p><p><strong><span></span>The scenario:</strong> You want to put up a Christmas tree but have a small space that won't accommodate one. <br><strong>The solution:</strong> First, ask your local tree supplier if they have any small ones that could fit on a side table. If you can't find a real one that's small enough, grab a Christmas-scented candle to set the ambiance and <a href="https://www.brit.co/non-traditional-christmas-trees/" target="_blank">DIY your own non-traditional holiday tree</a>. </p><p class="shortcode-media shortcode-media-rebelmouse-image"> <img type="lazy-image" data-runner-src="https://www.brit.co/media-library/eyJhbGciOiJIUzI1NiIsInR5cCI6IkpXVCJ9.eyJpbWFnZSI6Imh0dHBzOi8vYXNzZXRzLnJibC5tcy8yNDc4MDMwMi9vcmlnaW4uanBnIiwiZXhwaXJlc19hdCI6MTYzODY2MDgzM30.0ztKe4zgGYyoAQJ4n5_rvAD5SInitVw488hwmCBPCIc/image.jpg?width=980" id="0e0c3" class="rm-shortcode" data-rm-shortcode-id="ed6e7d0a60e1193ca87ac815f0fd0b1f" data-rm-shortcode-name="rebelmouse-image"> </p><p><strong>The scenario:</strong> Your quarantine pod nominated you to host and prepare a holiday feast. <br><strong>The solution: </strong><strong></strong>Take a page out of Brit's Thanksgiving dinner hacks and pull out your favorite serving bowls a few days before the celebration to make sure you have everything you need. You can also tape all of your recipes to the cabinets at eye-level so you can clearly see all the steps and don't have to wash your hands a million times in between mixing ingredients and getting things ready. </p><p><div class="htl-ad" data-unit="contentbanner" data-sizes="0x0:1x1,1x2,4x4,320x100,300x250|970x0:1x1,1x2,4x4,300x250,728x90" data-prebid="0x0:contentbanner_mobile|970x0:pagebreak_desktop" data-refresh="viewable" data-refresh-secs="30" data-targeting='{"pos":"3","post_id": "2648853502"}'></div></p><p><strong>The scenario:</strong> Your little ones are getting restless during the holiday time off. <br><strong>The solution:</strong> Organize a bake-off with the whole family to keep kids engaged and occupied with these <a href="https://www.brit.co/christmas-cookie-guide/" target="_self">delicious, Instagrammable cookie designs</a>. We love this two-birds-one-stone move because it also means you'll have dessert ready for your next meal. </p><p><strong>The scenario:</strong> You have a trunk full of presents that need to be shipped to far-away family but don't have time to go to the post.<br><strong>The solution:</strong> Not only can Taskers wait in line for you at the post office, but they can also help with your gift wrapping, packing, and shipping needs.</p><p><div class="htl-ad" data-unit="contentbanner" data-sizes="0x0:1x1,1x2,4x4,320x100,300x250|970x0:1x1,1x2,4x4,300x250,728x90" data-prebid="0x0:contentbanner_mobile|970x0:pagebreak_desktop" data-refresh="viewable" data-refresh-secs="30" data-targeting='{"pos":"4","post_id": "2648853502"}'></div></p><p>PS. If you've got it all covered and don't need the extra help this December, you can also give the gift of time with <a href="https://www.taskrabbit.com/account/gift-cards?utm_source=org_soc&amp;utm_medium=media&amp;utm_campaign=pulse&amp;utm_content=britco&amp;utm_term=giftcard" target="_blank">TaskRabbit</a> so your friends and loved ones can focus on what matters most this holiday season. </p><p>What are your go-to holiday hacks? Give us a holler on social <a href="https://www.instagram.com/britandco/" target="_blank">@britandco</a> and let us know!</p>
Home