You'll Love Harvard's Bold Response to Its Men's Soccer Team's Gross "Locker Room Talk"
Nov 04, 2016
After Donald Trump's Access Hollywood scandal, the idea of "locker room talk" is top of mind for a lot of people right now. The lewd comments made by Trump on that bus were infamously dismissed by the presidential candidate as simply something men do behind closed doors. It's that ideology of "because it's common it's cool" that didn't sit well with the public. And rightly so. Which is why the majorly sexist scandal that just hit Harvard, one of the world's most respected universities, comes as a serious blow.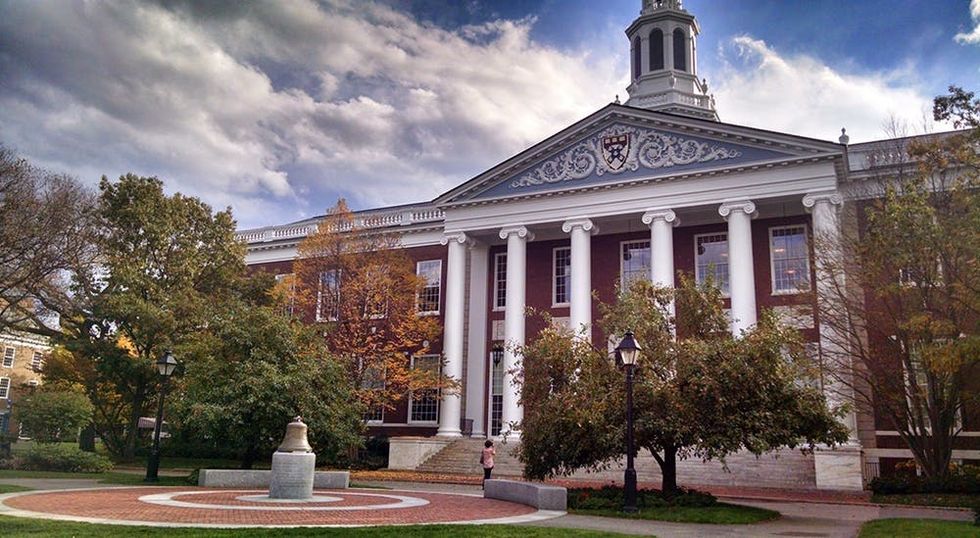 ---
The Harvard Crimson recently revealed that the men's soccer team has an annual tradition of ranking the freshman on the women's team based on attractiveness. The Harvard Crimson writes, "A member of Harvard's 2012 men's soccer team produced a document that, in sexually explicit terms, individually assessed and evaluated freshmen recruits from the 2012 women's soccer team based on their perceived physical attractiveness and sexual appeal."
But this wasn't just a "burn book" or an immature list handwritten by the team after practice. The uncovered email document is a whopping nine pages long and is referred to as a "scouting report." Each female player on the list was given a numerical score and a "paragraph-long assessment." Also included are photographs pulled primarily from Facebook.
.@harvardmsoccer tripped up at California, 6-2: https://t.co/WgiYpwMOUj #GoCrimson pic.twitter.com/UQjHZ3CeuA

— Harvard Men's Soccer (@harvardmsoccer) September 18, 2016
While the uncovered document was from four years ago, it has since been found to be an annual tradition which continued into the current 2016 season. In response to the revelation, the Harvard administration has made the firm decision to have the team forfeit the rest of the season.
Harvard Athletics Director Bob Scalise told CNN, "We strongly believe that this immediate and significant action is absolutely necessary if we are to create an environment of mutual support, respect, and trust among our students and our teams."
@AlbertBreer @kardashian04 I think you should talk to a woman about this. Any woman.

— Frank Huiskamp (@frankhuiskamp) November 4, 2016
Additionally, Harvard Athletics has announced it will partner with the Office of Sexual Assault Prevention and Response to inform and educate student-athletes on the seriousness of this issue and the standard of respect expected of them.
It should be noted that there are only two games left for the men's team this year. So it's not like they're sitting out for the majority of their season because of this. However, the severe and widely public response sets a much-needed standard for any organizations who might have to deal with a similar situation in the future. Locker room banter isn't just locker room banter. It's sexism and it's straight-up unacceptable.
What are your thoughts on how Harvard is handling this situation? Share with us on Twitter @BritandCo.
(Photo via Lisi Cai/Getty)
Cortney Clift
Cortney is the senior writer and special projects editor at Brit + Co. She typically covers topics related to women's issues, politics, and lifestyle. When she's not buried behind her computer you'll find her exploring New York City or planning her next big adventure.