Here's Why Honey Is Taking Over Our Summer Skincare Products
Aug 16, 2017
Even though summer is nearing an end, it's common to still be dealing with the skincare issues that go along with the season. Sweat and the sun can leave us with a face full of blemishes, and we continue to suffer from the extreme drying effects of salt water and chlorine. There's still time to refresh your summer routine, though, and get your complexion in tip-top shape before fall arrives — just introduce honey into your regimen.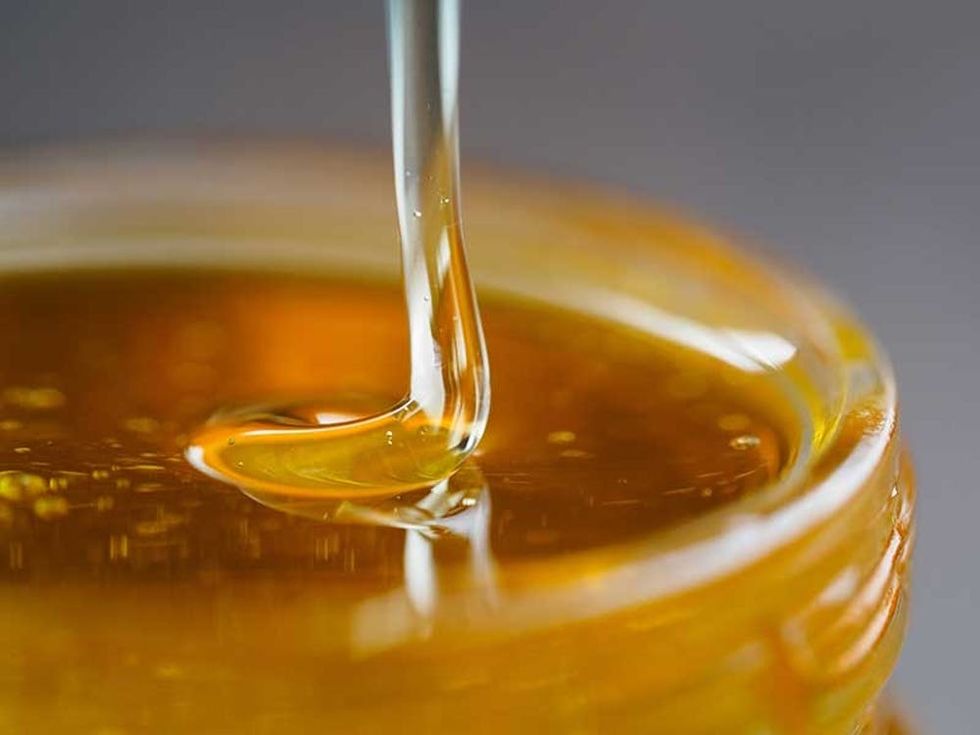 ---
"Honey has been used in facial routines for centuries," says dermatologist Shereene Idriss of Union Square Laser Dermatology in NYC. "It's becoming a much more fashionable staple in the industry because there has been a shift toward natural and organic products for beauty." Generally speaking, look for skincare products that contain the sticky substance in its most natural form. "Not all honey is created equal, so stick to raw, unprocessed forms, as they contain the most potent enzymes with antioxidant, antibacterial, and healing properties," Idriss says. Before you slather it on as a DIY mask (hello, sticky fingers), find out if it's right for you and how best to take advantage of its beauty benefits.
Honey is a one-stop-shop complexion savior. Whether you have summer-induced breakouts, clogged pores from sunscreen, dryness, or are overly oily, honey could be your cure-all. "The benefits of honey range from clarifying your face to acting as a moisturizing mask, as honey seals in moisture where it's applied," she explains. "If you're on the oilier side or have acne, the antibacterial properties of honey might actually help ward off breakouts, but if you have dry skin, it acts as a humectant, attracting water into your skin." One exception: If you have extremely sensitive skin, consult with your derm before adding new ingredients to your routine.
Scoop up products with manuka and elderflower honey. "Not all honey is created equal," Idriss warns. Beyond choosing products with honey in a pure form, it's important to understand which types of honey work for different skin conditions. "Manuka honey is the go-to for more serious problem areas that require antibacterial action," she explains. "Elderflower honey is better suited to fight off allergies."
It's not the time to DIY. We're all about homemade beauty, but mixing up your own concoctions as you introduce a new ingredient to your routine isn't a good idea. "Beware of DIY creations, as your product may become contaminated, which can result in irritation and inflammation," Idriss warns.
You can use it in different steps of your routine. Adding honey-filled products into every step of your routine might not be realistic (or necessary), so first identify where your skin could use a little extra TLC. If you feel like you're stripping your face of natural oils when you cleanse, try Lancome Miel-En-Mousse Foaming Cleansing Makeup Remover With Acacia Honey ($40). A solid step for all skin types, this slightly thick solution gently (but effectively) removes all your makeup while replenishing moisture levels.
For those of us who need an overall refresh, the lightweight Farmacy Honey Drop Lightweight Moisturizer With Echinacea GreenEnvy ($45) contains natural honey exclusively from bees living on the Farmacy farm in upstate New York and royal jelly (another ingredient found in beehives) that is known for its antiseptic benefits. This will plump your skin full of moisture, even out your tone, and smooth out the texture.
If you're dealing with dehydrated, extra thirsty summer skin, try Fresh Crème Ancienne Ultimate Nourishing Honey Mask ($150) as a final step. It's packed with almost 40 percent pure honey from highly regarded Buckfast Bees and leaves behind up to six hours of velvety-smooth moisture.
Follow us on Pinterest for more beauty inspo and info.
Brit + Co may at times use affiliate links to promote products sold by others, but always offers genuine editorial recommendations.
Beth Wischnia
You can typically find this Texan writing, trying on a new lipstick, gabbing with her identical twin sister or volunteering at the local animal shelter. She finds inspiration from rosé, beauty products, Tex-Mex and cats.
Beauty News