5 Completely Creative Easter Activities for Kids
Apr 03, 2017
Well, your toddler has just turned the kitchen rug into a splattered masterpiece a la Jackson Pollock. The thing is, all you really wanted to do was dye Easter eggs. That's okay! Kids are messy. It's nothing a little elbow grease and a few cleaning products can't fix. But if you're looking for some intentionally artsy (and messy) fun, we've got five crafty Easter ideas. Yeah, decorating eggs is sooo Easter, but there's so much more creative fun, like DIY Easter decorations, that your tiny tot can have in the days leading up to the bunny's big debut!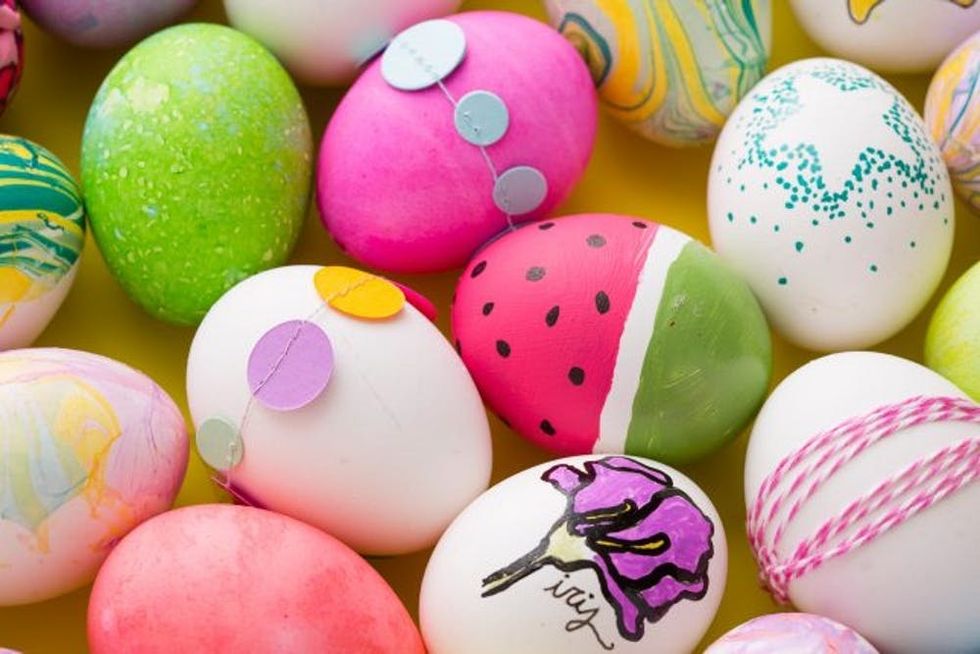 ---
1. Leave bunny tracks. The Easter bunny's coming; the Easter bunny's coming! Yay! Your kid can pretend that she's the bunny in an imaginative, artful way. Roll out a runway of butcher paper (or use plain white matte gift wrap) for your child to hop down. Then, set up a tray (or a few paper plates) of tempera paint at one end of the makeshift bunny path. Take off your child's socks and have her coat the bottoms of her feet with paint. Now she's ready to hop down the path, leaving behind a rainbow of bunny tracks.
2. Create glitter prints. You have five dozen plastic Easter eggs hanging around — and that's after you filled a hundred with candy. Here's what to do with the extras: Pull the eggs apart so that you have two halves. Pour an egg-sized pool of clear-drying school glue onto a paper plate. Your creative kid can press the eggs (with the open part face down) into the glue, then press it onto any kind of paper (construction, tissue, or card stock). Here comes the messy, fun part: Sprinkle glitter over the glue, then shake off the excess.
3. Paint a fluffy bunny. Put that marshmallow fluff you have hanging out in the depths of your pantry (come on, you know it's there) to use. Mix it with food coloring to make a few pastel colors. The white of the fluff will lighten up a rainbow of hues. Your tot can finger paint with this fluffy paint, creating an Easter bunny marshmallow masterpiece.
4. Make a bunny planter. Here's a great way to recycle your cardboard milk container: Cut the top off or use a small, lunch-sized carton. Cover the outside with pastel-colored card stock paper. Then, help your little one cut a circle and two ovals from white card stock. Glue the shapes onto the front of the carton, making a bunny face. Now, it's your child's turn to draw or paint a bunny's face on the circle. Glue a white pom-pom on the other side of the carton to create a bunny tail! Fill the carton with soil, and plant a seed or seedling.
5. Craft an artsy egg holder. You just popped a dozen eggs into boiling water, cooled them, and colored them. Now you need somewhere to display your masterpieces. Don't toss that empty cardboard egg carton out. Decorate it and turn it into a fab display case. Your child can paint the outside with a rainbow of colors. If brushes aren't her thing, she can finger paint an abstract pattern on it. Get super crafty and sprinkle sparkles all over it, dot glue and sequins on top of the paint, or make faux flowers by crumbling pieces of tissue paper and gluing them to the top!
How are you celebrating Easter this year? Tweet us your fave activity, egg decorating tip, or holiday recipe @BritandCo!
Erica Loop
Erica Loop is a freelance writer living in Pittsburgh. When she's not busy creating kids' activities for her blog Mini Monets and Mommies, you can find her trying to hang out with her teenage son, being chased by her two Olde Boston Bulldogs or teaching a children's karate class (she's a third degree black belt!).
Home News