LGBTQ+ Tolerance in the US Has Dropped for the First Time Ever
Jan 26, 2018
For the first time ever recorded, support for LGBTQ+ people in the United States has fallen, according to a recently-released national survey.
The Harris Poll, commissioned by GLAAD annually for the past four years, surveys attitudes towards members of the LGBTQ+ community. This year's poll tallied the responses of 2,160 adults, 1,897 of which identified as non-LGBTQ+. The annual study, titled "Accelerated Acceptance," found that overall, only 49 percent of respondents self-identified as "very comfortable" or "somewhat comfortable" around LGBTQ+ people, a drop of four percent from the 53 percent who felt that way in 2016.
---
The survey also registered a significant increase since last year in the level of discomfort respondents felt in a range of scenarios involving LGBTQ+ people, including learning that a family member, child, or personal physician was LGBTQ. In nearly every one of these scenarios, the percentage of participants who felt "somewhat uncomfortable" or "very uncomfortable" jumped between two and three percent. In just one year, the percentage of non-LGBTQ+ respondents who said they would be somewhat or very uncomfortable "Learning my child has an LGBTQ+ history lesson in school" rose from 34 to 37 percent.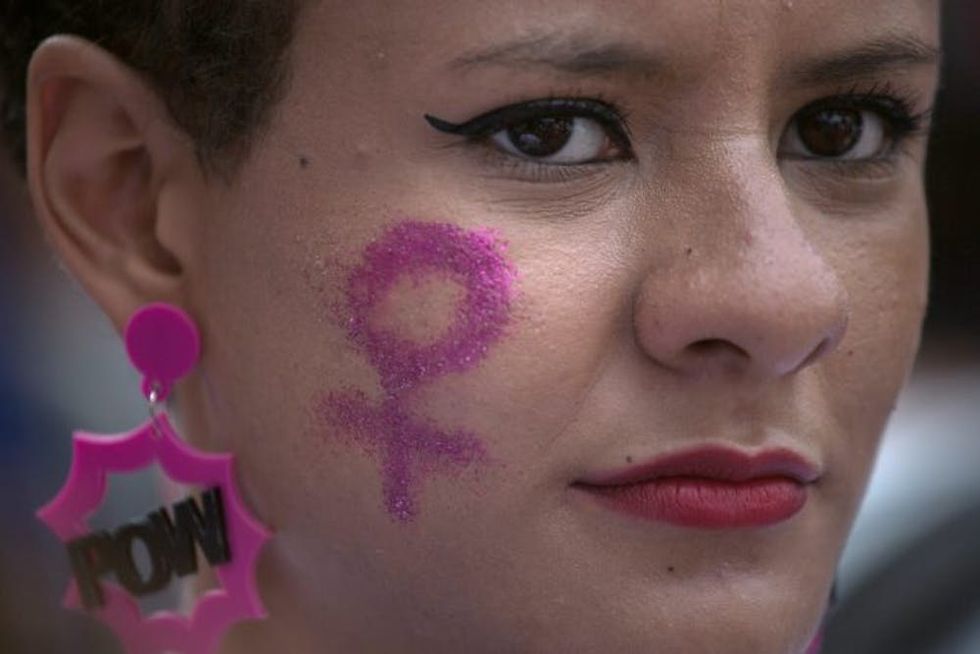 Perhaps more alarming is the 55 percent of LGBTQ+ respondents who reported having experienced discrimination based on their sexual orientation in 2017. This is an 11 percent jump since last year.
In a statement contained in the report, GLAAD President and CEO Sarah Kate Ellis offered some reassuring words in the face this alarming uptick in intolerance.
"Forward progress ebbs and flows in every social justice movement," Ellis said. "Progress for marginalized communities is a pendulum that swings in both directions, but ultimately lands on freedom."
But in a statement to NBC, she didn't pull punches in laying out we got here.
"2017 brought heightened rhetoric toward marginalized communities to the forefront of American culture," Ellis wrote. "Policies and headlines ran that were anti-LGBTQ including the President's proposed ban on transgender people entering the U.S. military, confirmation of a Supreme Court justice opposed to marriage equality, and the passage of a state law in Mississippi which allows businesses to legally deny service to LGBTQ families."
Here's to hoping that this ebb in progress is temporary and that the tides begin to flow back towards social justice and equality post haste.
(Photo by Victor Moriyama/Getty Images)
Lia Grainger
Lia Grainger is a freelance journalist and reluctant nomad who divides her time between Canada and Spain, weather dependent. She's written for The Atlantic, Reader's Digest, the Toronto Star and other print and online publications, and her work appears in dozens of languages around the world.
Gender Issues