23 One-Pot Gluten-Free Dinner Recipes for Busy Evenings
Feb 18, 2019

For many of us, 2018 was a doozy, but we here at Brit + Co are ready to hit refresh in 2019! Follow our Hit Refresh series through January and February for new ideas, hacks, and skills that will help you achieve (and maintain!) those New Year's resolutions.
---
Eating gluten-free doesn't mean living off of rice, beans, and meat alone, but when you run into a busy evening, it can be tempting to just reach for a frozen meal. Instead, try one of these simple, flavorful one-pot GF dinner recipes. Keep reading for the soon-to-be favorite dishes that'll save you time and effort.
1. Mermaid Veggie Bowl: Like a poke bowl, this veggie-friendly lunch is easily customizable with whatever chopped veggies you have on hand. Be sure to use gluten-free tamari in place of the soy sauce. (via Brit + Co)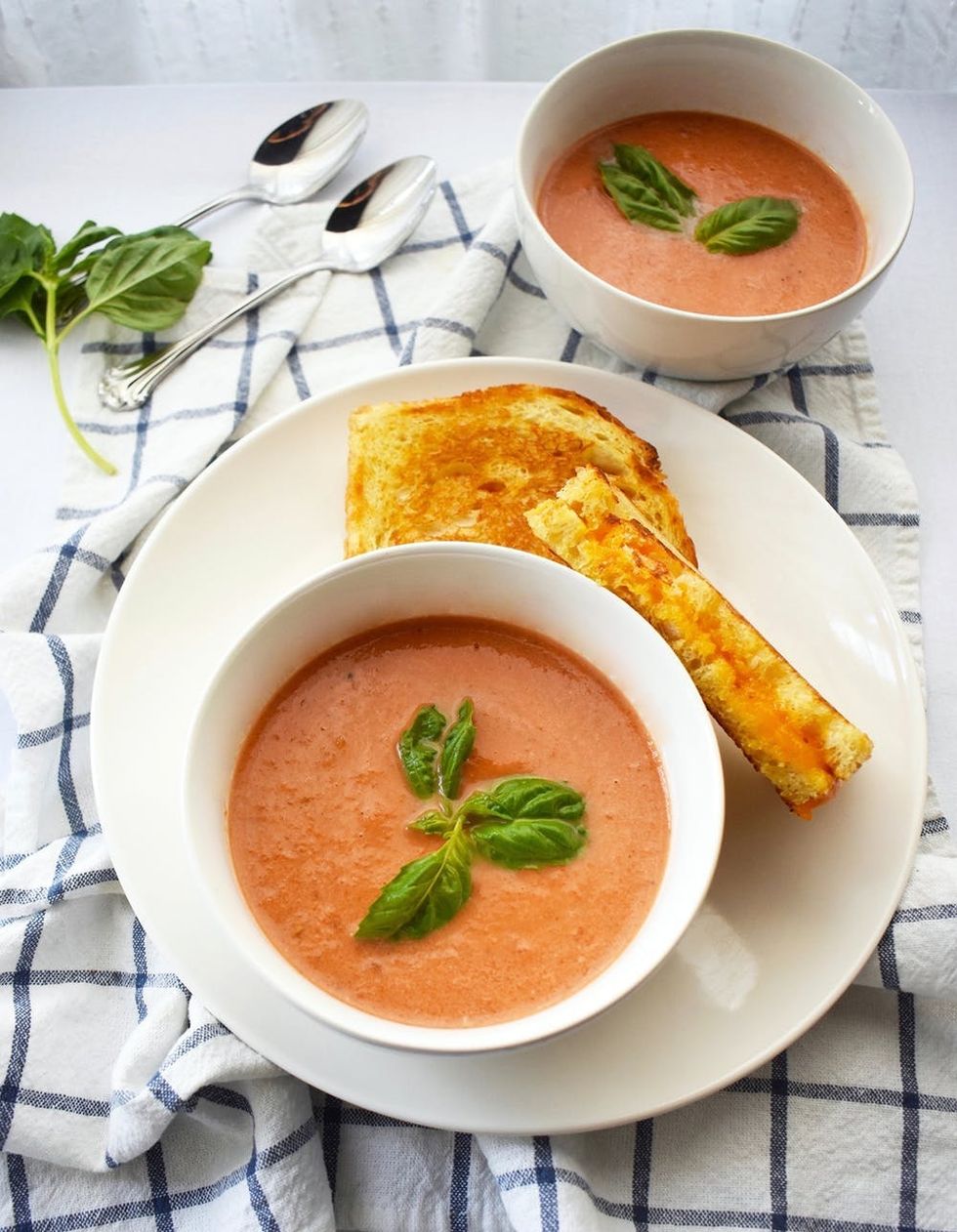 2. One-Pot Roasted Tomato Soup: If the canned stuff tastes so good, you'd better believe that tomato soup made from scratch is even better. Pair with a grilled cheese sandwich made with your favorite gluten-free bread for an even heartier meal. (via Brit + Co)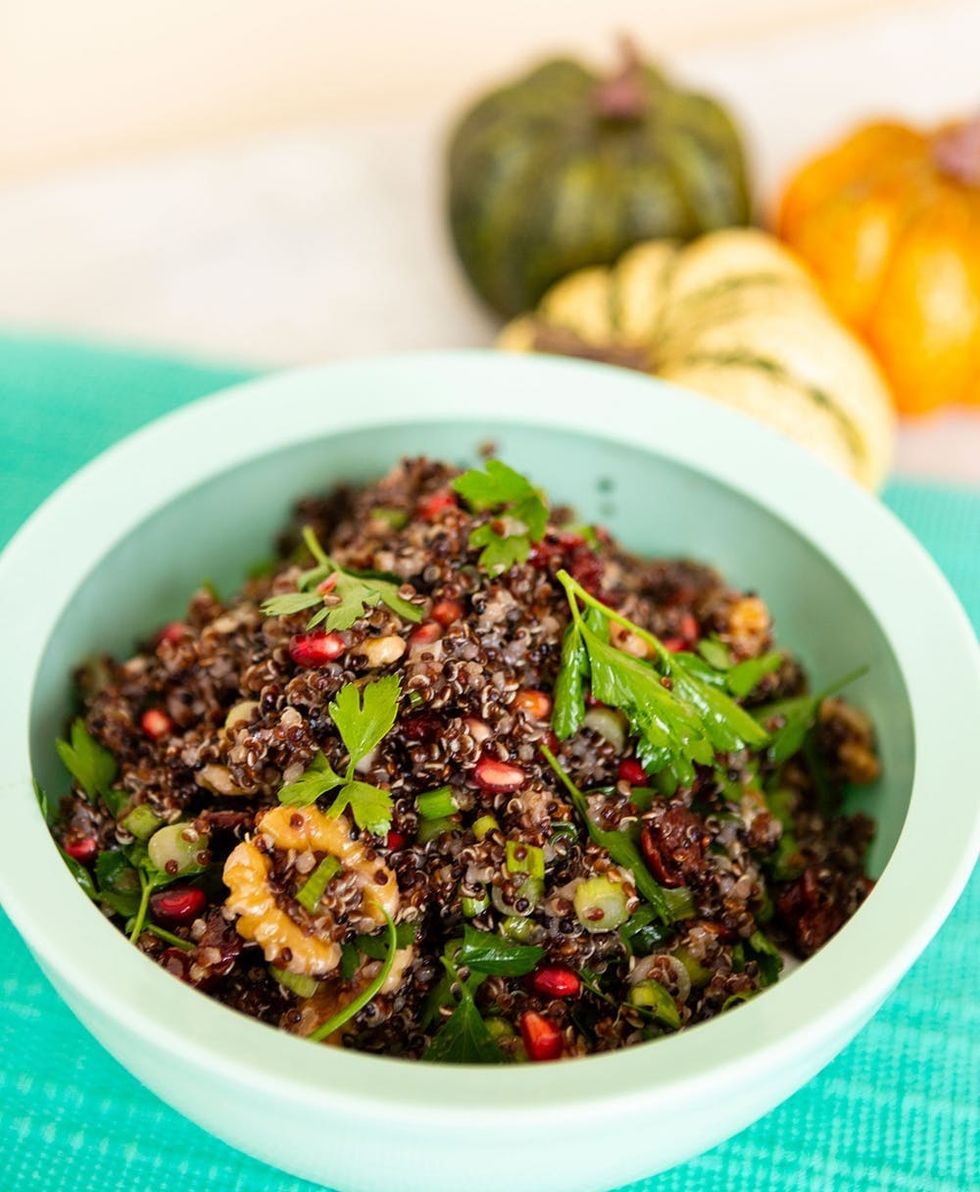 3. One-Bowl Wintry Quinoa Salad: A hearty bowl of red quinoa paired with walnuts, pomegranate arils, and parsley is an effortless way to eat clean in the new year. (via Brit + Co)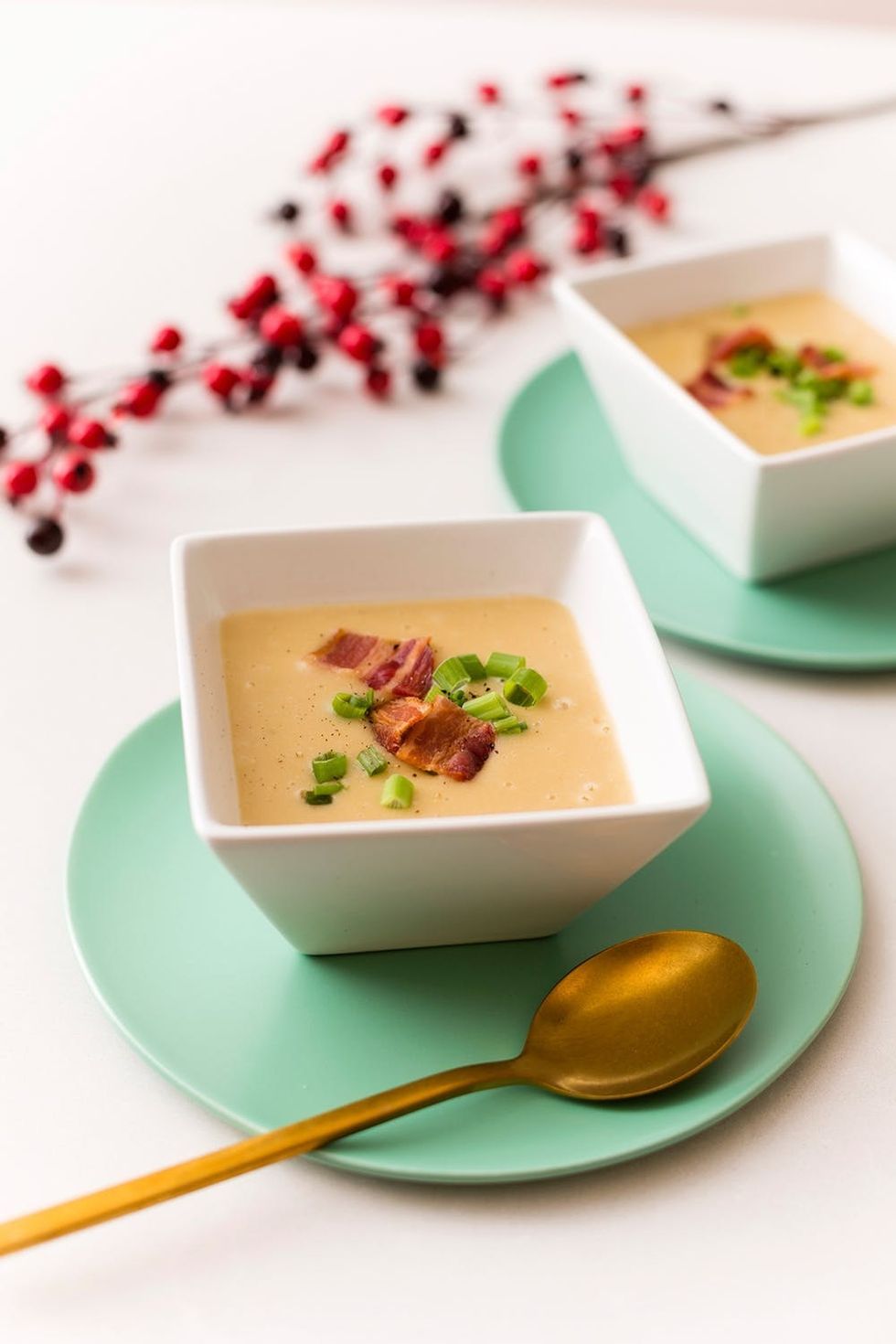 4. Gluten-Free Whole30 Instant Pot Baked Potato Soup: Potatoes are cooked with cashews until tender, then blended until smooth to create this creamy soup. (via Brit + Co)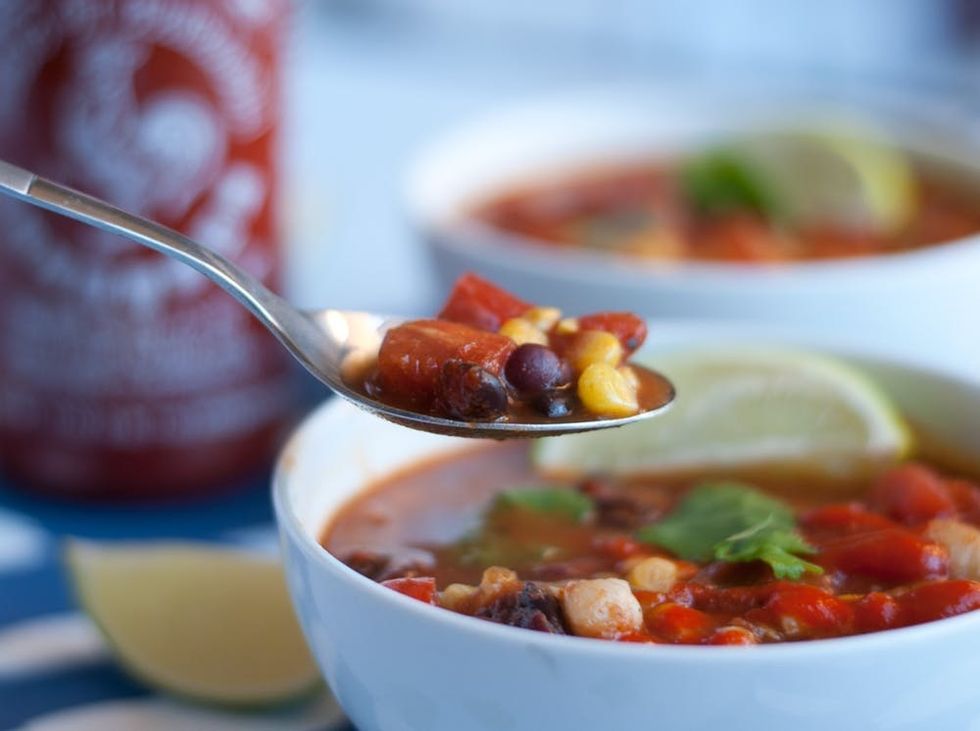 5. Vegan Sriracha Chili: Fill up on naturally gluten-free legumes in this veg-filled spicy sriracha chili. (via Brit + Co)
6. Chicken Zoodle Soup: GF pasta tends to get kinda weird (AKA gummy) in broth, so opt for zucchini noodles when making comforting classics like chicken soup. (via Brit + Co)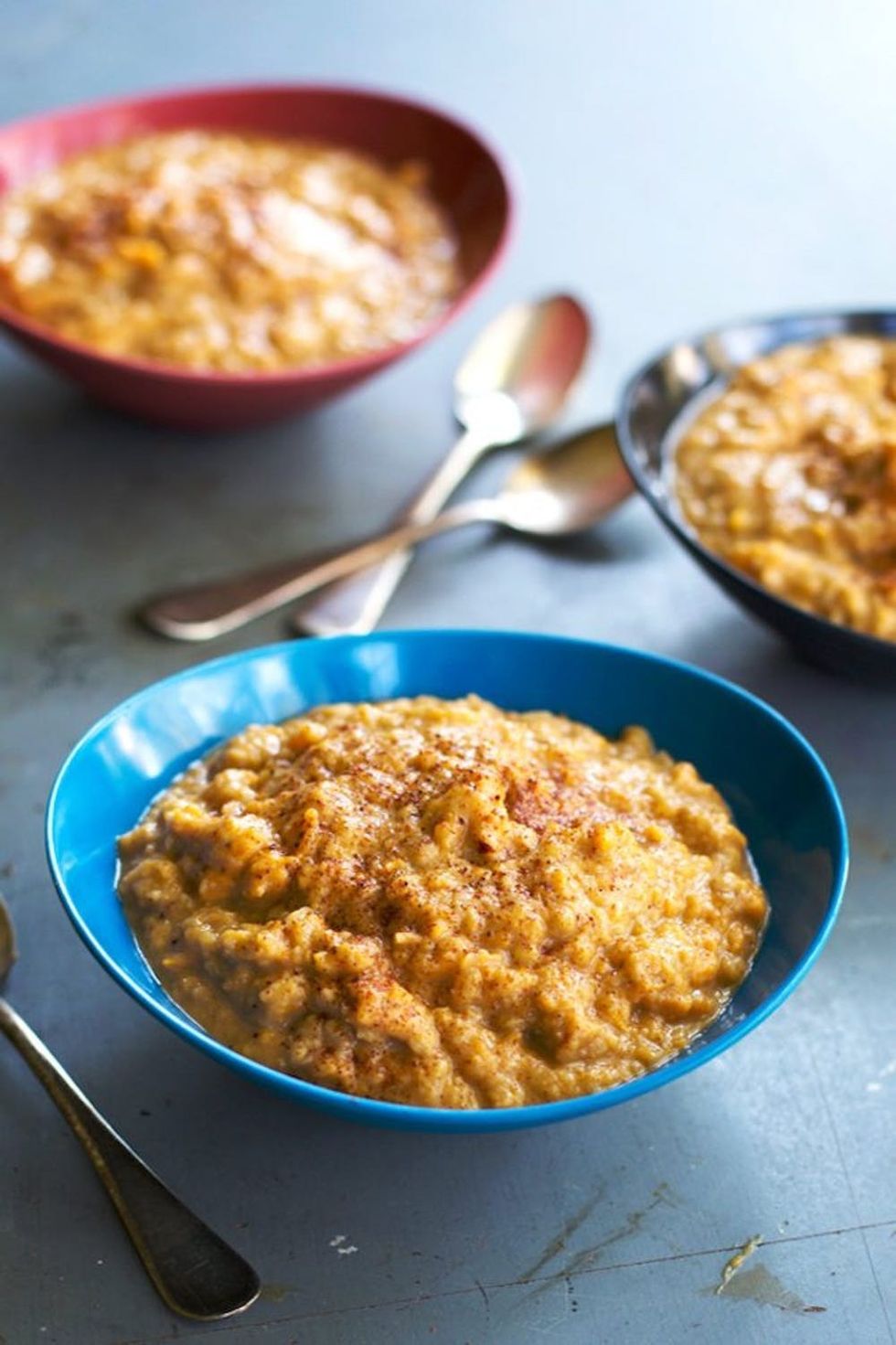 7. Crock-Pot Sweet Potato Lentils: Combine sweet potatoes, broth, and spices into a Crock-Pot, set for a few hours, add some lentils, cook some more, and stir in coconut milk at the end for a bowl of spicy warmth. (via Pinch of Yum)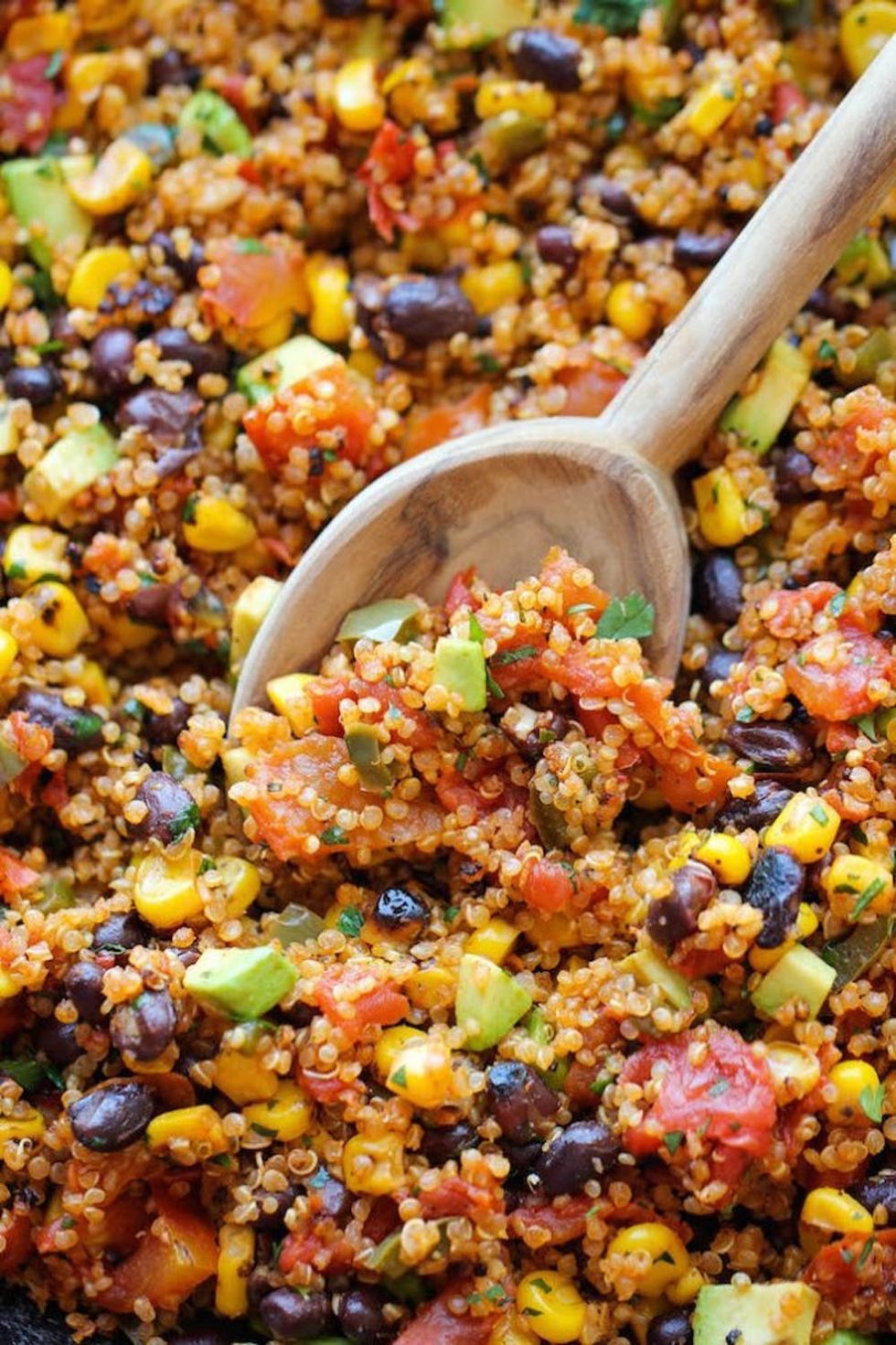 8. One-Pan Mexican Quinoa: If you're craving Mexican eats, nom on this quinoa-based alternative. (via Damn Delicious)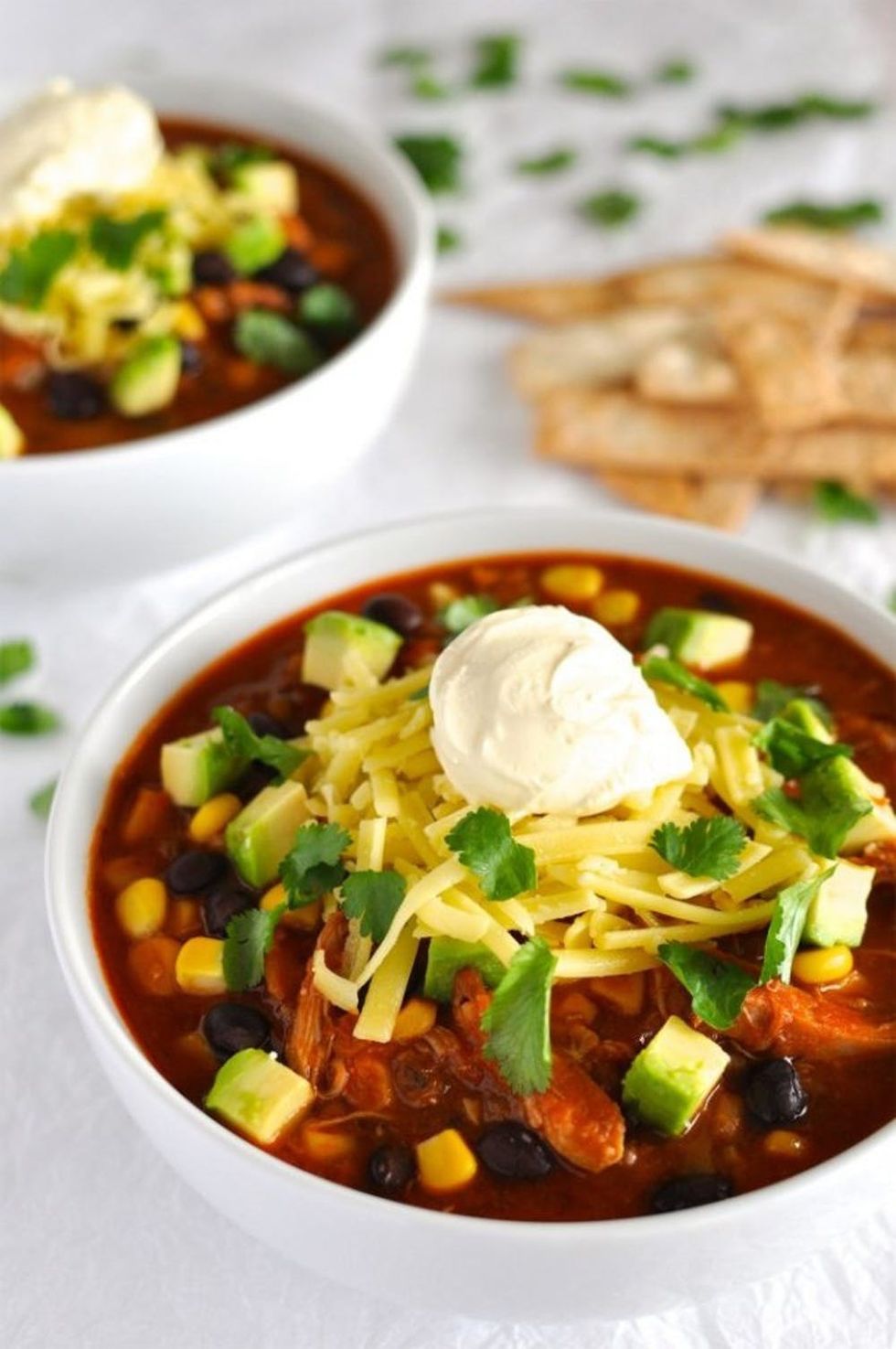 9. Shredded Chicken Enchilada Soup: This tasty soup only requires 10 minutes of prep. Just throw everything into your slow cooker and come home to this mildly spicy and totally healthy dinner. (via RecipeTin Eats)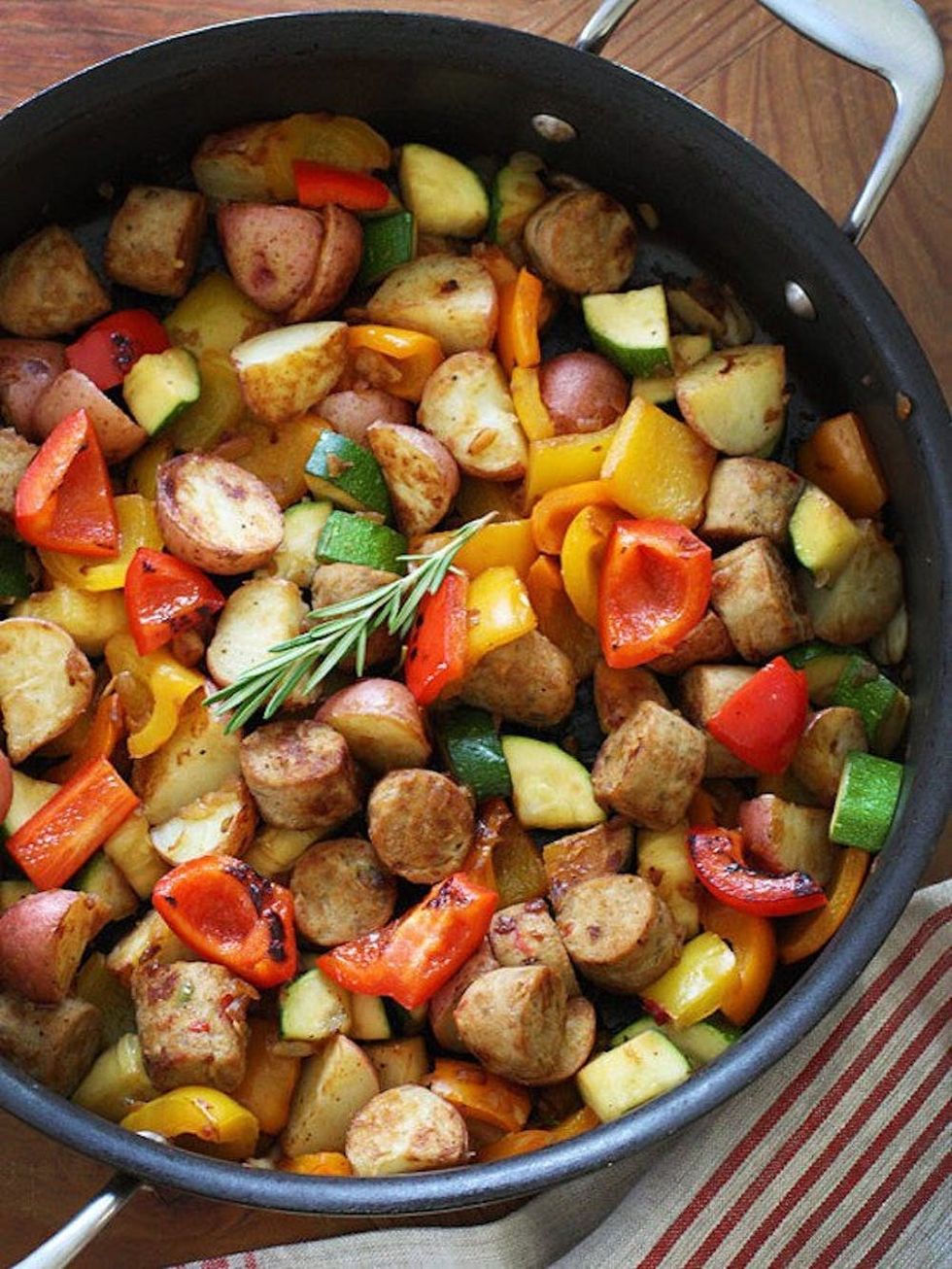 10. Summer Vegetables With Sausage and Potatoes: Sometimes it's the simplest meals that are the most flavorful. Case in point: this savory and satisfying meat-and-potatoes skillet. If you're vegetarian, simply sub in a gluten-free vegan protein such as tempeh. (via Skinnytaste)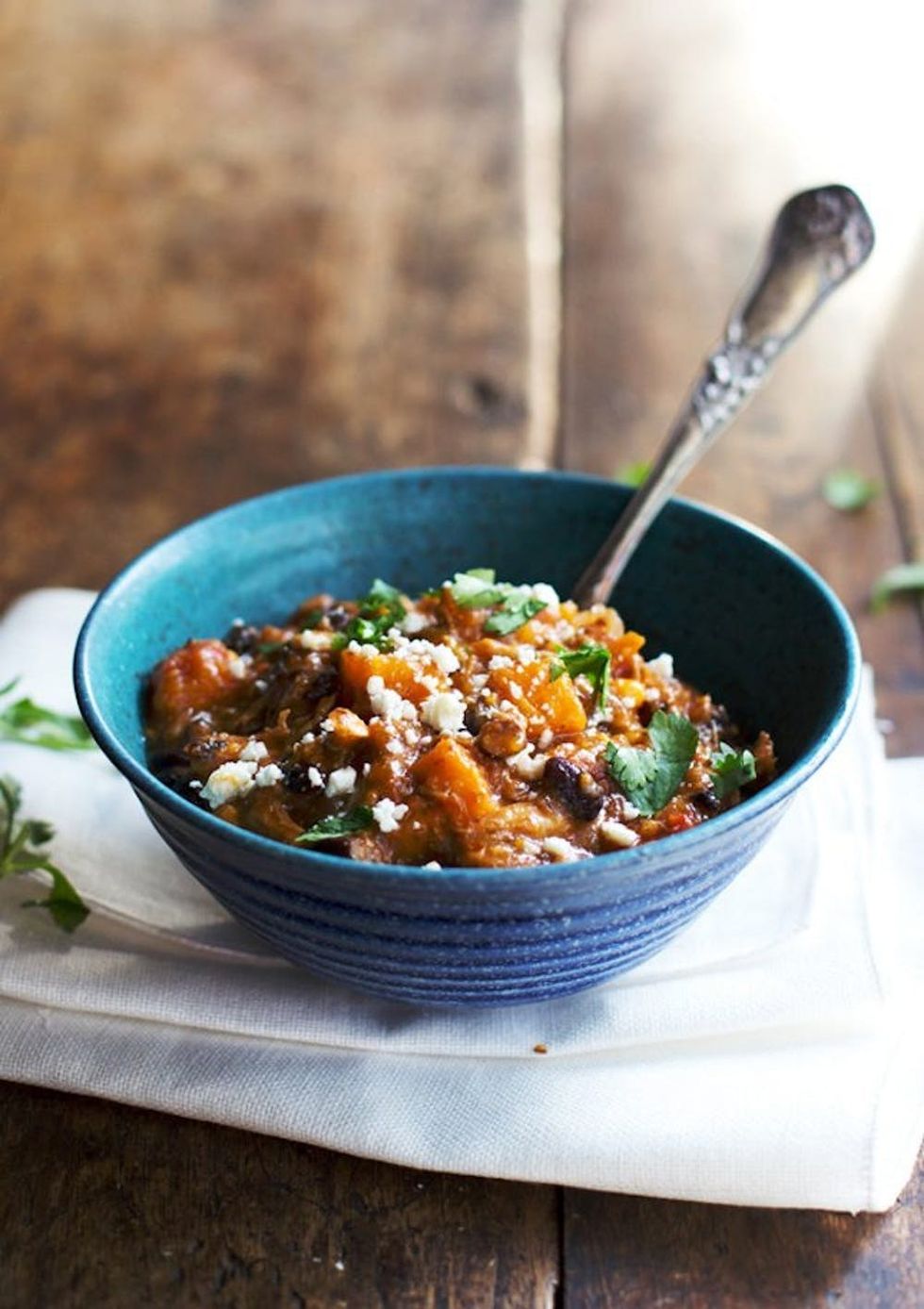 11. Healthy Jalapeño Sweet Potato Chicken Chili: It doesn't get much healthier — or more flavorful — than this chili featuring chicken, sweet potatoes, black beans, and heaps of fresh veggies. (via Pinch of Yum)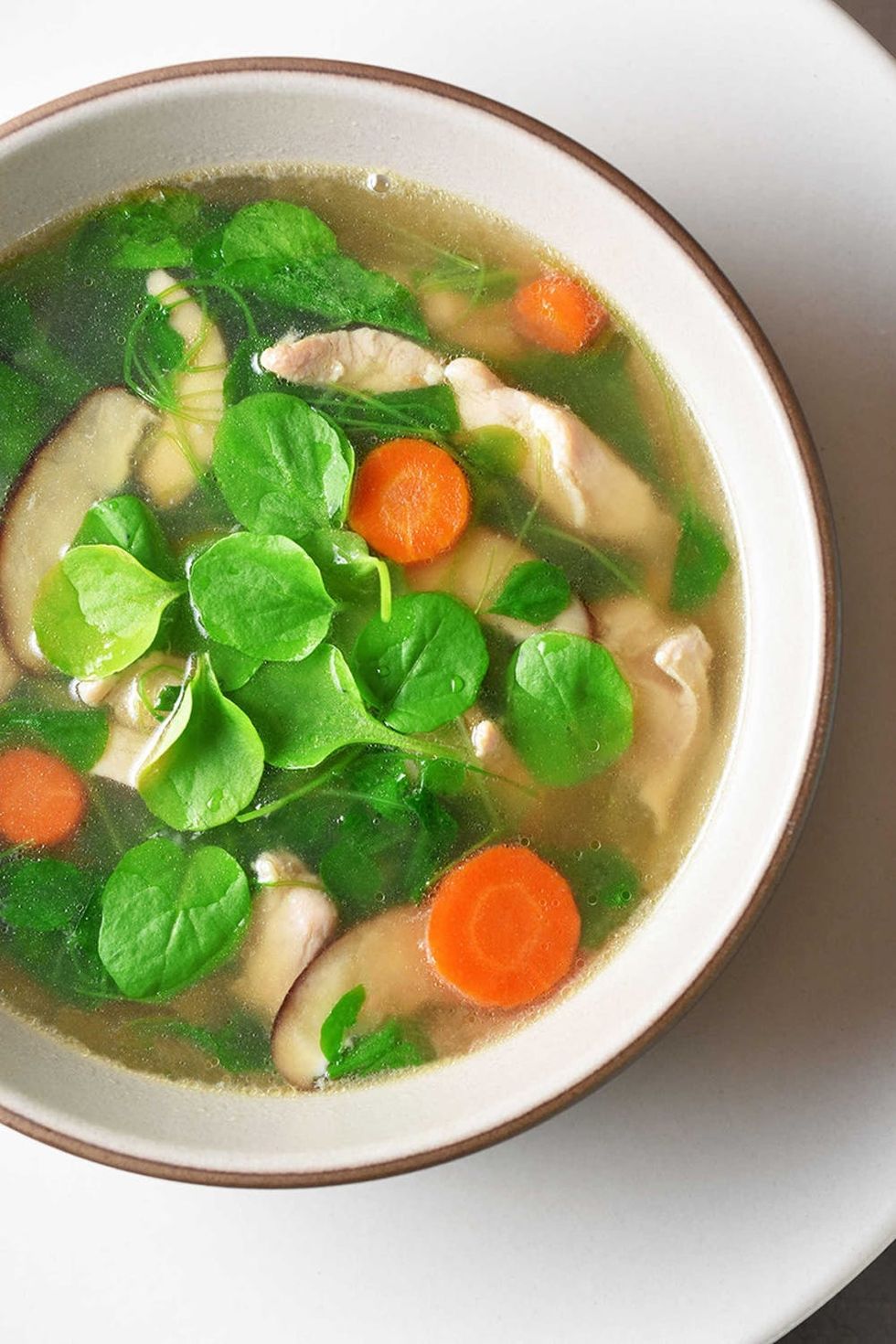 12. One-Pot Watercress Chicken Soup: The recipe gets a peppery kick thanks to watercress and has so much flavor, you won't miss the carbs. (via Nom Nom Paleo)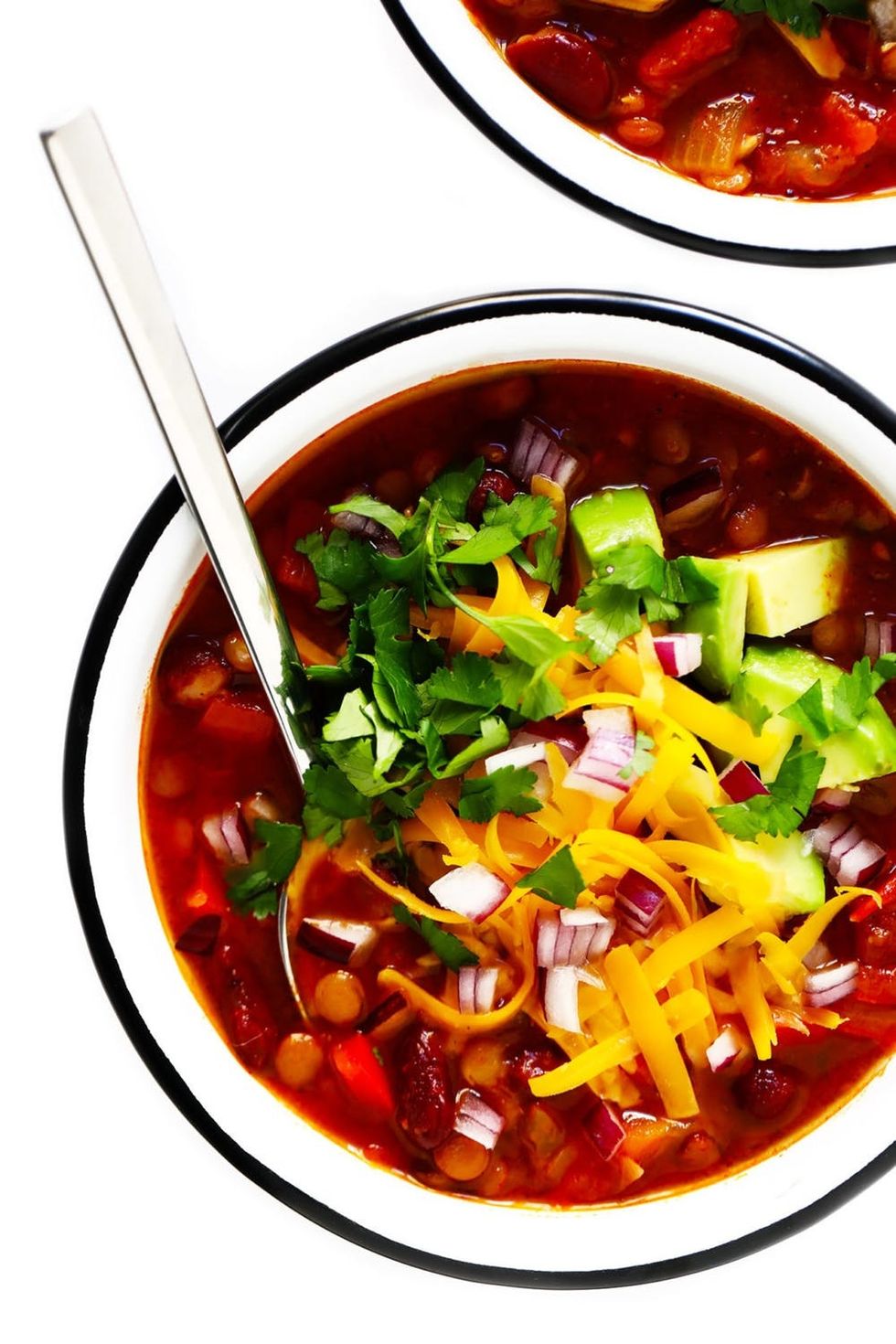 13. One-Pot Vegetarian Chili: Fire-roasted tomatoes and plenty of smoked paprika provide a "meaty" flavor that will remind you of stews cooked over smoky wood fires. (via Gimme Some Oven)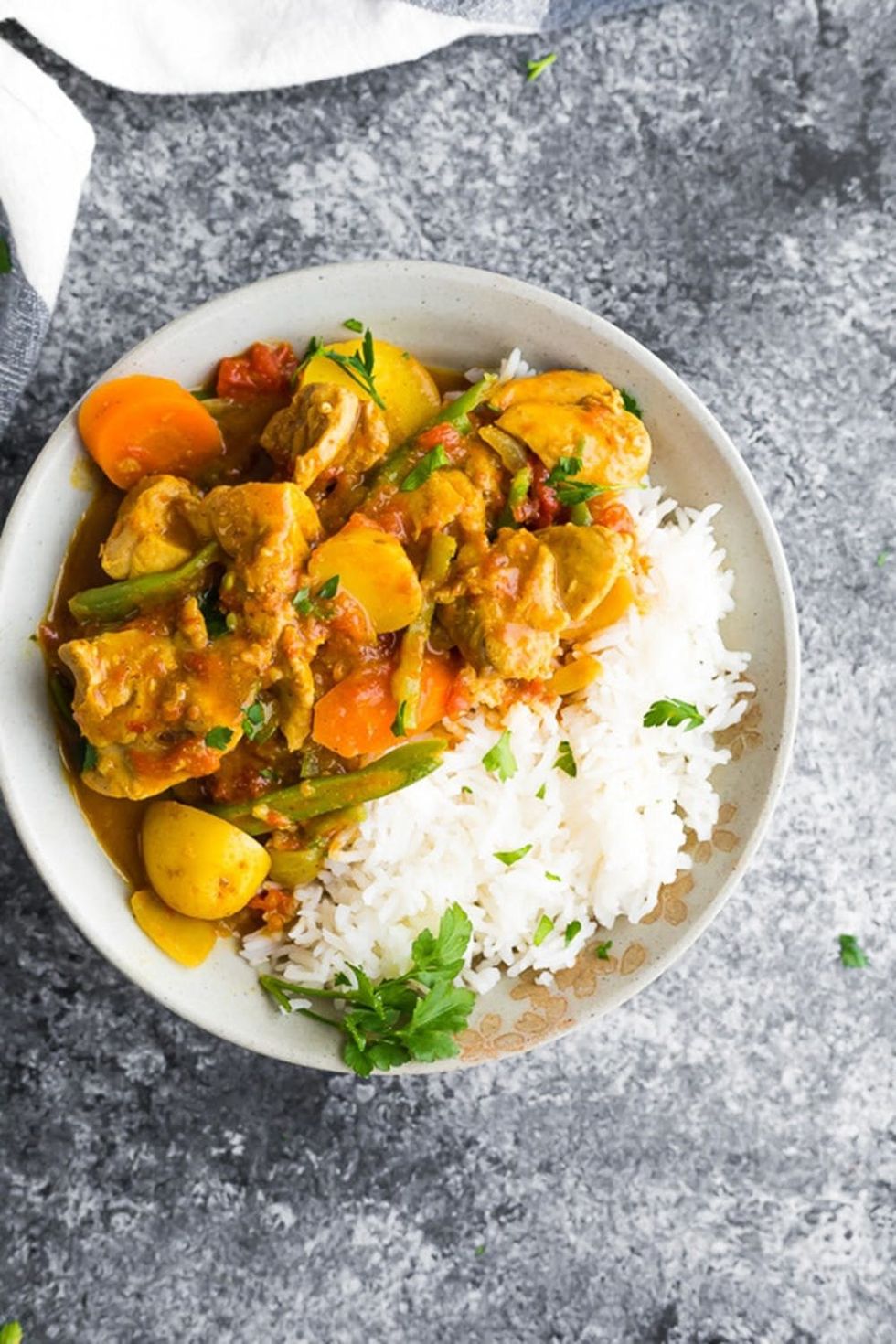 14. One-Pot Gluten-Free Chicken Curry: Creamy coconut milk tempers the spice of this chicken curry, which conveniently comes together in your favorite pan. (via Sweet Peas and Saffron)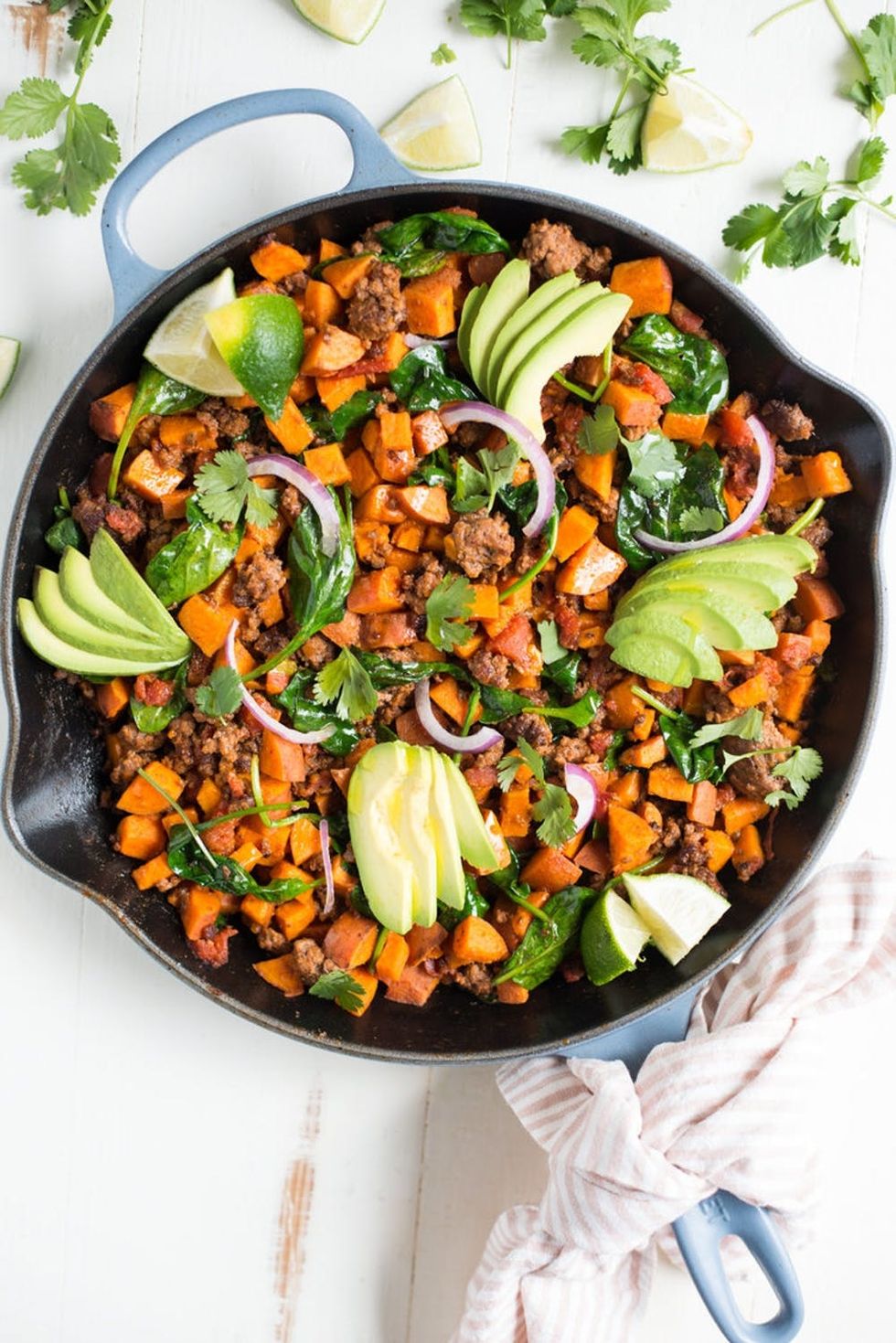 15. 20-Minute Sweet Potato Beef Skillet: Sizzle a blend of sweet potatoes and savory beef, then garnish with avocado, fresh herbs, and lime to make the most of the flavor combo. (via Real Food Whole Life)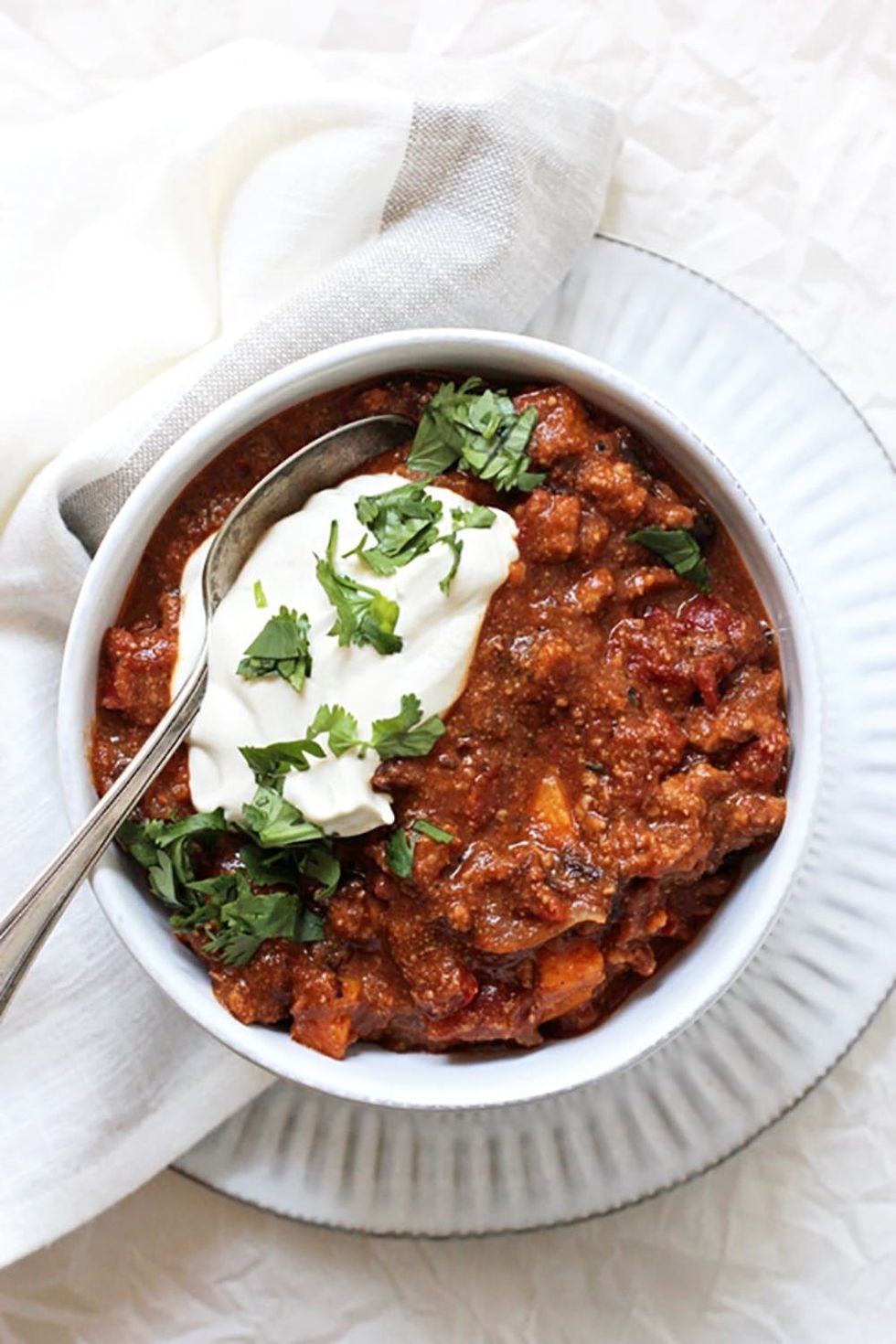 16. Sweet Potato Turkey Chili With Black Beans: Get your protein fix in the tastiest way possible when you nosh on a bowl of turkey, sweet potato, and black bean chili. A dollop of tangy sour cream on top really makes it pop. (via Cook Nourish Bliss)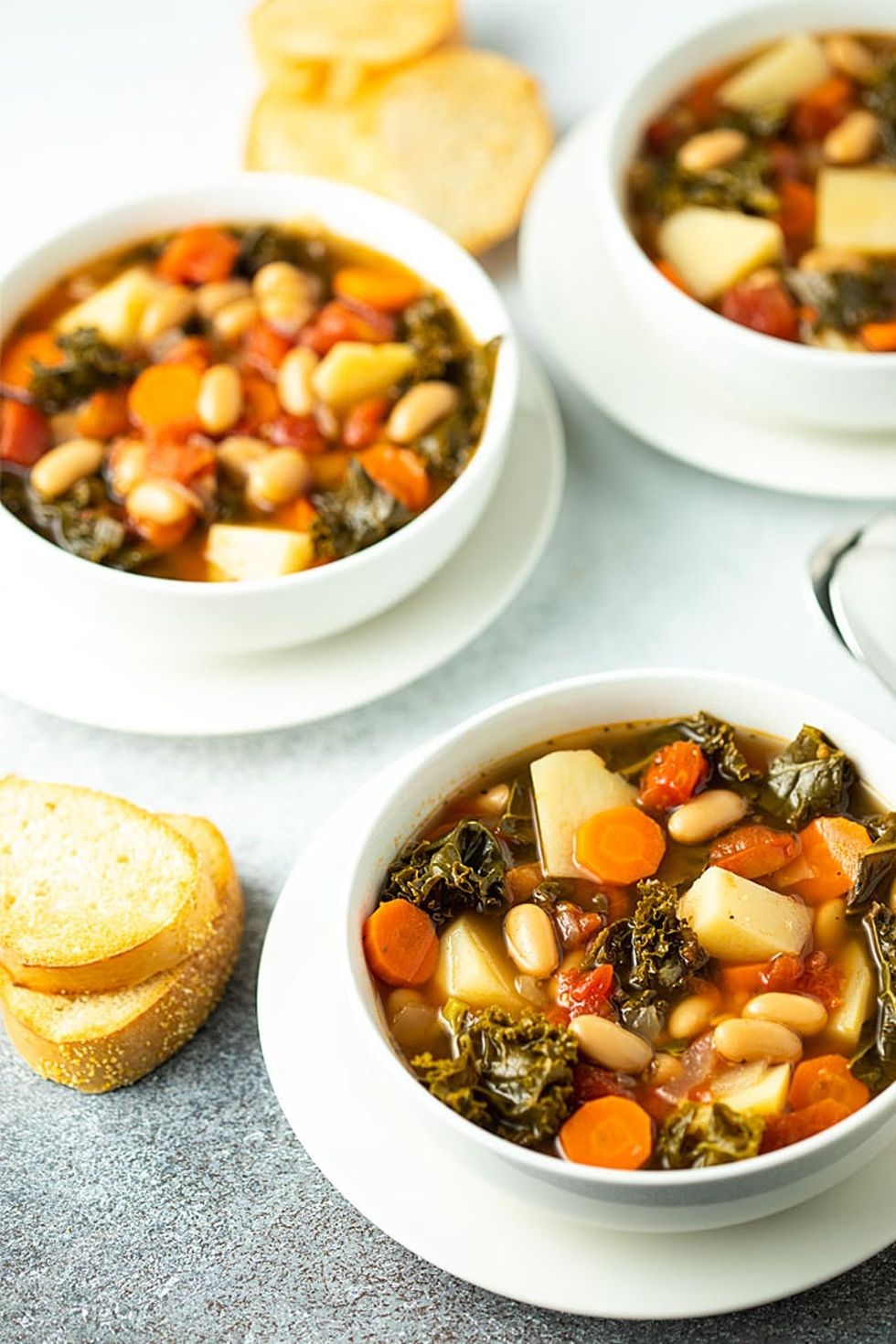 17. Gluten-Free Kale Vegetable Soup: Make this recipe and in less than an hour you'll have a big pot of gluten-free veggie soup you can enjoy all week long. (via The Blond Cook)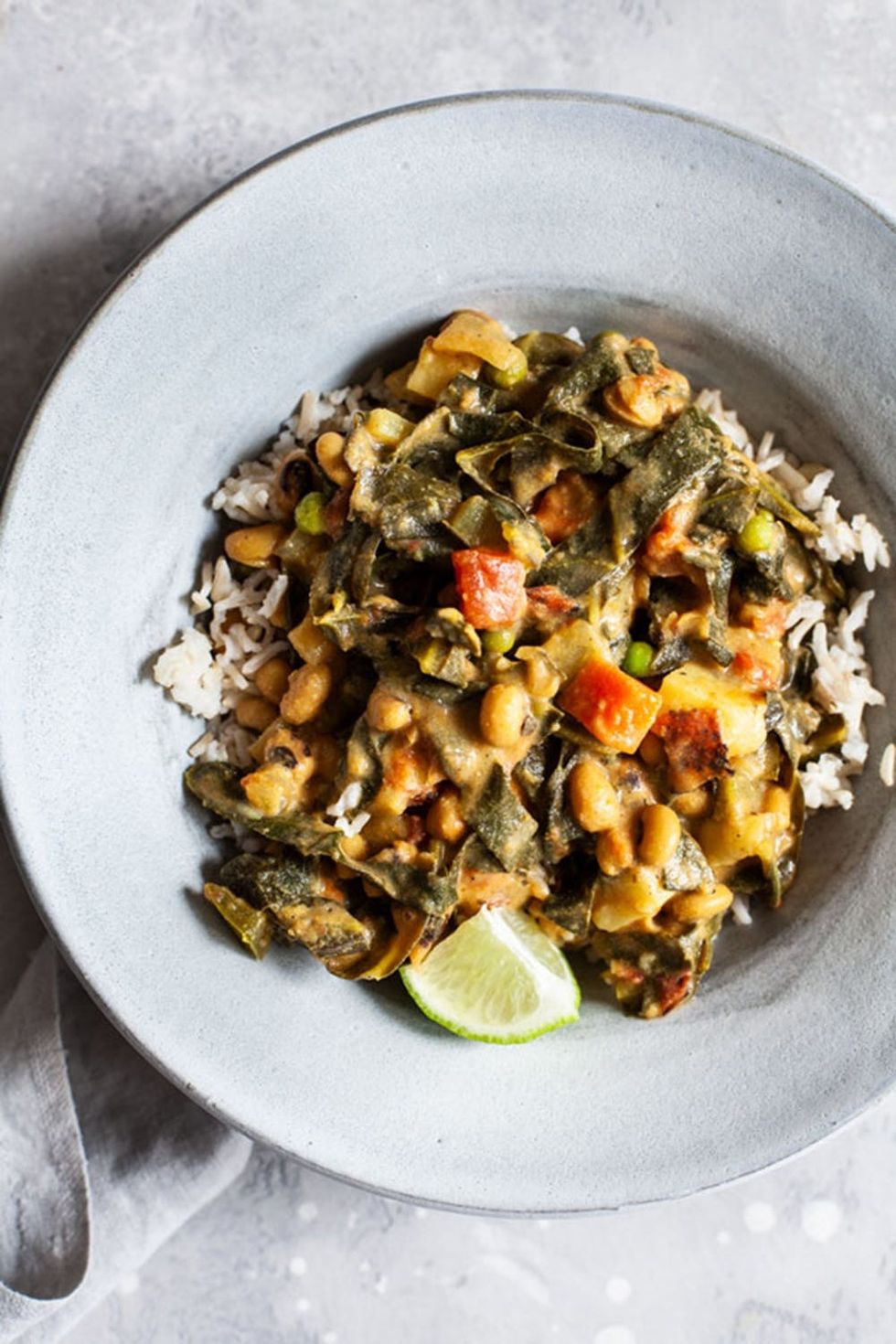 18. Caribbean Black Eyed Pea and Collard Greens Curry: Jamaican curry powder kicks the spice of this dish into high gear. It tastes like it's been cooking all day, but the meal comes together in about 40 minutes. (via The Full Helping)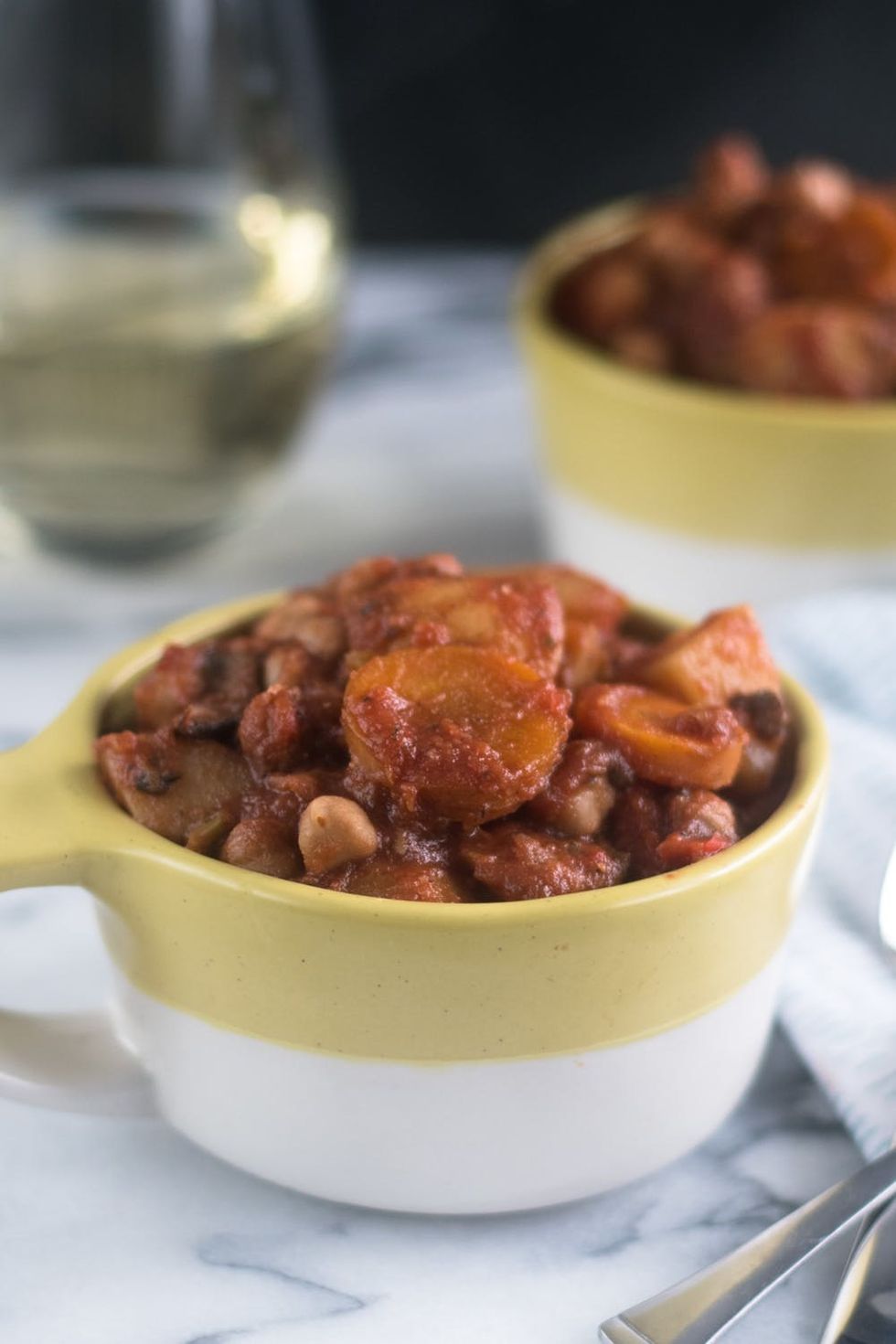 19. Chickpea Cacciatore: Revisit an Italian classic made vegetarian with a big pot of slow-cooker chickpea cacciatore. (via Thyme and Love)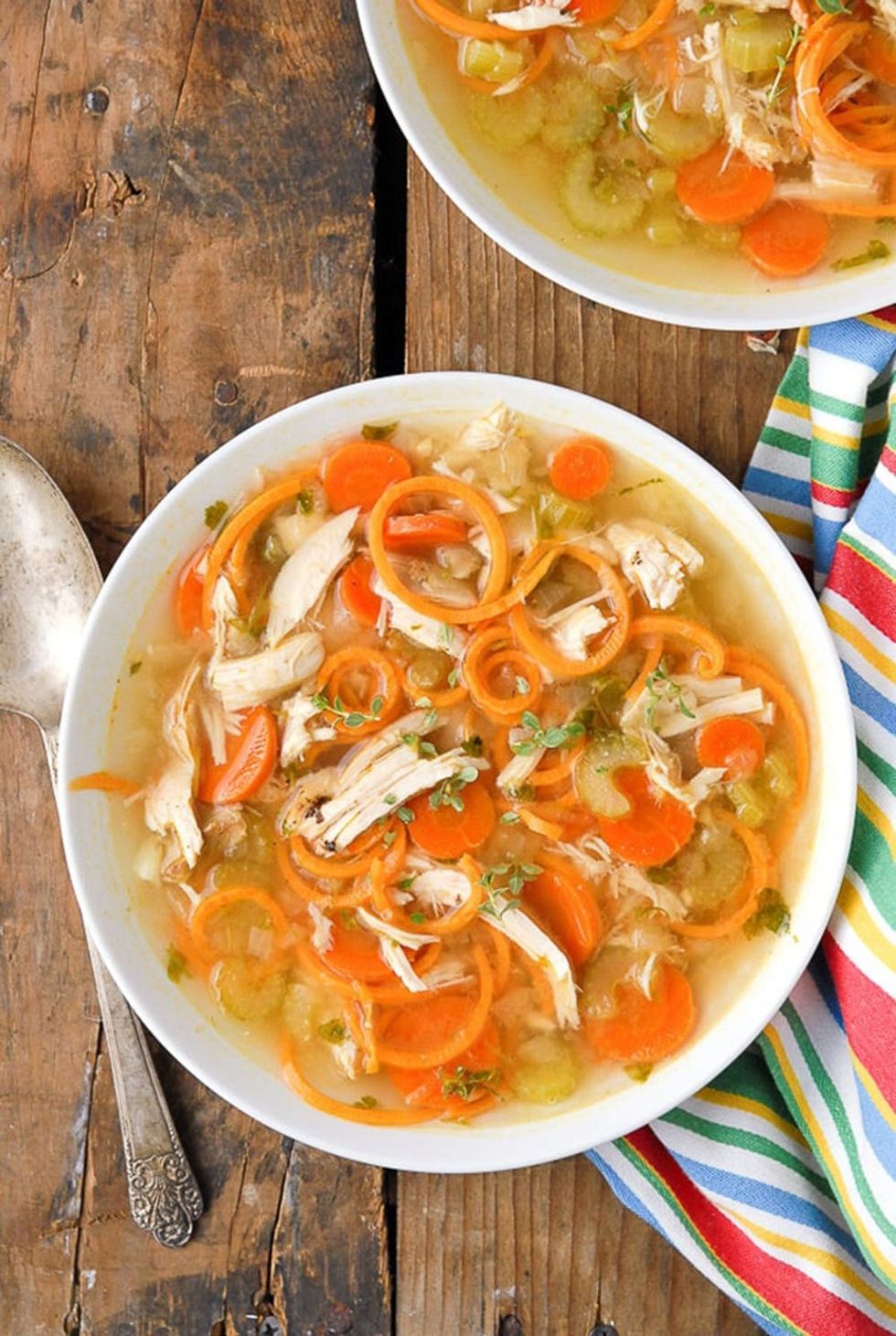 20. Chicken and Sweet Potato Noodle Soup: Still craving those slurpable noodles even though you're gluten-free? Swap out wheat-based noodles for spiralized sweet potato instead. (via Boulder Locavore)
21. Slow-Cooker Thai Chicken Mushroom Coconut Soup: Fragrant with the aroma of lemongrass, kaffir lime leaves, and ginger, this lightly creamy Thai chicken mushroom soup will keep you warm and satisfied. (via Boulder Locavore)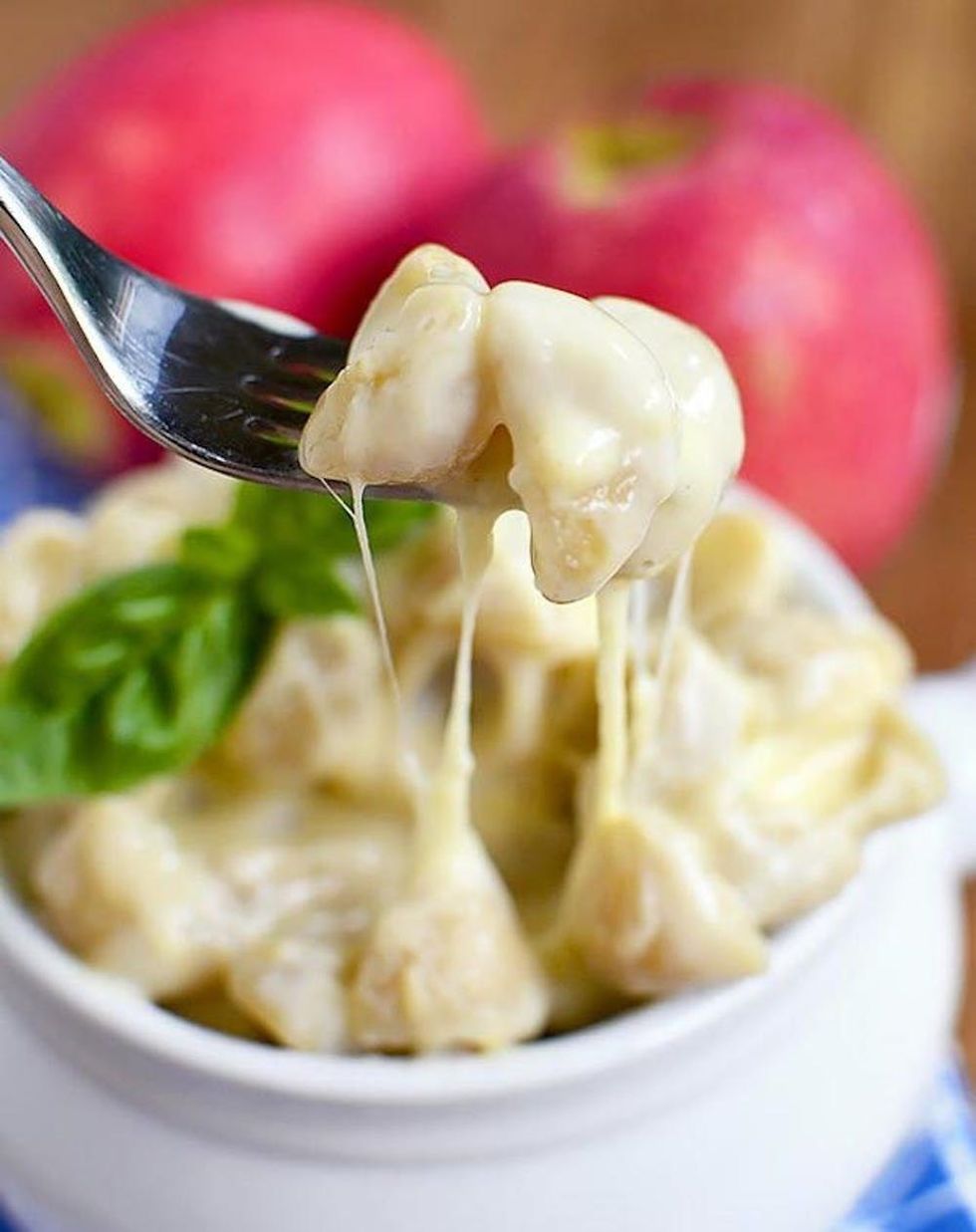 22. One-Pot Gluten-Free Mac and Cheese: Mac and cheese lovers with food sensitivities will be forever grateful for this homemade pasta recipe. The key here, of course, is a good gluten-free macaroni. Anything that is made with rice or quinoa will do — just make sure it's labeled "gluten-free." (via Iowa Girl Eats)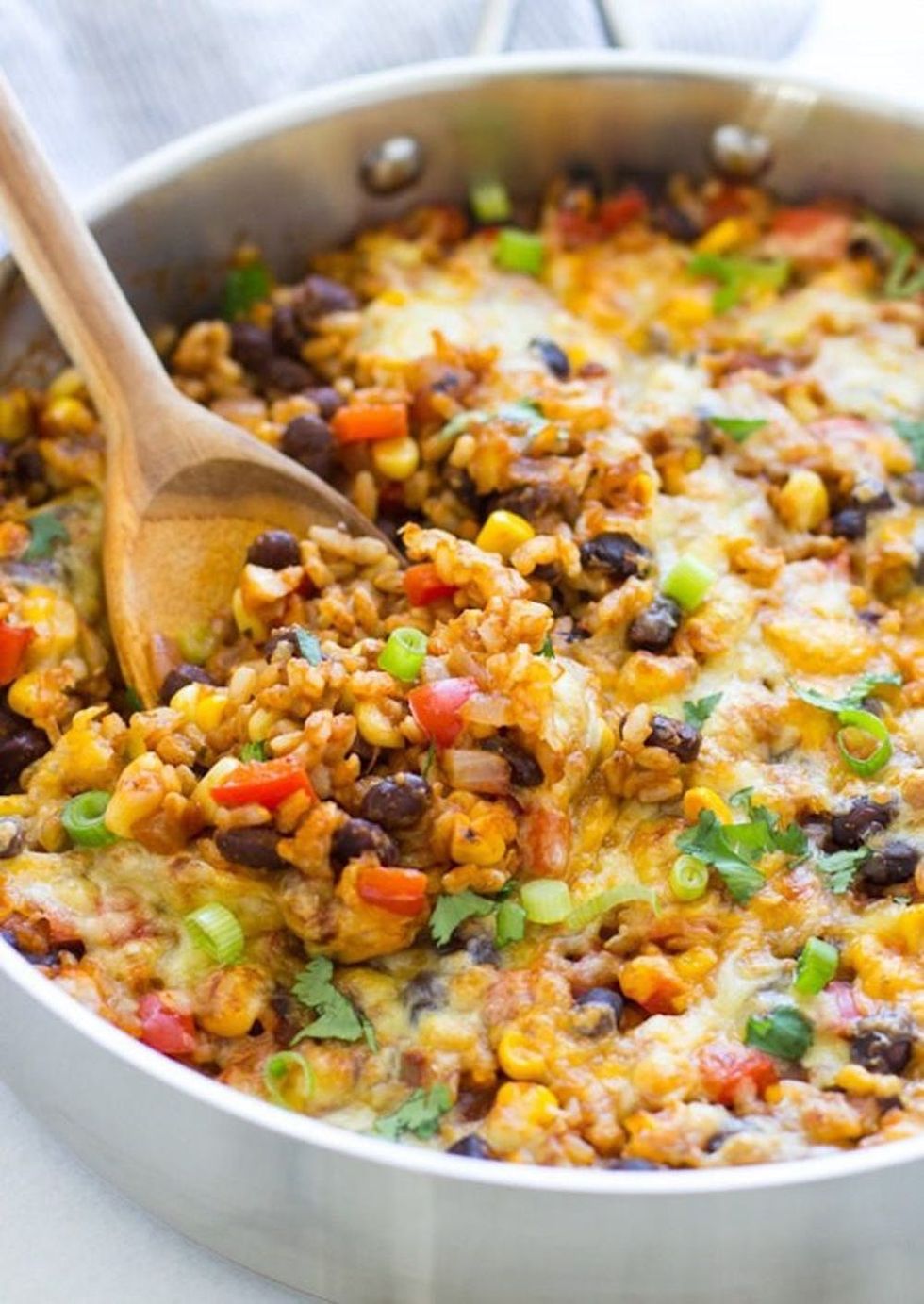 23. One-Skillet Mexican Rice Casserole: Rice-based Mexican food is totally on the table if you're avoiding gluten. This easy recipe requires mostly staple ingredients like beans, cheese, rice, onions, and peppers. (via Making Thyme for My Health)
Follow us on Pinterest for more one-pot meals.
Additional reporting by Maggie McCracken
Justina Huddleston
Justina Huddleston is a food writer living in Los Angeles. When she's not busy writing, she spends her time in the kitchen creating both virtuous and decidedly junky vegan food. Buffalo chickpea pizza, anyone? She's also been known to eat a plain block of tofu or beans straight out of the can for lunch, but somehow those culinary adventures don't make it to her
Instagram
. You can follow Justina on
Twitter
or see what's cooking in her kitchen on her blog,
A Life of Little Pleasures
.
Healthy Eating