Make-Ahead Meals — Say "Later" to Tired Takeout!
Jan 26, 2016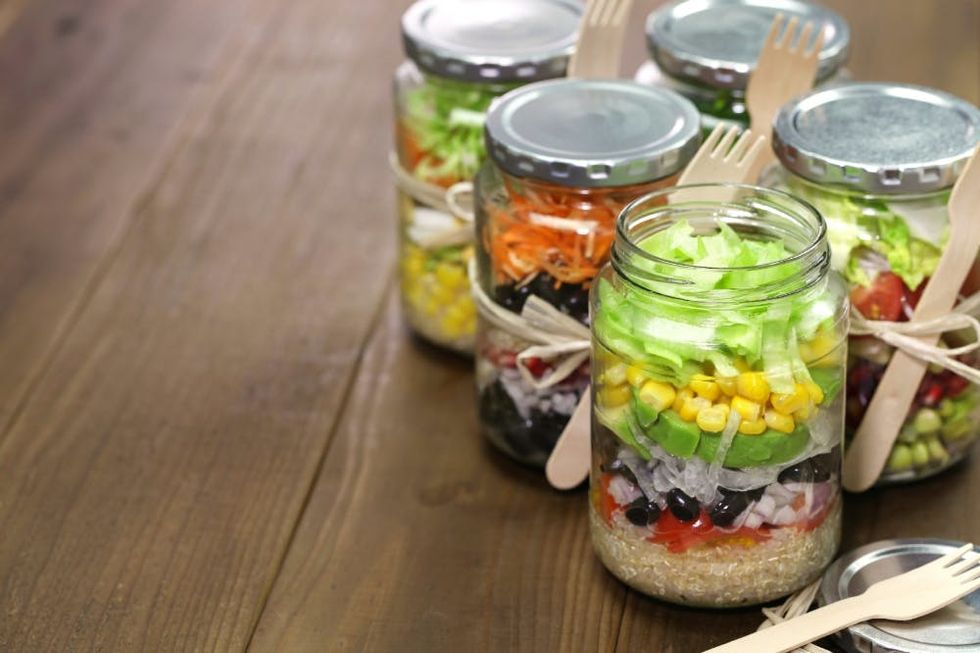 You start the year with the best intentions to eat healthfully. Then you find yourself picking up the same old boring (and unhealthy) takeout for breakfast, lunch and dinner? It's the convenience factor. And the only sure-fire way to shake this bad habit is by prepping some healthy meals ahead of time — where you have chosen the ingredients and know that you will be getting high-quality meals. For example, these 17 make-ahead lunches that will get you through the work week.
---
Prepping or cooking ahead is a great way to save time and reduce the chances of falling back on takeout when you're tired or short on inspiration. And it doesn't have to be a big time suck, either. Choose a day when you have time to shop and prep — say, Saturdays. Steam some rice, pasta, couscous or quinoa. Chop some vegetables and fruits and mix them with olive oil and vinegar or citrus juices for dipping sauces and salsas. Bake a chicken or roast some beef or lamb in the morning and by afternoon you can be slicing and setting aside the meat for use in salads, stews, soups and casseroles, which you can freeze and take to work for lunches or enjoy at home after a long day. Toss the bones, along with some veggies and herbs, into the slow cooker to make bone broth. Divide your broth into one-pint freezer bags. Now you've got scratch-made stock for next week's cooking!
It's just one week in and you are officially a step ahead of the take-out trap. Preparing ahead of time has given you healthy and simple meals to enjoy when you need them. Go, You! (High five.)
Do you have a go-to make-ahead to share? Tag us on Instagram @britandco. Come on — you know you want to!
(Photo via Getty)
Sally Jones
Sally Jones is a writer and editor living in New York City. She has worked at many websites including iVillage, Ladies Home Journal, More, Parenting, Cosmopolitan, The Knot and YourTango, in jobs ranging from editor to COO. Renovation and interior design are her
unhealthy obsessions
hobbies. She has renovated every home she's lived in, including the rentals, and like... whoa, who does that? You can catch her at her blog
Renov8or
.
Healthy Eating
Still haven't taken up that new creative skills you swore you'd learn this year? Or ready to take your design skills to the next level? Let's say so long to the weirdest year ever by checking those big learn-something-new goals off our perpetual to-do lists.
We've teamed up with Clorox to give you the gift of unlimited creativity now through the end of the year. Once you sign up, you can take as many of our 120+ classes as you want for FREE for one whole month!
Here's how it works:

Head to brit.co/learn and sign up for the "All Access Pass."
Use the code "CLOROXCARES" at checkout to redeem your free month of classes.
You will be automagically signed up for Clorox's email list once you redeem your free all access pass. (It's the #1 Choice for Disinfection!)
Your pass lasts one month from when you checkout. This means you have unlimited access to all the classes during that month.
This offer is valid now through December 27, 2020.
Browse our catalog to find the right class for you, tell a friend and take the class together over Zoom, or organize a 'cocktails + crafts' night with a friend in your bubble so you can learn something new together.
What are you waiting for? Time to start learning all the things!

Thanks to Clorox for making this happen! When it counts, trust Clorox.
Lifestyle