This Documentary Spotlights the Women DJs of the Male-Dominated EDM Scene
Nov 13, 2017

Ladies First highlights women and girls who are making the world better for the rest of us
---
Let's face it: Sexism in EDM is certainly not a new discussion. From women in the industry being challenged over their credibility to festivals perpetuating misogynistic imagery and toxic bro culture to attract crowds, the genre's anti-woman trappings are reflected in a notable absence of female DJs and producers from "Best Of" lists.

But, like in Hollywood, more and more female artists are beginning to feel empowered to share their own experiences in the industry and fight back. Amplify Her, a documentary by filmmakers Nicole Sorochan and Ian MacKenzie, showcases some of these up-and-coming women in the EDM scene and focuses in on their experiences making and performing electronic music — and explores how integral their femininity is to their creative process.
Sorochan explains to Brit + Co that she and MacKenzie set out to show viewers a new perspective on an industry that people might subconsciously associate with male DJs. "We wanted to celebrate the diversity of women in music by really pushing society's views on how women should be, look like, sound like, and open up the possibility for all kinds of new role models and forms of expression," she says.
As in many other areas of society, EDM reflects social biases towards straight, white men. Women in EDM are, meanwhile, pushed to flaunt their youth, beauty, and sexiness instead of their musical talents. Sorochan hopes that the film will show how women can feel safe and supported in the industry while overcoming the archetypes.
"The women featured show an expanded expression of what female sexuality can be; a femininity that is funny, raunchy, healing, mesmerizing, fierce, and powerful."
Amplify Her was filmed over the course of five years, and takes viewers from club booths to festival stages to document the highs and lows of different artists' own personal journeys in addition to the industry at-large. The film documents the DJ Blondtron's crushing rejection for arts funding due to her raunchy stage persona, DJ AppleCat's journey of building the event Erotica Electronica, and Lux Moderna's quest to navigate illness as an artist — to name a few.
Sorochan explains that watching AppleCat play at Burning Man was the inspiration behind the film. "There was a difference in how she was crafting her set, and the energy that her music brought to the audience," Sorochan recalls. From there, the filmmakers sought out other women in the electronic dance scene in North America who used their "feminine expression" in unique ways.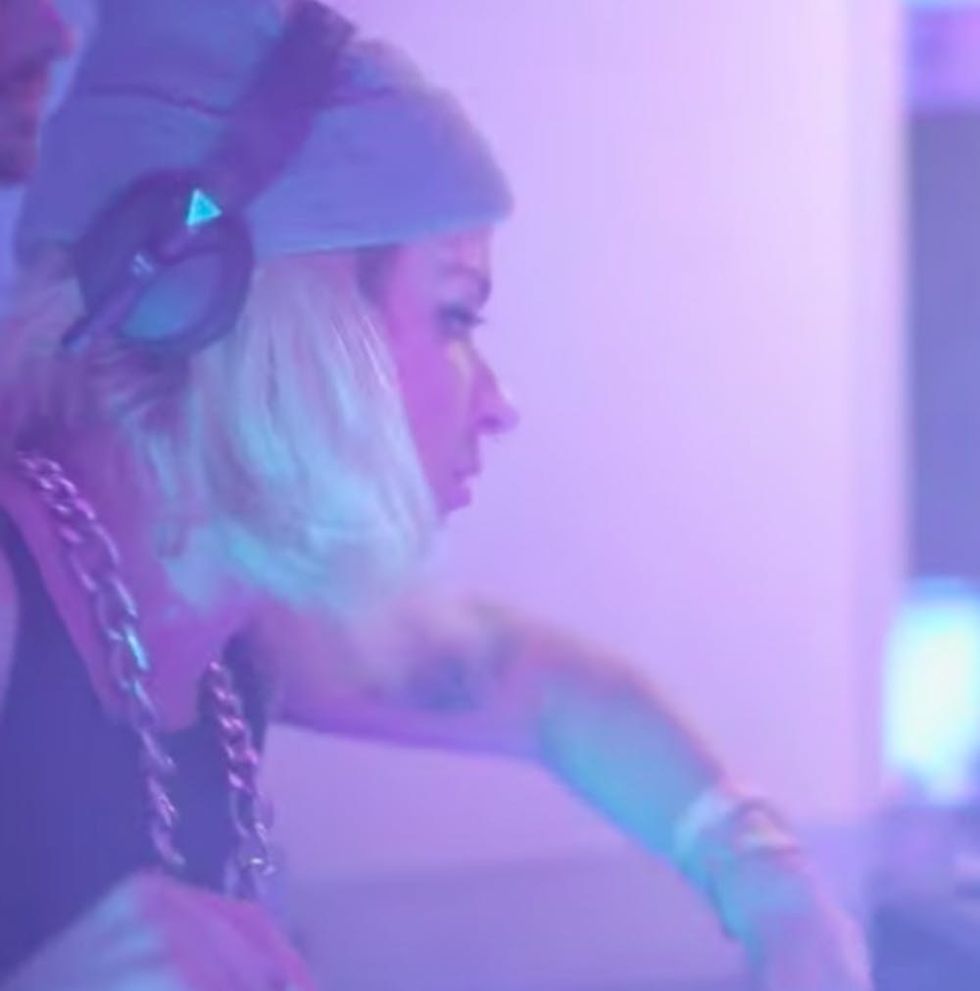 Sorochan shares that it was important for her and MacKenzie to create the film that not only looked at the issues like gender disparity and the call for equality, but that would also start a discussion on how the women of the EDM industry are coming together to support one another in their creative pursuits.
"Women need encouragement, training, mentoring and role models," she says. "If we focus on questions like 'why aren't there more of this' then we discourage women from trying and perpetuate the message that there are none."
By showcasing artists Blondtron, AppleCat, Lux Moderna, WALA, A Hundred Drums, Kytami, and CloZee being their authentic selves without shame or misinterpretation, the film is trying to promote the idea that support and opportunities are out there. "It's not enough to point to the abuse; we also need to show what change is possible," says Sorochan. "Women need to rally together to support each other in creating the safe space and men need to work with each other on the practices of self-awareness, consent, and respect."
Amplify Her premieres on November 16 at The Castro in San Francisco, with appearances from the filmmakers.
Are you an EDM fan? Tell us @BritandCo!
Amanda Scriver
Amanda Scriver is a passionate storyteller and body image advocate based out of Toronto, Canada. When she isn't writing for various publications, she finds time to Keep Up With The Kardashians while partaking in life's greatest pleasure: the chip buffet. Don't ask her what her favorite restaurant is, it's complicated
Empowerment