This Is the Mental Health Advice Jen Gotch Wishes She Could Tell Her Former Self
Jun 07, 2018

An honest look at the ways women are taking care of their minds and bodies in 2018.
---
*
We've been fans of ban.do founder and Chief Creative Officer Jen Gotch for awhile, and with good reason. The creative brains behind one of the most delightful brands of the past decade, Gotch has also gained recognition as a frank advocate for open conversation about mental health. Now, Gotch is bringing her candid approach to tough topics to a new podcast on Sophia Amoruso's Girlboss Media network
That podcast, called Jen Gotch Is OK…Sometimes, is Gotch's weekly platform to "tell you about my fears, my pain, my triumphs and hopefully in the process help you become more self-aware, build your own emotional intelligence and more than anything else FEEL LESS ALONE." Now a couple of episodes in, Gotch chatted with Brit + Co about her show's origins, her vision for the podcast going forward, and the advice she wishes she could give her younger self.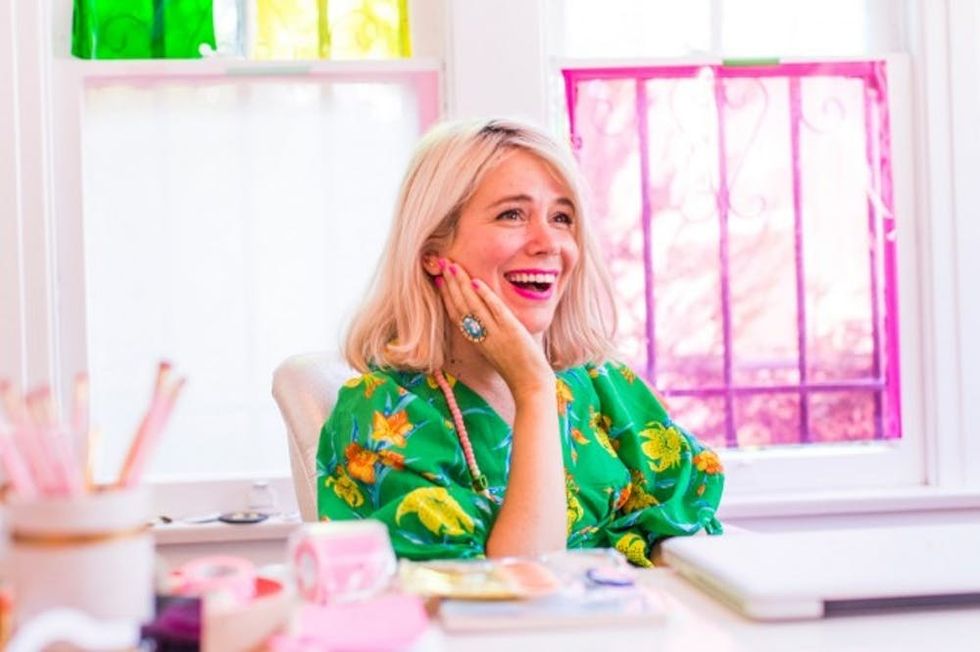 Brit + Co: You say in the first episode of the podcast that you didn't want to make a mental health podcast but, ultimately, that's kind of what it is. What were your reservations about making a podcast that's explicitly about mental health, and why have you made peace with going down that road in spite of your reservations?
Jen Gotch: I was mostly acknowledging the huge responsibility in agreeing to a traditional mental health podcast — the research that would be involved and my core understanding about how much is still unknown on the clinical side. I was intimidated and also hadn't fully come to terms with the fact that I was actually a mental health advocate. I identified as a person who found joy in sharing her innermost thoughts and fears to hundreds of thousands of people, but had yet to truly connect the dots. Once I was able to frame it as more autobiographical and assert myself as an expert in my own experience I realized that, in a way, everything I do is associated with mental health and that's a good thing.
B+C: Your parents (who are very adorable) make a guest appearance on the podcast, and they seem to be pretty comfortable getting candid about very personal topics in public [editor's note: they definitely talk about the night Gotch was conceived]. Have they influenced your own decision to be open about personal topics like mental health struggles?
JG: Umm, first, thank you. I think they are adorable, too. I definitely grew up in a household where it was not taboo to talk about your emotions. There were actually lots of emotions being flung around all the time. That said, I'm not 100 percent sure they realize how many people will hear them talk about this. Hahah. But really, yes, they have been amazing through this process and it has brought us closer together to be able to dig into subjects that we actually hadn't really discussed this thoroughly before.
B+C: What role, if any, do your mental health challenges play in your life as a successful entrepreneur? In your personal life?
JG: My struggles have made me more self-aware and emotionally intelligent and I think I bring those qualities to my work and my personal relationships. These challenges have shaped how I approach my actual job, and also how I approach relationships both with the people I work with and my close friends — some of whom are one in the same. In addition to that, the manic side of my bipolar probably helped give me "energy" over the years and lots and lots of ideas and my anxiety has made me very meticulous when it comes to the execution of the good ideas (and some bad ones).
B+C: You've said that you've been empowered by embracing your vulnerability. To many people, that might seem like an oxymoron. Can you elaborate on what it has meant to embrace vulnerability in your own life, and how it became a source of strength?
JG: The key for me is that something that is traditionally "vulnerable" did not make me feel that way at all. I was never scared to share how I was feeling or to talk about my mental health – good and bad. That's why it doesn't feel brave to me, it feels really natural. There are still lots of things that make me feel vulnerable, and mostly I steer clear of those! I feel empowered because the manner in which my story and my sharing has been received and the feedback I get on how it is helping others is, for me, life-altering.
B+C: Earlier this spring, ban.do partnered with Iconery to release limited edition "Anxiety" and "Depression" nameplate necklaces that wound up selling out within 12 hours. Even though you were pretty upfront about your desire for these necklaces to be conversation-starters to fight mental health stigma, and proceeds from sales were donated to Bring Change to Mind, were you ever worried about backlash?
JG: If I'm being honest, I wasn't worried for ONE SECOND ahead of the launch. I went very eagerly, blindly into the partnership assuming that this would resonate with everyone who has suffered with these issues. And it did resonate with lots of people and continues to do so, as we have now sold out multiple times and facilitated countless stories being shared both in person and online. Buuuuuuut, it also upset people, made them feel triggered, uncomfortable and angry, and I was initially very hurt and shocked by that.
Since the day of our initial launch, when some of that negative feedback came in, we have spent a ton of time looking at the necklaces and what they stand for through the lens of the constructive criticism because if we can get better, we will. We continue to open our minds, communicate our cause, and stick to our guns because it is all being done with thoughtfulness and integrity for a very important cause.
B+C: If you could give your past self from 10 years ago one piece of advice, what would it be?
I would give her two pieces of advice: 1. Stay on your meds! And 2. There is no such thing as overnight success.
(Photo via Brit + Co)
Kelli Korducki
Kelli is Brit + Co's Senior News Editor. Her interests include sensible footwear and glasses that take up 25 percent of her face.
Empowerment