This Retired Fighter Pilot Is Running for Congress With an Extremely Badass Ad
Aug 02, 2017

Ladies First highlights women and girls who are making the world better for the rest of us.
---
It's very rare that campaign announcements from new political hopefuls make any sort of splash. That's mostly because the ads are all the same. Some person, standing somewhere, looking at the camera and talking about his or her political goals. Obviously, there are outliers like when Hillary Clinton announced her Presidential run in 2016, but for the most part, when we talk about local candidates, their ads tend not to make a national splash. Enter retired Lt. Col. Amy McGrath and her dip into politics, running in Kentucky's Sixth Congressional District against a Republican incumbent.
In the ad, "Told Me," McGrath shares her journey beginning as a young girl with high aspirations to breaking through the military's glass ceiling in 1993.
"When I was 12 years old, I knew exactly what I wanted to do when I grew up. I wanted to fly fighter jets, and land on aircraft carriers — because that's the toughest flying you can do." When she wrote her senator, Mitch McConnell, at the age of 13, she never got a reply.
That prompted the teen to reach out to every other member of the House, as well as the Senate Armed Services committees, insisting that they change the law because she believed in herself. When she finally did hear back from a Representative, the response was hardly encouraging: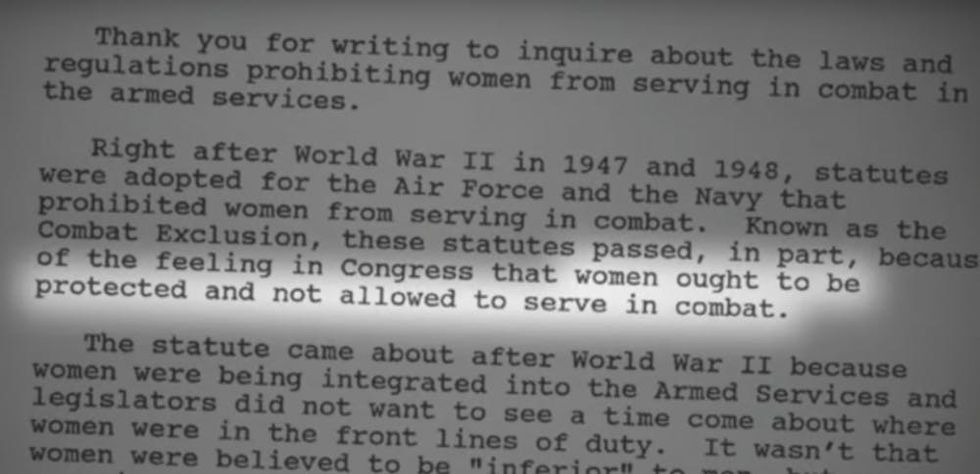 Fast forward to a 20-year active duty military career where McGrath served on 89 combat missions, and became the first woman ever to fly an F-18 fighter jet in combat, eventually achieving the rank of Lt. Col.
With the recent GOP attempts to repeal Obamacare, McGrath admits she feels compelled to serve once again, this time, running for political office against incumbent Andy Barr, who she says in her ad, "would vote enthusiastically" to take healthcare from many Kentuckians, including people like McGrath's own mother.
Although Kentucky has been a red state for a long time, that doesn't deter the vet. She told Refinery29, "I'm not a career politician, I'm not a millionaire, but I'm someone who knows how to serve, who knows how to lead, and when my country called, I stepped up. And I thought, I have to do that now."
McGrath closes her video by calling out current political leaders: "This is my new mission – to take on a Congress full of career politicians who treat the people of Kentucky like they're disposable. Some are telling me a Democrat can't win that battle in Kentucky. That we can't take back our country for my kids and yours. We'll see about that."
What do you think about Amy McGrath's political introduction? Tell us @BritandCo!
(h/t Refinery29)
Kat Armstrong
Kat has been a writer, social media maven and mom for longer than she's willing to admit. She's also spent time in front of and behind the camera, interviewing celebs, politicians and acting as a producer for fashion and artistic photography shoots. When she isn't writing for various orgs and publications, she's hanging with her kids, husband and French Bulldog, Peter, in Toronto, Canada.
Current Events