You Need This Too Faced Peel-Off Glitter Liner for Valentine's Day
Jan 24, 2018
V-Day falls on a Wednesday this year, so you'll want to make sure your date night or Galentine's style is as mid-week friendly (read: lazy gal approved) as possible. Luckily for all of us, the beauty geniuses at Too Faced have finally unveiled a long-awaited eyeliner they've been talking about since 2016. And it will instantly elevate anything you have planned. Well worth the wait, Too Faced Glitter POP Peel-Off Eyeliner ($20) brings all the glam we're after with none of the mess our other sparkly makeup is known to cause. Read on for more deets.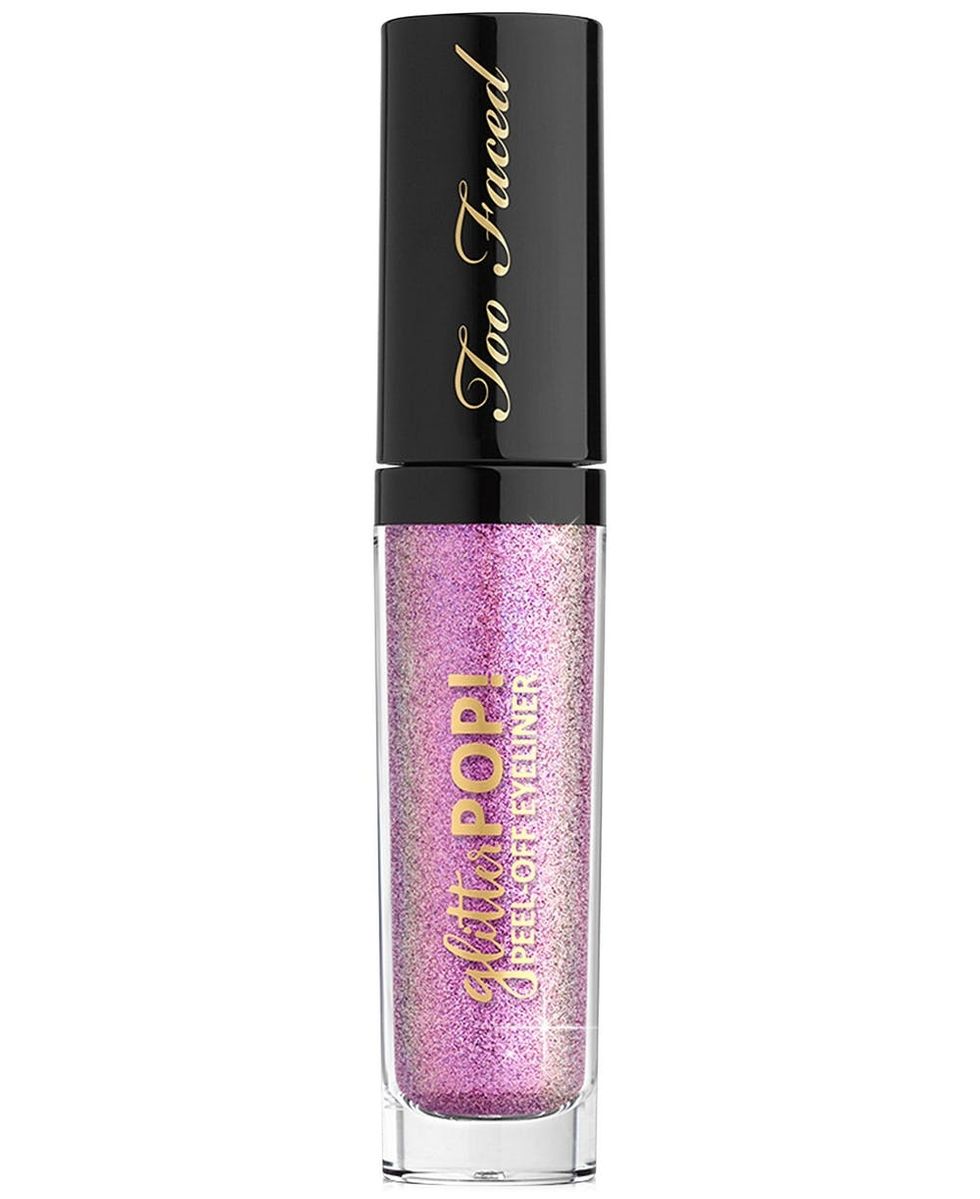 ---
1. It's seriously easy to apply. This liner is perfect for those of us who haven't quite mastered liquid eyeliner just yet. It's got a thicker application brush so you can paint on the perfect line or wing every time. And if you do mess up, just use a spooly brush (that's the part of the brush you sweep your brows with) to remove extra glitter. You might need two to three coats to see some shine, so don't give up.
2. It's not going anywhere. The biggest problem with glitter makeup is that it rarely stays where you apply it. This liner contains film formers that are like a glue, only less abrasive. That means the sparkle is going to stay put. Just let it dry for about five minutes and you're good to go.
3. To remove, just peel off. After a big night out, there's nothing worse than having to spend forever getting stubborn makeup off. The beauty of Glitter Pop is that you can peel it right off with your fingers when you're ready. That means you won't wake up to a glittery mess on your pillow the next morning — hallelujah!
4. It comes in eight popping colors. You can pick from shades like Super Fun Night Out (silver), I'm Half Mermaid (seafoam blue), or Kitty Glitter (hot pink), or layer them up. We'll take one of each, please.
Looking for more beauty inspo? Follow us on Pinterest!
Brit + Co may at times use affiliate links to promote products sold by others, but always offers genuine editorial recommendations.
Beauty News