What to Make With Leftover Cadbury Eggs
Mar 01, 2016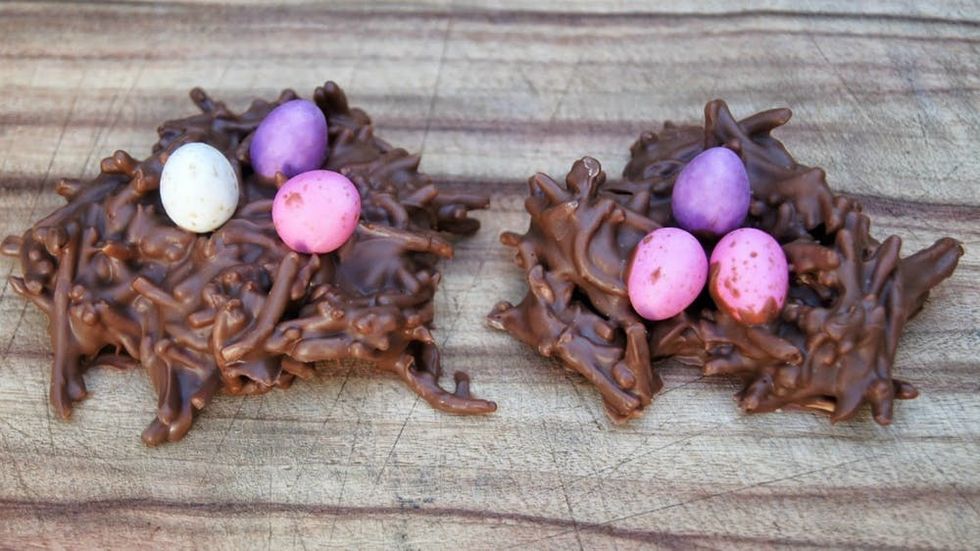 Have you heard about this phenomenon called leftover Cadbury Eggs? We haven't experienced this terrifying dilemma. No, we're more likely to find ourselves in the opposite but equally embarrassing situation — being sent out to shop for Easter food crafts and coming home with just a bunch of empty foil wrappers to show for our trouble. But should you be the kind of person who finds yourself with an embarrassment of chocolate eggs laying around and in danger of "growing stale", we've got plentiful ideas for how you can upcycle those goodies. Here are 15 easter concoctions that repurpose Cadbury Eggs, including cookies, cakes, brownies and even a couple of drinks (one, a martini).
---
Though we find Cadbury Eggs to be acceptably delicious just as they are, cooking with them seems to have become standard Easter repertoire. We've seen them baked into brownies, folded into cookie batters and used to top up frosted cakes. And in a most delectable food-centerpiece mashup, folks are setting the eggs to rest upon chocolate drizzled "nests". Emma over at Frog, Goose and Bear makes her Chocolate Easter Nests look easy-peasy — even her 5-, 6- and 10-year-olds can do it. They melt chocolate and peanut butter (*drooling*) over a crunchy mound of fried rice noodles, then press them into vintage chocolate molds and let them set. After the chocolate nests have hardened, the Cadbury Eggs find their rightful place. Should they last long enough in an uneaten state, they will surely make a gorgeous centerpiece.
If none of these ideas seem a suitable use for your leftover Cadbury Crème Eggs, we have one last option to offer. We would be happy to make the ultimate sacrifice. Please send them our way via post-master, messenger or even overnight delivery, depending on how anxious you are to have them off your hands.
Do you have this problem of leftover Cadbury Crème Eggs? What did you do with them? Tag us on Instagram @britandco.
(Photo via Frog, Goose and Bear)
Sally Jones
Sally Jones is a writer and editor living in New York City. She has worked at many websites including iVillage, Ladies Home Journal, More, Parenting, Cosmopolitan, The Knot and YourTango, in jobs ranging from editor to COO. Renovation and interior design are her
unhealthy obsessions
hobbies. She has renovated every home she's lived in, including the rentals, and like... whoa, who does that? You can catch her at her blog
Renov8or
.