If You're Moving in With a Guy, You *Need* to Check Out This CB2 Collab
Apr 11, 2016
Navigating how to decorate with a roommate can be tricky — especially if that roommate is a dude. Sometimes it's hard for masculine tastes to see the value in bright colors and bold patterns, but now, for the first time ever, CB2 has collaborated with menswear designers to come up with a home decor collection packed with some of the coolest textiles you've ever seen. Brooklyn label The Hill-Side — who know how to rock a palm print right along with the best menswear has to offer — worked with CB2 to come up with a whole selection of upholstered furniture, rugs, bedspreads, bath towels, pillows and more, based on neutral color palettes and designs from their past season's fashion. Scroll on for all the super stylish deets.
---
With workwear blankets and blown-up palm prints, there's plenty here to suit all tastes. Most of the line boasts cool neutral shades, pops of navy blue and vintage-type patterns that even the more feminine aesthetic will love. And because it's CB2, the pieces are totally affordable and range from $7 for a hand towel to $2,400 for a couch. See? There's nothing to complain about here, guys (and gals!).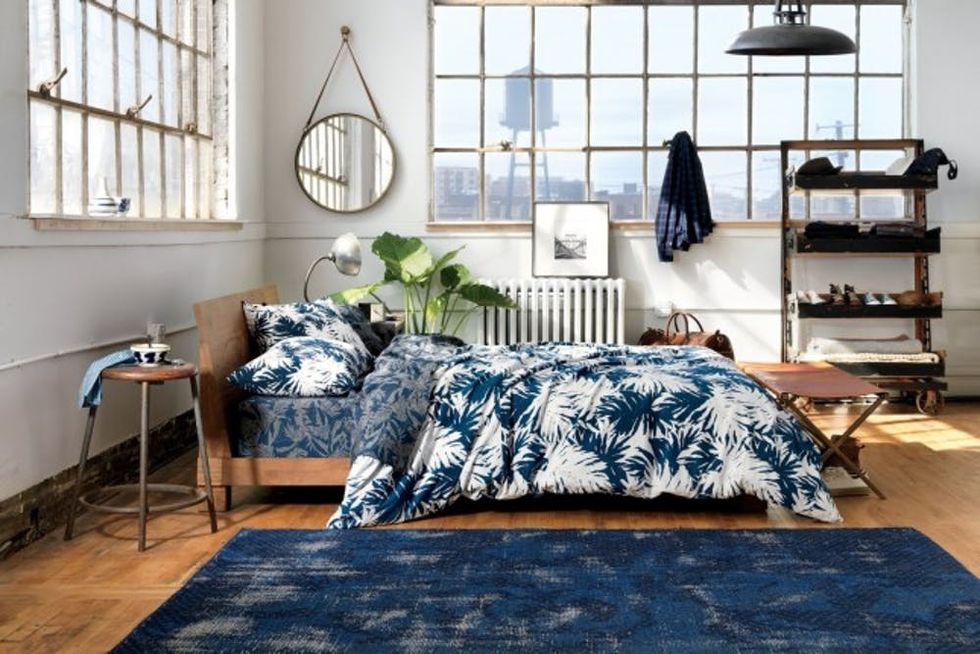 The Hill-Side provides the perfect balance of style and industrial design, so if you're struggling to find a balance between your partner's wants and your must-haves, check out this CB2 + The Hill-Side collab to start finding that compromise decor bliss.
What do you think of this more masculine CB2 home collection? Follow us on Pinterest for even more collabs and interior decor news.