Insta-Obsessed: @MiniStyleHacker is the Hippest Tot Around
May 15, 2014
If you thought you were on deck to have the most stylish kid around, we've got news for you. This incredibly fashion-forward tot, dubbed Mini Style Hacker has beat you to the punch. From the hippest Ray Bans around to a seriously on-point 'do, this kid is easily our new favorite Instagram feed to follow.
---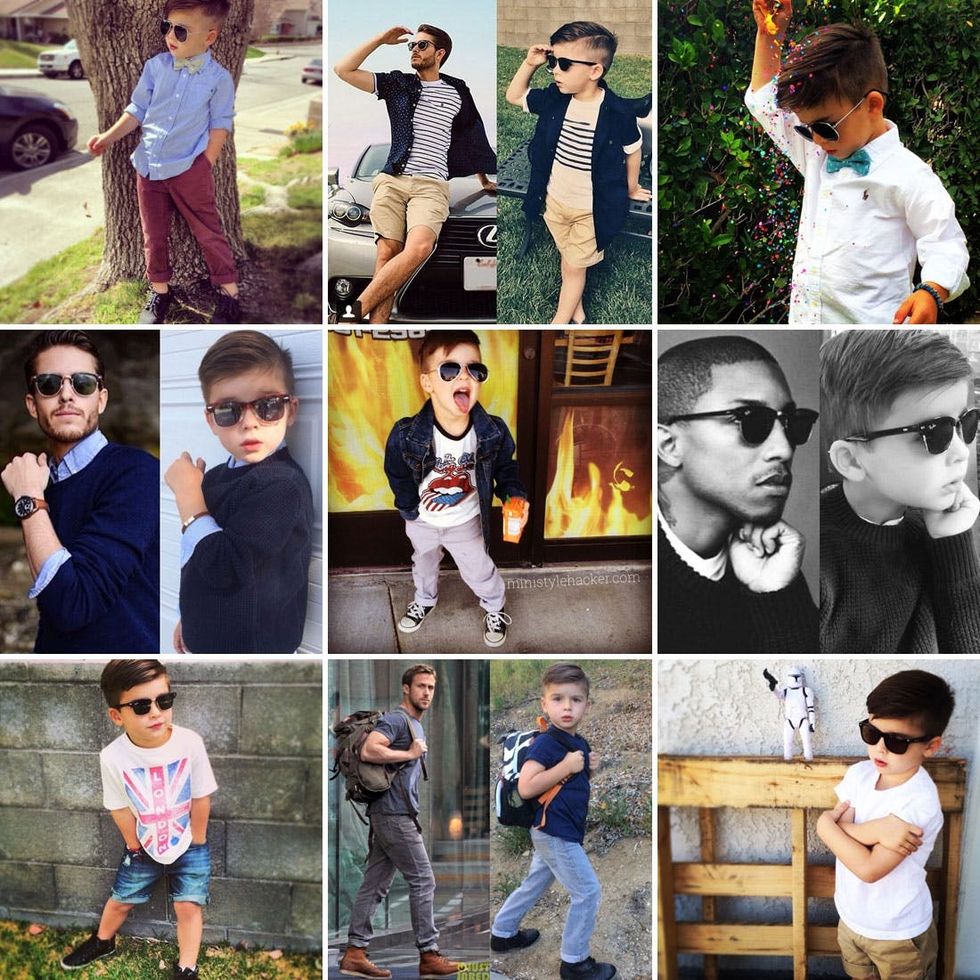 Before you get all in a tizzy about how absurd it is to spend loads and loads of money on clothes for kids, a few words from Collette, the genius and mom behind this lil style star: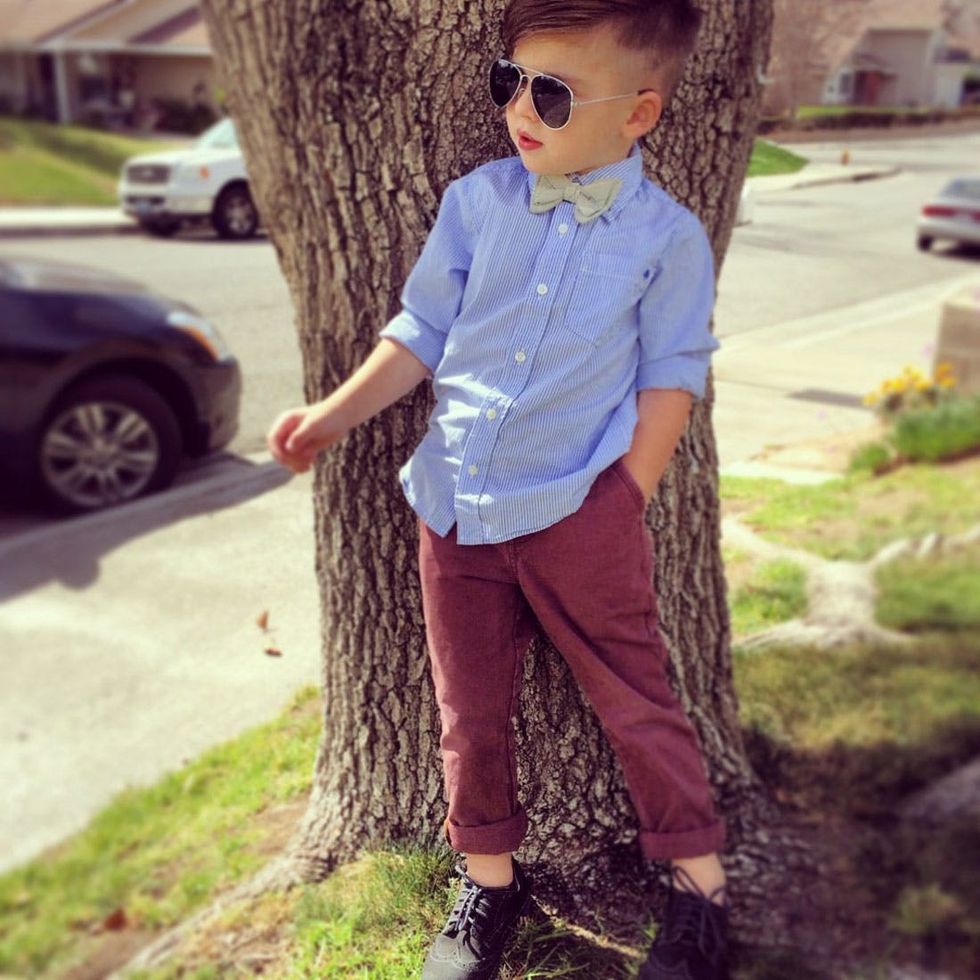 This all started when a friend showed me pictures of a few "fashion kids" on Instagram. The first thing I noticed was a Gucci belt and Ferragamo shoes. Although I thought the kids looked adorable, I knew that my kids would probably not be wearing those designers in the near future. Ryker and Grey are boys in every sense of the word. They are messy eaters, play hard and grow VERY quickly! I thought it would be fun to "hack" the style of men in fashion and show other parents how they could do the same.
We can definitely get on board with that. Style hacking is one of our very favorite things, in fact! Now, we'll just let this epic fashion pictorial speak for itself. Oh, and the dreamy grownup little Ryker is imitating? Galla, a men's fashion blogger who is our new favorite men's fashion blogger ;)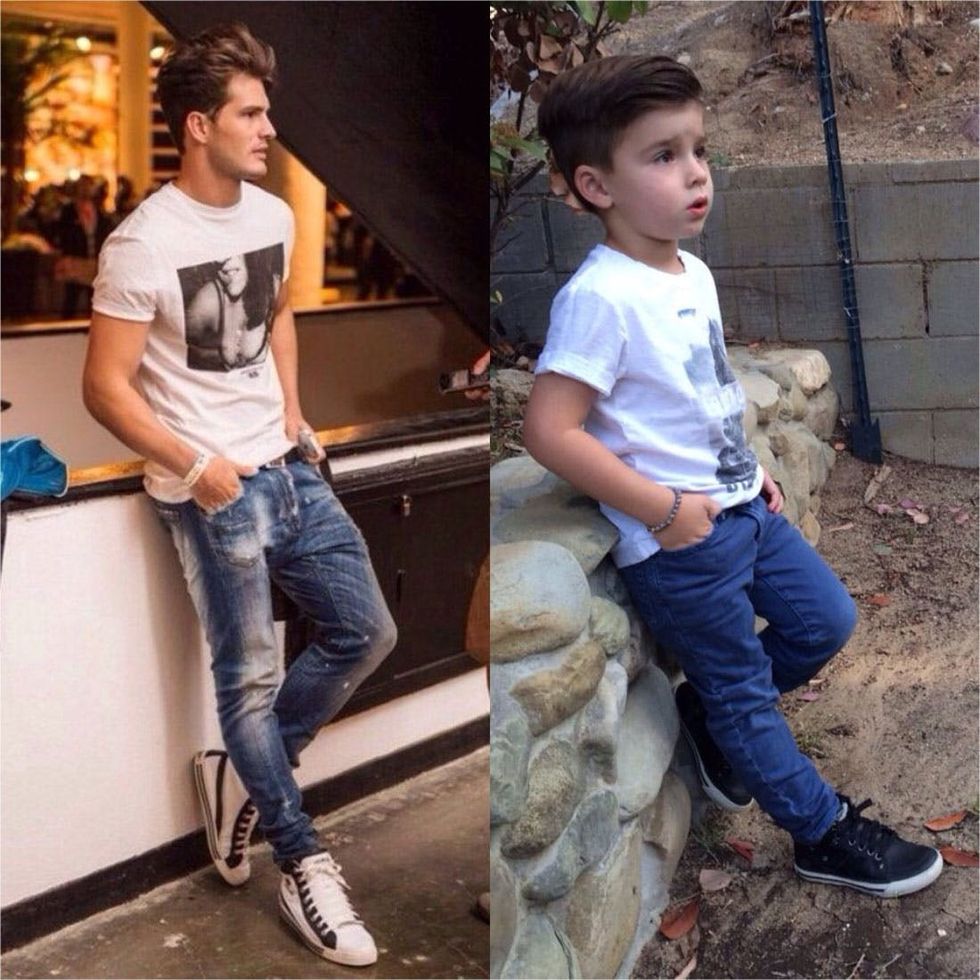 Do you follow any other creative kiddos? Share links with us in the comments below. And be sure to follow @ministylehacker on Instagram for up-to-the-minute style hacks :)
Anjelika Temple
As Co-Founder and Chief Creative Officer of Brit + Co, Anjelika Temple brings her voracious consumption of all things creative and colorful to DIY projects, geeky gadgetry finds and more. When she's not DIY-ing her heart out, you'll find her throwing dinner parties with friends or adventuring with her husband David, their daughters Anokhi and Indira, and their silly dog Turkey.
Fashion
The idea of home took on a whole new meaning as soon as sheltering in place and lockdowns became a regular thing in 2020. And it wasn't all bad. We got back to cooking at home, bonding with our partners/families/housemates and pets, and we did a bit of redecorating. In fact, home decor and furniture sites saw huge growth (more than a billion global visits in March 2020 alone) as a result of the pandemic.
<p>Homes were getting upgraded in a major way, from entryways to home offices, and we were all into it as home became our sanctuary. So what's in store for 2021? A little bit of the same with new trends emerging from a renewed sense of hope. We chatted up design and trend experts about 2021 decor trends that are sure to turn into decor classics.</p>
The New Hygge
<img type="lazy-image" data-runner-src="https://assets.rebelmouse.io/eyJhbGciOiJIUzI1NiIsInR5cCI6IkpXVCJ9.eyJpbWFnZSI6Imh0dHBzOi8vYXNzZXRzLnJibC5tcy8yNTE4NDU0MC9vcmlnaW4uanBnIiwiZXhwaXJlc19hdCI6MTYyNDc3NzY4NH0.b5mMkAr53ylATx1FegOBQ82rORssRzwzb5mnDnh9v2I/img.jpg?width=980" id="018a4" class="rm-shortcode" data-rm-shortcode-id="83ebde83c7fe24dc26f3daaa7b1af7b2" data-rm-shortcode-name="rebelmouse-image" data-width="1100" data-height="1650" /><p>"2021 will be about creating connections to each other, to ourselves, to nature," says Etsy's trend expert Dayna Isom Johnson. "We're embracing <em>friluftsliv</em>, the Norweigan concept of getting outdoors – think of it as the new hygge." That means turning your home into a nature haven, with <a href="https://www.brit.co/easy-to-care-for-indoor-plants/" target="_blank">indoor plants</a> that clear the air, provide peace of mind, and hint to the great outdoors, especially giving us a boost during grey winter days.</p>
Spaces Reimagined
<img type="lazy-image" data-runner-src="https://assets.rebelmouse.io/eyJhbGciOiJIUzI1NiIsInR5cCI6IkpXVCJ9.eyJpbWFnZSI6Imh0dHBzOi8vYXNzZXRzLnJibC5tcy8yNTE4NzkxNy9vcmlnaW4uanBnIiwiZXhwaXJlc19hdCI6MTYzODU5Mjc5Nn0.WgkbktVSlXqGCnNT2UhoIliWO5XiIcre48caYgoPK1Y/img.jpg?width=980" id="76852" class="rm-shortcode" data-rm-shortcode-id="ca514cb2b31357e78a497bda001dcb12" data-rm-shortcode-name="rebelmouse-image" data-width="3200" data-height="4800" /><p>"We added workspaces to our living rooms, classrooms into our kitchens, and gyms to our bedrooms," says Isom Johnson.This year, she says we're reimagining our homes and incorporate pieces that help restore balance to our multi-functional spaces. (On Etsy, there has been a 399 percent increase in searches for wall or foldable desks, a 159 percent increase in searches for Murphy beds, and a 134 percent increase in searches for room dividers.)</p><p>"Halls and entrances now have a new function: sanitize ourselves before entering the rest of the house, plus a place to store loose items we don't want to bring into our clean areas," says Alexa Backal, head of design for <a href="https://casai.com/en?currency=USD" target="_blank">Casai</a>, a boutique travel rental company, which brings us to a new Covid-era of design.<br></p><p><br></p><p style="text-align: center;"><strong>SHOP FOR THE HOME</strong></p>

<img type="lazy-image" data-runner-src="https://assets.rebelmouse.io/eyJhbGciOiJIUzI1NiIsInR5cCI6IkpXVCJ9.eyJpbWFnZSI6Imh0dHBzOi8vYXNzZXRzLnJibC5tcy8yNTE4MDY1OC9vcmlnaW4uanBnIiwiZXhwaXJlc19hdCI6MTY0Mjk4Njc3NX0.X4QRUJJMIYCHUsjct1C387uP0odWSmmib9ZvwiyEmlw/img.jpg?width=980" id="bec6f" class="rm-shortcode" data-rm-shortcode-id="f9882725adb2b869b84df0001e86ae65" data-rm-shortcode-name="rebelmouse-image" data-width="794" data-height="530" />

<img type="lazy-image" data-runner-src="https://assets.rebelmouse.io/eyJhbGciOiJIUzI1NiIsInR5cCI6IkpXVCJ9.eyJpbWFnZSI6Imh0dHBzOi8vYXNzZXRzLnJibC5tcy8yNTE4MjU3OC9vcmlnaW4uanBnIiwiZXhwaXJlc19hdCI6MTY2NDc0MzcwMn0.X7hjwYugq4tnlTD4AWAojfooJWBIudXWQC_rjegf2Kk/img.jpg?width=980" id="570ca" class="rm-shortcode" data-rm-shortcode-id="c3a4be6440e1c8e43c2cdb0954095a62" data-rm-shortcode-name="rebelmouse-image" data-width="683" data-height="1025" />

<img type="lazy-image" data-runner-src="https://assets.rebelmouse.io/eyJhbGciOiJIUzI1NiIsInR5cCI6IkpXVCJ9.eyJpbWFnZSI6Imh0dHBzOi8vYXNzZXRzLnJibC5tcy8yNTE4MDM2NC9vcmlnaW4uanBnIiwiZXhwaXJlc19hdCI6MTY0MDU0ODE0OX0.iSKS3PMo4ozJskKWosK3yc3FquLyOzK3rvdEj5feS1g/img.jpg?width=980" id="1612a" class="rm-shortcode" data-rm-shortcode-id="c13586c0632d80671f67a44d5842c20b" data-rm-shortcode-name="rebelmouse-image" data-width="794" data-height="529" />

<img type="lazy-image" data-runner-src="https://assets.rebelmouse.io/eyJhbGciOiJIUzI1NiIsInR5cCI6IkpXVCJ9.eyJpbWFnZSI6Imh0dHBzOi8vYXNzZXRzLnJibC5tcy8yNTE4MDU3NS9vcmlnaW4uanBnIiwiZXhwaXJlc19hdCI6MTYyMTczNzA2NX0.5PGeY8s77owMUL4hJu-murPNKmQWy9rR2_GkAeYhz9U/img.jpg?width=980" id="db228" class="rm-shortcode" data-rm-shortcode-id="9600c5b52b7088bafc01a1c3a6b3c5d7" data-rm-shortcode-name="rebelmouse-image" data-width="794" data-height="596" />
Grandmillennial
<img type="lazy-image" data-runner-src="https://assets.rebelmouse.io/eyJhbGciOiJIUzI1NiIsInR5cCI6IkpXVCJ9.eyJpbWFnZSI6Imh0dHBzOi8vYXNzZXRzLnJibC5tcy8yNTE4OTc1NS9vcmlnaW4uanBnIiwiZXhwaXJlc19hdCI6MTYxNTQwMTY5Nn0.nZqEgs6NFRmJrw9e-dos53XWsY423940LmI9iMSxV6A/img.jpg?width=980" id="9fa52" class="rm-shortcode" data-rm-shortcode-id="a65d79167844cfcb8385749390e443f2" data-rm-shortcode-name="rebelmouse-image" data-width="1920" data-height="1440" /><p>From cottage-core to crochet to neoclassical design, millennials are feeling nostalgia for (and coveting) their granny's decor in what some are calling <em>Grandmillennial</em> style. "I think Grandmillennials and sustainability actually go hand in hand. This trend is all about younger generations who love design and decor that we might culturally view as "old lady" or grandma-ish," says Alessandra Wood, VP of Style at online interior design service <a href="http://modsy.com/" target="_blank">Modsy</a>. That means ruffles, Victorian wallpaper like William Morris prints and antiques, anything you'll find at a flea market or your grandma's garage!</p>
Art Deco 
<img type="lazy-image" data-runner-src="https://assets.rebelmouse.io/eyJhbGciOiJIUzI1NiIsInR5cCI6IkpXVCJ9.eyJpbWFnZSI6Imh0dHBzOi8vYXNzZXRzLnJibC5tcy8yNTE4MDc1NS9vcmlnaW4uanBnIiwiZXhwaXJlc19hdCI6MTYzMjQ3NjMwM30.RvCyBBpv0YcYWCM-6Zwr3tPOEAG7QHTdSz3UzhgimSg/img.jpg?width=980" id="31b79" class="rm-shortcode" data-rm-shortcode-id="0ad097073d69d3108491bb37d1a39c80" data-rm-shortcode-name="rebelmouse-image" data-width="5087" data-height="3634" />
Photo: Marius Chira
<p>"Art deco is here to stay in 2021," says <a href="https://nylonconsulting-dot-yamm-track.appspot.com/Redirect?ukey=13SlMtNZ76DV52bZyncUCPPsHCtfpzs3A1r9yZk0xJSo-831740962&amp;key=YAMMID-22079569&amp;link=https%3A%2F%2Falexanderdohertydesign.com%2F" target="_blank">Alexander Doherty</a>, interior designer based in NYC and Paris. "Art deco design works very well in contemporary decors because of its sleek minimalism and the quality that comes from the pureness of lines. It is the mixture of what is old and new that gives a space character." After all, it is the roaring '20s!<br></p>
Joyful Botanicals
<img type="lazy-image" data-runner-src="https://assets.rebelmouse.io/eyJhbGciOiJIUzI1NiIsInR5cCI6IkpXVCJ9.eyJpbWFnZSI6Imh0dHBzOi8vYXNzZXRzLnJibC5tcy8yNTE4MTAxNS9vcmlnaW4uanBnIiwiZXhwaXJlc19hdCI6MTY1NzkxMTg1N30.p669TTpFJHTRZqoemHVmQKRjW2s2VAfjHgWXmARn7JM/img.jpg?width=980" id="b257d" class="rm-shortcode" data-rm-shortcode-id="34ccde6398e515c833739e0b86c8cf37" data-rm-shortcode-name="rebelmouse-image" data-width="2400" data-height="2833" /><h1></h1><p>Get ready to embrace blooms in winter and beyond. Botanical walls, bedding, upholstery and more are making a big comeback. Barbara Karpf, founder and president of DecoratorsBest, says wallpaper like this <a href="https://www.decoratorsbest.com/products/york-garden-party-mural-ri5190m-wallpaper" target="_blank" rel="noopener noreferrer">York Garden Party Mural</a> ($128) are an affordable way to add drama to your home. "Murals are art in their own right. They cover the wall and provide unique art at the same time," she says.</p>
Flexible Design
<img type="lazy-image" data-runner-src="https://assets.rebelmouse.io/eyJhbGciOiJIUzI1NiIsInR5cCI6IkpXVCJ9.eyJpbWFnZSI6Imh0dHBzOi8vYXNzZXRzLnJibC5tcy8yNTE4MTI1NS9vcmlnaW4uanBnIiwiZXhwaXJlc19hdCI6MTYxNjEwMTY0Mn0.8FFkw5ekcndjbALUND8nW-vcKMqjjAFMJcjtFu4WVVk/img.jpg?width=980" id="2a5e4" class="rm-shortcode" data-rm-shortcode-id="1cc77c1b0fcce3a4f67d32cbaf8d158b" data-rm-shortcode-name="rebelmouse-image" data-width="3000" data-height="4500" />
Photo: George Ross
<p>"I am seeing a lot of enclosed kitchen spaces as opposed to large family room/ kitchen areas that are open to the rest of the home," says CEO and cabinet designer <a href="https://nylonconsulting-dot-yamm-track.appspot.com/Redirect?ukey=13SlMtNZ76DV52bZyncUCPPsHCtfpzs3A1r9yZk0xJSo-831740962&amp;key=YAMMID-22079569&amp;link=https%3A%2F%2Fpeacockhome.com%2F" target="_blank">Christopher Peacock</a>. But within the closed kitchens are more open plans and less built-in cabinetry. "An eclectic organic feel of mixed textures and materials is very welcoming and bistro like, and this is certainly popular," says Peacock.</p><p style="text-align: center;"><strong>SHOP FOR THE HOME</strong></p>
<img type="lazy-image" data-runner-src="https://assets.rebelmouse.io/eyJhbGciOiJIUzI1NiIsInR5cCI6IkpXVCJ9.eyJpbWFnZSI6Imh0dHBzOi8vYXNzZXRzLnJibC5tcy8yNTE4OTAzMy9vcmlnaW4uanBnIiwiZXhwaXJlc19hdCI6MTY2NjI2NjkwOX0.HlCwiPrE_PJO_2PHYCYL8fE2nMsPWc_s8huQ03va4Ho/img.jpg?width=980" id="47afe" class="rm-shortcode" data-rm-shortcode-id="e25d7c1360005b6a8075d4edb3c9555a" data-rm-shortcode-name="rebelmouse-image" data-width="800" data-height="800" />
<img type="lazy-image" data-runner-src="https://assets.rebelmouse.io/eyJhbGciOiJIUzI1NiIsInR5cCI6IkpXVCJ9.eyJpbWFnZSI6Imh0dHBzOi8vYXNzZXRzLnJibC5tcy8yNTE4OTA4NS9vcmlnaW4ucG5nIiwiZXhwaXJlc19hdCI6MTY2MzM4MTAzMX0.2O3bB6MpjZ6qJZZ_FLmmErOkG15pOBr5-xuFVcUUlps/img.png?width=980" id="577ce" class="rm-shortcode" data-rm-shortcode-id="32bc1a94434d1e19474dcc821a0d9e29" data-rm-shortcode-name="rebelmouse-image" data-width="436" data-height="650" />
<img type="lazy-image" data-runner-src="https://assets.rebelmouse.io/eyJhbGciOiJIUzI1NiIsInR5cCI6IkpXVCJ9.eyJpbWFnZSI6Imh0dHBzOi8vYXNzZXRzLnJibC5tcy8yNTE4OTI4MS9vcmlnaW4uanBnIiwiZXhwaXJlc19hdCI6MTY3MTAyNjU3Mn0.MEZ_2N4z7Pctm1LgwP5cPZO4YLyrH2C_bGEQWqRpXTY/img.jpg?width=980" id="8245b" class="rm-shortcode" data-rm-shortcode-id="b87e3c4669ede4669d46c8b2be6065f5" data-rm-shortcode-name="rebelmouse-image" data-width="800" data-height="800" />
<img type="lazy-image" data-runner-src="https://assets.rebelmouse.io/eyJhbGciOiJIUzI1NiIsInR5cCI6IkpXVCJ9.eyJpbWFnZSI6Imh0dHBzOi8vYXNzZXRzLnJibC5tcy8yNTE4OTQzMy9vcmlnaW4ucG5nIiwiZXhwaXJlc19hdCI6MTYzNzkxNjI4N30.jZxhZsIHIs161hO3G0HhBwonqMKA29rf0hLRfhx0C4w/img.png?width=980" id="e4b84" class="rm-shortcode" data-rm-shortcode-id="631721d937e716bfe48acd200d014b32" data-rm-shortcode-name="rebelmouse-image" data-width="437" data-height="652" />
Complex Neutrals
<img type="lazy-image" data-runner-src="https://assets.rebelmouse.io/eyJhbGciOiJIUzI1NiIsInR5cCI6IkpXVCJ9.eyJpbWFnZSI6Imh0dHBzOi8vYXNzZXRzLnJibC5tcy8yNTE4MTQ0Ny9vcmlnaW4uanBnIiwiZXhwaXJlc19hdCI6MTY1MTg2MTkyNn0.P7QGDNR994UvJCcYMsgB355NC7TwEDVc9EG2fKb72mM/img.jpg?width=980" id="0ffaa" class="rm-shortcode" data-rm-shortcode-id="8268a50a4e1ae67feb6ba3134a6de426" data-rm-shortcode-name="rebelmouse-image" data-width="3000" data-height="2000" /><p>"Homeowners are not shying away from showcasing complexity or drama," says Nancy Epstein, founder and president of <a href="https://nylonconsulting-dot-yamm-track.appspot.com/Redirect?ukey=13SlMtNZ76DV52bZyncUCPPsHCtfpzs3A1r9yZk0xJSo-831740962&amp;key=YAMMID-22079569&amp;link=https%3A%2F%2Fwww.artistictile.com%2F" target="_blank" rel="noopener noreferrer">Artistic Tile</a>. "Stone slabs are dominating backsplashes from countertop to ceiling, are cascading to the floor in waterfall edges, and wrapping around islands." Epstein also notes that colorful mosaics and textured stone tile with mixed finishes, like AT's gold-leaf embossed <a href="https://nylonconsulting-dot-yamm-track.appspot.com/Redirect?ukey=13SlMtNZ76DV52bZyncUCPPsHCtfpzs3A1r9yZk0xJSo-831740962&amp;key=YAMMID-22079569&amp;link=https%3A%2F%2Fwww.artistictile.com%2Ftextura-d-oro-thassos-stexdoth918" target="_blank" rel="noopener noreferrer">Textura D'Oro</a>, are having a moment in kitchens and baths.</p>
Classic Wovens
<img type="lazy-image" data-runner-src="https://assets.rebelmouse.io/eyJhbGciOiJIUzI1NiIsInR5cCI6IkpXVCJ9.eyJpbWFnZSI6Imh0dHBzOi8vYXNzZXRzLnJibC5tcy8yNTE4MTQ5NC9vcmlnaW4uanBnIiwiZXhwaXJlc19hdCI6MTYyNDI3Mzk2MH0.CCvU3obnN_VjbWwqEaHrHc1vciEqrZs2qxtdfT-Jq1U/img.jpg?width=980" id="1d1ae" class="rm-shortcode" data-rm-shortcode-id="212c659730a46cbce847b911ca4936e7" data-rm-shortcode-name="rebelmouse-image" data-width="6495" data-height="4479" /><p>"Rattan, wicker, and grasscloth furniture will always remain classic," says Roxy Te Owens, founder and creative director of <a href="https://nylonconsulting-dot-yamm-track.appspot.com/Redirect?ukey=13SlMtNZ76DV52bZyncUCPPsHCtfpzs3A1r9yZk0xJSo-831740962&amp;key=YAMMID-22079569&amp;link=https%3A%2F%2Fwww.shopsocietysocial.com%2F" target="_blank">Society Social</a>. "Woven furniture is stylistically versatile and full of texture and warmth, which makes it an easy design go-to." Look for it in shelving, chairs, headboards and more.<br></p>
Bold Minimalism
<img type="lazy-image" data-runner-src="https://assets.rebelmouse.io/eyJhbGciOiJIUzI1NiIsInR5cCI6IkpXVCJ9.eyJpbWFnZSI6Imh0dHBzOi8vYXNzZXRzLnJibC5tcy8yNTE4MTcxMi9vcmlnaW4uanBnIiwiZXhwaXJlc19hdCI6MTY1NDQ0ODUxMH0.bhP6KnU5dwemsKI7YhZp_GrjY2FRnhGQEGYFTbksR0E/img.jpg?width=980" id="92494" class="rm-shortcode" data-rm-shortcode-id="1257974b52c2423b2016ce5ac66f0759" data-rm-shortcode-name="rebelmouse-image" data-width="3000" data-height="2000" /><p>"We're now focused on essential items that make our life better and lighter, and feel more free," says Backal of Casai. "On the other hand, there's a need for boldness, color and expression, and color has the power to change emotions, especially while we continue to lock down." So go wild and paint a wall or room in a rich hue, like emerald green or <a href="https://www.brit.co/pantone-color/" target="_blank">Pantone's Illuminating Yellow</a>, while you continue to or prefer to shelter in 2021.<span></span></p><p><strong>Follow us on <a href="https://www.pinterest.com/britandco/" target="_blank">Pinterest</a> for more home decor inspo!</strong></p><p><em>Brit + Co may at times use affiliate links to promote products sold by others, but always offers genuine editorial recommendations.</em></p>
Home