This Chippy Baklava Will Turn You into a Bak-Lover
Sep 02, 2015
There are some desserts that fly under the radar. Take baklava, for example. It's a divine treat that doesn't show up that often at dinner parties or restaurants. Well, today we are working with LAY'S® Wavy chips to let baklava shine. Not only that, but we are mixing it up and adding a surprising ingredient. For an extra salty crunch, we are putting LAY'S® Wavy Original Potato Chips in our baklava recipe. Get ready, you're going to *love* this chippy spin. The B+C team consumed our batch in minutes!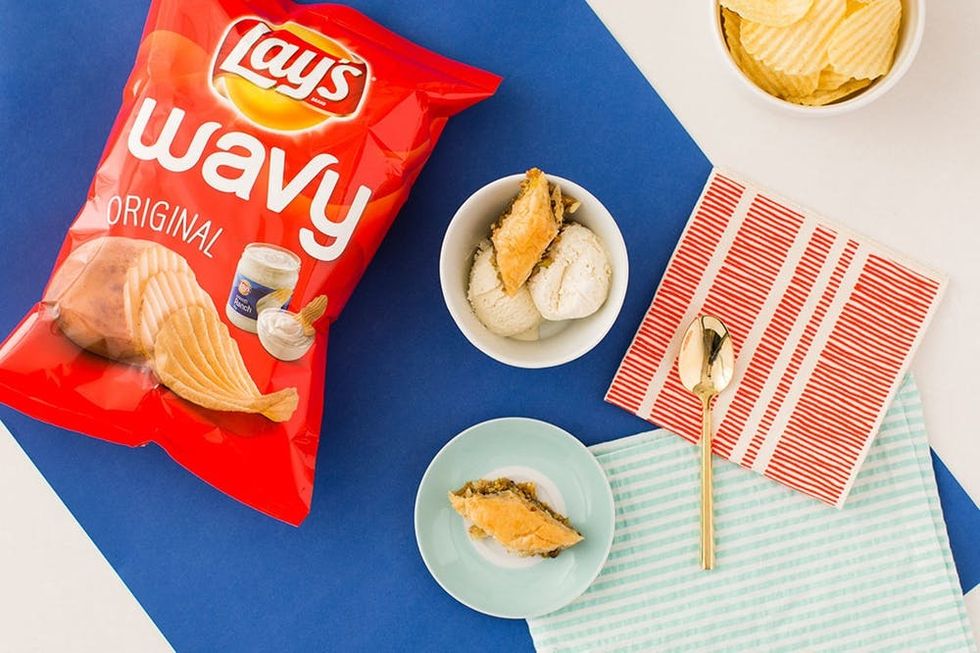 ---
Syrup
This syrup adds a hint of citrus to the sweet and salty flavor of baklava.
Ingredients:
– 1 cup sugar
– 3/4 cup water
– 1/4 cup rose water
– 1 Tablespoon lemon juice
– 1 Tablespoon lime juice
– 2 strips lemon peel
– 3 strips orange peel
– juice from 1/2 orange
– 1/8 teaspoon cinnamon
– 1/8 teaspoon ground cardamon
– 1/2 cup honey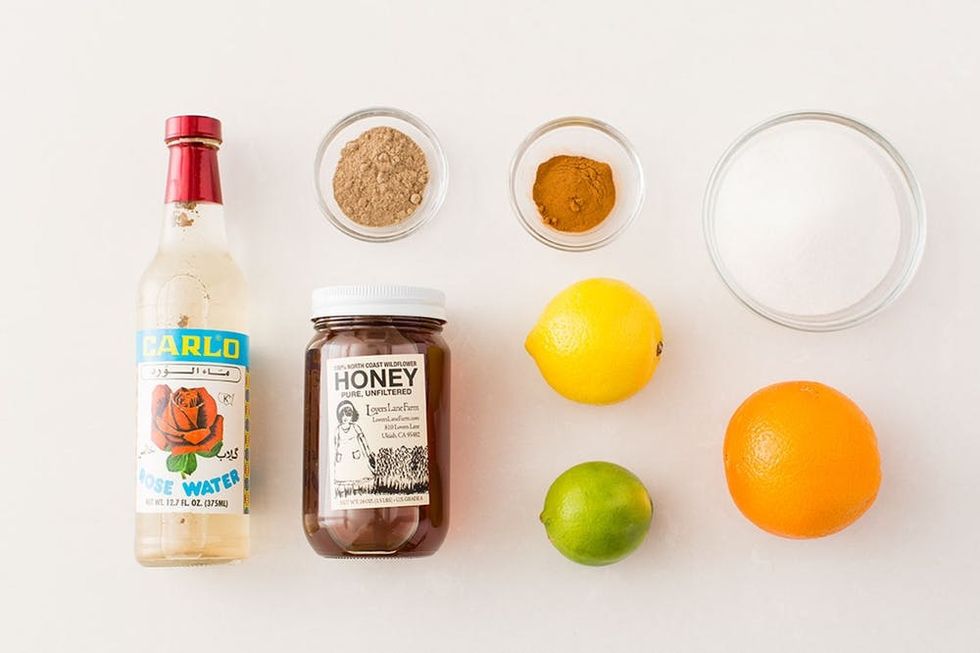 Grab a saucepan and your peeler.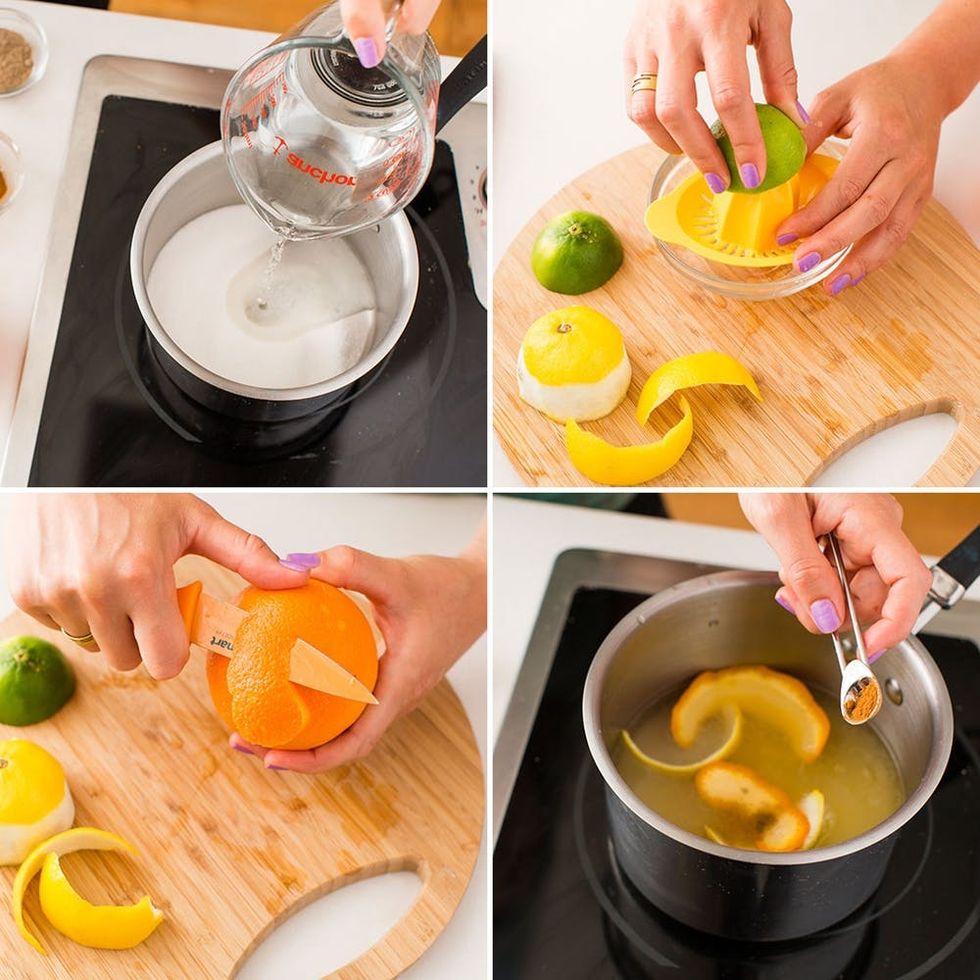 Combine all ingredients except for the honey in a medium saucepan. Bring to a boil over medium heat, then lower heat. Simmer for about 10 minutes or until the syrup thickens.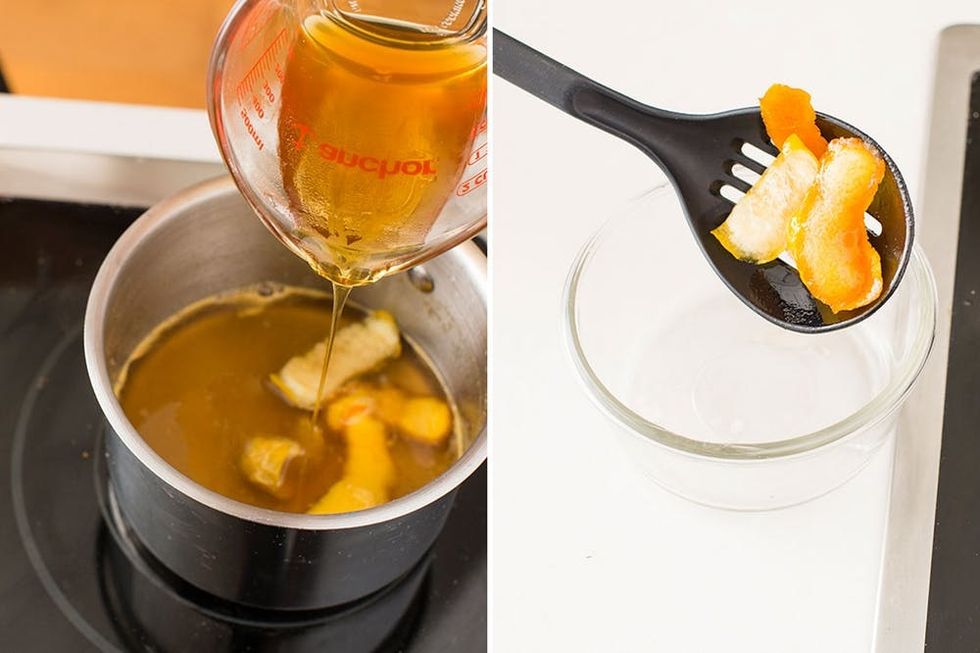 Add the honey and cook for about two minutes. Remove from heat, strain out peels and let cool.
Baklava
Though baklava might seem like an intimidating pastry, it really just takes a bit of patience. Get your pastry brush ready, because you're about to use phyllo dough as a canvas and butter as your paint.
Ingredients:
– 3/4 cup chopped almonds
– 1 1/2 cups chopped pistachios
– 3/4 cup LAY'S® Wavy Original Potato Chips crumbs
– 1/3 cup light brown sugar
– 1/2 teaspoon ground cinnamon
– 1/4 teaspoon ground cloves
– 1/8 teaspoon salt
– 1 pound phyllo dough (at least 21 sheets)
– 1 cup unsalted butter, melted
– 1 pint vanilla greek frozen yogurt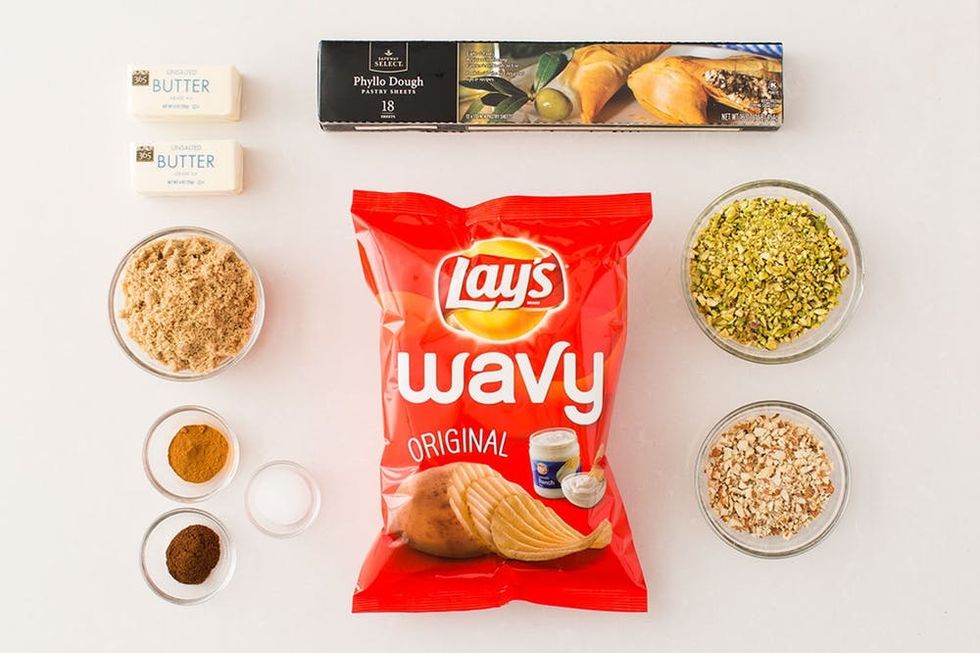 Preheat the oven to 350 degrees Fahrenheit. Grease a 9 x 13-inch baking dish with butter.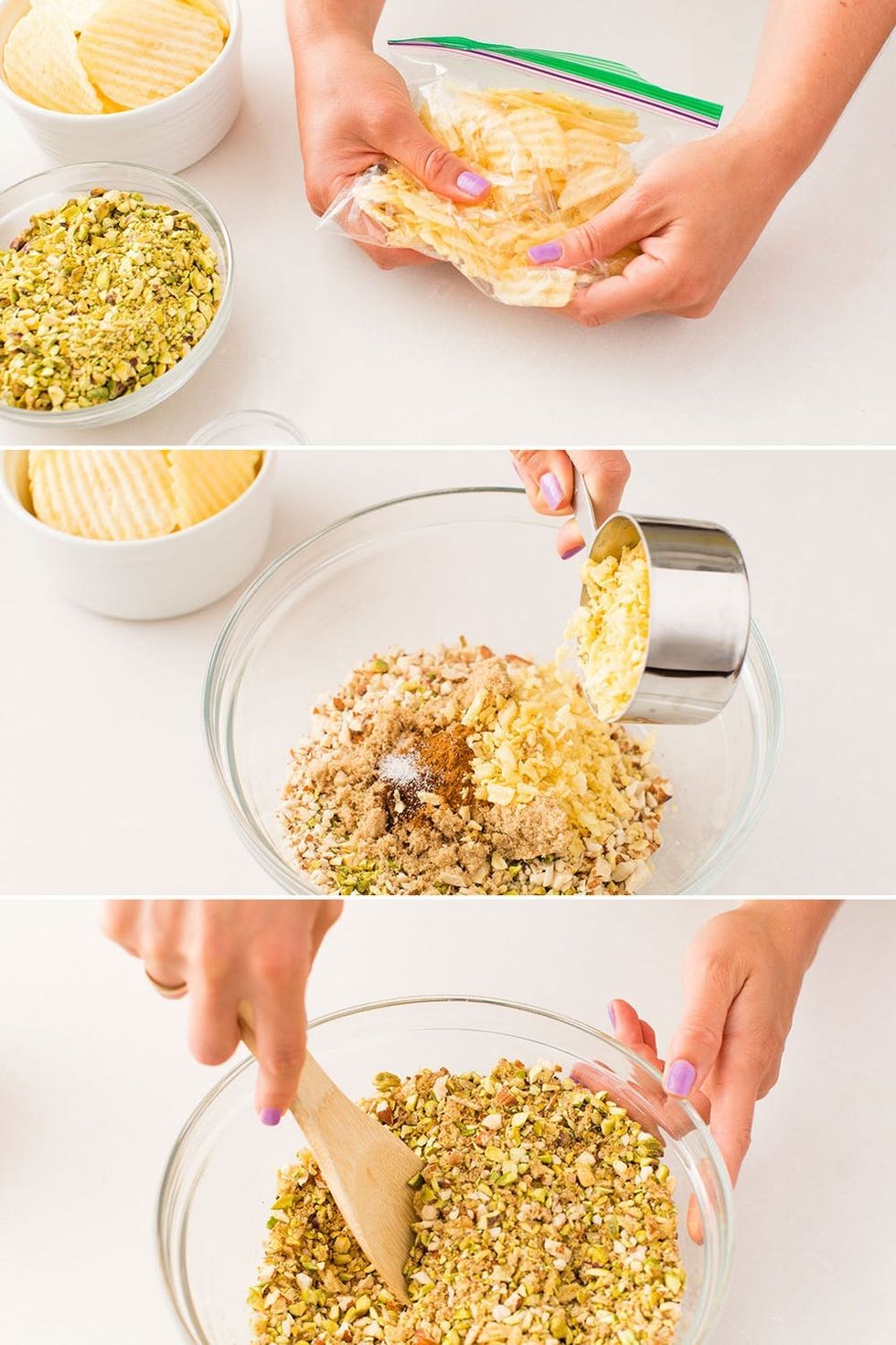 Combine the nuts, LAY'S® Wavy Original Potato Chip crumbs, brown sugar, cinnamon, cloves and salt in a medium bowl. Set aside.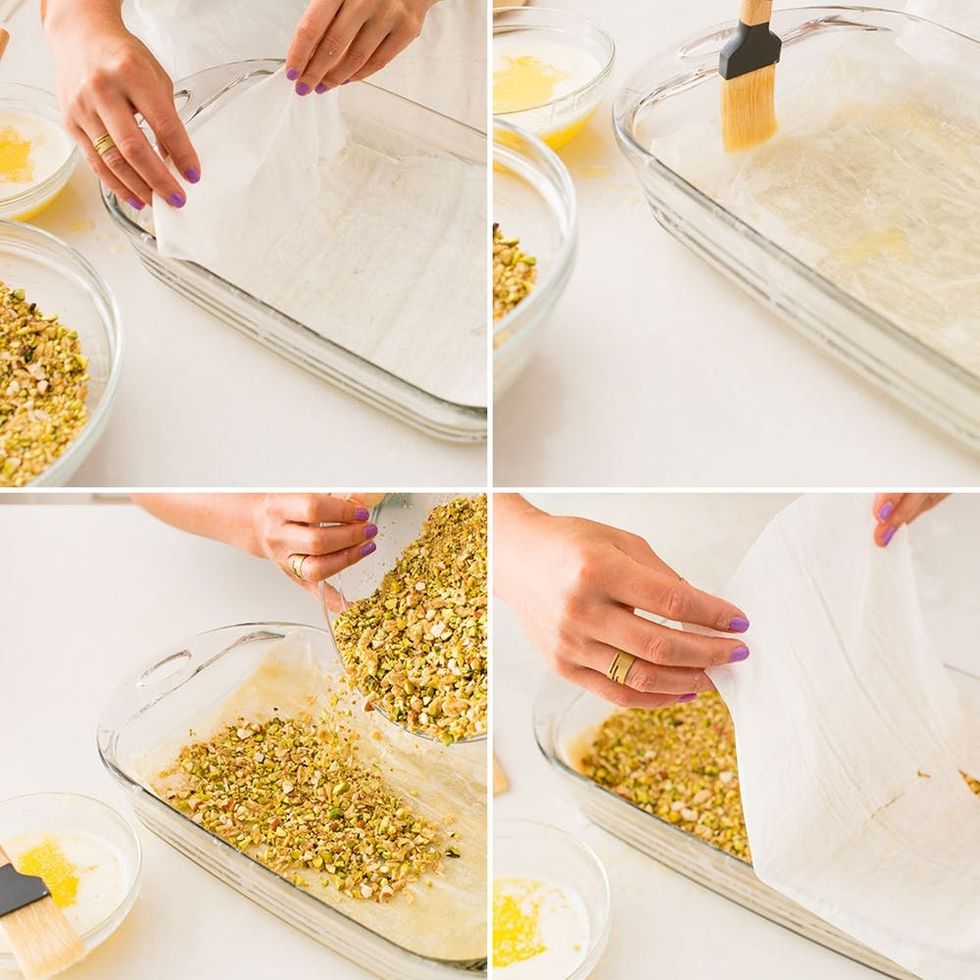 Remove the phyllo from the package and trim so it fits the pan. Melt your butter in the microwave in 10-second intervals. Okay, it's go time! Get eight sheets of phyllo. Set the remaining sheets aside and cover them with wax paper and a damp towel so they don't get dry. Lay one sheet of phyllo in the baking dish. Then brush the phyllo with a layer of melted butter. Add a second sheet and brush with butter. Add the remaining six sheets, brushing each one with butter. Pro tip: be very gentle with the phyllo. It breaks easily, but you can add in the broken pieces to make a layer. You're going to cut into it after all.
After the eighth sheet, sprinkle half of the nut/chip mixture evenly over the phyllo. Repeat the phyllo layering process with seven sheets. Then add the rest of the nut mixture. Layer your final set of six phyllo sheets. Brush the top of the sixth layer with melted butter, and let the phyllo to set for about 10 minutes.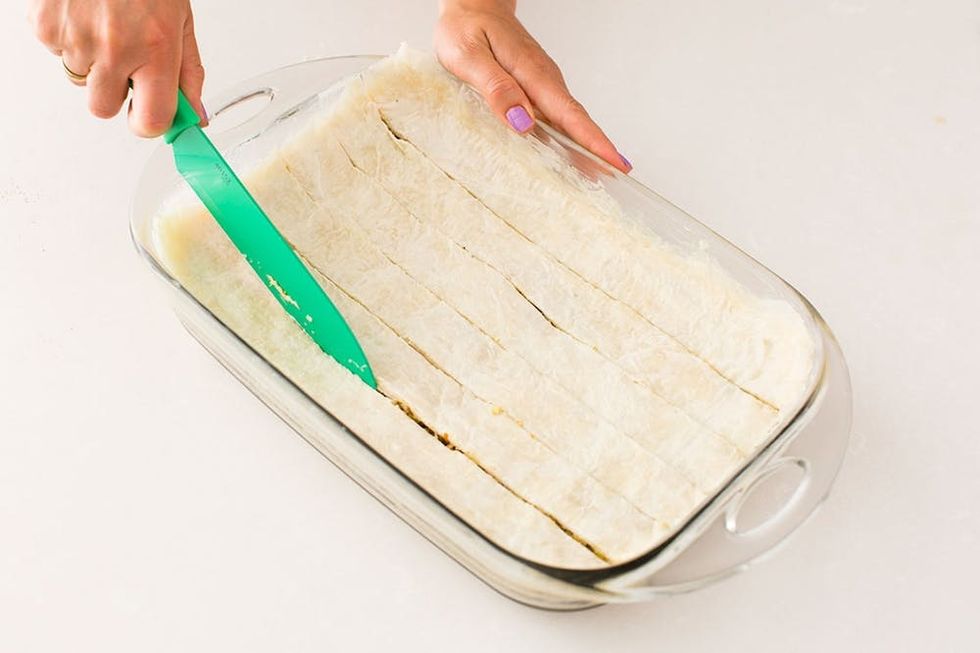 Now let's make this baklava come to life! Using a very sharp knife, make six horizontal cuts.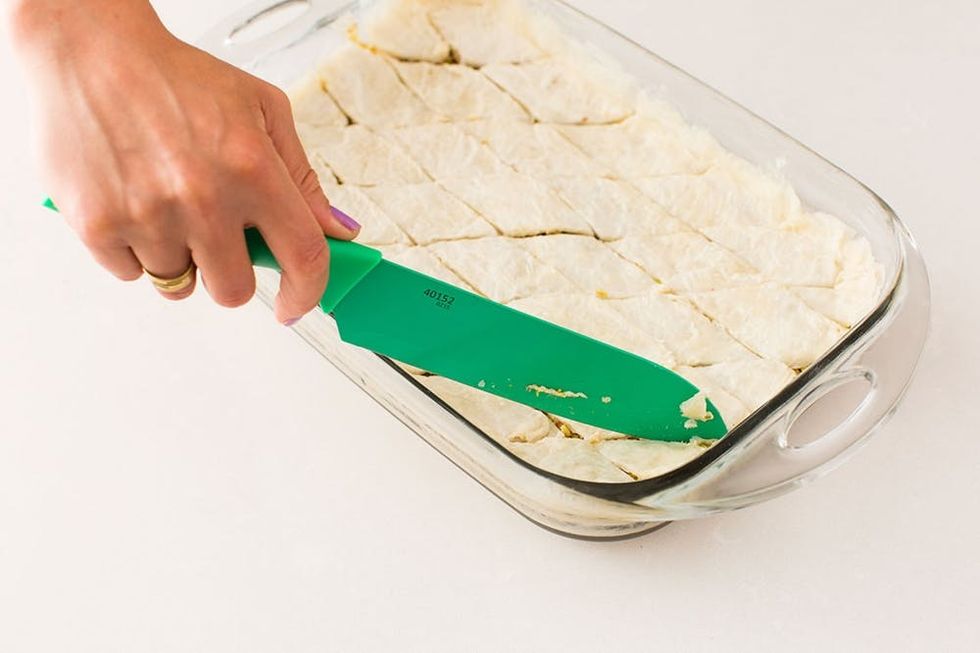 Then make diagonal cuts from top to bottom to create diamond shapes.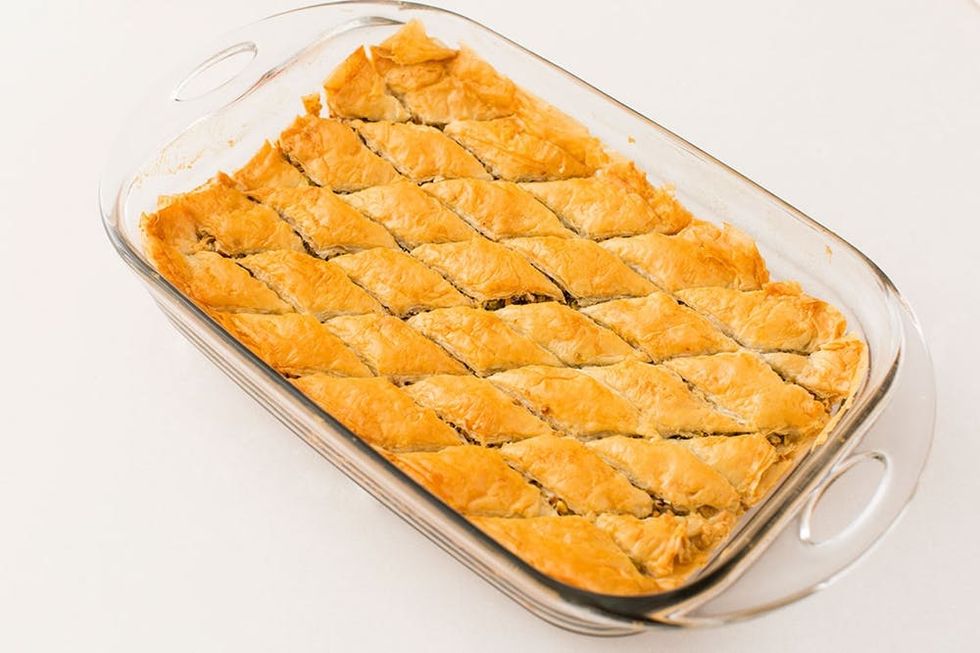 Bake your baklava until golden, about 35 to 45 minutes.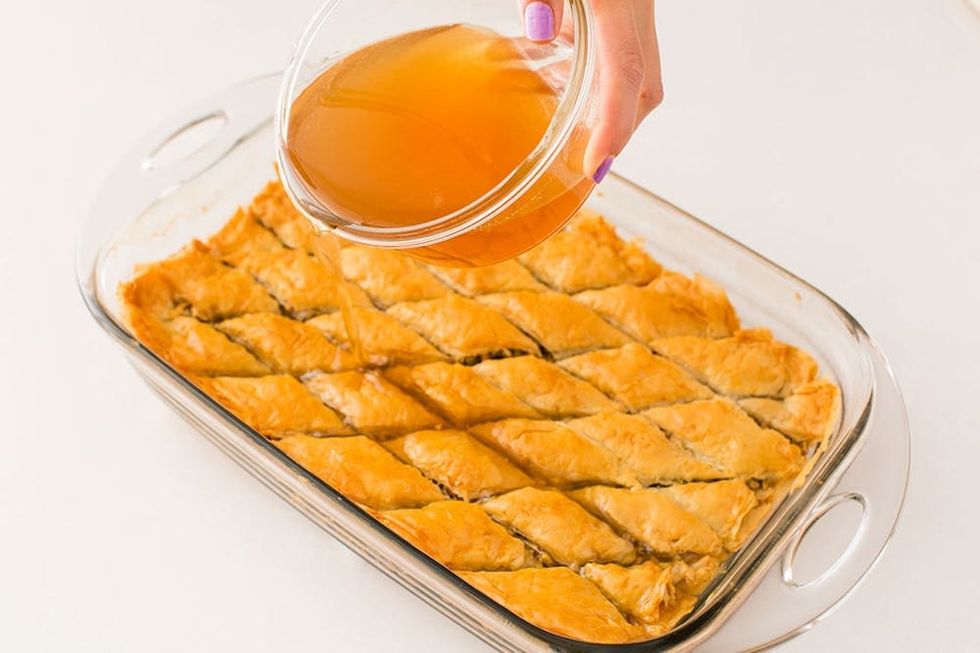 Pour the syrup over the baklava and let it set for about an hour.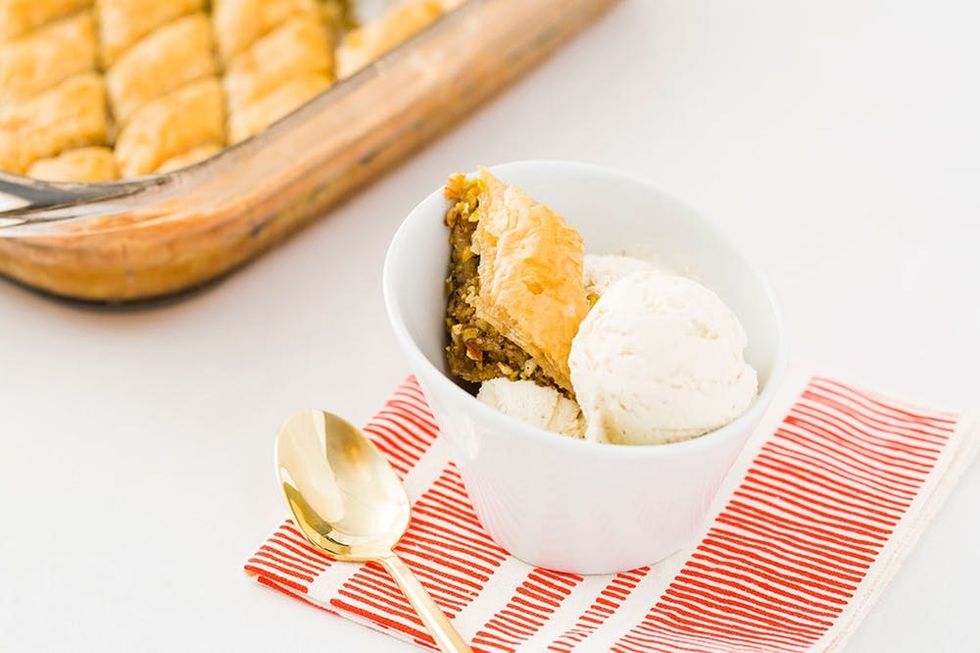 Serve this decadent baklava on top of vanilla Greek frozen yogurt.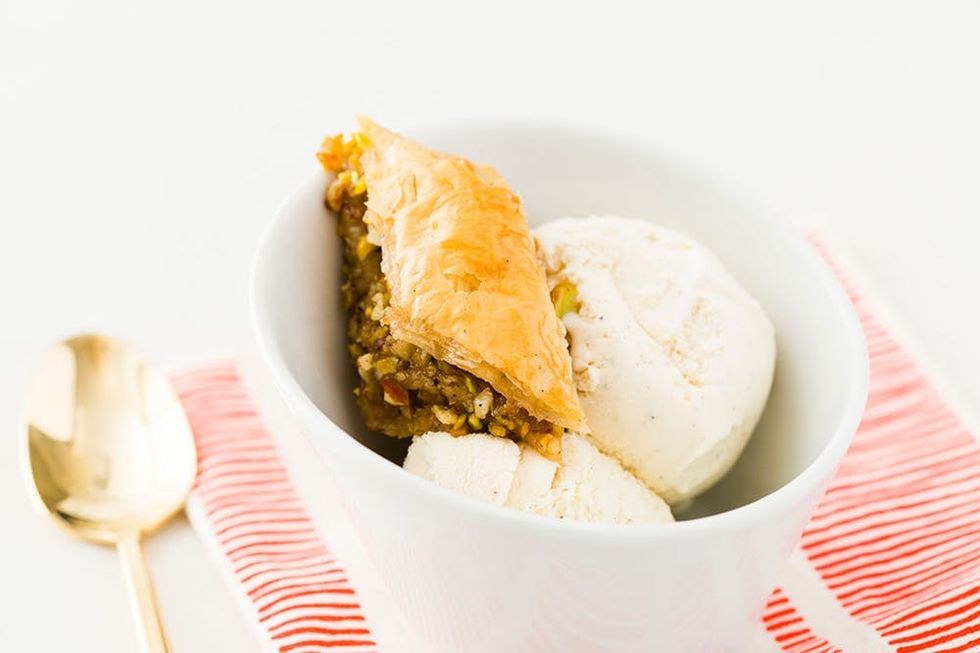 In case you have leftovers (highly unlikely), store your baklava covered on the counter. Putting it in the fridge will make the phyllo soggy.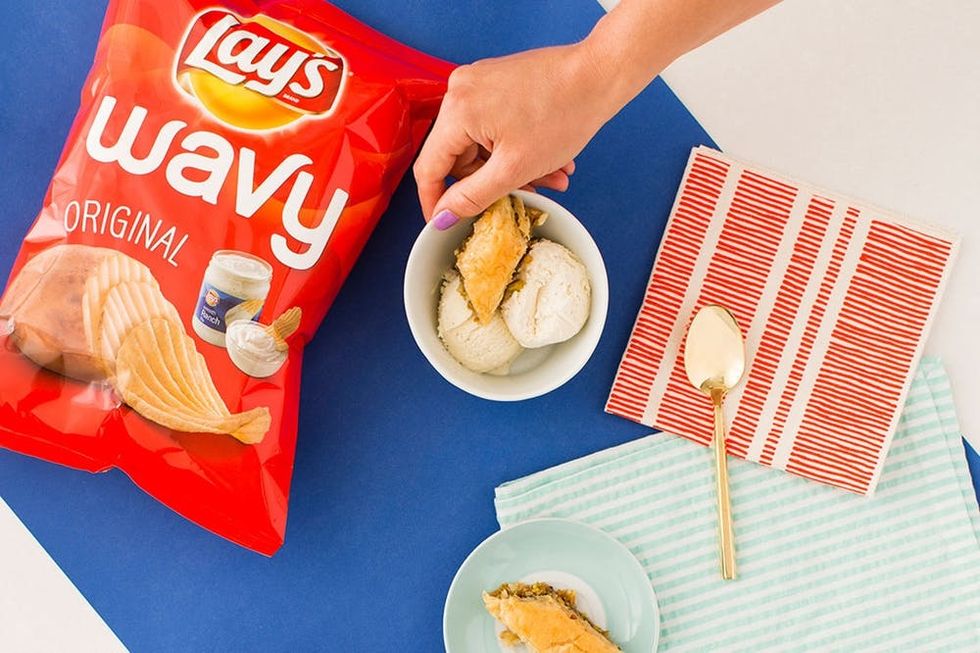 This chippy baklava is to die for! I keep getting requests for more :)
What will you serve alongside your baklava? Share your meal ideas in the comments. And as always, show us your recipe results using the hashtags #iamcreative and #britstagram.
This post is a collaboration with LAY'S® Wavy.
Food Production + Styling: Roxy Taghavian
Photography: Chris Andre
Roxy Taghavian
Roxy has been creating and executing DIY projects since her very first trip to Michael's as a child. If there's a project at hand, she'll figure out how to make it. When she's not wielding her hot glue gun, she can be found at the beach, traveling to far off lands, reading and running at her gym "The Panhandle."
DIY Recipes