Bring on the Summer Campfire Vibes With This S'mores Pie
Jul 18, 2018
For an elegant upgrade on everyone's favorite campfire treat, try a s'mores pie. We topped a graham cracker crust with no-bake chocolate mousse filling and then piled it high with a marshmallowy meringue. It's a decadent and festive way to end a summer dinner party. It doesn't hurt that it also happens to be a showstopper! This is a nearly no-cook recipe; to make it truly so, buy a pre-baked graham cracker crust. In this recipe, you'll learn how to make a basic Italian style meringue, which you can use for countless other pie recipes, baked Alaska, and for topping cakes.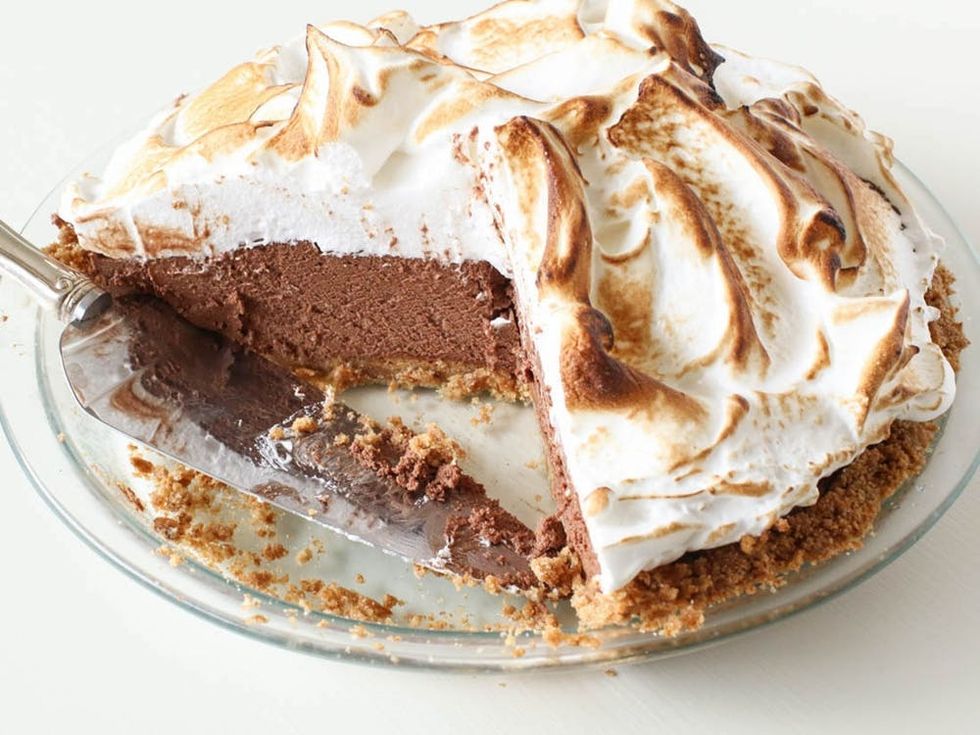 ---
CAMPFIRE S'MORES PIE
Recipe Note: You can make the crust and filling a full day ahead of time and chill in the fridge. Meringue topping should be made just before your guests arrive. For this recipe you'll need a candy thermometer and a small kitchen torch.
Ingredients:
Graham Cracker Crust:
scant 2 cups graham cracker crumbs, about 13 full sheets of crackers
1/2 cup sugar
generous pinch of kosher salt
8 tablespoons unsalted butter, melted
Filling:
2 1/4 cups heavy cream, divided
10 ounces semisweet chocolate, roughly chopped
1 teaspoon vanilla extract
Meringue:
1 cup sugar
1/2 cup water
4 large egg whites, room temperature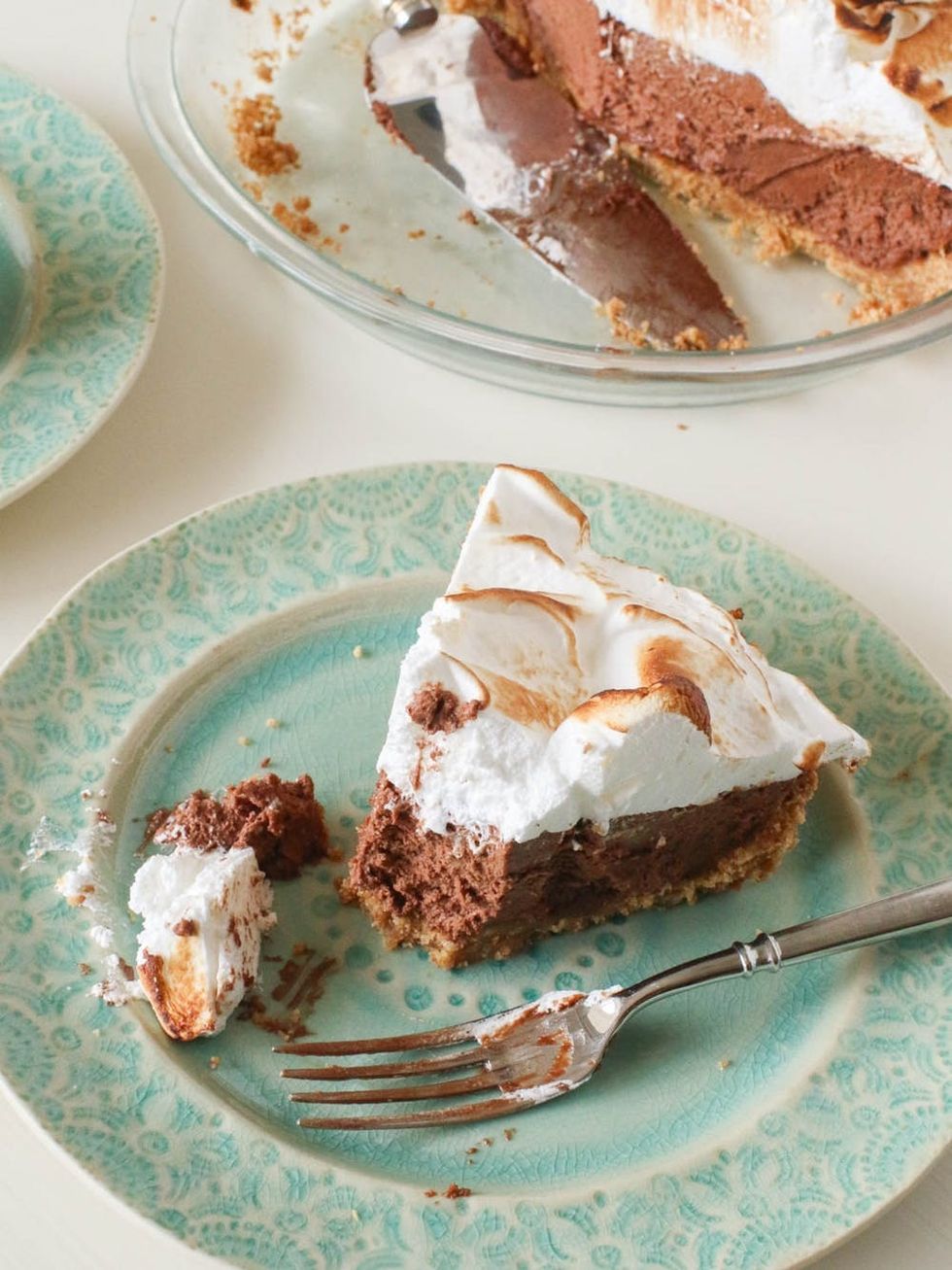 Instructions:
1. Make the graham cracker crust. Preheat an oven to 350°F.
2. In a large bowl, mix together the graham cracker crumbs, sugar, salt, and melted butter.
3. Press the mixture into the sides and bottom of a 9-inch glass pie dish and freeze for 30 minutes.
4. Bake in the oven for 10 minutes, just until golden brown and fragrant. If the bottom puffs up you can use the flat bottom of a metal measuring cup to press it back down into shape. Set aside to cool to room temperature.
5. Make the chocolate mousse. Pour 3/4 cup heavy cream into a small saucepan and bring to a simmer. Remove from heat.
6. Place chocolate in a medium bowl, pour hot cream over it, cover with plastic wrap and allow to sit for 5 minutes. Whisk cream and chocolate together to make a smooth, velvety mixture. Add in vanilla extract and allow to cool.
7. In the meantime, whip remaining 1 1/2 cups of heavy cream into stiff peaks.
8. When chocolate mixture has cooled, gently fold whipped cream in until no white streaks remain.
9. Spread into cooled crust, smooth with an offset spatula, and allow to chill in the refrigerator for at least 5 hours and preferably overnight.
10. Make the meringue. In a small saucepan, gently stir together sugar and water until the sugar dissolves. If you get any sugar granules on the sides of the pan while stirring, use a wet pastry brush to brush them back into syrup. Over medium-high heat, gently simmer until a candy thermometer reads 240°F.
11. In the meantime, in the metal bowl of a stand mixer, beat egg whites on medium until foamy and soft peaks form.
12. When the sugar-water syrup hits the right temperature, remove from heat and gently stream into the bowl of the stand mixer while the whisk beats. When all of the syrup is poured in, increase whisking speed to medium-high and mix until the bottom of the metal bowl is cool to the touch and meringue is glossy and holds stiff peaks.
13. Assemble your pie. Pile meringue onto the top of the chilled mousse. Spread it slightly to the edges of the crust. You may not need all of the meringue. Carefully use your kitchen torch to toast the top of the meringue until golden brown.
14. Keep refrigerated until ready to serve. Use a hot knife to make clean slices.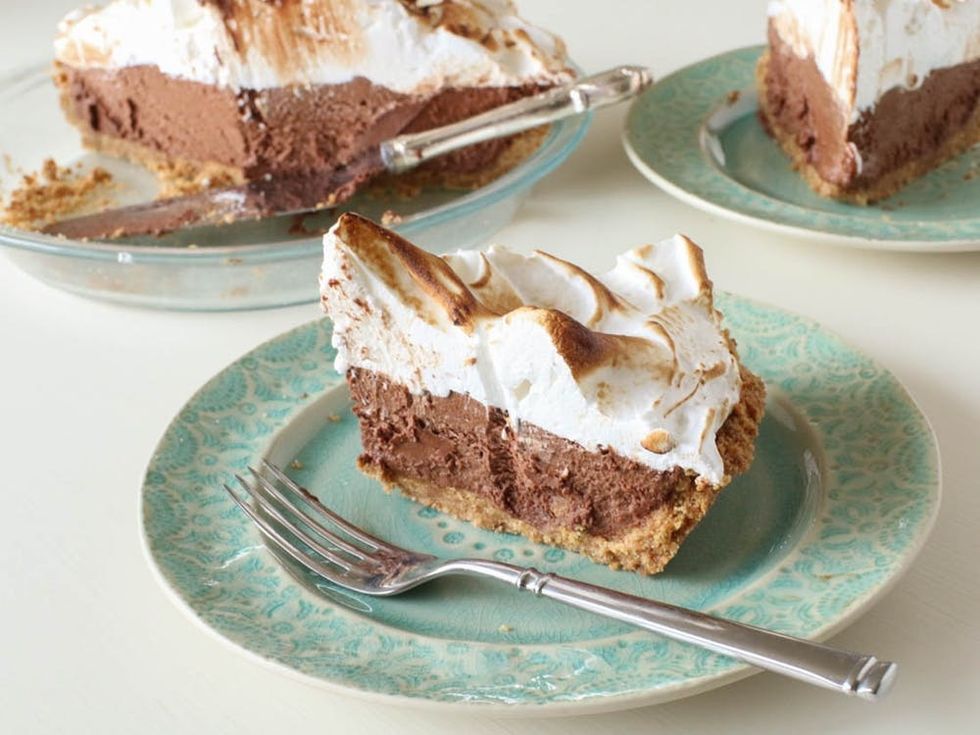 Hosting a summer dinner party? Check out our DIY Recipes for more ideas!
(Recipe and photos via Jessica Smith / Brit + Co)
Jessica Smith
Jessica is a blogger and professional pastry cook in San Francisco. When not whipping up desserts, you can usually find her tackling DIY projects with her husband, entertaining for a crowd, or running around the neighborhood with her rambunctious puppy, Rebel. Jessica believes in using seasonal and wholesome ingredients as much as possible and you can check out more of her recipes at her blog:
By Guess And By Golly
.
DIY Recipes
Still haven't taken up that new creative skills you swore you'd learn this year? Or ready to take your design skills to the next level? Let's say so long to the weirdest year ever by checking those big learn-something-new goals off our perpetual to-do lists.
We've teamed up with Clorox to give you the gift of unlimited creativity now through the end of the year. Once you sign up, you can take as many of our 120+ classes as you want for FREE for one whole month!
Here's how it works:

Head to brit.co/learn and sign up for the "All Access Pass."
Use the code "CLOROXCARES" at checkout to redeem your free month of classes.
You will be automagically signed up for Clorox's email list once you redeem your free all access pass. (It's the #1 Choice for Disinfection!)
Your pass lasts one month from when you checkout. This means you have unlimited access to all the classes during that month.
This offer is valid now through December 27, 2020.
Browse our catalog to find the right class for you, tell a friend and take the class together over Zoom, or organize a 'cocktails + crafts' night with a friend in your bubble so you can learn something new together.
What are you waiting for? Time to start learning all the things!

Thanks to Clorox for making this happen! When it counts, trust Clorox.
Lifestyle