Get into the Holiday Spirit With These Festive DIYs
Nov 22, 2016
Hi! It's Naomi from Bakers Royale! Admittedly, I've never been much of a crafter. But this holiday, I've partnered with The Hershey Company to get my inner crafting-DIY on. I'm not going for perfection — just some happy holiday memories with my boys.
---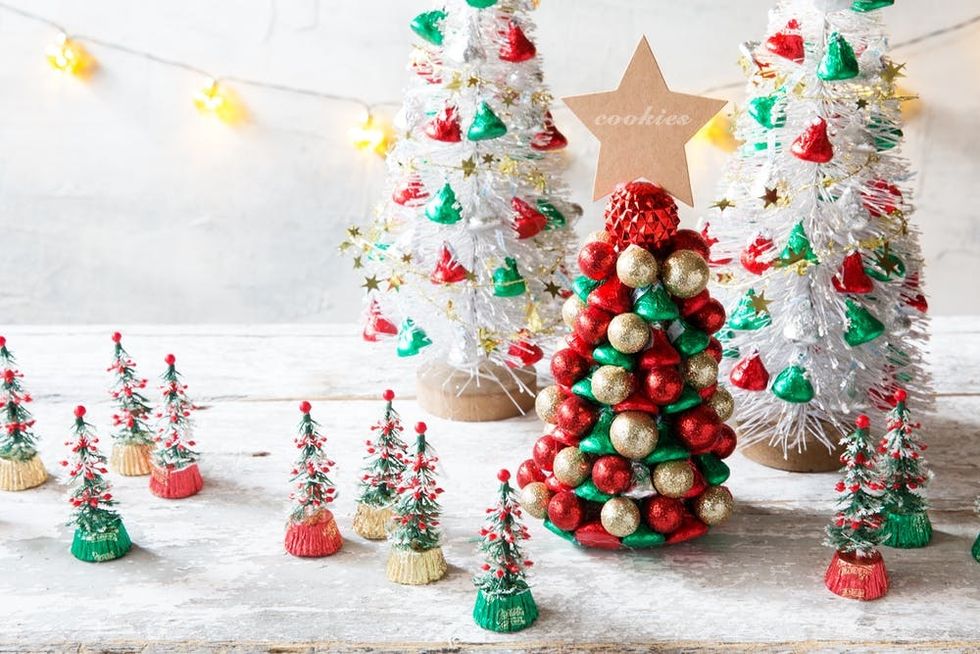 There are so many fun things to do with Hershey's holiday candy. I love the bright and colorful foil wrappers. So in the spirit of the season, I went for something fun, festive AND *something* I knew my boys would embrace!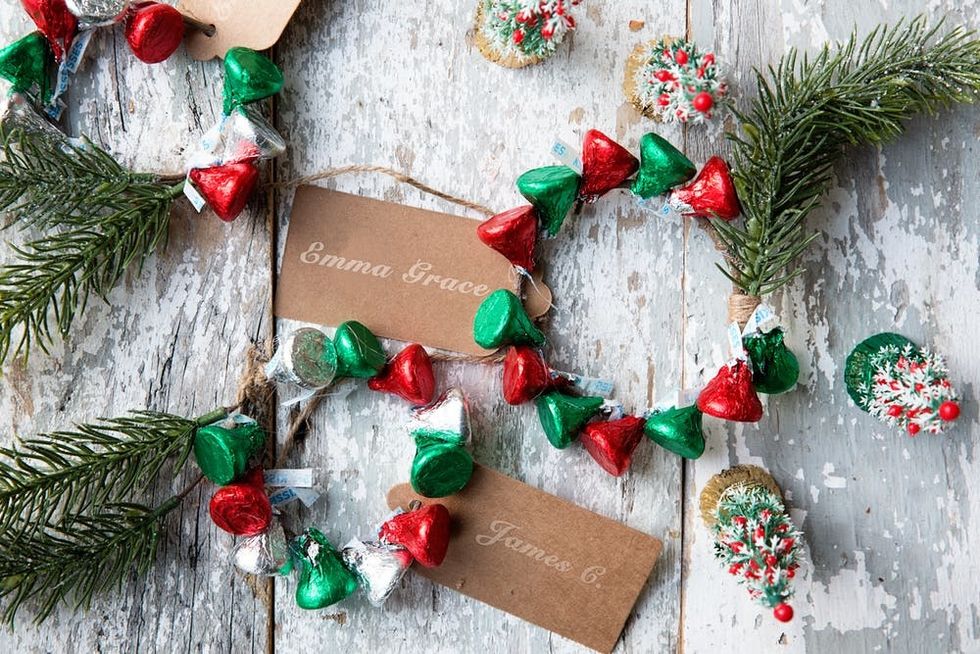 They are so excited to show off these HERSHEY'S KISSES Christmas tree name cards and Hershey's napkin rings to our dinner guests this season. The best part of this project was working with my kids — quick tip: When working with young kids, definitely reach for the double-sided foam tape to keep it safe. If your kids are older and can handle a glue gun, make sure to use the low temperature setting so the candy keeps its form.
Here's what you need to create these fun crafts*:
*Please note: Completed crafts are for decorative purposes only. Candy used in craft should not be eaten.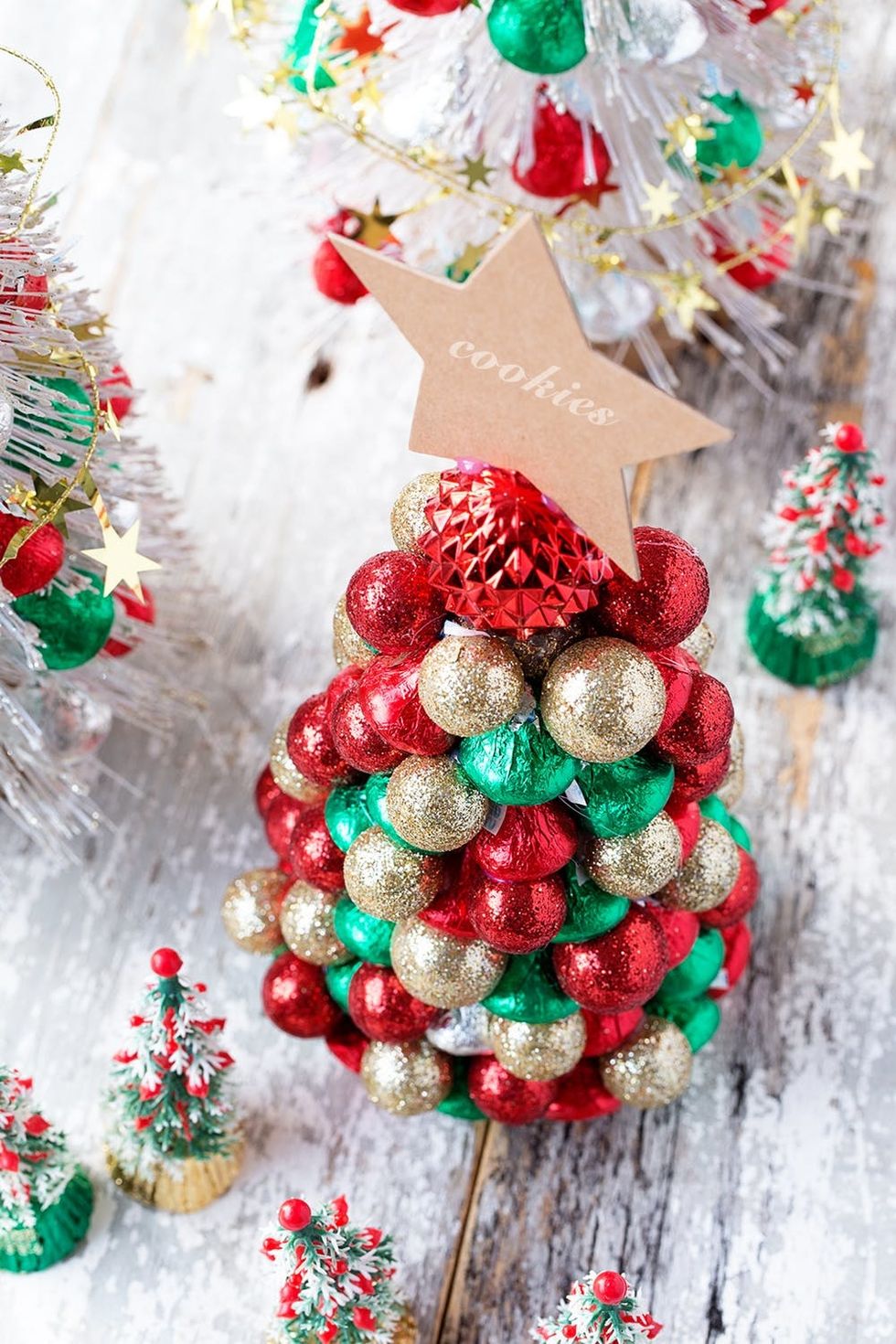 To create 6-inch foam Christmas tree: Place a small piece of double-sided foam tape on the bottom of HERSHEY'S KISSES. Starting at the bottom and working horizontally, stick a row of KISSES all the way around the cone. Place a second row on top, and repeat until you work your way to the top. Fill in gaps with glitter balls. Top the tree with an ornament and craft star.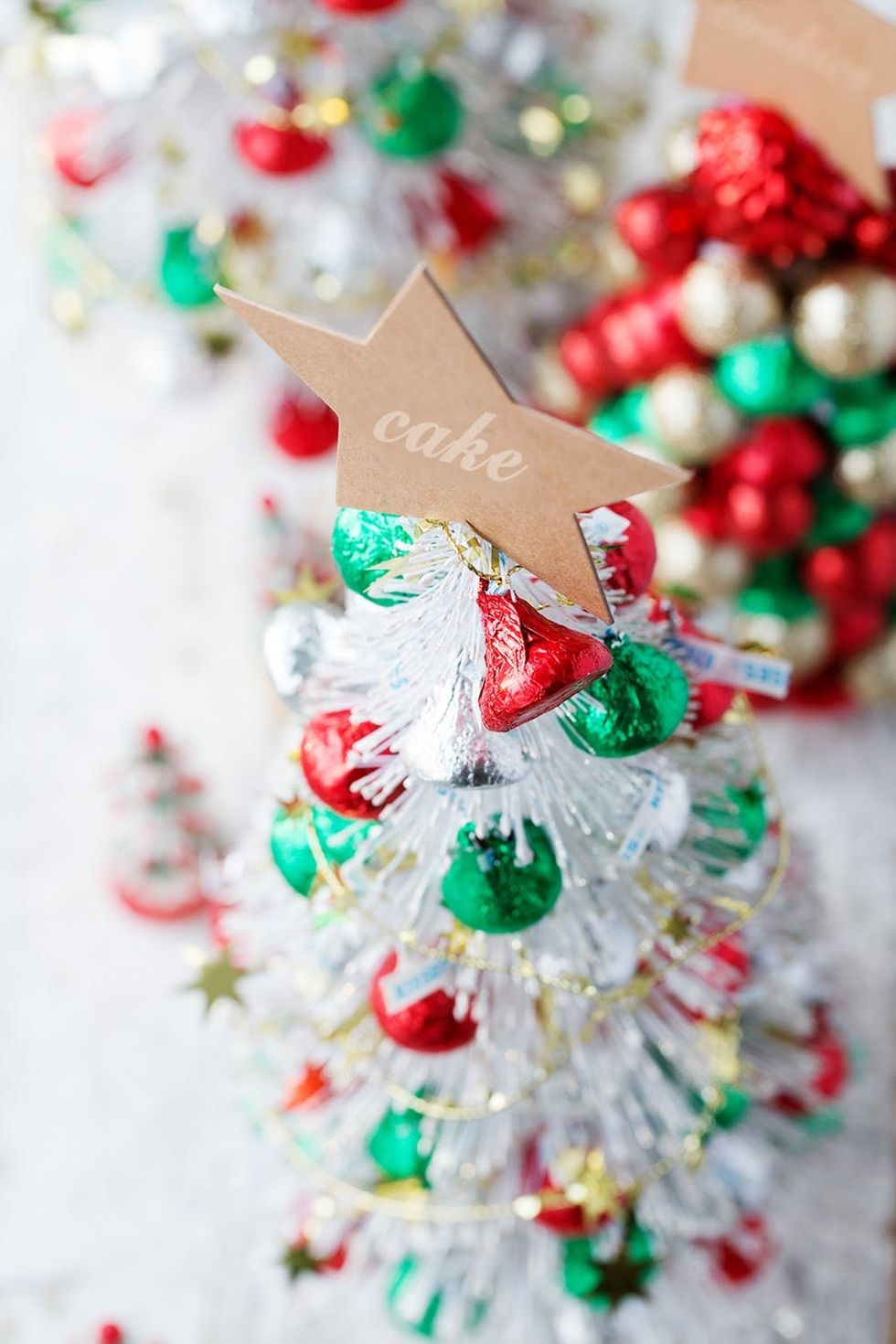 To create large white decorative trees: Using a low temperature glue gun, place a small glue drop on the bottom of the Red/Green/Silver KISSES and stick them into a bottle brush needle Christmas tree. Finish with a star garland and a craft star on top.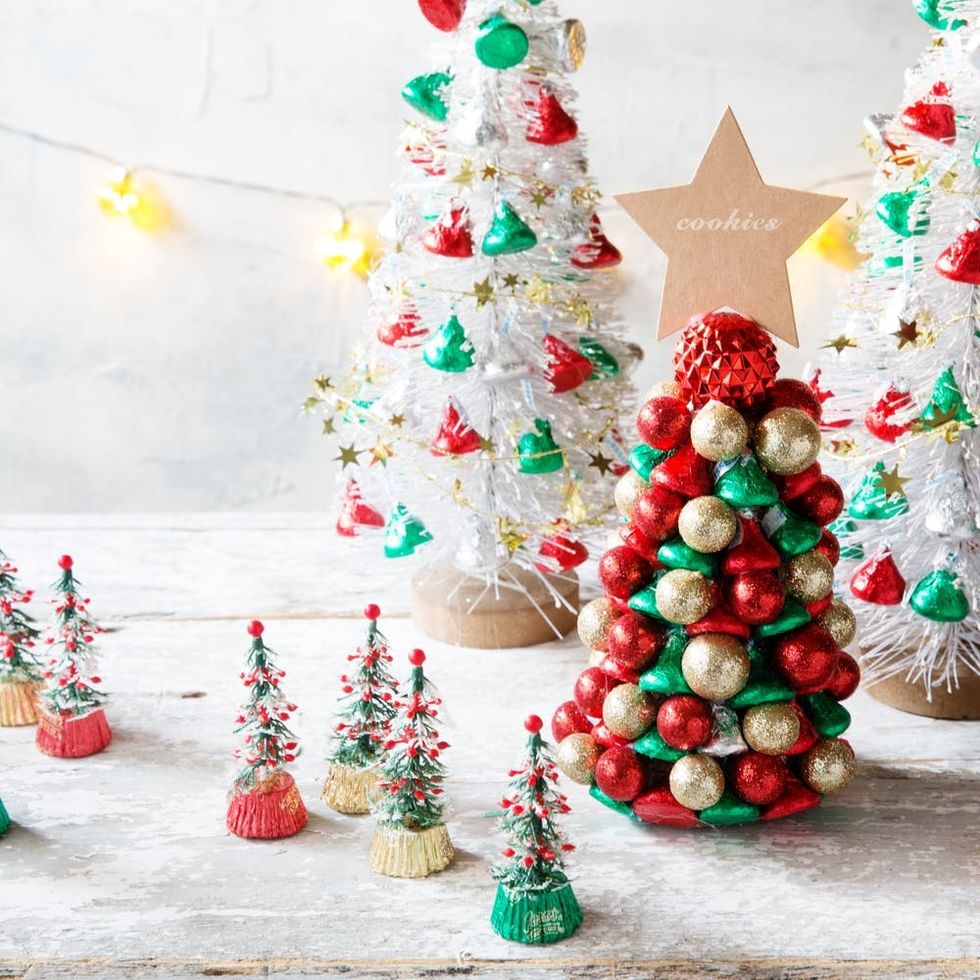 To create miniature Christmas trees: Stick 3-inch plastic Christmas tree into the top of REESE'S Peanut Butter Cup Miniatures. Place around dishes to create a festive and edible tablescape.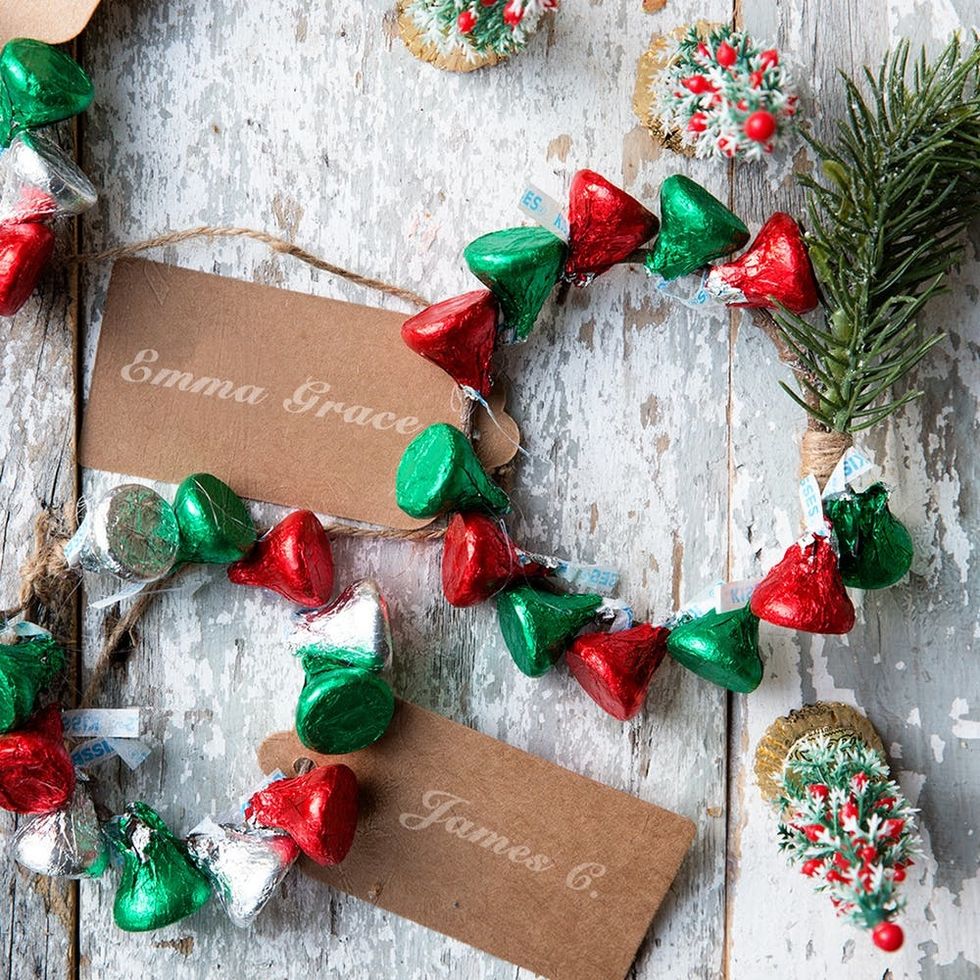 To create the napkin ring/name tag: String name tag through a pine needle stem. Bend stem into a circle and secure the two ends with twine. Place a small glue drop on the KISSES candies and stick on to stem all the way around, creating a candy ring.
Of course, as with any holiday, don't forget to leave some candy aside to eat! No holiday is complete without a big bowl of Hershey's candy for grazing.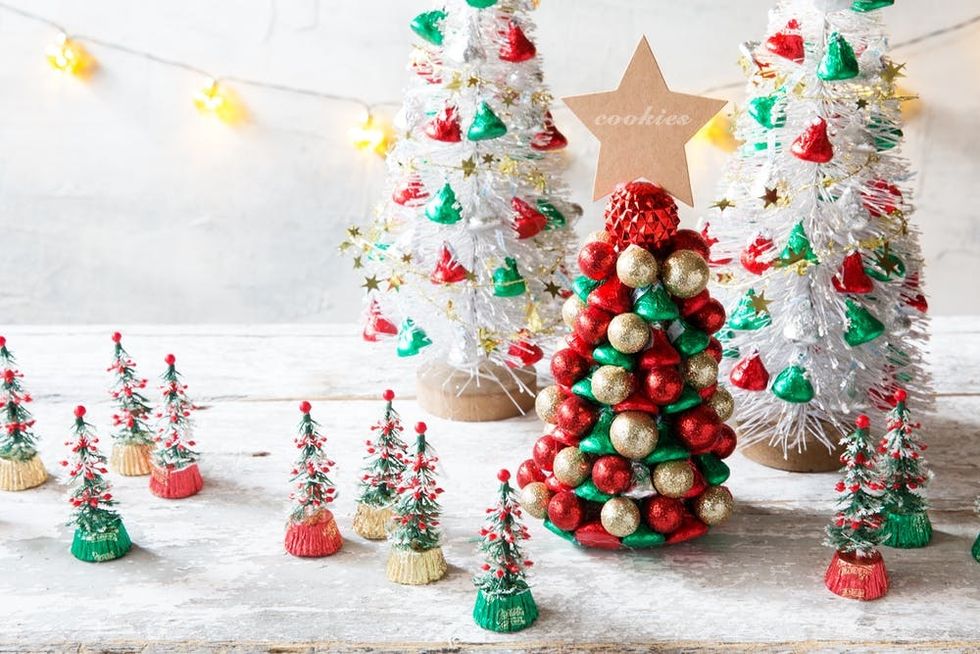 Now that you know all about my fun holiday candy project, we'd love to see and hear what you and your family do. Share with us on Instagram by tagging @BritandCo and #iamcreative.