Photo Proof That YOUR MOM Started These 22 Hipster Trends
Apr 23, 2016
The Internet's always buzzing about how *dad* is the ultimate hipster, from skinny ties to skinny jeans — it's true that dads have been crushing trends since we were wee. But you know who's also been completely slaying the style scene? Your mom. Your mom in the '70s, '80s and '90s was a total babe, and we've seen tons of her retro trends coming back into style.
---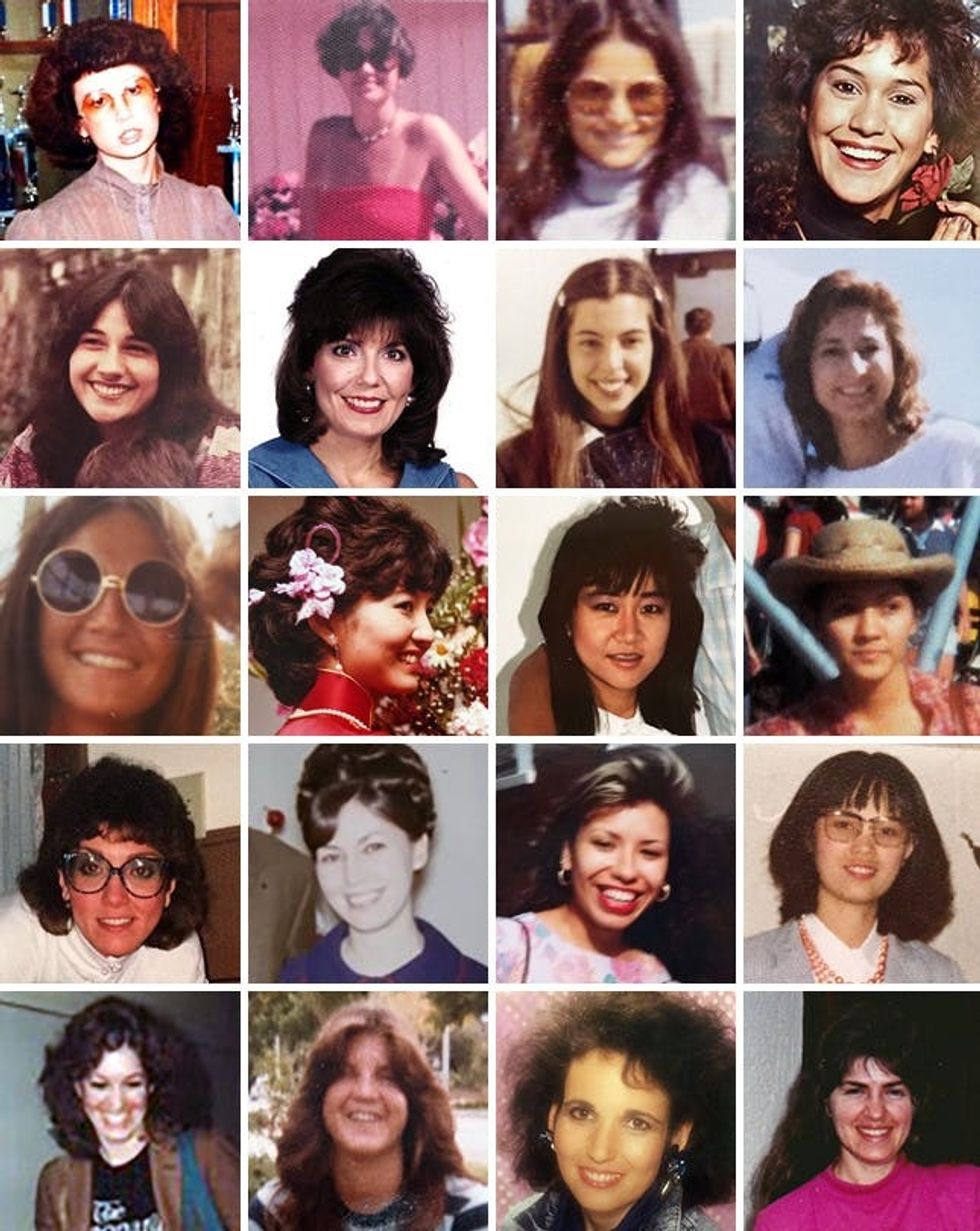 With help from the team here at Brit + Co, let's take a walk down memory lane and appreciate the iconic styles all of our moms helped start.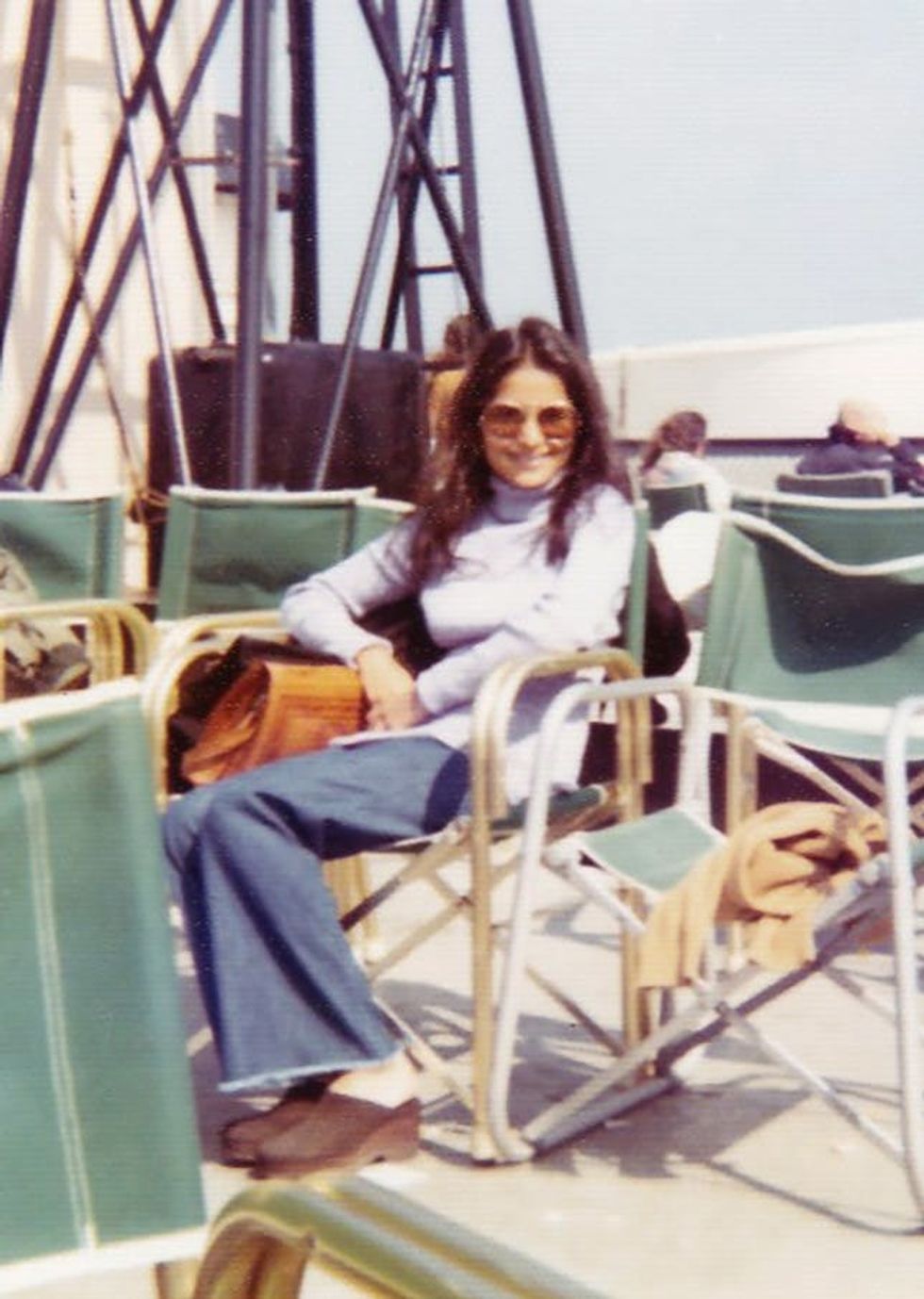 Boat life is the good life, and what better way to rock it than by wearing a long turtleneck sweater, glam sunnies, denim bell bottoms and Swedish clogs? This whole combo is the ultimate in cool, and I'm not biased at all ;) I just wish my mom had held onto those clogs — I would totally wear them right now!
1. BELL BOTTOMS + SWEDISH CLOGS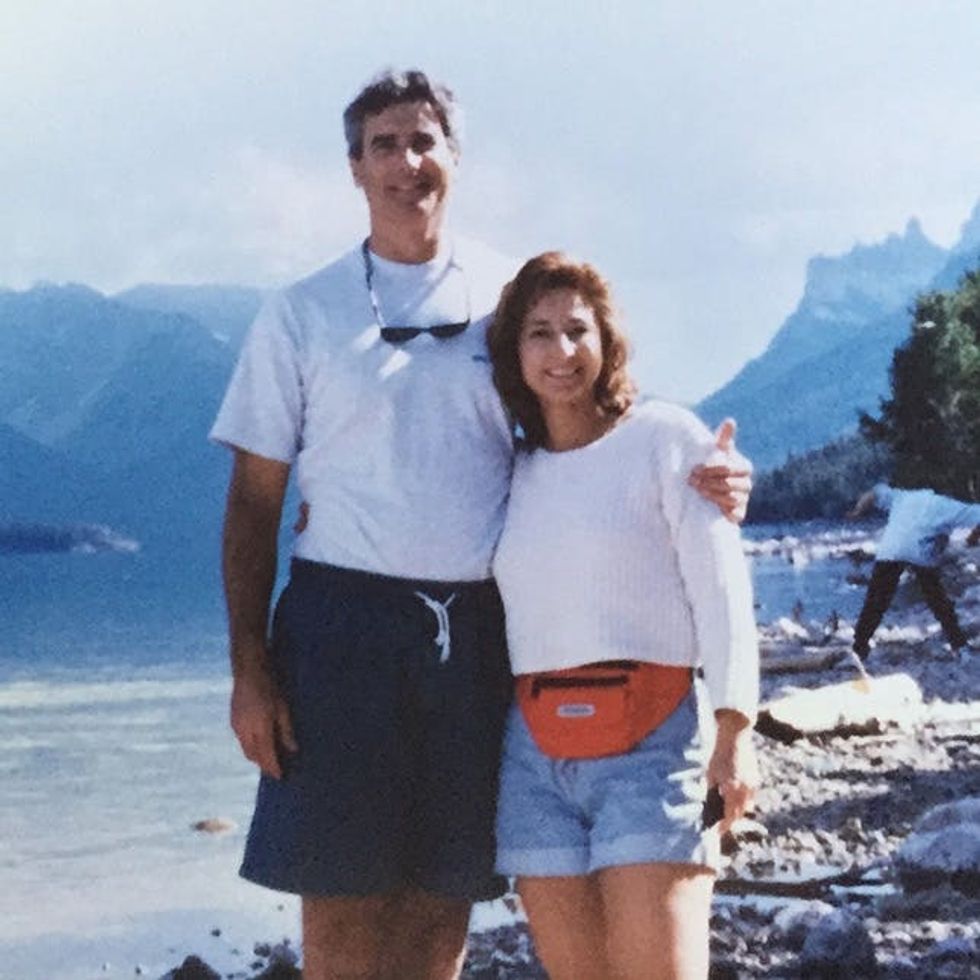 (Photo Credit: Asha Williams, Mom of Anjelika Temple, Executive Creative Director)
First off, look at the guy skipping stones in the background of this photo. He is really putting his all into it! Now, on to the topic at hand: this fanny pack and jorts. The fanny pack has been back for a couple years now, particularly thanks to the plethora of music festivals where gals need to be hands-free to properly noodle dance. The kicker here is those cuffed jean shorts. And we're guessing they've got pleats hidden under that fanny pack — so good.
2. FANNY PACK + JORTS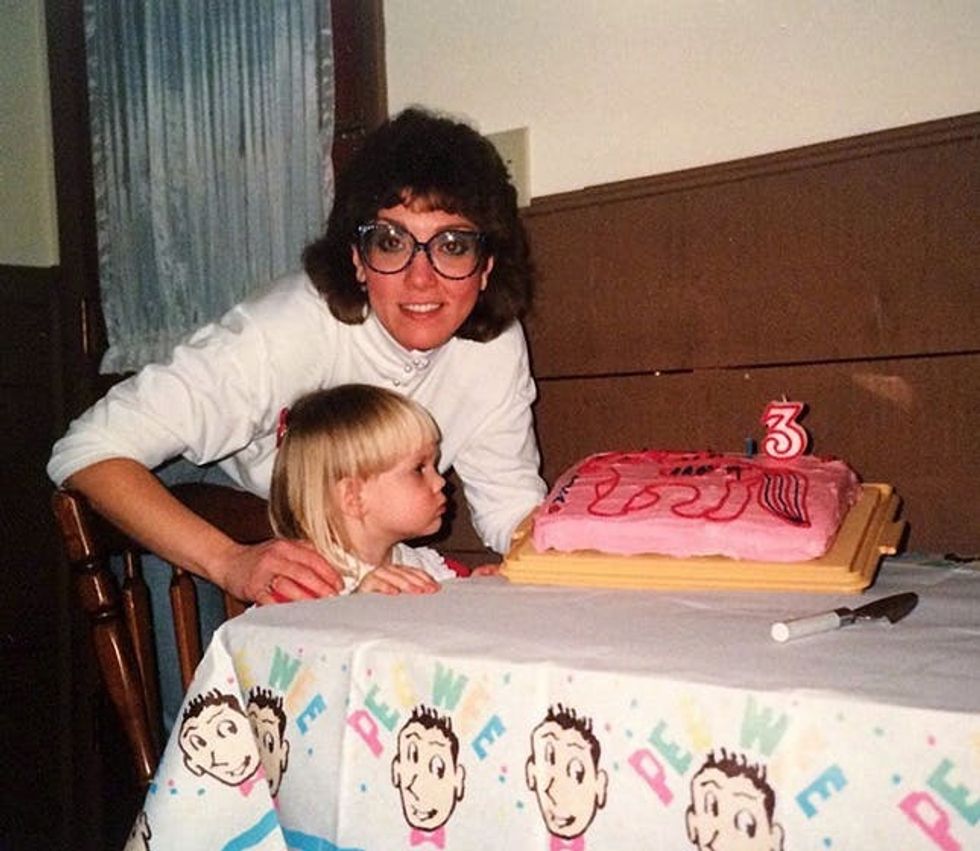 (Photo Credit: Jody Sather Friedman, Mom of Micaela Friedman, Brand Planner)
Those glasses are so on point it hurts. The slide fade gives just the right amount of shade. Combined with a tight perm and white turtleneck, these specs say "I'm killin' it, and I know it." The other really awesome thing in this photo? That Pee Wee tablecloth. What!
3. STYLING SPECTACLES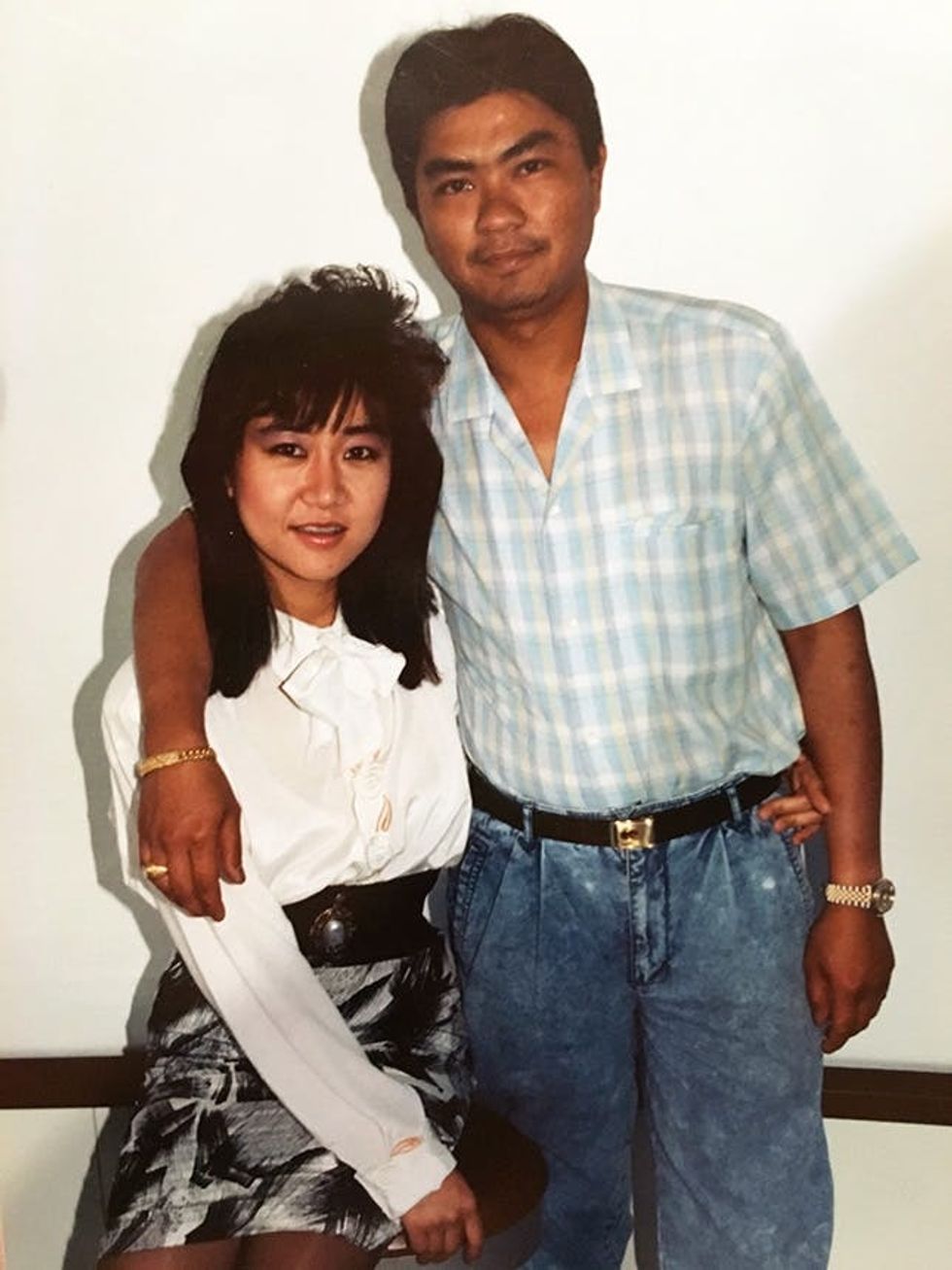 (Photo Credit: Gina Raphael, Mom of Lisa Raphael, Editorial Director)
There is only one word for this hairstyle: SLAY. Those bangs? That fringe on top? The long locks on the sides? It's the most beautiful mullet we've ever seen. Plus that outfit looks like it's straight off of a style blogger's Instagram. And let's give a shout-out to Dad as well here — the gold watch and gold belt buckle are baller.
4. FEMININE MULLET
(Photo Credit: Manee Kumtong, Mom of Marisa Kumtong, Designer)
We can only assume that the trophies on that case are centered around this mama's retro style. First, we've got the sheer blouse that is both conservative and flirty at the same time, and then we've got those glasses. The old school style of a sort of rose gold fadeaway is definitely coming back soon. Not sure if we can say the same for the perm, but she's absolutely rocking it.
5. OMBRE SHADES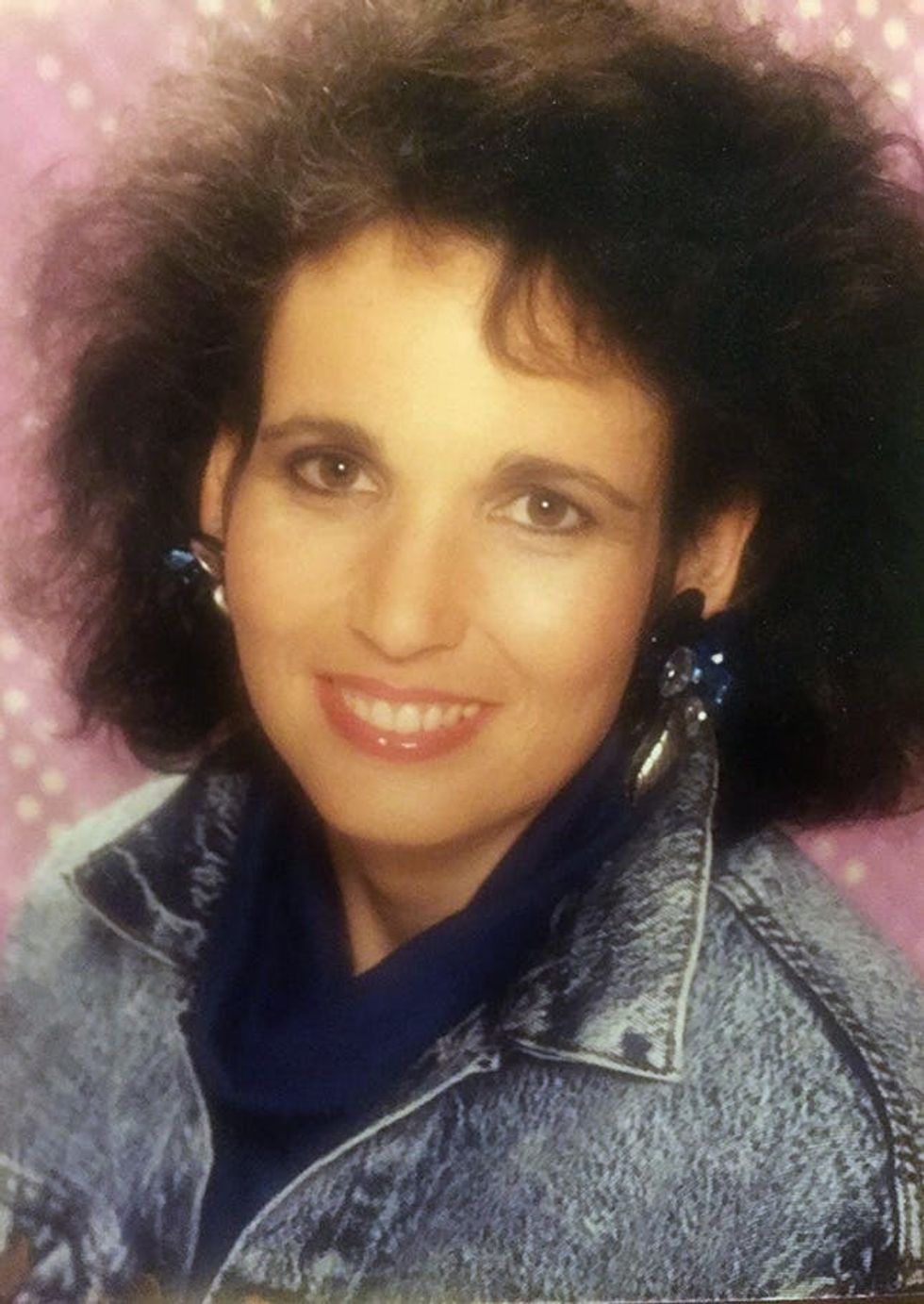 (Photo Credit: Tammy Griffin, Mom of Brittany Griffin, Photographer)
Remember glamour shots? This is a classic, and this mom's sporting four trends at once. A jean jacket that goes with everything, with that collar ever-so-slightly popped, a navy cowl-neck top, GIGANTIC gemstone earrings and… that hair. It all comes together to make us seriously envious of this beauty queen's genes.
6. BIG HAIR + BIG EARRINGS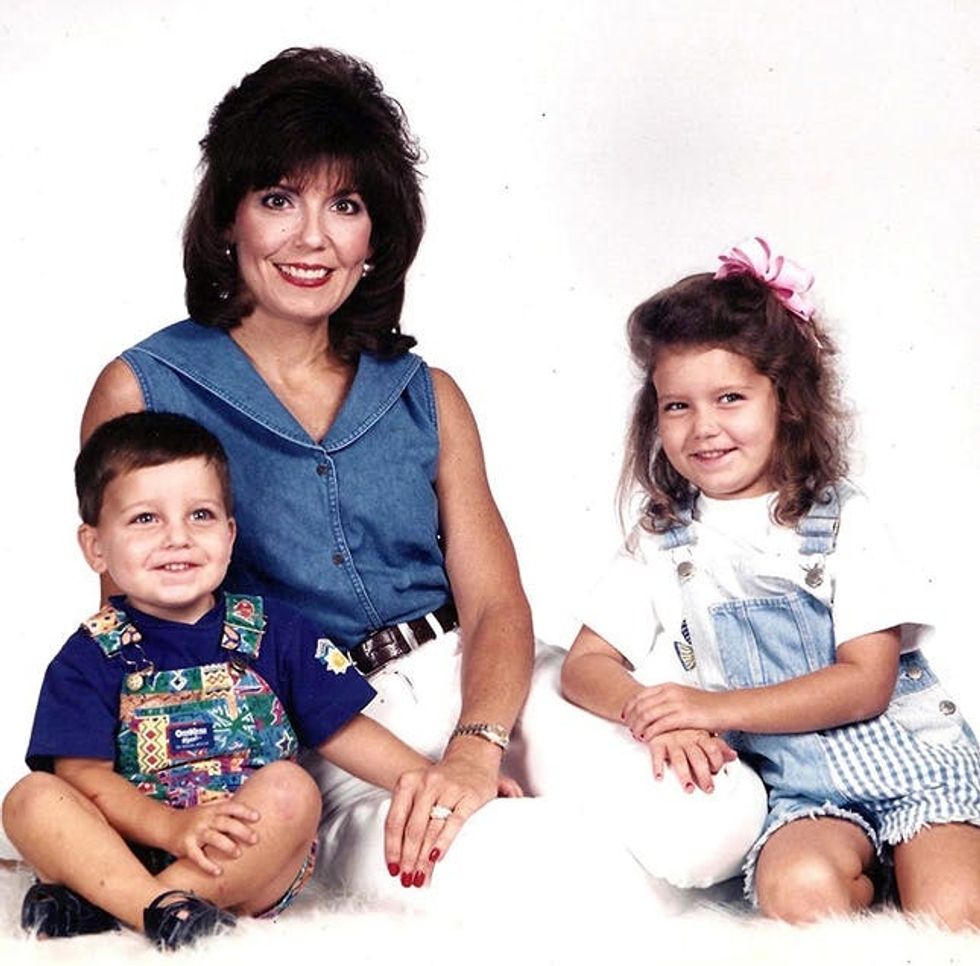 (Photo Credit: Charyl Silva, Mom of Caitlin Silva, Customer Service Specialist)
We actually forgot about the major trend of denim sleeveless shirts until we dug through the Brit + Co archives to find photos of our moms. And then we found that pretty much everyone has a photo of their mom rocking a top like this — the bigger the collar, the better. Paired with white high-waisted jeans and two insanely cute kiddos, this mom's look is all that.
7. ALL DENIM ALL THE TIME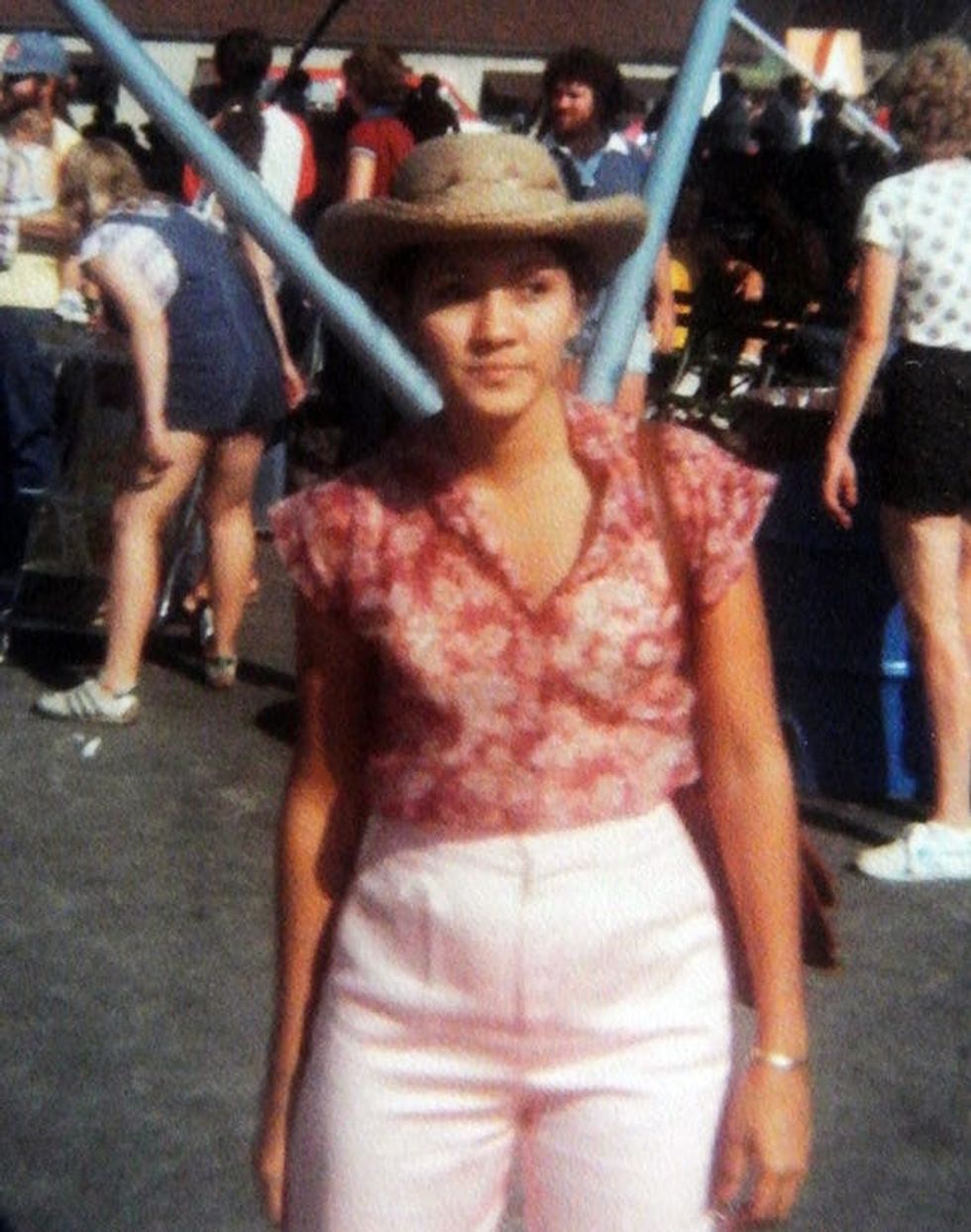 (Photo Credit: Sherry Haas, Mom of Victoria Haas, Channel Marketing)
I'm sorry; is this a paparazzi shot of a celeb at Coachella? Nope, just a snapshot of yet another mom of Brit + Co. The entire outfit is boss, from the high-waisted pants to the summery blouse and straw hat. It's just perfect.
8. HIGH-WAISTED PANTS + SUMMER HAT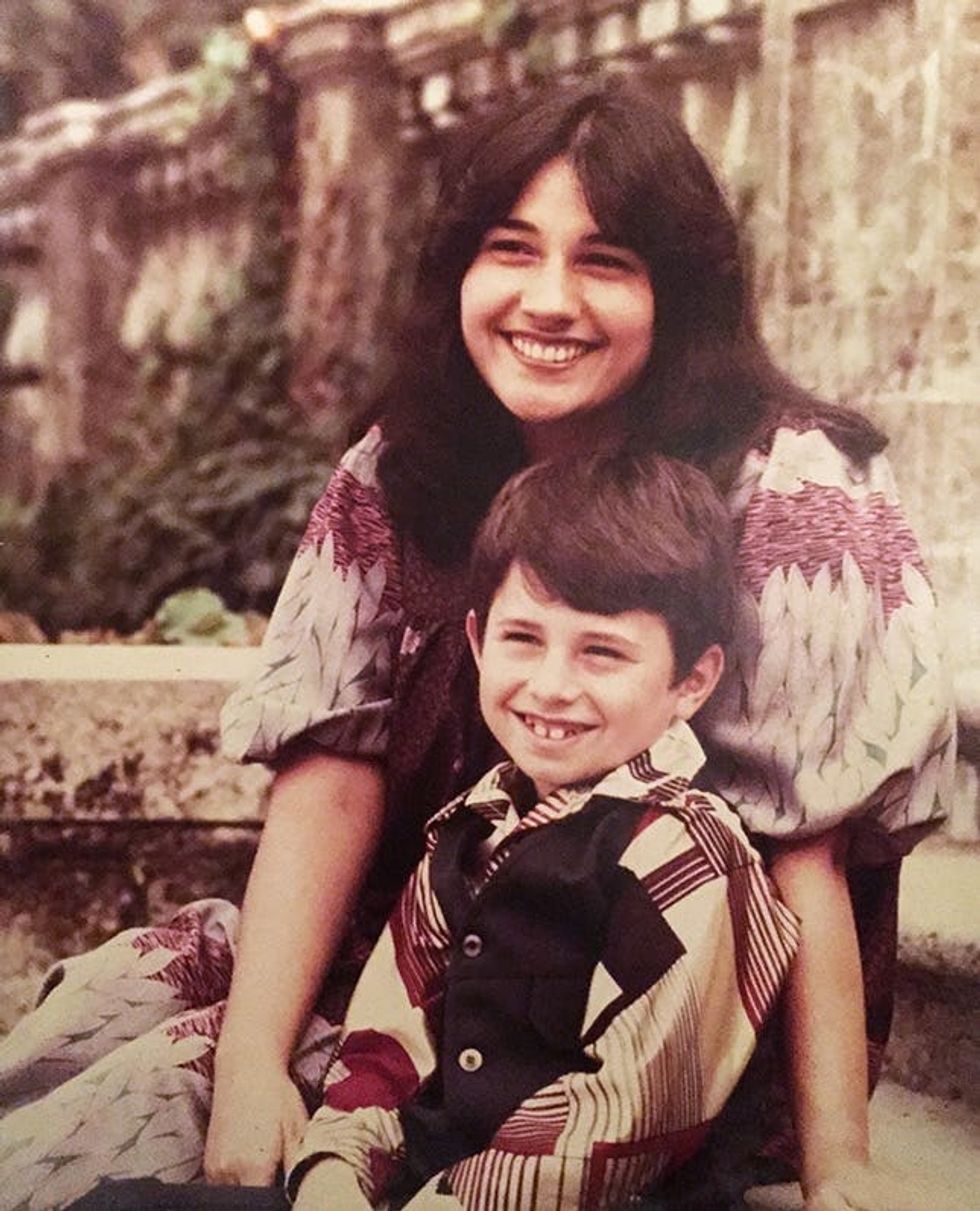 (Photo Credit: Marina Korducki, Mom of Kelli Korducki, Senior Editor)
Finally, some hippie vibes! This patterned dress was actually handmade by this creative mama. We love the billowy sleeves and all-over pattern.
9. BOHO DIY DRESS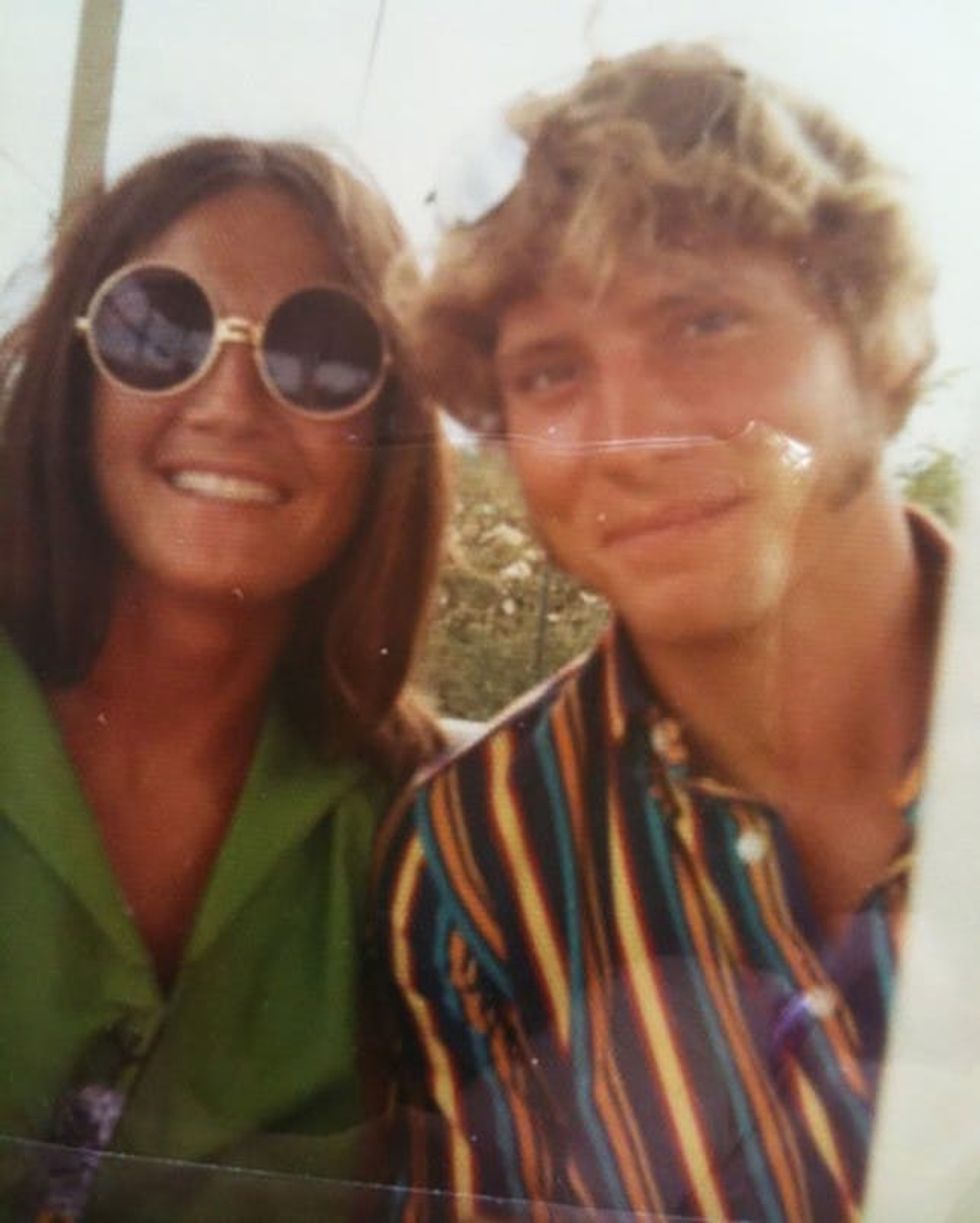 (Photo Credit: Toni Fischer, Mom of Ashley Fischer, Brand Partnerships Manager)
Peace, love and round sunnies forever. This mama's middle part and sleek '70s-inspired locks are an excellent complement to a totally iconic pair of shades.
10. ROUND SUNNIES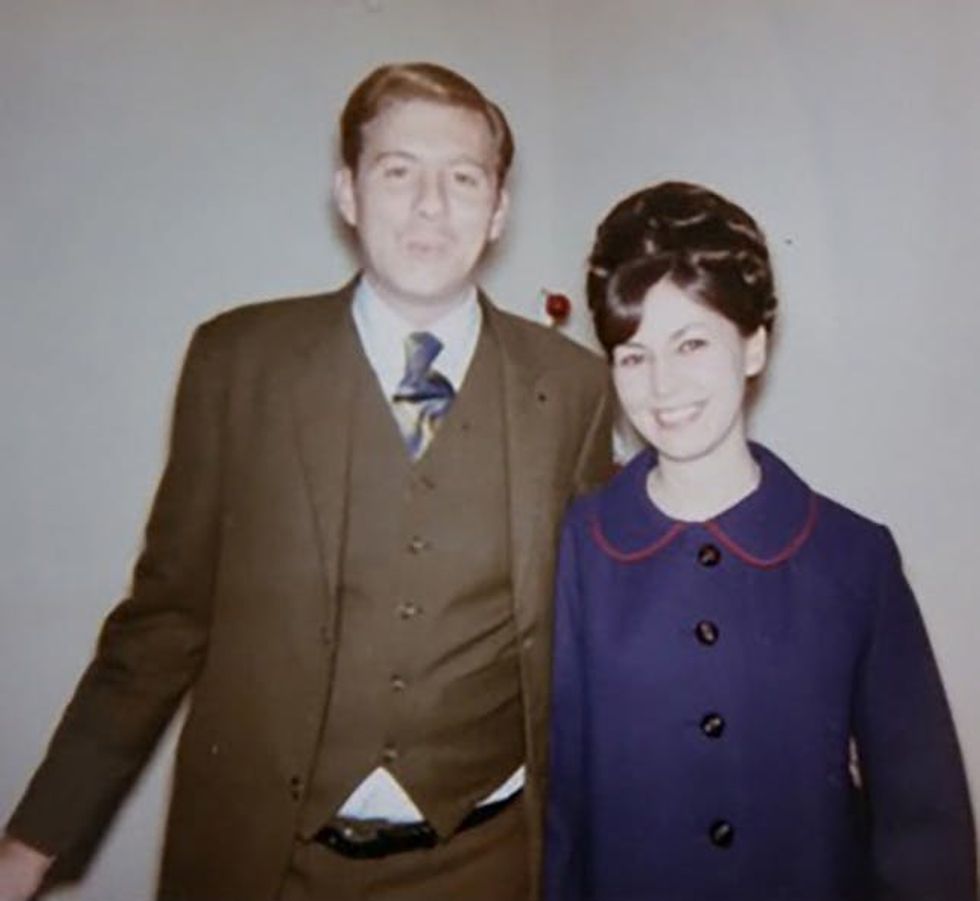 (Photo Credit: Nancy Kohake, Mom of Lexy Kelley, Online Classes Producer)
Now that is one classy pair! This timeless beauty is sporting a gorgeous beehive that definitely involved curlers, and maybe even an overnight set. We're also loving the jacket (or dress) on top with big buttons and red-trimmed Peter Pan collar.
11. BEEHIVE + PETER PAN COLLAR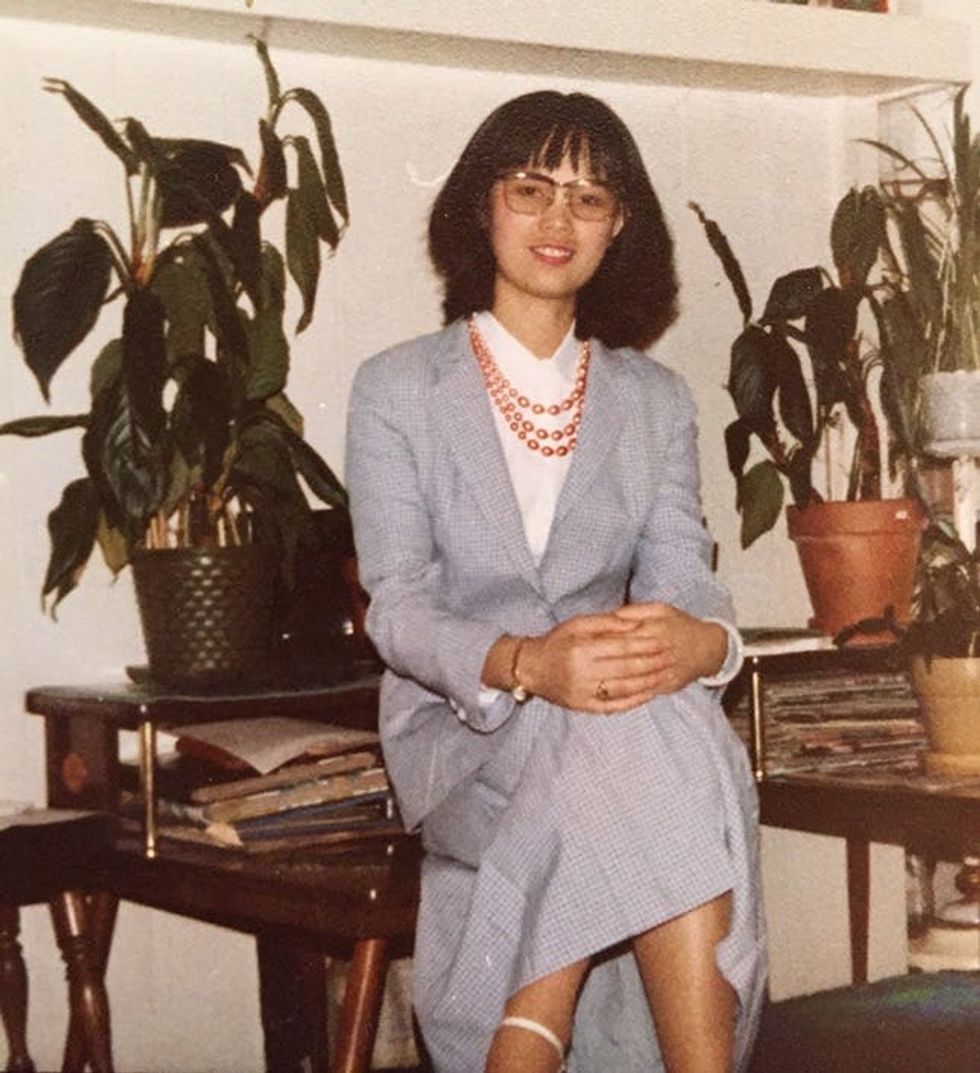 (Photo Credit: Joyce Foster, Mom of Tammy Evrard, Brand Partnerships Manager)
Where do we even begin with this stunner? We'll start with the shaggy bob — it frames her face perfectly while still showing off those thick locks. Next, the glasses. Wire frames with a thick section at the top were all the rage in the early '80s, and this mama is doing them justice. But it's really all about that suit! If you look closely, you can see that it's a tight gingham pattern, making it preppy and polished at the same time. And the plants surrounding her are SO on trend.
12. CASUAL COOL BUSINESS LOOK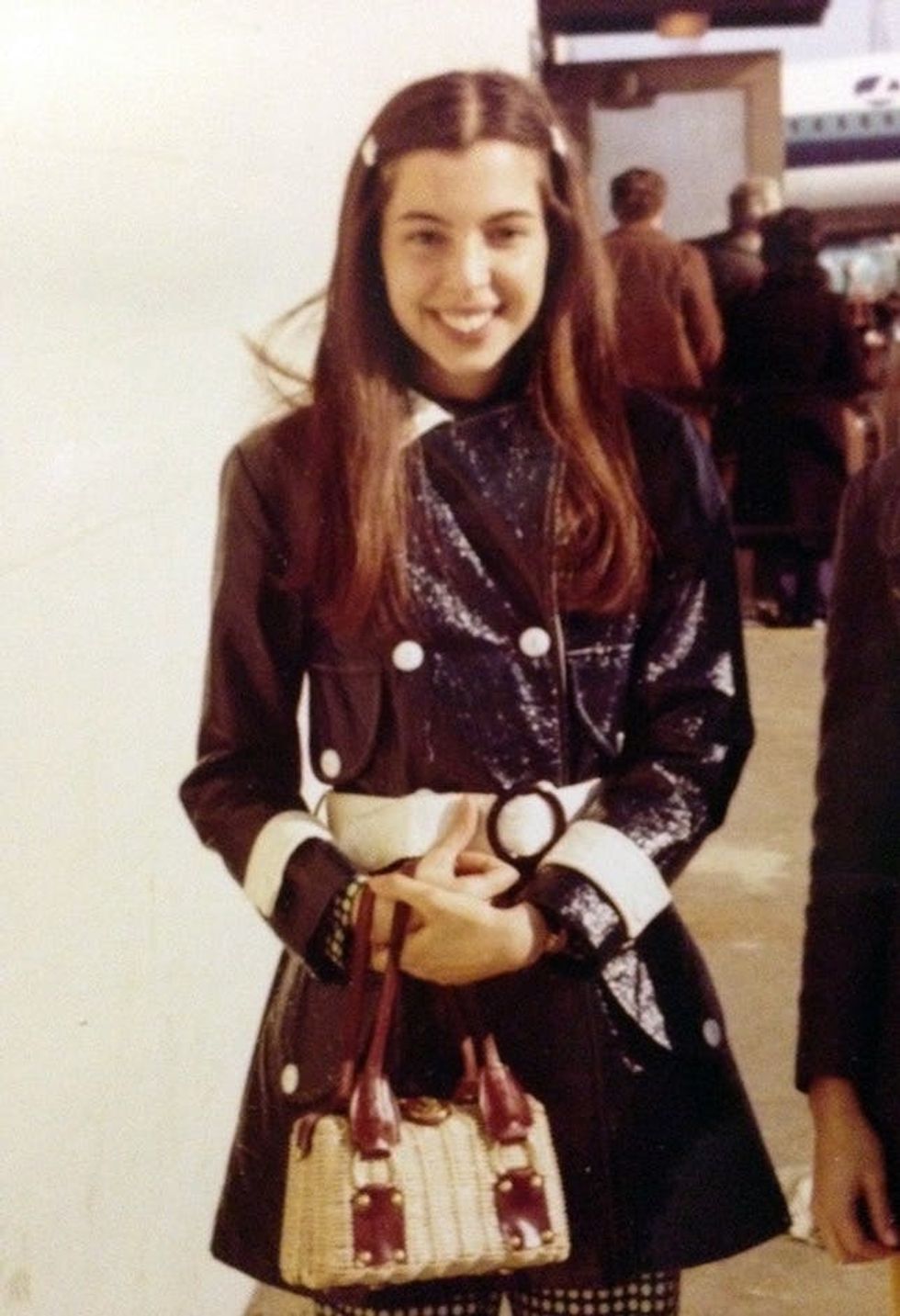 (Photo Credit: Hollie Koo, Mom of Marianne Koo, Kit Designer)
Wait, is that Brit + Co DIY designer Kelly? Nope, it's her doppelgänger mama Mary Ann! The belted patent leather coat is the star here, with white accents on the collar, belt and sleeves making it really pop. We're also super into that basket handbag.
13. MOD BELTED COAT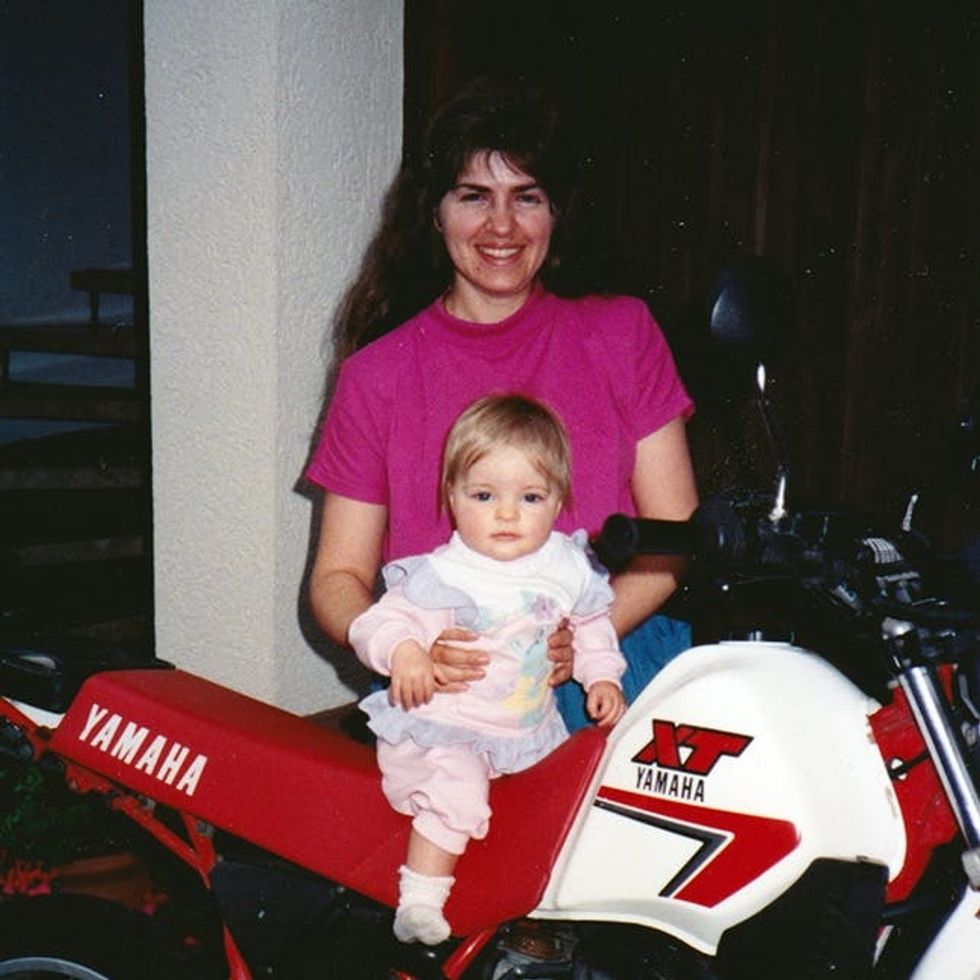 (Photo Credit: Mary Ann Bryden, Mom of Kelly Bryden, DIY Designer)
It's all about that hot pink short sleeve mock turtleneck! This simple statement piece tells us that it's the '80s — and the feathered hair helps drive the whole look home.
14. SHORT SLEEVE MOCK TURTLENECK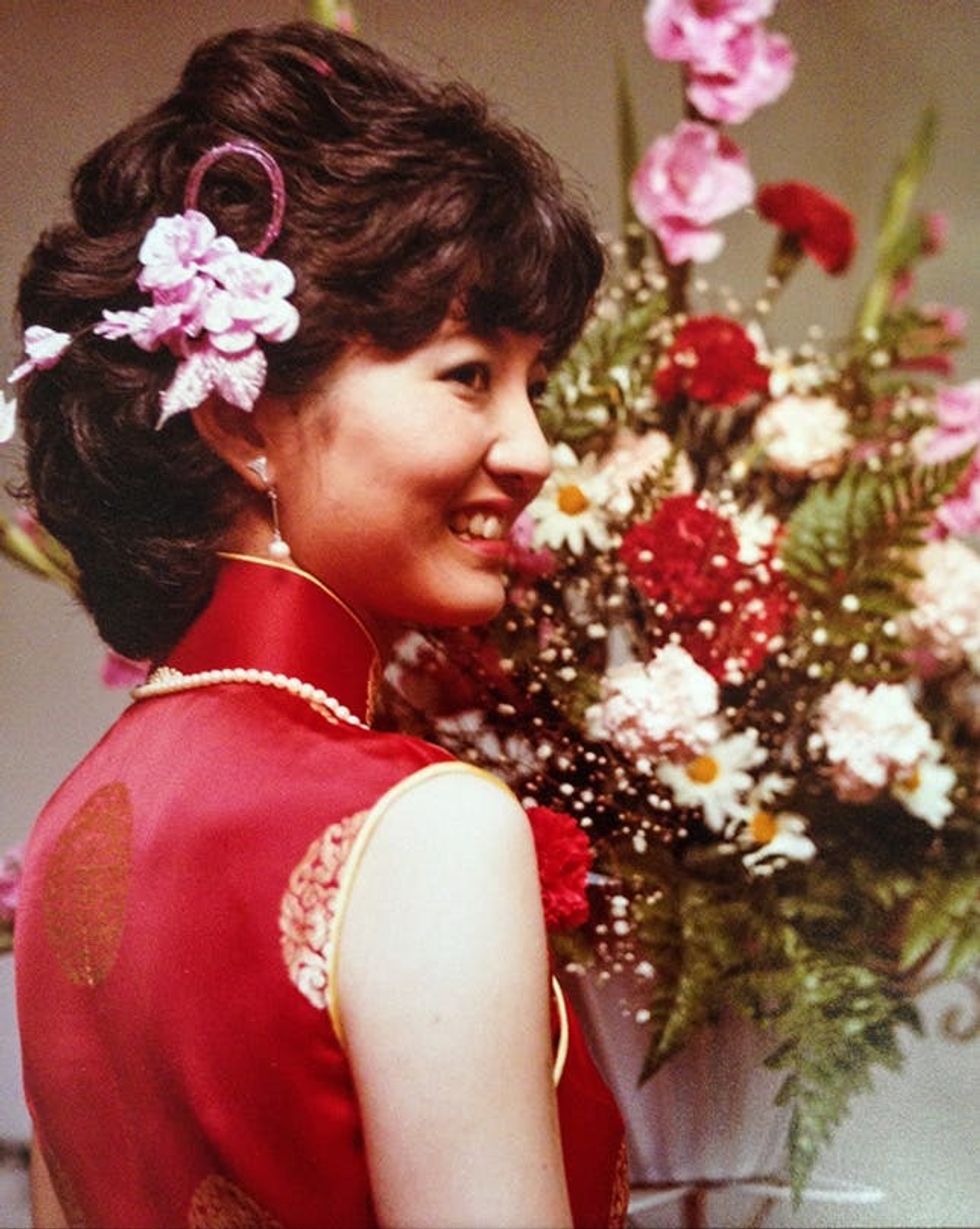 (Photo Credit: Vicki Schellenberger, Mom of Lee Schellenberger, Kit Designer)
Wedding style for the win. This pic of mom is from her wedding day in Dallas, and she's wearing a traditonal Chinese Qipao dress. The thick layer of bangs and bouffant flower-topped hairstyle are pure retro beauty.
15. FLOWERS IN HER HAIR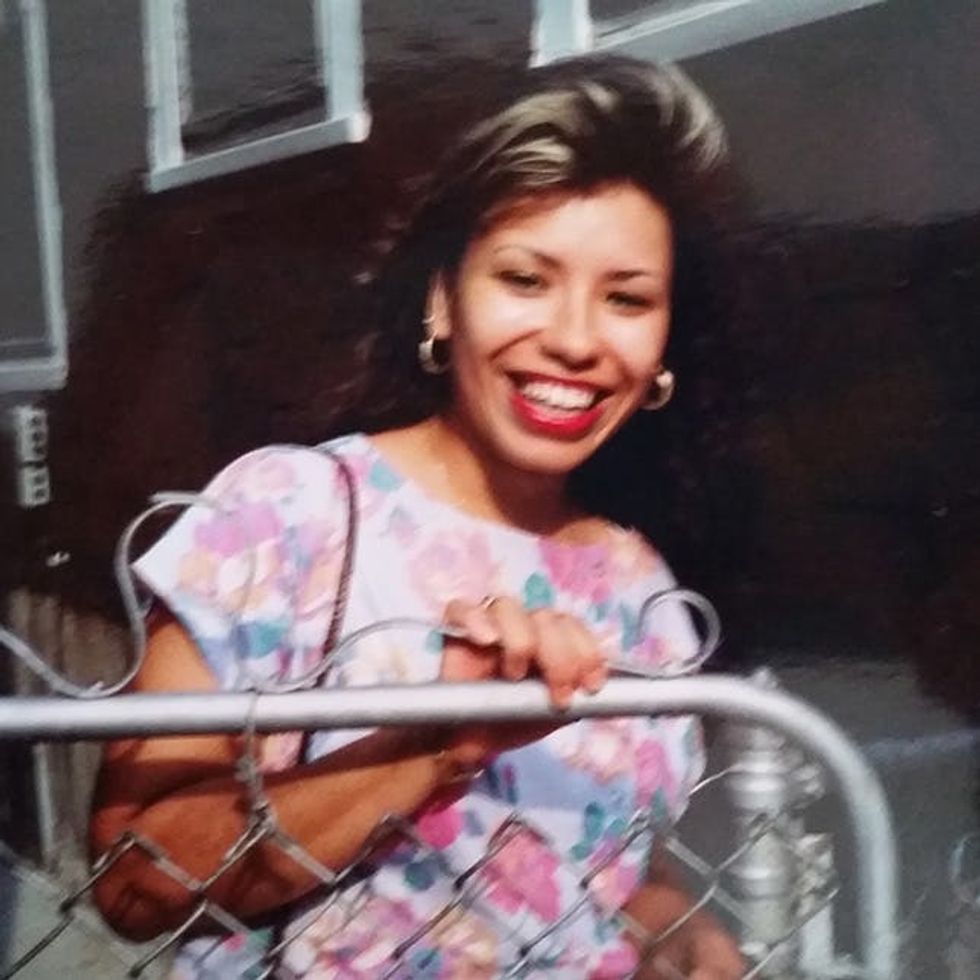 (Photo Credit: Milly Wang, Mom of Kimberly Wang, News Editor)
Way before balayage was a thing, women everywhere were adding blond highlights to their hair to add more dimension. The look is made even more fierce with the addition of classic gold hoops and boss red lipstick.
16. BLOND HIGHLIGHTS, HOOPS + RED LIPSTICK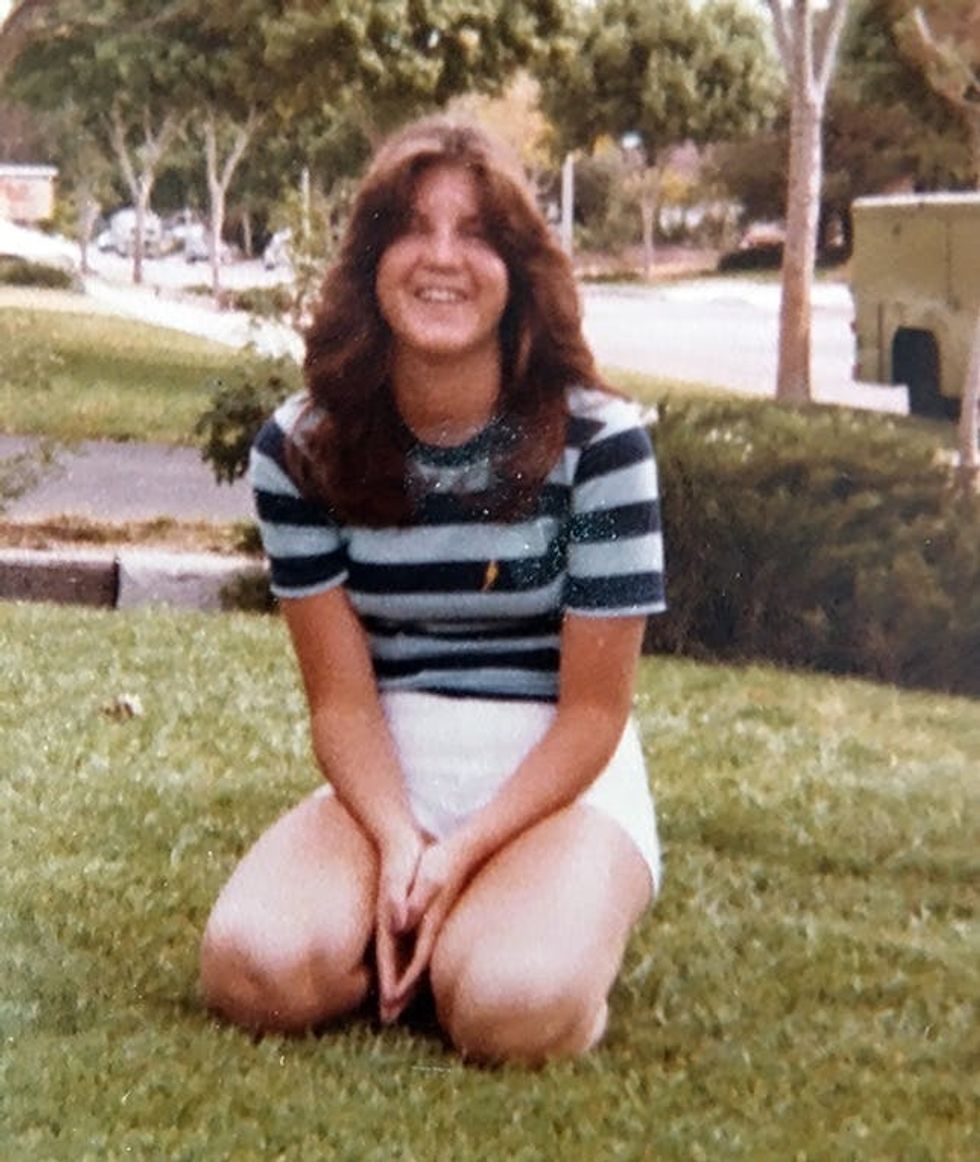 (Photo Credit: Jacqueline Diaz, Mom of Mariaclara Golfo, Senior Designer)
Who wears short shorts? Cheryl wears short shorts! Snapped on what I assume to be a leisurely Sunday in the '80s, this sporty look hits three major staples: white high-waisted short shorts, an athleisure-esque striped rugby top and, the pinnacle, feathered hair.
17. FEATHERED HAIR + STRIPES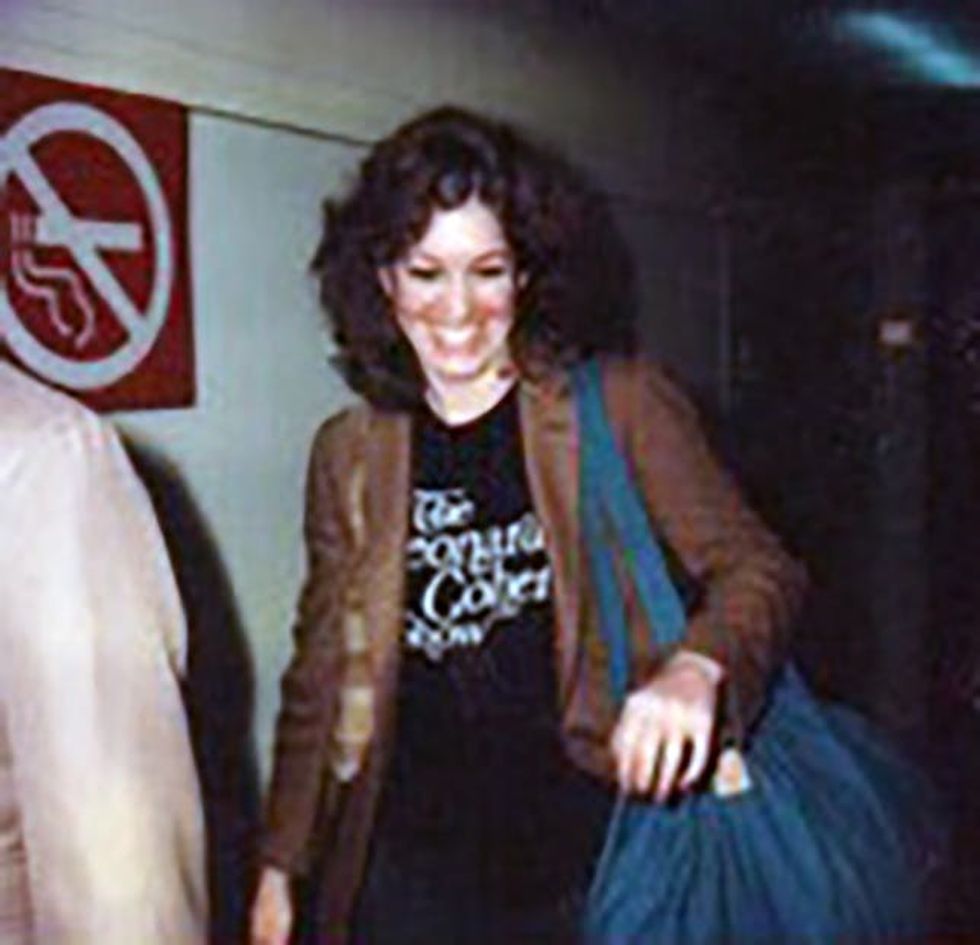 (Photo Credit: Cheryl Clift, Mom of Cortney Clift, Associate Editor)
Um, we NEED that Leonard Cohen Show t-shirt! This mama's style is completely timeless — this photograph could easily be from the '60s, '70s, '80s, '90s or even now. We love how she's paired a blazer-style leather jacket with a graphic tee, dressing it down while still looking top notch.
18. LEATHER JACKET + GRAPHIC TEE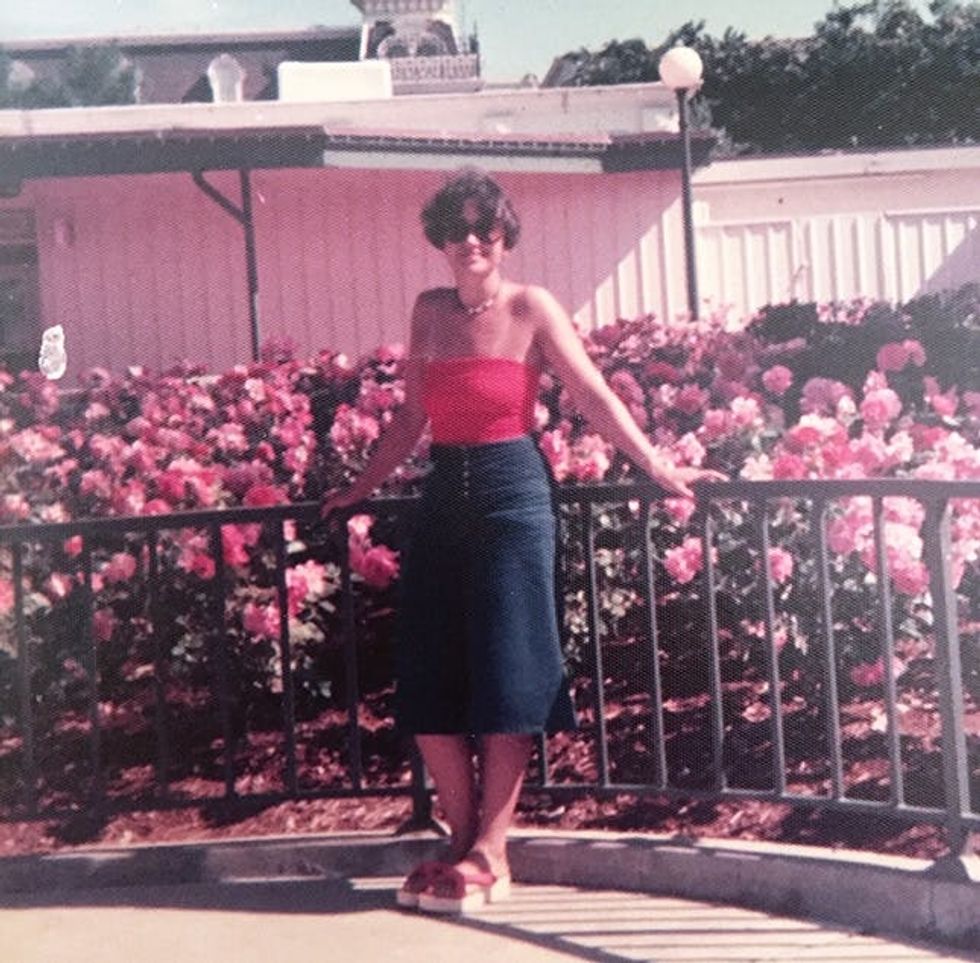 (Photo Credit: Bettina Broer, Mom of Elspie Hellerman, Recruiter & Talent Operations)
Everything about this outfit is something we want to wear… today. We'll go from head to toe to make sure you don't miss anything. First, that short 'do! Effortlessly chic and low maintenance. Next, we've got big glam sunnies — as you do. Moving on down, what's that we spot? A choker! Yes. A choker necklace that was obviously a preview of what really came of age in the '90s. From there, we've got a hip red tube top, flared denim skirt and platform sandals that look like they're straight off the runway.
19. CHOKER NECKLACE + TUBE TOP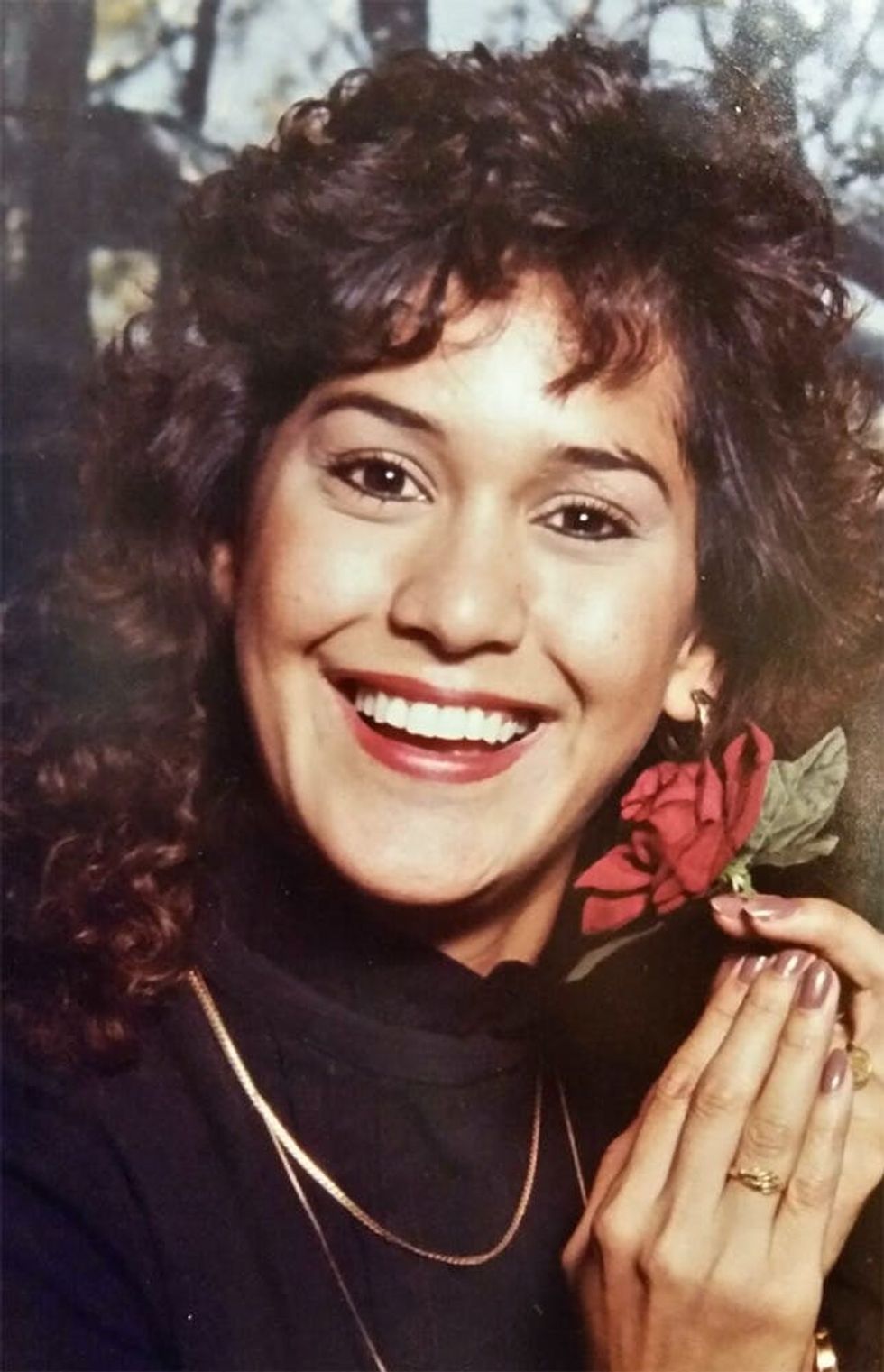 (Photo Credit: Rosa Kubena, Mom of Annie Kubena, Senior Visual Designer)
This look is all about those curls: up on the top, in the back and on the side. They seem to go on forever and ever, and this gorgeous mama is psyched! Now, about that rose pose? FLAWLESS.
20. ALL ABOUT THOSE CURLS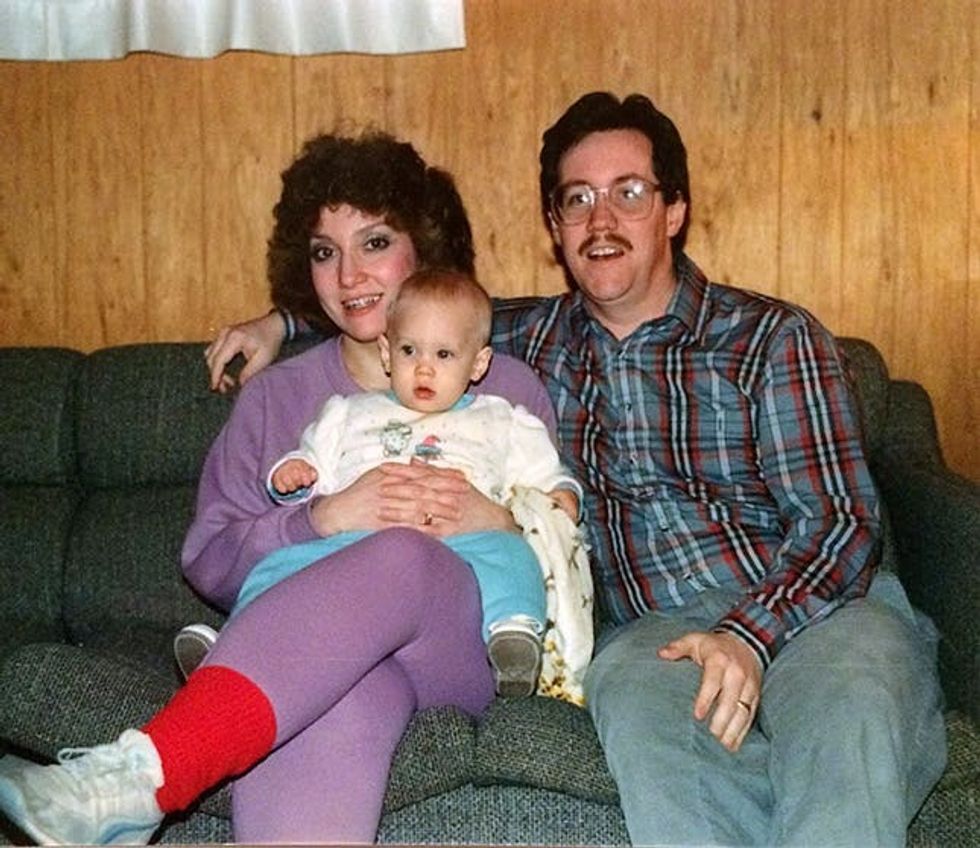 (Photo Credit: Graciela Becerra Canfield, Mom of Rosee Canfield, Designer)
Let's talk about all purple, all the time. We've got the purple spandex and purple sweatshirt, and I'm pretty sure I see a glint of purple eyeshadow up top. The red tube socks (or could it be? Are those LEG WARMERS?) add a nice pop of color and lead beautifully into a sporty pair of sneaks.
21. SPANDEX FTW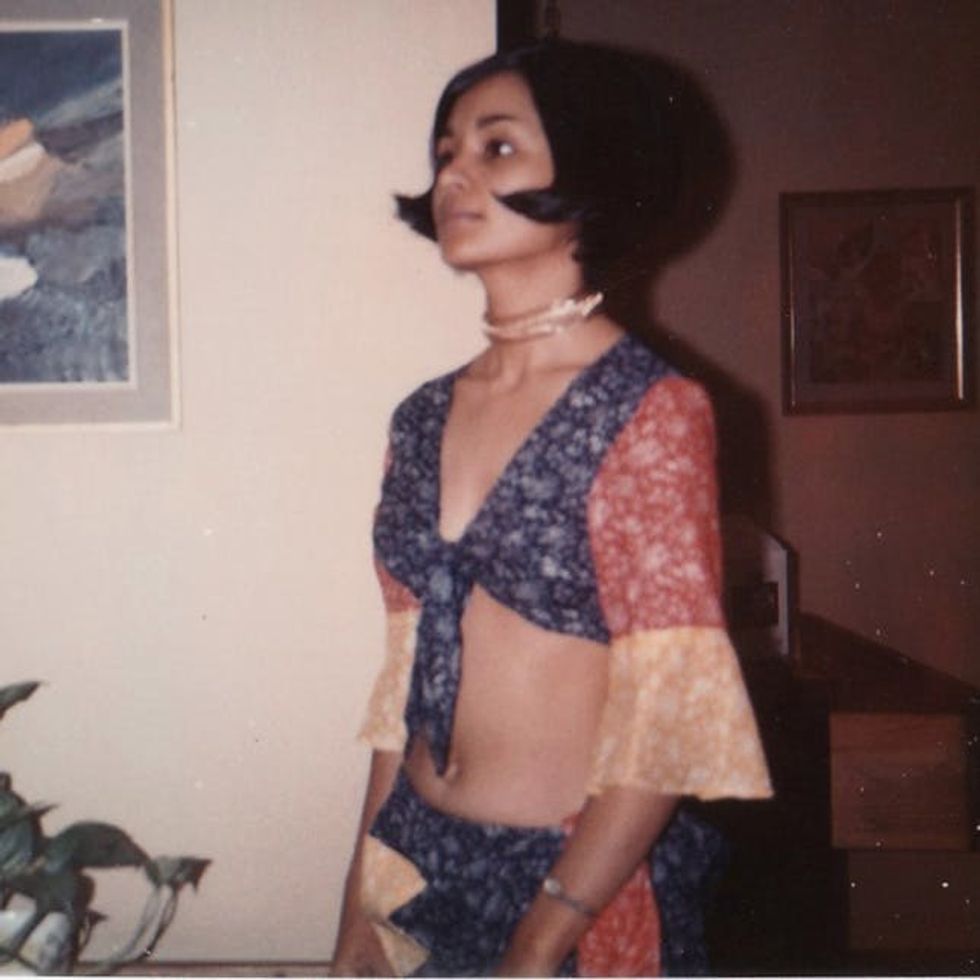 (Photo Credit: Gina Raphael, Mom of Lisa Raphael, Editorial Director)
Okay it may not be kosher to feature my mama twice, but how could I resist sharing this crop top twin set? The mixed patterns, the fact that the top is basically a bra with bell sleeves — it's all too good. And that haircut is on fleek.
22. CROP TOP TWIN SET
Anjelika Temple
As Co-Founder and Chief Creative Officer of Brit + Co, Anjelika Temple brings her voracious consumption of all things creative and colorful to DIY projects, geeky gadgetry finds and more. When she's not DIY-ing her heart out, you'll find her throwing dinner parties with friends or adventuring with her husband David, their daughters Anokhi and Indira, and their silly dog Turkey.
Trends and Inspo