3 Quick and Easy DIY Tutorials to Up Your Morning Beauty Game
Dec 03, 2015
Good morning, sunshine! Are you ready to learn three new ways to hack your morning in just about a minute a piece? We've teamed up with St. Ives to share three quick and easy DIY projects designed to make your morning bath and beauty routine more fun, playful and, yes, more beautiful.
---
Make Your Own #Flawless Makeup Bag
Beauty on the go? Check. Follow the video above to learn how to make your own totally #flawless cosmetics bag for keeping your daily makeup must-haves on hand at all times.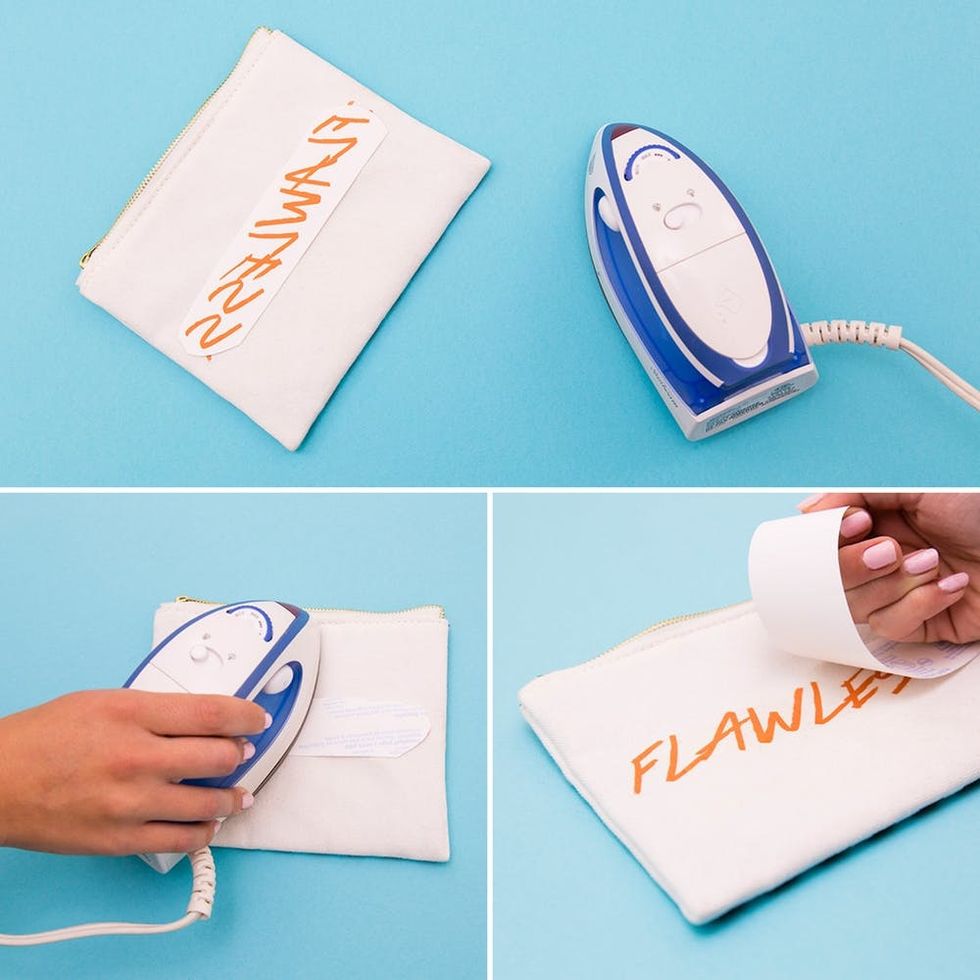 Tools + Materials:
– iron
– canvas zip pouch
– Flawless printable graphic (download here)
Instructions:
1. Download our Flawless graphic (or design your own).
2. Print your design on iron-on transfer paper.
3. Cut out your design.
4. Iron onto your canvas zip pouch. Easy peasy!
5. Fill your newly adorned bag with your favorite beauty go-tos like St. Ives Fresh Skin Apricot Scrub! :)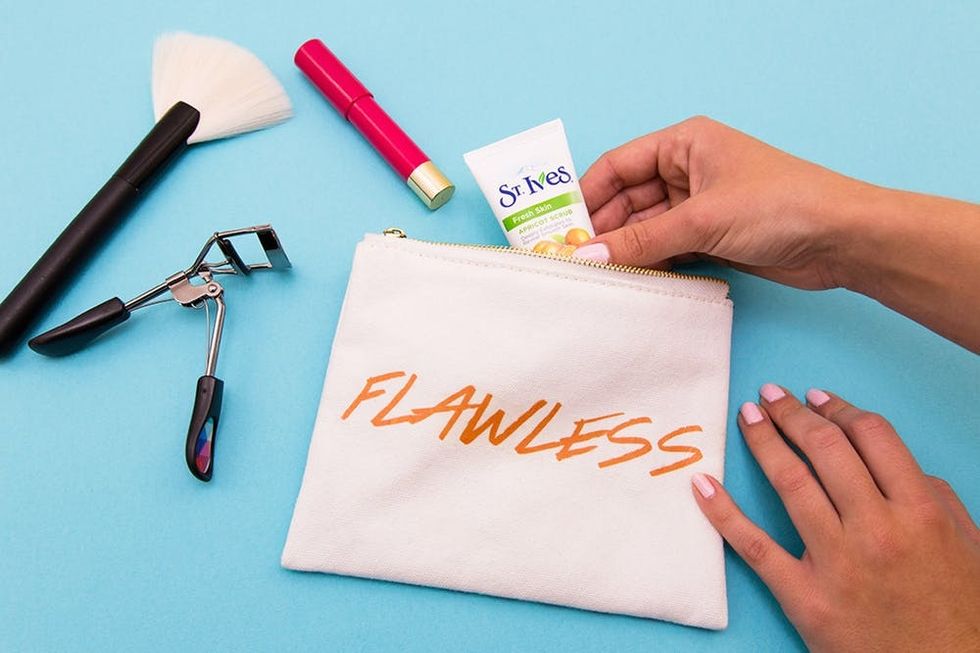 How fresh is that?
DIY This Easy and Chic Two-Tone Manicure
Nail art? Yeah, we got that too. Forget about using a bobby pin to make polka dots or old school reinforcement labels to make half moons. This look takes two tones and makes them pop!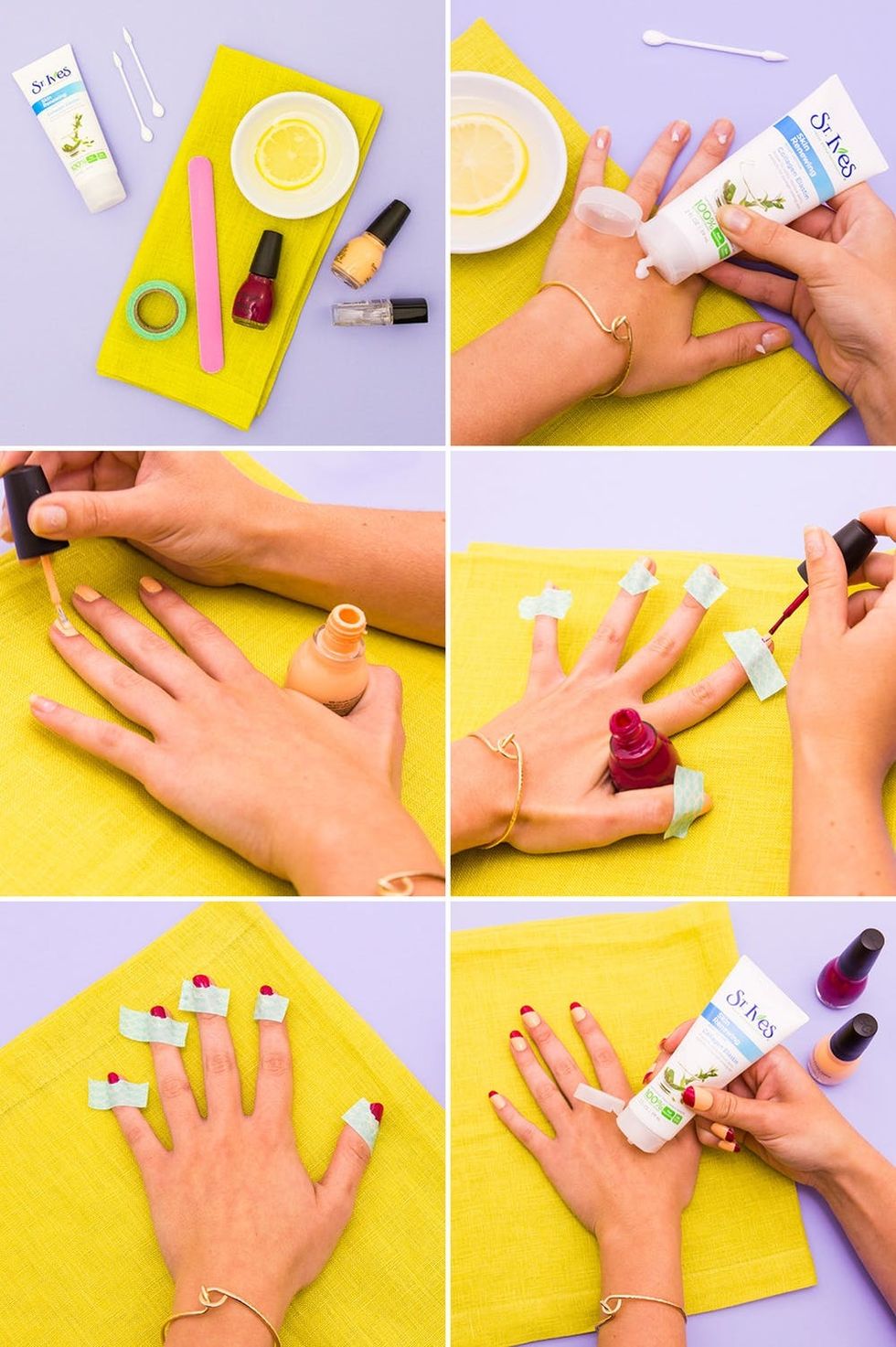 Tools + Materials:
– moisture rich lotion (our fave: St. Ives Skin Renewing Collagen Elastin Lotion!)
– two nail polish colors (we went with masala and peach)
– nail polish top coat
– nail file
– lemon
– water
– bowl
– cotton swabs
– washi tape
Instructions:
1. Soak nails in lemon water.
2. File them down.
3. Squeeze a little St. Ives Skin Renewing Collagen Elastin Lotion onto each of your cuticles and on the center of your hand to moisturize.
4. Apply your first color of nail polish to your nails. Add another coat if necessary. Let dry.
5. Color block with tape. We recommend angling your design.
6. Apply your second color and let dry.
7. Peel and reveal!
8. Top with a top coat to seal in your design.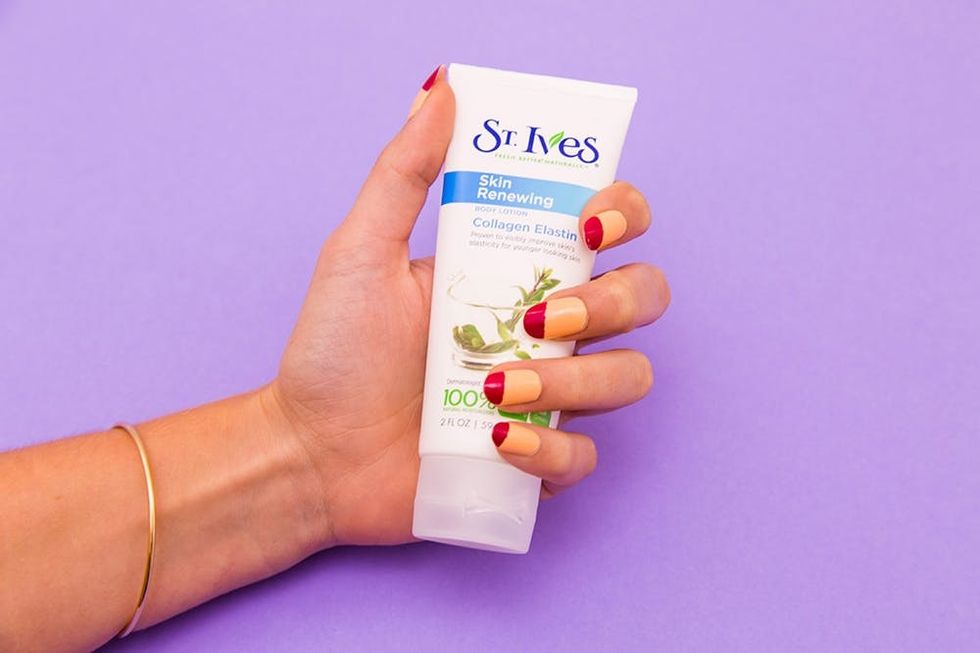 To those old-school French manicures, we have two words: Bye Felicia.
Build a Caddy to House Your Bath and Beauty Essentials
And finally, organization. We'll show you how to make a stylish wooden caddy to house all your bath and beauty items. Hang it on the wall, store it on a shelf or just carry it around your whole darn house if you really feel like mixing things up in the morning ;)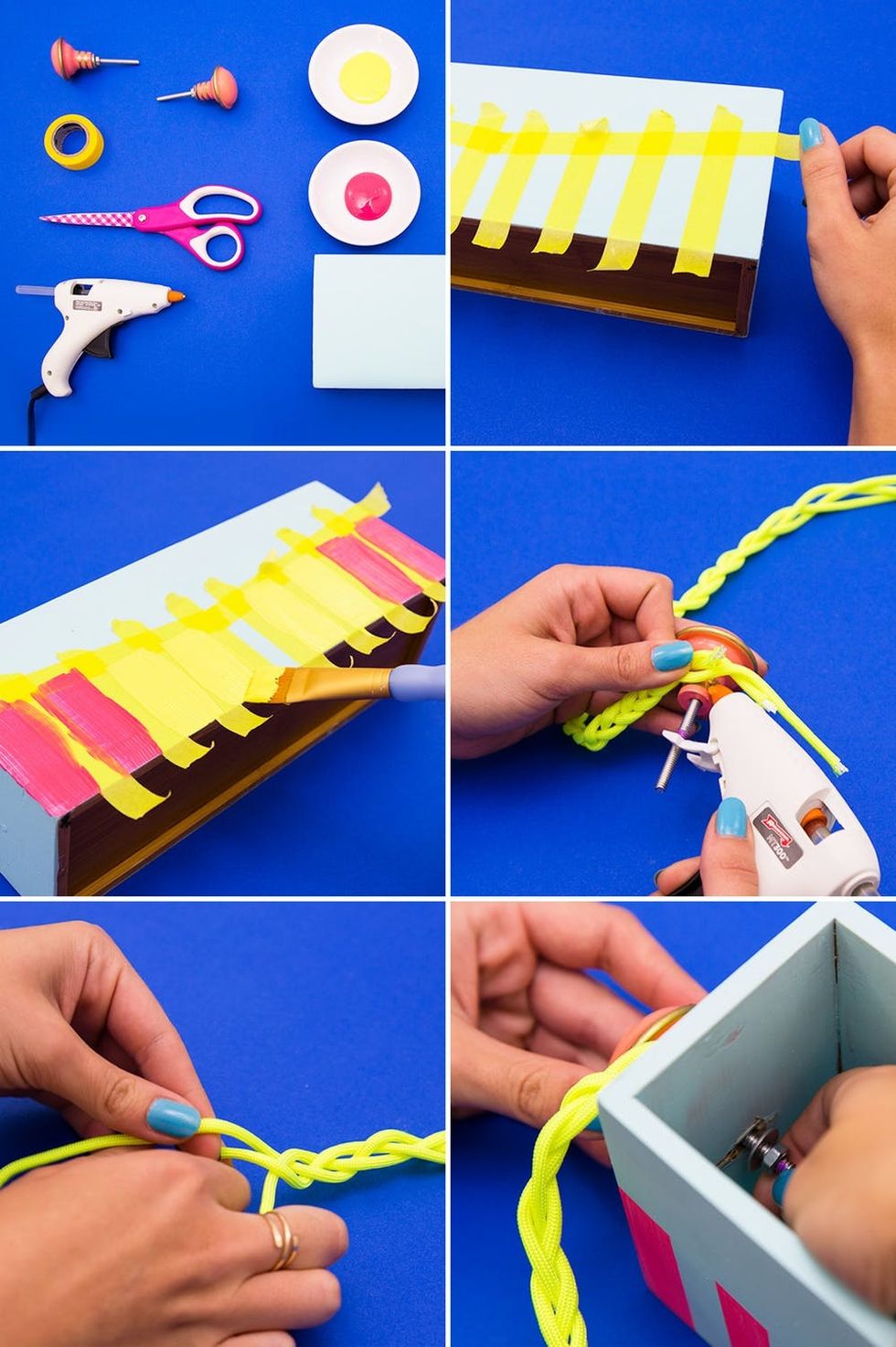 Tools + Materials:
– wooden box
– nylon rope or paracord
– paint in 3 colors
– paint brush
– decorative knobs
– hot glue gun + hot glue
– painter's tape
– scissors
– drill
Instructions:
1. Paint your box a base color of your choosing. Let dry.
2. Use painter's tape to create a design. Then paint in as you like. Let dry and peel off tape.
3. Measure three pieces of rope to slightly longer than the length you want your handle to be.
4. Braid the rope!
5. Tie each end onto your knobs and use hot glue to secure.
6. Drill holes into the side of your box.
7. Attach knobs.
8. Fill with your morning routine must-haves. Done!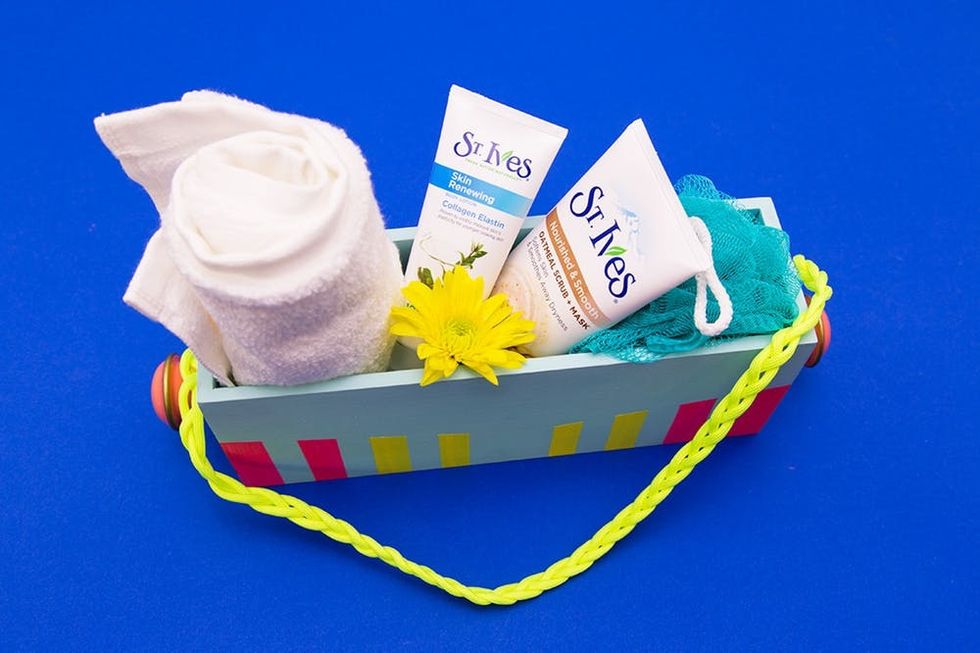 Just like that, you've learned how to make three things… in under five minutes! Even #LazyGirls can get behind that ;)
This post is a collaboration with St. Ives.
DIY Production and Styling: Alonna Morrison
Anjelika Temple
As Chief Creative Officer and Founding Partner at Brit + Co, Anjelika Temple brings her voracious consumption of all things creative and colorful to DIY projects, geeky gadgetry finds and more. When she's not DIY-ing her heart out, you'll find her throwing dinner parties with friends or adventuring with her husband David, their daughter Anokhi, and their silly dog Turkey.