You're Totally Using Your Gift Sets Wrong: Here's How to Hack Them
Dec 25, 2015
If you received special-edition makeup gift sets this holiday, you're probably insanely excited about all of the new goodies you just scored. But before you tear into 'em to test out those multiple mascaras, tubes of lipgloss and stacks of eyeliner (among SO many other things!) we're here to give you what might be the ultimate pro tip of holiday beauty pro tips: Don't open all of your products at once. Yes, we *are* that evil school master slapping your hands with a ruler rn, but trust me — holding off on cracking open every single piece of your holiday makeup set has big payoff, both for your 2016 makeup game plan and beauty budget.
---
The Gift Sets We Received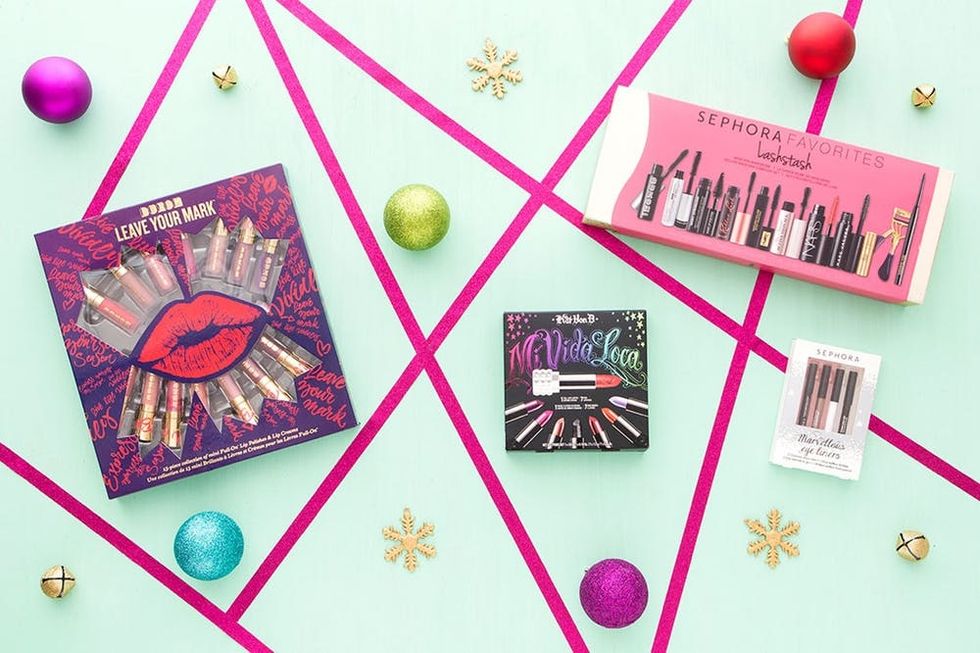 It is worth mentioning that some of these limited edition gift sets are no longer be available to purchase, but worry not: These approaches can be used with any beauty gift set you were able to get your hands on. Here's how these broke down: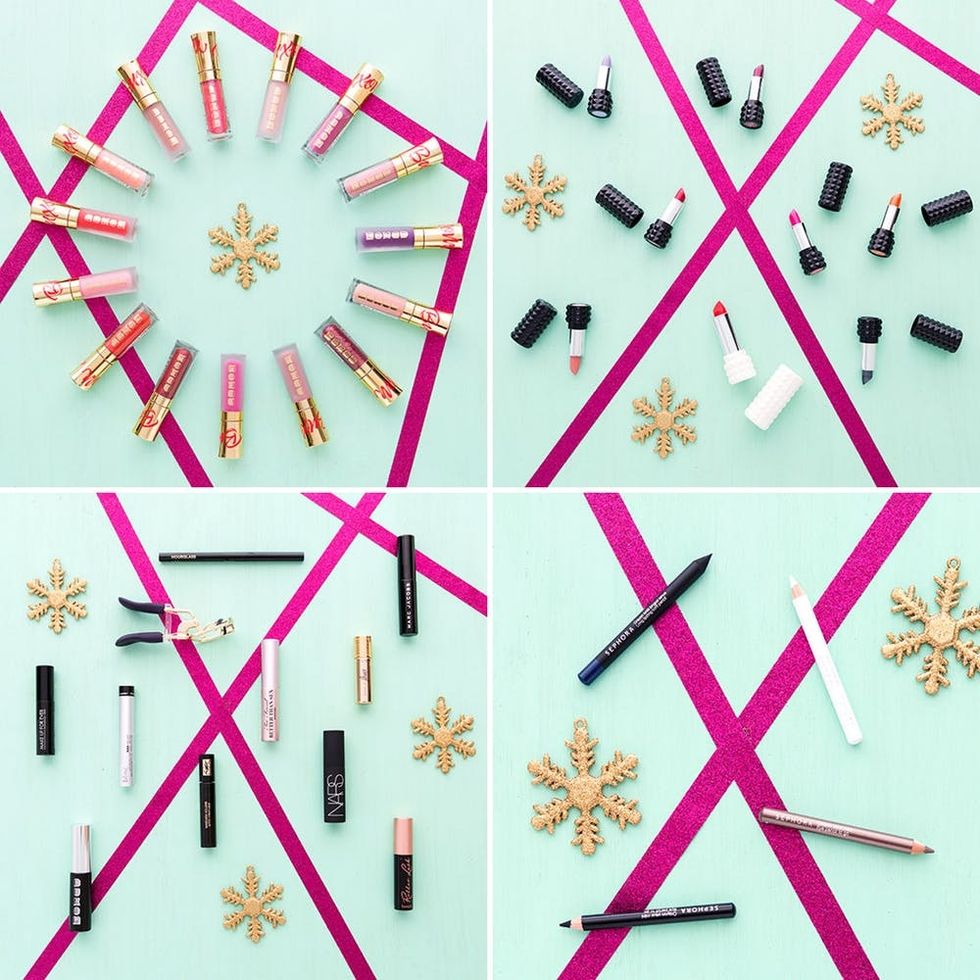 Lipgloss Gift Set: We got the Bare Escentuals Buxom gift set with 15 mini lip polish/cream set with hues that range in color from reds and pinks to nudes and plums — a great range of colors that can work all year round.
Lipstick Gift Set: We got the Kat Von D Mi Vida Loca Remix Studded Kiss Lip Set full of punchy, statement colors that are worthy to wear to so many occasions throughout the year.
Mascara Gift Set: How awesome is this set of mini mascaras that Sephora put together? It is rare to be able to find mini versions of our favorite full-size mascaras, but in this case there are eight to choose from. These scream travel-ready to me.
Eyeliner Gift Set: We got our hands on the Sephora Collection Marvelous Eyeliner pack that includes mini liners in four staple colors.
Once you unpack your makeup and lay it out like this, you can kind of already see how something from here and something from there might play SO well together. Here are the two ways we hacked our sets (+ the two ways you should hack yours!):
Hack 1: Divide + Conquer the Seasons
Whether you have just one gift set or several like us, the same idea applies: You want to break down the products into four groups according to the hues that can best be paired with each season.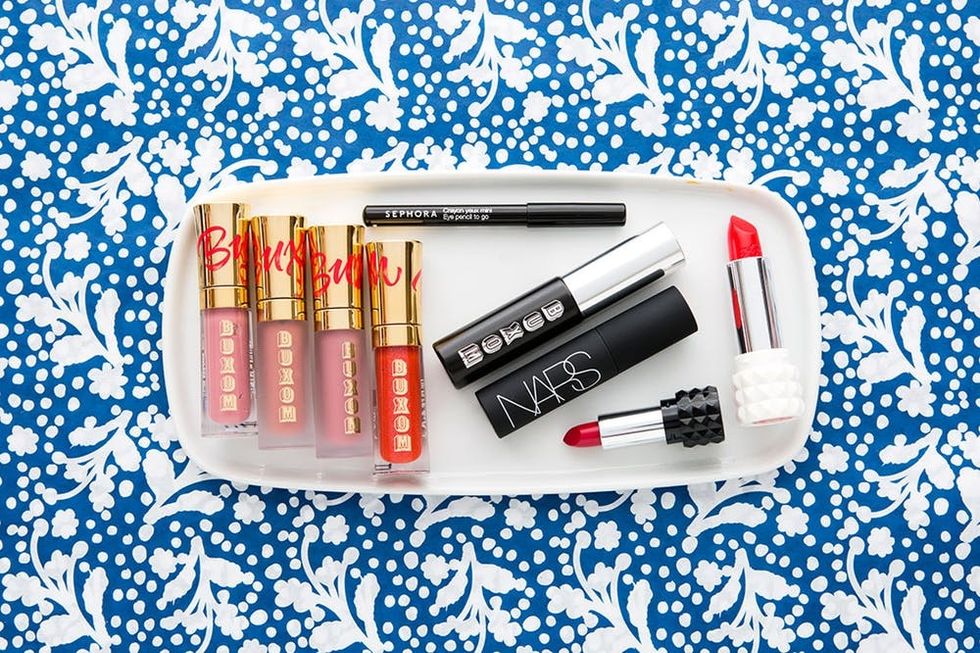 Winter: Since we're in the thick of it, we know that the holidays call for for bigger, brighter, bolder makeup moves. Go classic with your truest reds in the lip department and hoard that deep black eyeliner, which is essential for tight-lining your eyes to create a subtle pop of drama to help balance out a dark lip or layering to get that sexy smokey eye. Round out your winter kit with nudes and pale pinks to balance the look.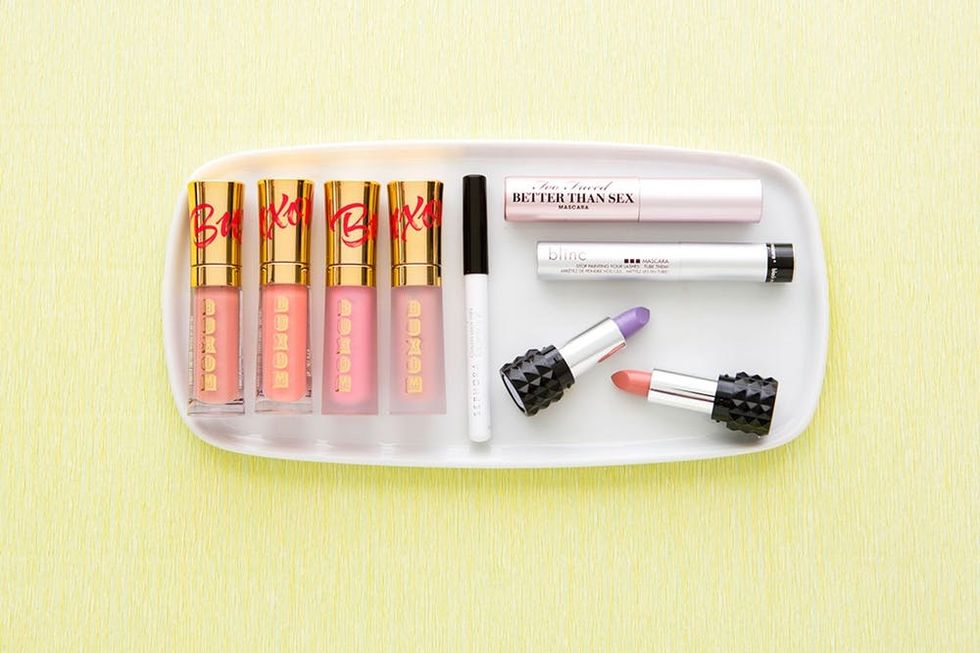 Spring: Lighten up from the deep hues of winter and move straight into a more pastel-driven palette. In this seasonal kit, I pulled colors that feel appropriate to wear to things like spring weddings (a gorgeous pinky-peach lip color) or brunch with your gals (a lavender lip, 'cause why not?). White eyeliner is a great way to offset these pretty pastels or to even wear a little graphic eye as an alternative to a brighter lip. Finally, two types of mascara that you can really double down on to get extra fluttery eyelashes.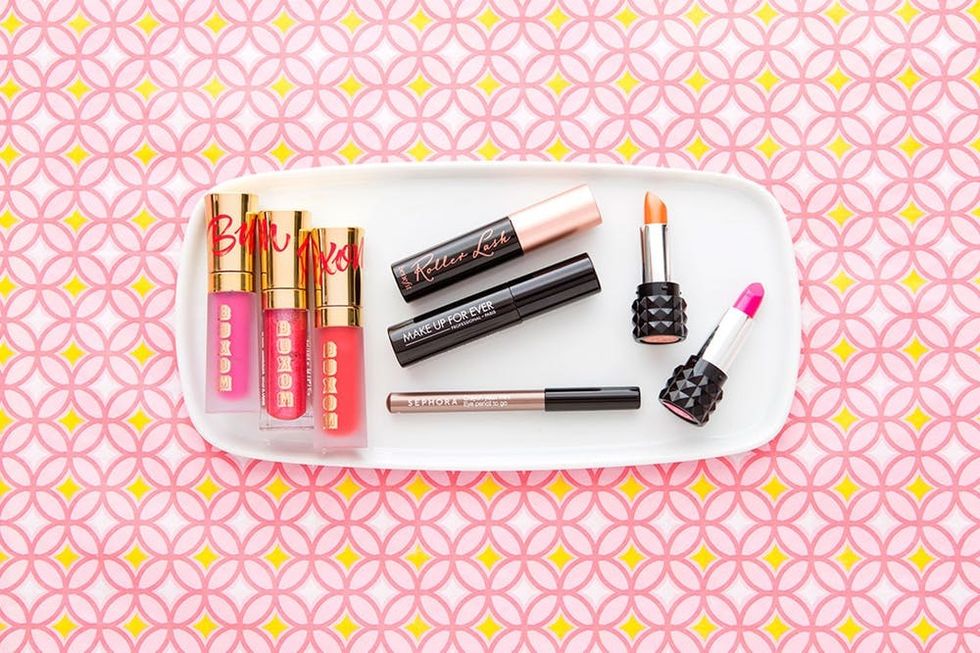 Summer: Feeling sassier and more vibrant now that you're starting to get that summer glow? I sure am! Now is the time when it's definitely appropriate to bust out the bright pink and orangey hues. When it comes to the best eyeliner to rock during the summer, the vote goes to a bronzed brown that can set your eyes just enough to wear to any outdoor occasion without overdoing the look.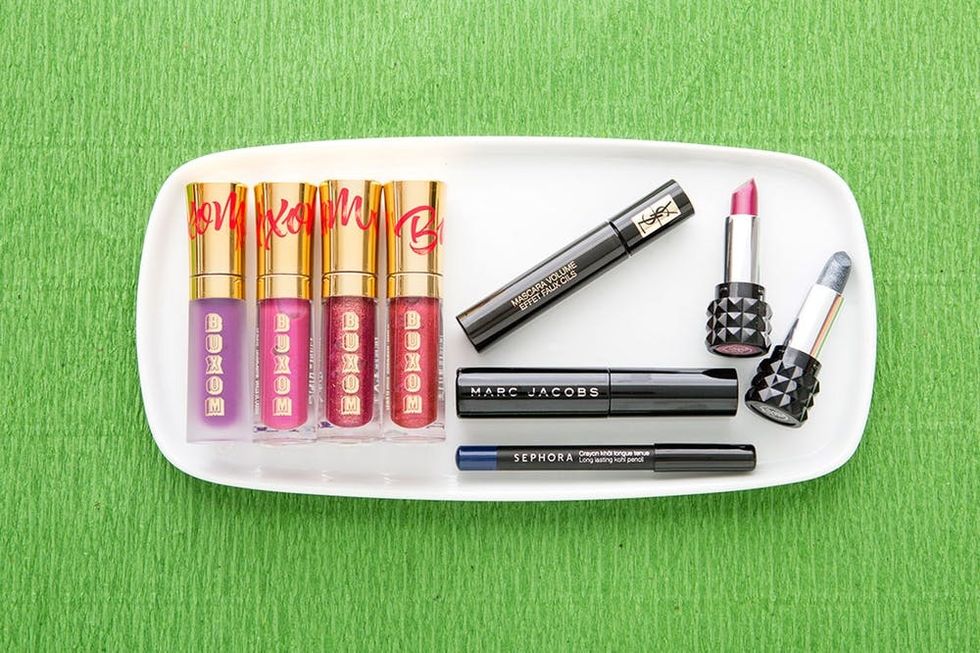 Fall: Now's a great time go a little more extreme with your lip hues. Here, I've pulled bright purple, pink, red and orangey hued lip glosses that can be worn alone or layered over either one of the two deep bluish-black or burgundy lipsticks. There is a blue eyeliner in this bunch, because a deep sparkly blue will help offset the warm jewel tones that fall calls for. This fall kit is topped off with two mascaras that you can keep separate from your daily makeup bag.
Hack #2: On-the-Go Mini Makeup Bags
There are plenty of moments where you really just need to have your makeup bag stacked with the essentials, but often the full-size staples make it very difficult to keep everything you want in your travel kit. These makeup minis that come in the gift sets are the perfect way to keep you ready to go at any moment.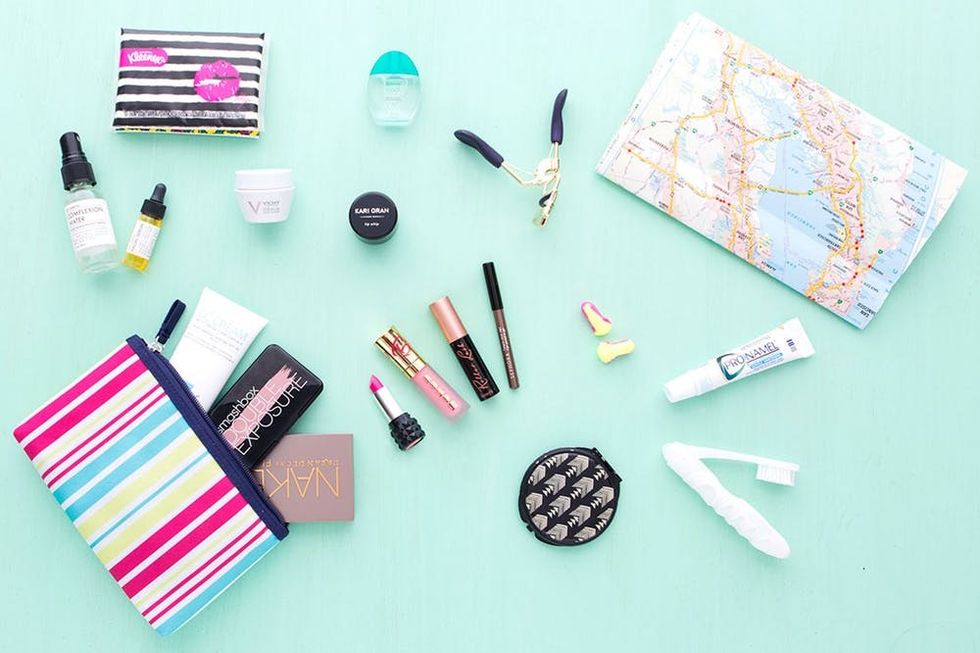 Travel Makeup Bag: Planes, trains and automobiles are no place for a full-size makeup kit. With all the ins and outs, stowing away, climate and pressure changes your makeup takes quite the beating. It is best to keep mini versions on hand that can endure the process of traveling. Here, I added a handful of some of the most versatile colors to round out our travel-ready makeup kit.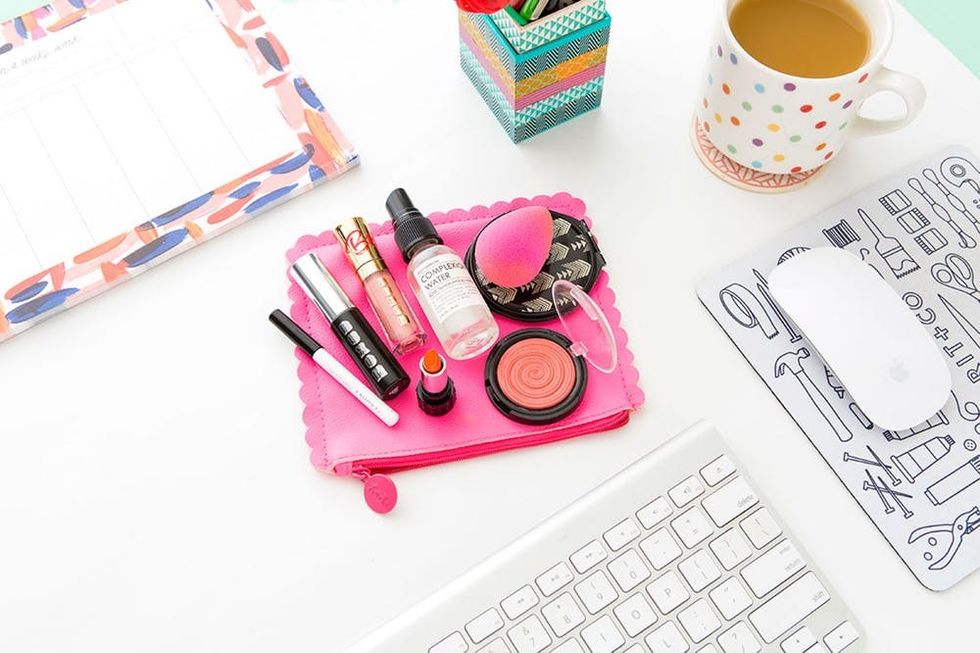 Office Makeup Bag: For those mid-day touch ups or for the stuff that can take you from the office to a date, it's better to keep these minis at your desk so you don't have to worry about bringing in your go-to stash with you to work, which often results in forgetting it overnight and having to go in makeup-less the next day. Powder pinks, corals and white eyeliner (to brighten your eyes on tired mornings) are essentials to stash in your cubical.
Night Out Makeup Bag: Ladies, you know those cute little clutches that we all have that barely fit our cell phone but we insist on keeping because we are definitely not going to dance the night away holding our overnight duffel bags? Yeah, these little makeup minis are a gem for those pouches. Tailor your makeup totables to your occasion, whether it's nude hues for weddings, bold reds for dates or unexpected colors for ladies nights.
Again, don't worry if you don't have your hands on these specific gift sets; the theory can be applied to any mini-makeup items. Nowadays, they're much easier to come by, even outside of the holiday season. Take the hacking to the next level and grab a few sample-size products wherever you see them throughout the year, gift sets or not! This is merely an example on what you can do if you think outside the box a little ;)
What ways do you use your gift sets?Tweet us your beauty hack stories @BritandCo!