Mitt Romney's Senate Announcement Reveals Sexist Double-Standards
Feb 16, 2018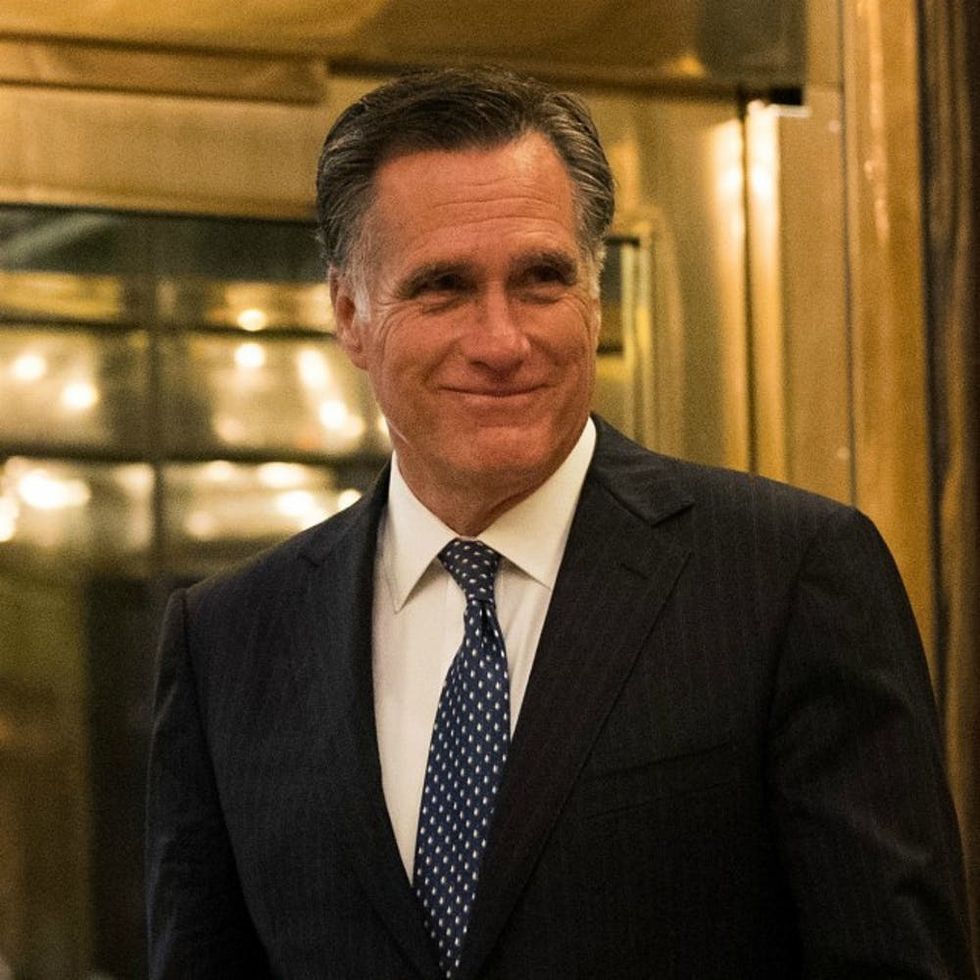 Mitt Romney is throwing his hat in the ring in this year's midterm elections, announcing via Twitter today that he would be running for Senate in Utah — and revealing the sexist double-standards we have about political candidates.
---
"I am running for United States Senate to serve the people of Utah and bring Utah's values to Washington," Romney tweeted Friday morning. In the accompanying video, he shares a brief story of how he helped turn the 2002 Salt Lake City winter games around thanks to Utahan volunteers, and says that the state has a lot to teach Washington. Utah, Romney explains, has a balanced budget, a manufacturing sector that exports more than it imports, and the way the state treats immigrants is humanizing and respectful, digging at the federal GOP and its decision to repeal DACA.
Many have pointed out that Romney's re-entering the political arena hasn't been met with the same lack of respect some felt was given to Hillary Clinton in previous years.
Mitt Romney is the same age as Hillary Clinton.

He was not a Secretary of State.

He was not a United States Senator.

But I don't see people telling him to go away or take up knitting.

— Denizcan James (@MrFilmkritik) February 16, 2018
Need a good explanation of the double standard between how media covers Mitt Romney versus Hillary Clinton? THREAD. https://t.co/TCsfpdzlCR

— Charlotte Clymer🏳️‍🌈 (@cmclymer) February 16, 2018
"If you give me the opportunity," Romney pledges, "I will owe this Senate seat to no one but the people of Utah. No donor, no corporation will own my vote or bias my campaign. And let there be no doubt — I will fight for Utah."
While Romney's about-face seems like it could be a boon for the state of Utah, political pundits are pointing out that the former Governor's track record might be something to keep in mind.
Friendly reminder that Mitt Romney wanted all undocumented immigrants to self-deport. He also chose Paul Ryan as his running mate and actively sought Trump's endorsement in 2012 and flew to Vegas to receive it.

— Denizcan James (@MrFilmkritik) February 16, 2018
mitt romney rolled out an endorsement from trump in 2012
he spoke out against trump in 2016
then after the election he sucked up to trump hoping to be secretary of state
mitt romney is an unprincipled, power-hungry politician pic.twitter.com/7zwX2wWT2J

— Oliver Willis (@owillis) February 16, 2018
Hey, now that Mitt Romney has announced he's running for Senate, it's a perfect time to remember that MITT ROMNEY THINKS PEOPLE ARE NOT ENTITLED TO FOOD. https://t.co/qIgnkGGxSb pic.twitter.com/YpxWZvasup

— Melissa McEwan (@Shakestweetz) February 16, 2018
Romney has deep ties to the state of Utah, although he formerly was the governor of his home state of Michigan. The 70-year-old took the helm at the 2002 Utah winter Olympics, turning what could have been a financial disaster into a successful event, even giving him the nickname, "the turnaround artist."
Romney's decision to run in Utah comes with the state's long-standing senator, 83-year-old Orrin Hatch's retirement. And although the state is decidedly conservative, politics watchers aren't sure how it will play out. "I don't know if I see a Sen. Romney vote that different than Sen. Hatch or the rest of Utah's delegation," Utah's Lt. Gov. Spencer Cox told Vox.
"It's a very conservative state, and I think Mitt Romney, at least through his last presidential run, the policy that he advocated for will be very similar."
After losing the presidential race in 2012 against Barack Obama, Romney and his wife settled outside of Salt Lake City, building a home. He was the first Mormon to ever secure a presidential bid.
What do you think of Mitt Romney's campaign announcement? Let us know @BritandCo!
(Photo via Drew Angerer/Getty Images)
Kat Armstrong
Kat has been a writer, social media maven and mom for longer than she's willing to admit. She's also spent time in front of and behind the camera, interviewing celebs, politicians and acting as a producer for fashion and artistic photography shoots. When she isn't writing for various orgs and publications, she's hanging with her kids, husband and French Bulldog, Peter, in Toronto, Canada.
Politics
Still haven't taken up that new creative skills you swore you'd learn this year? Or ready to take your design skills to the next level? Let's say so long to the weirdest year ever by checking those big learn-something-new goals off our perpetual to-do lists.
We've teamed up with Clorox to give you the gift of unlimited creativity now through the end of the year. Once you sign up, you can take as many of our 120+ classes as you want for FREE for one whole month!
Here's how it works:

Head to brit.co/learn and sign up for the "All Access Pass."
Use the code "CLOROXCARES" at checkout to redeem your free month of classes.
You will be automagically signed up for Clorox's email list once you redeem your free all access pass. (It's the #1 Choice for Disinfection!)
Your pass lasts one month from when you checkout. This means you have unlimited access to all the classes during that month.
This offer is valid now through December 27, 2020.
Browse our catalog to find the right class for you, tell a friend and take the class together over Zoom, or organize a 'cocktails + crafts' night with a friend in your bubble so you can learn something new together.
What are you waiting for? Time to start learning all the things!

Thanks to Clorox for making this happen! When it counts, trust Clorox.
Lifestyle