Get the Cold-Weather Jacket Every Fashion Girl Is Wearing for Under $150
Feb 13, 2017
The first official day of New York Fashion Week brought with it a serious dose of winter weather — specifically, snow and freezing temps. But that didn't stop fashion's most dedicated from braving the elements in style. No, show-goers this season proved this wasn't their first rodeo by throwing on their cold-weather best and getting down to business. The MVP for outerwear this season? That would be the shearling moto jacket.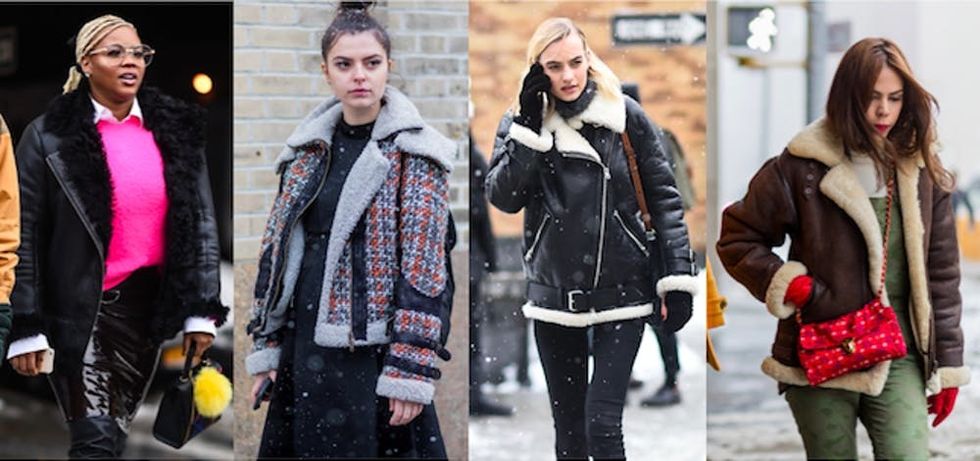 ---
In iterations varying from basic black to brown to tweed, the fashion crowd showed just how possible it is to look hot when it's cold out. Want to cop your own version without leaving your bank account on thin ice? Check out our current favorites available now for under $150. (Photos via Daniel Zuchnik/Getty, Christian Vierig/Getty, Daniel Zuchnik/Getty, Christian Vierig/Getty)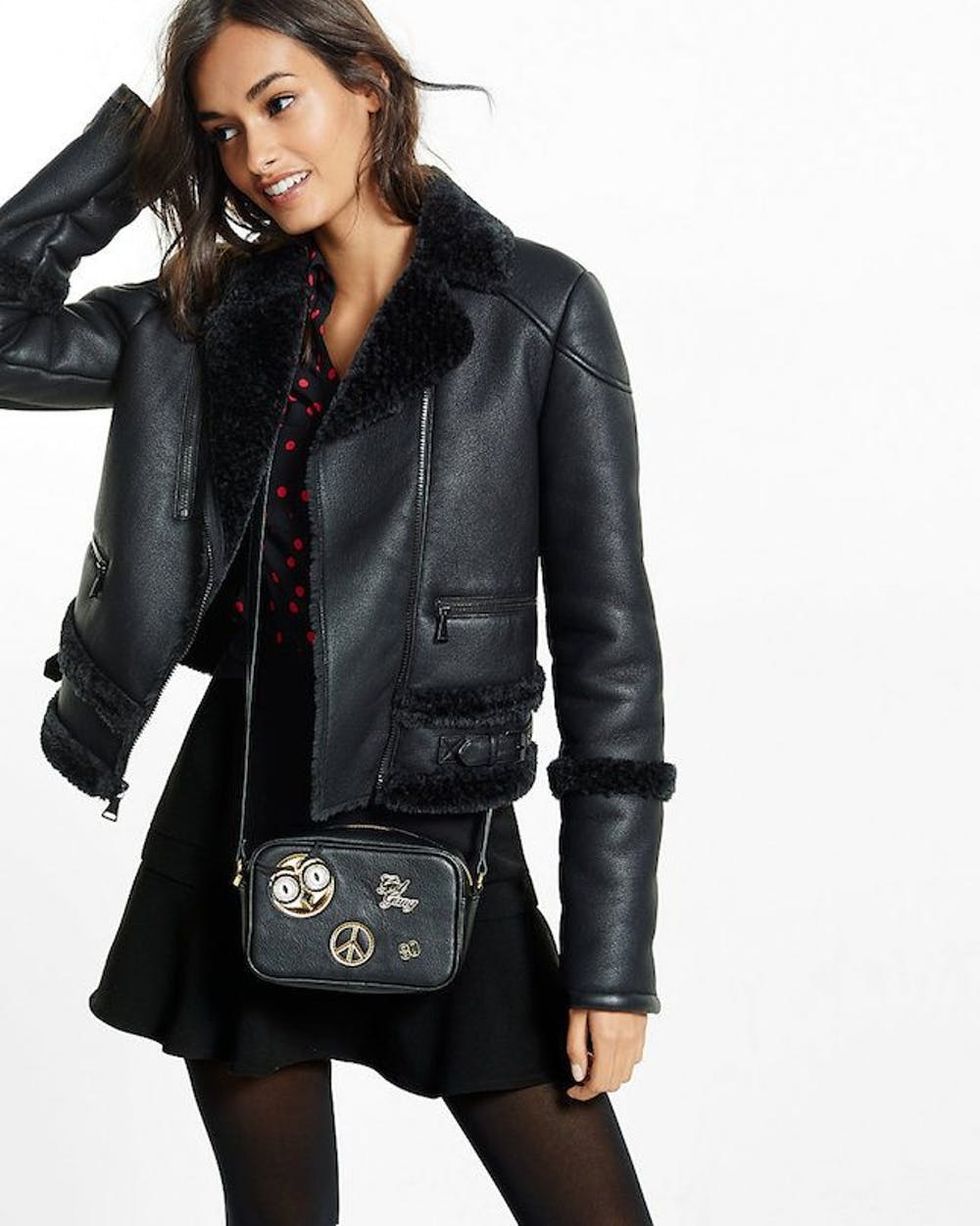 1. Express Black Faux Shearling Moto Jacket ($121): All black everything goes with, well, everything. This will be a closet staple, for sure.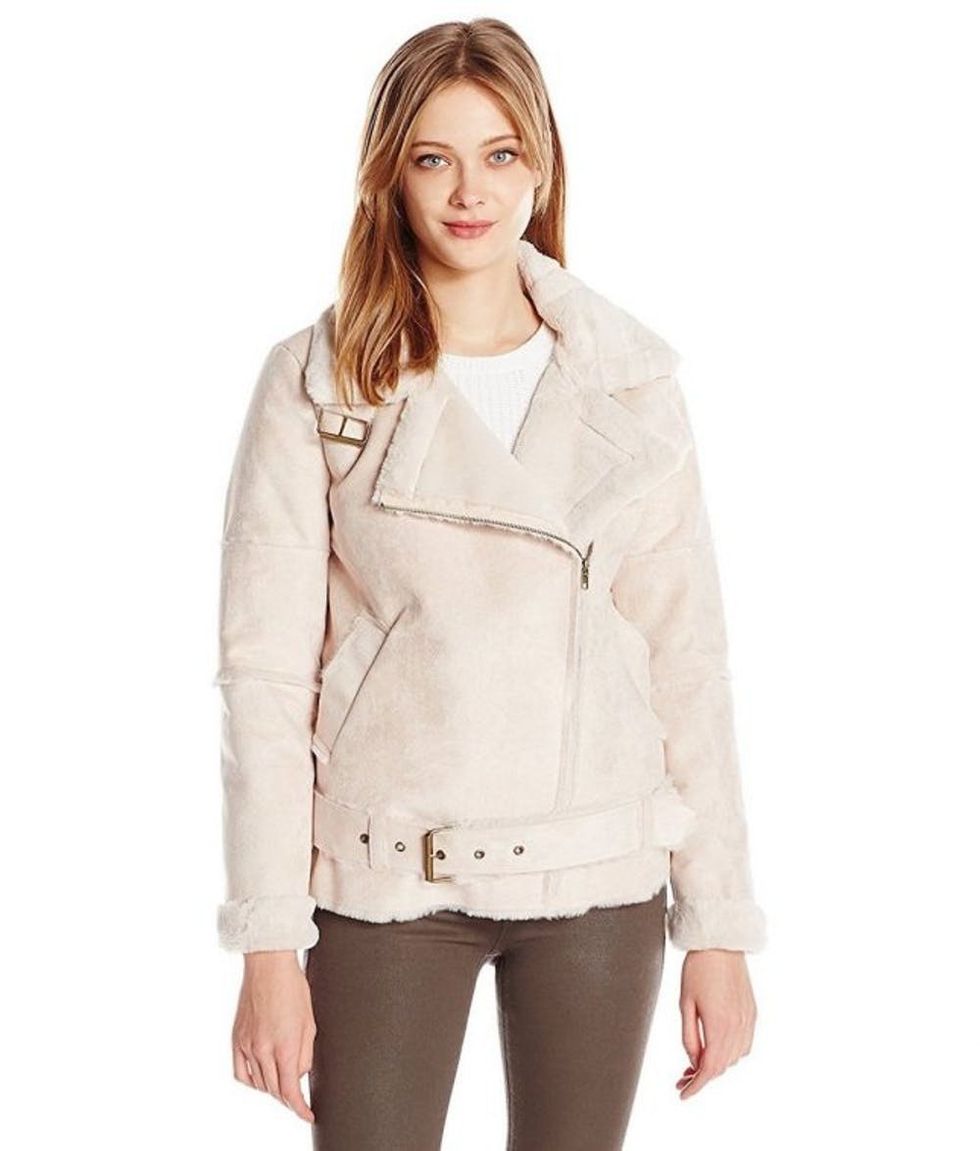 2. J.O.A. Women's Shearling Moto Jacket ($145): With pink being one of this season's strongest trends, this option is both cozy and current. It's the perfect way to nod to Spring 17 when the weather is still pretty much winter.
3. PrettyLittleThing Faux Suede Aviator Jacket ($83): For when you're over black but you still need a versatile shade, this dove gray option gets the job done. The soft color also adds a touch of femininity to the typically tough moto shape.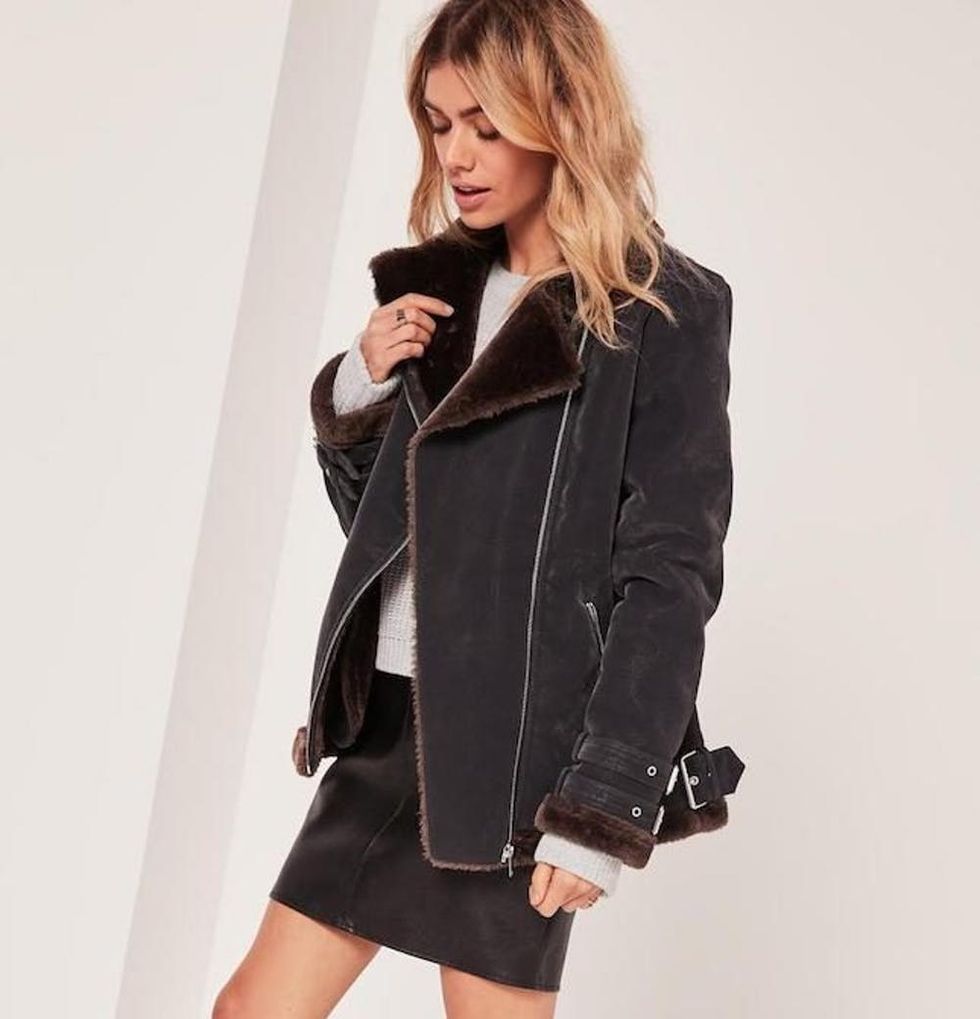 4. Missguided Faux Fur Lined Aviator Jacket Black And Brown ($117): Totally luxe-looking without hurting your wallet? #Winning.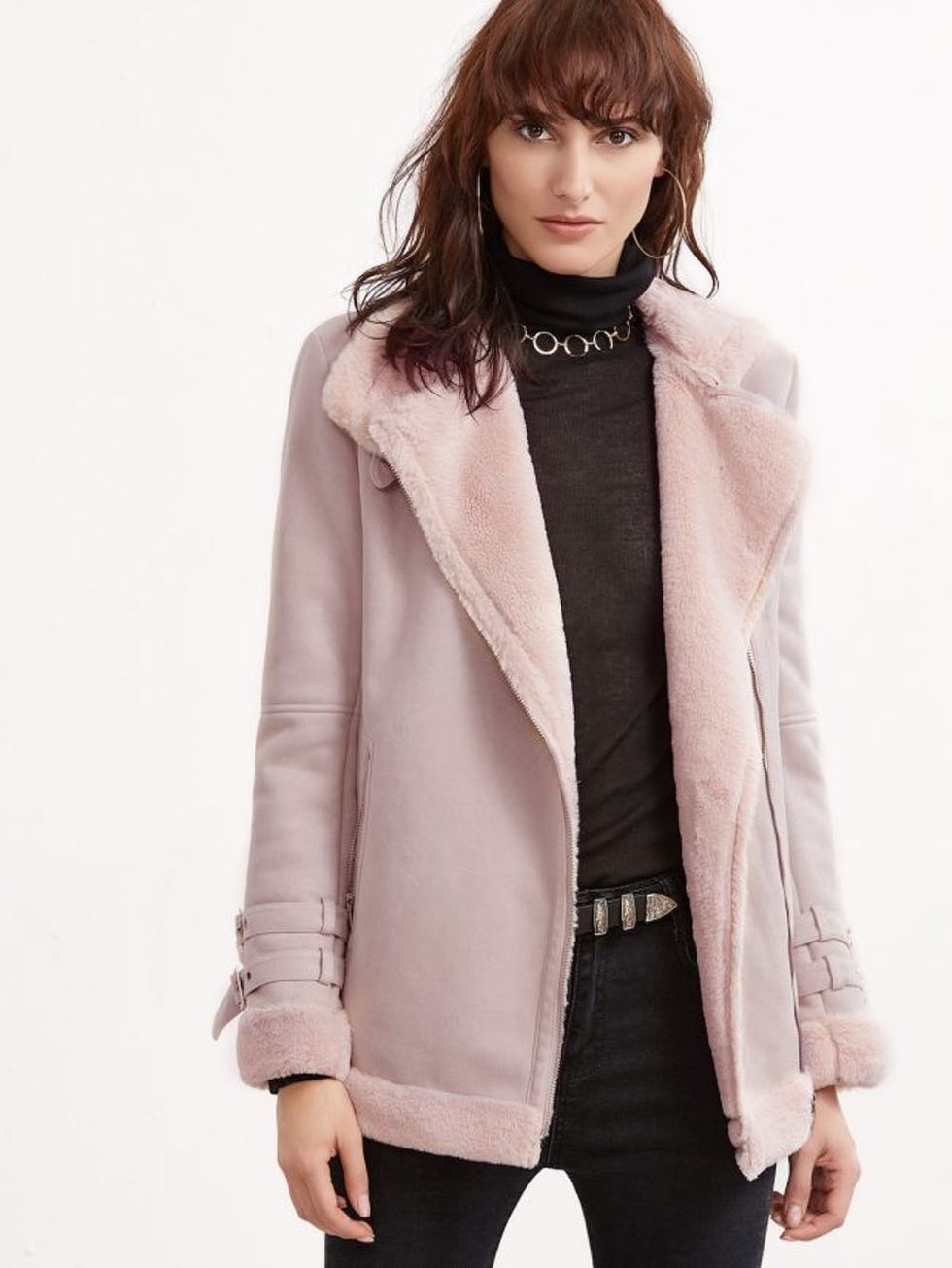 5. Make Me Chic Pink Belted Collar and Cuff Asymmetric Zip Faux Shearling Jacket ($58): Edgy and girly at the same time, with a double-digit price tag! Give it here, now.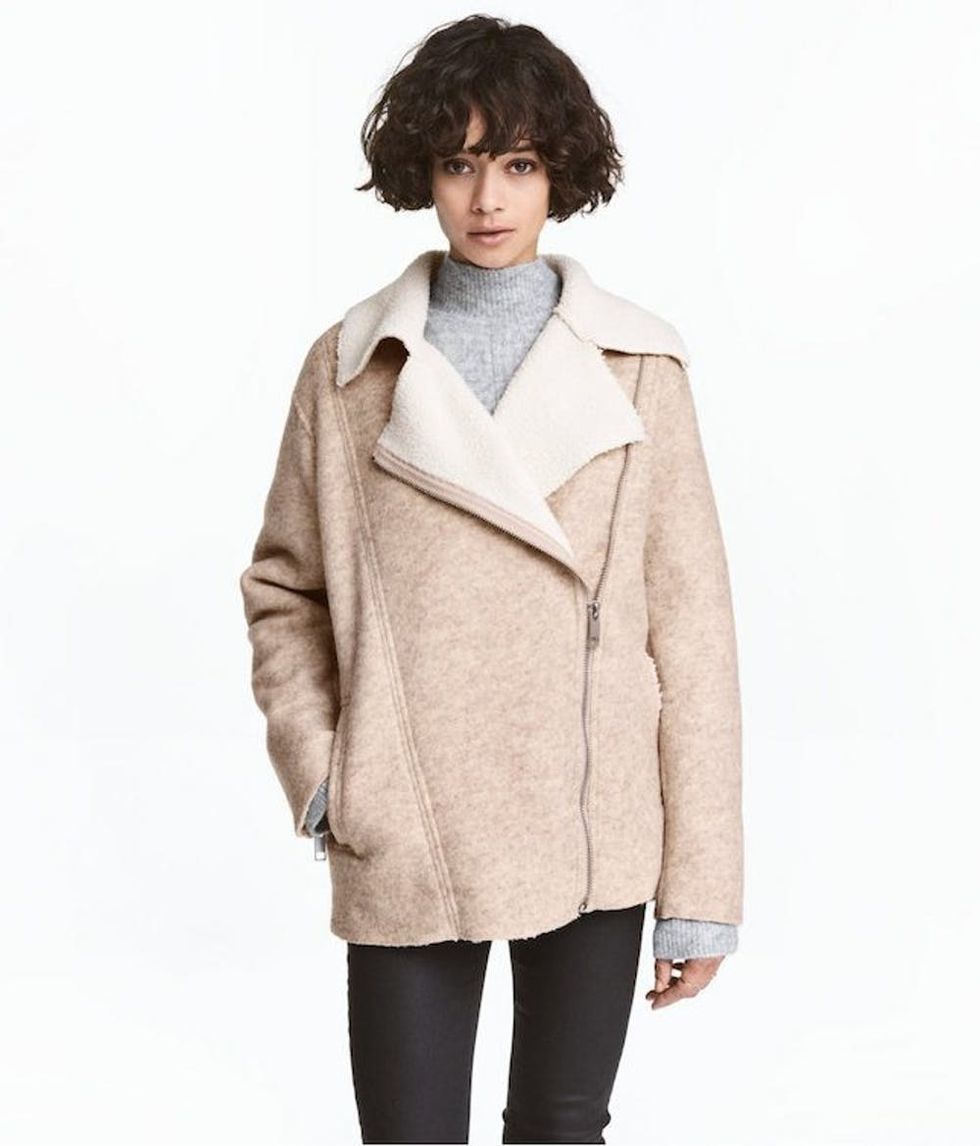 6. H&M Wool-blend Biker Jacket ($70): In felted wool and a soft beige color, this option feels casual cozy. Plus, the fresh fabrication makes it the perfect transitional piece.
Want more street style inspo? Follow us on Pinterest!
Brit + Co may at times use affiliate links to promote products sold by others, but always offers genuine editorial recommendations.
Celeb Style
We all have a million dollar business idea (or 2...or 3…) that we think *someone* should do. Why not you? Part of the motivation for Brit + Co's new interactive business course Selfmade is to help women develop their business idea into an actual living/breathing/thriving business. But it's also a way to figure out what that idea is. Maybe you have a few ideas, or need to refine a really good one, or maybe you have something with potential but just need to brush up on the business side of things. Well you're in luck. Thanks to Office Depot, we're here to share a quick recap on how we're helping our students figure out how to pick an idea and run with it. Feeling a little Selfmade fomo? Check out these tips for knowing if your idea is fully baked.
<p><strong>Know your audience:</strong> Who are they? Where are they? And what pain point are you trying to solve for them? "How would you define who that audience is?," said Brit Morin during this week's session. She goes on to suggest you develop a persona of your core customer: What's her name? Does she have children? Have visuals of who she is and what her day looks like and what she thinks about every day. "A lot of times I see businesses fail to scale because they're just trying to serve everybody and are very generic," adds Brit.</p><p><strong>Understand your market:</strong> How big is the market you're targeting? Is it growing? You can find market reports online for anything from weddings to babies. Does your business have potential for repeat business? For example, a wedding client will likely (hopefully!) only need you one time so how do you plan to grow? Will you target the same client or will you evolve your services to cater to that changing demographic? Martha Stewart is a business that evolved with her audience while most fashion mags stay focused specifically on 20- and 30-somethings for the long haul.</p><p><strong>Level up your business idea:</strong> What's your twist? Think about what differentiates you from your competitors. For example, if you're a photographer, maybe you focus on newborns and hook up with a maternity ward or sell seasonal packages. Brit talks about <a href="https://punkpost.com/stories/about-us" target="_blank">Punkpost</a>, created by Alexis Monson, a Brit + Co alumni who, instead of selling greeting cards in a dying snail mail market, she created an online marketplace for greeting card designers. How does your business stand out in your market's crowd?</p><p>Committing to an idea is hard, and SO exciting. Once you've figured out your direction, Office Depot OfficeMax can help turn your idea into a reality with a full suite of<a href="https://www.officedepot.com/cm/services/office-depot-services?cm_mmc=bl-_-aq-_-url-_-bc&amp;cm_mmca1=internal&amp;cm_mmca2=uf&amp;utm_source=blog&amp;utm_medium=social&amp;utm_campaign=bc_na_url_internal_uf_aq&amp;utm_content=tea_na&amp;utm_term=tea" target="_blank"> business services</a> &amp; solutions to help you &amp; your business succeed. From<a href="https://www.officedepot.com/cm/print-and-copy/print-services?cm_mmc=bl-_-aq-_-url-_-bc&amp;cm_mmca1=internal&amp;cm_mmca2=uf&amp;utm_source=blog&amp;utm_medium=social&amp;utm_campaign=bc_na_url_internal_uf_aq&amp;utm_content=tea_na&amp;utm_term=tea" target="_blank"> print &amp; copy services</a> to help build your brand to products to help you<a href="https://www.officedepot.com/cm/multi-category/work-from-home?cm_mmc=bl-_-aq-_-url-_-bc&amp;cm_mmca1=internal&amp;cm_mmca2=uf&amp;utm_source=blog&amp;utm_medium=social&amp;utm_campaign=bc_na_url_internal_uf_aq&amp;utm_content=tea_na&amp;utm_term=tea" target="_blank"> work from anywhere</a>, learn about all the ways they can help<a href="https://www.officedepot.com/cm/marketing/small-business?cm_mmc=bl-_-aq-_-url-_-bc&amp;cm_mmca1=internal&amp;cm_mmca2=uf&amp;utm_source=blog&amp;utm_medium=social&amp;utm_campaign=bc_na_url_internal_uf_aq&amp;utm_content=tea_na&amp;utm_term=tea" target="_blank"> businesses</a> like yours, accomplish more.</p>
Lifestyle