The Best Fashion Brands to Buy Now and Resell Later, According to the Pros
Mar 17, 2017
All that hustle has finally paid off: Be it a new gig or promotion, your new girlboss status means you finally have a bit of extra cash to lay down on a designer bag or some hot-off-the-runway threads. Treat yo'self, girl! Every sartorial purchase can be considered an investment of sorts, but in the case of designer duds, you'll want to take a more studied approach. Quality is a major consideration, but resale value can be just as important — especially if you're hoping to switch up your wardrobe on the regular, in true It-girl fashion. We tapped the pros at TheRealReal and Vestaire Collective for the lowdown on which brands will give you the most bang for your buck.
---
According to Vestaire Collective, there are three main metrics that make a good fashion investment:
These pillars of smart shopping should be the first things you consider when making a large purchase. But if you know those statement kicks or that OTT faux fur coat are so your style, then practicality be damned — go ahead and go for it, girl!
In addition to quality, desirability, and rarity, there are a few other things you'll want to consider:
The Sure Things
Now that you've gotten a grasp on what constitutes a good investment, it's time to focus in on the brands that will bring you the most bang for your buck later down the line. Understanding which lines perform the best in terms of ROI will help you make more informed purchases from the get-go — like whether to splurge on that Céline tote or indulge in a trendy Marc Jacobs crossbody.
In terms of heritage brands, Chanel, Hermès, Rolex, and Louis Vuitton are almost always a safe bet, making them particularly appealing to both new and seasoned buyers. "They'll earn you on average 50 percent of the original purchase price," she said. "Because these styles are so timeless, you can actually wear them for years before reselling and still earn a great ROI." Saint Laurent, Céline, Balenciaga, and Burberry are other fashion houses to keep in mind. As this chart by Vestaire Collective points out, they consistently retain their value, and high-profile creative directors often create buzz, which ultimately results in desirability (i.e. Hedi Slimane's move to Saint Laurent and the Phoebe Philo effect).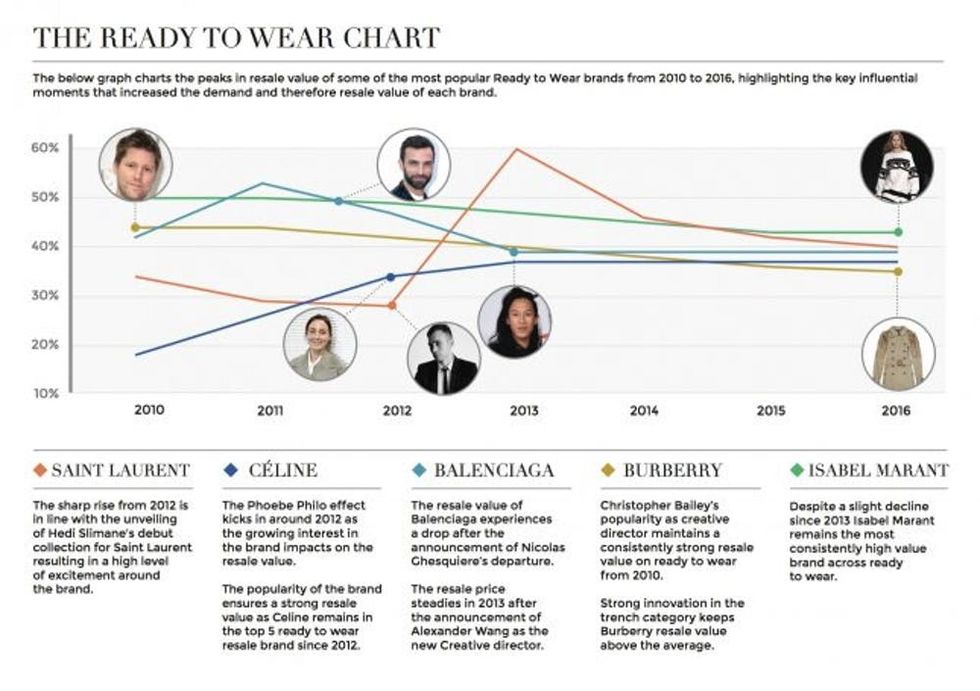 Too-trendy pieces — be it Miu Miu or Zara — don't always stick, making them fall out of favor in your closet and the wider fashion world. This will undoubtedly affect their value — lack of demand ultimately means lack of cash flow. "Styles that are iconic to the designer are great to invest in. You can hold onto these longer and they won't lose their resale value as more trend-forward styles from the same designer," said Levesque. "Think iconic fit-and-flare dresses from Alaïa and classic plaid from Burberry. Timeless!"
Hermès' signature Birkin bag is the perfect example. Vestaire Collective's analysis shows that the resale of this wardrobe classic reached a peak resale value at a whopping 137 percent in 2015 — that's pretty impressive. Chanel's Boy bag and Céline's Phantom bag are also top performers on the handbag front, while Burberry trenches consistently slay.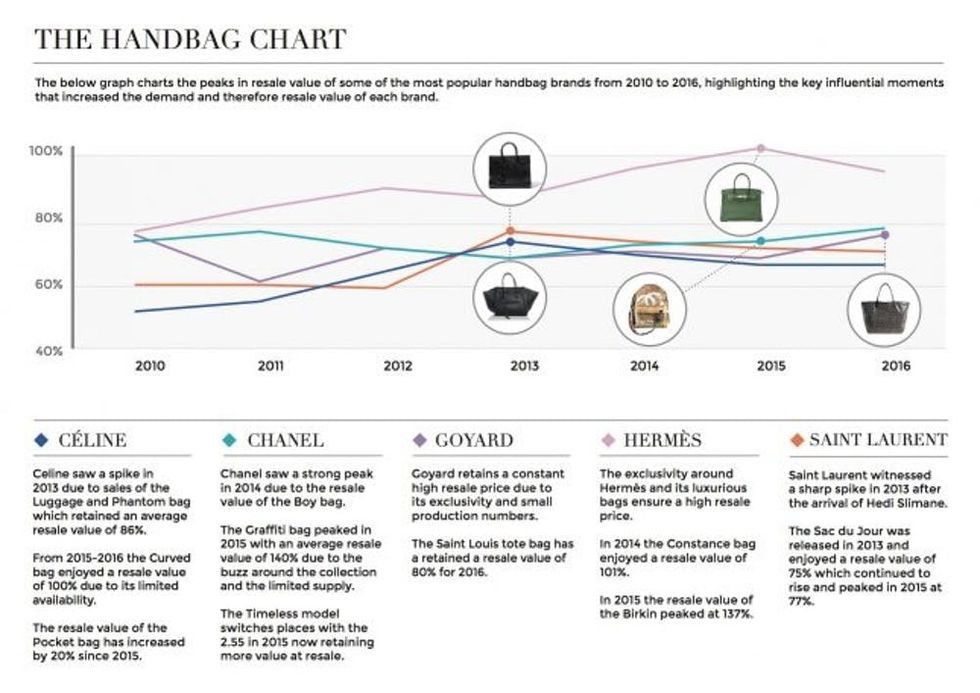 The athleisure movement is still going strong and shows no signs of slowing down. The trend is, however, taking on an increasingly elevated aesthetic as it becomes an essential component of the everygirl's wardrobe and designers begin to pick up subtle cues from sportswear. "Think Moncler, Canada Goose, etc.," said Levesque. "These styles sell quickly on our site and you can earn up to 80 percent of the original sell price."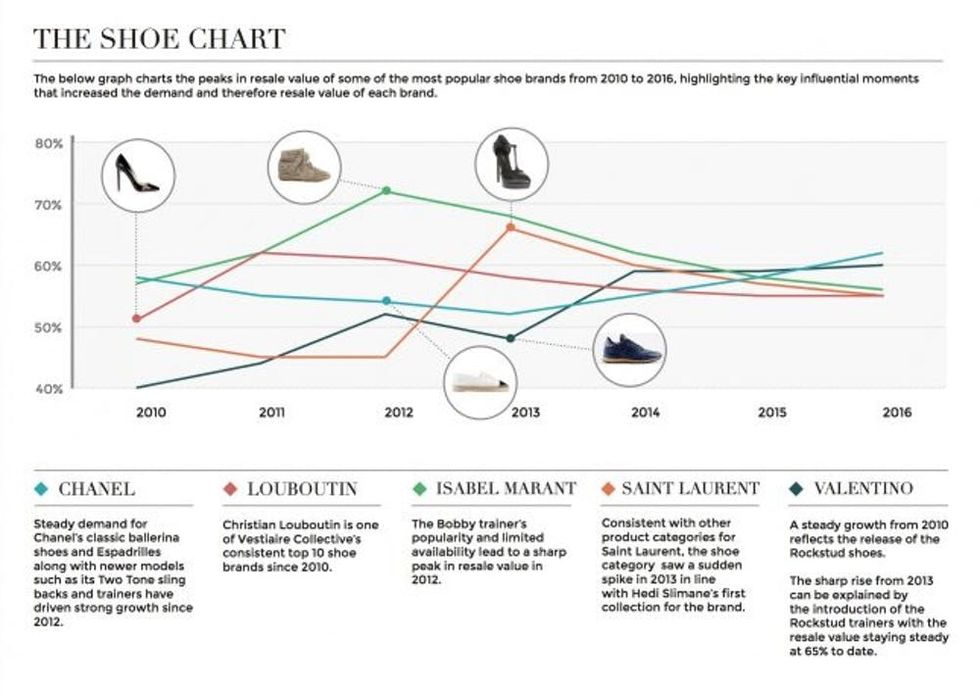 Though they might lack heritage status, there are some up-and-coming labels whose buzz and fine-tuned design make them worthy of your hard-earned cash. "Up-and-coming designers are always in demand. From Mansur Gavriel and Vetements to Loewe and Brock Collection, invest now, as these designers are on the rise!" advises Levesque. Once a brand becomes well established, early pieces can earn you some serious cash.
Follow us on Pinterest for more style inspo!
(Photos via Vestaire Collective)