Sorry to Break It to You, but Your Toothpaste Could Be Giving You Canker Sores
Aug 06, 2018
If you've ever had a canker sore, you know the misery they bestow. Eating and drinking (arguably two of the greatest joys in life) become painful tasks, as even the slightest touch or graze of that delicious slice of pizza or fresh-squeezed OJ on your open mouth ulcer can leave you crying. They burn, they're uber-sensitive, and they can last for weeks. But what causes them — and more importantly, how can you prevent them?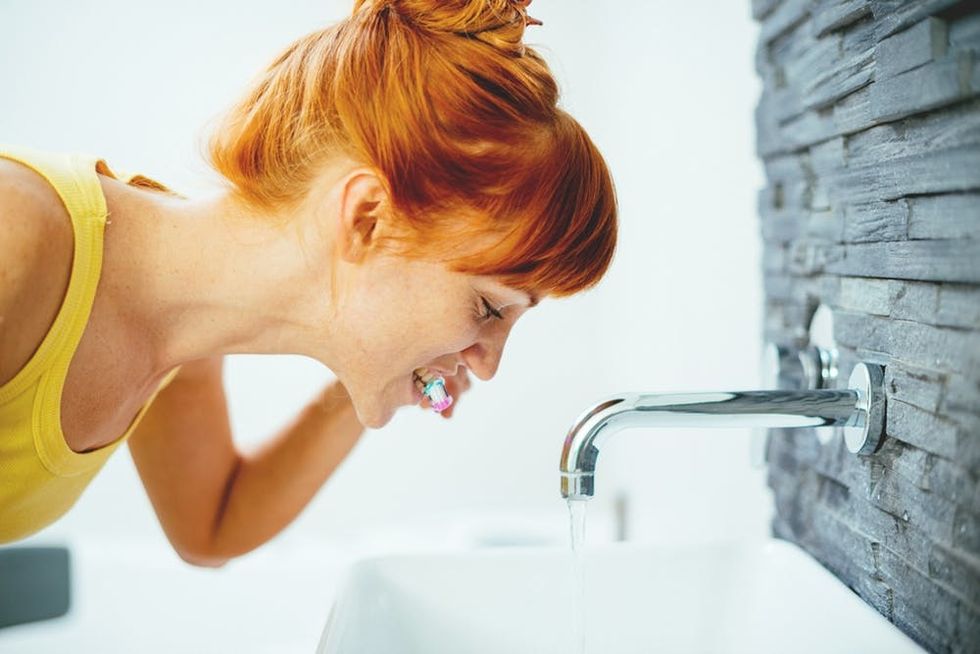 ---
"Canker sores are common, but scientists are uncertain of the exact cause," says Matt Messina, DDS, spokesperson for the American Dental Association. "Some experts believe that immune system problems and bacteria or viruses may be involved. In some cases, trauma to the mouth's soft tissues can cause a canker sore."
Another possible cause could be an offender sitting unsuspectingly in your own bathroom — your toothpaste. Specifically, those containing sodium lauryl sulfate (SLS), the foaming agent used in toothpaste.
One study found that people who stopped using toothpaste containing SLS reduced their canker sores over a three-month period from an average of 14.3 ulcers to 5.1 ulcers. Other studies have echoed these results as well. Furthermore, a 2012 study highlighted the fact that for those who already had a canker sore present, using SLS-free toothpastes decreased the duration and pain of the ulcers.
As for why SLS causes canker sores, researchers believe that it irritates the soft and sensitive tissue inside your mouth and gums, removing protectant layers and making them more susceptible to canker sores. And SLS is also considered to be a "moderate hazard" according to Environmental Working Group's Cosmetics Database, which provides consumers with information about the ingredients and any possible risks for personal care products.
If you're concerned about getting canker sores, you could switch your toothpaste as a preventive measure. We like Tom's of Maine Botanically Bright SLS-Free Whitening Paste ($20, pack of three). If you already have a canker sore, try treating it with honey. A 2014 study found that people who applied honey (such as Manuka Health Manuka Honey, $45) to their mouth ulcers had less pain (only one day compared to three to five days) and experienced quicker reductions in size and inflammation.
According to Messina, there are a few other methods you could try too. "If a person has a canker sore, he/she could consider using over-the-counter topical anesthetics and antimicrobial mouthwashes, which may provide temporary relief," he suggests. "Also, be sure to stay away from hot, spicy, or acidic foods that can irritate the sore."
If all else fails, don't panic. "Canker sores usually heal on their own after one or two weeks," Messina says.
How do you get rid of a canker sore? Share your tips @BritandCo.
Brit + Co may at times use affiliate links to promote products sold by others, but always offers genuine editorial recommendations.
(Photo via Getty)
Emily Shiffer
Emily Shiffer is a freelance writer living in Pennsylvania. She loves all things antiques, cilantro, and searching for vanilla-based perfumes.
Health
If you lack a certain way with words, then perhaps you can rely on showing how you feel this holiday season with an artful greeting card you can make at home! Brit dropped by our crafting studio where we teamed with Camp by Walmart to create a choose-your-own-adventure holiday card tutorial. In the interactive video, it's up to you to decide what type of card you want to make — sentimental, or stylish? Three-dimensional, or keep it simple? After you've selected your design vibe, Brit helps you assemble it all together so your last-min card is ready to send. Get ready to pick up a few new DIY tricks when you watch the video now!
Holidays