7 Romantic Ways to Rock a Ponytail at Your Wedding
Jun 30, 2017
On your wedding day, you want your hair to be totally dreamy, but you also need a style that'll live through all the sweating, picture-taking, drinking, and dancing. The answer, ladies, is the ponytail. Believe it or not, the basic pony can be dressed up to look bride-worthy and elegant AF. Have doubts? Check out the seven gorg renditions below made for rockin' a ponytail down the aisle.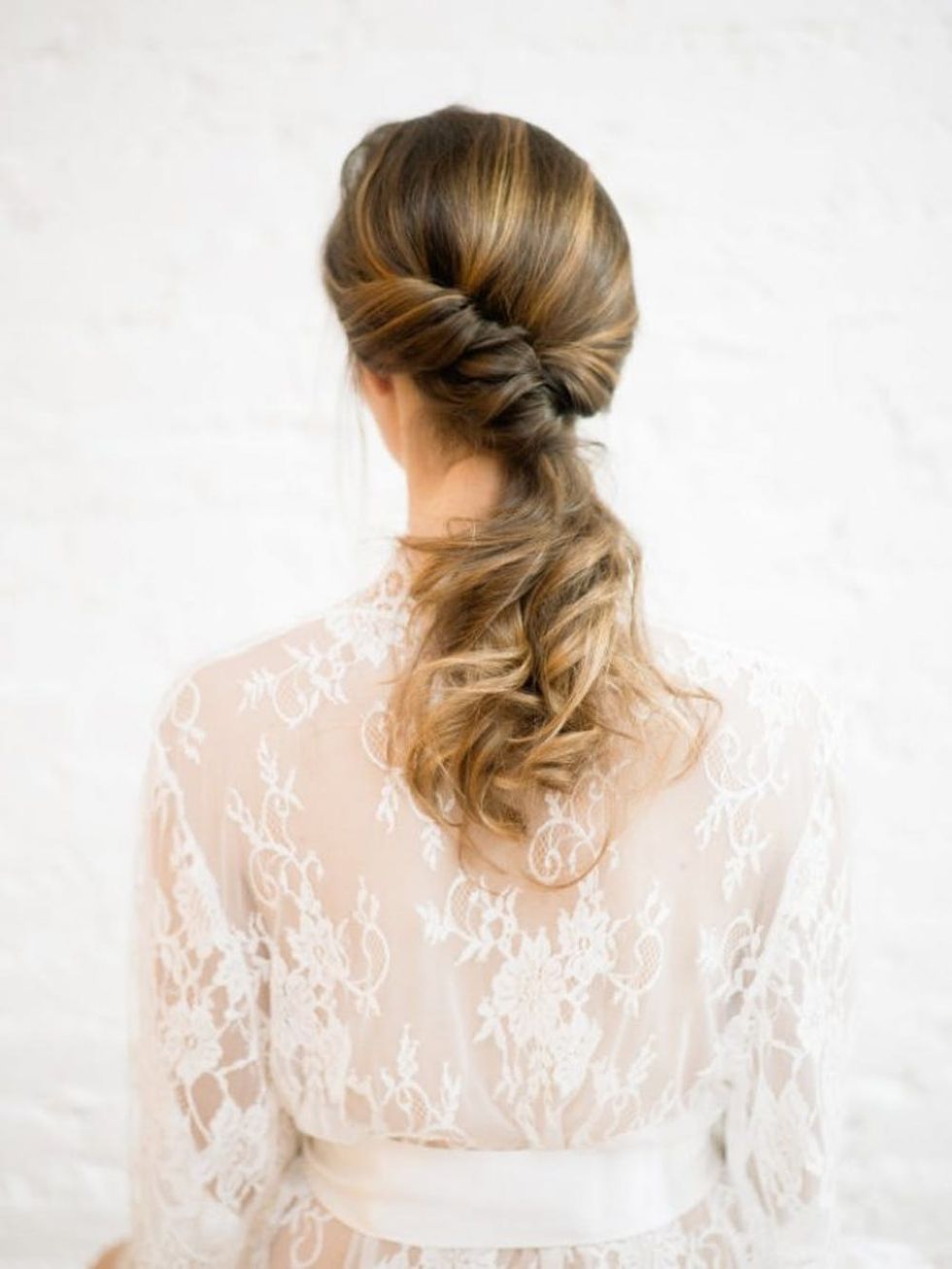 ---
1. Twisted Low Pony: For a romantic twist (see what we did there) on the basic ponytail, toss in some curls and spirals, then secure the hair low so it'll flow down your back in angelic style. (via You Look Lovely Photography / Style Me Pretty)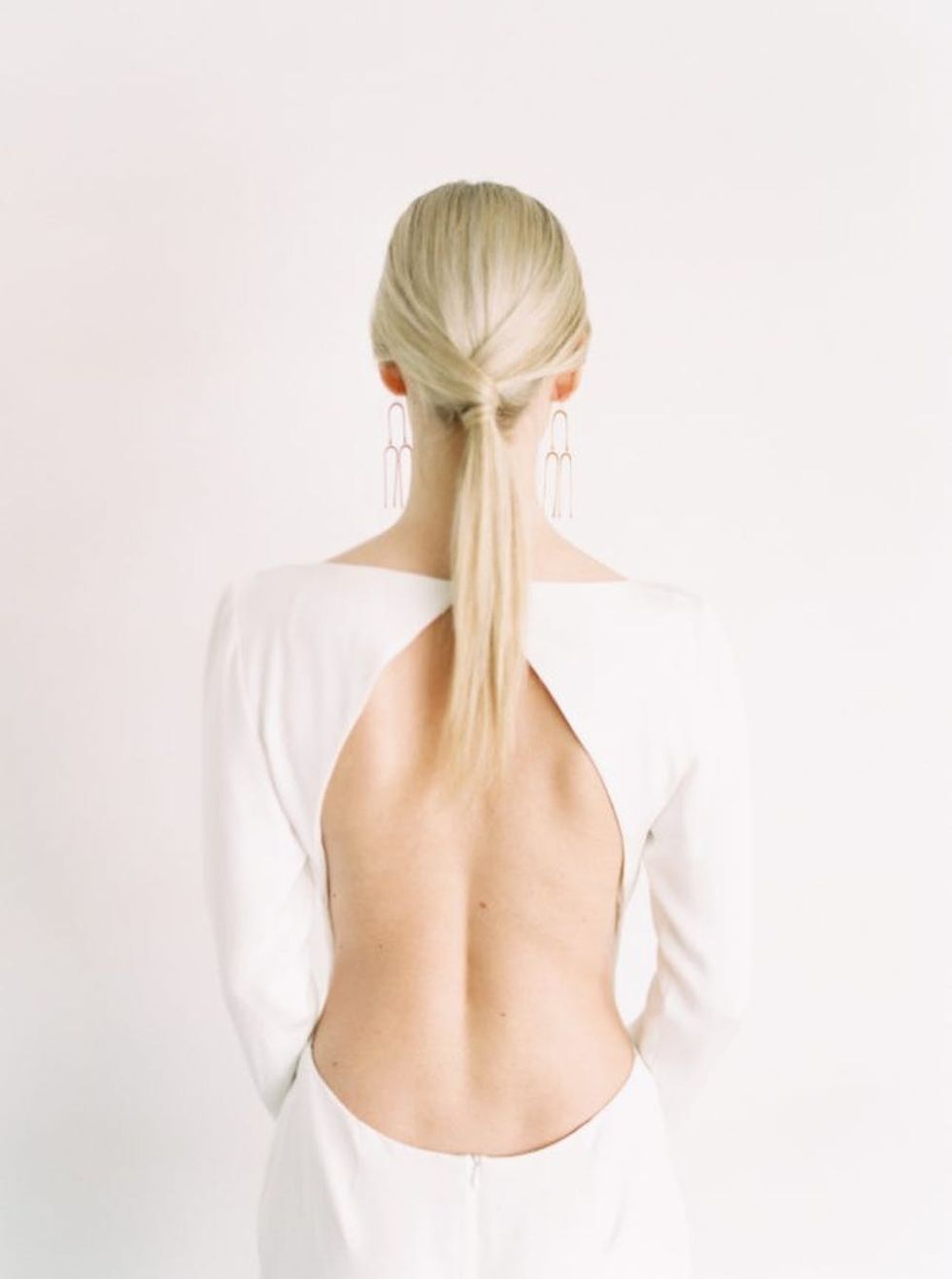 2. Sleek & Straight: If you're more of a mod gal, a sleek and straight ponytail like this number will be ideal for your classy nuptial style. (via Orange Photographie / Style Me Pretty)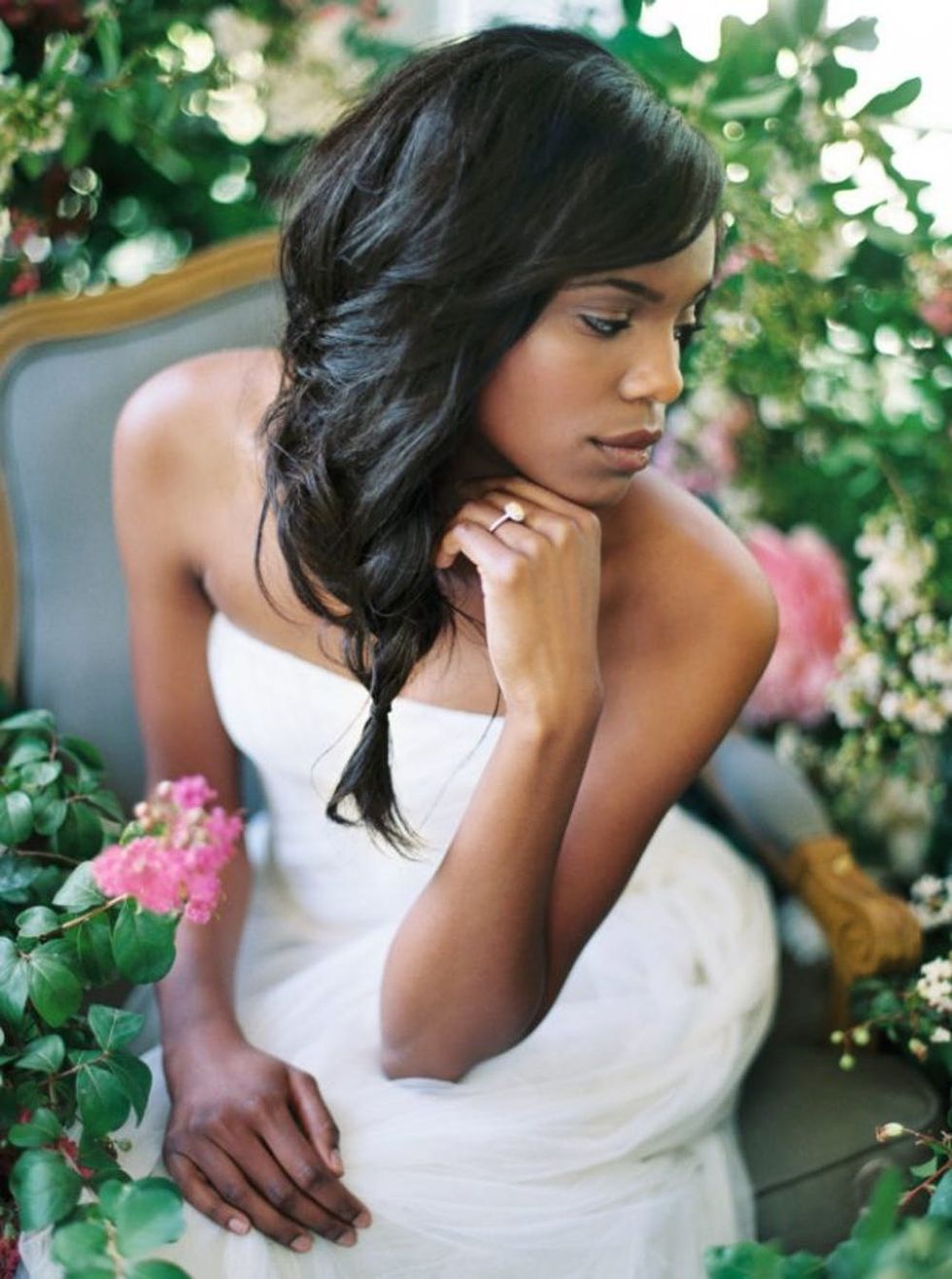 3. Loose Braided Side Pony: This look is a dream for boho brides who want to keep things flowy but still tucked out of the way. (via Apryl Ann Photography / Style Me Pretty)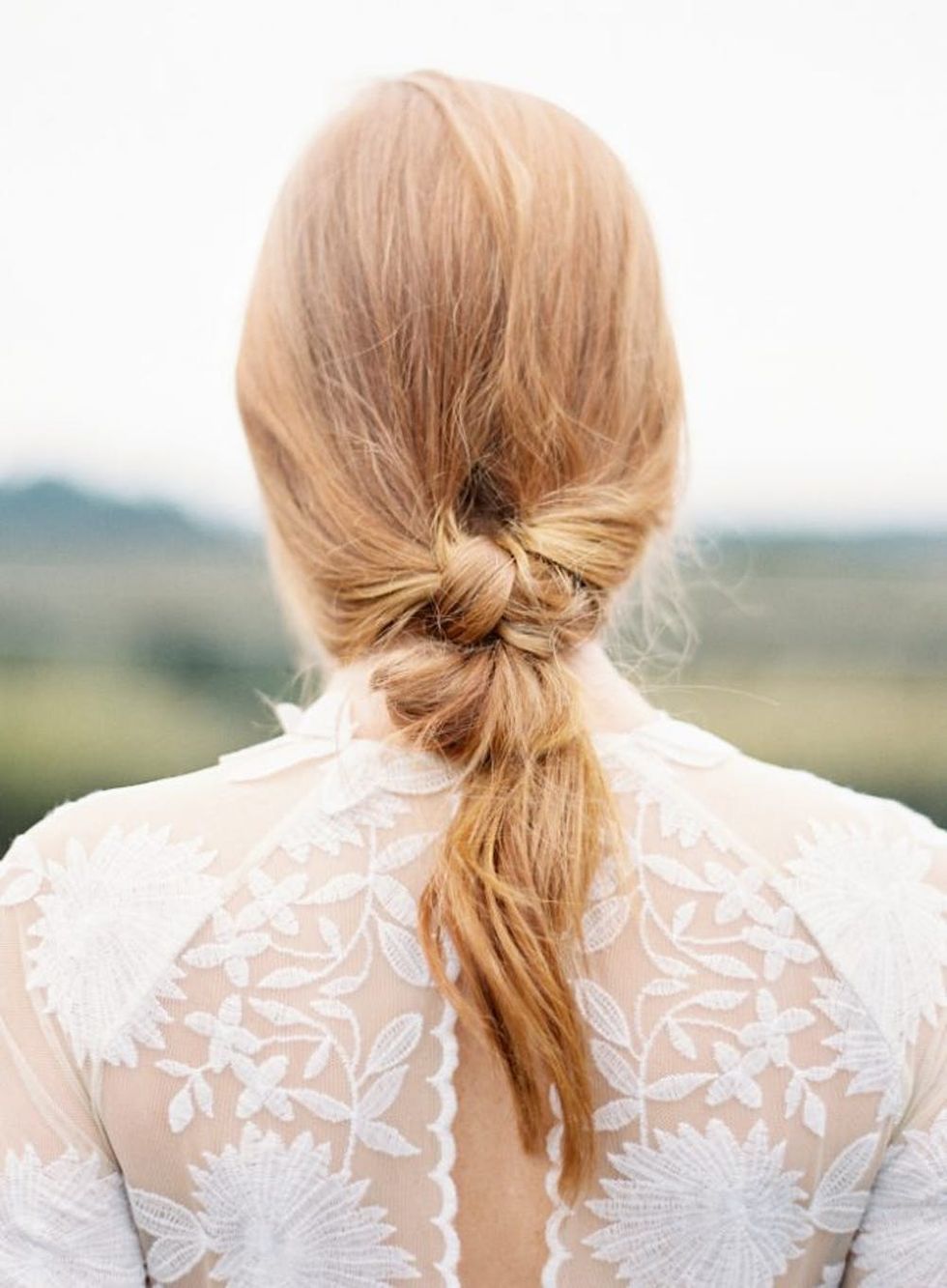 4. Knotted Loose Ponytail: A couple of twists and knots in a loose fashion will give off the chill, laid-back allure that a free-spirited bride can get behind. (via Dannon K. Collard / Style Me Pretty)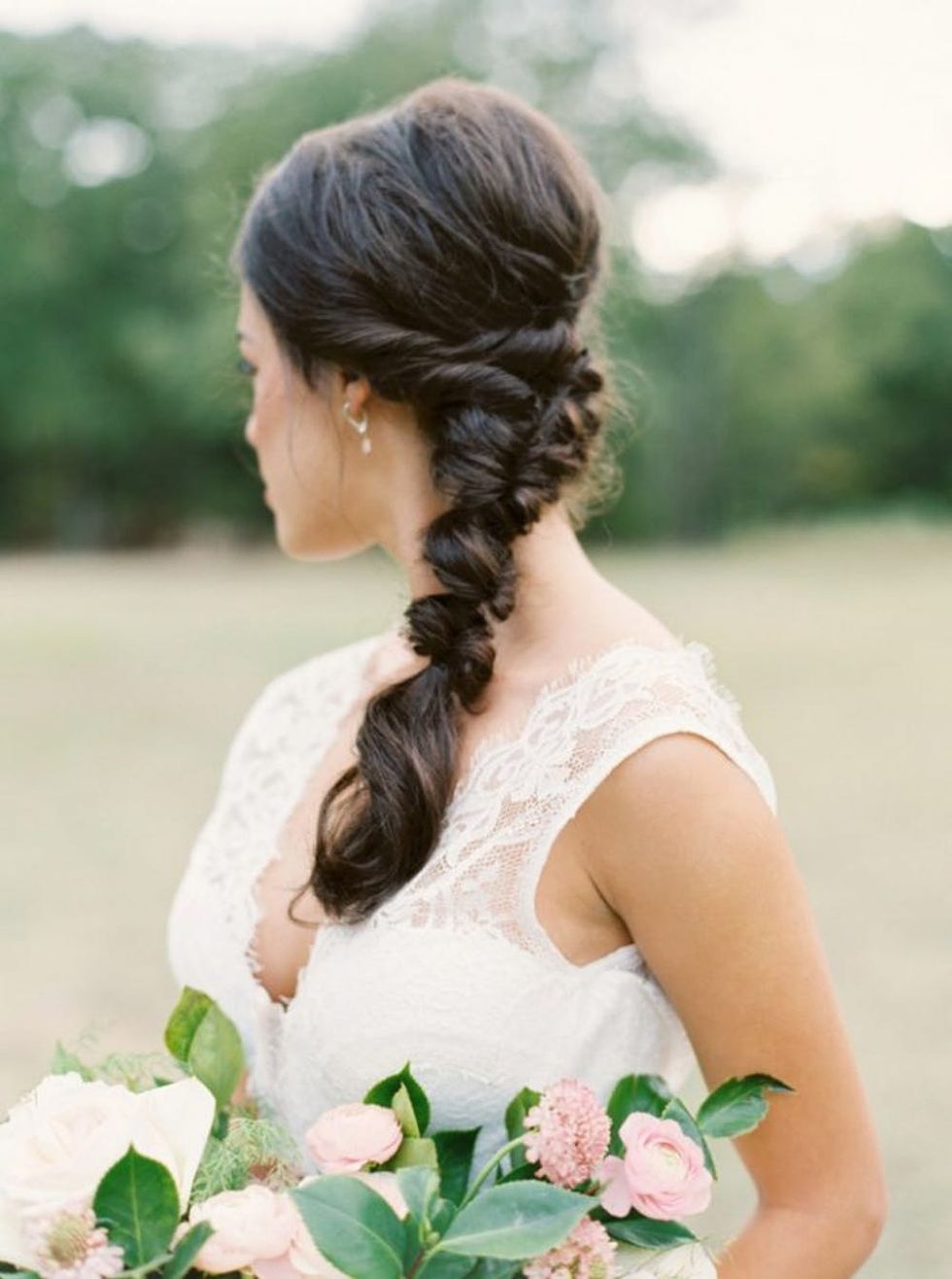 5. Sectioned-Off Twists: Section off hair, twist it, and pin it back to achieve this majorly elevated take. It's an ideal way to add some volume and romance without getting too complicated. (via Tenth & Grace / Style Me Pretty)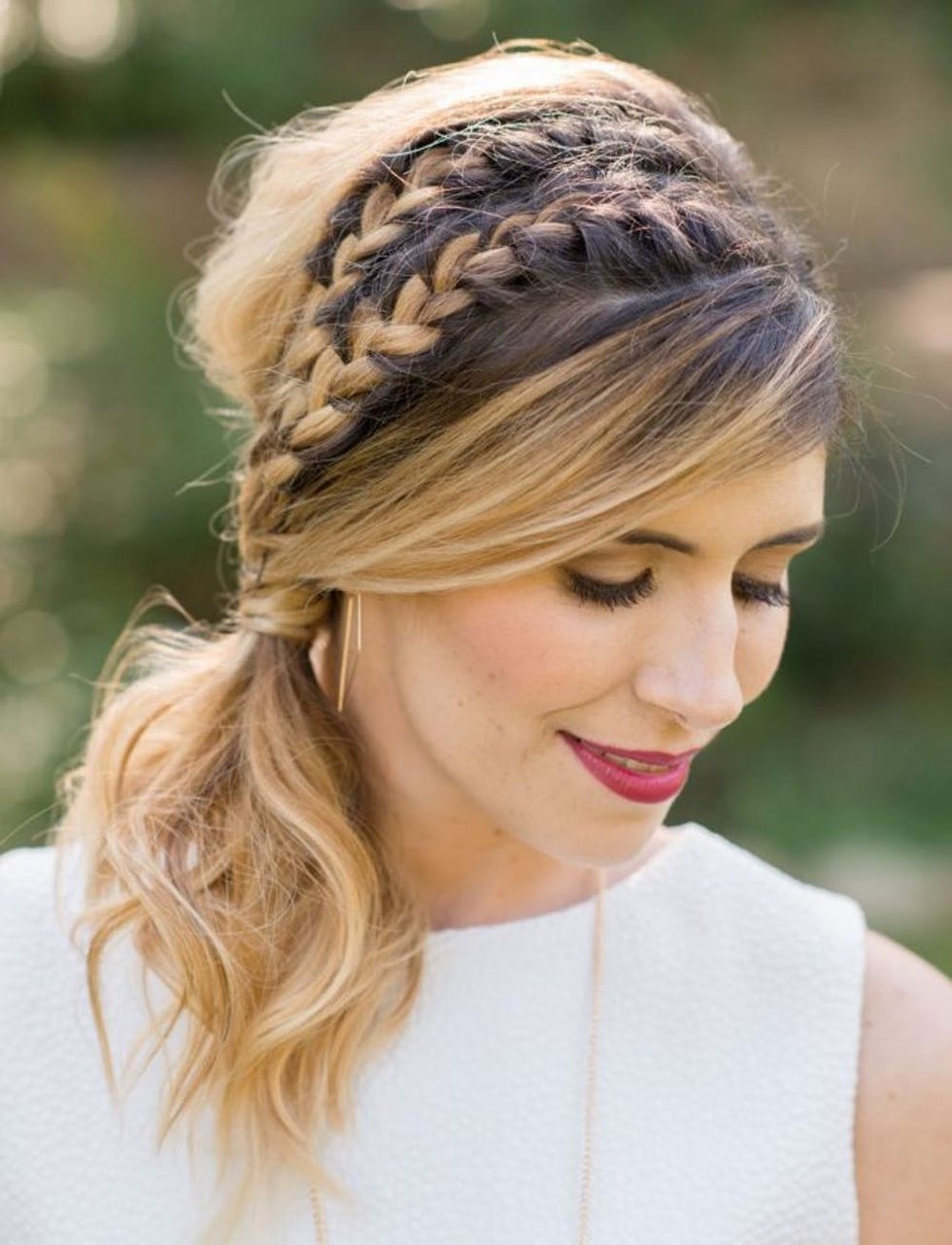 6. Braid-Accented Low Ponytail: Betcha didn't think cornrows could work when you say "I do." Start a couple of French braids near the roots, then twirl 'em back into a side pony for an edgy touch. (via Krista Mason Photography / Green Wedding Shoes)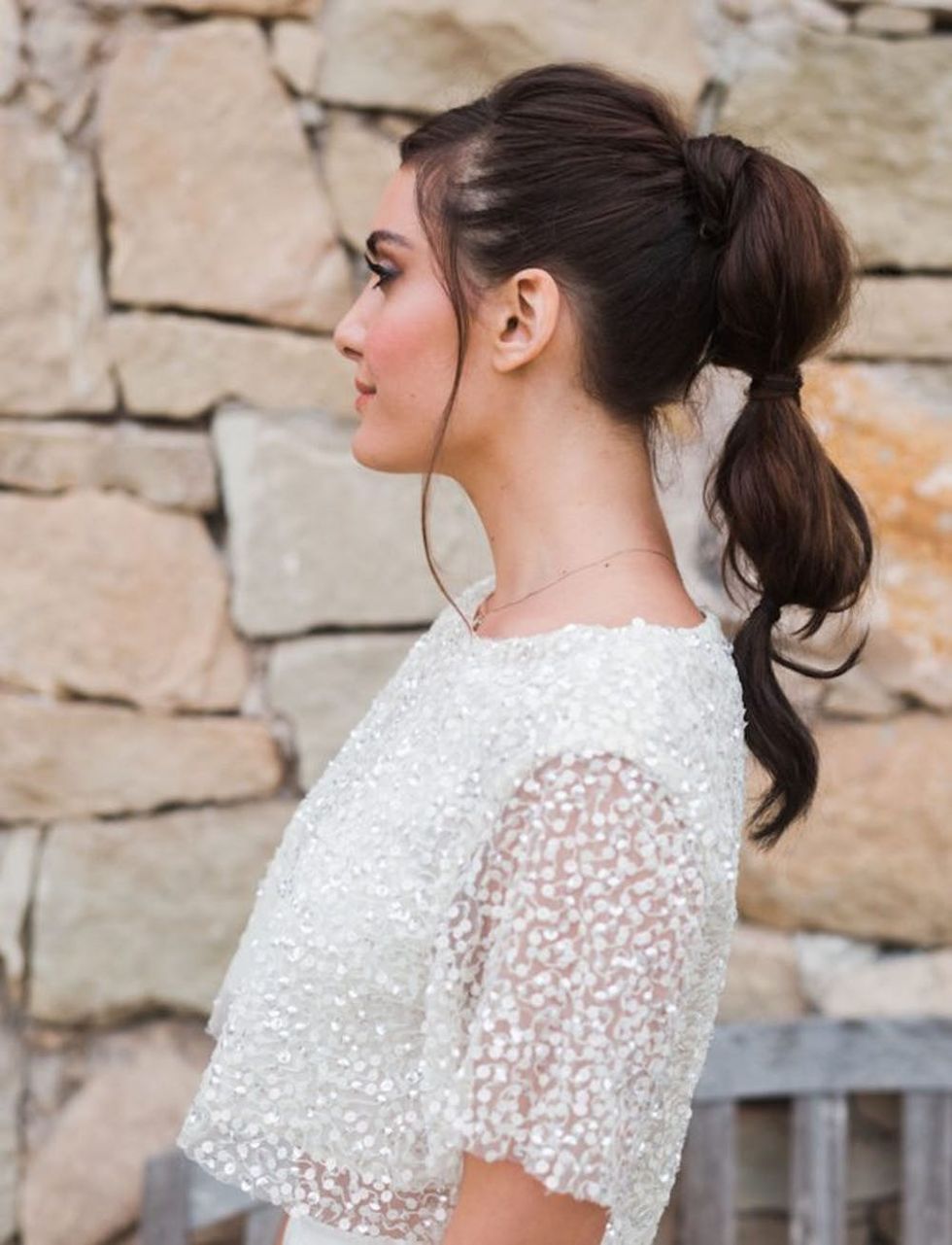 7. Voluminous High Pony: If you love a good '60s vibe, look no further than this sweet 'do. Serious volume, lived-in texture, and convenience make this chic and simple pony the total package. (via Braedon Flynn Photography / Green Wedding Shoes)
Tweet us your favorite wedding hairstyles @BritandCo!
Kristen Bousquet
Kristen is a Massachusetts based beauty & fashion writer. Chances are if you see her, she'll be covered in makeup swatches, raving about her new favorite face mask and wearing a band tee. She also has an unhealthy obsession with her two Boston Terriers and anything buffalo chicken.
Wedding Beauty
We all have a million dollar business idea (or 2...or 3…) that we think *someone* should do. Why not you? Part of the motivation for Brit + Co's new interactive business course Selfmade is to help women develop their business idea into an actual living/breathing/thriving business. But it's also a way to figure out what that idea is. Maybe you have a few ideas, or need to refine a really good one, or maybe you have something with potential but just need to brush up on the business side of things. Well you're in luck. Thanks to Office Depot, we're here to share a quick recap on how we're helping our students figure out how to pick an idea and run with it. Feeling a little Selfmade fomo? Check out these tips for knowing if your idea is fully baked.
<p><strong>Know your audience:</strong> Who are they? Where are they? And what pain point are you trying to solve for them? "How would you define who that audience is?," said Brit Morin during this week's session. She goes on to suggest you develop a persona of your core customer: What's her name? Does she have children? Have visuals of who she is and what her day looks like and what she thinks about every day. "A lot of times I see businesses fail to scale because they're just trying to serve everybody and are very generic," adds Brit.</p><p><strong>Understand your market:</strong> How big is the market you're targeting? Is it growing? You can find market reports online for anything from weddings to babies. Does your business have potential for repeat business? For example, a wedding client will likely (hopefully!) only need you one time so how do you plan to grow? Will you target the same client or will you evolve your services to cater to that changing demographic? Martha Stewart is a business that evolved with her audience while most fashion mags stay focused specifically on 20- and 30-somethings for the long haul.</p><p><strong>Level up your business idea:</strong> What's your twist? Think about what differentiates you from your competitors. For example, if you're a photographer, maybe you focus on newborns and hook up with a maternity ward or sell seasonal packages. Brit talks about <a href="https://punkpost.com/stories/about-us" target="_blank">Punkpost</a>, created by Alexis Monson, a Brit + Co alumni who, instead of selling greeting cards in a dying snail mail market, she created an online marketplace for greeting card designers. How does your business stand out in your market's crowd?</p><p>Committing to an idea is hard, and SO exciting. Once you've figured out your direction, Office Depot OfficeMax can help turn your idea into a reality with a full suite of<a href="https://www.officedepot.com/cm/services/office-depot-services?cm_mmc=bl-_-aq-_-url-_-bc&amp;cm_mmca1=internal&amp;cm_mmca2=uf&amp;utm_source=blog&amp;utm_medium=social&amp;utm_campaign=bc_na_url_internal_uf_aq&amp;utm_content=tea_na&amp;utm_term=tea" target="_blank"> business services</a> &amp; solutions to help you &amp; your business succeed. From<a href="https://www.officedepot.com/cm/print-and-copy/print-services?cm_mmc=bl-_-aq-_-url-_-bc&amp;cm_mmca1=internal&amp;cm_mmca2=uf&amp;utm_source=blog&amp;utm_medium=social&amp;utm_campaign=bc_na_url_internal_uf_aq&amp;utm_content=tea_na&amp;utm_term=tea" target="_blank"> print &amp; copy services</a> to help build your brand to products to help you<a href="https://www.officedepot.com/cm/multi-category/work-from-home?cm_mmc=bl-_-aq-_-url-_-bc&amp;cm_mmca1=internal&amp;cm_mmca2=uf&amp;utm_source=blog&amp;utm_medium=social&amp;utm_campaign=bc_na_url_internal_uf_aq&amp;utm_content=tea_na&amp;utm_term=tea" target="_blank"> work from anywhere</a>, learn about all the ways they can help<a href="https://www.officedepot.com/cm/marketing/small-business?cm_mmc=bl-_-aq-_-url-_-bc&amp;cm_mmca1=internal&amp;cm_mmca2=uf&amp;utm_source=blog&amp;utm_medium=social&amp;utm_campaign=bc_na_url_internal_uf_aq&amp;utm_content=tea_na&amp;utm_term=tea" target="_blank"> businesses</a> like yours, accomplish more.</p>
Lifestyle