Why Donald Trump Has Been Attacking a '90s Beauty Queen All Week
Sep 30, 2016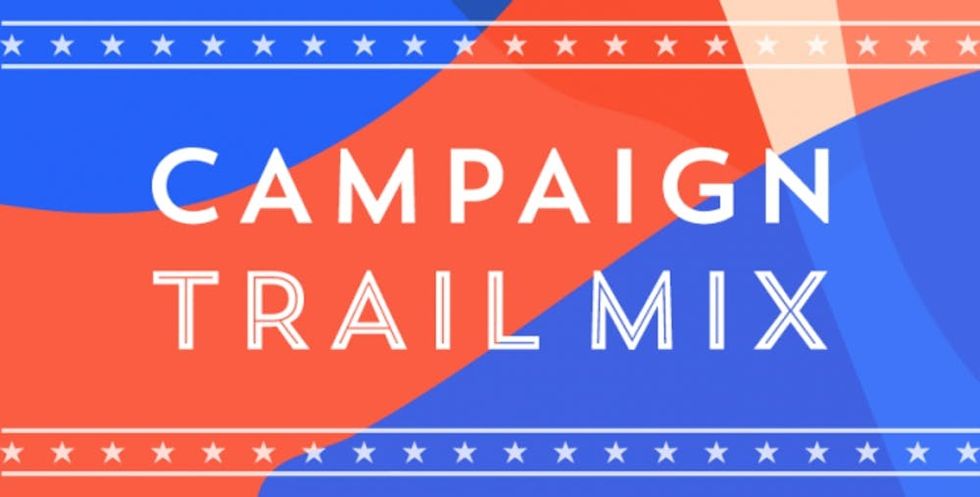 Campaign Trail Mix is your Election 2016 BFF: A weekly series that cuts through the news cycle *noise* to bring you the latest key info you absolutely MUST know about the US presidential showdown.
---
On Monday, Hillary Clinton and Donald Trump met up for the first debate of this presidential campaign, and it was… quite something. The two have wildly different campaign styles, and Trump has bucked so many traditions long held sacred in presidential politics, that their first face-to-face encounter of the campaign was highly anticipated, though that anticipation was of the nervous variety for many people.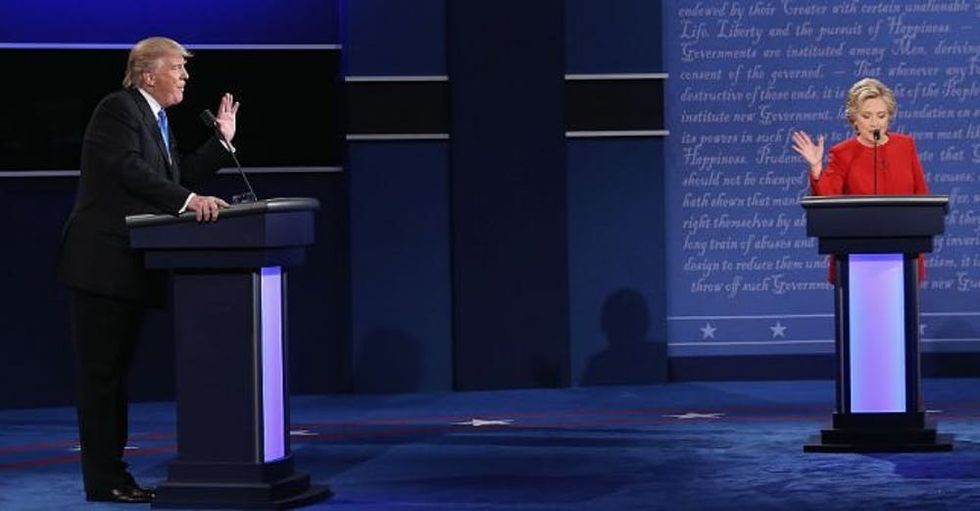 Trump repeatedly interrupted Clinton, which appeared to throw her early on, though she warmed up as the debate progressed. Still, the experience of seeing a woman widely regarded as more competent than her rival be interrupted over and over again was a viscerally uncomfortable one for many women viewing the debate. It recalled too many personal experiences. Lester Holt, the NBC anchor who moderated the event, stood back for the most part and allowed the candidates to interact with (or over) each other, which further rankled some viewers.
When he asked both candidates about an issue that's been on the forefront of many Americans' minds, racial injustice and how to tackle it, Clinton hit several points that, at least rhetorically, spoke directly to black Americans. Commenting on the vibrance of black communities rather than bemoaning them — as Trump has done — as pits of despair and, perhaps most importantly, actually using the word "racism" were huge moments. And Clinton invoked the r-word, which looms over so many conversations but is so rarely heard by politicians, more than once: She referred to the urgent need to fix systemic racism in the criminal justice system, and she called out the Trump-led birther movement as plainly racist. Using that particular word, on that stage, was an important symbolic moment for many people, though it remains to be seen if, given the chance, Clinton will turn that symbolism into action. (Image via GIPHY)
Donald Trump had some words as well, of course. Notably, toward the end of the debate, Clinton brought up the times he attacked 1996 Miss Universe Alicia Machado for gaining weight after winning the pageant. (Trump had recently taken ownership of the company that runs the pageant.) Trump has called Machado "Miss Piggy" and "Miss Housekeeping," an expression of disgust that reads as simultaneously attacking women, working-class people and Latinas. On the stage Trump stood by his comments, and he has spent much of the last week reiterating his disparagement of Machado. He went so far as to tweet early Friday morning that people should "check out" an alleged sex tape of hers. The kicker? There's no evidence such a tape exists. (Image via GIPHY)
Did Crooked Hillary help disgusting (check out sex tape and past) Alicia M become a U.S. citizen so she could use her in the debate?

— Donald J. Trump (@realDonaldTrump) September 30, 2016
Polling appears to show that Hillary Clinton handily won the debate, and also that she stands a better chance of winning than she did just before Monday night's event. Donald Trump's weeklong attack on Alicia Machado, a woman who isn't running for office and didn't do anything wrong, also seems to have displeased some voters. If those are, in fact, the reasons for Trump's fall in the polls, John Ziegler's prediction to the Toronto Star is that the October 9 town hall will only compound Trump's failure. The Republican nominee has promised to hit Clinton even harder at that meeting, and as Ziegler says, "All we're going to see is pictures of horrified men and women" watching the spectacle unfold in front of them.
What did you think of the debate? What are you following during this campaign? Let us know your thoughts on Twitter @BritandCo.
(Photos via Spencer Platt/Getty; AFP)
Tannara Yelland
Tannara is a freelance writer and editor, an occupation perfectly suited for her affection for drinking too much coffee and keeping odd hours. She usually writes about politics, economics, and pop culture. Some day she will put to use the hundreds of hours she's spent watching Say Yes to the Dress and write THE definitive analysis of the show.
Politics