Amid the Migrant Family Separation Crisis, it's Time to Ask: Where Are the Girls?
Jun 21, 2018
On Monday, Homeland Security Secretary Kirstjen Nielsen held a press briefing to field questions from reporters about the Trump administration's policy of separating migrant families at the border. The scene was one of utter chaos; at one point, New York Magazine reporter Olivia Nuzzi interrupted the scrum to play a viral recording from her cell phone of migrant children and toddlers crying for their parents. But the event also saw one reporter ask this key question: "Why is the government only releasing images of the boys being held?" Nielsen could not offer an answer to this question, responding that she would "look into it."
Though President Trump signed an executive order on Wednesday to reverse its child separation policy, there is still no formal protocol for reuniting families. And so, the reporter's question to Nielsen on Monday — and Nielsen's inability to answer it — are cause for serious concern, particularly due to what we already know happens to women and girls at the border. As of this week, while the government has released images of, and granted access to, shelters carrying detained migrant boys, we have yet to see US detainment centers carrying girls and young women.
---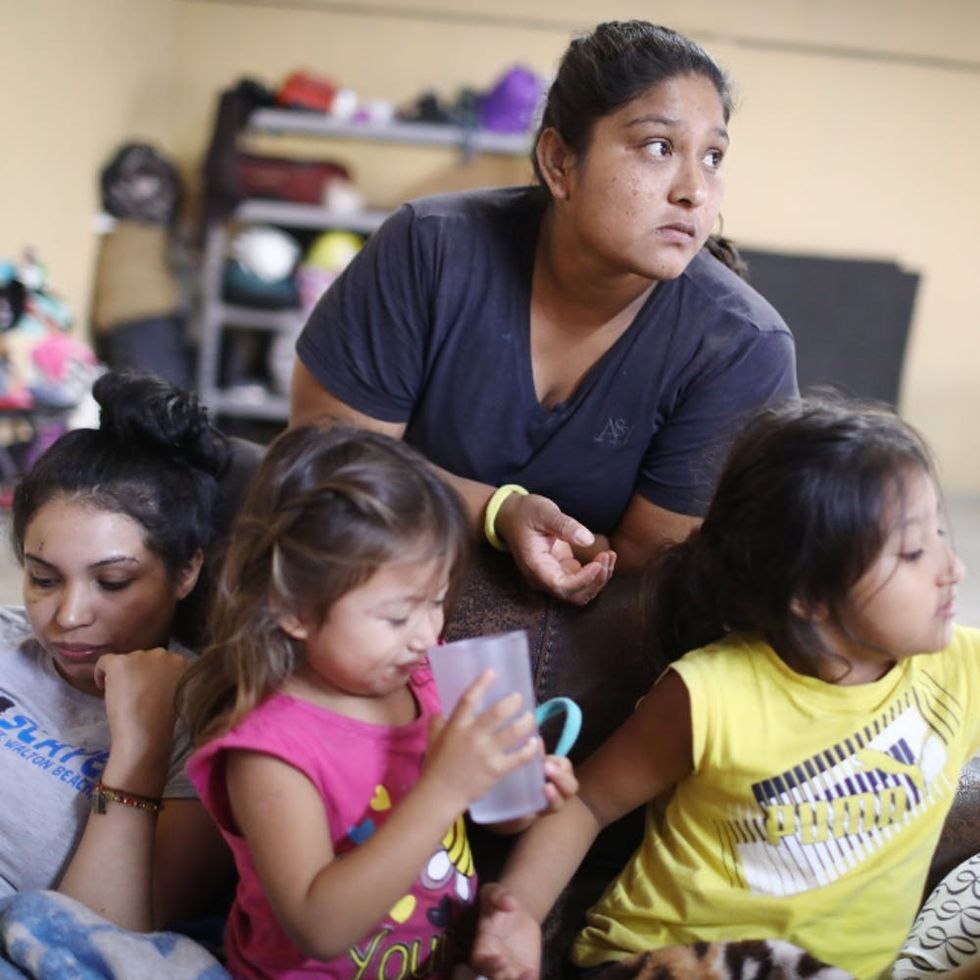 On Wednesday, Reveal News from the Center for Investigative Reporting reported on allegations ranging from forced drugging to child pornography and sexual violence initiated by workers at many of the major shelters holding detained migrant minors. But this report is far from our first glimpse into the trauma, violence, and sexual abuse shouldered by girls and young women who cross the border.
An estimated 60 percent of female Central American migrants experience sexual assault in the process of coming into the US, according to Amnesty International; other estimates from a survey of migrant shelters put the figure closer to 80 percent. But even once these girls and women have crossed the border, they aren't necessarily free from harm.
Detention centers holding men and boys have barely allowed access to journalists. We know immigrant women and girls face additional challenges, like the increased threat of sexual violence, when migrating to the US and while incarcerated.

We ask again: where are the girls?

— Women's March (@womensmarch) June 14, 2018
In April, The Intercept reported that of 1,224 sexual abuse complaints filed between 2010 and September 2017, largely about incidents that took place in US detention centers under ICE custody, only 43 yielded investigations. Half of the accused perpetrators worked for ICE. In the wake of #MeToo, women like 23-year-old Salvadoran migrant Laura Monterrosa have come forward with individual claims about sexual abuse suffered at the hands of immigration officers in a Texas detention center, unveiling a pattern.
Sexual violence committed by law enforcement is the most blatant example of exploiting disproportionate power dynamics to abuse women and girls, and underage migrant detainees have limited avenues for legal recourse. Many will not even have the resources to reunite with their parents, let alone wage legal battles against their abusers in a new country where they may not speak the language.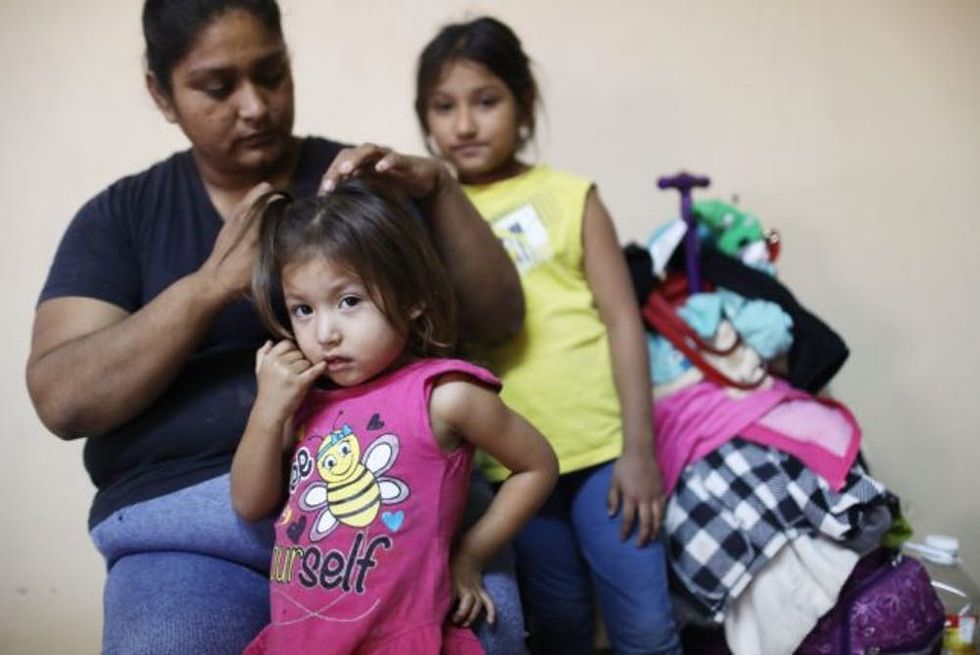 There's also the issue of reporting. In consideration of how few women in the US ever report their experiences with sexual abuse, often citing reasons such as fear of intimidation and harassment by law enforcement, we can hardly expect abused migrant girls to come forward, either. Just last year, one report examined the prevalence of unreported sexual abuse and assault among undocumented women in the US, who remain silent from fear of deportation and punishment.
Immigrants coming from Central America have long faced arduous journeys and harsh conditions in detention facilities — but the consequences are particularly dire for women and girls. In addition to the looming threat of sexual violence, the past year has seen the Trump administration specifically and personally target pregnant, undocumented, and unaccompanied minors in detainment centers, fighting legal battle after legal battle to attempt to deny them abortion care and force them to give birth.
While the administration has largely been unsuccessful in this practice, its efforts have endangered and delayed multiple immigrant minors from accessing care. Attorneys for Trump's attorney general have justified this practice by arguing that immigrant girls do not have the same fundamental rights as citizens, and allowing abortion services would "incentivize" more women and girls to cross. They have also argued against elective abortions for detained undocumented minors except if the woman's life is endangered, without exception for rape despite its prevalence in these circumstances. Reports have shown pregnant women forced to sleep on floors, and subjected to other unsafe conditions in detainment centers.
As we try to make sense of what's going on and consider the full breadth of the lasting consequences of today's immigration policy, it's important for us to acknowledge the disparate experiences of detained female and underage immigrants. Whatever this administration does next and regardless of whether it ever takes responsibility, its policy of family separation will leave a lasting scar — especially for young immigrant women.
(Photos by Mario Tama/Getty)
Kylie Cheung
Kylie Cheung writes about women's rights, reproductive justice, and national politics. Connect with her on Twitter @kylietcheung, or learn more about her work at www.kyliecheung.tumblr.com
Gender Issues
Still haven't taken up that new creative skills you swore you'd learn this year? Or ready to take your design skills to the next level? Let's say so long to the weirdest year ever by checking those big learn-something-new goals off our perpetual to-do lists.
We've teamed up with Clorox to give you the gift of unlimited creativity now through the end of the year. Once you sign up, you can take as many of our 120+ classes as you want for FREE for one whole month!
Here's how it works:

Head to brit.co/learn and sign up for the "All Access Pass."
Use the code "CLOROXCARES" at checkout to redeem your free month of classes.
You will be automagically signed up for Clorox's email list once you redeem your free all access pass. (It's the #1 Choice for Disinfection!)
Your pass lasts one month from when you checkout. This means you have unlimited access to all the classes during that month.
This offer is valid now through December 27, 2020.
Browse our catalog to find the right class for you, tell a friend and take the class together over Zoom, or organize a 'cocktails + crafts' night with a friend in your bubble so you can learn something new together.
What are you waiting for? Time to start learning all the things!

Thanks to Clorox for making this happen! When it counts, trust Clorox.
Lifestyle