3 Nonstick Pans at Every Price Point for Easy Cooking and Cleanup
Oct 11, 2018

Welcome to our food series called Eat It Up, where we share the kitchen gadgets and foods that we can't cook without.
---
A nonstick pan is a home cook's BFF (best frying friend). It fries eggs quickly and neatly, so they slide gracefully off the pan and onto your breakfast sandwich. It gives delicate fish filets a restaurant-worthy sear. Historically, these pans were coated in Teflon, a synthetic resin that was extremely sensitive to heat (no ovens or dishwashers, for sure) and prone to scratches from metal utensils. They needed tender care, and even then, would eventually chip and peel with time. But pans of this era make use of more durable nonstick materials, meaning they can withstand way more before wearing and tearing. Here are our three favorites on the market right now at every price range. Prepare to *gasp* bust out your metal cooking spoons and spatulas.
splurgy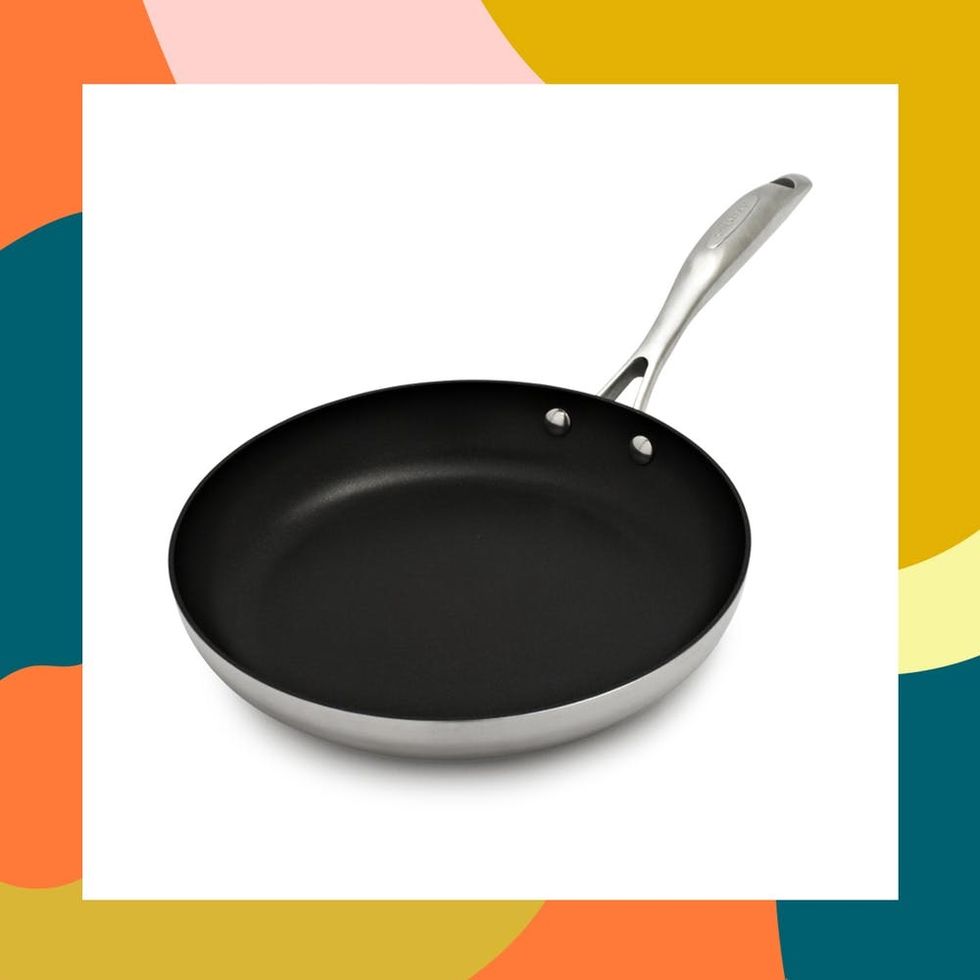 Scanpan CTQ 11-Inch Nonstick Skillet, 11″ ($100): This ceramic-titanium pan proves that Teflon is a thing of the past. While it's the most expensive option on our list, the Danish device delivers on quality. Its interior is tough to scratch (you could even run a fork over the top!), while its stainless steel and aluminum body spreads heat evenly to give your food a uniform texture inside-out. It's also oven-safe up to 500°F, so you can finish steaks or salmons in the oven without worrying about ruining your pan. Did we mention it's dishwasher safe too?
mid-level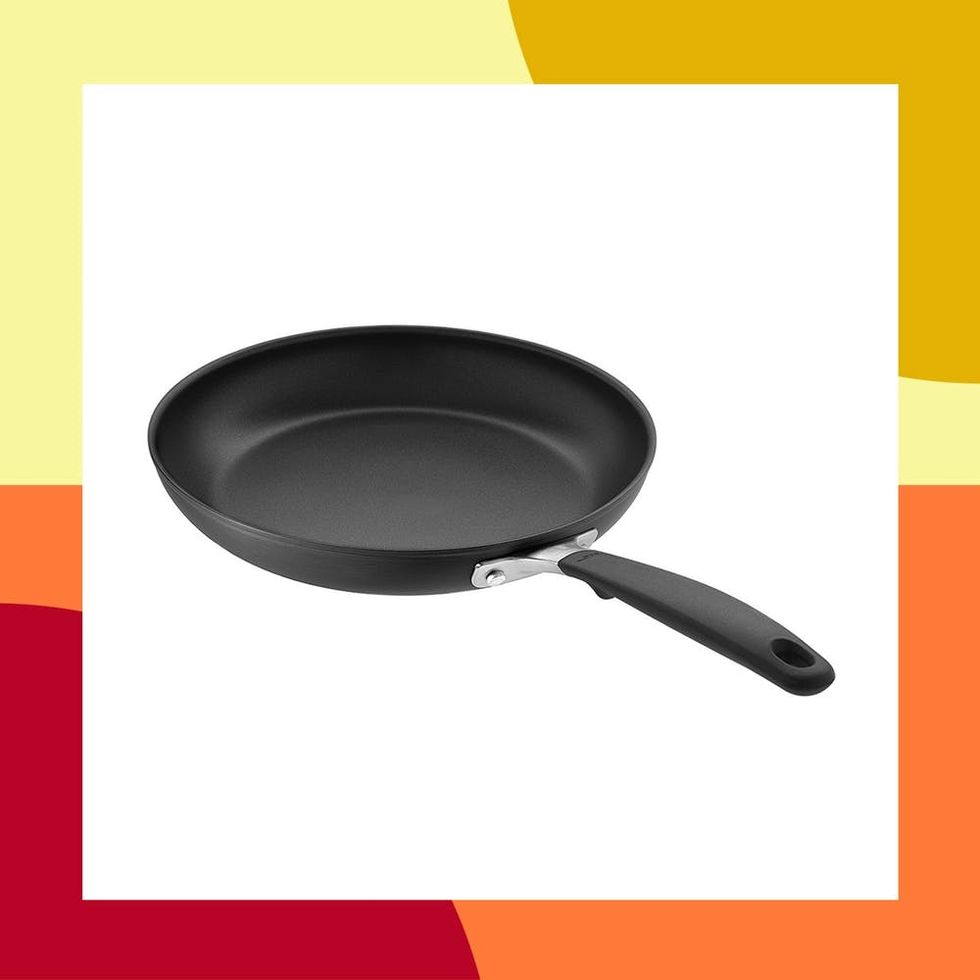 OXO Good Grips Nonstick 12-Inch Open Fry Pan ($50): This German pan's three-layer, chemical-free nonstick coating helps to smoothly release even the trickiest of ingredients. Its rolled edges make it easy to pour sauces and reductions without dripping, so you can plate scallops and a browned butter pan sauce, for instance, with the confidence of a chef. It also has a comfy silicone handle and is lightweight, which makes it a breeze to wash and reuse. The scratch-resistant pan can also go into a 390°F oven without trouble.
bargain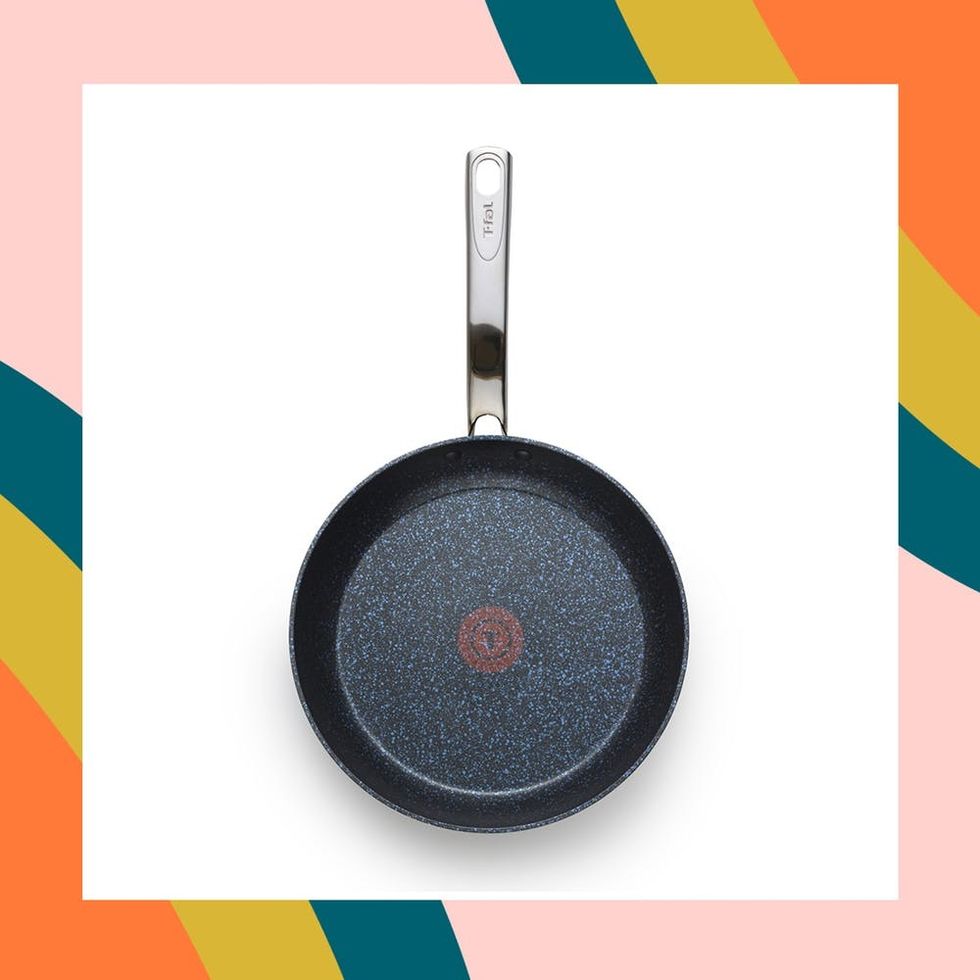 T-fal Heatmaster 10-Inch Fry Pan ($40): This pan's stainless steel base and sparkly sapphire-infused nonstick coating (which claims to last a lifetime) give it a contemporary appearance — but it doesn't just look modern. It has Thermo-Spot technology, which tells you when the pan has reached the right temperature for cooking. It's dishwasher- and oven-safe and is likely the best nonstick pan you can snag. For an even better deal, check your local Walmart, where they are selling the pan for $20 (it's already sold-out online).
Follow Brit +Co on Facebook for more trusty product discoveries.
Brit + Co may at times use affiliate links to promote products sold by others, but always offers genuine editorial recommendations.
Sara Cagle
Sara is a food and lifestyle freelance writer in Los Angeles. She writes a weekly events column for the Los Angeles Times and loves writing food content for Brit + Co. After all, the English language's most fun adjectives are best applied to delicious foods. In her free time, she's a hip hop dancer, avid moviegoer, and thorough face-mask user.
Kitchen Tools and Gadgets