20 Statement Sweaters That Bring the Swagger
Nov 08, 2016
See ya later, nubby knits and predictable fisherman crewnecks (been there, done that) — this season, we've only got eyes for statement sweaters — AKA, the more risk-taking toppers of the bunch that bring the swagger and traffic-stopping potential. Whether they're decked out in sequins, covered in fringe or personalized with statement-making patches, you could say the latest crop of knits were made to slay. Cue the anything-but-basic puffer jackets and Instababe-approved ankle boots that will accompany you during many a blustery morning commute. Keep the cold weather trauma away with these MVP-worthy sweaters that will rack up all the style points this season. You're so welcome.
---
1. Line & Dot Balloon-Sleeve Pullover ($98): Being a repeat outfit offender is NBD when you have a balloon-sleeve pullover with this much look-at-me appeal. Aside from the #girlboss-approved shade of red, the whimsical silhouette is enough to put you on any best-dressed list. Round out your look with a pair of dangling tassel earrings and some fancy steppers for a getup that's straight-up boss.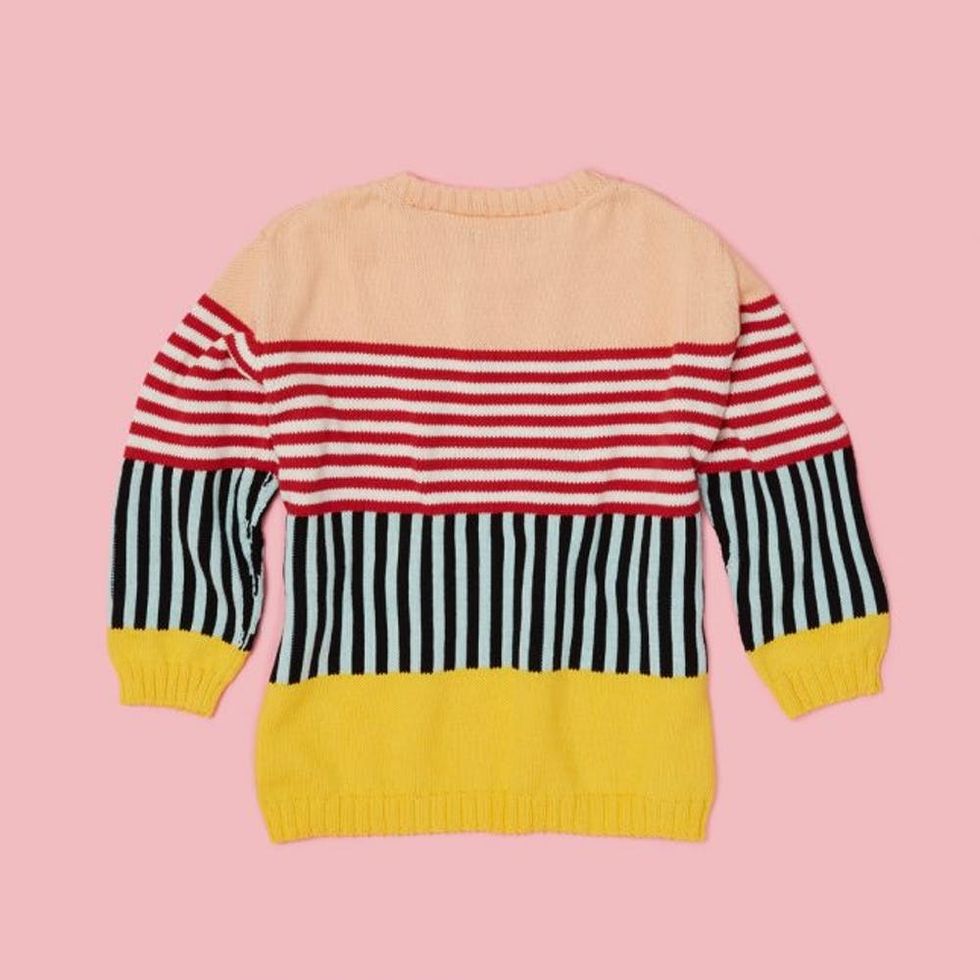 2. Ban.do Coney Box Top Yellow Sweater ($290): Wah. In case you missed it, Ban.do just stocked their inventory with some rad new threads, including this OMG-worthy eclectic striped pullover — and, naturally, we need it in our life. Wear it for your family's slightly cheesy annual holiday card, a Friendsgiving feast or even a low-key afternoon spent Netflix and chilling. It's just that versatile.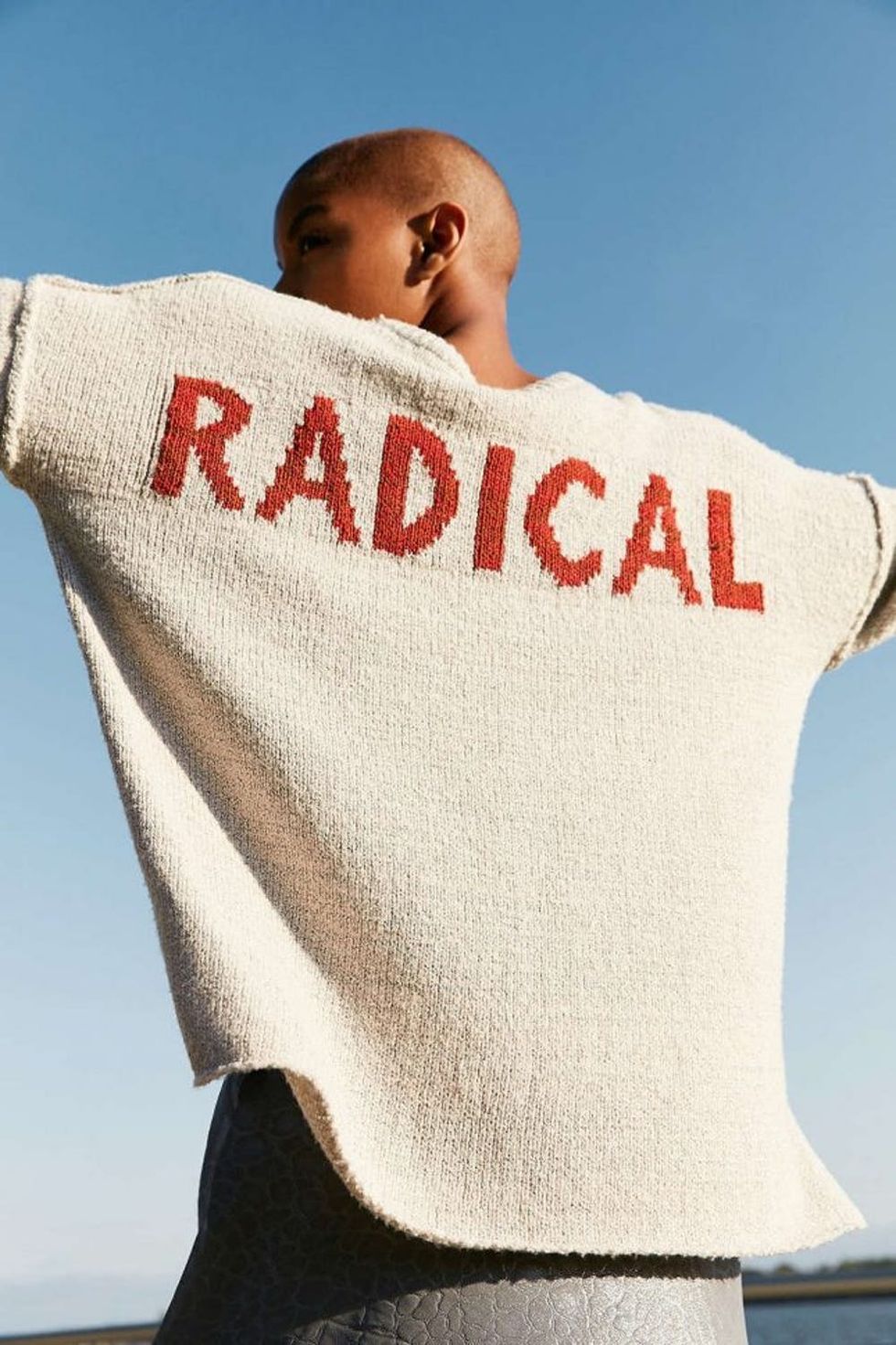 3. BDG Radical Drop-Shoulder Pullover Sweater ($79): You said it first: Radical is practically your middle name, hence your tendency to gravitate toward statement-making pieces that can be spotted a mile away. Perfect your roll-out-of-bed-and-go routine with this drop-shoulder sweater (pssst: It's just as comfy as it looks) with RN appeal. Bring on the lazy girl vibes with an off-duty beanie, high-performance leggings and shearling-lined boots.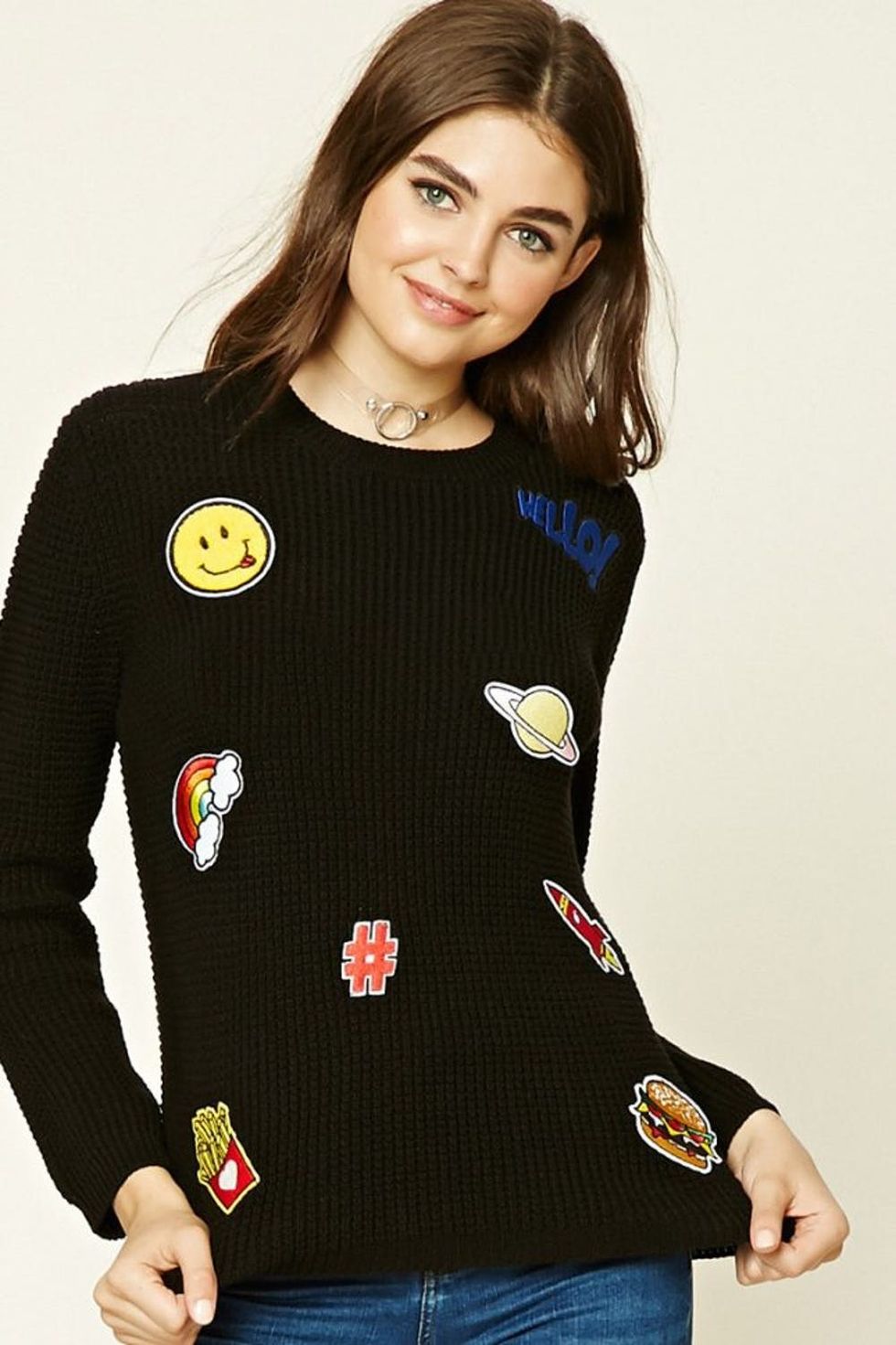 4. Forever 21 Open-Knit Patch Sweater ($25): Honestly, if you're not already sporting rad emoji-like patches on your sweater, then you're really missing out. This BFF-approved knit sweater featuring hamburger, rainbow and rocket ship patches is for babes who know how to have fun (live a little, why don't ya!). You could say we're #obsessed.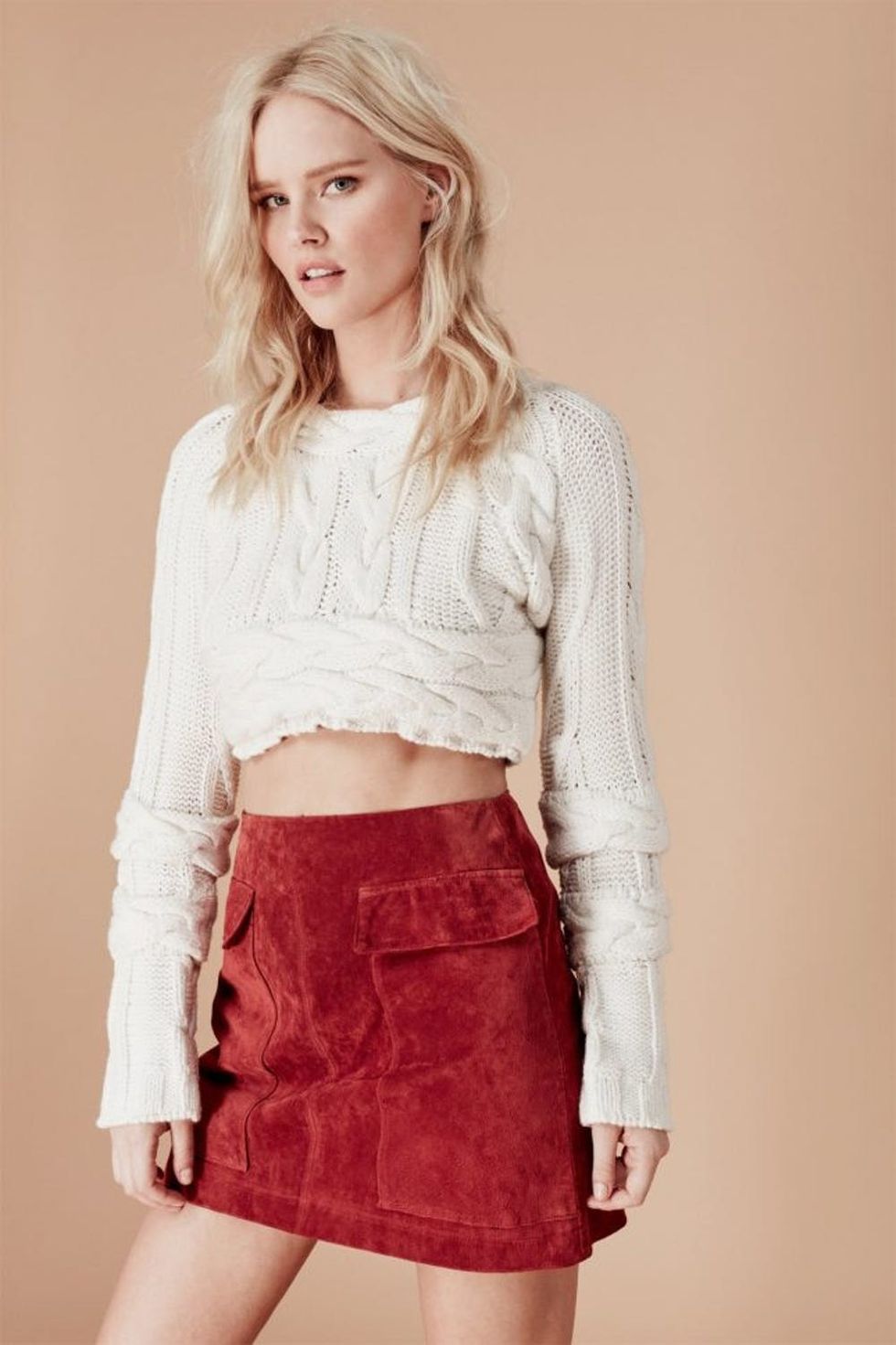 5. For Love and Lemons Greenwich Crop ($149): Cropped and ready to mingle, this boss babe-approved sweater has hot date night written all over it. Wear it with high-waisted mom jeans and backless mules for a casual outing before switching it up with a trend-right suede mini skirt, a car coat and over-the-knee boots for a look that slays. We're already on it.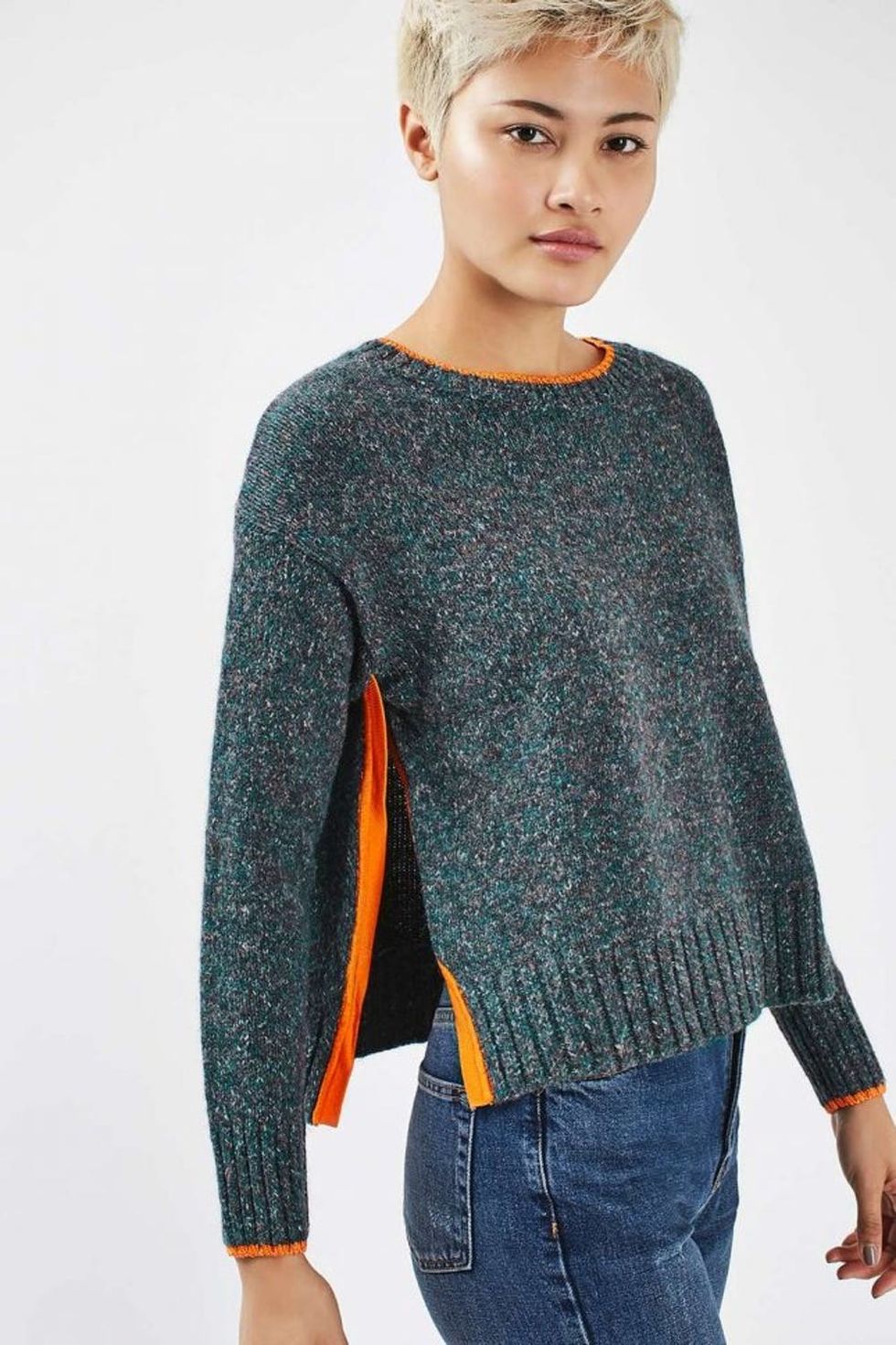 6. Topshop Bright Trim Marle Jumper ($65): Details, people, details! Don't you dare overlook the neon orange trim featured in this cozy marled pullover — or those peekaboo slits, for that matter. When you're short on time, style this bad boy with high-waisted skinnies, Chelsea boots and a downtown puffer for a cold weather-approved getup that's ready to combat the elements in style.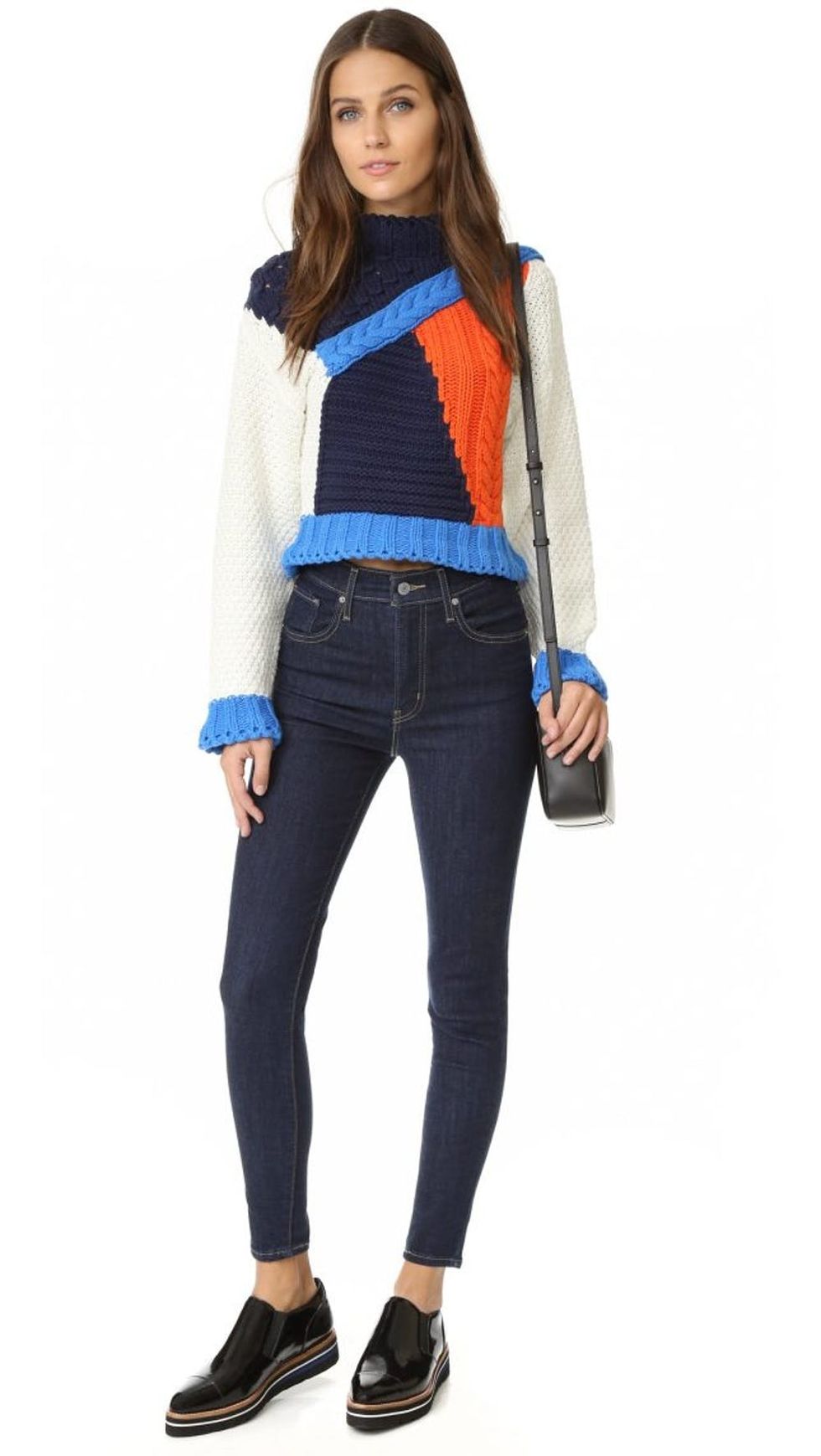 7. Glamorous Colorblock Sweater ($98): Rocking zero pizzazz during your morning commute simply isn't an option when you're a self-proclaimed street starlet in the making. Between the bold color-block design and flared trim, this entrance-making sweater won't be flying under the radar anytime soon — especially with an Instababe-approved camel coat and some ugly-pretty faux fur steppers in tow.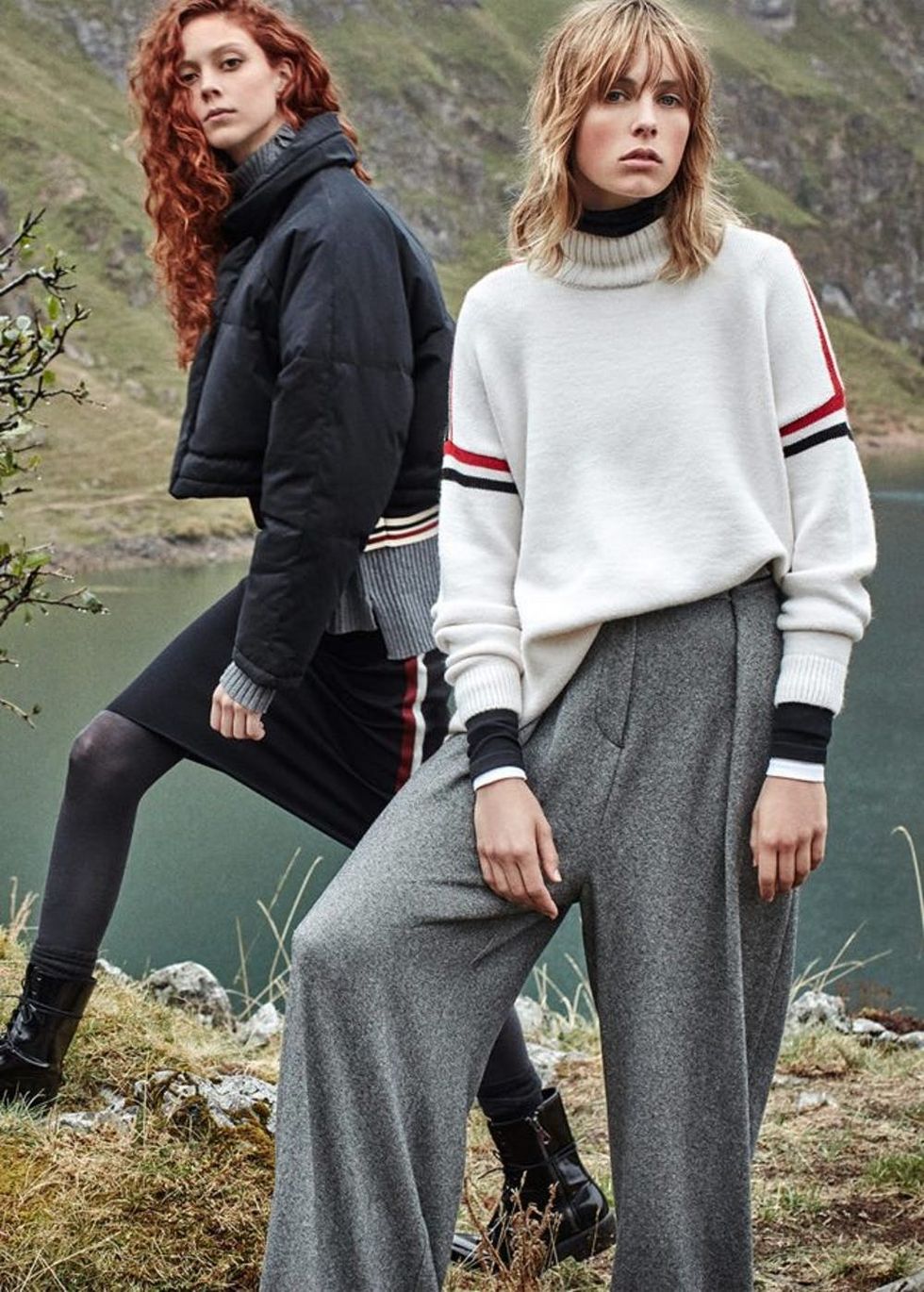 8. Mango Contrast Trim Sweater ($40): A little bit athleisure, a lot old-school prep, this retro borrowed-from-the-boys pullover will work overtime to keep you looking effortlessly chic this season. Channel your girly side by tossing this contrast trim turtleneck sweater over a wool mini and riding boots, or go sporty with feel-good trousers and kicky heeled loafers for your nine-to-five. Round out your look with a messy just-woke-up-like-this lob and a subtle cheek stain.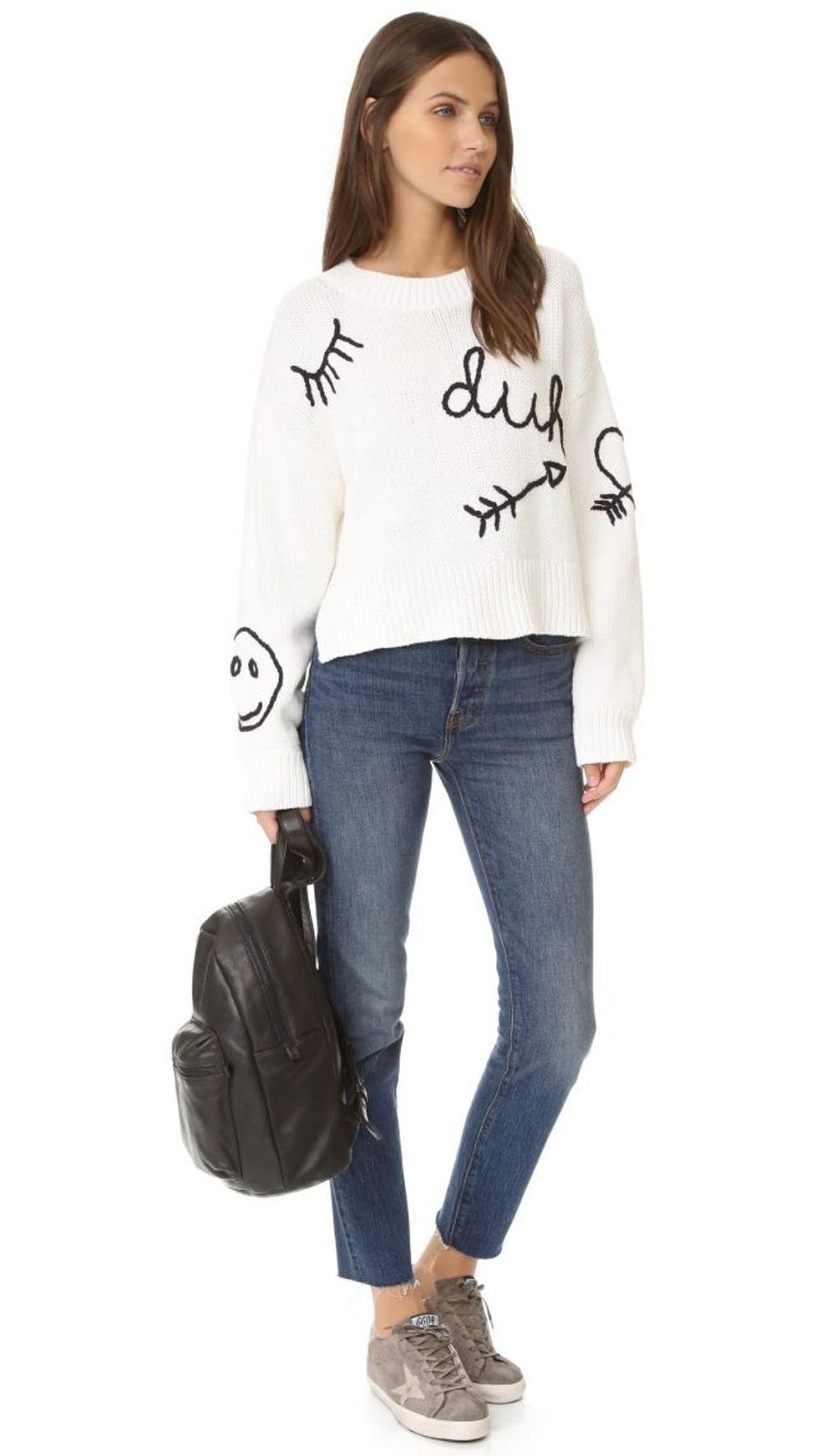 9. Wildfox Duh Sweater ($186): What? Like dressing for single-digit temps is hard or something? As if we would turn down a chance to dial things way down with this tongue-in-cheek sweater that demands respect.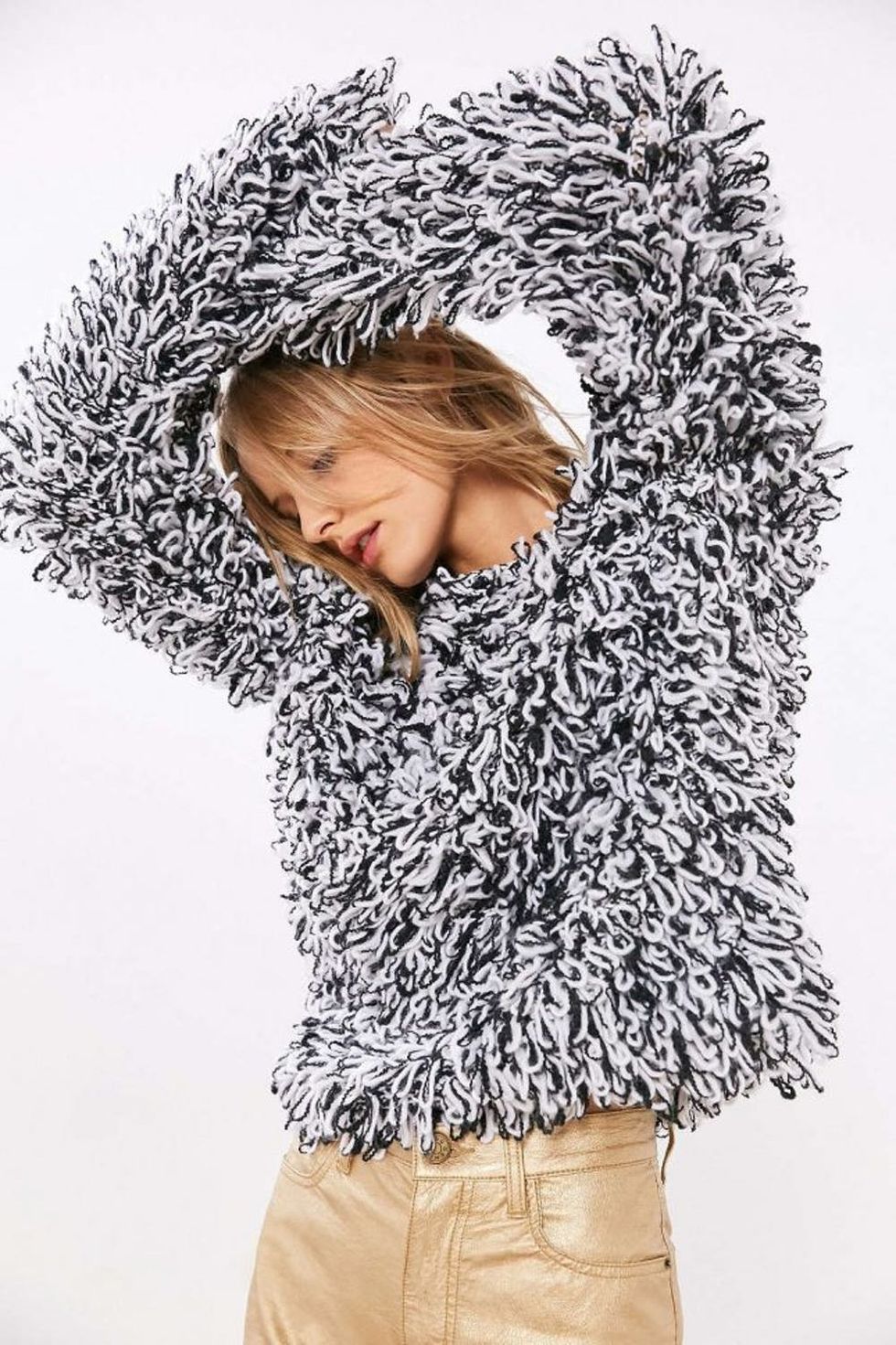 10. Glamorous Loopy Fringe Pullover Sweater ($148): The shaggier your sweater, the more fun to be had — or so the mantra goes in our mind. If this fringe-filled shag sweater with a super relaxed fit isn't the definition of cozy, then we don't know what is. Party on with some leather pants and biker boots or keep things on the DL with a trusty denim button-front skirt and fishnet tights for some timely post-festival season flair.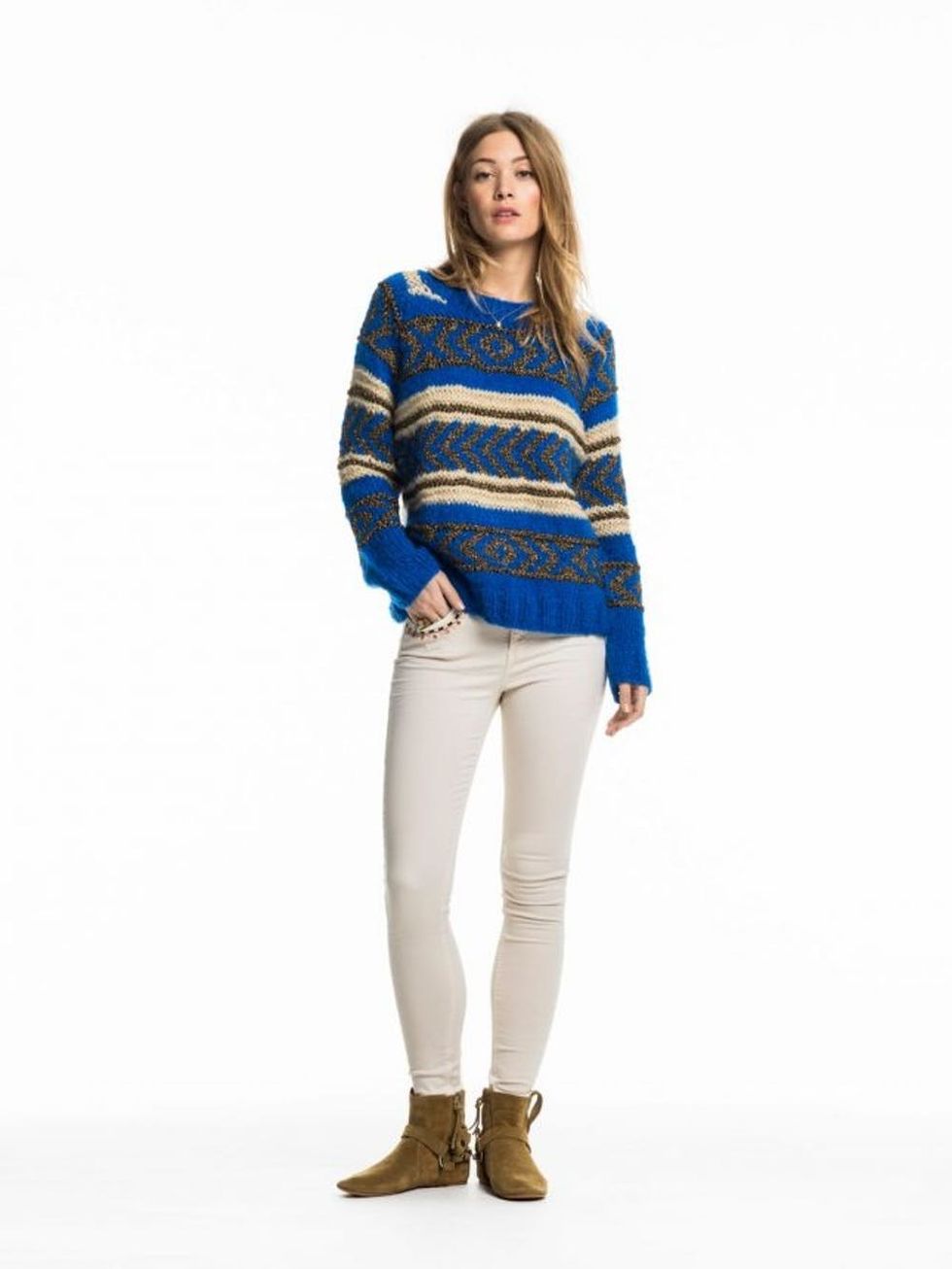 11. Scotch & Soda Lurex Jacquard Pullover ($198): Cue the heavy knit mohair sweaters that call to mind evenings spent roasting marshmallows by the fire and endless cups of hot cocoa. For maximum snugness, pair this luxe jacquard patterned pullover alongside a cashmere knit beanie, your winter whites (we're eyeing those cream-colored jeans) and some suede desert boots.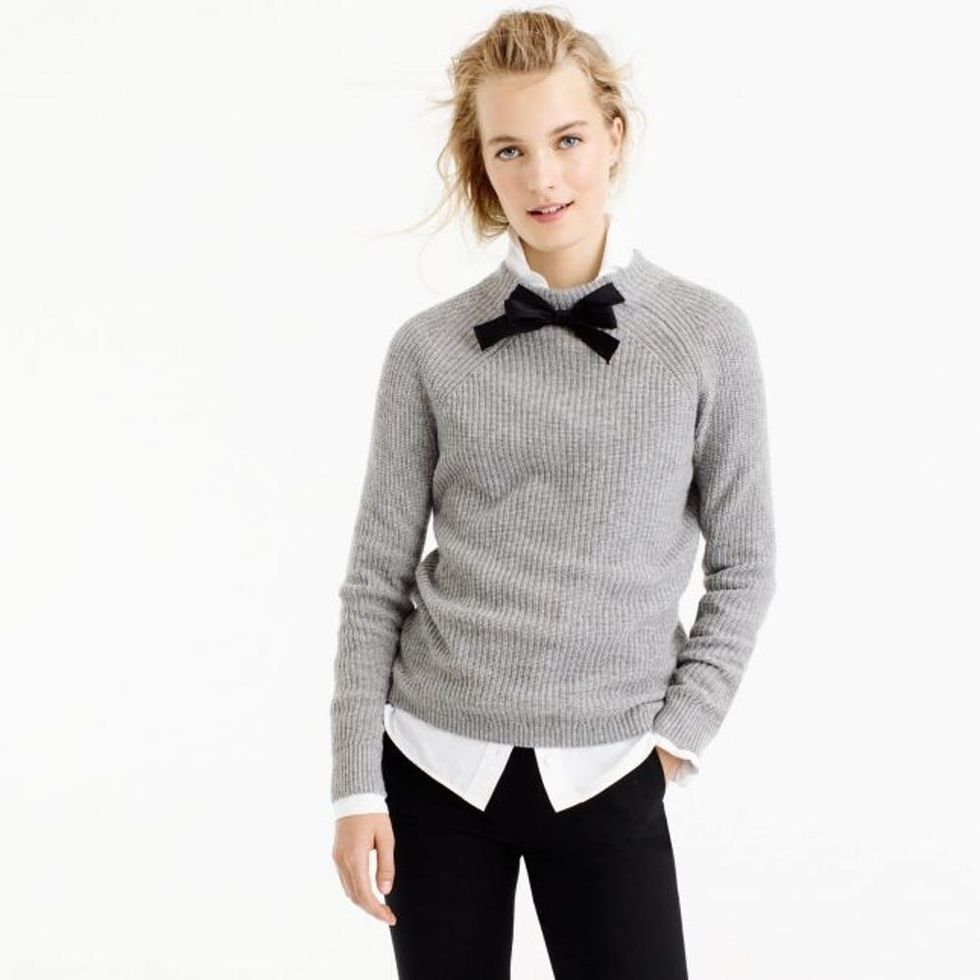 12. J.Crew Gayle Tie-Neck Sweater ($80): Give Blair Waldorf a run for her money with this polished tie-neck sweater that will double for an afternoon of back-to-back meetings and seasonal hostessing duties. It'll look just as divine teamed with a velvet skater skirt and bow-topped loafers as layered over a button-down dress shirt for a uniform that's prim-and-proper AF. Come after-hours, sparkly chandelier earrings will put you in party mode like that.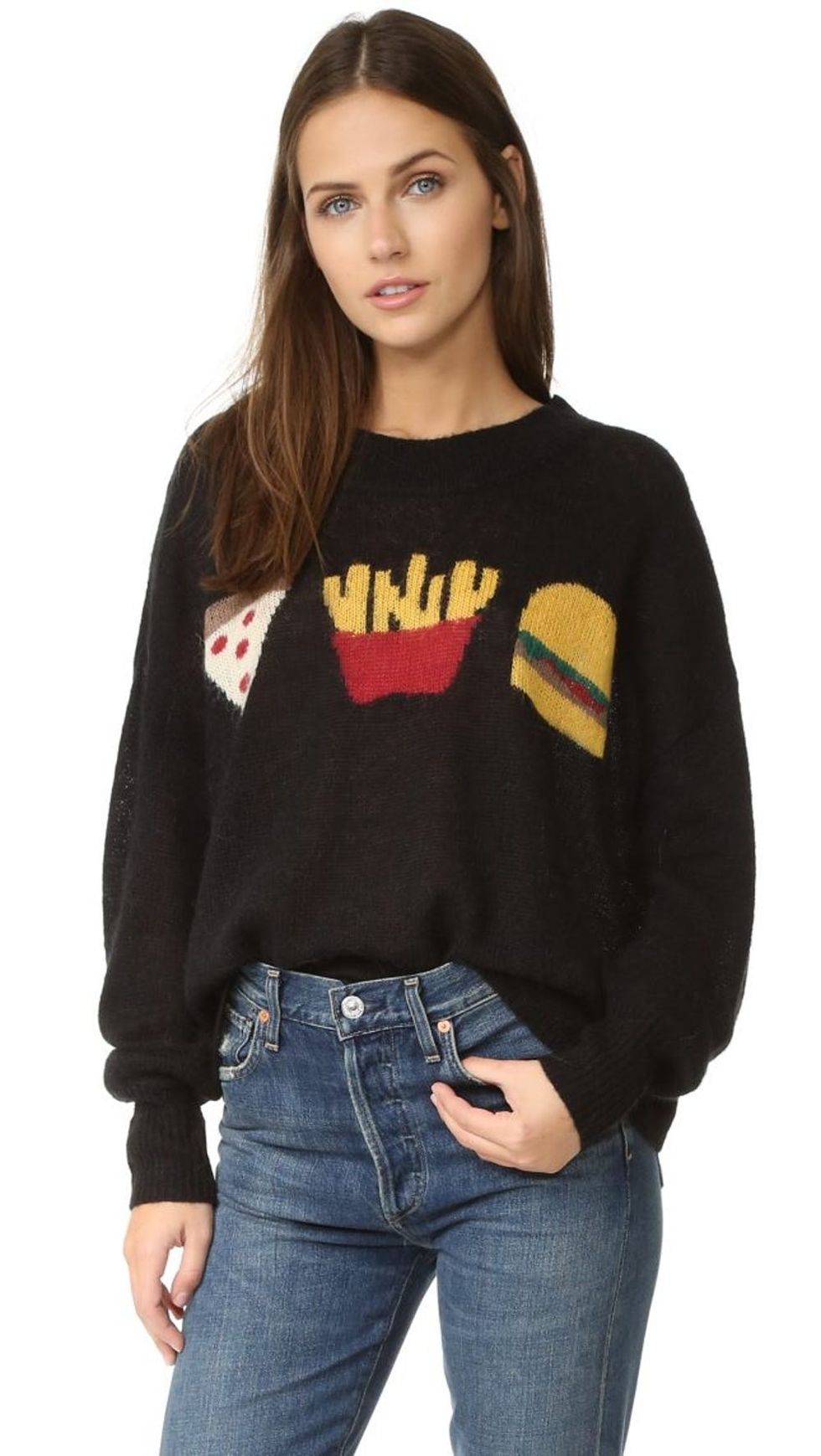 13. Wildfox Fries With That Sweater ($164): This just in: You now have a quirky intarsia knit sweater to don in celebration of Fry-day. No further introduction needed — this is what we call a sartorial no-brainer, folks. *Adds to cart without hesitation.*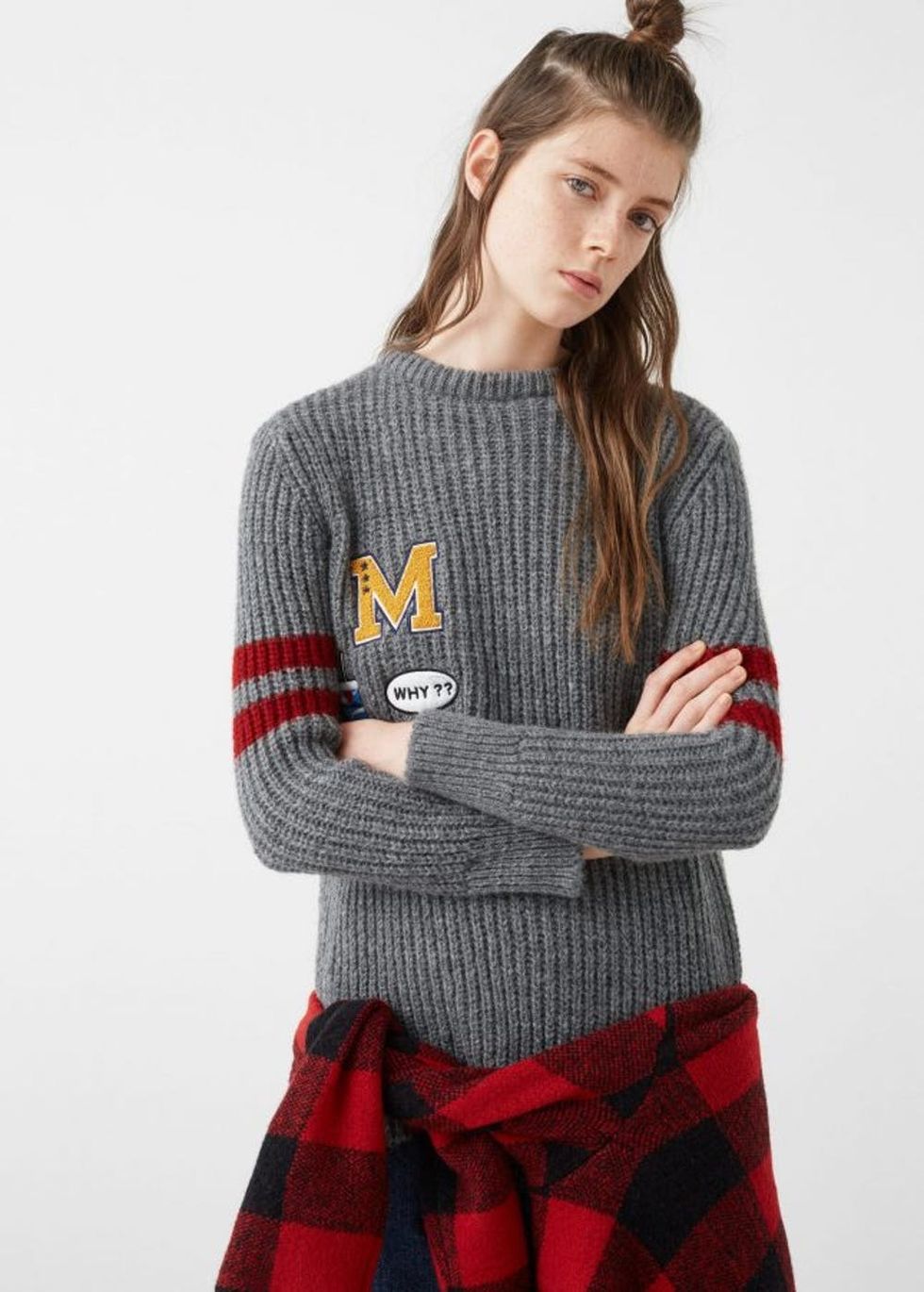 14. Mango Patched Sweater ($60): Patchwork FTW! Not just restricted to your collegiate days spent cheering on your fave team in the stands, this letterman-inspired sweater with striped sleeves will go hand-in-hand with your oversized bomber and lumberjack flannels (tied around your waist for an angsty grunge-inspired look, naturally) come the weekend.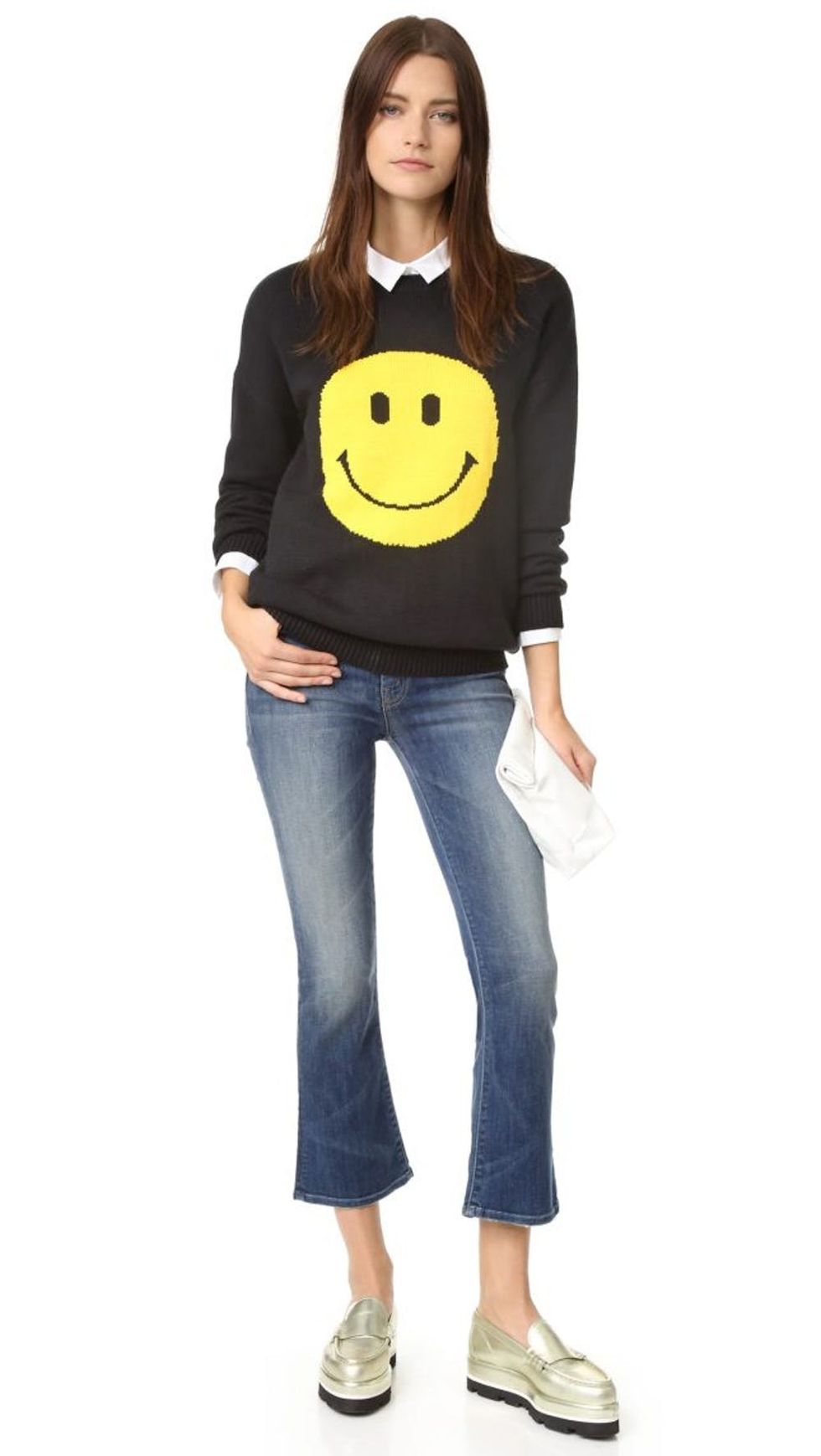 15. English Factory Smiley Face Sweater ($75): If we had a smiley face sweater this downright chummy, then we'd be cheesin' hard too. We're pretty sure it's impossible to be down in the dumps when your knitwear of choice packs this much personality. Layer it over a crisp white button-down for work, or style it with cropped denim flares and metallic platform loafers for a quick jaunt across town.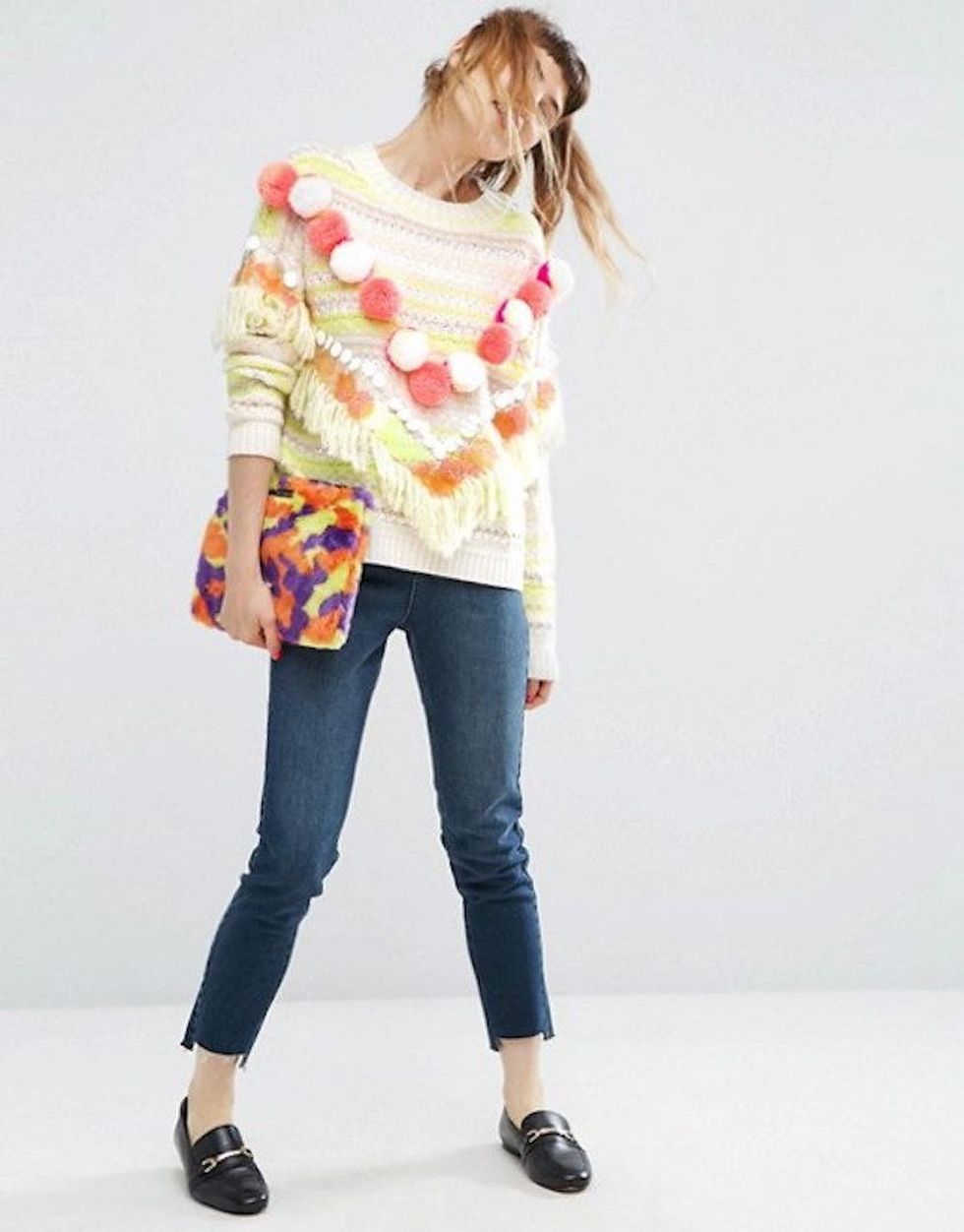 16. ASOS Sweater With Pom and Sequins ($83): Decorative poms and sequins? You shouldn't have, ASOS (but we're definitely not hating it). Usher in a "more is more" aesthetic with this playful knit sweater that's guaranteed to turn any mundane Monday upside down. An extra peppy ponytail — complete with a '90s-sequel scrunchie, natch — will be required for an #OOTD that racks up the style points.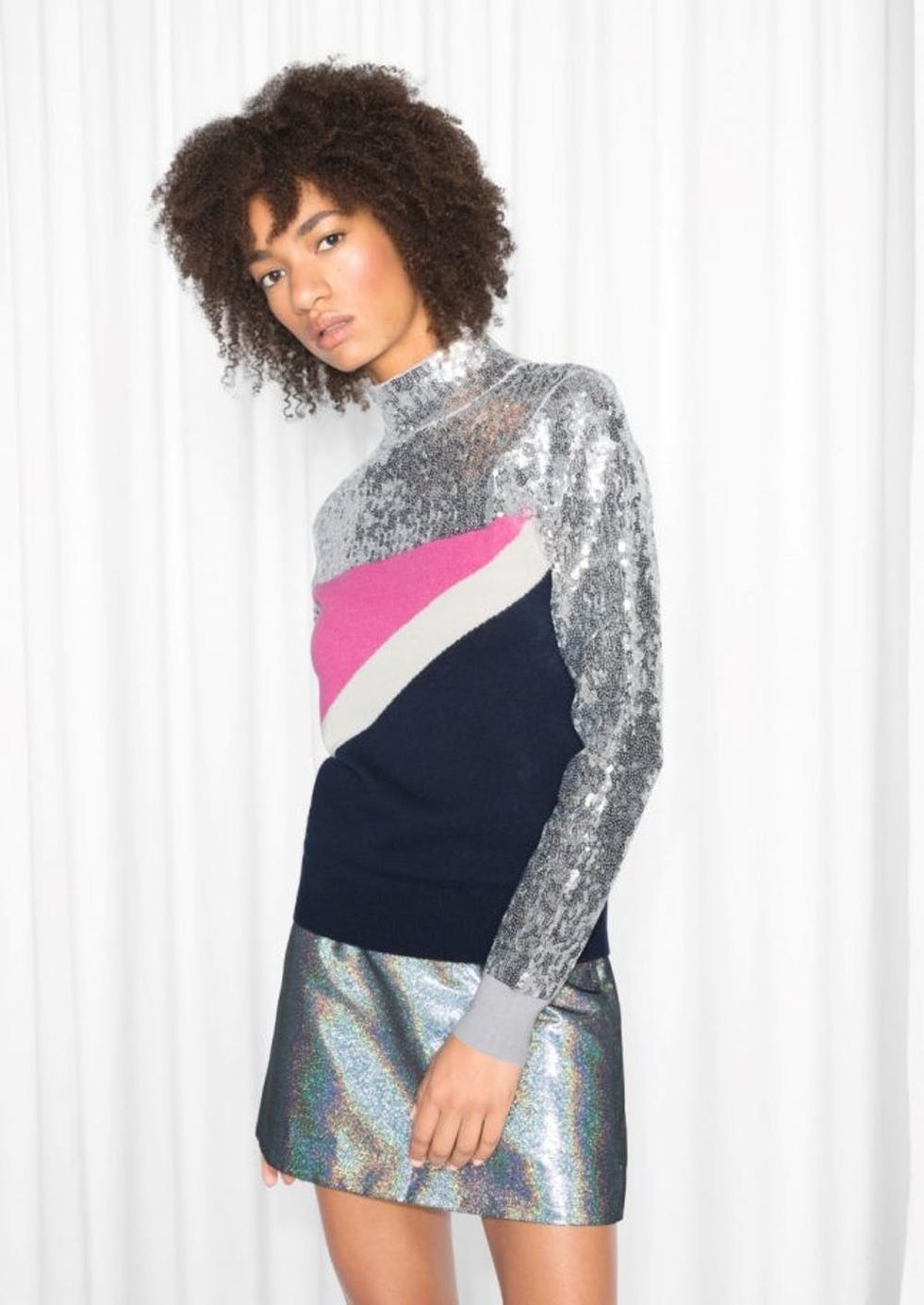 17. & Other Stories Pop and Block Sequined Sweater ($95): Part disco glam, part Zenon, Girl of the 21st Century, this flashy sequined sweater brings the dazzle factor. The navy and pink color-block detail lends just the right of oomph without downplaying any of the shimmer. Though maybe not HR-approved, this hero piece can double for a holiday office party, an upcoming GNO or a fall rager that carries on into the wee hours of the morning. A holographic mini and metallic silver ankle boots are a must.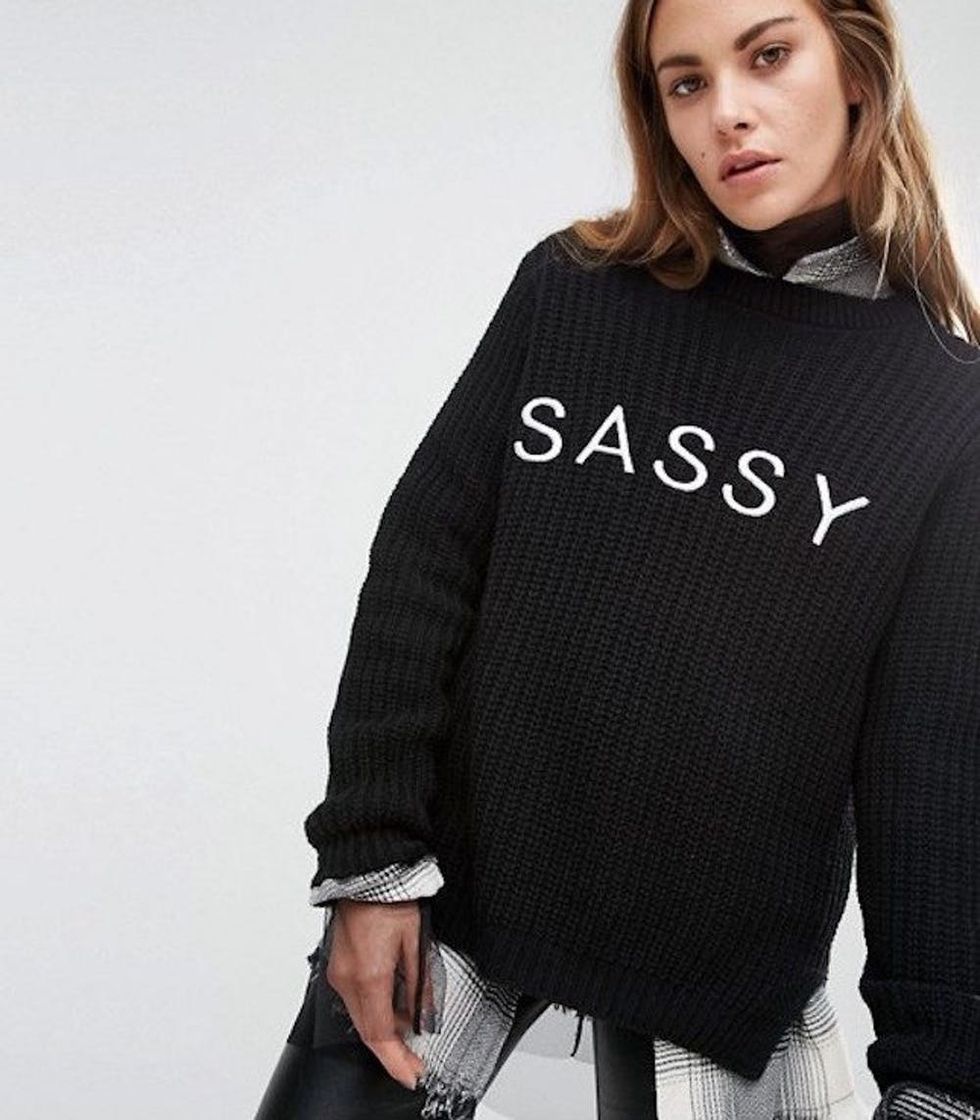 18. Seint Relaxed Sassy Embroidered Sweater ($57): This relaxed ribbed sweater packs so much sass, we're not even sure you can handle it. Wear your personality on your sleeve by teaming this wardrobe workhorse with black culottes for the boardroom (let your colleagues know you mean business) or when grabbing drinks at the bar on a Friday night for a don't-mess-around 'tude.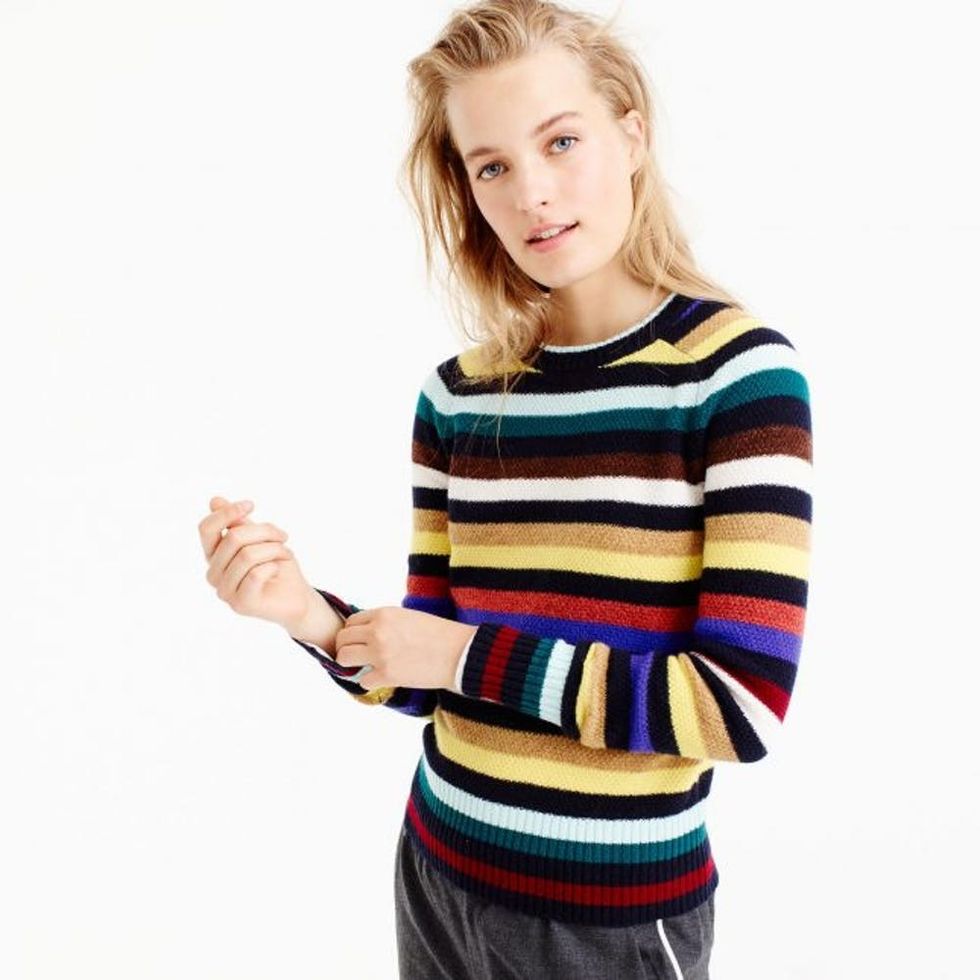 19. J.Crew Supersoft Wool Sweater in Multistripe ($90): Because you'll inevitably need a sweater that's playful enough to rival even your most cheeky beanie, this geek-chic rainbow striped sweater is pretty much non-negotiable. Some statement-making spectacles and sparkly ballerinas will be the perfect finishing touch.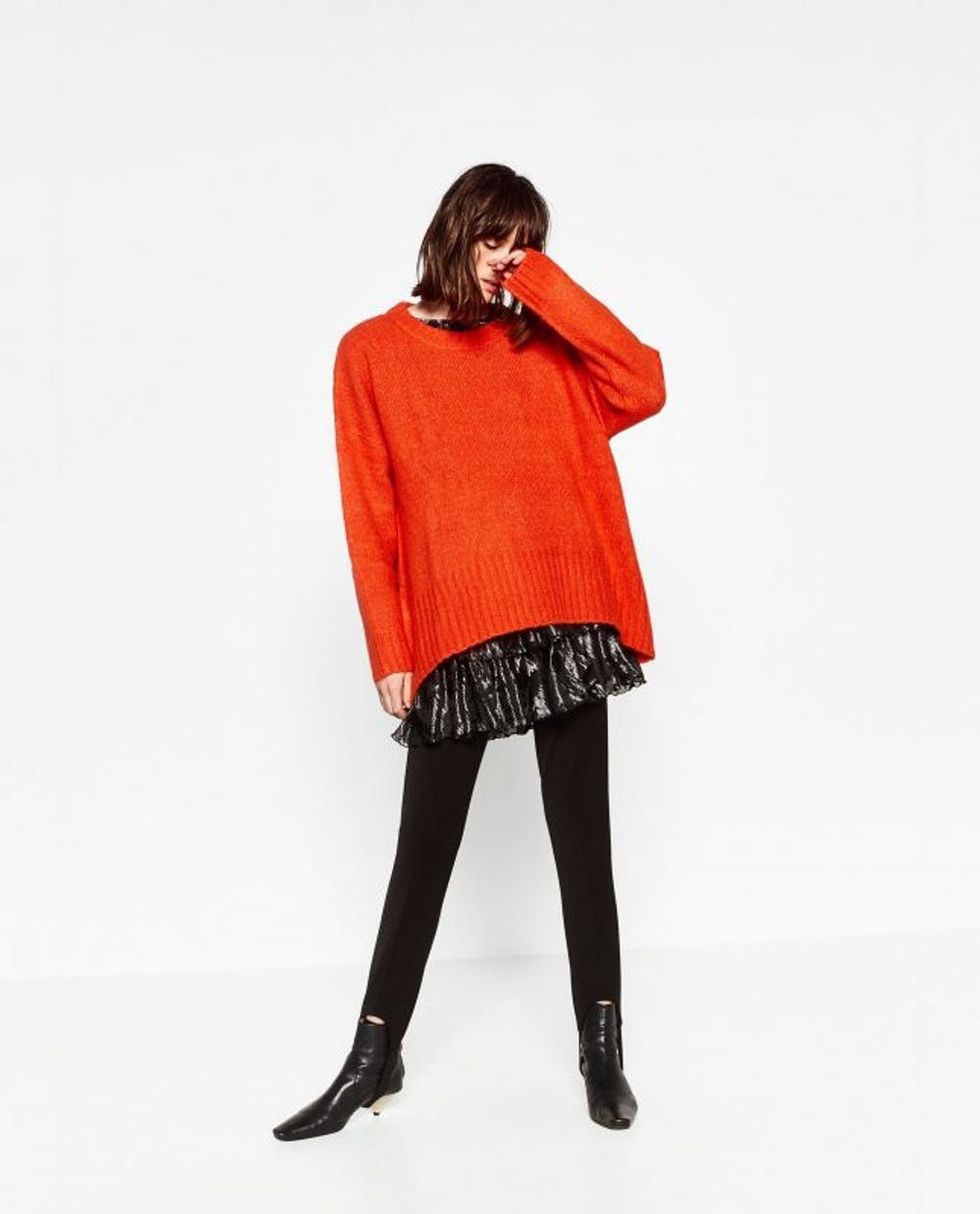 20. Zara Oversized Sweater ($60): Orange you ready to pack on the layers and bundle up like an eskimo? Probs not, but at least you'll have this oversized fluorescent sweater to keep you company when the first polar vortex hits. You best believe ripped jeans, a faux fur-trimmed parka and Doc Martens will be in order for a look that reads '90s wild child.
Which of these style MVP-worthy sweaters will you be investing in this winter? Follow us on Pinterest for more colorful outfit inspo!
Brit + Co may at times use affiliate links to promote products sold by others, but always offers genuine editorial recommendations.