How to Create a Gourd-geous Tablescape This Thanksgiving
Oct 30, 2018
If you're throwing a Friendsgiving feast or hosting the fam for Thanksgiving, you'll want to impress your guests with a harvest table. This DIY gourd-filled tablescape is a surefire way to set the scene in a festive, seasonal way. Scroll on to see how to get the look yourself.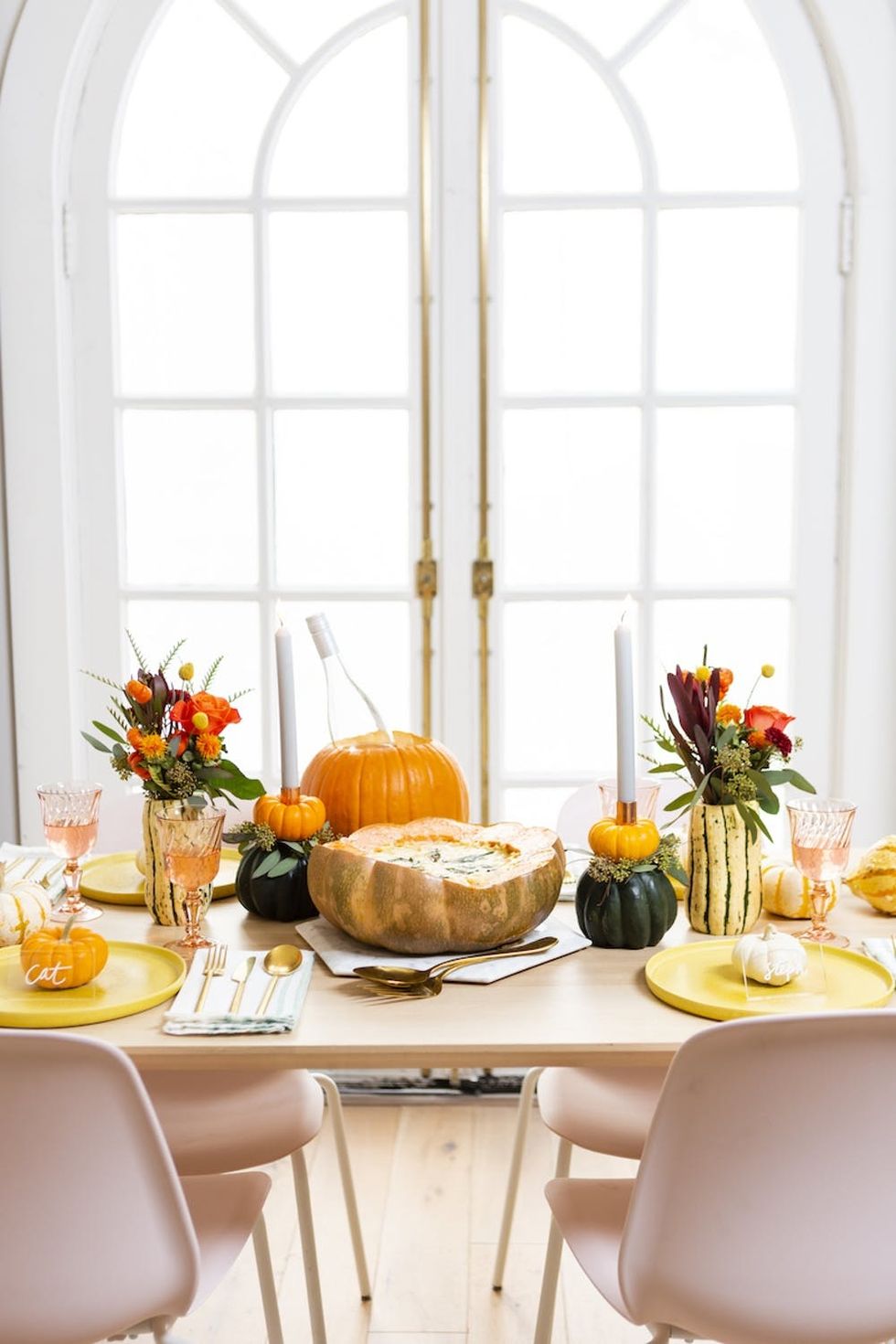 ---
Show off your fall craftin' skills by making gourd candlesticks to set the mood, vases to adorn the table, and an ice bucket to chill your celebratory bubbly. Put your carving tools to the test as you transform your pumpkin patch picks into accents for decorative use. Once the sculpting is done, reach for the finishing touches (your candles, flowers, and ice) to complete your creations.
Watch the full tutorial video below to learn how to bring the entire, gourd-geous ensemble to life.
And let's not forget the creamy, cheesy rigatoni to complete your delicious spread. Scroll below for the recipe.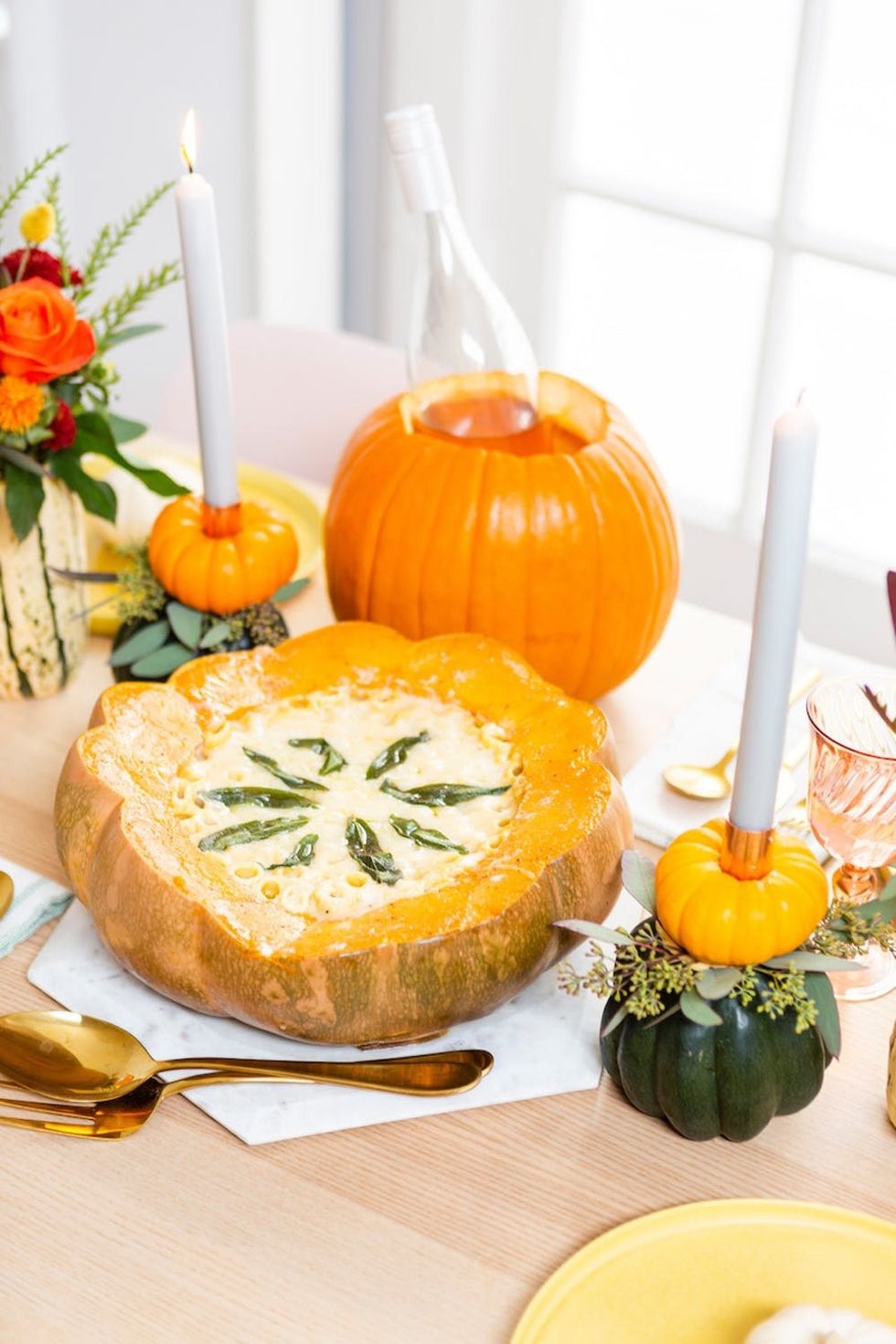 RIGATONI PUMPKIN PASTA PIE Recipe
(Serves 8-10)
Ingredients:
1 large pumpkin
oil, for coating
3 cups water
2 cups seasoned and roasted pumpkin cubes
1/4 cup butter, plus more for frying sage
2 tablespoons cornstarch
1/4 teaspoon nutmeg
1 package fresh sage, divided
8 ounces shredded mozzarella, plus more for topping
8 ounces shredded parmesan, plus more for topping
salt and pepper, to taste
1 package rigatoni noodles, cooked according to package instructions until al dente and rinsed under cold water to halt cooking
Directions:
1. Preheat oven to 350˚F.
2. In a blender, combine water, pumpkin, butter, cornstarch, nutmeg, and 1 sage leaf. Blend until smooth. Add 8 ounces of mozzarella and 8 ounces of parmesan to a blender, and blend again until smooth. Salt and pepper, to taste if needed.
3. Carve around the circumference of a large pumpkin, and remove all pulp and seeds. Coat the exposed fleshy parts with oil, then salt and pepper.
4. Place pumpkin on a rimmed sheet pan, then carefully fill the pumpkin with rigatoni noodles so each noodle is standing up straight and can be filled with the sauce.
5. Pour sauce over noodles, filling every crevice.
6. Top with a generous amount of shredded cheese.
7. Bake at 350˚F for 30 minutes.
8. Meanwhile, in a frying pan over medium-high heat, melt butter.
9. Fry sage leaves until crispy, then transfer to a paper towel.
10. Top prepared rigatoni with crispy sage leaves, and serve immediately.
Want more harvest tips and tutorials? Follow us on Pinterest!
(Photos via Brittany Griffin/Brit + Co; Styling via Alonna Morrisson/Brit + Co)
Sarah Schuh
Home Decor. Entertaining. Travel. Lifestyle. 'Grammer, dreamer, trip planner. Forever coming up with my next creative endeavor. Until then, I'm documenting everything I like on paper, er, the digital world.
Party