Style Resolutions: 5 Ways to Style a Maxi Dress
Jul 31, 2015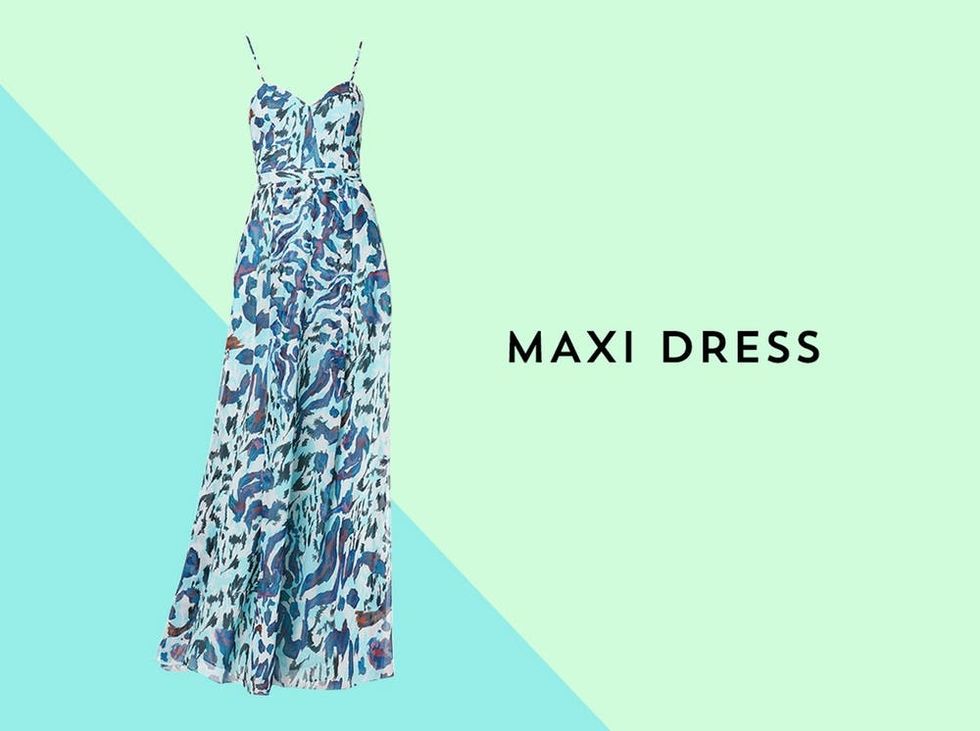 It's no surprise that a flowy maxi dress has become a summer wardrobe staple in every girl's closet. Beach goddess vibes aside, the breezy, floor-length frock might be one of the most effortless ways to look instantly polished on a sweltering day. Just toss it on and you're head-to-toe ready. It's that simple.
---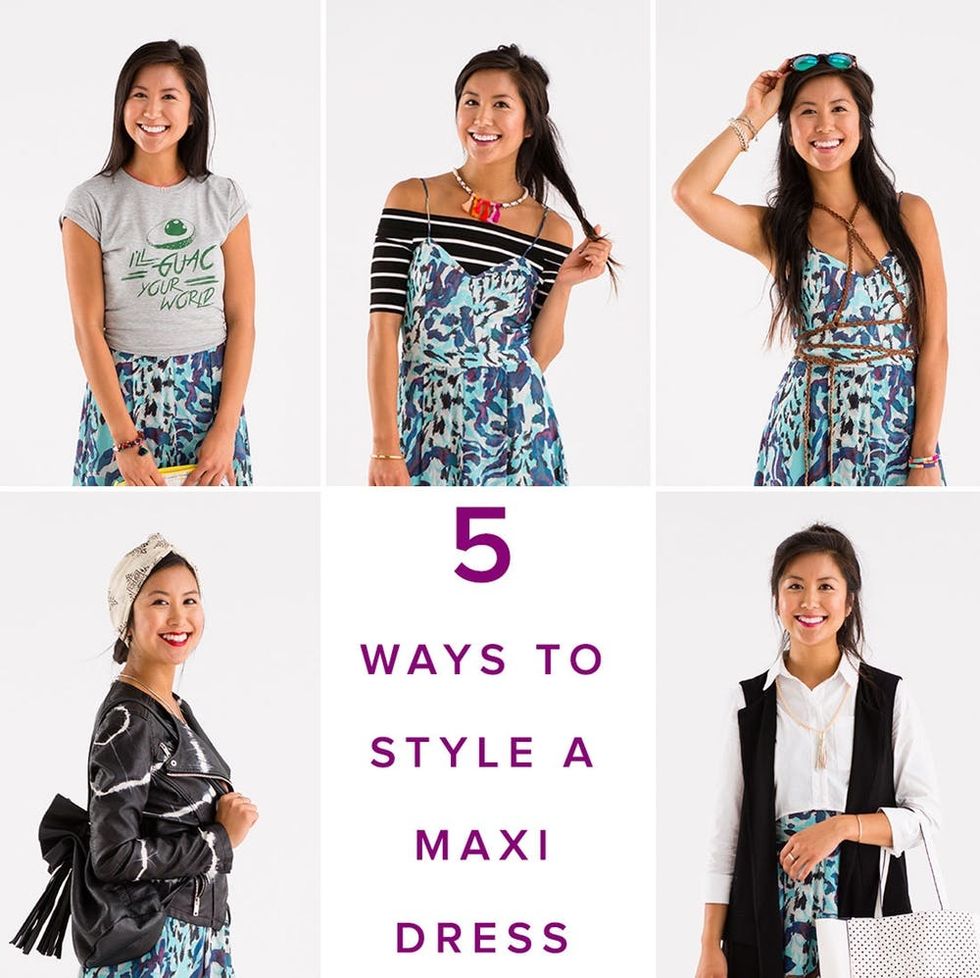 So simple, in fact, that when it comes to wearing your favorite maxi, it's almost too easy to get stuck in a styling rut. Sure, it can stand in for an entire outfit on its own, but that doesn't mean it always should. For this week's Style Resolutions, our resident hair + makeup expert Misty Spinney and I teamed up to show you just how versatile your favorite maxi can be with just a few other layers and accessories you already have in your closet. Yep, now you can rent a go-to brunch garment — we got this beaut from Rent the Runway — and have it also be your work wardrobe pick-me-up, a new date night fave and more!
FOR A CHILL WEEKEND
While your maxi dress may feel super cozy — roomy, lightweight, full-coverage, what more can you ask for? — it certainly doesn't have the same closet-to-couch appeal as say, a jersey jumpsuit. But you *can* get away with wearing it on a lazy day — just pick your fave graphic tee and tie it up around the waist to give the garment a super laid-back feel. Get the height you need for that dreamy floor-sweeping strut (to the fridge in between OITNB episodes) with platform sneakers, and if you do venture out into the world, grab a canvas pouch to carry the essentials.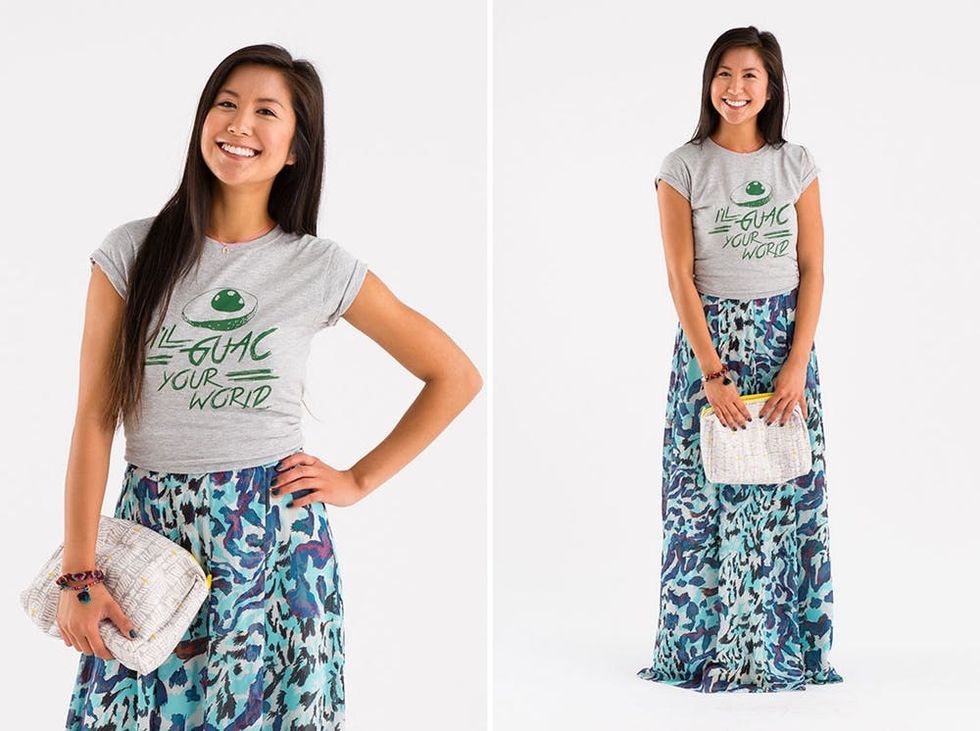 Hunter Bell Camo Sea Maxi Dress ($70 rental, $396 retail) + Bad Pickle Tees I Guac Your World Tee ($20), DIY Espadrilles, Maika Vertical Strokes Mustard/Grey Pouch ($13), Yellow House Handmade Horseshoe Charm Necklace ($12), model's own bracelets
FOR DATE NIGHT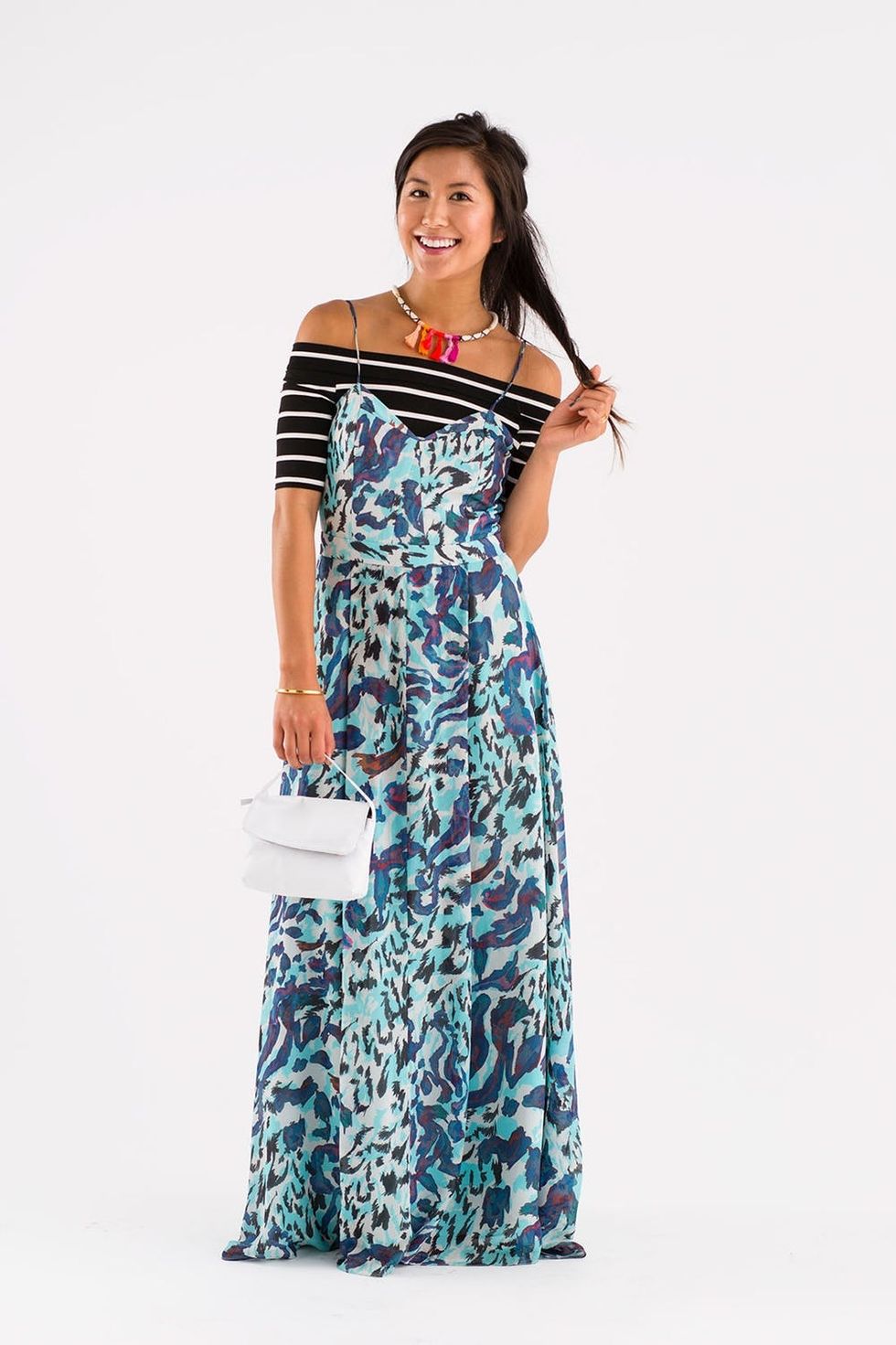 To keep the vibe super flirty but take the breezy dress from day to night, try layering a figure-hugging, off-the-shoulder tee underneath to create a more elegant — and way more interesting — neckline. We couldn't help but clash patterns to keep things feeling light and fun (if you're a newbie at the mix-and-match game, consider a striped top your starter kit — the French-girl pattern goes with just about everything). A teased-out pony and a posh mini bag make it official: You're ready to be wined and dined.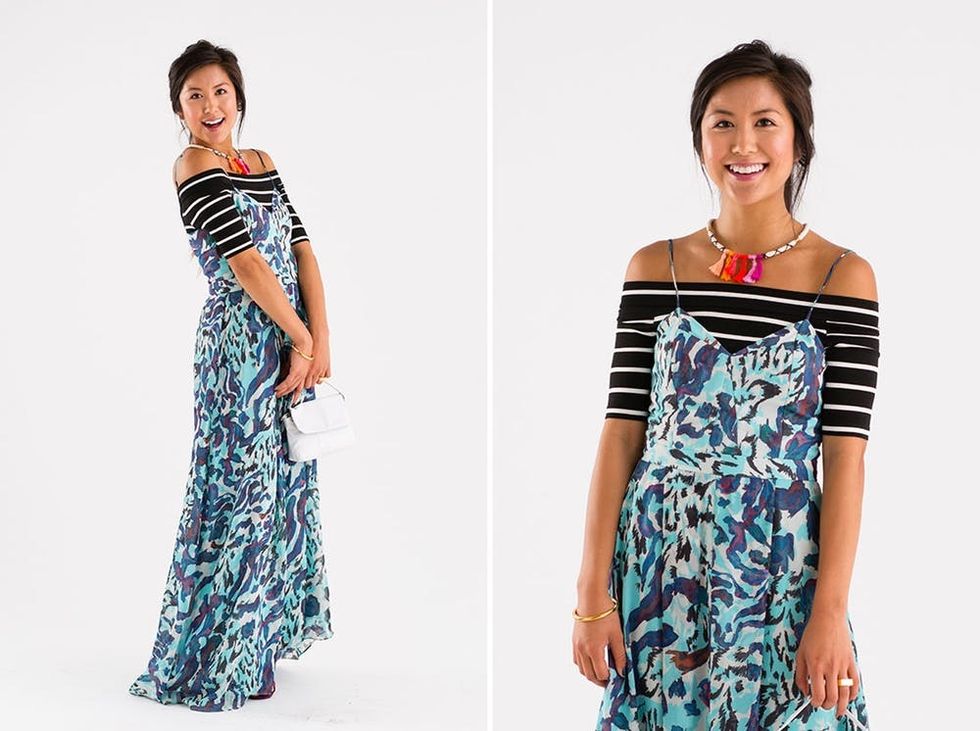 Hunter Bell Camo Sea Maxi Dress ($70 rental, $396 retail) + ASOS Top in Stripe With Off Shoulder Bardot Neckline ($20), ASOS Soft Leather Crossbody Bag ($40), Brit + Co Wrapped Necklace Kit in Warm Tones ($29), UNA Gold Bangle ($56), UNA Ascent Ring ($37)
FOR THE OFFICE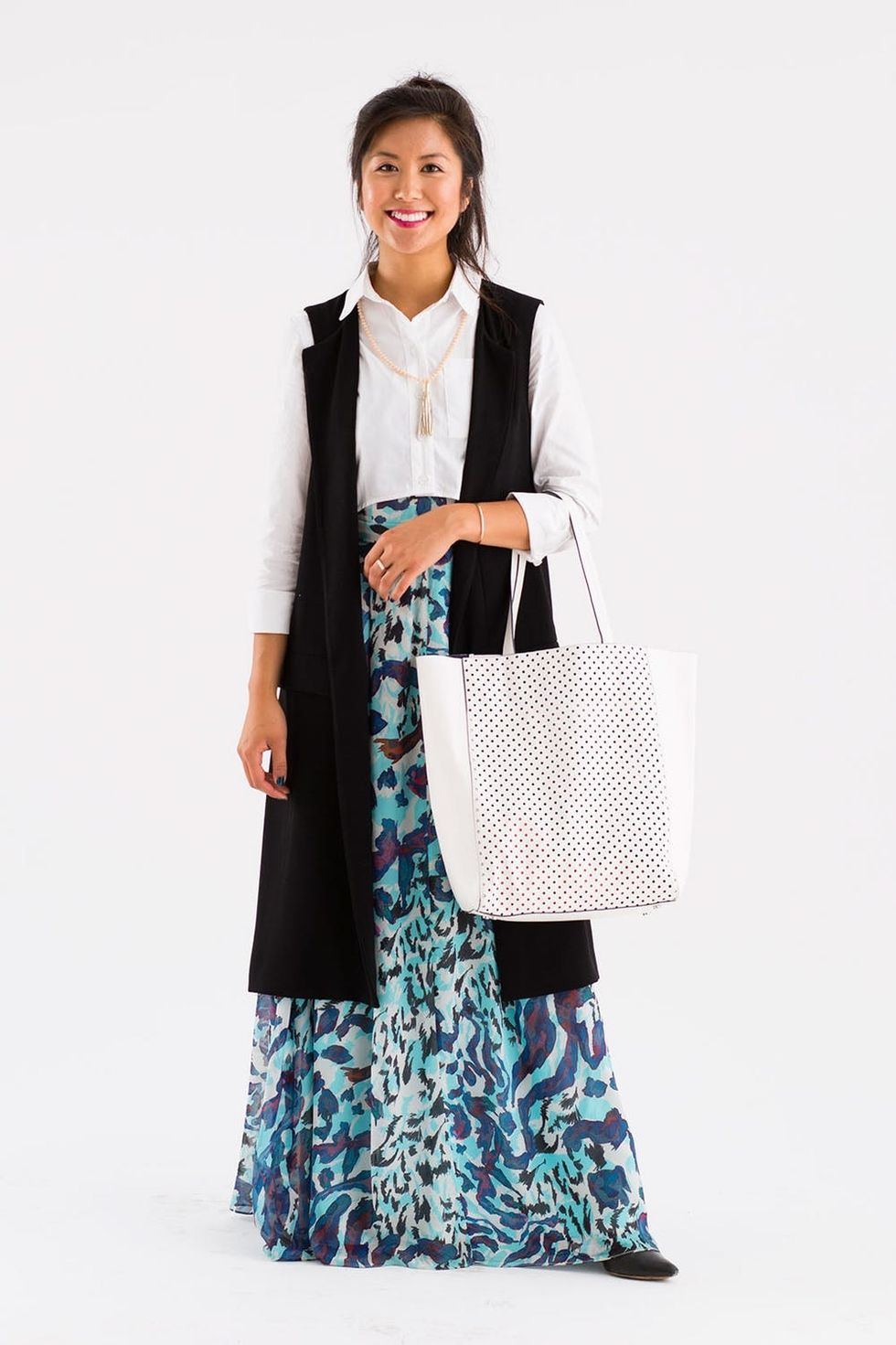 Here's proof that a maxi dress can feel totally professional — it just takes a little creative layering (and by that we mean skip the traditional blazer). A cropped white button-up — or a classic one belted at the waist — instantly tames the maxi's inherent sun + sand feel and, along with a longline sleeveless vest, refines the look without totally weighing it down. Carry your favorite laptop lugger and zip up a pair of pointed booties to round out the 9-to-5 polish.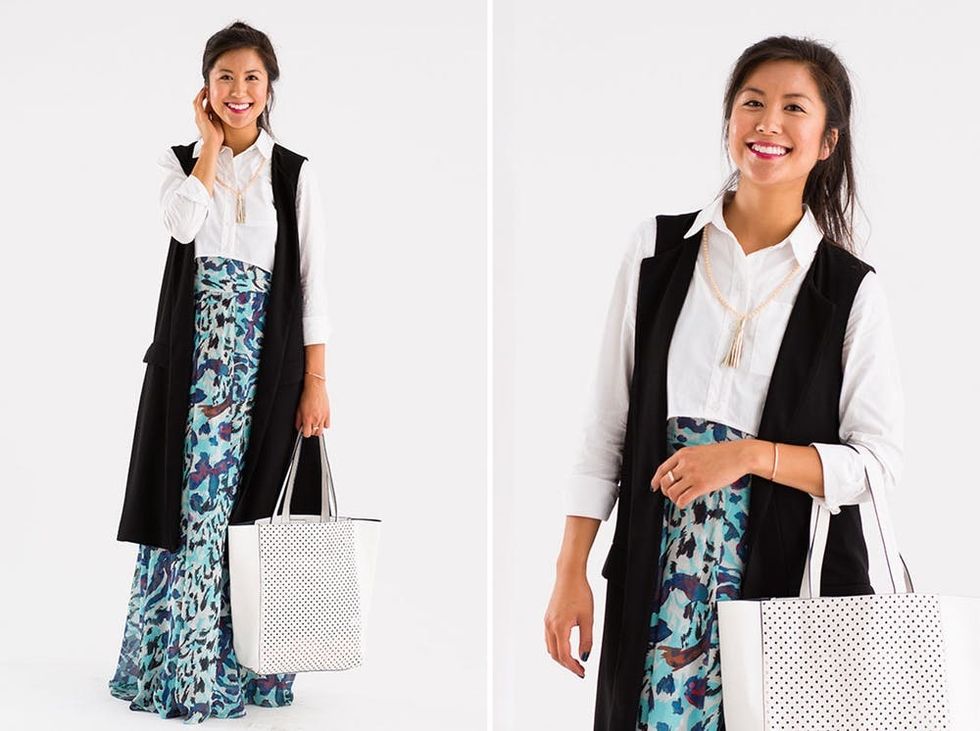 Hunter Bell Camo Sea Maxi Dress ($70 rental, $396 retail) + Asilio Daylights High/Low Shirt ($132), Zara vest, model's own shoes, model's own bag, Marrin Costello Valli Necklace ($98), Christina Kober Designs Inspiracelet Message Cuff ($78), Is Was + Will Be Flora Ring ($54)
FOR A LAZY BEACH DAY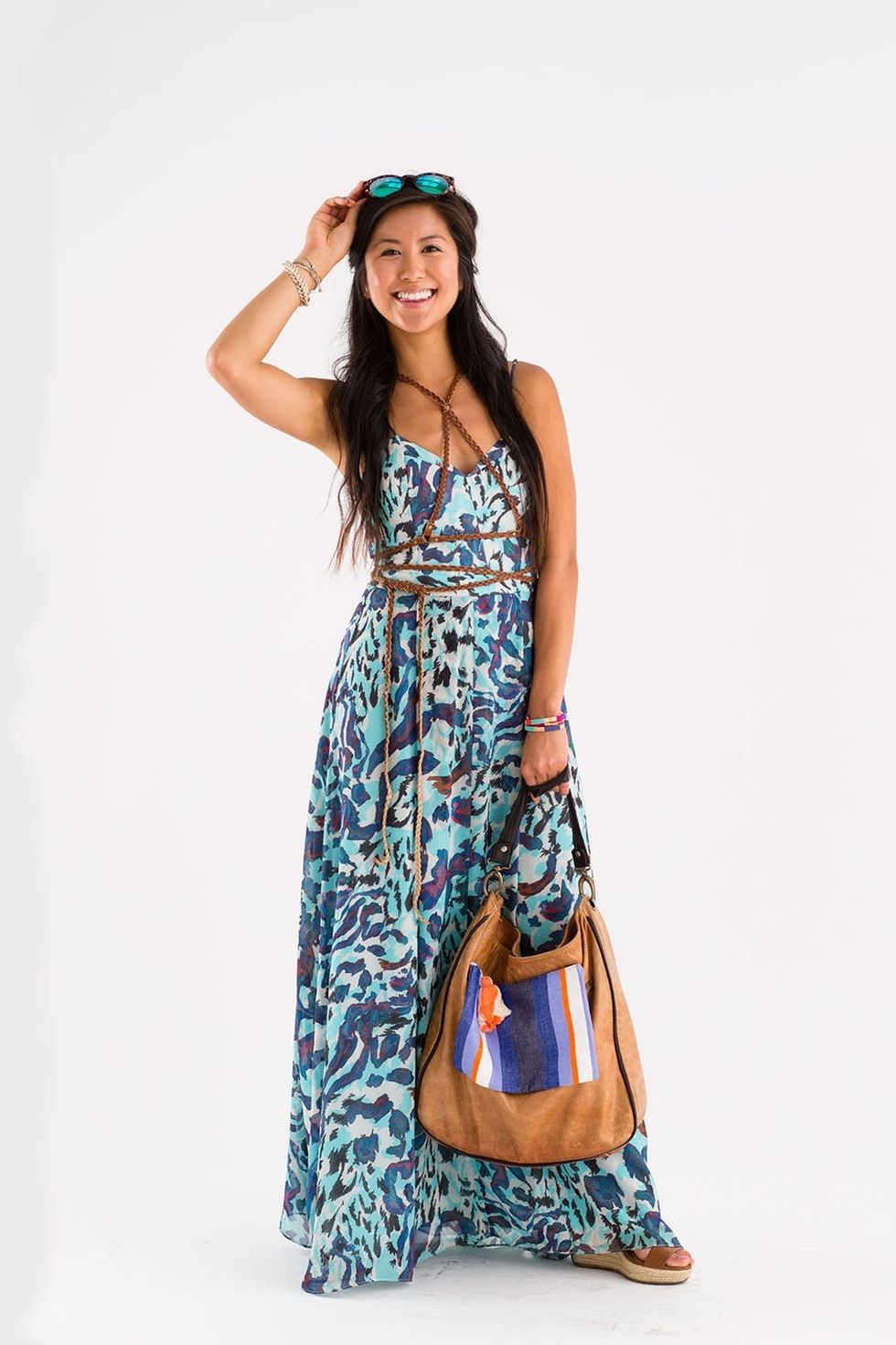 Nearly everyone with their toes dug in the sand/strolling along the boardwalk/sipping' Bloodies at the outdoor bar will be donning a bold maxi, but there's one super easy and completely unexpected style hack you can do to stand out: strap on a harness. Seriously, if you do a little searching, you'll see that not every harness out there is as edgy as the ones in "Bad Blood," like this delicate-yet-daring accessory. If you're thinking "baby steps," then swap it out for a sleeker body chain.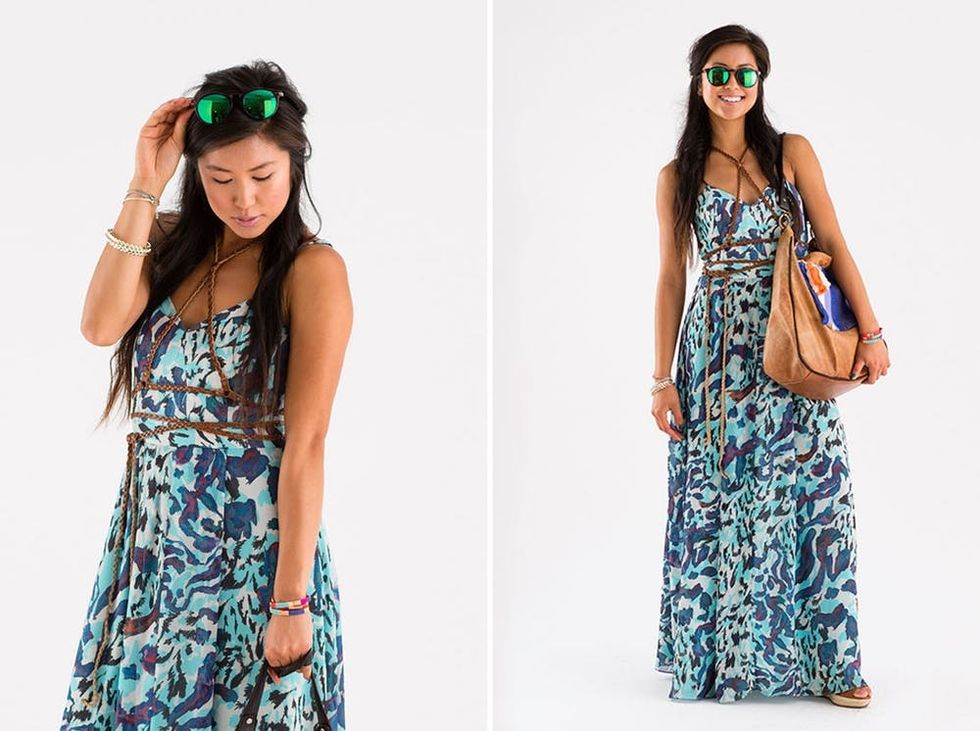 Hunter Bell Camo Sea Maxi Dress ($70 rental, $396 retail) + Jakimac Braid Raid Leather Harness ($98), model's own shoes, model's own bag, Sunski Dipseas in Emerald Tortoise ($55), Sweet & Spark Bracelet, model's own bracelets
FOR THE FESTIVAL GROUNDS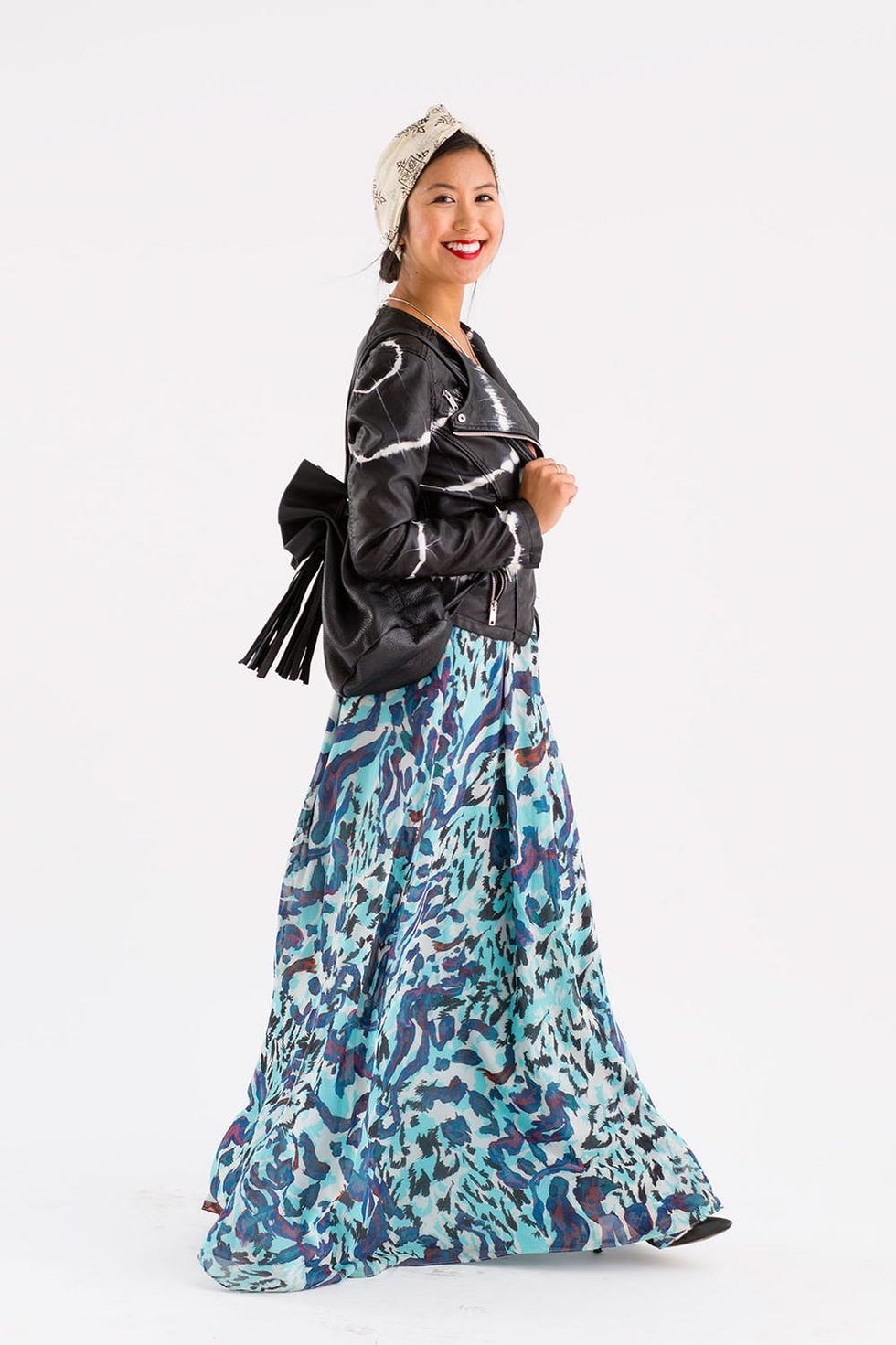 The easiest way to add edge to an outfit? Bring on the leather. A cropped moto jacket and clunky boots will give your dreamy maxi that tougher, girl-gang feel, while a turban and a bright red lip will keep it sweet. Be sure to sling a backpack over your shoulder so that you can have your hands totally free as you dash from stage to stage and dance your heart out in the crowd.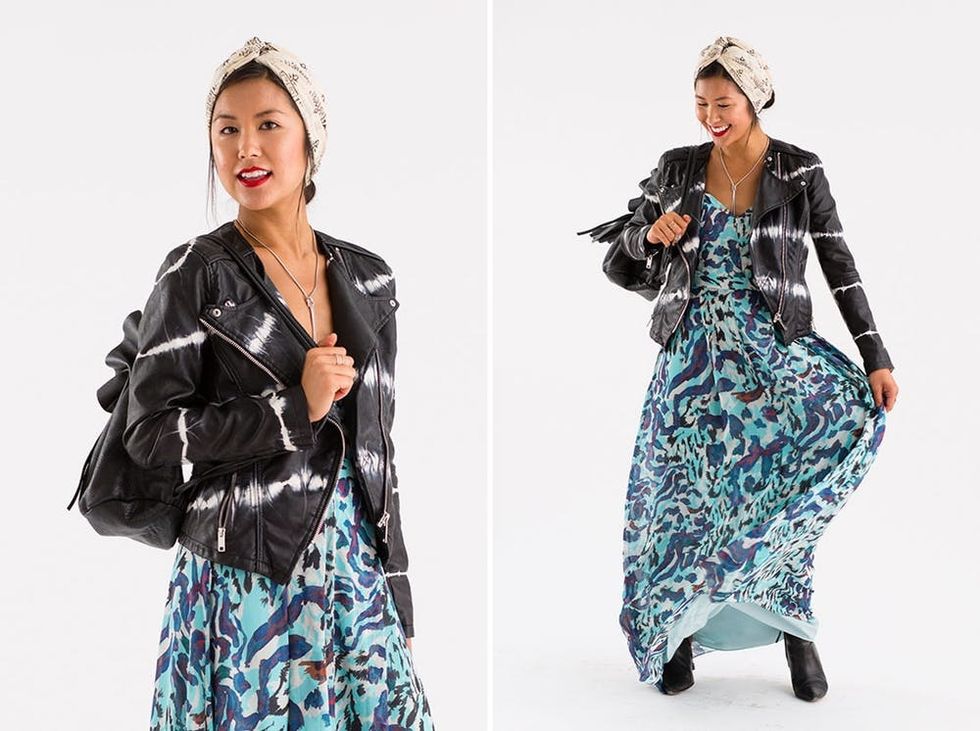 Hunter Bell Camo Sea Maxi Dress ($70 rental, $396 retail) + model's own jacket, model's own shoes, model's own bag, Sweet & Spark Necklace, model's own turban
What are ways you amp up your go-to flowy maxi? Share your style tips with us in the comments below.