Over the course of our Bridal Beauty Series, where we feature hair and makeup tutorials you can *actually* do on your wedding day, we've primarily stuck to the classics. Think: how to DIY dewy skin, veil-worthy updos and the most romantic braids. So now, we're throwing in a little something for all the offbeat brides out there, or really for anyone who wants to add a hint of drama to their bridal look: how to pull off a bold lip color on your big day.
---
For those of you who rock a colorful pout on the regular, this will be second nature. But for girls who pull out the vibrant coral or bright red for special occasions only, this can be trickier, because you don't want to break the golden rule of wedding day makeup: don't stray too far from your normal makeup routine or else you may not look (or more importantly feel) like yourself. That said, the key here is balance. So scroll below for you guide to DIYing your wedding day makeup with a bold lip in a way that won't outshine YOU!
Step 1: Prep: HYDRATE + PRIMER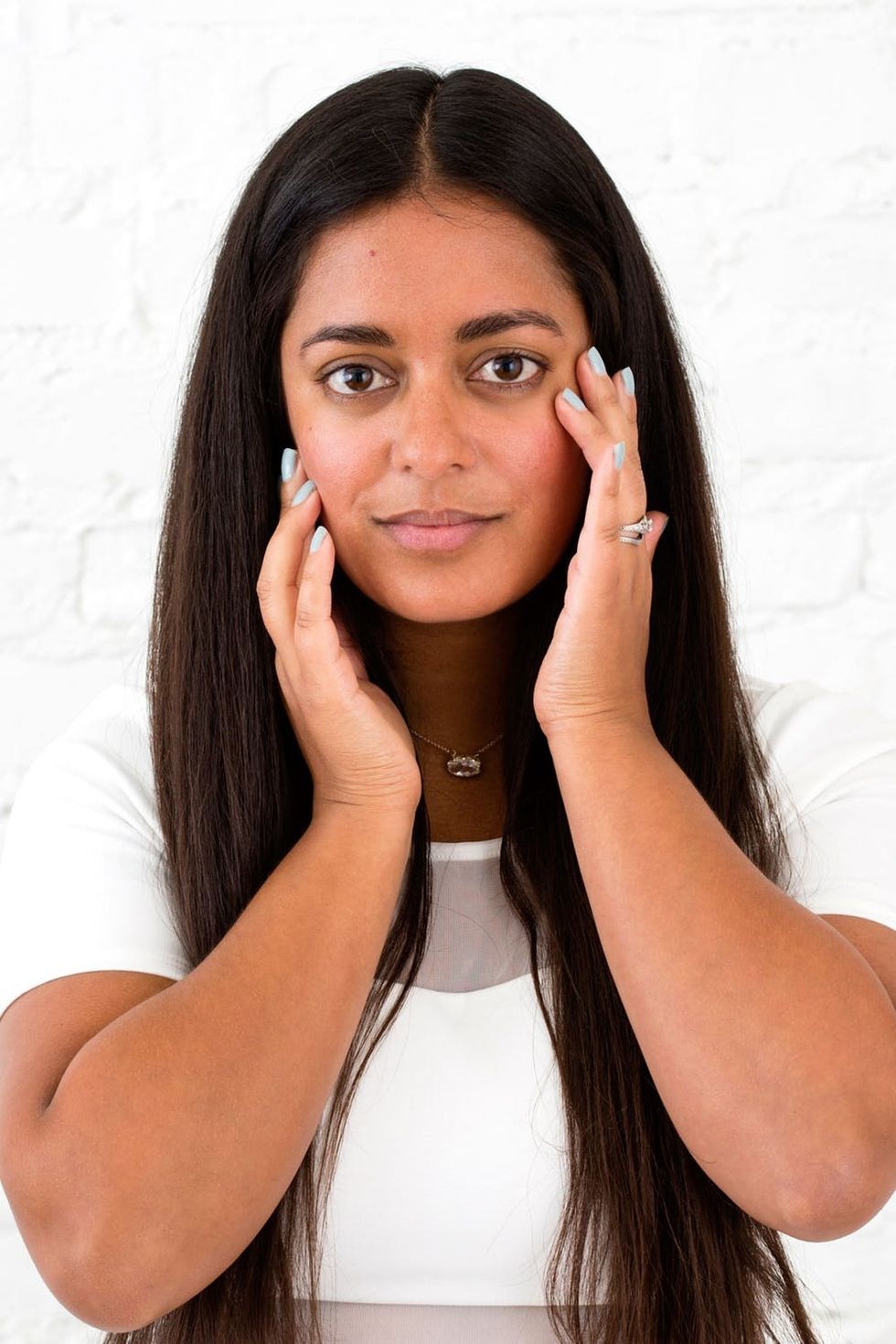 Apply your daily moisturizer, then apply a primer like Japonesque Color Radiance Primer ($32). This will help even out your skin, give something for your makeup to cling to so that it lasts for hours and help diffuse any light that's reflected off your skin to give you a radiant glow.
Step 2: Apply Airbrush Foundation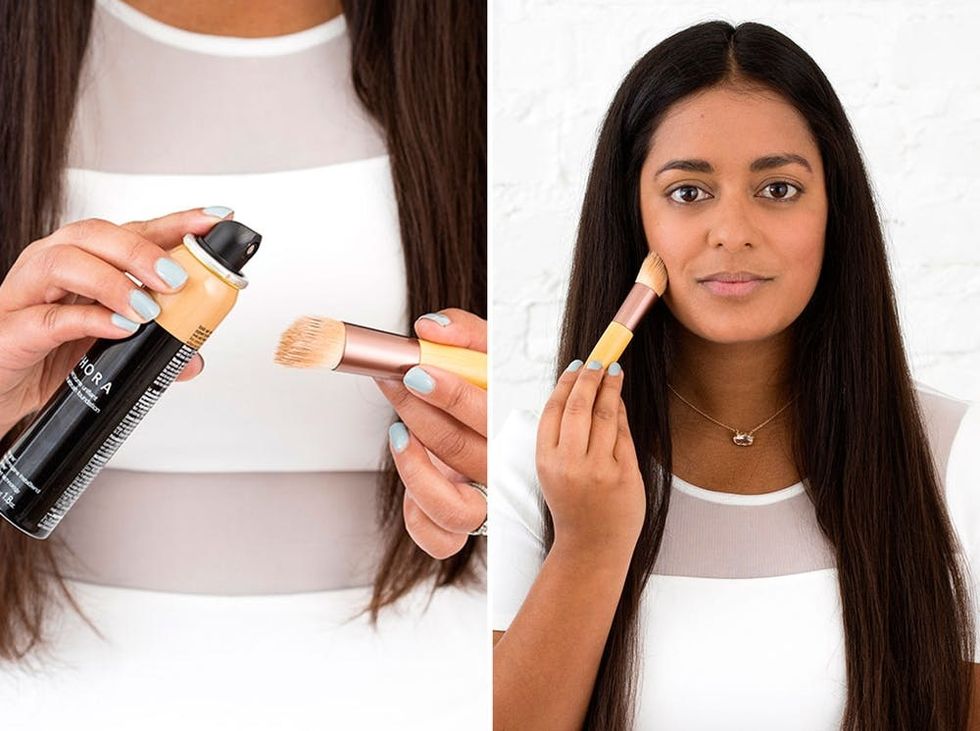 I'm obsessed with airbrush foundations for bridal makeup, especially the Sephora Collection Perfection Mist Airbrush Foundation ($28). This can be applied to your skin directly by misting on, but I find that you get a more natural looking coverage when you spray it onto a foundation brush first. Then apply it into your skin using small circular and tapping motions to blend and cover.
Step 3: Go Light + Bright On Your Eyes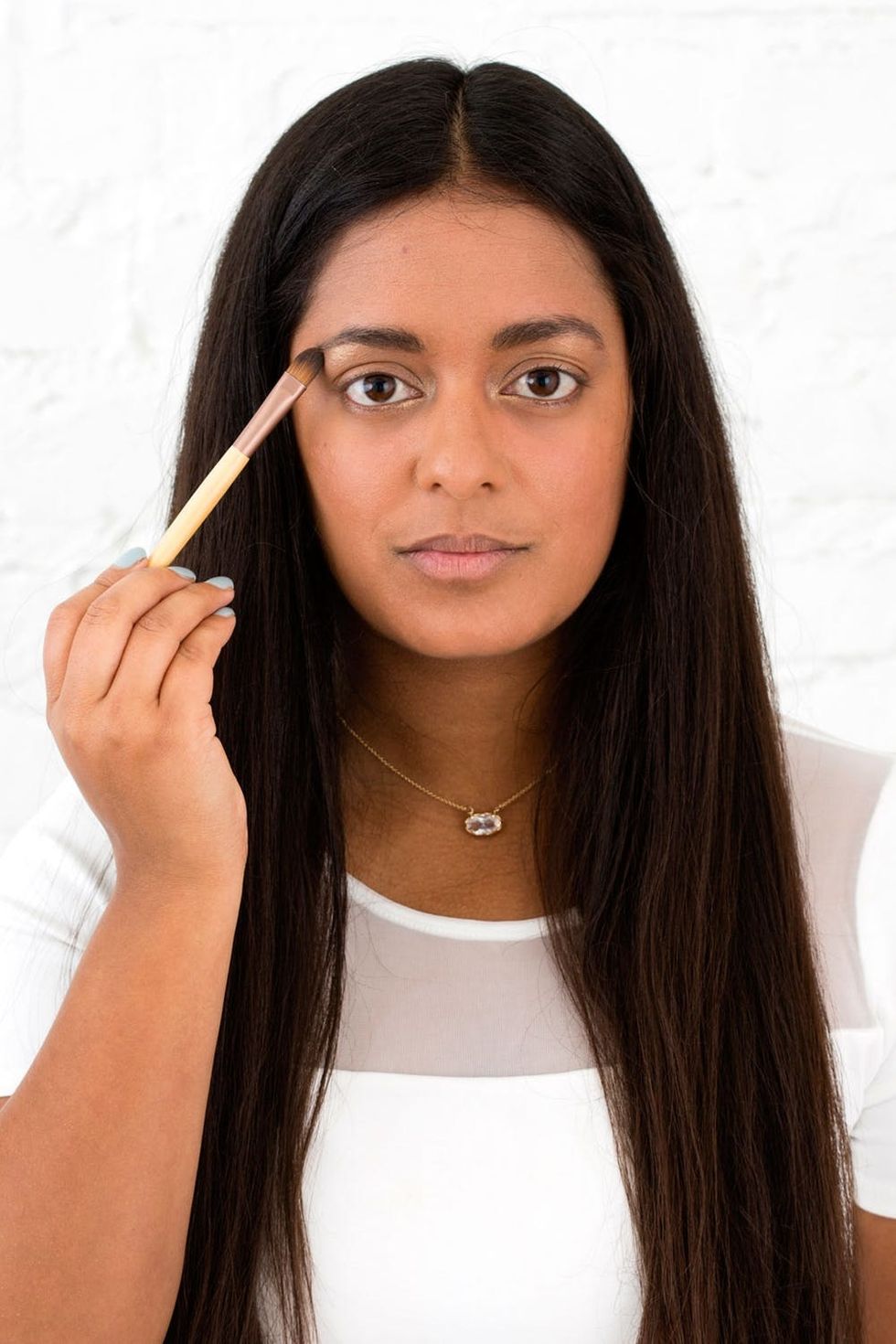 Since your lips are stealing the show makeup-wise, stick with a neutral eye look. The goal isn't necessarily to look as though you don't have any eye makeup on — you still want something that's pretty and will photograph well — so here, I'm showing you how to define your eyes in a natural-feeling way with just a touch of shimmer.
Brow Bone: Apply a reflective highlighting color like Sin from the Urban Decay Naked Palette ($54).
Crease: Go with a medium taupe shadow like Naked from the same palette.
Under Eye + Inner Corner: On the inside corners of your eyes, apply a shimmering gold shadow like Half Baked form the Naked Palette. For the outer corners of your eyes, apply a slightly less gold shadow like Sidecar from the same palette.
Step 4: Apply Eyeliner + Mascara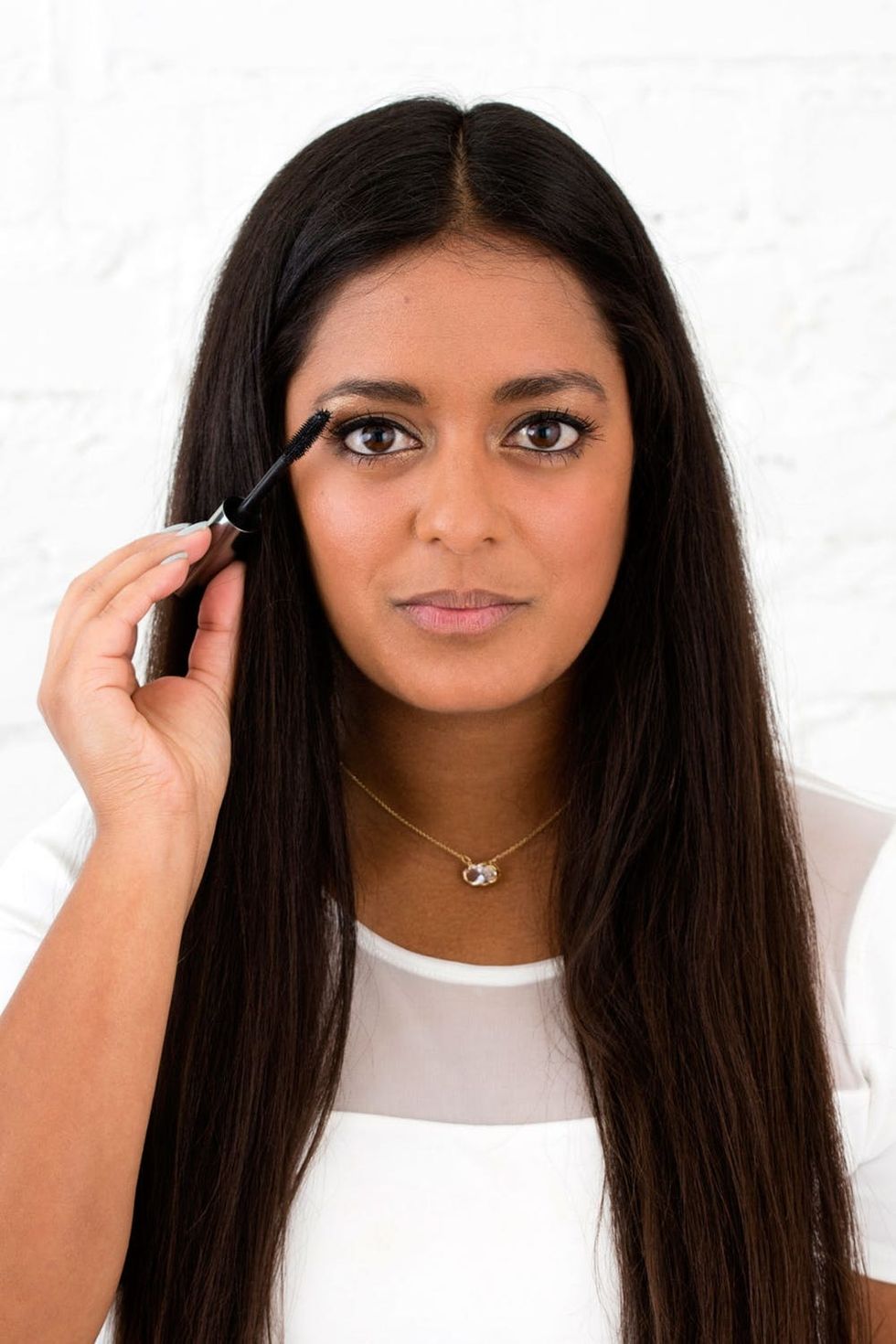 Go light on your eyeliner as well. Apply a thin strip of liner on your upper lash line to deepen your eyelashes. Then apply a coat or two of your favorite mascara to both your upper and lower lashes. If you really want to play this down for an even more natural look, skip applying mascara to your lower lash line.
Step 5: Contour + Highlight With Concealer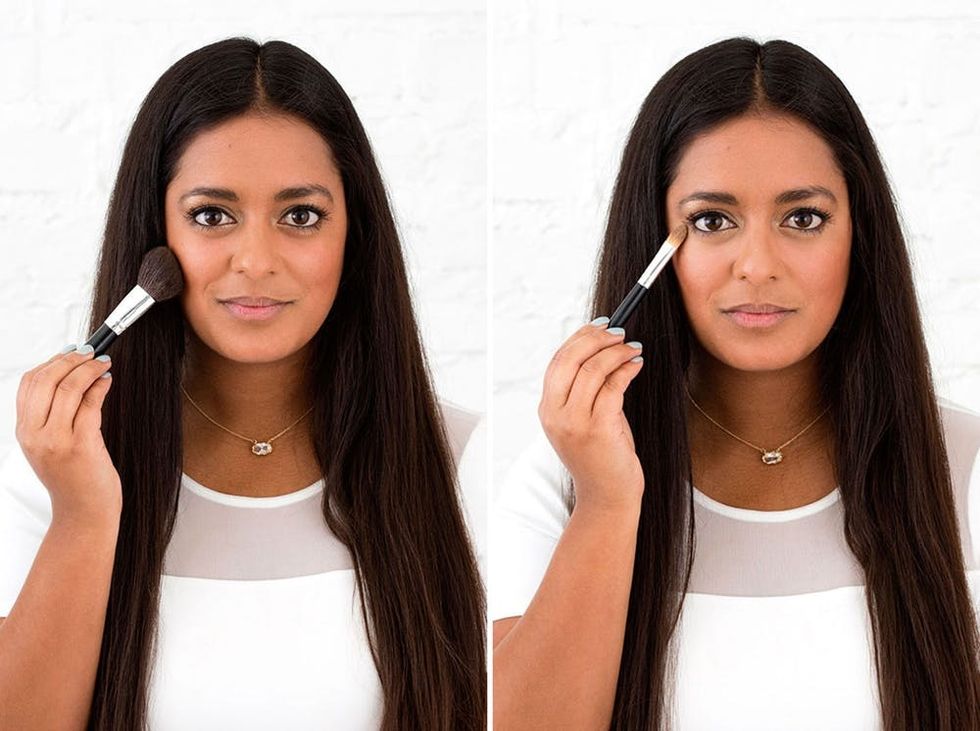 Apply a neutral matte bronzer like Benefit Cosmetics Hoola ($28) to the hollows of your cheeks, along your hairline and down along your jawline. Then apply your concealer (which should be a shade or two lighter than your foundation) to your under eye area in a triangle shape. The triangle shape is formed by applying concealer just outside your outer corner of your eye to the inside corner of your eye and then a line to a point that is just above your cheekbone. Blend in with a flat synthetic brush for the most even coverage. Can you see how much this step immediately lifted and brightened her entire face?
Step 6: Natural Blush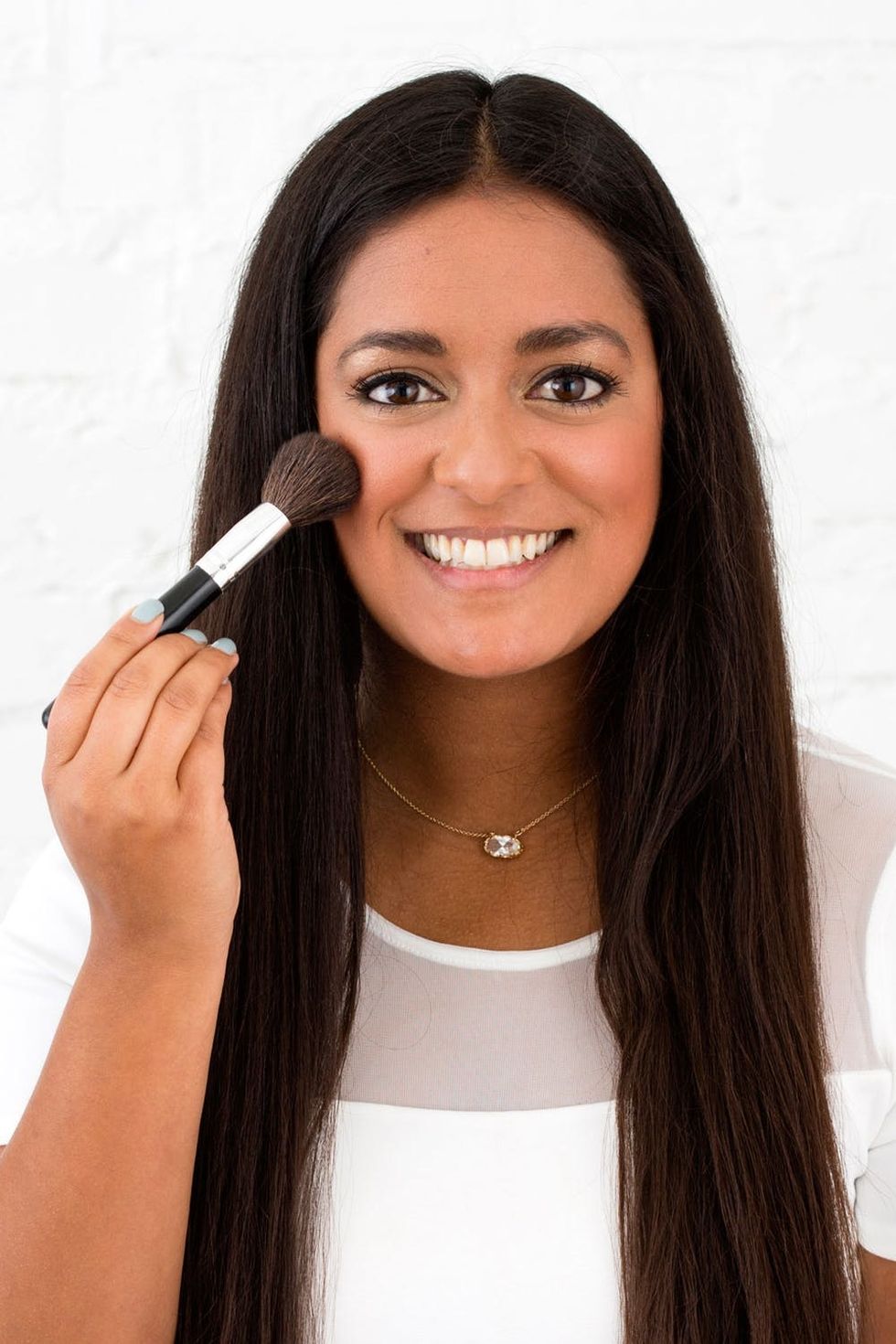 Smile and apply a neutral natural blush like NARS Blush in Orgasm ($30). This blush looks beautiful on literally every skin tone. It has just a subtle pinkish-peachiness with a mild reflective shimmer.
Step 7: Prep Lips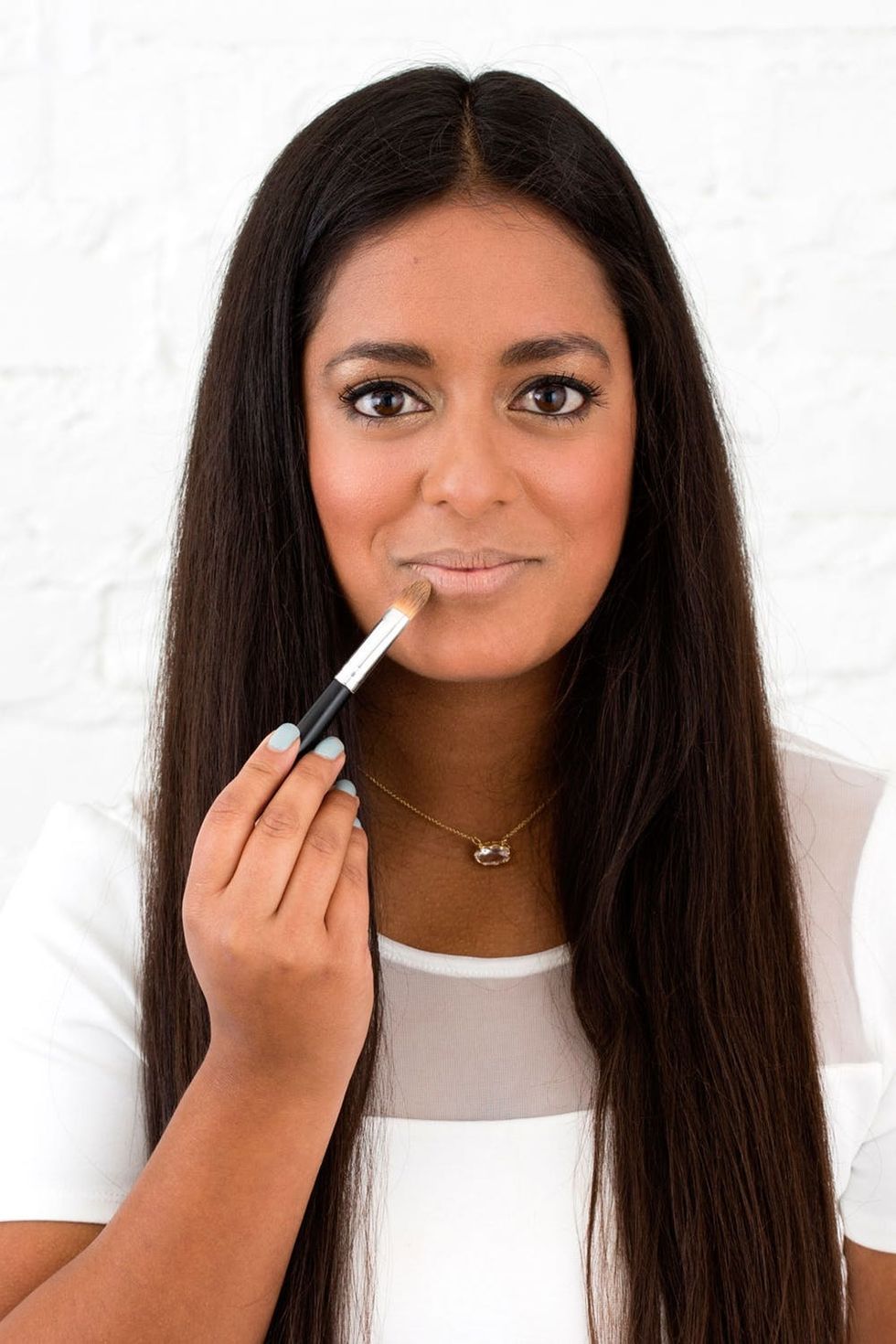 When applying a bright red or orange lipstick, it helps to prep your lips first by applying your concealer all over and slightly outside your lip line. Much like the primer in the prep step, this will even out your lips and make for super smooth application. As you can see, Anj's lips naturally have some deeper tones in them. This step will neutralize these tones, help the lipstick stay on longer and prevent it from bleeding.
Step 8: Go Bold!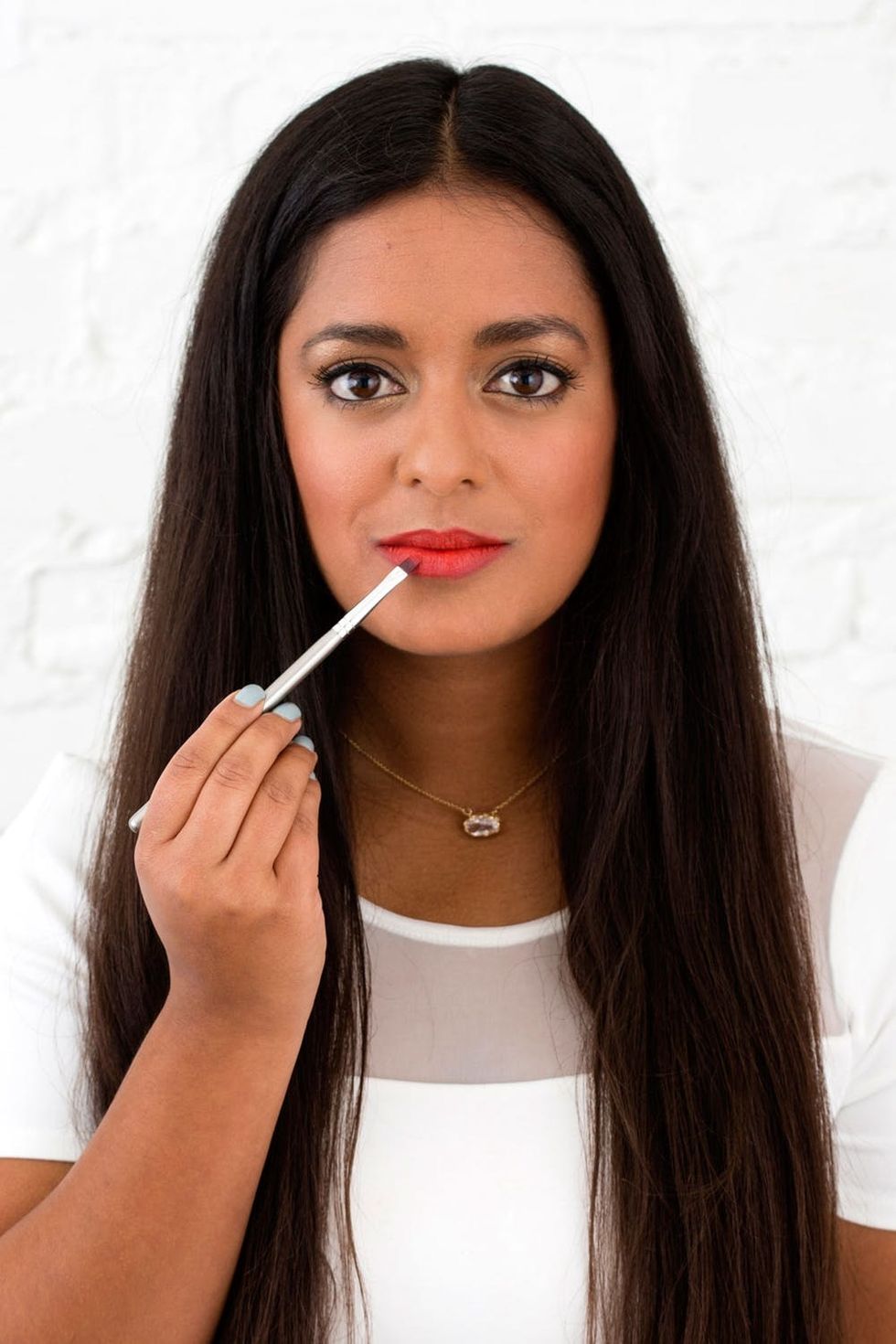 You can always grab your favorite classic red that complements your skin tone — but since it's spring, we're gonna bump it up a brighter notch. We're using a bright orange-red hue (L'ORÉAL Infallible 2-Step Lip Color in Infallibleallible Red ($13). Pro tip: Lipsticks with an orangey undertone will help make your teeth look brighter.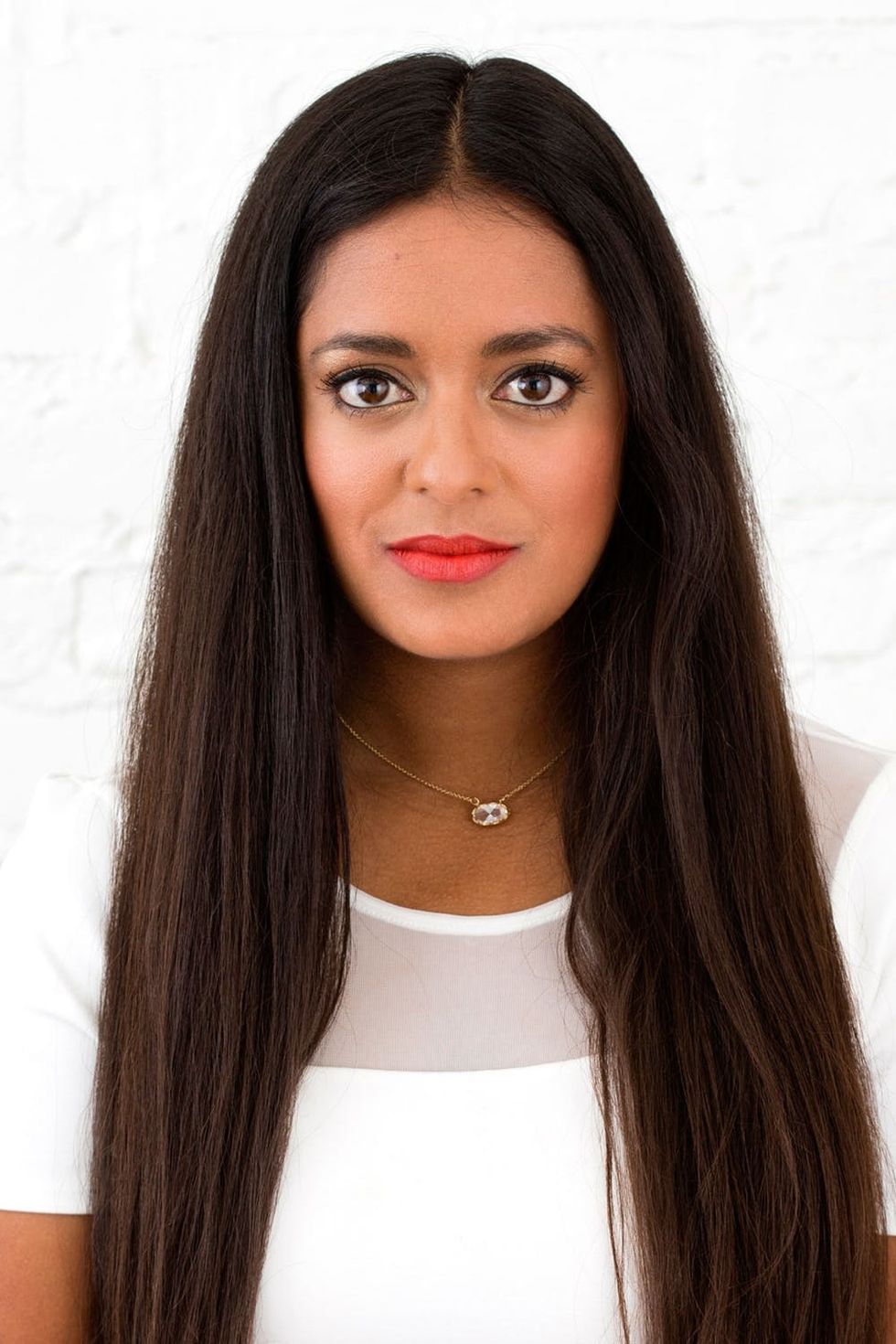 Our favorite part about this tutorial is that the base makeup and eye makeup is so versatile — it will go with any lip color under the sun. That means there's lots of wiggle room for you to find the lipstick soulmate you feel most stunning in. If you are a true minimalist and lipstick didn't make it on the guest list, then go for a gloss or stain that will give you the hint of color without worrying about the maintenance of a high-pigmented lipstick.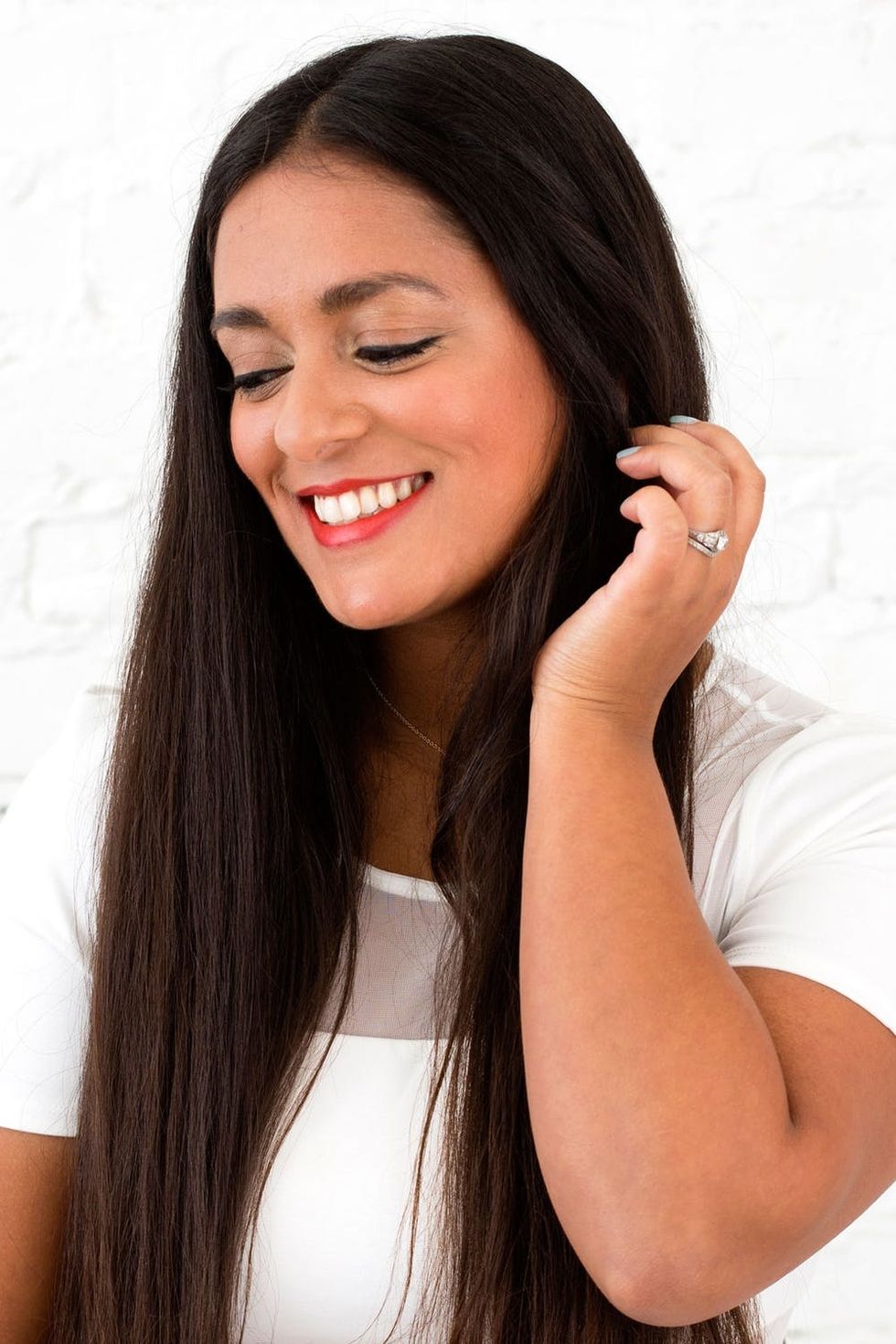 What other bold beauty moves would you like to see for your big day, or any event for that matter? Share in the comments below!