A Successful Jewelry Designer Shares How to Follow Your Passion
Jun 30, 2017
Stuck in an uninspiring nine-to-five job while daydreaming about creating a company that allows you to express your creative side? Whether you're an art lover, fashion fiend, or accessory addict, we totally understand. Though it might seem like a stretch to turn your love of color, design, or creating into a full-time career, it's definitely not impossible with some solid planning. To learn how to bring your dream to life, we talked to Meg Shackleton, who founded and runs the ultra-chic San Francisco-based company Margaret Elizabeth Jewelry. Scroll on for Shackleton's awesome, actionable advice.
Meet The Jewelry Pro: Meg Shackleton
---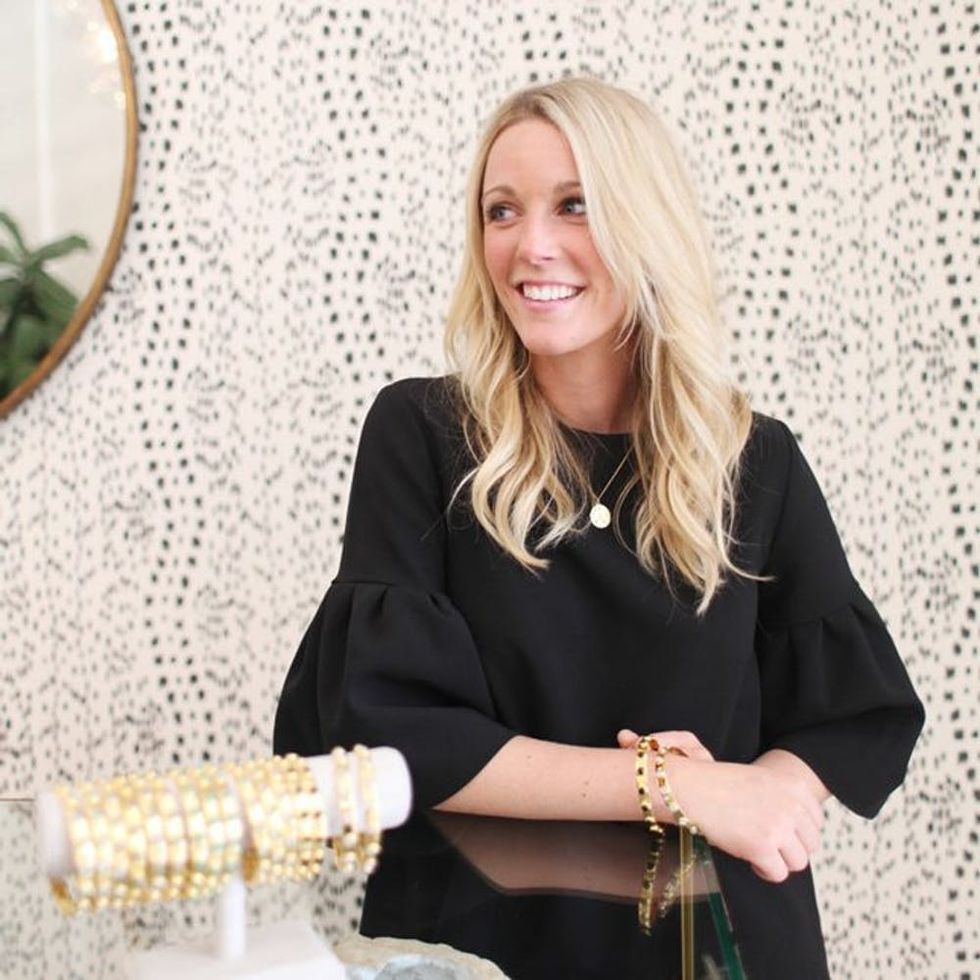 We love Shackleton's story as much as we love her jewels: She started Margaret Elizabeth as a student at Boston College and hosted her first trunk show in her dorm room! After college, Shackleton worked in advertising at Google while maintaining her jewelry business as a side hustle.
After four years at Google, Shackleton made the leap to pursue her passion and work on Margaret Elizabeth full time. Today, her popular pieces are available at some of our favorite stores, like Bloomingdales and Anthropologie. In addition to Margaret Elizabeth's ultra-chic online shop, Shackleton owns three brick and mortar boutiques in the Bay Area and has been featured in publications like Vogue and InStyle. Did we mention that she's also a mom to two adorable sons? We're impressed.
The Tips
1. Set the stage. "When you first decide that you want to quit your day job to make jewelry, it's important to figure out how your new lifestyle as an entrepreneur is going to be funded — and also how you'll continue to cover your living expenses." Shackleton says that she doesn't believe you necessarily need venture capital money to start a jewelry company (she didn't have any), but that you should definitely assess how much cash you'll need to start your business. "Think about things like the cost of a website, the cost to manufacture your pieces, or the cost of the raw materials to create your jewelry. Consider if you'll need a photographer, office space, and more. When I was working at Google, I set up a separate checking account that served as my Margaret Elizabeth seed money. I poured a certain percentage of my paycheck each month into that account so that when I left my real job, I'd have some funding to help me launch my business."
2. Do as much as you can during your free time. "Leaving your job to start your own business can be daunting," Shackleton says. "One thing that helped me gain confidence was to work as hard as I could when I wasn't at Google to get my jewelry business off the ground. In the evenings after work and on the weekends, I designed my first collection, photographed the pieces (early on I did this myself, but I don't recommend it), and set up my website. It led to some long weeks, but I'm thankful that when I left Google the early aspects of Margaret Elizabeth were already launched."
3. Determine your strengths and weaknesses. When you're first starting out, it's likely that you'll be a one-woman operation or have a super small team. "Because of this, it's important to be honest with yourself about your strengths and weaknesses." Her biggest piece of advice? Hire other people to help out. "This could even be a freelancer for a couple of hours a week to help you with tasks that aren't your strong suit," she says. "For me, this meant finding easy-to-use accounting software and connecting with an accountant who could help with questions. Once I had employees, I also hired a payroll company." Brilliant.
4. Reach out. Friends, family, and networking contacts can be super valuable when you're first starting out. "People love to share their experiences and knowledge with women who are setting off on a new endeavor, so don't be afraid to reach out to strangers," Shackleton says. "There's so much to learn from others who have done this before. Reach out to people you respect who have demonstrated success in their field, and ask them for a phone call or to meet for a cup of coffee." Be direct with your asks. Share why you want to connect and what you'd like to learn from them. "I found it helpful to ask people what they would have done differently when they made the jump from day job to starting their own company. You'll be surprised by some of the answers you receive, and they might even help inform choices you make as you carve out your new career path."
5. Define your style. It's important to do research that'll help you define your unique style, helping set you apart. Ask yourself: "What kind of jewelry are you creating? What kind of materials will you use? Who's your target customer?" Shackleton says that you can use your responses to help define the voice of your brand. "When I first started out, I designed such a broad range of pieces, and the styles that didn't always align with one another. The pieces were interesting on their own, but as a group you couldn't necessarily tell that they all came from the same designer." So, she switched things up, with advice from a buyer who told her to create a collection. "Whatever you do, make sure it has a cohesive look and feel," Shackleton says. "To stay true to the brand you're creating, maintain a consistent aesthetic."
PERFECT YOUR SKILLS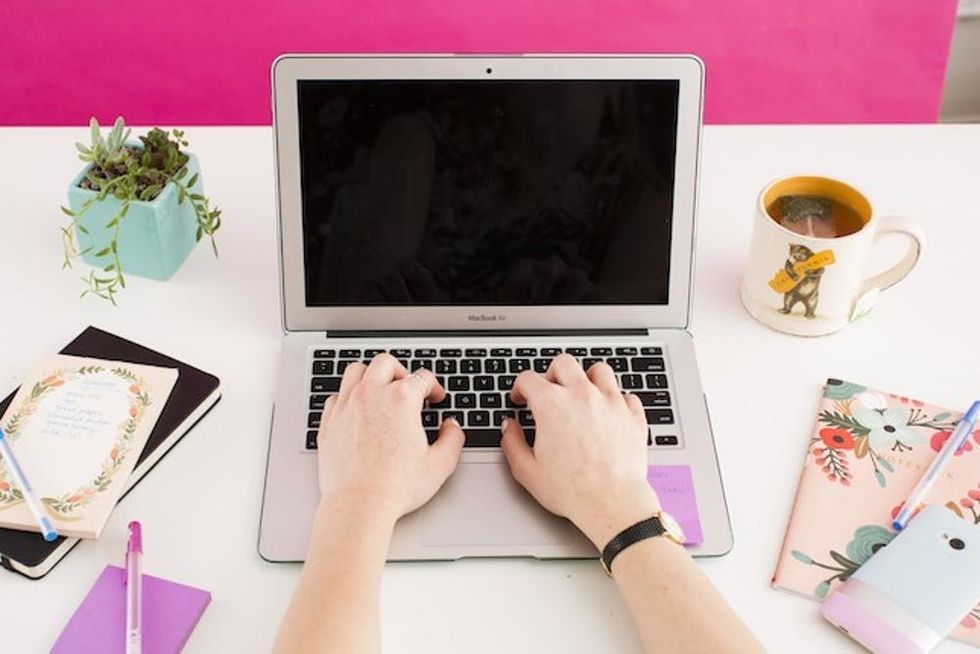 1. Shopify ($79 per month): "This is my *favorite* e-commerce platform," Shackleton says. "It makes it so easy to set up a website, and you need absolutely zero computer coding skills."
2. How to Build an Online Store ($39): Set up your Shopify account by following this step-by-step guide. The online class covers the basics and will teach you how to upload your jewelry pieces, manage shipping, and more. You'll feel like a total pro by the time you finish!
3. Xero Accounting ($30 per month): "Accounting is definitely my least favorite part of running a business," Shackleton admits. "I feel like I've tried every accounting software out there, and Xero has been my favorite by far. Their customer service is stellar. They're really nice about answering my endless questions."
4. A Great Mentor: When it comes to learning more, Shackleton swears by sticking with someone who has been there, done that. "Find a mentor that you can reach out to along your journey," she says. Not sure where to look for one? Consider your social circles, online networking groups like Dreamers // Doers, events, or even unexpected places like the gym or via Facebook.
Are you itching to start your own biz? Tell us about your entrepreneurial dreams on Twitter @BritandCo!
(Featured photo via Margaret Elizabeth)
Krista Gray
Krista Gray is a web producer and freelance writer who lives in San Francisco. When she's not working with clients through her company GoldSquare, she loves reading, traveling, and learning new things.
Work