50 Ways to Repurpose an Old T-Shirt
Feb 16, 2014
Whether you're getting a jump start on spring cleaning or just casually sorting through your stash of clothes, tackling your t-shirt pile should make your inner DIY-er smile from ear to ear. You wouldn't believe the number of ways you can repurpose a basic jersey tee—everything from braided accessories to full-blown woven rugs is possible once you snip the wardrobe staple down to size, or even into an easy-to-weave continuous thread. These 50 ways to reuse an old t-shirt should definitely spark some inspiration—and make you think twice before you label it a hand me down!

---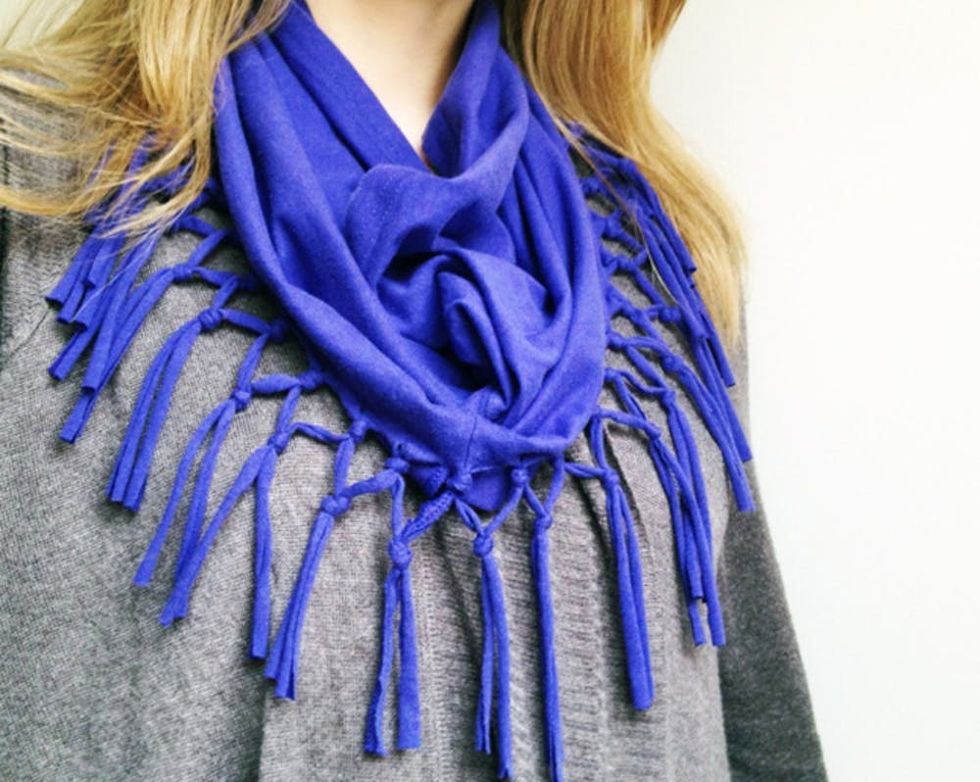 1. Fringe Scarf: Cut under the sleeves and fringe the hemline to get this super simple no-sew circle scarf. Go the extra mile and knot the fringe so that it looks totally pro. (via Plan B Anna Evers)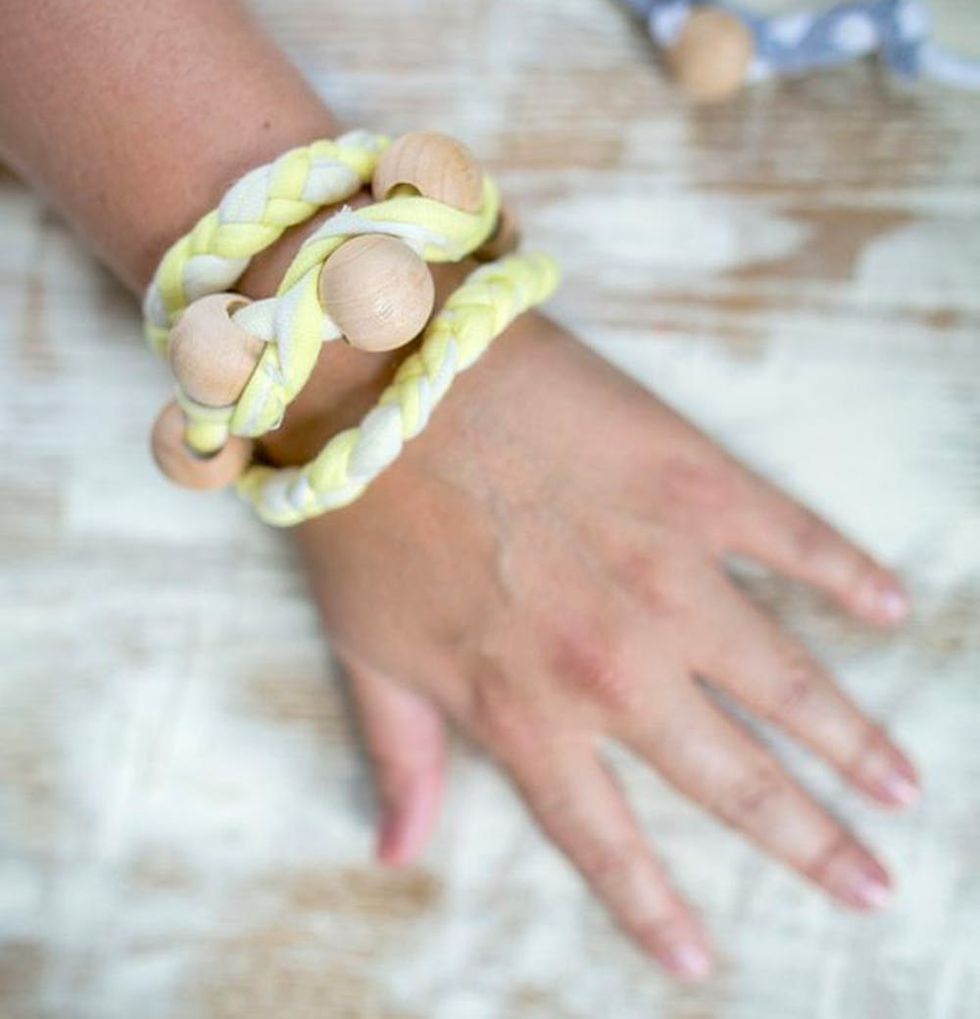 2. Braided Wooden Bead Wrap Bracelet: The addition of large wooden beads to this t-shirt wrap bracelet elevates it to boutique-worthy levels. Obsessed. (via Henry Happened)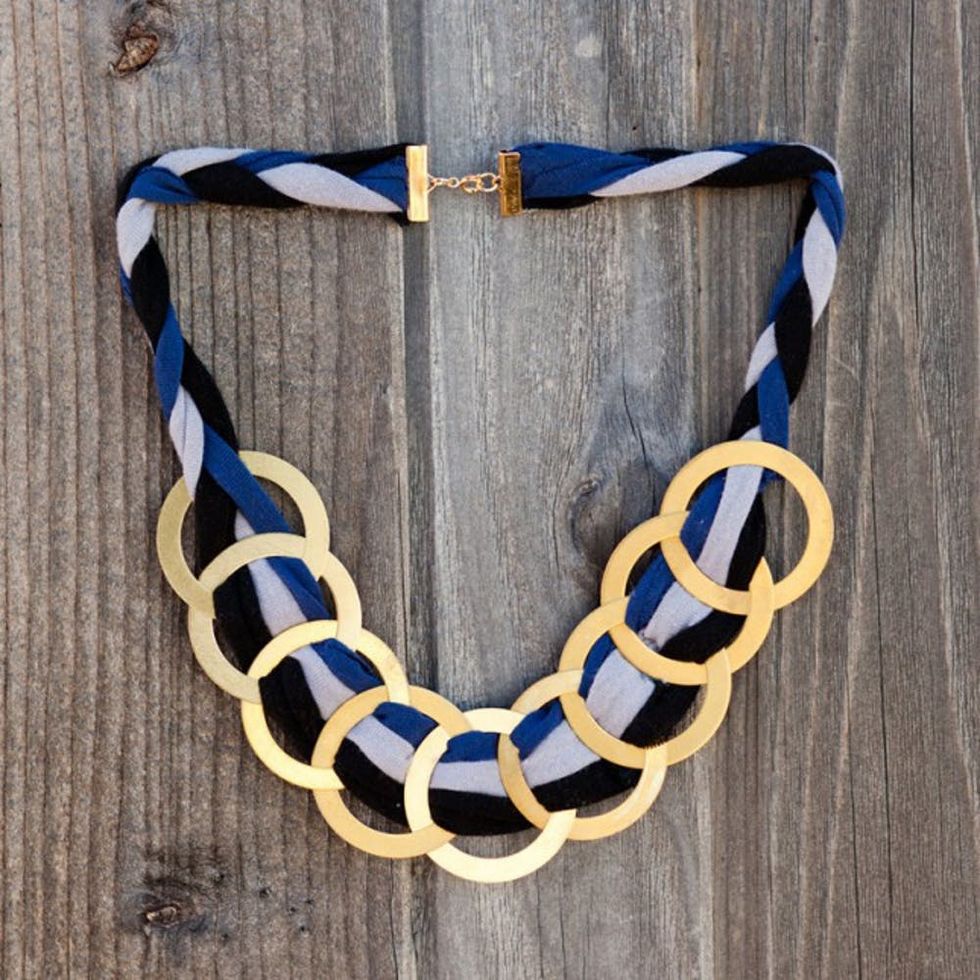 3. Brass Ring Statement Necklace: Make a statement with gold rings woven in between a cool palette of grey, blue, and black t-shirt thread. (via Brit + Co.)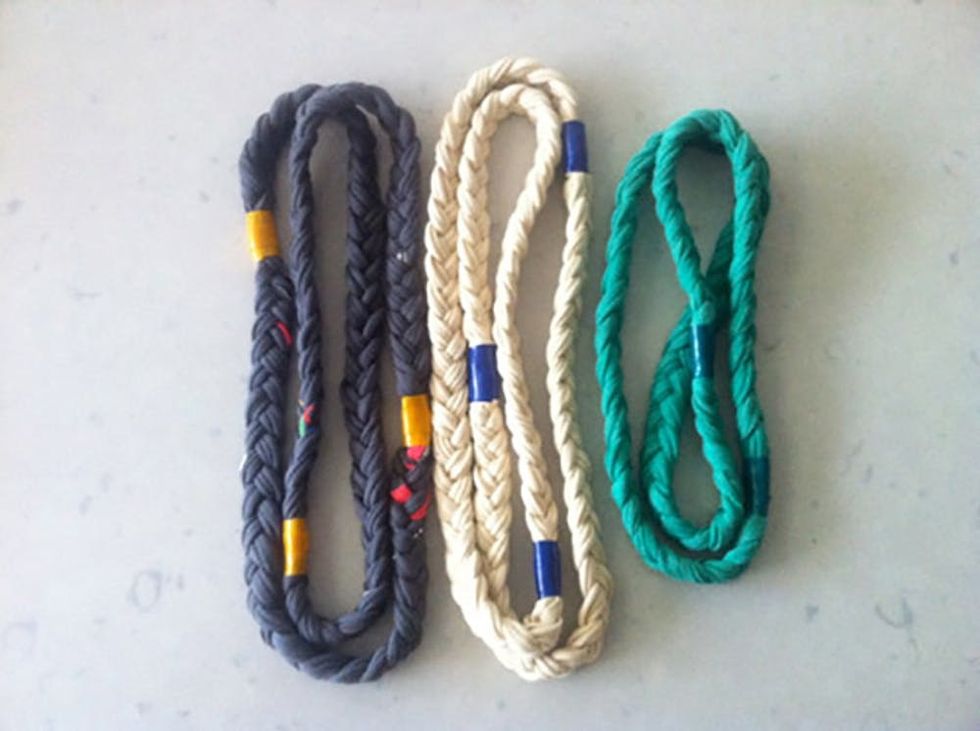 4. Nautical Necklaces: Braided nautical necklaces? Sign us up! Electrical tape adds a cool pop of color to these preppy accessories. (via Brit + Co.)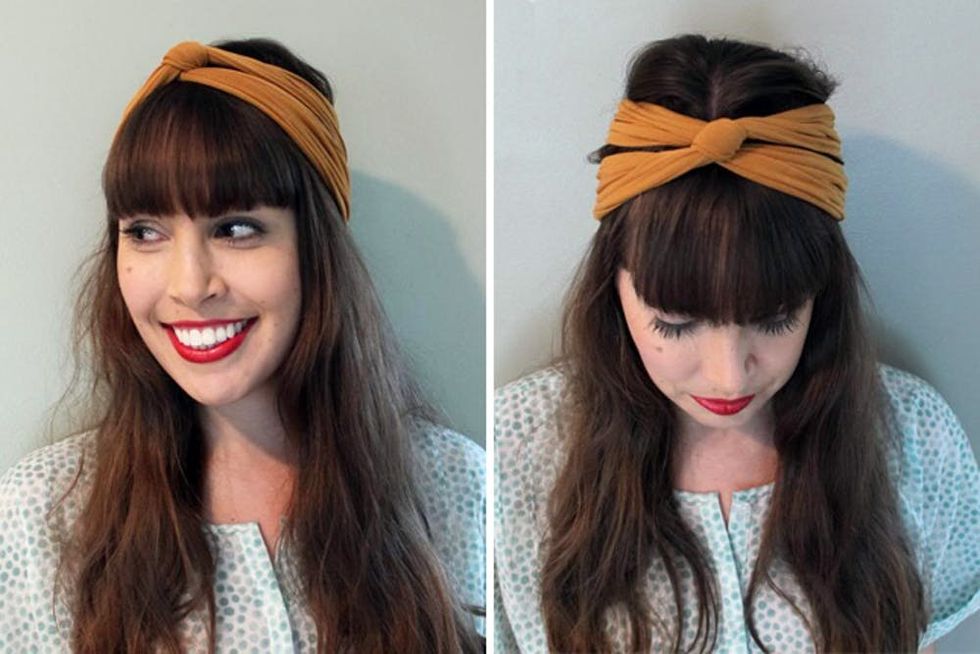 5. Turban Headband: Want to try the turban trend on for size? Make one out of a tee—just twist and loop a seven-inch band of jersey to get this cool girl look. (via 11th Thread)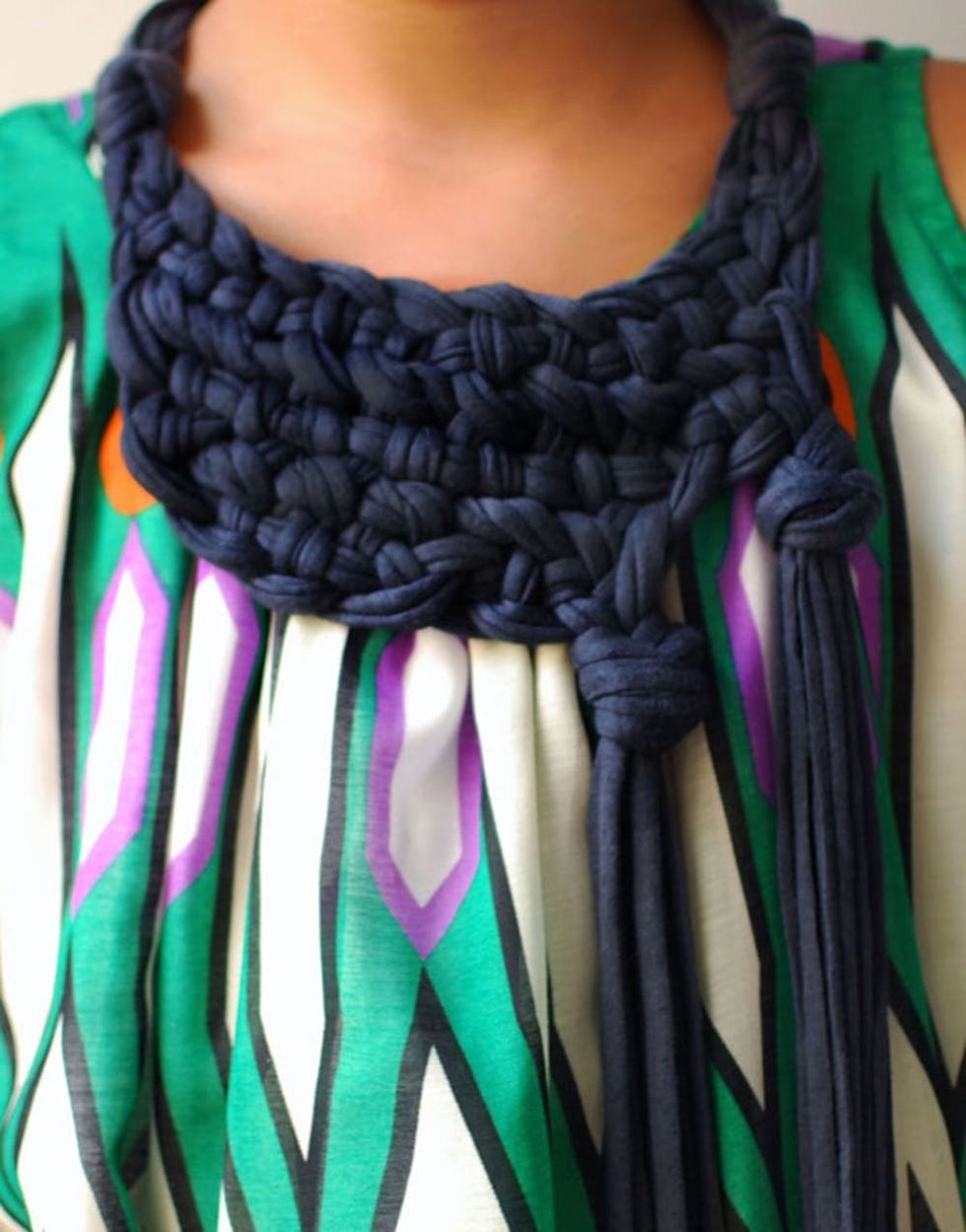 6. Chunky Knotted Neckpiece: We're way intrigued by this knotted neckpiece that's half scarf-half choker necklace. Embrace the dual tassels for a dramatic look, or keep it high and tight to make a bib-style design that might be less intimidating to wear. (via The Red Thread)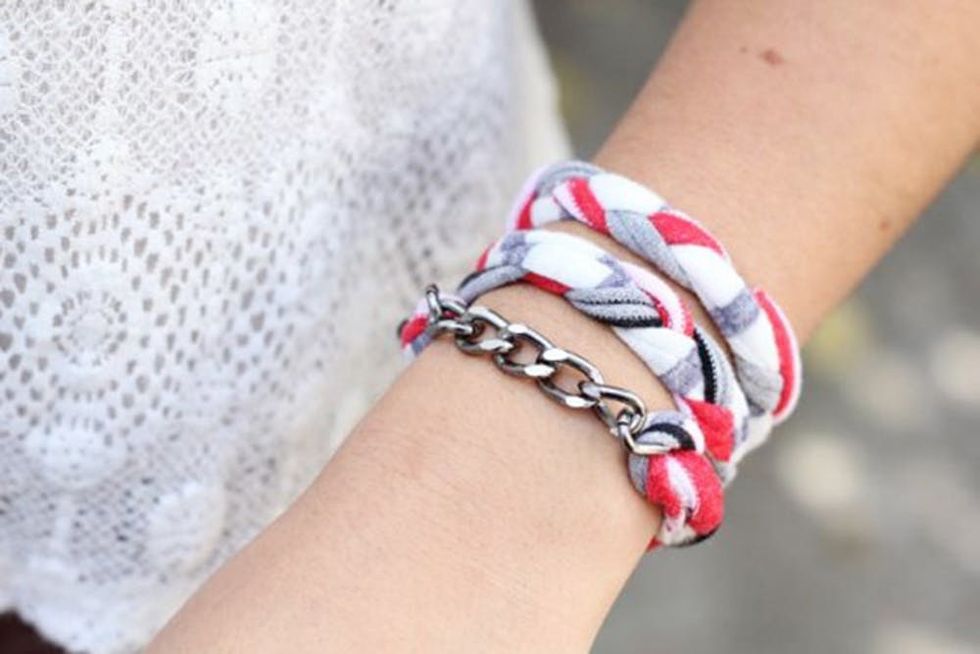 7. Patterned Wrap Bracelet: Proving that greatness happens when you braid patterned tees into a wrap bracelet. (via Henry Happened)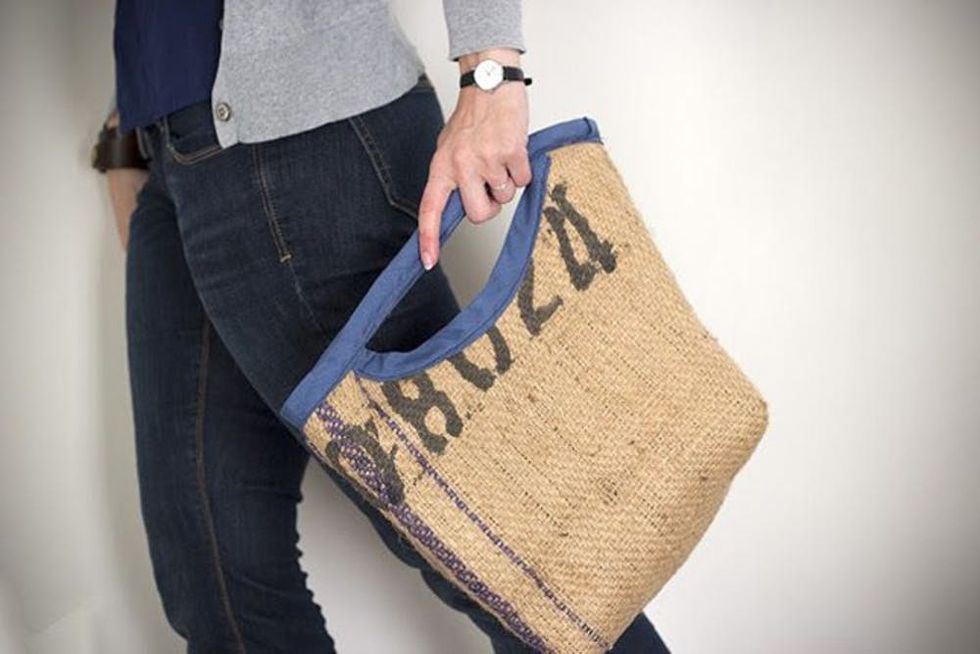 8. Burlap T-Shirt Lined Bag: Who knew a burlap bag could turn into such a covetable carryall? We like how the t-shirt trim breathes some life into this rustic bag—use fabric paint to add geo shapes and other patterns to the base for extra oomph. (via Steph Chows)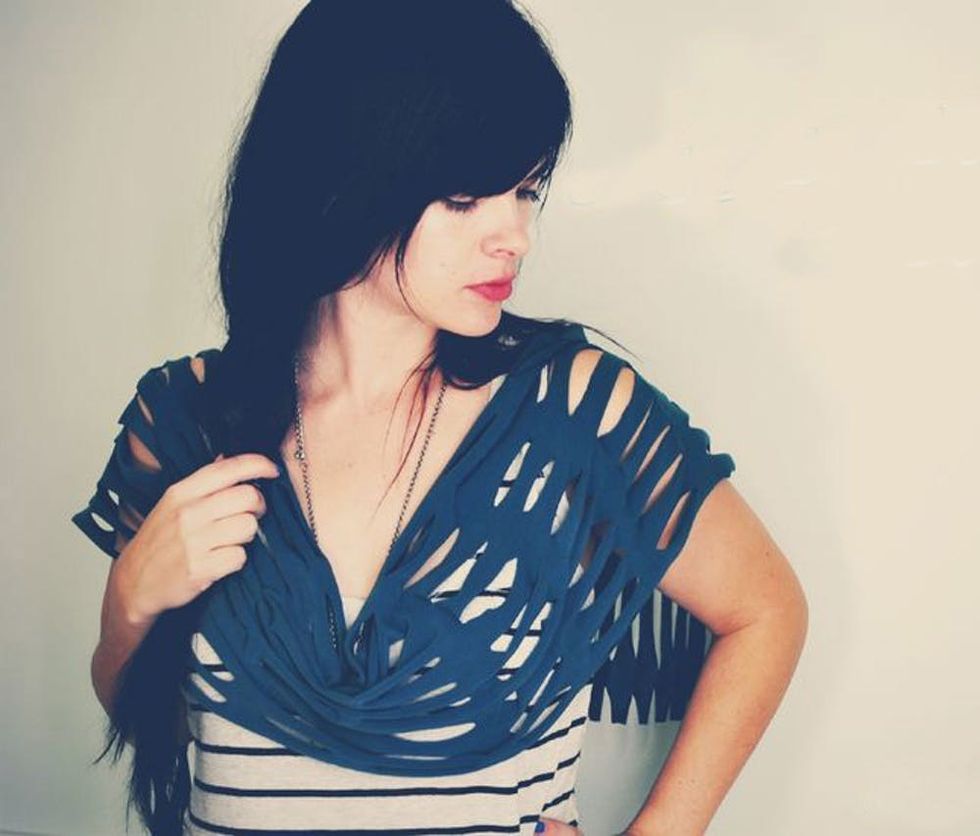 9. Slasher Scarf: Got a hole in your fave tee? Don't toss it into the rag pile—slash it into a cool statement accessory. (via A Beautiful Mess)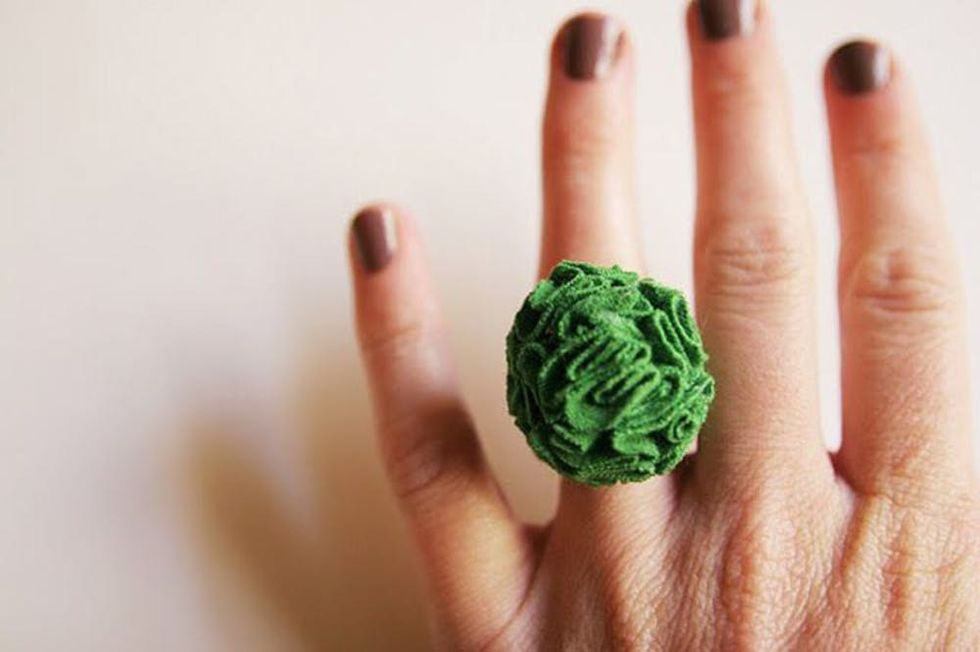 10. Flower Ring: Make your very own rosette cocktail ring! Or add the folded fabric flower to plain accessories like a pair of leather gloves. (via Homemade Ginger)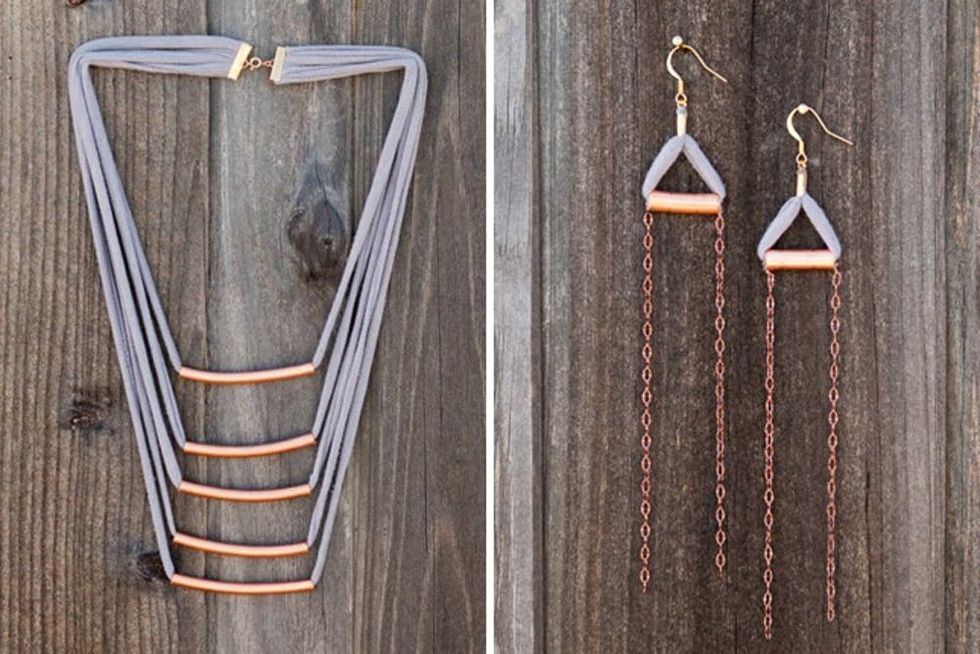 11. Copper Tube Jewelry: We've said it before and we'll say it again: a hardware store is a girl's best friend. Just look at how chic these t-shirt scraps look adorned with metallic tubes. (via Brit + Co.)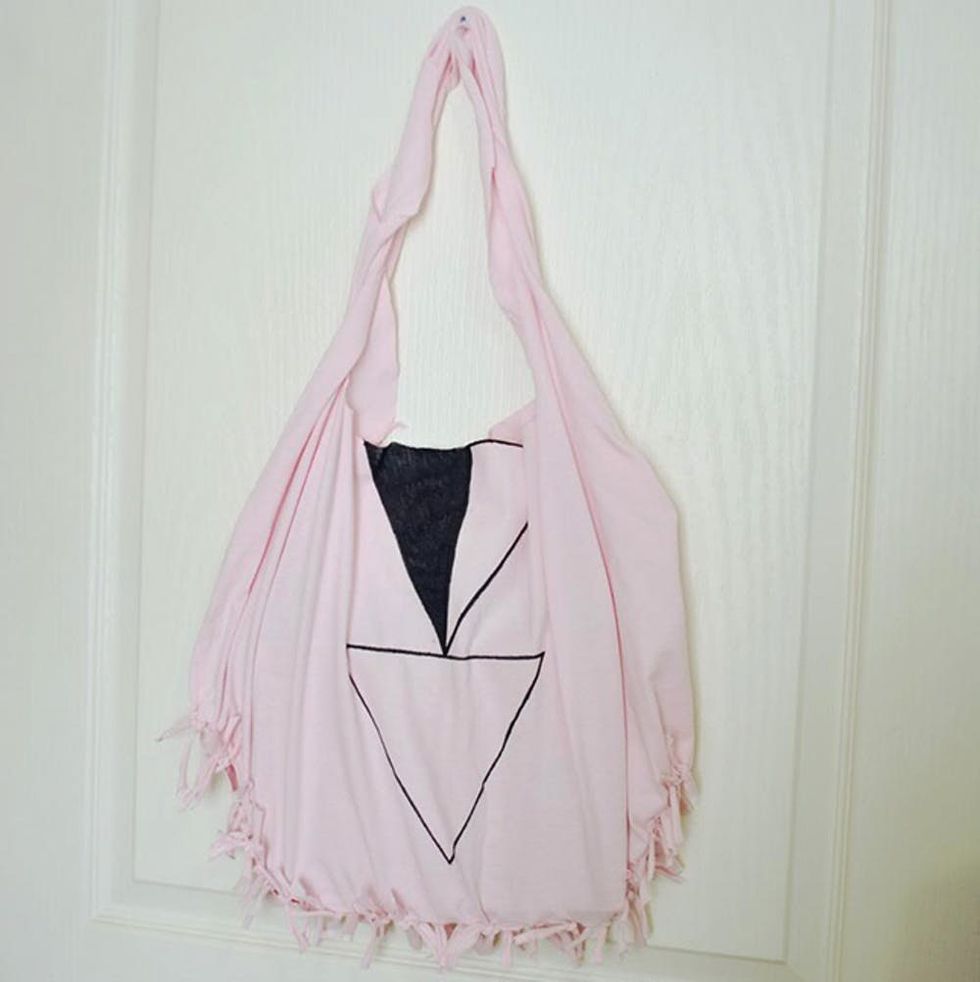 12. No-Sew Tote Bag: Have you ever thought, man, that old graphic tee would make a killer tote bag? We're here to tell you that dreams do come true. Add this no-sew project to your weekend "to make" list! (via Oh So Pretty)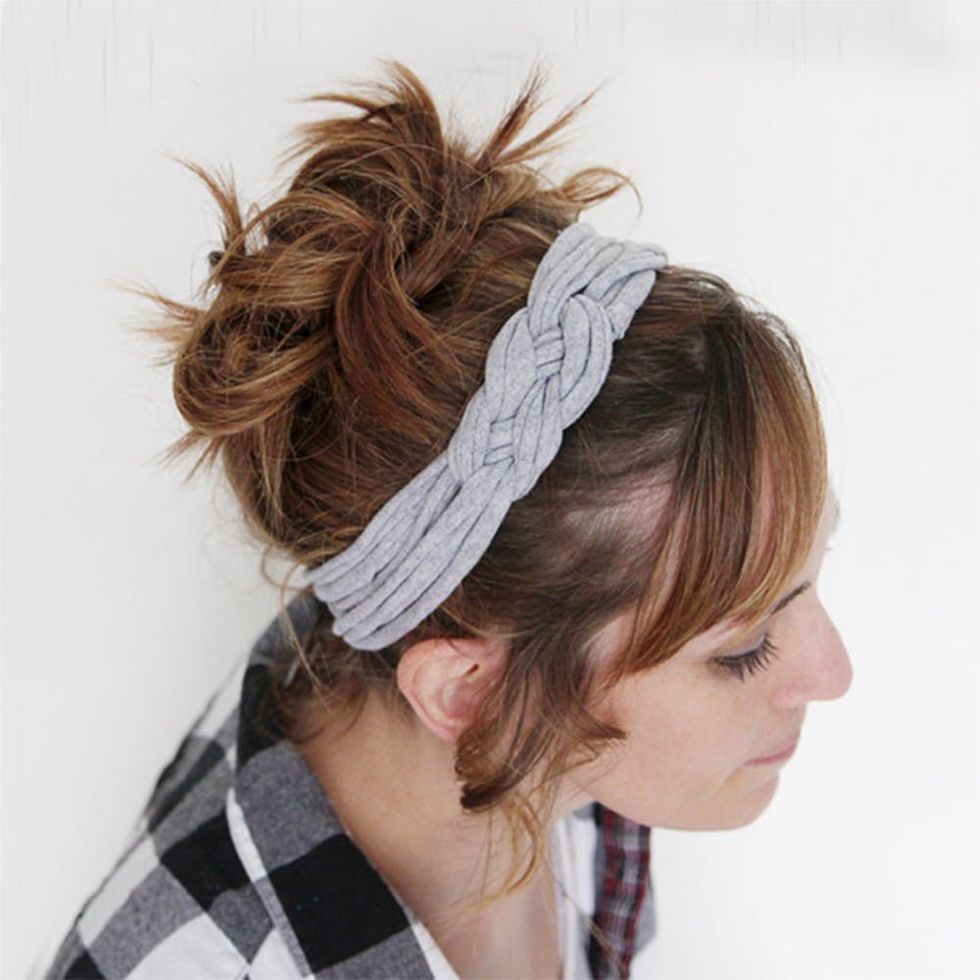 13. Knotted Headband: Turn your scrap jersey into a versatile headband that's perfect for adding some flair to your workout hairdo. (via Sugar Bee Crafts)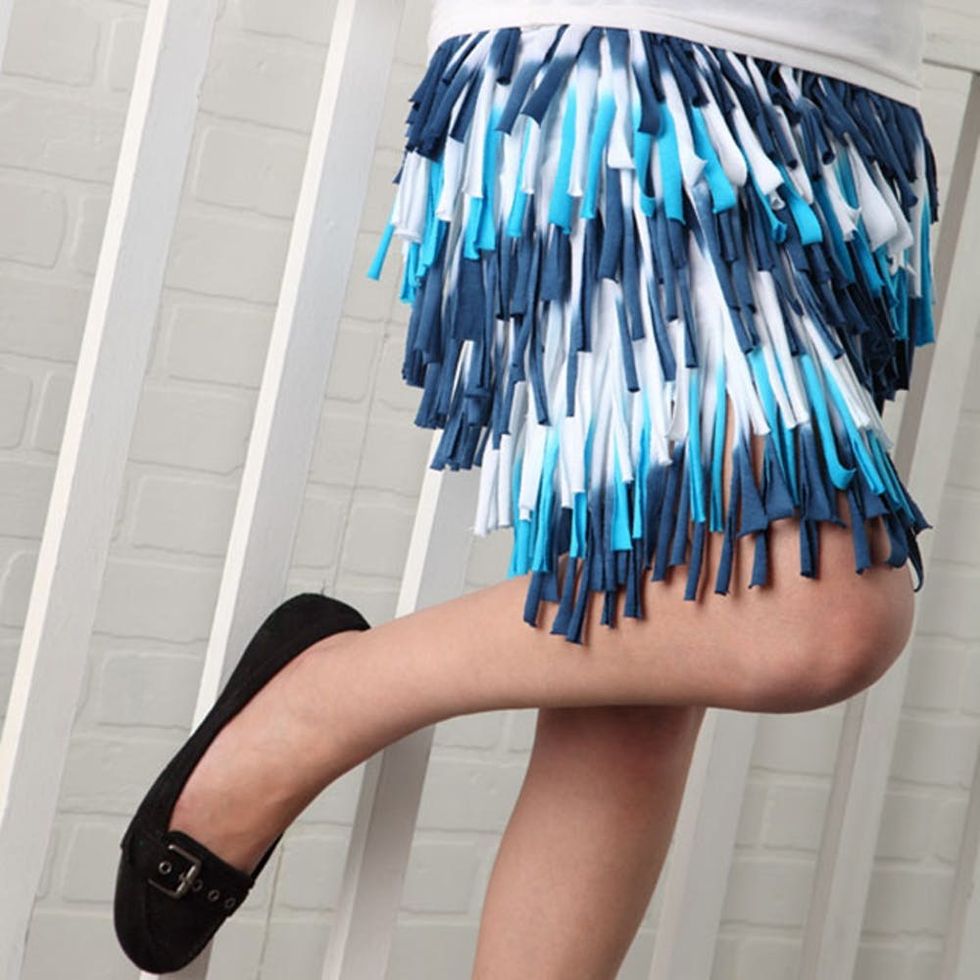 14. Fringe Skirt: Whoa, a fringe skirt made out of t-shirt scraps? So fun! (via I Love to Create)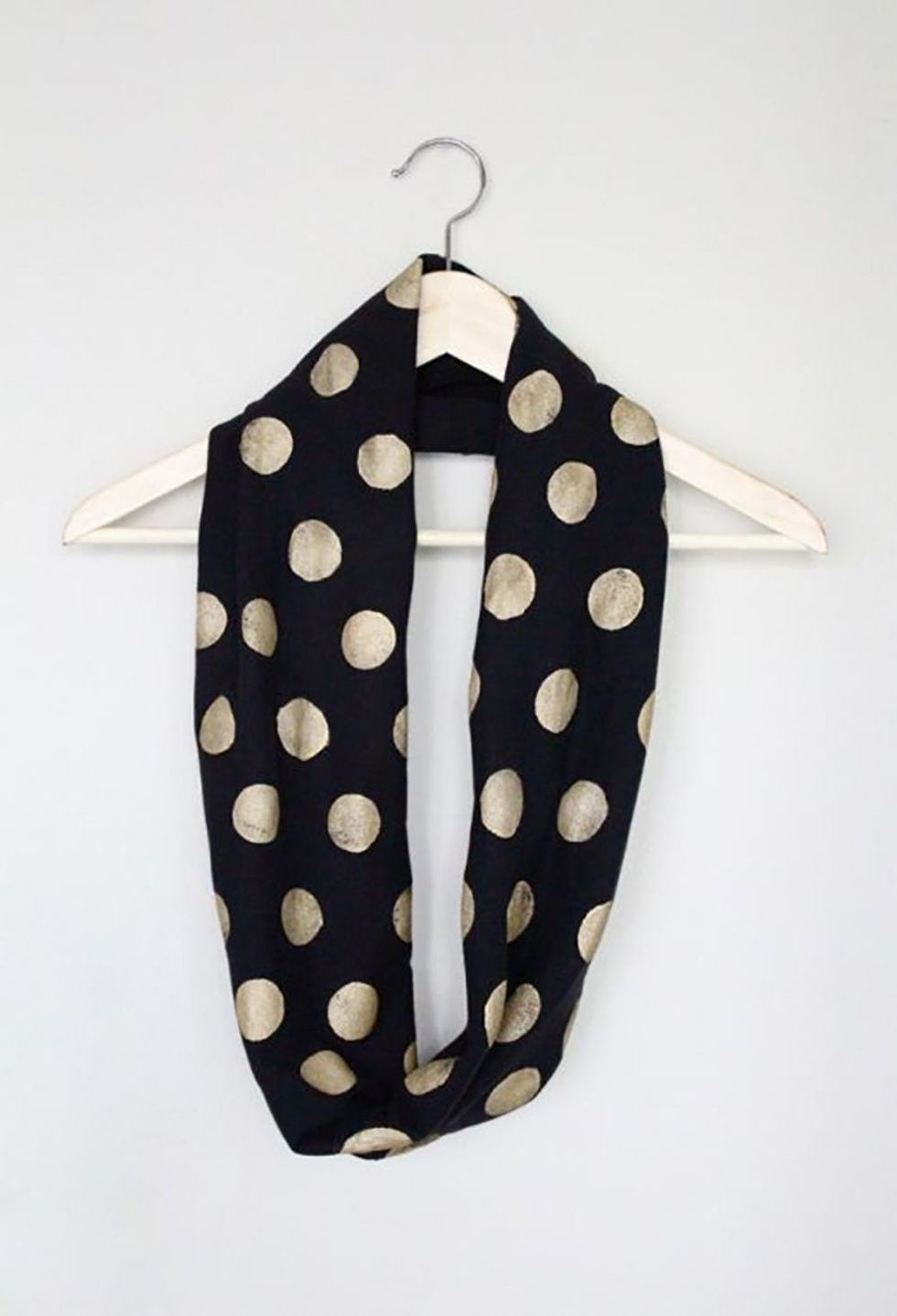 15. No-Sew Polka Dot Infinity Scarf: Just let us know when you're done ogling this gorgeous gold dot circle scarf. No rush. (via Sugar & Cloth)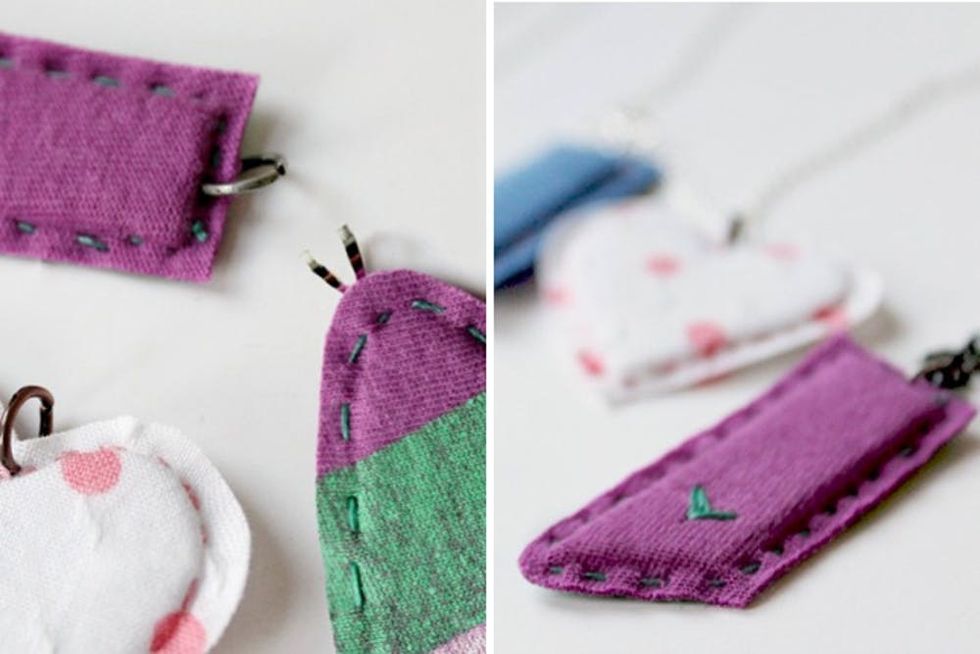 16. Necklace Pendants: Super cute idea: use t-shirt fabric to make whimsical necklace pendants. We love the extra special touch the contrast stitching brings to the party. (via Pellon Projects)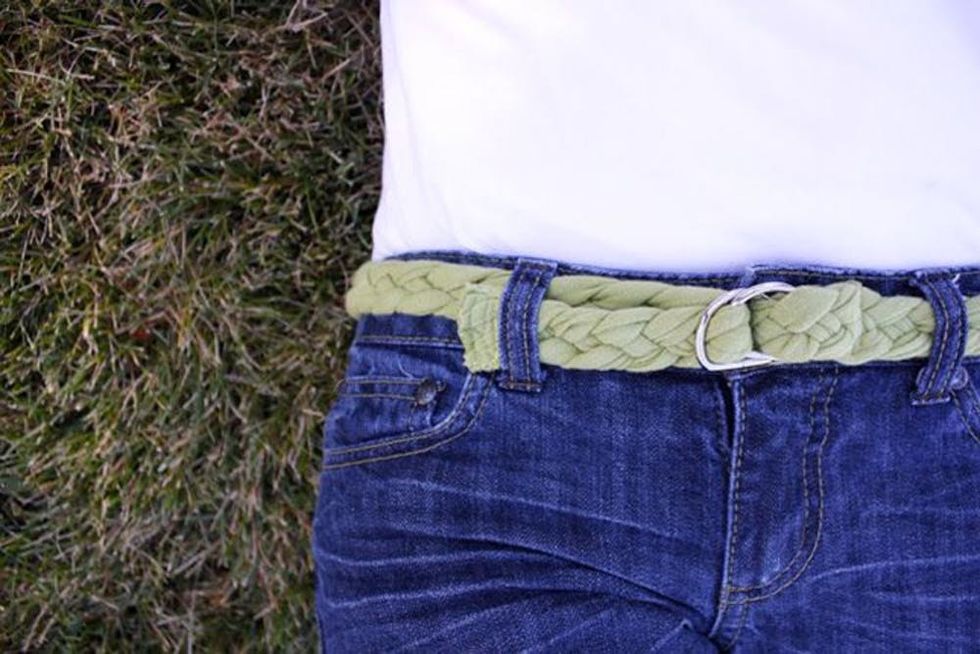 17. Braided Belt: We promise, you'll get tons of use out of this t-shirt braided belt. When we make ours for spring, we'll amp up the vibrancy of the fabric for sure (color block belt anyone?) (via Delia Creates)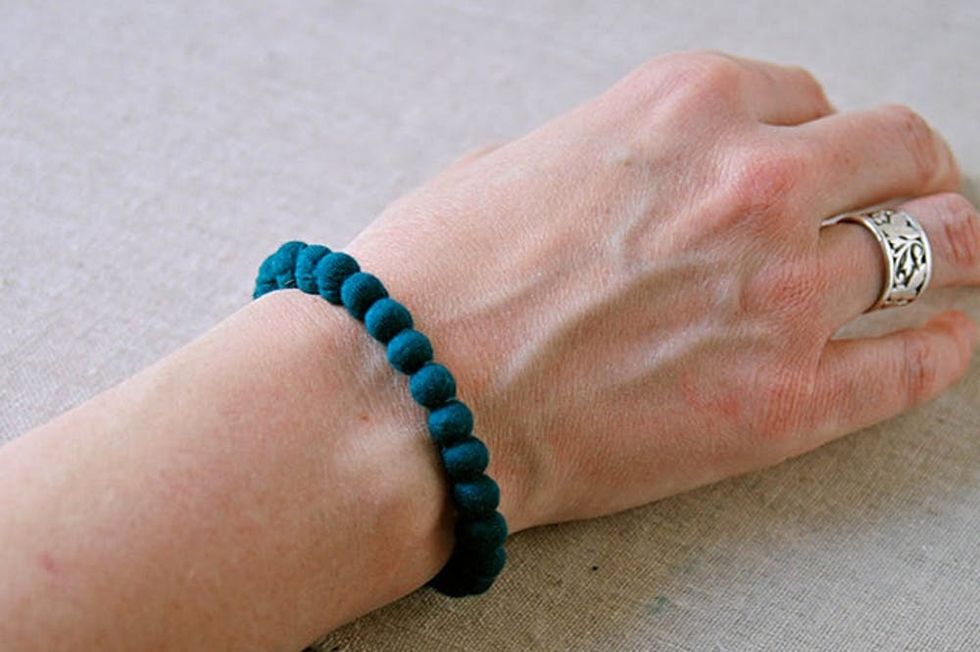 18. Fabric Covered Beads: Here's a genius way to breathe new life into your beaded costume jewelry. The t-shirt fabric is perfectly cinched around every bead with embroidery thread. (via Every Nothing Wonderful)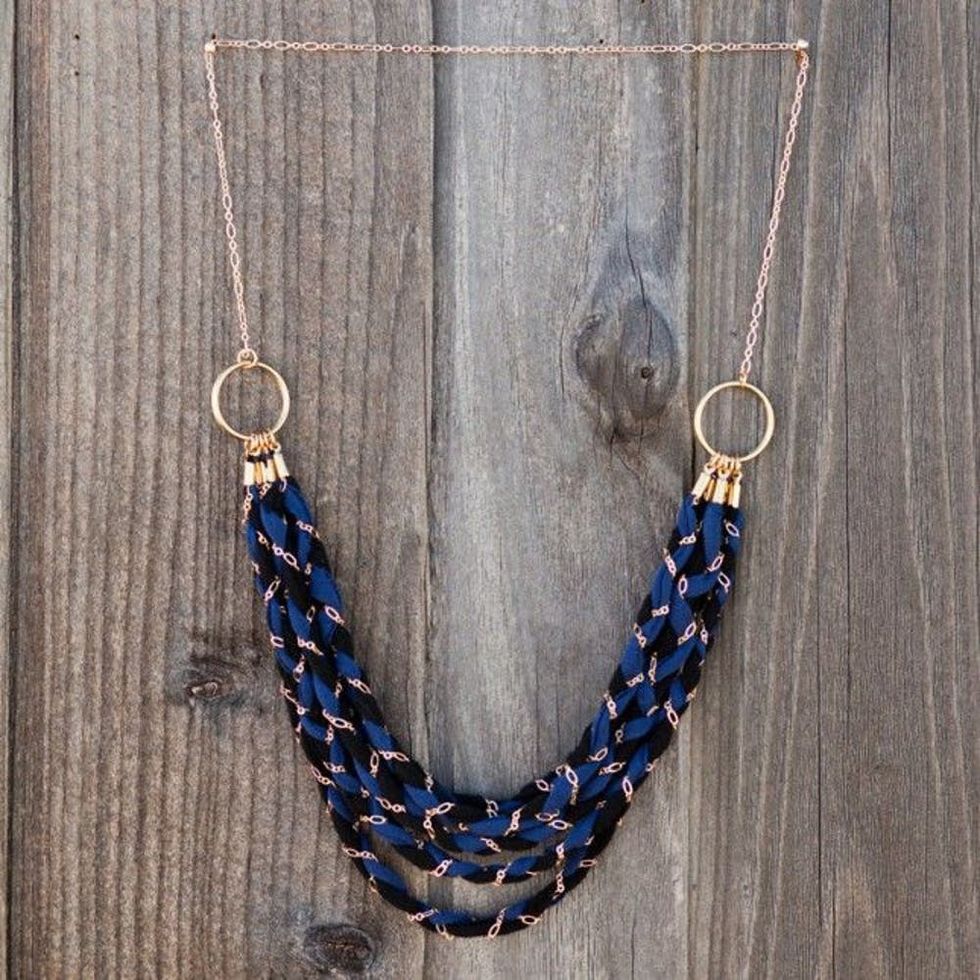 19. Braided Chain Necklace: Instead of braiding a statement necklace with three scraps of t-shirt fabric, add a strand of chain into the mix—the results will wow you. (via Brit + Co.)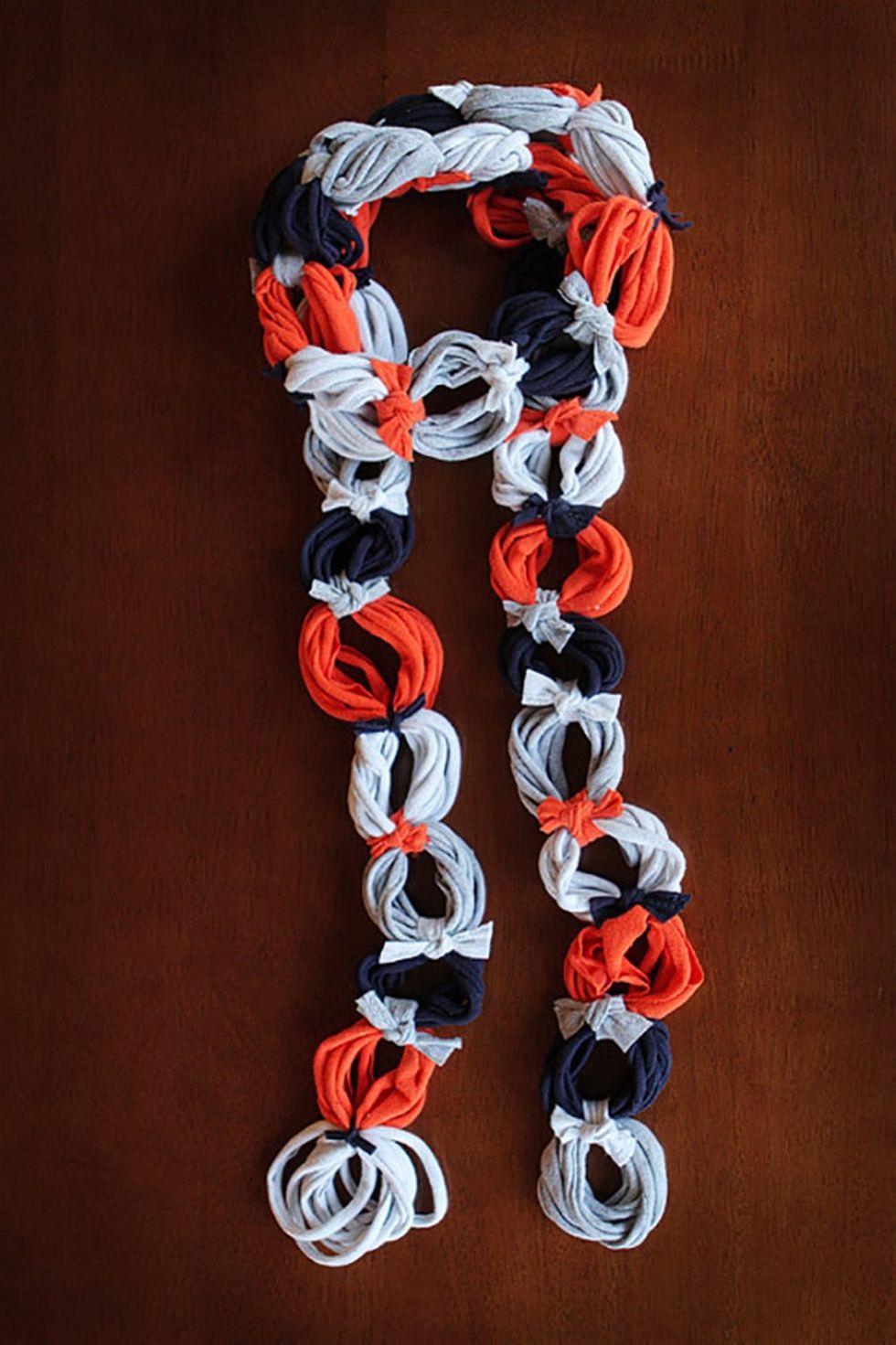 20. Ringlet Scarf: We'd totally cozy up to this color block scarf in any season. Let it hang loose when the sun is out or wrap it 'round and 'round to stay out of the chill zone. (via Kevin & Amanda)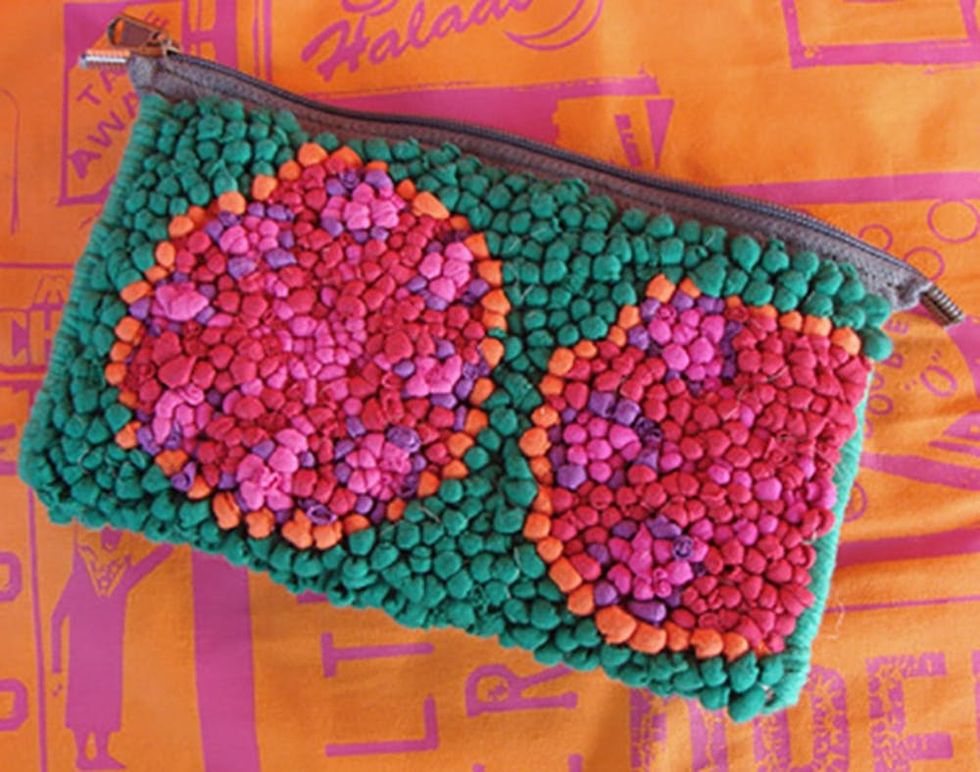 21. Multi-Color Pouch: We're pretty floored by this beautiful t-shirt embroidered pouch—how intricate is this design? Click through to download a template with step-by-step instructions, lucky you! (via The Re Fab Diaries)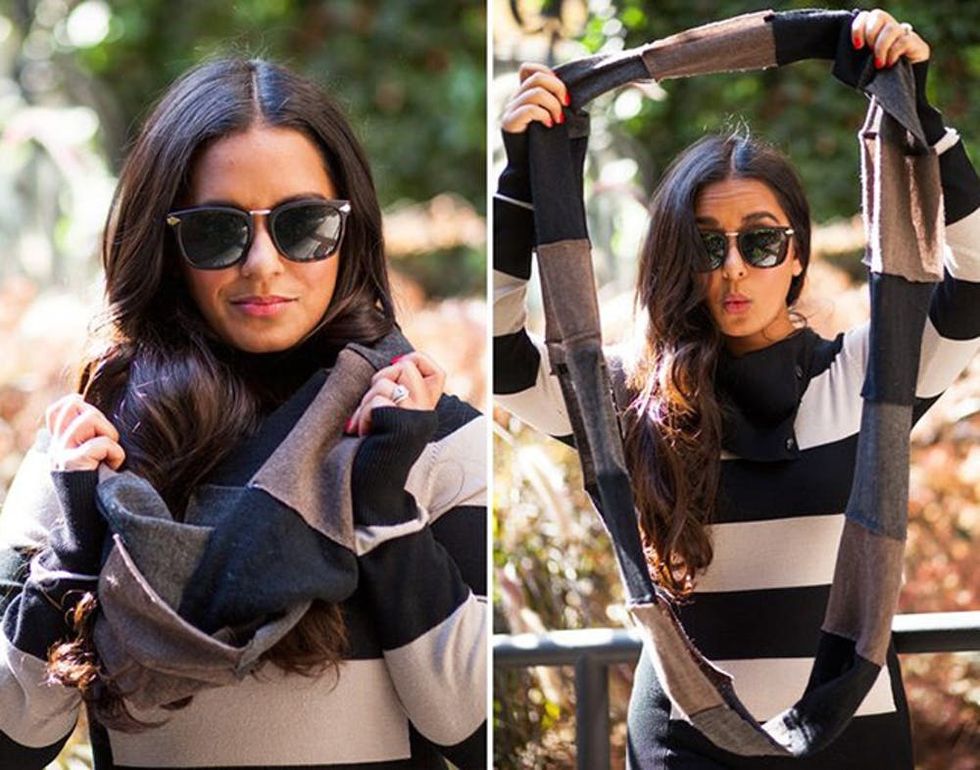 22. Color Block Circle Scarf: By now it should be obvious that we're obsessed with all things color blocked, so of course we'd go and DIY a 15-panel, tri-colored circle scarf! Technically this one was made with a sweater, but you can totally rock the same method with a t-shirt. We kept the tones pretty muted this time around, but feel free to bug out and go bold. (via Brit + Co.)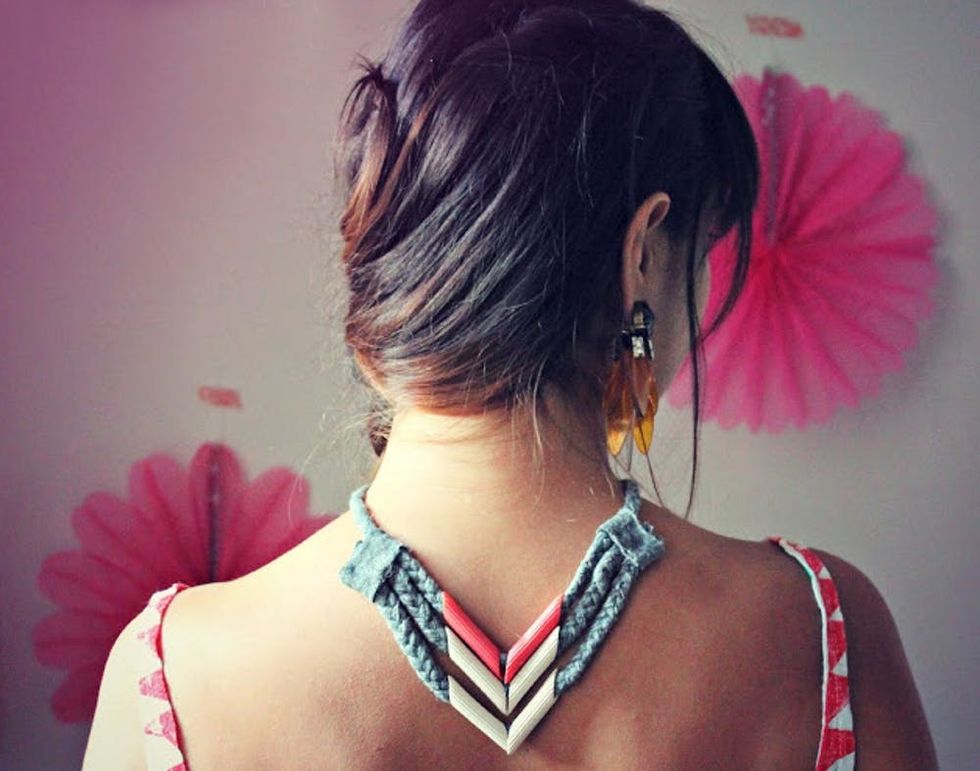 23. Chevron Necklace: The secret's out: the awesome chevron pattern on this braided tee necklace is made with painted dried pasta. For reals! Mind = blown! (via Sugar & Dinosaurs)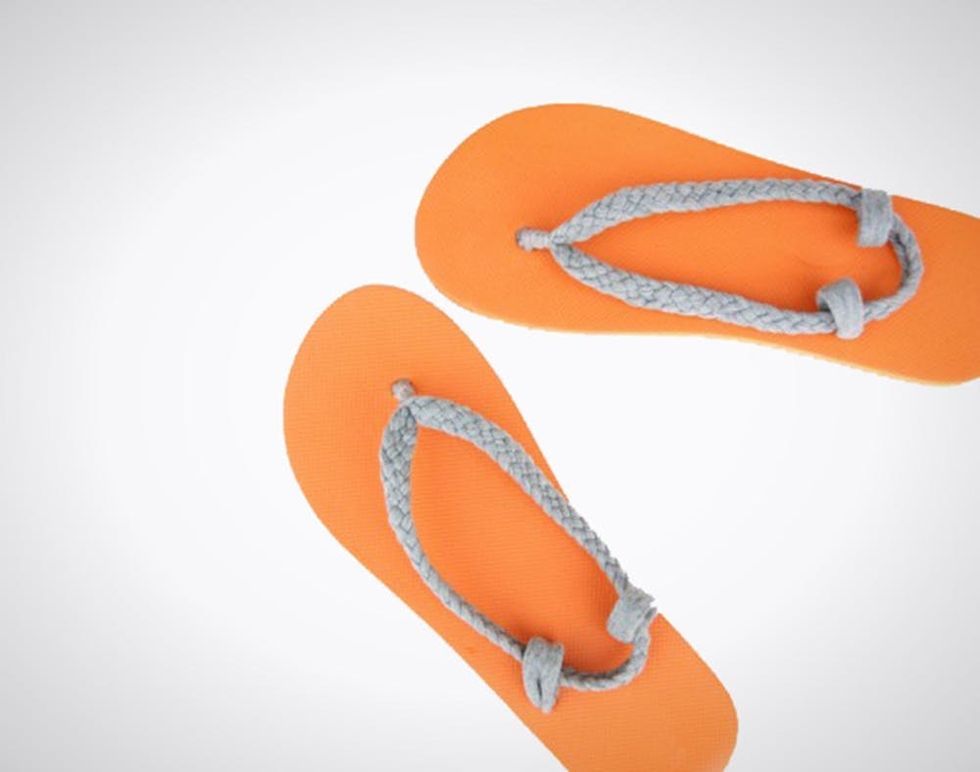 24. Braided Flip Flops: Dress up those dollar store flip flops with a trendy (and comfy!) braided t-shirt strap. (via Make It & Love It)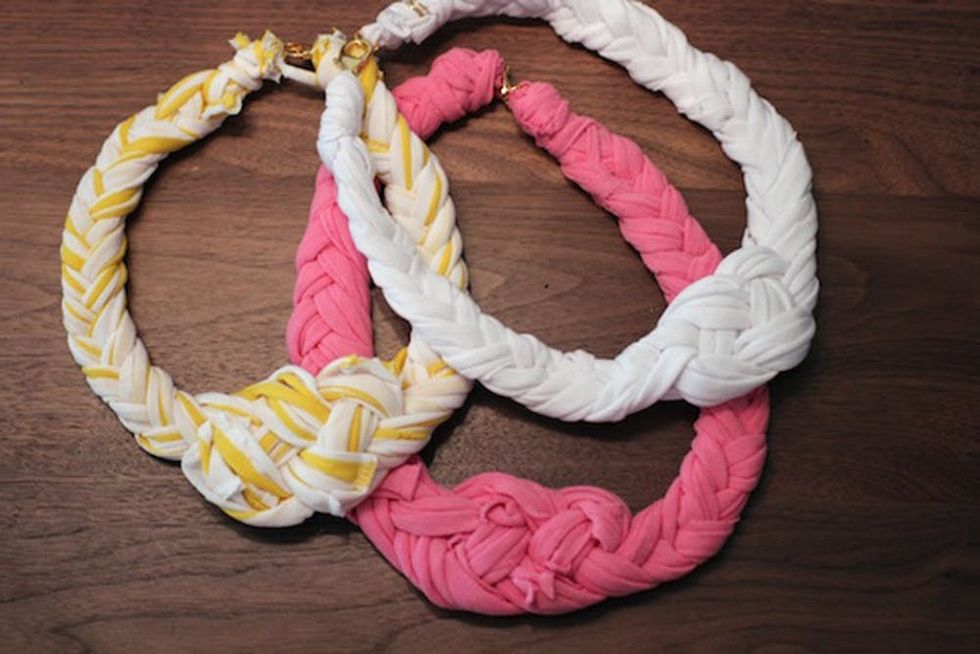 25. Woven Knot Necklaces: Nautical necklaces, take two! We can imagine rocking these collar-style necklaces in some far away cabana. (via Refinery29)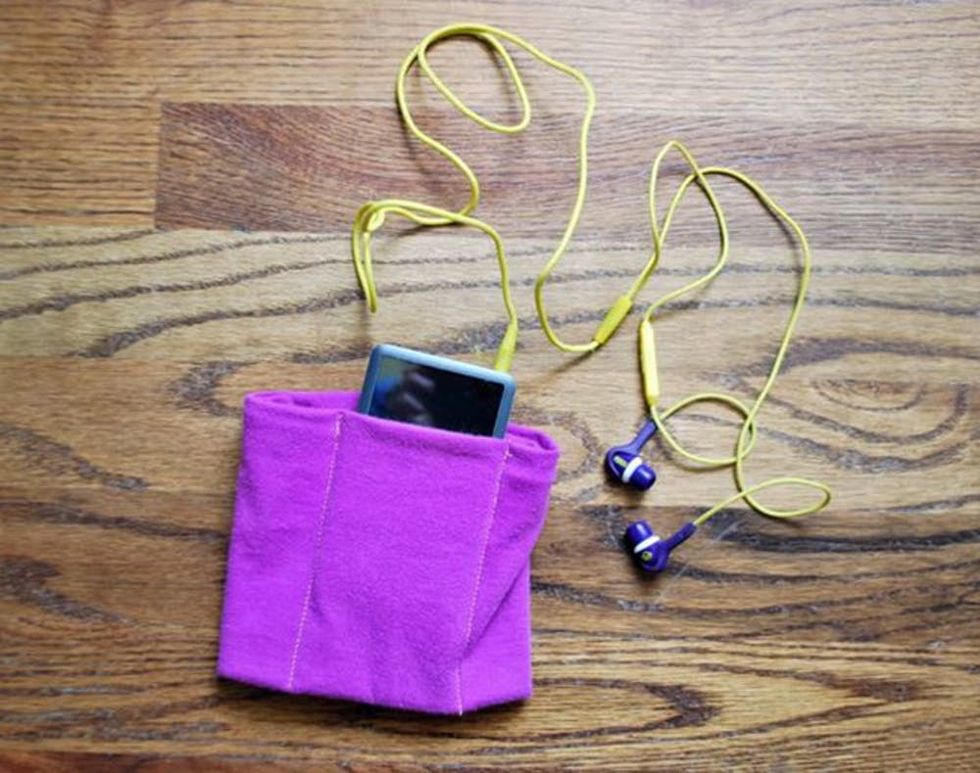 26. iPod Holder: Five stitches and three strips of VELCRO® Brand tape is all it takes to turn a t-shirt into a durable carry case for your iPod. (via Oh So Pretty)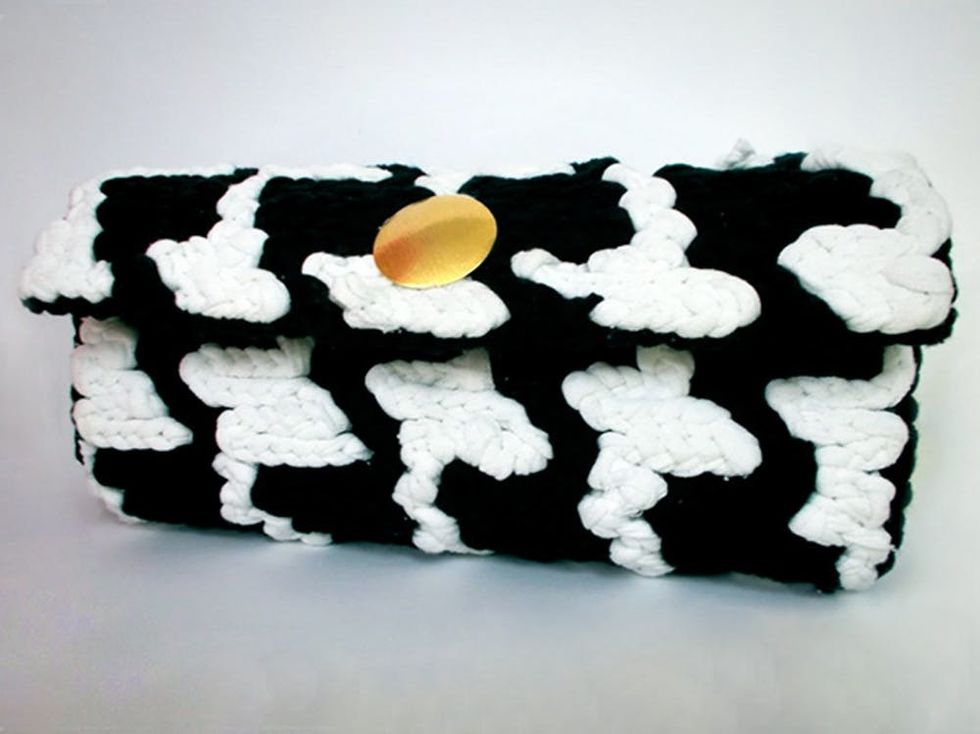 27. Houndstooth Roll Clutch: Banish cord clutter with this roll clutch travel pouch in this totally swoon-worthy houndstooth pattern. (via 2nd Funniest Thing)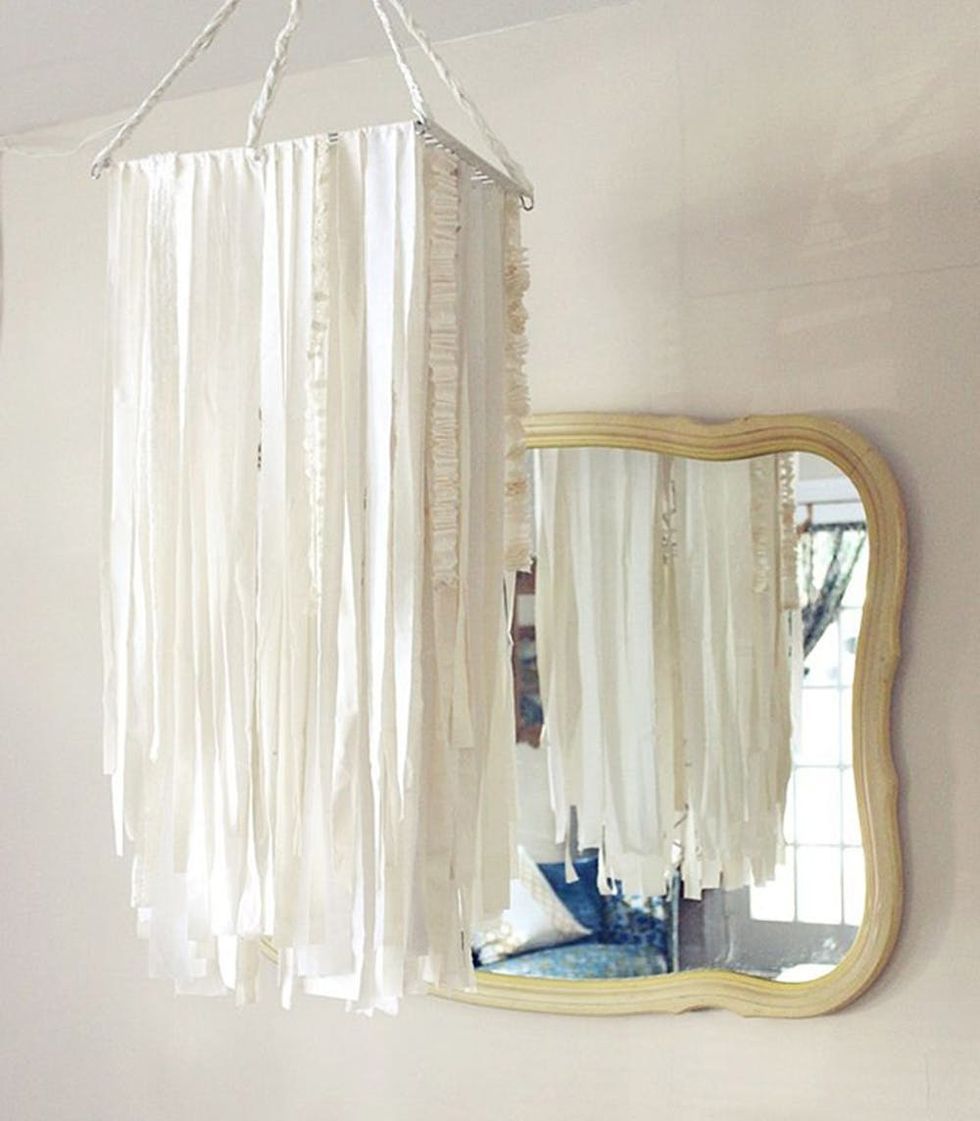 28. Fabric Garland Chandelier: Dangling fabric sure looks dreamy on this square lantern—what a cool way to rescue white tees! (via A Beautiful Mess)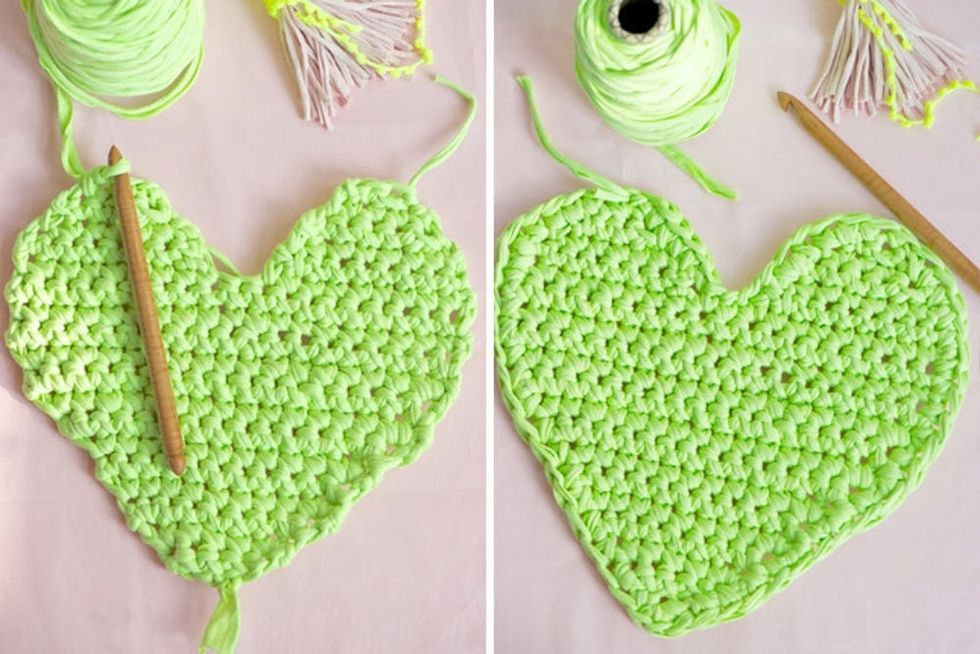 29. Valentine Trivet: Knit your old neon tee into a heart? Why knot? (We had to). (via Lebenslustiger)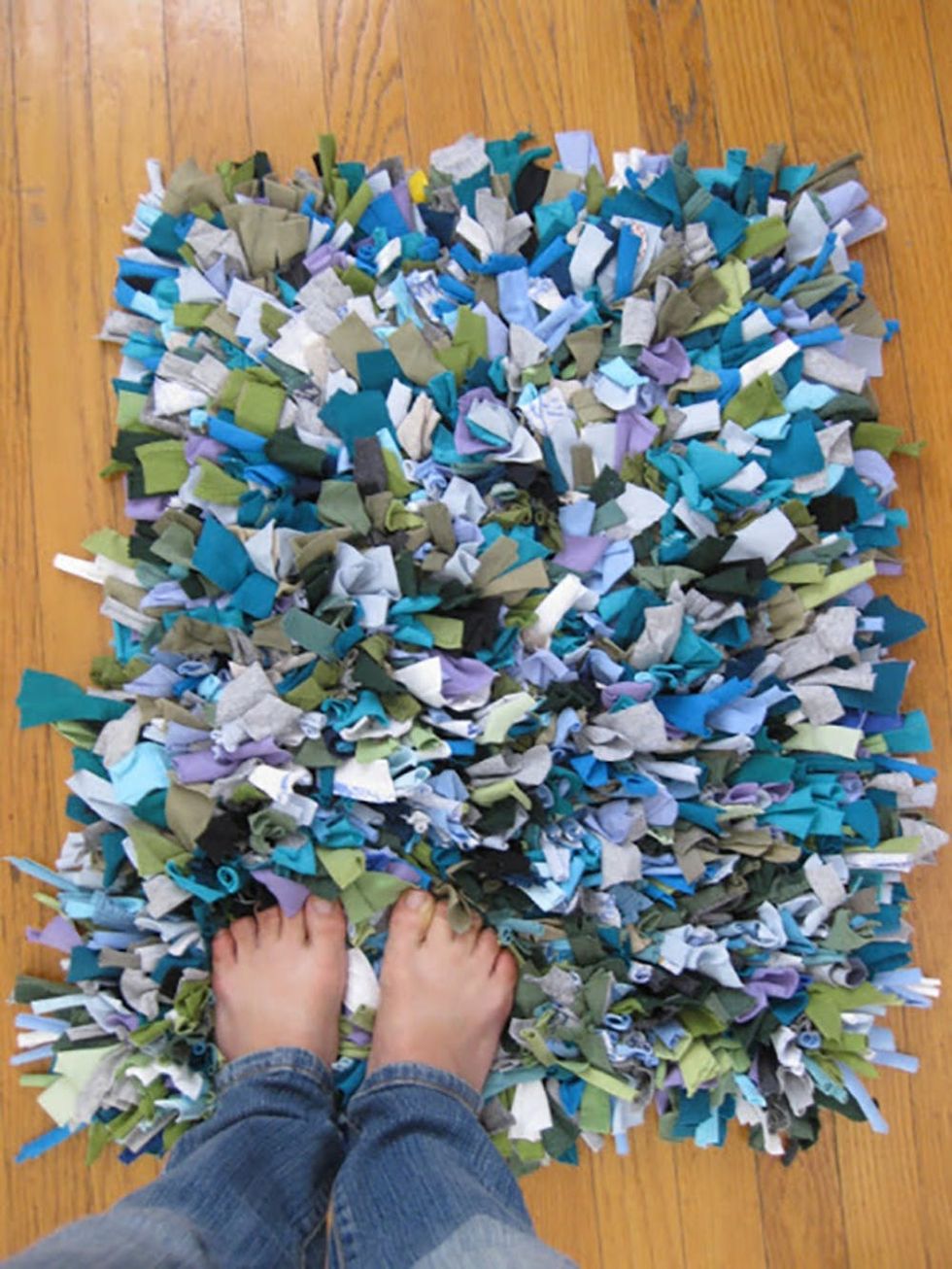 30. Rag Rug: Dig your toes into the coziness that is this "rag" rug. This might be the snuggliest your feet will ever be. (via Sew Pretty Sew Free)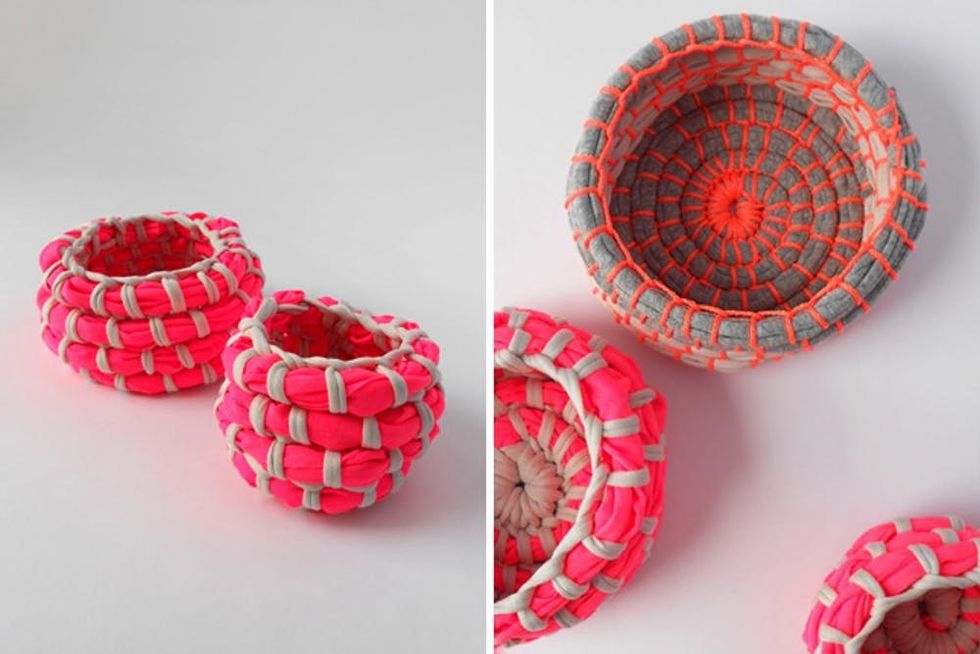 31. Neon Coil Bowls: Hold the phone: these eye-catching neon bowls were made from a t-shirt? We're in love! They'd make the coolest desk accessories, don't you think? (via The Red Thread)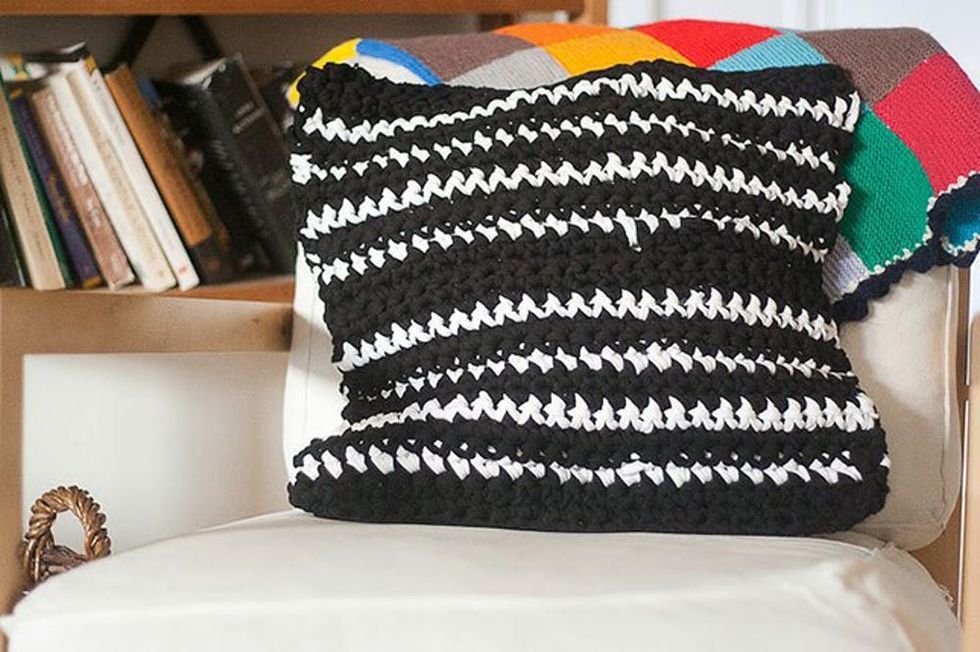 32. Cushion Cover: Crochet a pillow cover to striped perfection. We'd definitely make enough to trick out an entire couch. (via Callaloo Soup)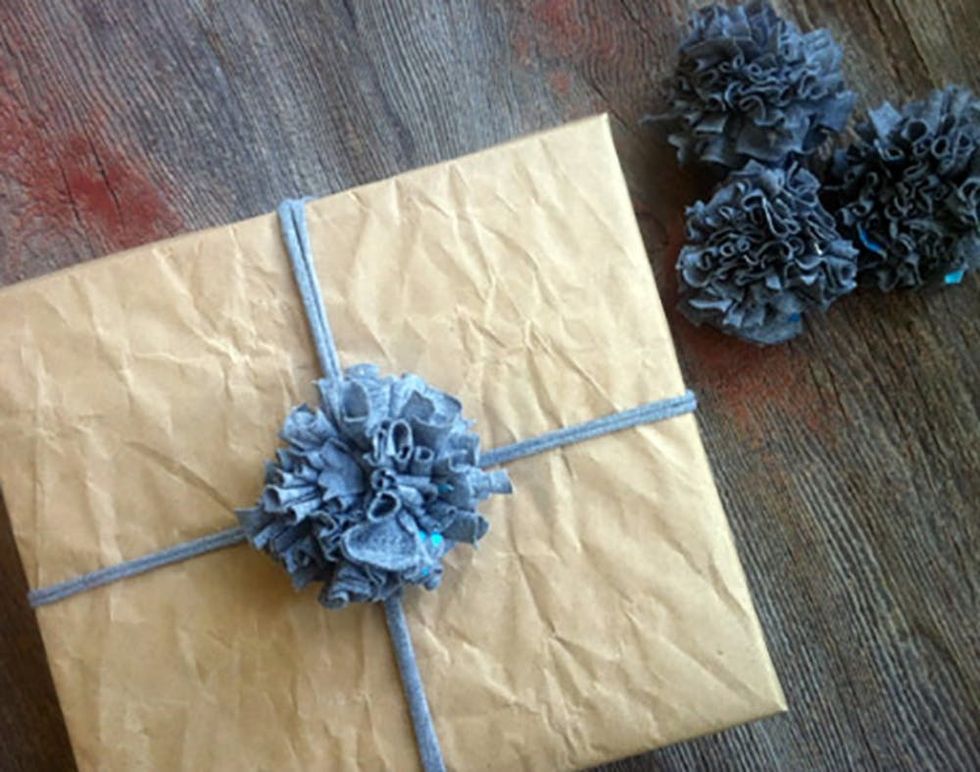 33. Pom Pom Gift Toppers: Add an extra special touch to party favors and presents with a pom pom made from t-shirt scraps. Trust us, people will be into the gift topper as much as the actual gift! (via Brit + Co.)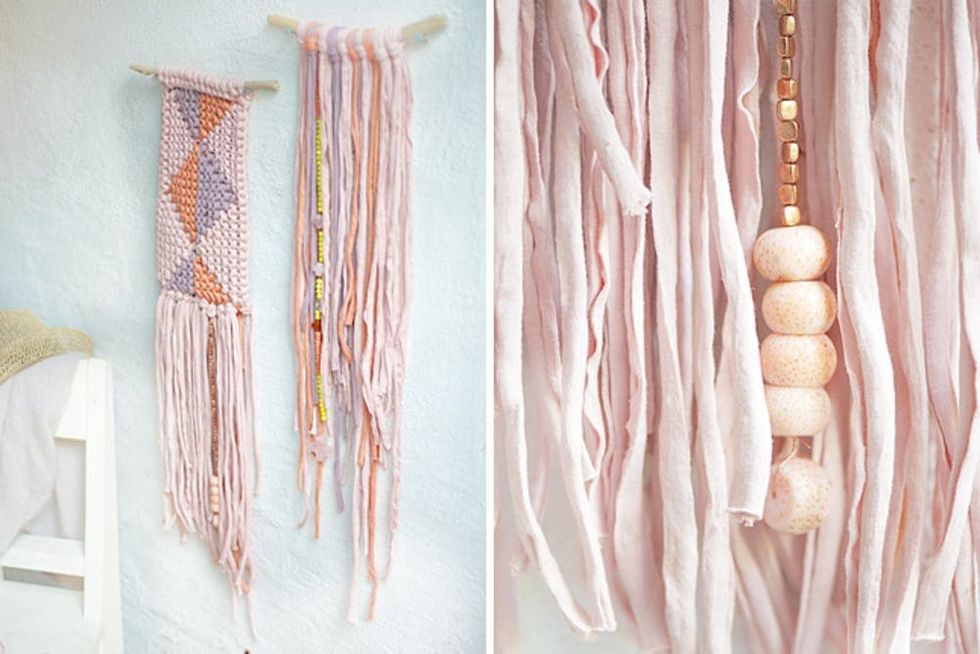 34. Wall Hangings: We're going ga-ga over these gorgeous wall hangings that would add crafty character to any modern home. Add extra charm with a string of metallic beads. (via Lebenslustiger)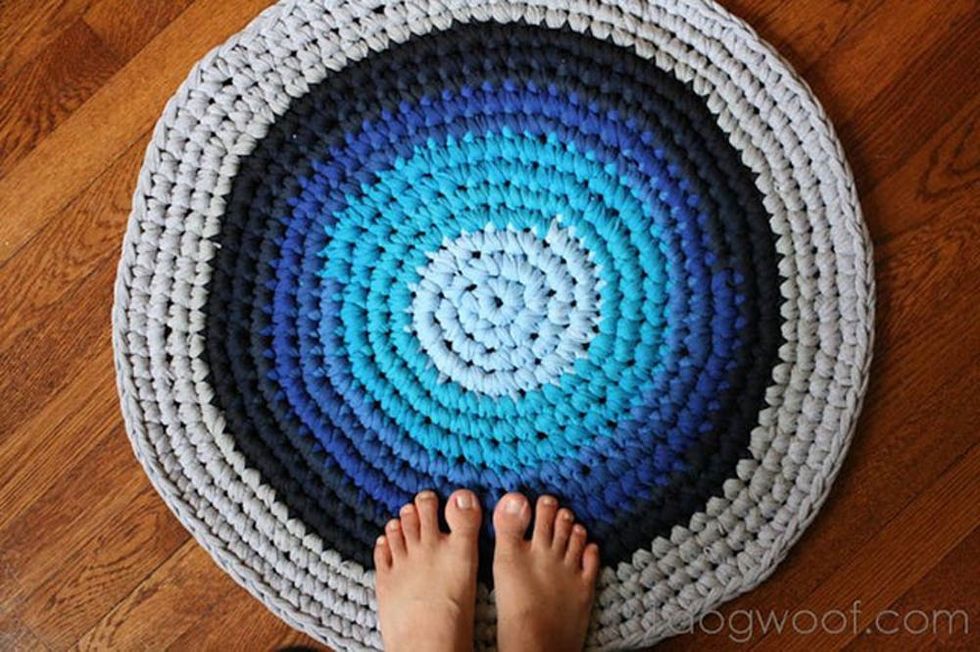 35. Spiral Rug: Whoa! This ombre spiral rug is all that. Plus, this is one piece of DIY decor your toes would totally thank you for making. (via One Dog Woof)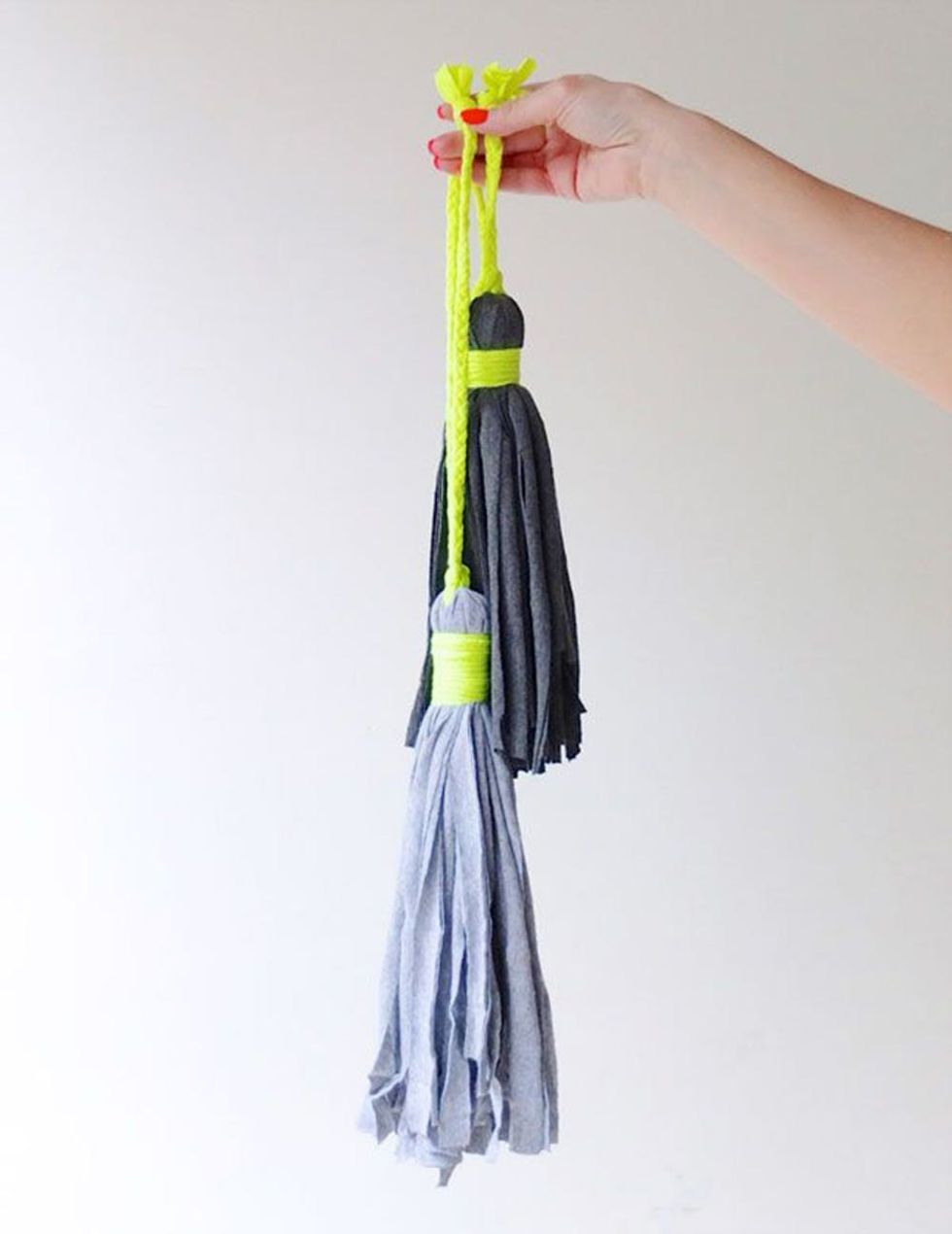 36. Neon Tassels: What room in your house couldn't benefit from neon t-shirt tassels? That's what we thought: every room could! (via My Poppet)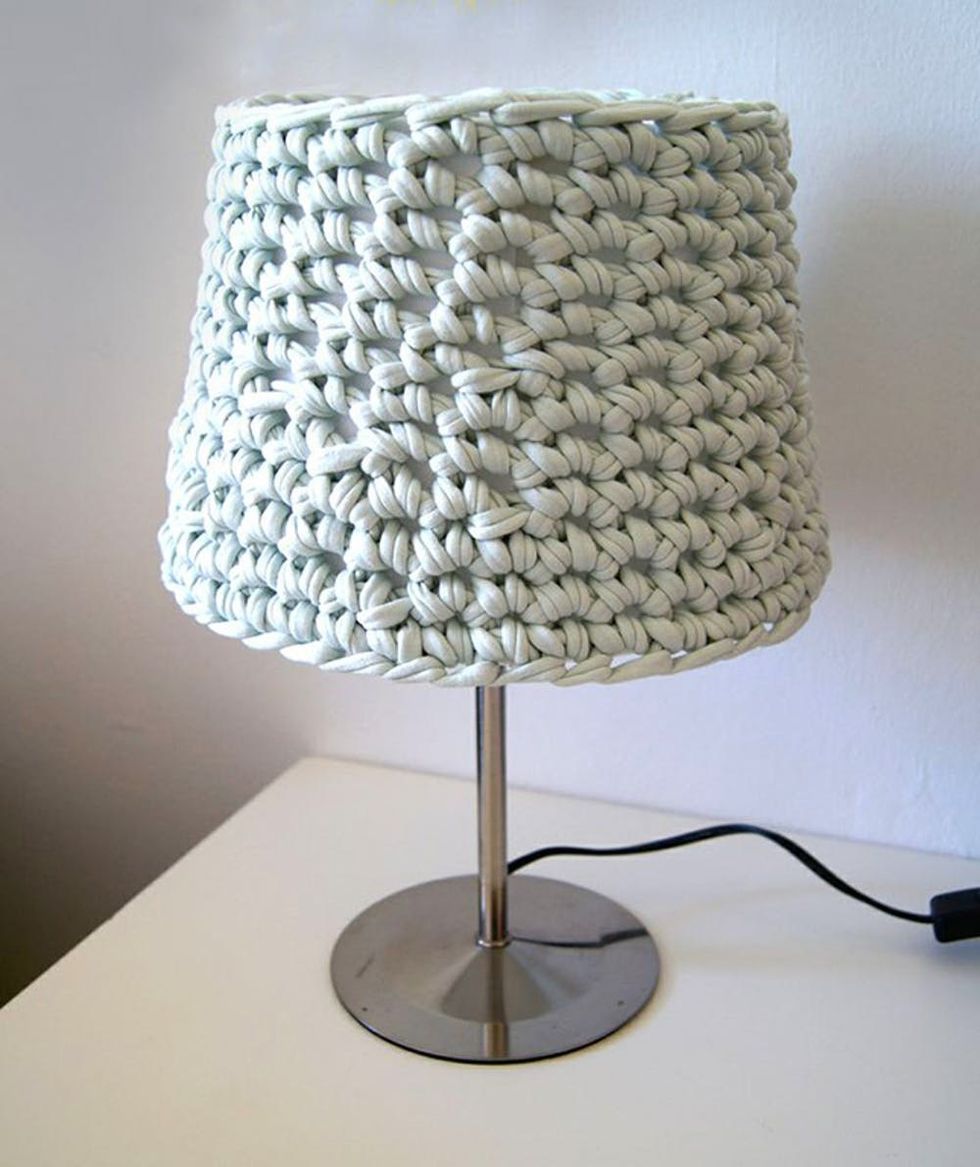 37. Knotted Lampshade: Add some warmth to your bedside by dimming the glow of your table lamp with this knotted lampshade. It might be the key to constant sweet dreams ;) (via Yellow Girl)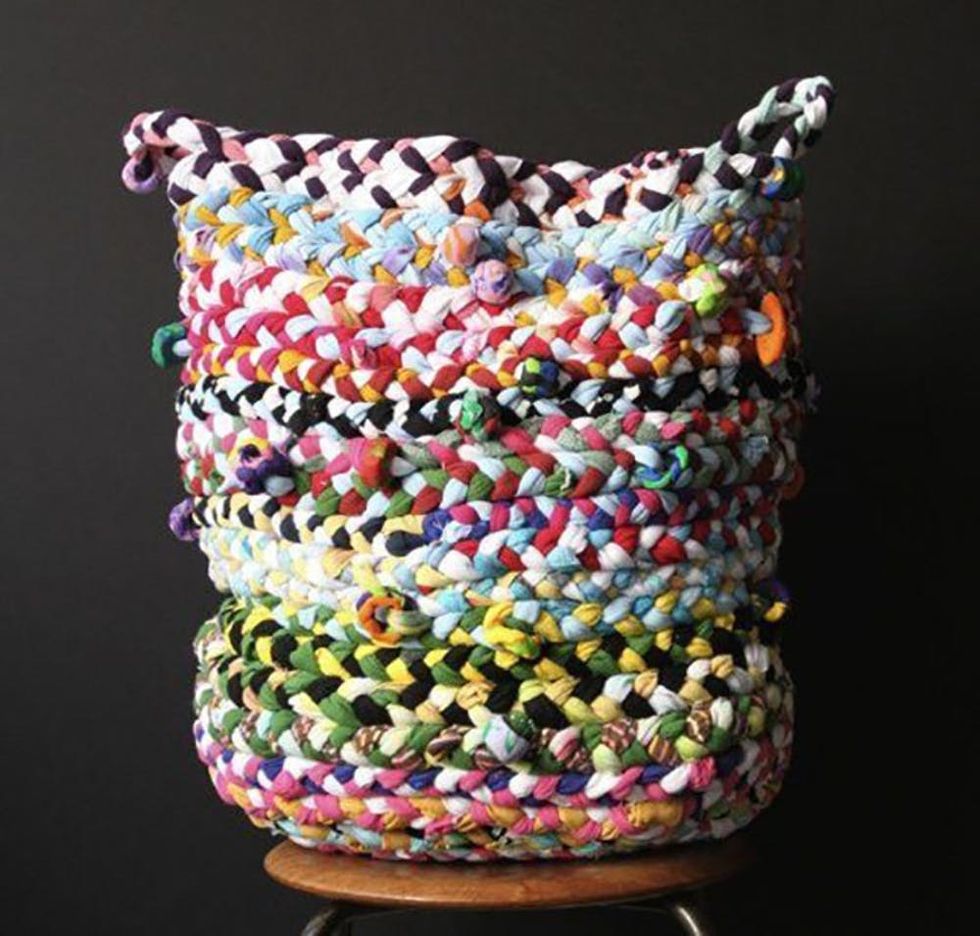 38. Braided Basket: If you're really starting from scratch with your wardrobe, then this mega-basket is definitely the t-shirt project for you. We're wow-ed by its fabulously random color palette. (via Apartment Therapy)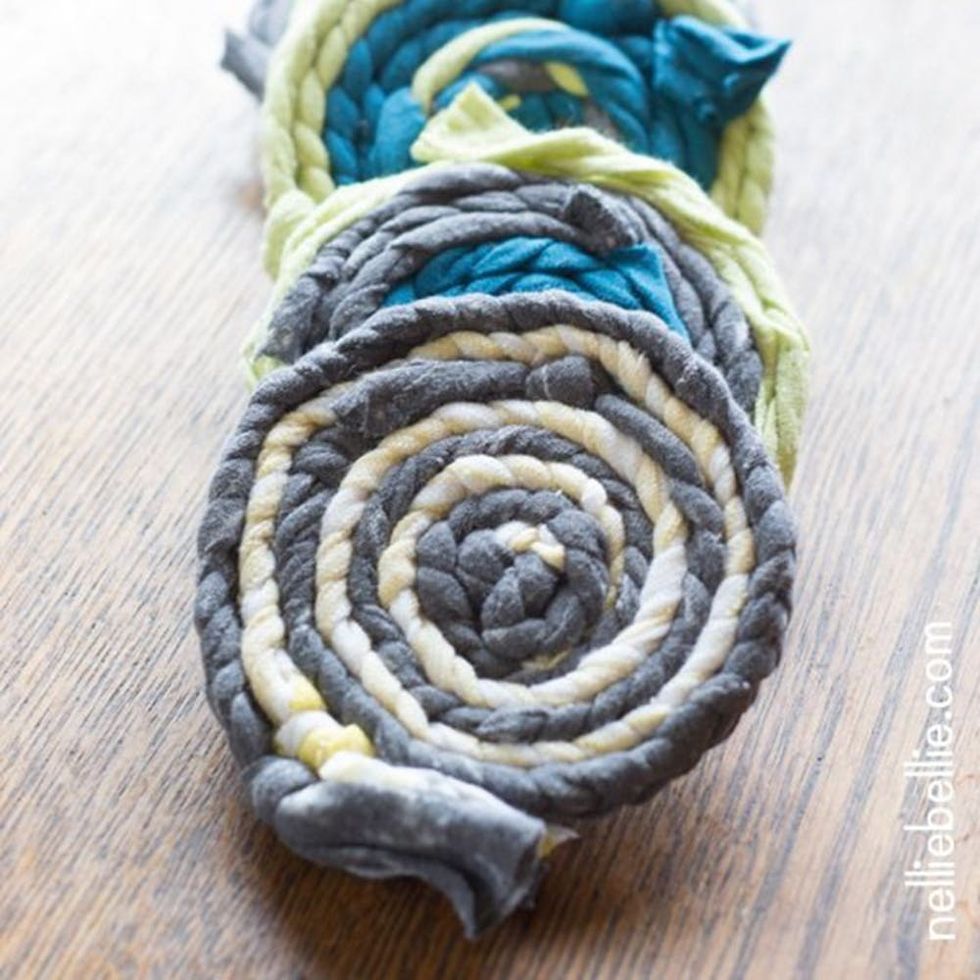 39. Spiral Coasters: Okay, so the above basket tutorial might be a reach for beginners. So start with these spiral coasters! Tackle this small-scale project before your next dinner party. (via Nellie Bellie)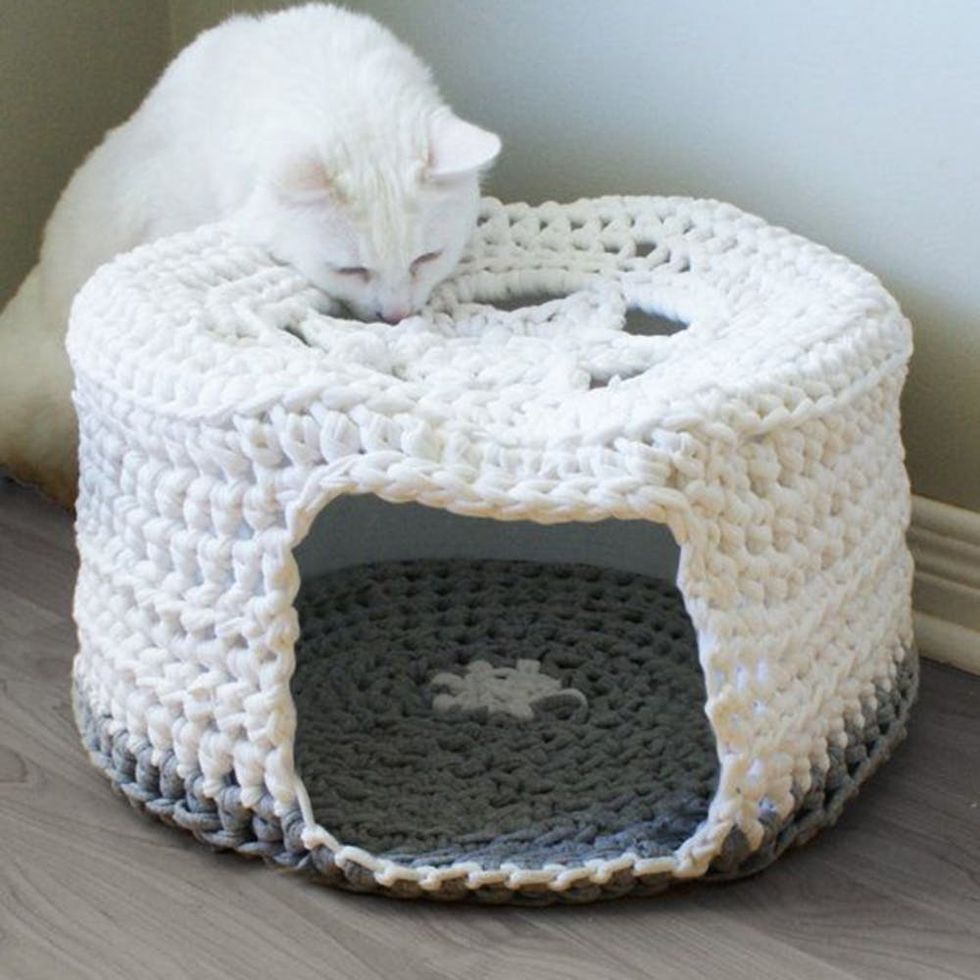 40. Pet Cave: Hold the phone: a pet cave made from t-shirt scraps? Genius! There's no tutorial to accompany this cozy pet pod, but you can buy the pattern direct from this Etsy seller for just $6. (via ErinBlacksDesign on Etsy)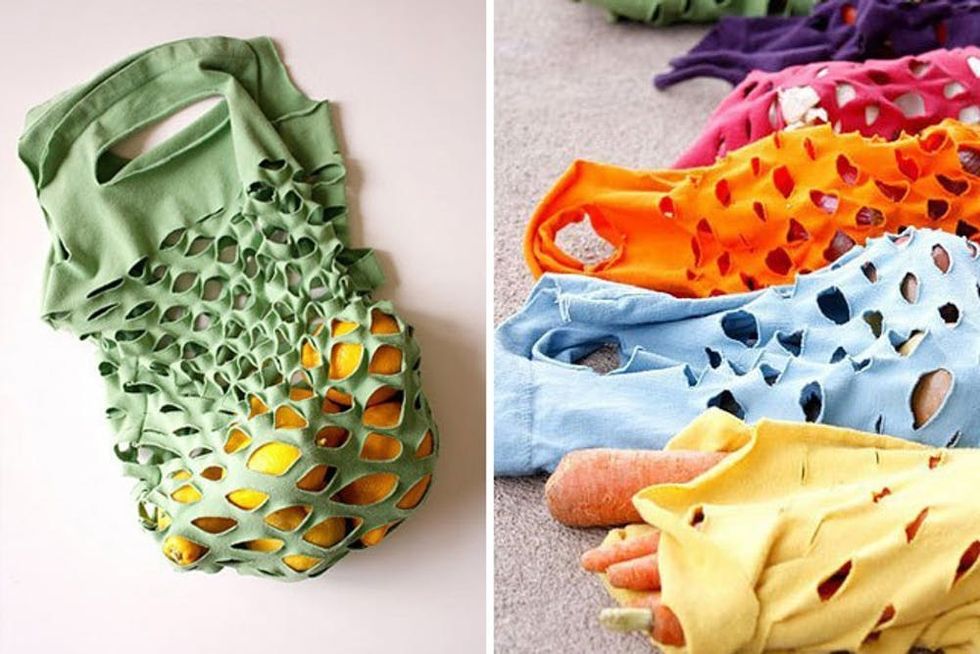 41. Produce Bag: While it may not be the most practical option for toting around your everyday odds and ends, this t-shirt bag is our go-to for carrying our produce home from the farmer's market, or even great for lugging around your gym shoes. (via Apartment Therapy)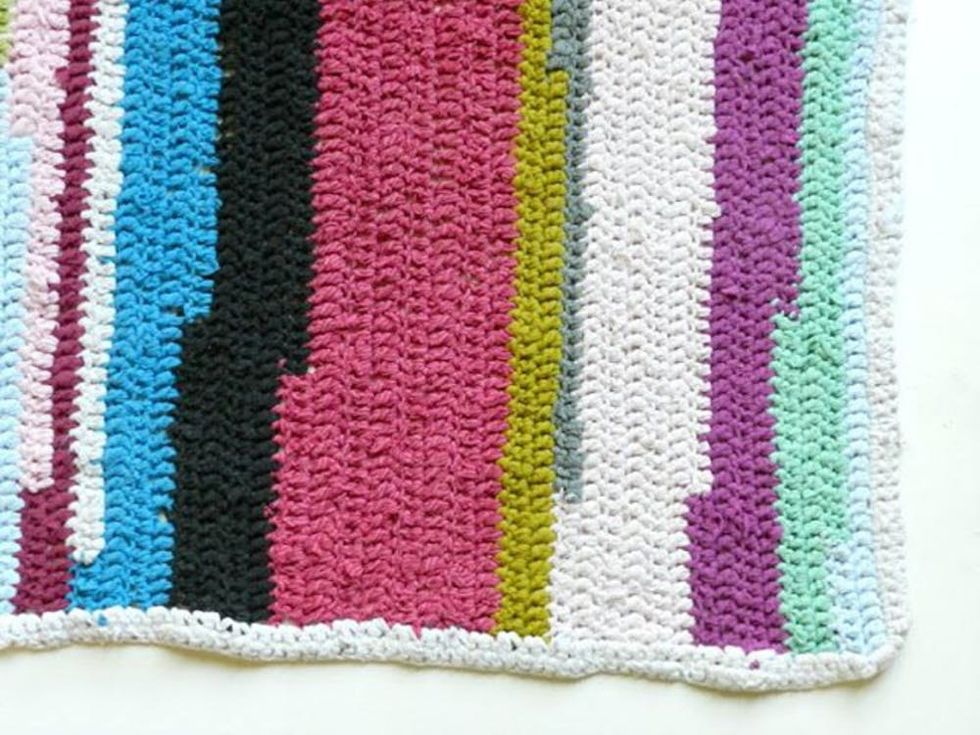 42. Pattern Rug: Even though its the last t-shirt rug in our roundup, it's quite a stunner. Who doesn't need a pretty striped rug brightening up their pad? (via Grow Creative)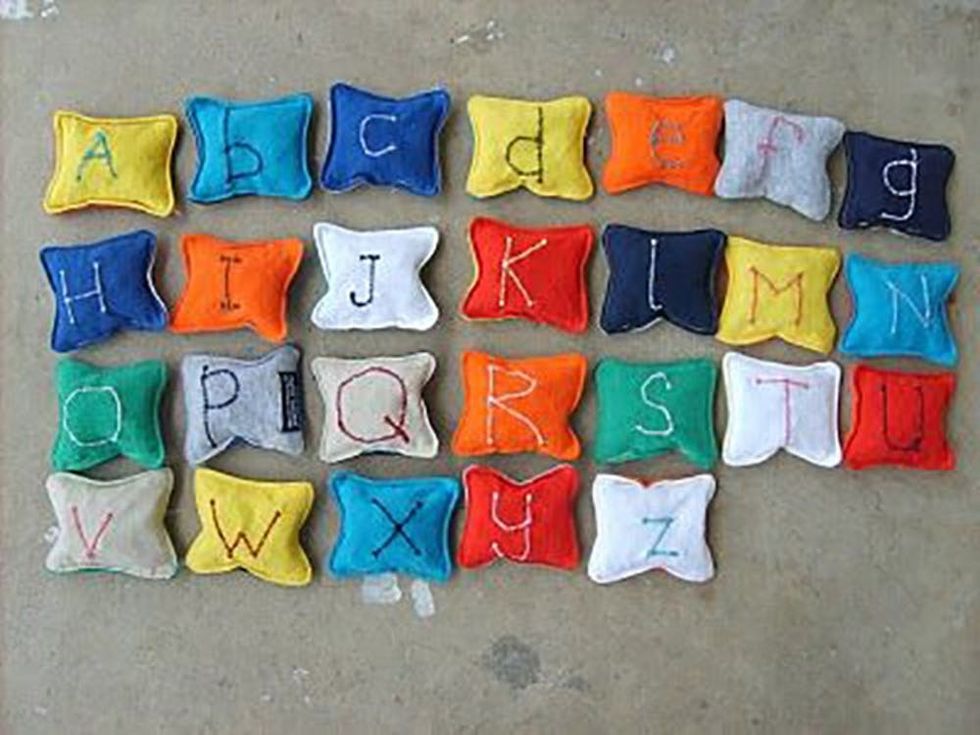 43. Alphabet Bean Bags: What a playful way to learn your ABC's! Though, these would also make an awesome DIY cornhole set… (via Dollar Store Crafts)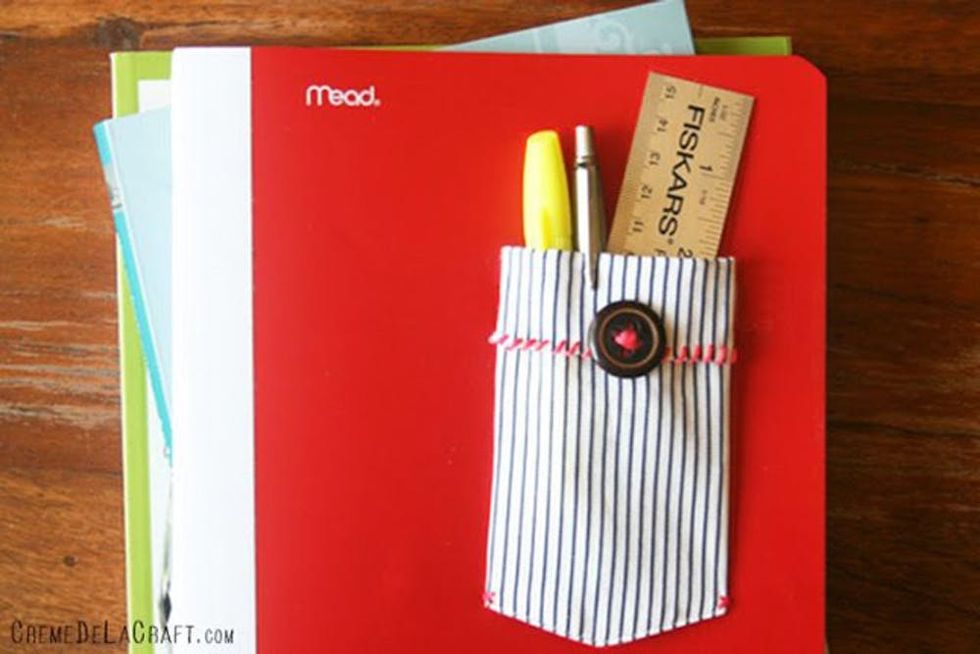 44. Pocket Pencil Case: Put that old pocket tee to good use! (via Creme de la Craft)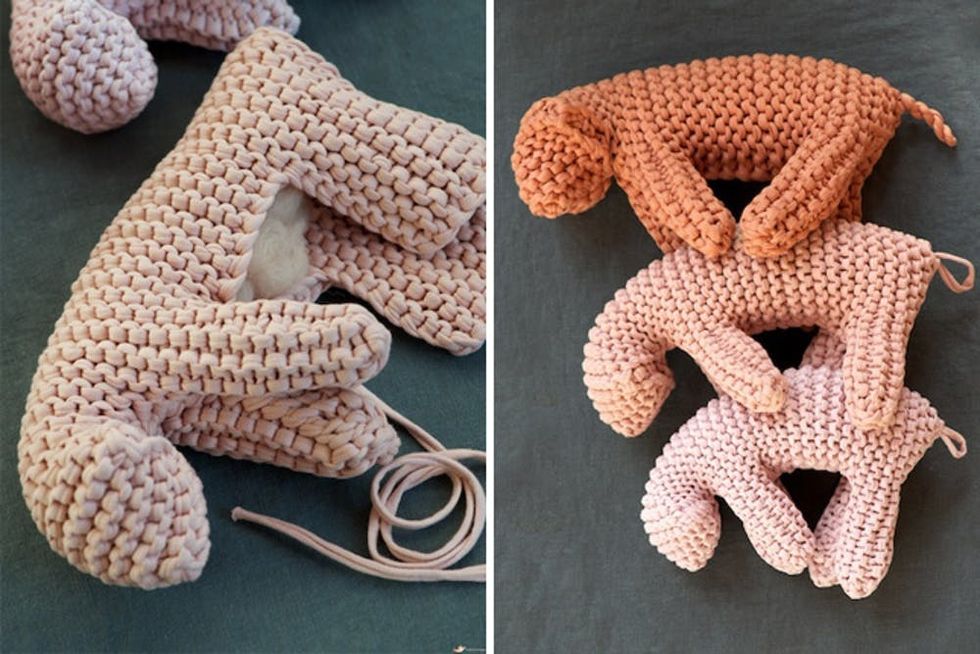 45. Lamb Toys: We can't think of more adorable baby shower gifts. They'll add a soft touch to any nursery. (via Lebenslustiger)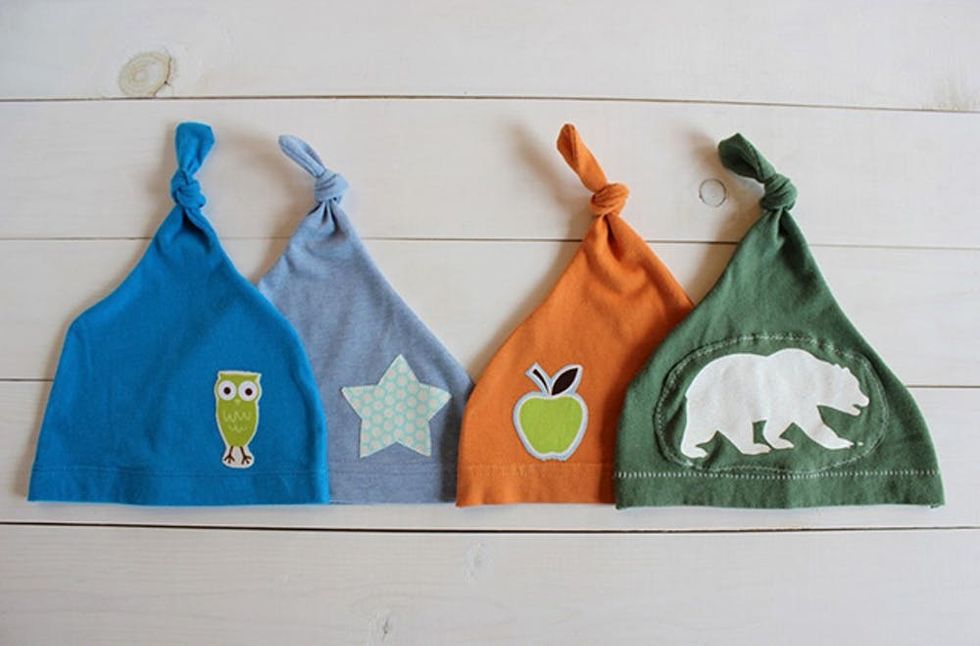 46. Knotted Baby Hat: You wouldn't believe how easy it is to turn a t-shirt into an aww-inducing baby hat. The knotted top and iron on-decals are too cute. (Alice & Lois)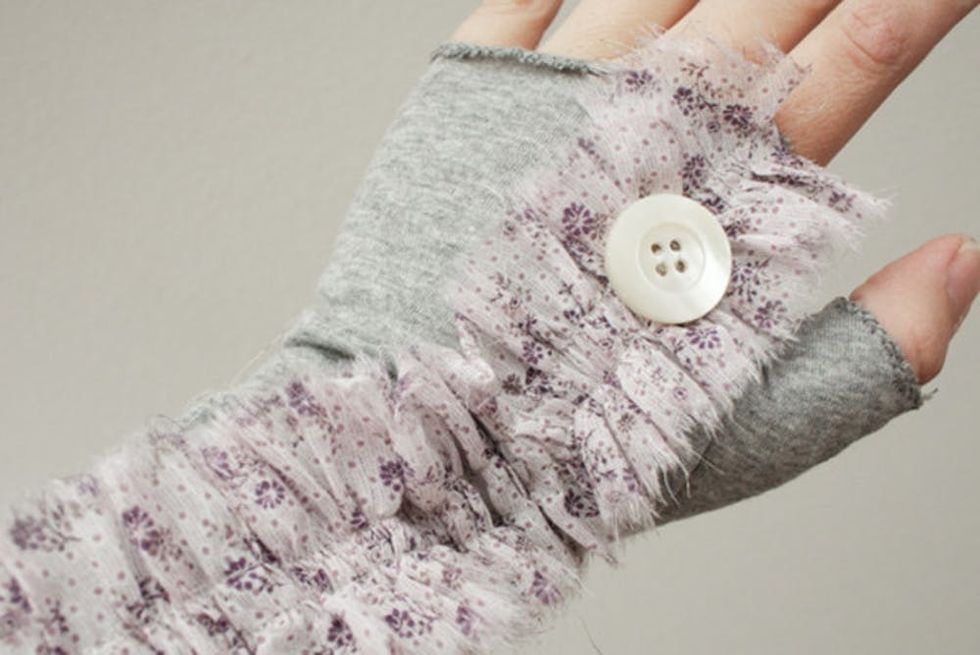 47. Fingerless Gloves: If the dress up box is looking a little low, then try your hand at turning a tee into these cozy fingerless gloves. Kid tested, magic fairy approved :) (via La Malediction)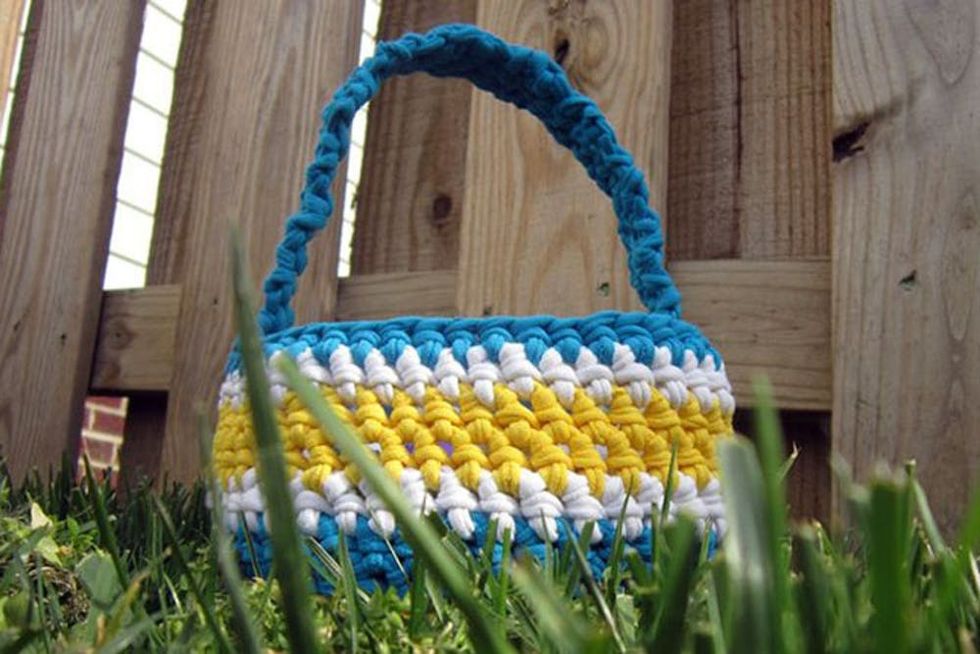 48. Woven Easter Basket: Have your kids help craft their own Easter basket from t-shirt scraps! Any DIY that can bring the fam together is fine by us! (via The Experimental Home)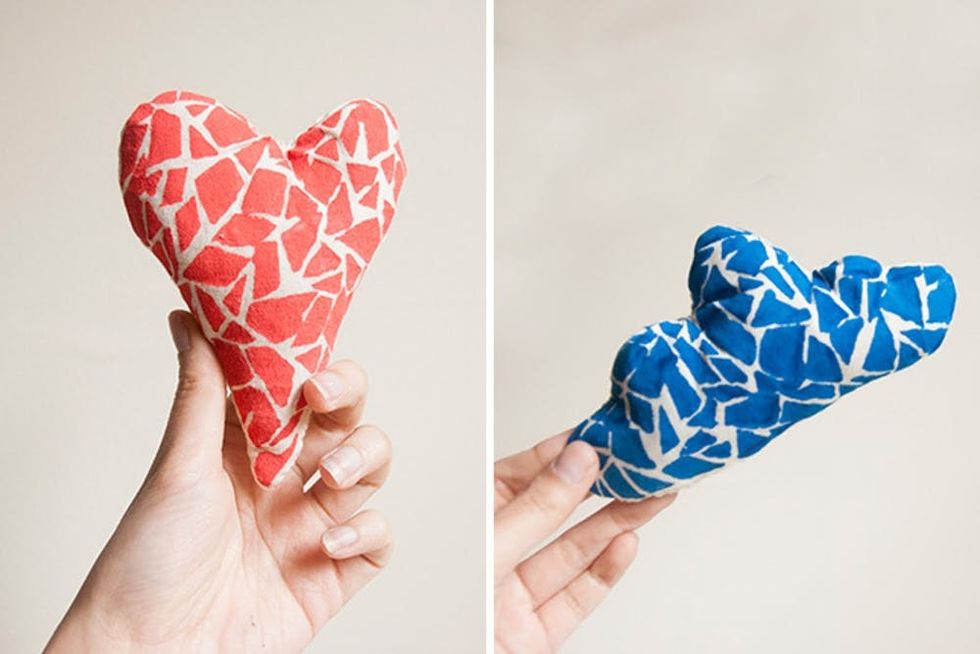 49. Mini Cushions: Here's another project that the whole gang can do together: make these painted mini cushions. Stick with solid colors for true beginers, while advanced crafters can amp up their mini-pillows with these small geo shapes. (via Hej Juni)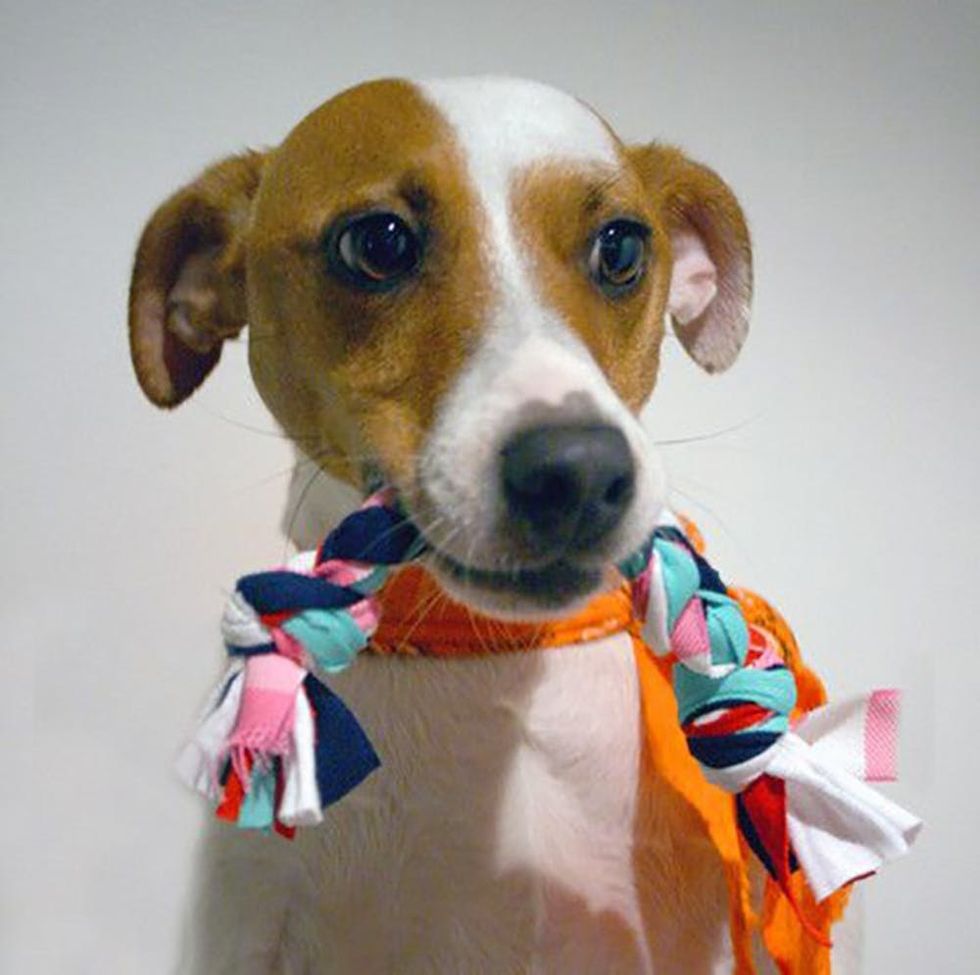 50. Tassel Dog Toy: Of course, we had to show some love to man's best friend! Learn how to make your pooch a chew toy on the cheap. The #dogsofbritandco give it two paws up ;) (via DIYour Face Off)
What cool ways have you repurposed a t-shirt? Which ones from this roundup are you planning on making? Tell us about your DIY projects in the comments below.