Sophia Amoruso's Best Selling Book #Girlboss Is Now Getting Its Own Netflix Series
Feb 05, 2016
2016 is shaping up to be a MAJOR year for Sophia Amoruso. Ever since the release of her best-selling memoir back in 2014, Nasty Gal's founder has begun a whole handful of new ventures. She launched a podcast late last year and even revealed she's currently writing a #Girlboss sequel. Now it looks like Sophia is tacking on "producing a new Netflix series" to that already impressive list.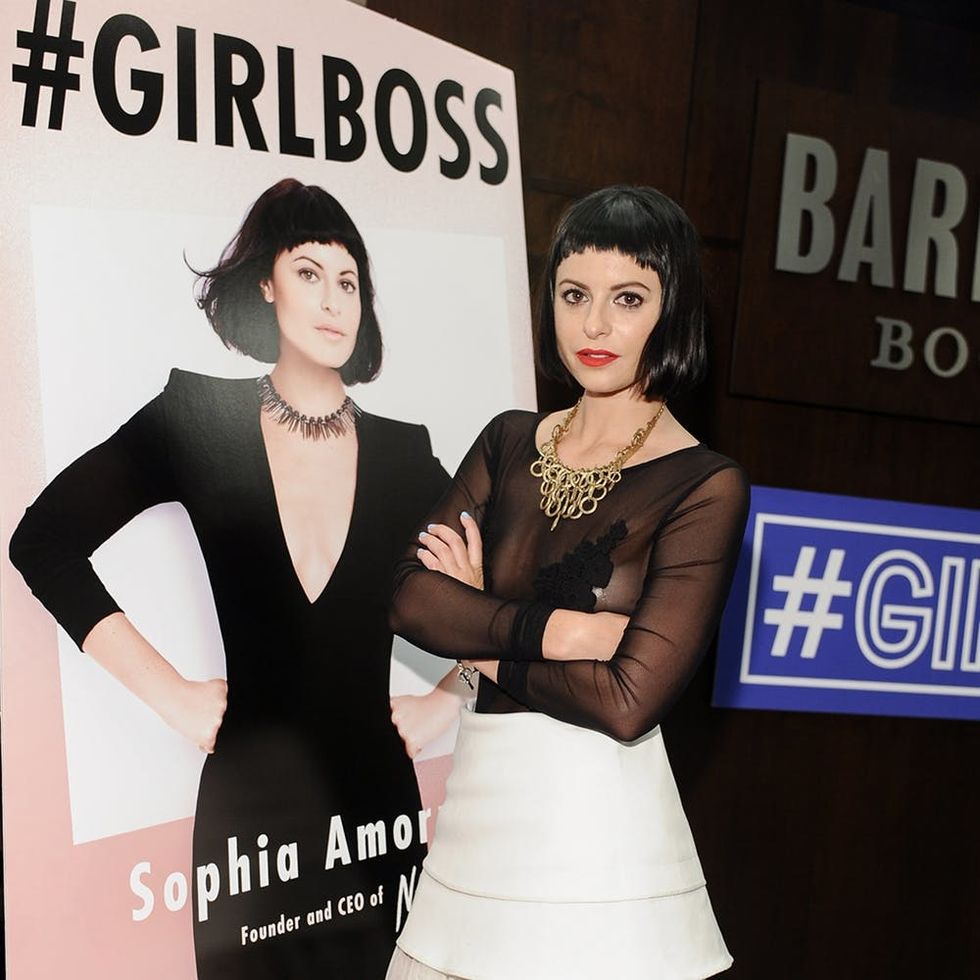 ---
Variety revealed today that Netflix is currently working to transform #Girlboss into a comedy series. Kay Cannon of Pitch Perfect is set to write the script, while Charlize Theron and Sophia herself are slated to take on two of the executive producer roles. Just like her book, the story will focus on Amoruso's rags-to-riches story. You'll watch the main character go from dumpster-diving and selling vintage clothes on eBay to eventually launching a multi-million dollar fashion empire in LA by age 27.
We're guessing casting is already underway, but if not, we're going to go ahead and throw Krysten Ritter's name into the pool. With similar features to Sophia, a razor-sharp wit and experience with a successful Netflix series (ahem, anyone seen Jessica Jones?), she just might be the right leading lady to make this our new Netflix obsession – just sayin'.
Who would you cast to play Sophia? Share you pick with us on Twitter @britandco.
(Photos via Stefanie Keenan/Getty)
Cortney Clift
Cortney is the senior writer and special projects editor at Brit + Co. She typically covers topics related to women's issues, politics, and lifestyle. When she's not buried behind her computer you'll find her exploring New York City or planning her next big adventure.
Home News
Still haven't taken up that new creative skills you swore you'd learn this year? Or ready to take your design skills to the next level? Let's say so long to the weirdest year ever by checking those big learn-something-new goals off our perpetual to-do lists.
We've teamed up with Clorox to give you the gift of unlimited creativity now through the end of the year. Once you sign up, you can take as many of our 120+ classes as you want for FREE for one whole month!
Here's how it works:

Head to brit.co/learn and sign up for the "All Access Pass."
Use the code "CLOROXCARES" at checkout to redeem your free month of classes.
You will be automagically signed up for Clorox's email list once you redeem your free all access pass. (It's the #1 Choice for Disinfection!)
Your pass lasts one month from when you checkout. This means you have unlimited access to all the classes during that month.
This offer is valid now through December 27, 2020.
Browse our catalog to find the right class for you, tell a friend and take the class together over Zoom, or organize a 'cocktails + crafts' night with a friend in your bubble so you can learn something new together.
What are you waiting for? Time to start learning all the things!

Thanks to Clorox for making this happen! When it counts, trust Clorox.
Lifestyle