Pretty Polished: How to DIY the Tiled Nail Art Trend We Can't Stop Obsessing Over
Apr 11, 2019

The detailed tile featured on floors, walls, and ceilings across the world is one of our favorite things about international travel. The picture-perfect colors and designs are so beautiful that many nail polish enthusiasts have even begun to recreate their own iterations in the form of tiled nail art. Up ahead, we deep dive into this must-try mani trend with two DIY tutorials, plus loads of inspiration for your own polish.
---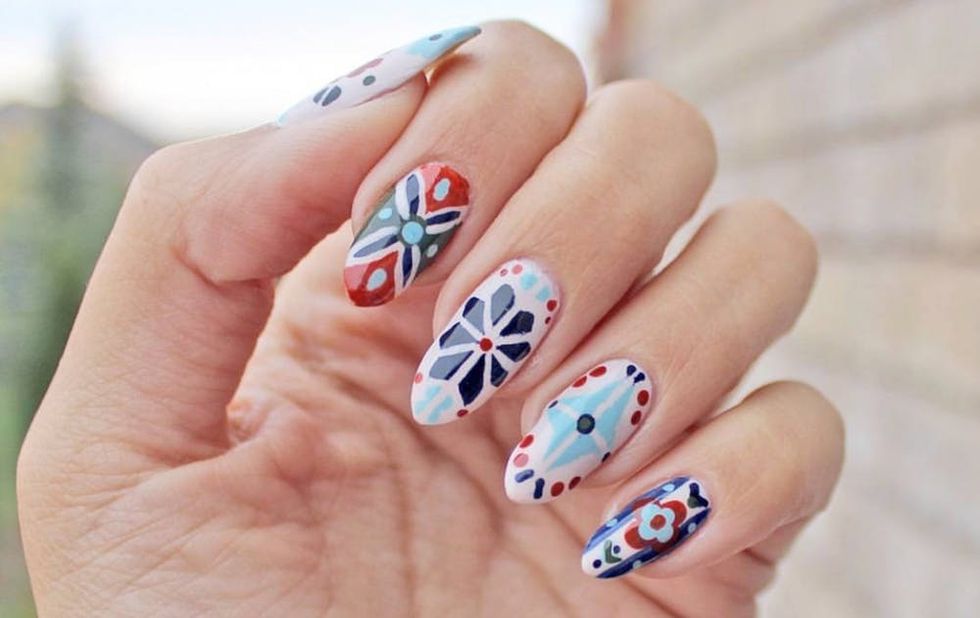 As with any intricate nail design, the tiled look requires a little extra prep and planning. "Map out the designs before you start. Either have sample tile images or a manicure [to] use as inspiration," explains Fernanda Figueroa, founder of nail art blog, Gold and Polish. Additionally, Figueroa recommends getting your tools in order and highly recommends having "thin brushes, striping tape, a toothpick or dotting tool, Q-tips, [and] acetone" within reach. (via @goldandpolish)
To get the look, first choose five complementing polish colors, plus a lighter shade for the base coat. "Paint all nails the lightest color [and apply] top coat. This will protect your background if you need to clean up lines with acetone," explains Figueroa. Once your base dries, place four pieces of striping tape on the nail, crisscrossing at the center. Reach for your thin brush and "paint an upside down V in between the striping tape pieces using one color," says Figueroa. Fill it in and use a different color to create a medium-sized circle above and below the design, going over the striping tape." For crisper lines, remove the tape while [the] polish is wet and use a toothpick or dotting tool to add a small dot in the center of the design and around the nail. Figueroa suggests unleashing your inner artist and having fun with different colors [and] dot patterns. Wait until your nail art is dry before applying a layer of top coat for added gloss and protection.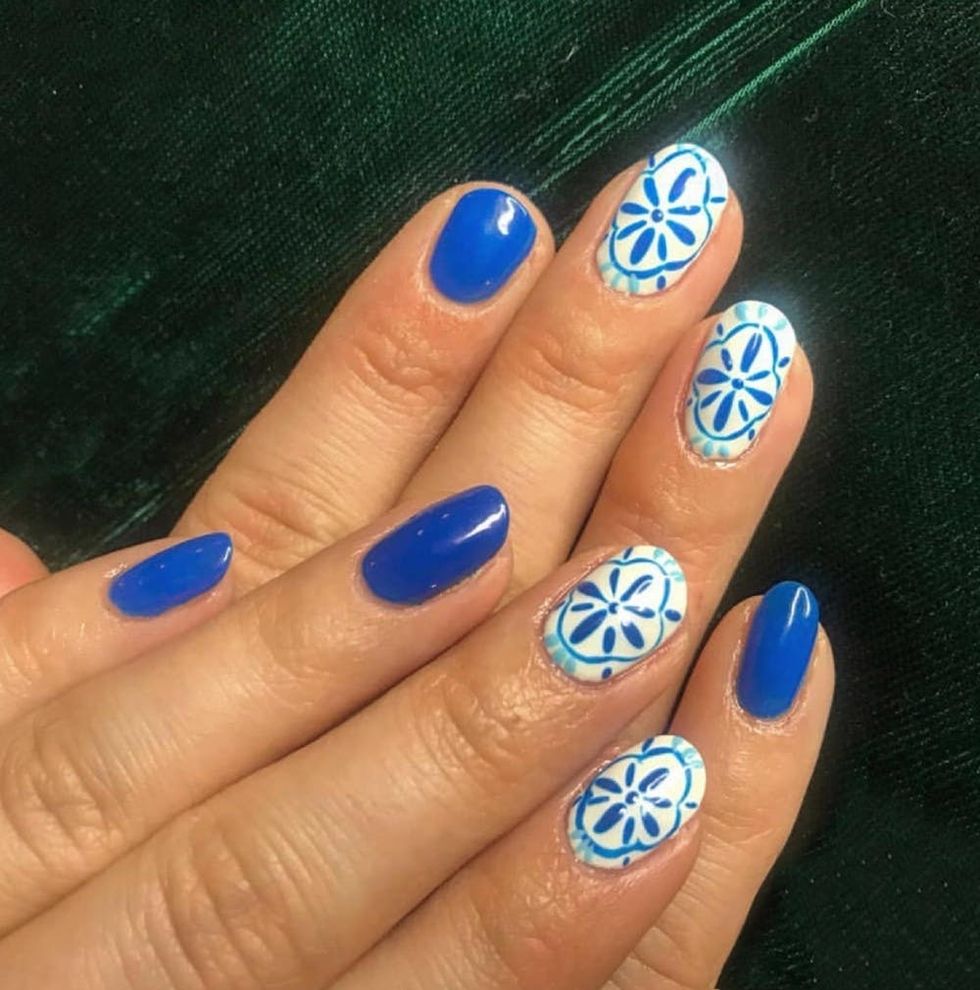 If you don't have striping tape, you can still create a variation of tiled nail art at home using a thin nail polish brush and toothpick. To freehand this look, Natalia Urbina, a nail artist at Wild Oleander in Brooklyn, New York says, "A steady hand is key." Begin with a coat of white nail polish, then choose one or two shades of blue for a more Jaipur appeal. "Start from the center with the dot and work your way out," instructs Urbina. To get a more petal look, she recommends making thin line strokes that get thicker at the end. Add dots and lines as a way to accentuate symmetry and make the center pop," says Urbina. As always, once you've completed your look, glide on a shiny top coat for a more authentic glazed tile look. (via @wild_oleander)
Looking for more tiled nail art inspo? Peep some of our favorite picks from across the 'gram, below.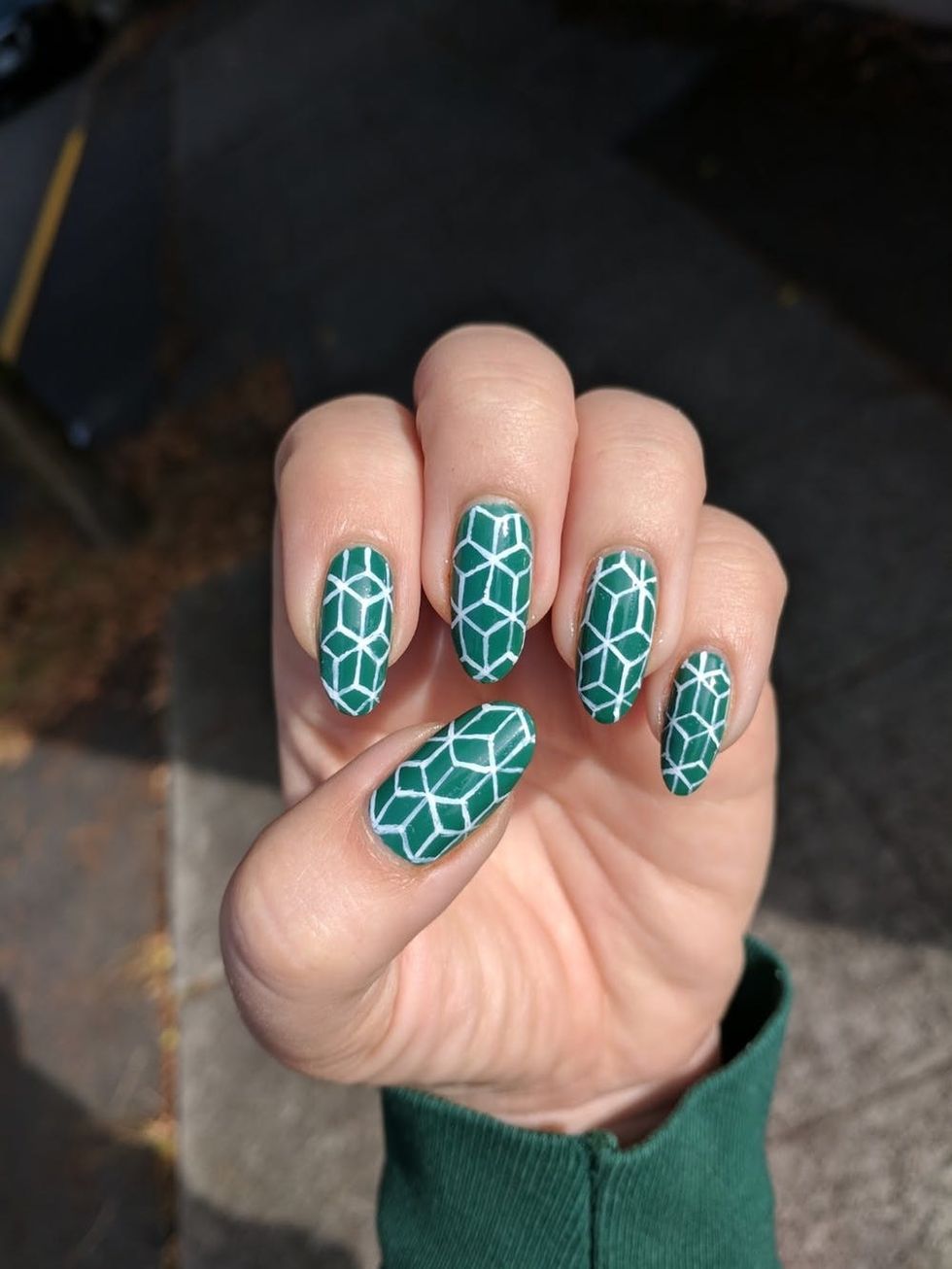 1. Rubix Cube (via @thepolishedbean)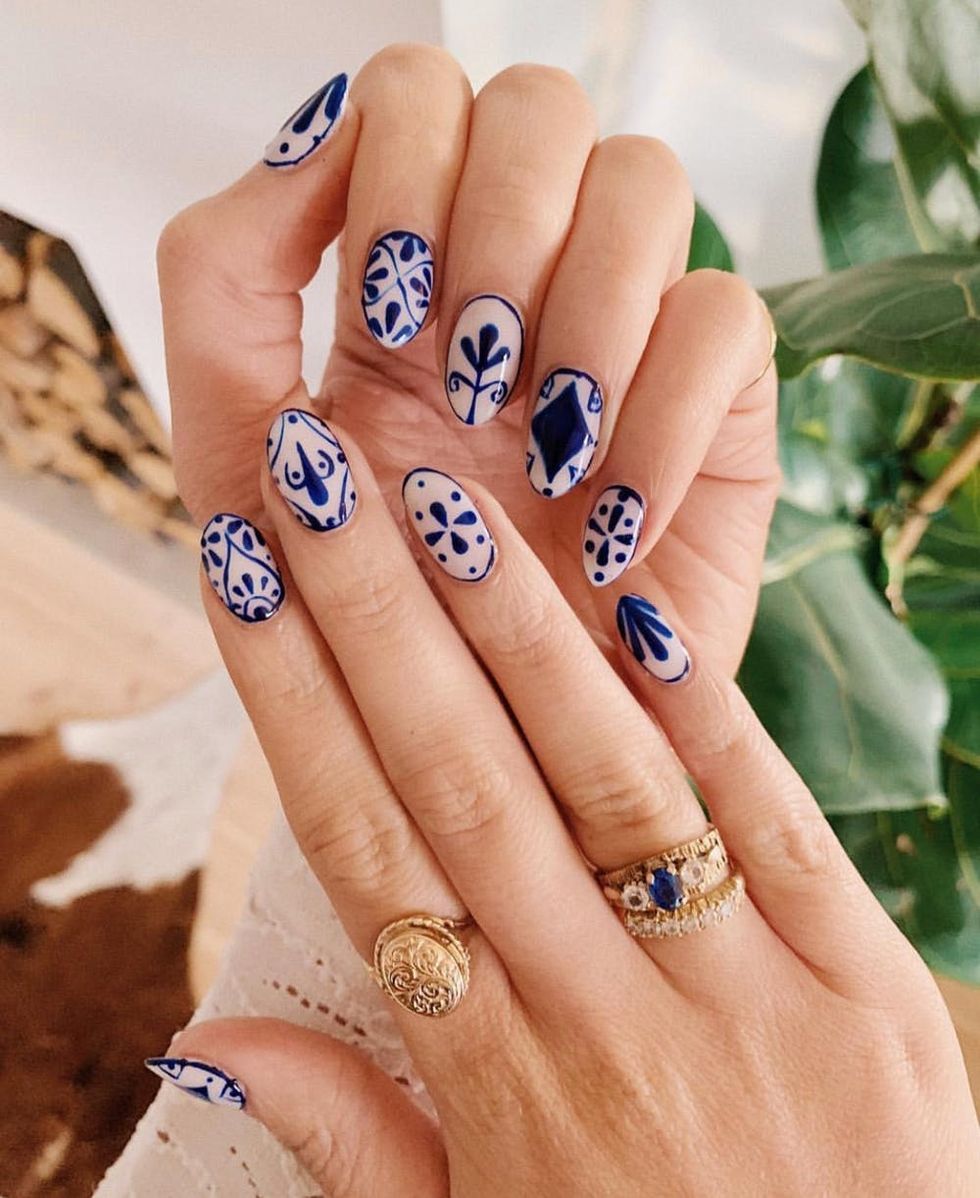 2. Dainty Delft (via @beautyworksbyamy)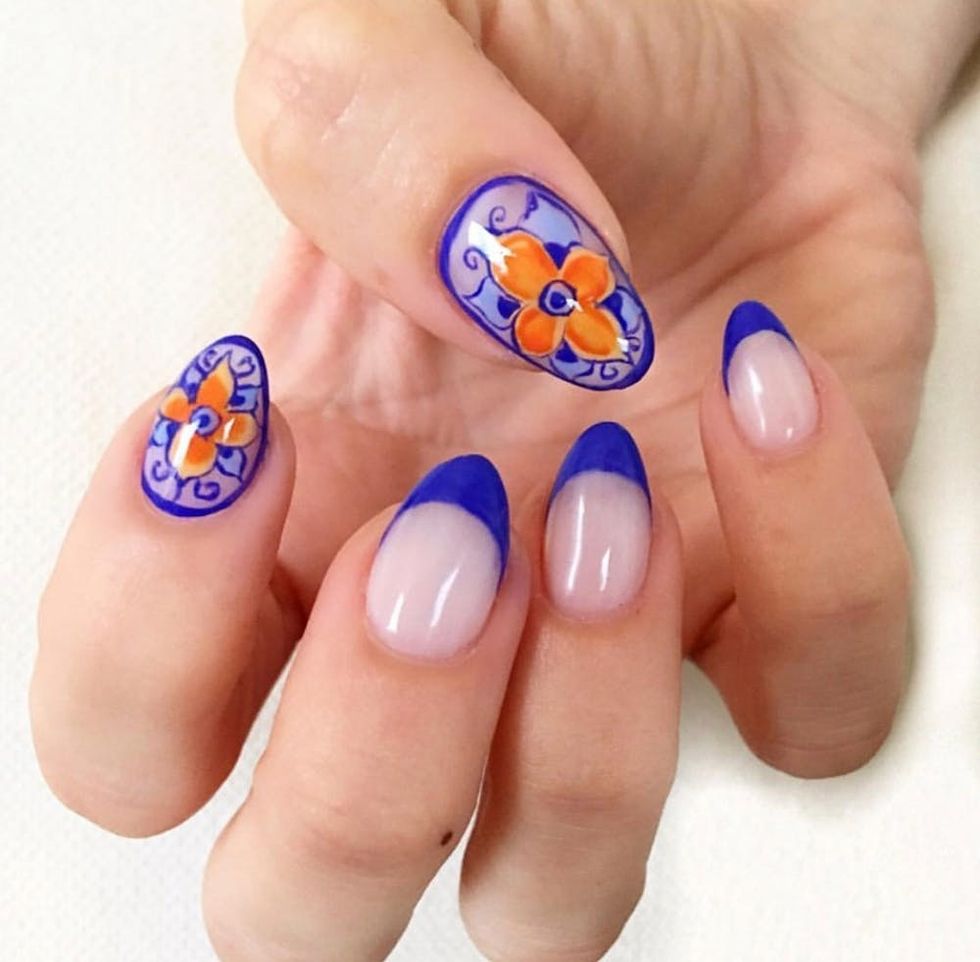 3. Tiled Tips (via @nailthoughts)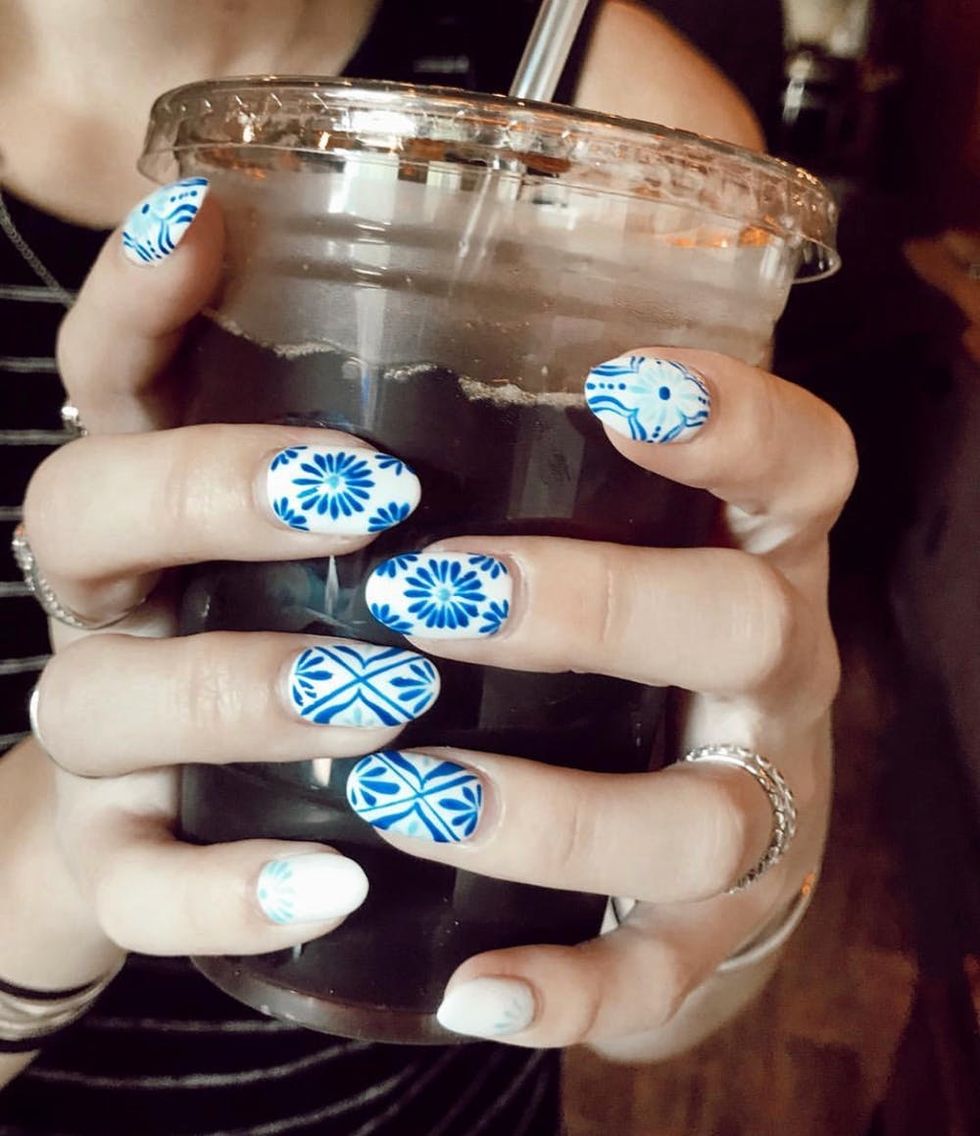 4. Fabulous Florals (via @smallfrynyc)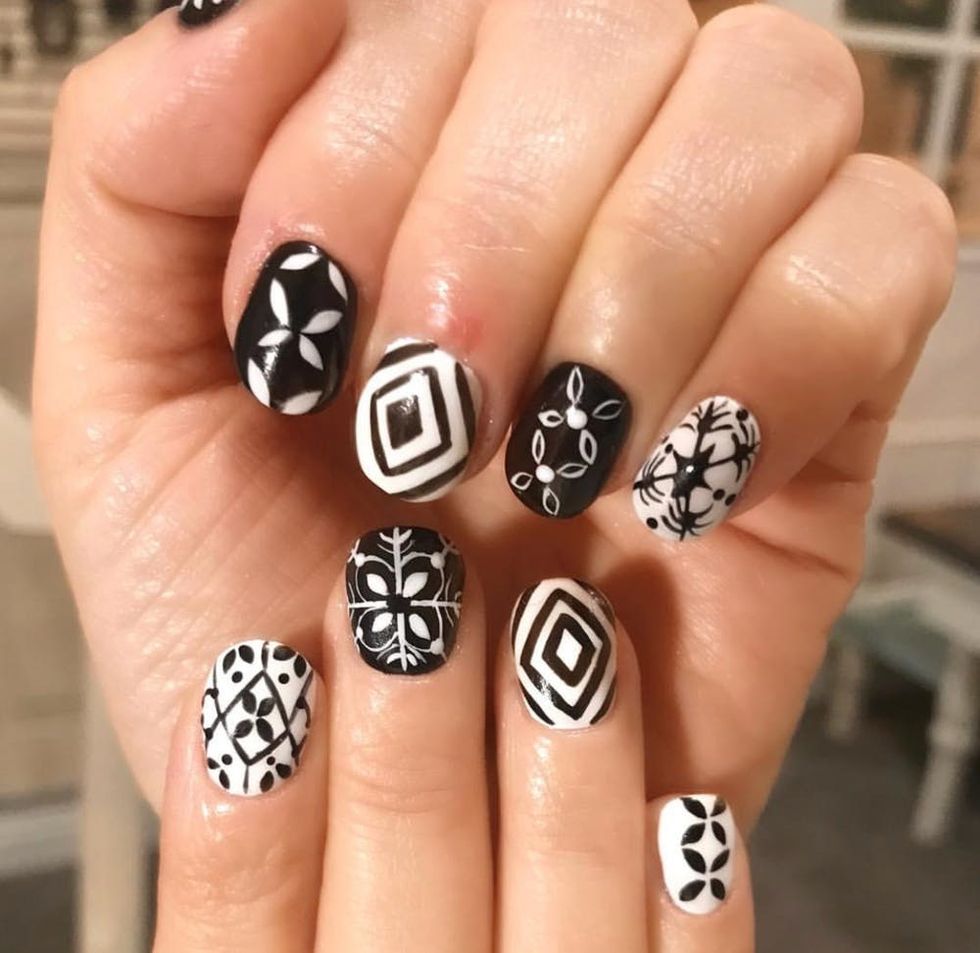 5. Dark and Stormy (via @polishedchicdesigns)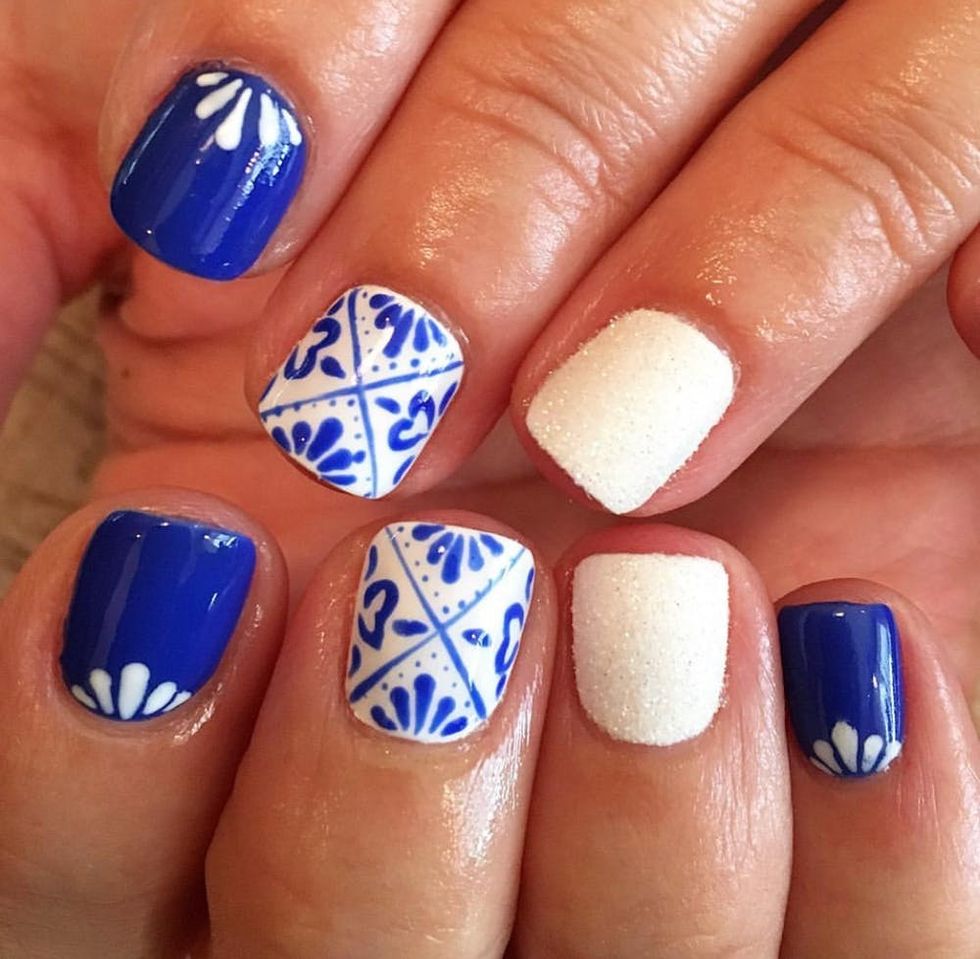 6. Speckled Santorini (via @sanctuaryspatradition)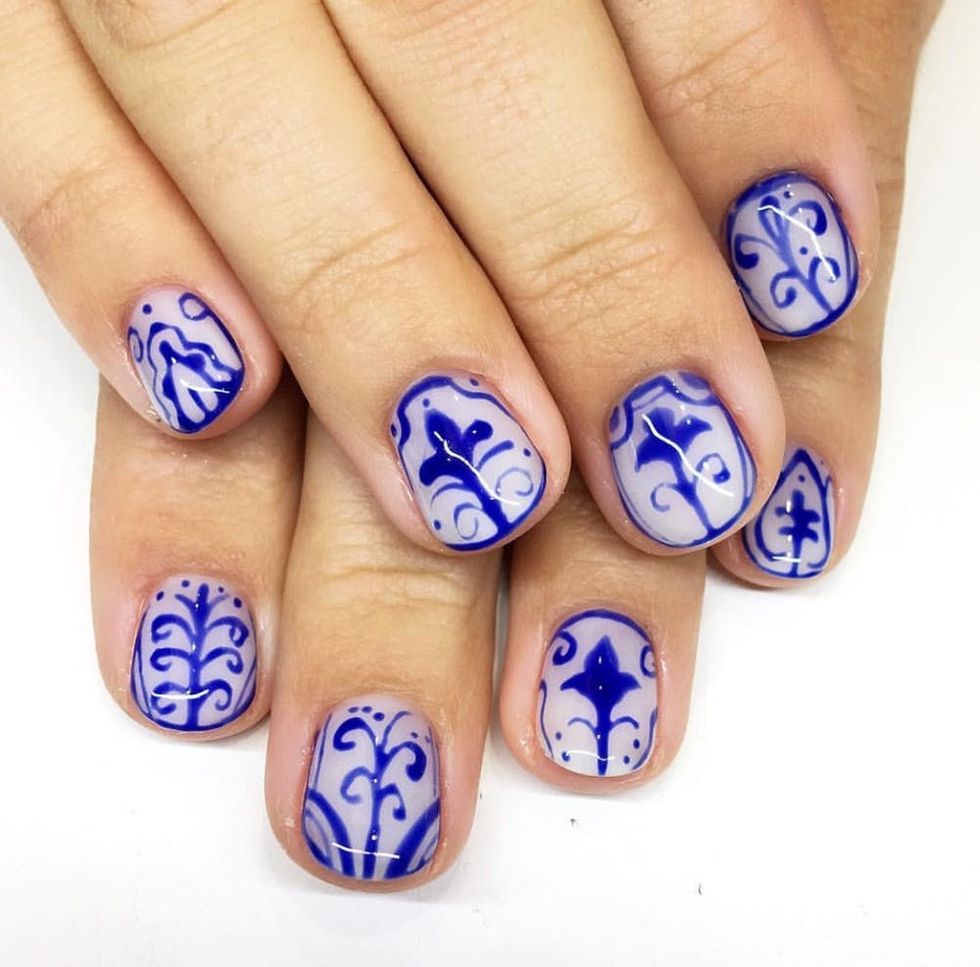 7. Jaipur Jewels (via @nailthoughts)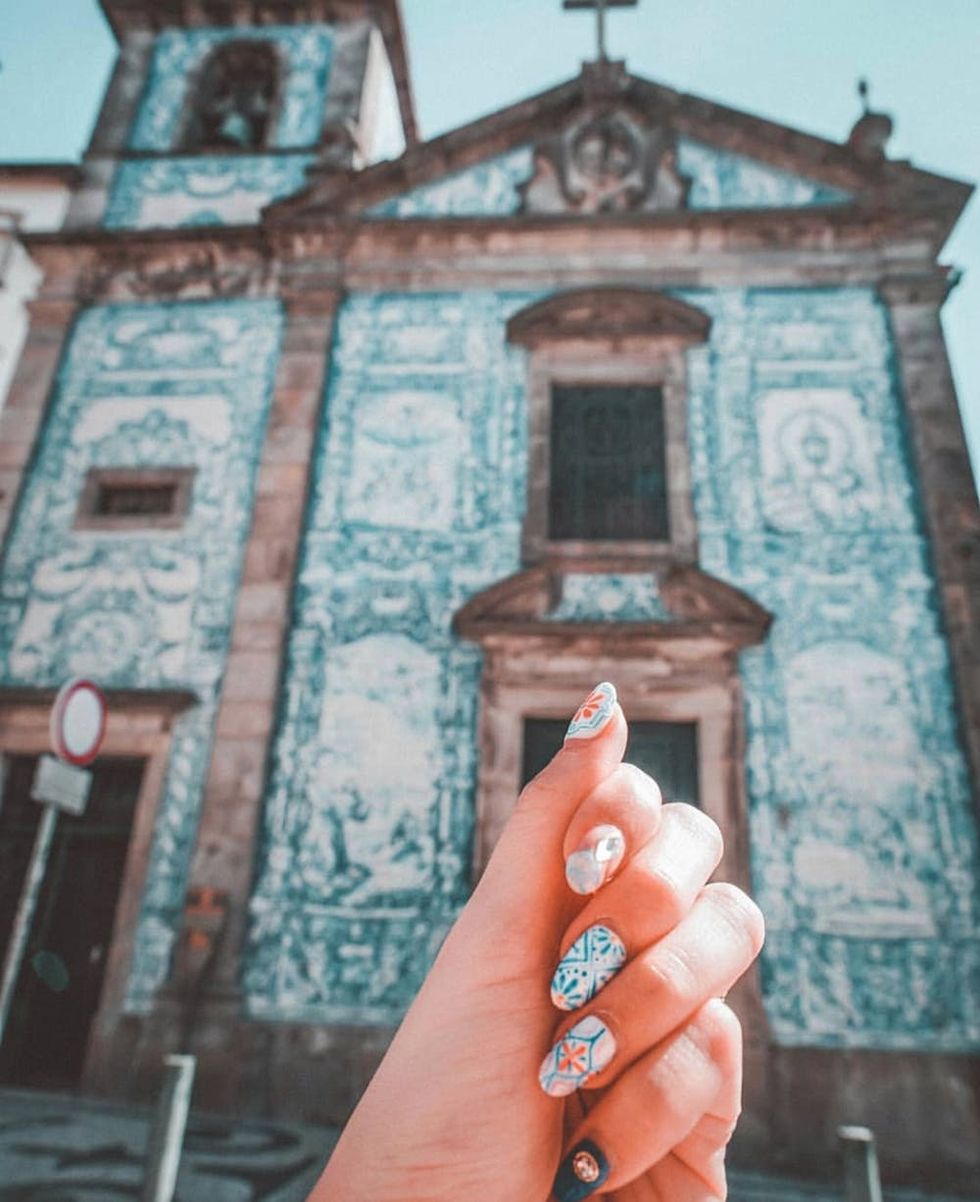 8. Tiled Teal (via @estherksz)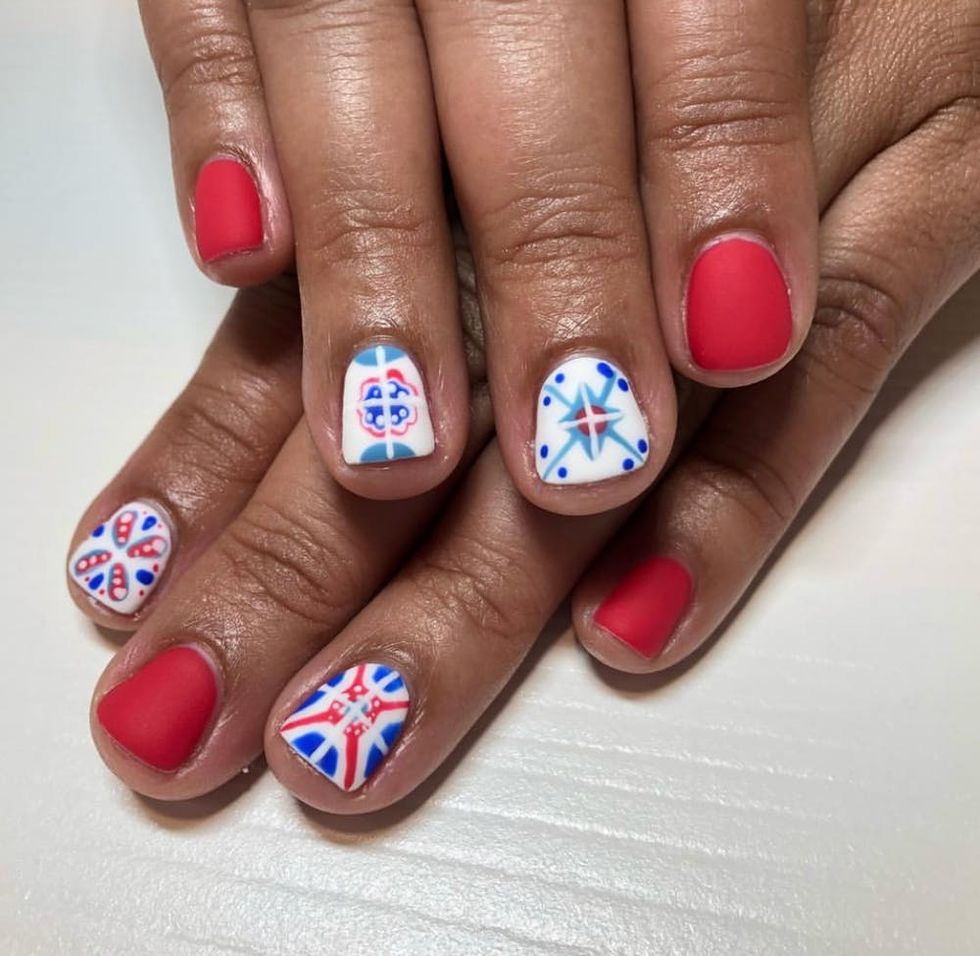 9. Cherry Bomb (via @clawedupbymoni)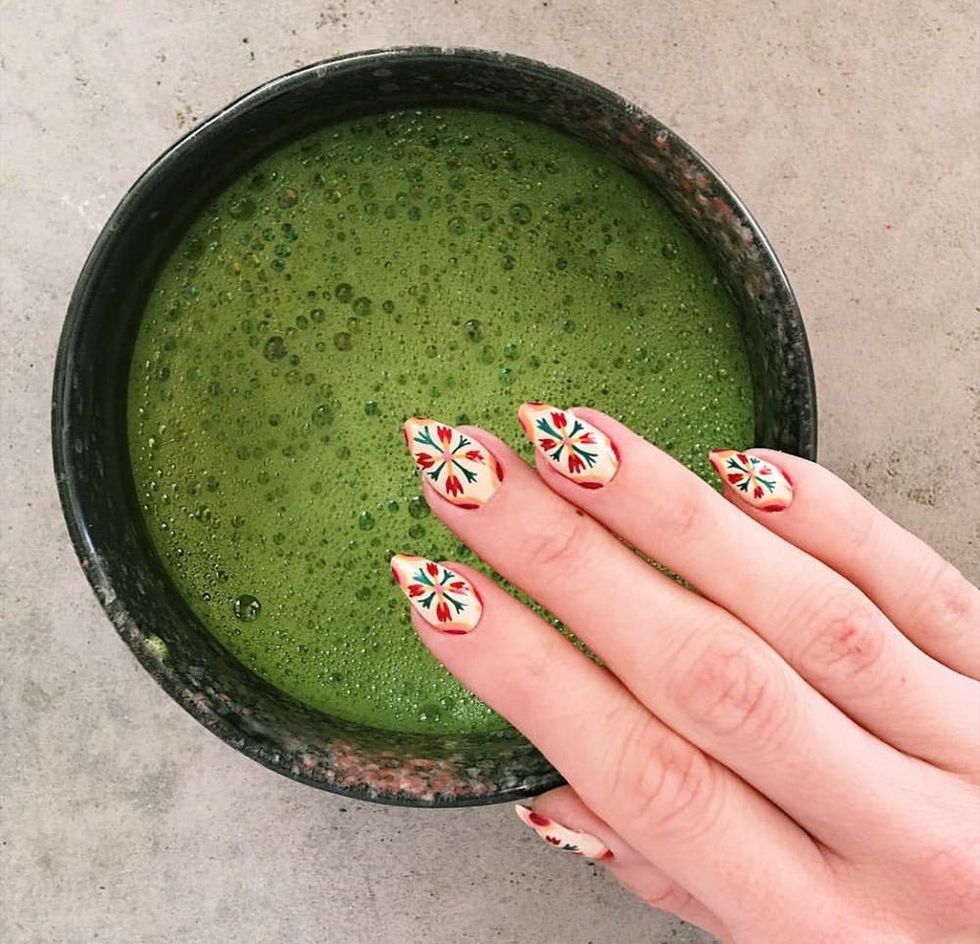 10. Swiss Tulips (via @nailthoughts)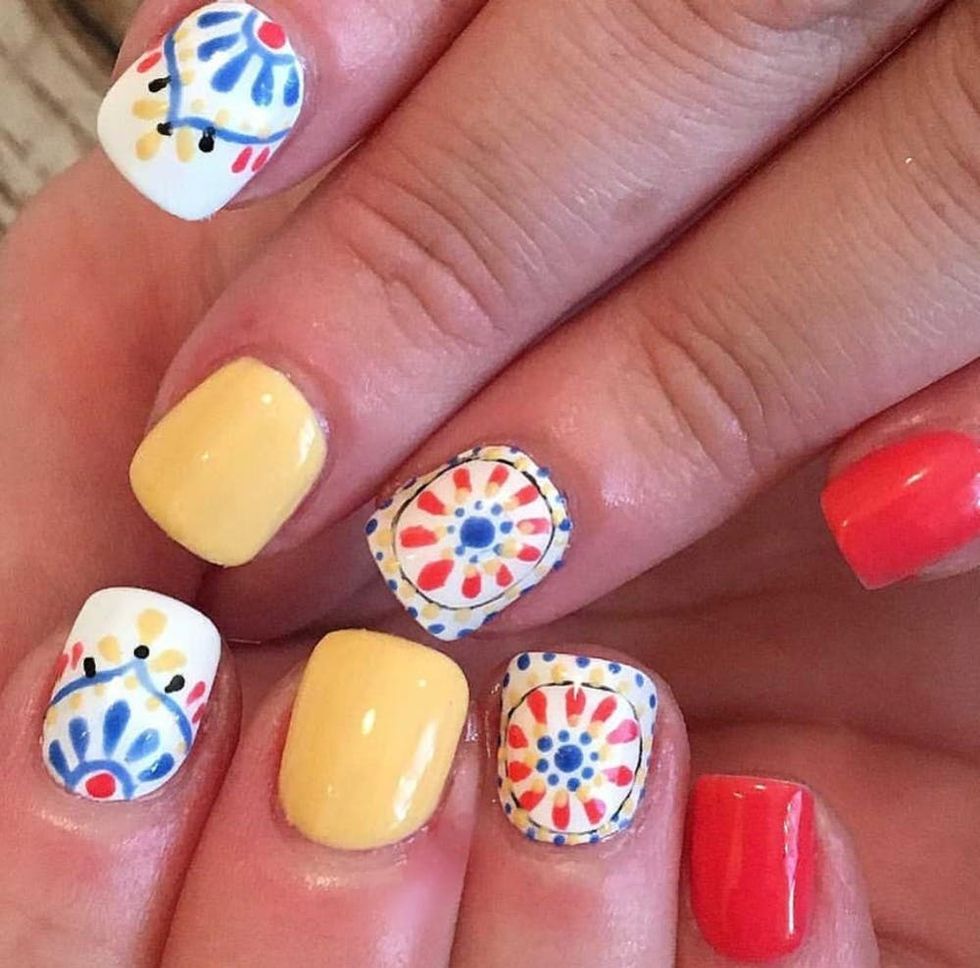 11. Sunburst (via @sanctuaryspatradition)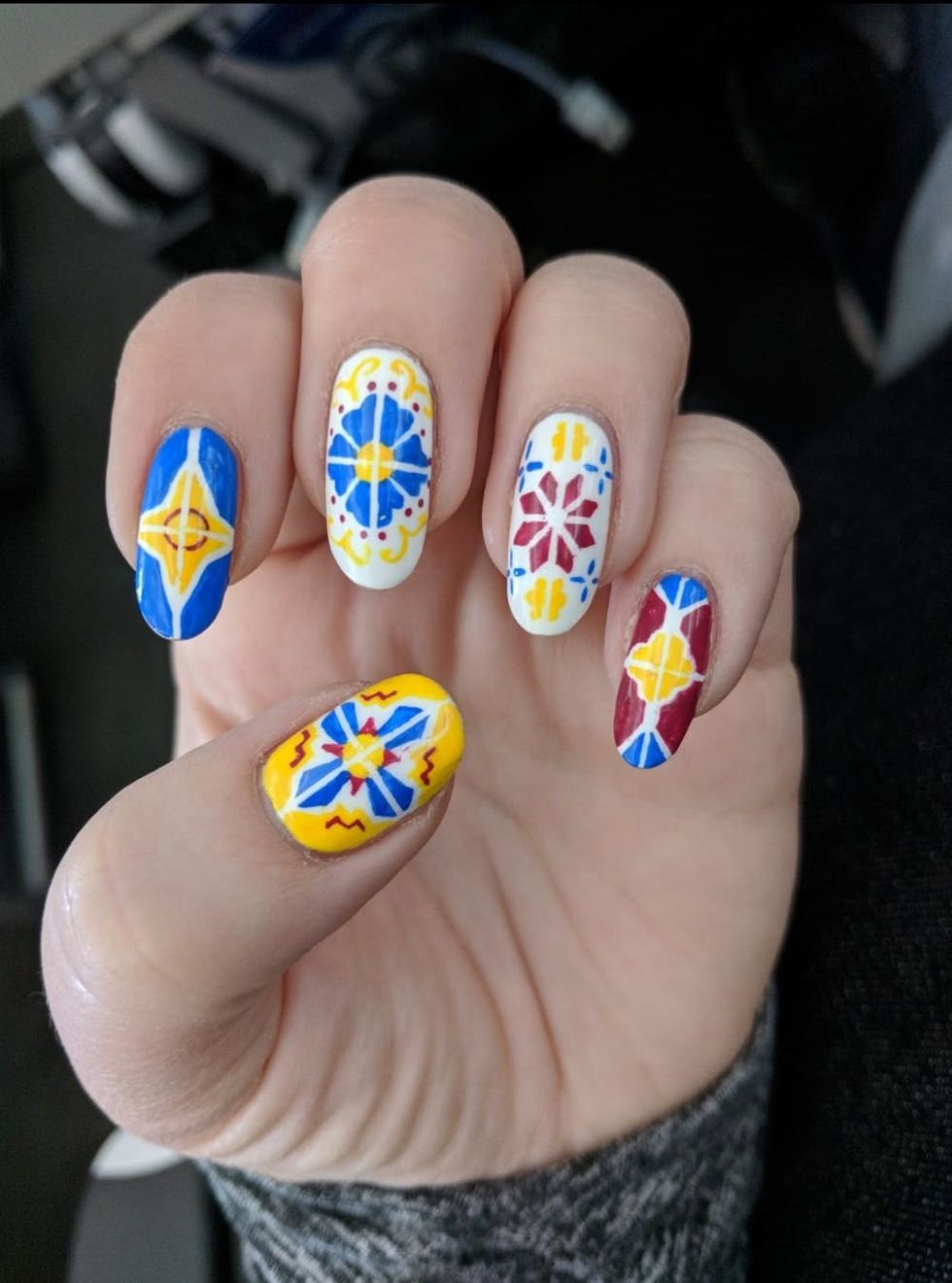 12. Primary Polish (via @thepolishedbean)
13. Indigo Eyelets (via @honestlyombre)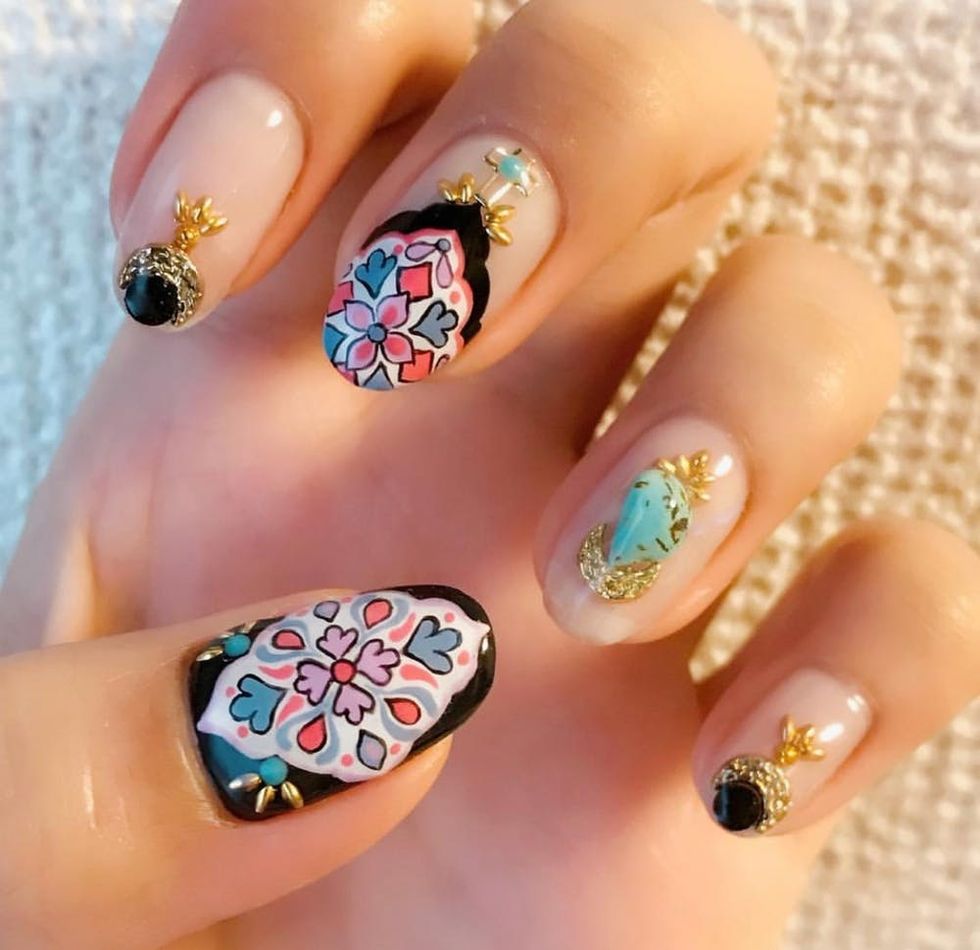 14. Turquoise and Onyx (via @nailland_eriko)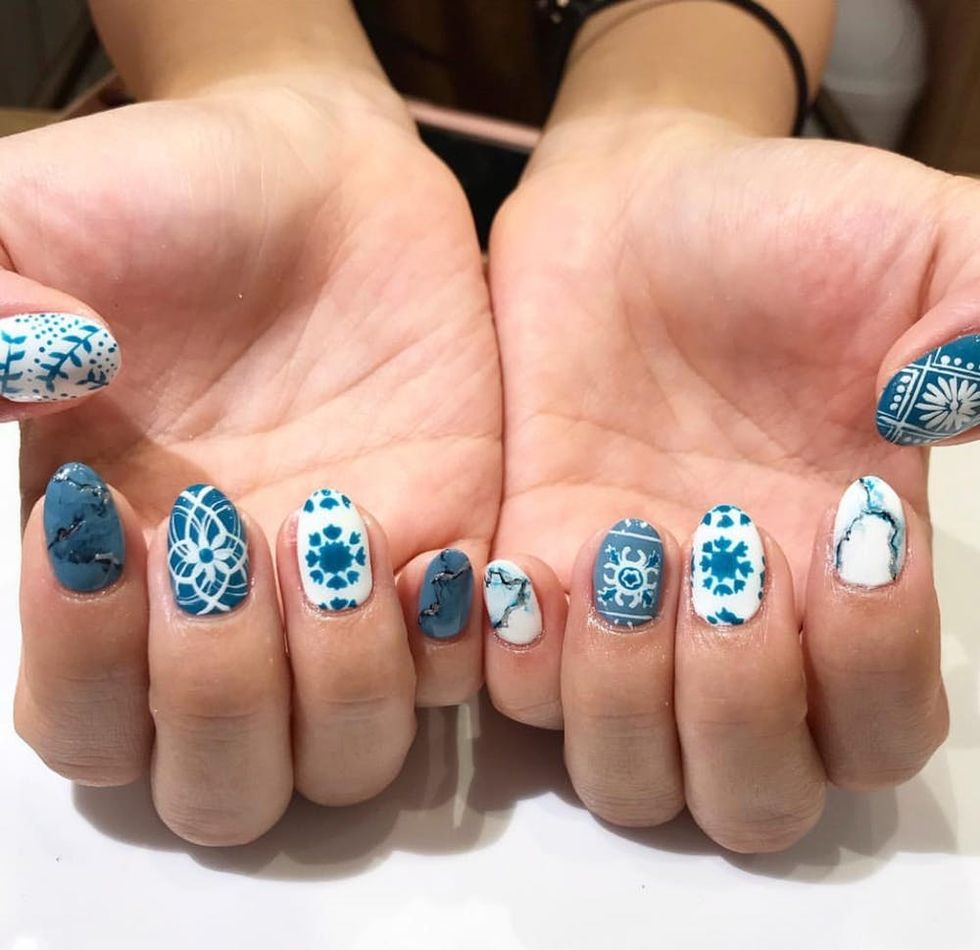 15. Azure (via @daisynailsgram)
RELATED: Pretty Polished: How to DIY the Pop Art Nails Trend
Jessie Quinn
Jessie Quinn is a Los Angeles-based writer with work published in NYLON Magazine, StyleCaster, Girlboss, and more. Outside of her work, Jessie creates colorful content for her beauty and wellness blog, Hair Skin Kale (@hairskinkale) and runs a women's empowerment website and blog called Goods For Girls (@goodsforgirls.club). When she's not online, she spends quality time with her garden, craft box, and favorite TV show, Friends.