19 Edible Coconut Bowls That Will Give You Serious Summer Island Vibes
Jun 06, 2016
The temps are starting to rise, which means you're pulling out your best swimsuits and sandals and looking to beat the heat at the beach. Even if you're not embracing your wanderlust by traveling to a far-off sandy island, we know you still want to feel those tropical vibes. So why not eat and drink your way to the tropics?! We already have you covered with seriously yummy boozy slushies, but now you can take your tropics game to the next level with the latest food trend: edible floral coconut bowls. These treats are definitely cool for the summer.
---
1. Tropical Floral Fiesta: Even a dreary work-week morning will feel like a tropical getaway with one of these edible açaí bowls.
2. Berries + Cream: Looking for something a little more on the sugary side? Treat your sweet tooth with this perfectly pink smoothie bowl topped with *everyone's* favorite cookie (Oreos, duh).
3. Ruby Red: Grab the prettiest ruby-hued berries you can find to make this delicious bowl. Add a fun straw and top with some coconut shavings for a meal that is almost too good to eat.
4. Savory Side: Coconut is definitely not just for your breakfast and dessert. Mix together some wok noodles, curry and seafood for a bowl you can eat for lunch or dinner.
6. Summery Salad: Who wants to eat a fruit salad in a plain old bowl? Whip up your fave combo of produce and toss it in a coconut bowl for a meal that is picture perfect.
7. Pear Presentation: Don't shy away from fall fruits! Adding a delicious pear to your green bowl definitely enhances the flavor while giving it a pretty appearance.
8. Orchid Overlay: Orchids are summer's flower. Top your fruity bowl off with one of these bad boys and you'll *almost* hear the sounds of the ocean.
9. Coconut Combo: Coconut times two means double the fun. Spoon some delectable coconut curry into your bowl for a serious chow down.
10. Pitaya Picnic: Exotic fruits are the hot chocolate of summer. Throw in some pitaya or lychee for a perfect sunny day snack to help you cool down.
11. Goji Mojo: Goji berries, FTW. If you've never tasted a goji berry, you are seriously missing out. This strong but sweet dried fruit is the ideal addition to a coconut cup.
12. A Coconut a Day: Coconuts and apples are definitely good for the body and soul. Keeping these fruits in your produce armory is a must for your summer health kick.
13. Cuckoo for Kiwi: Who can resist a juicy kiwi? Chop up this summer fruit and top off your coconut bowl for a tasty treat that you and all your friends will love.
14. Strawberry Centric: More of a one-fruit-only kinda gal? No worries, coconut goes amazingly with strawberries, bananas and basically any other fruit.
15. Mindfully Minted: Herbs can go really well with lots of different fruits, and mint leaves are no exception. Why not add in some mint for a refreshing way to refuel on a hot day.
16. Floral Addition: Warm weather means gorgeous florals are out to play, so why not add some blossoms to your bowl for a treat that will definitely make your friend's mouths water.
17. Chia Chow: If you aren't on the chia train, now is definitely the time to jump on! These tasty seeds have so many health benefits, and they also go perfectly with any juice or smoothie.
18. Beet the Heat: Veggies and fruit are a pair that definitely are supposed to mix. A mash-up of beet and berries goes great with the slightly bitter-ish bite of the coconut.
19. Starred Smoothie: Presentation is key. Cut your fruit into your favorite shape, whether it's stars or hearts, for a pretty and fun coconut bowl arrangement that is definitely Insta-worthy.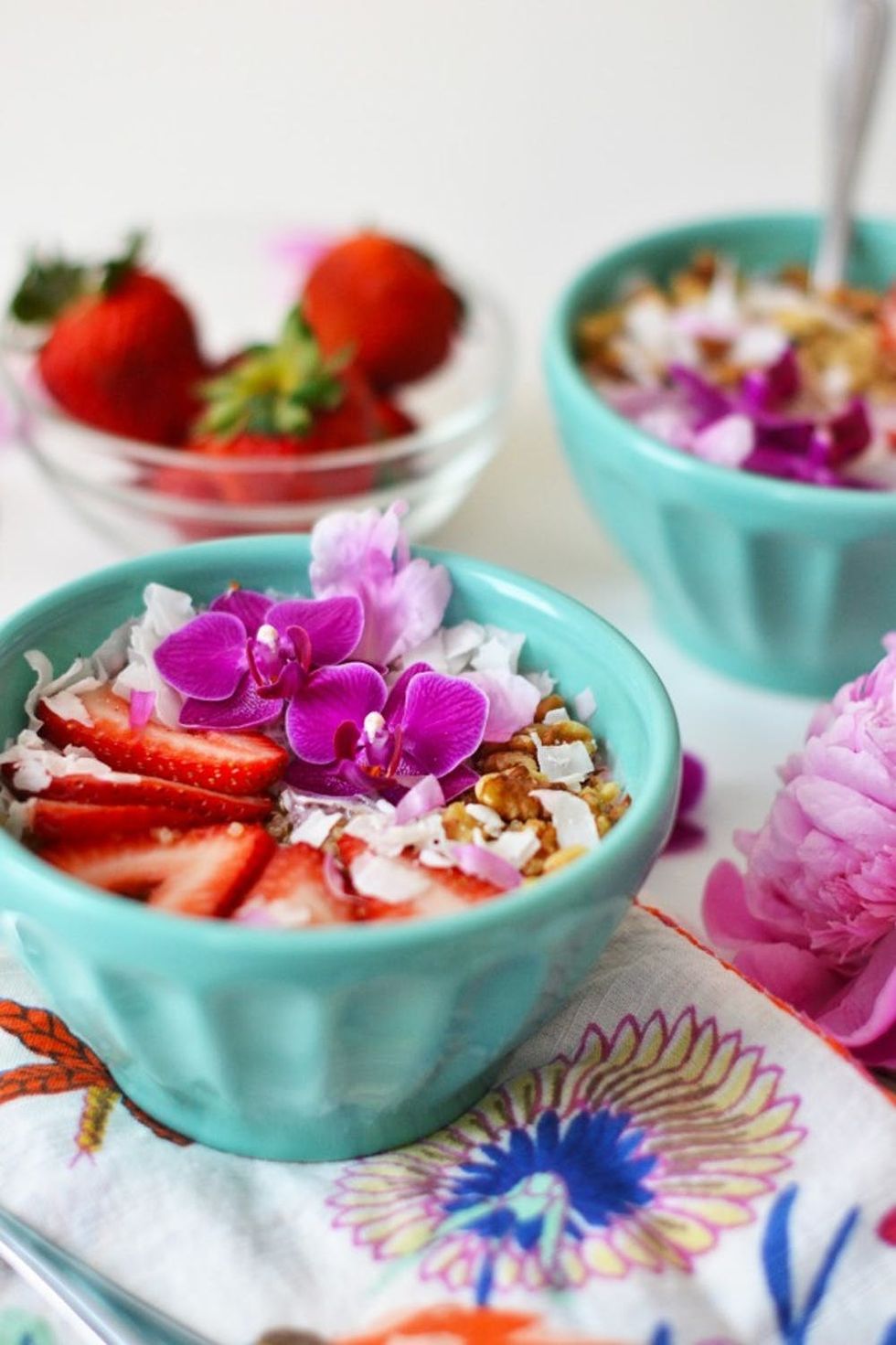 Bonus: This coconut bowl-free Strawberry Chai Quinoa Bowl is filled with some seriously yummy and wholesome ingredients that might make you forget all about your normal go-to sugary snacks.
Are you thinking of trying out this yummy edible bowl trend for summer? Follow us on Pinterest for more food inspo.