8 Hilarious Maternity Shirts to Dress Your Baby Bump
Dec 09, 2016
You've got nine long months to celebrate your baby bump, so why not have a little fun with it? Even if your maternity style goals include copying Blake Lively's French girl vibe or creating your own bump-friendly street style, there's still plenty of room for adding in a little humor too. Here are eight fun maternity shirts to keep the giggles going right up to delivery day.
---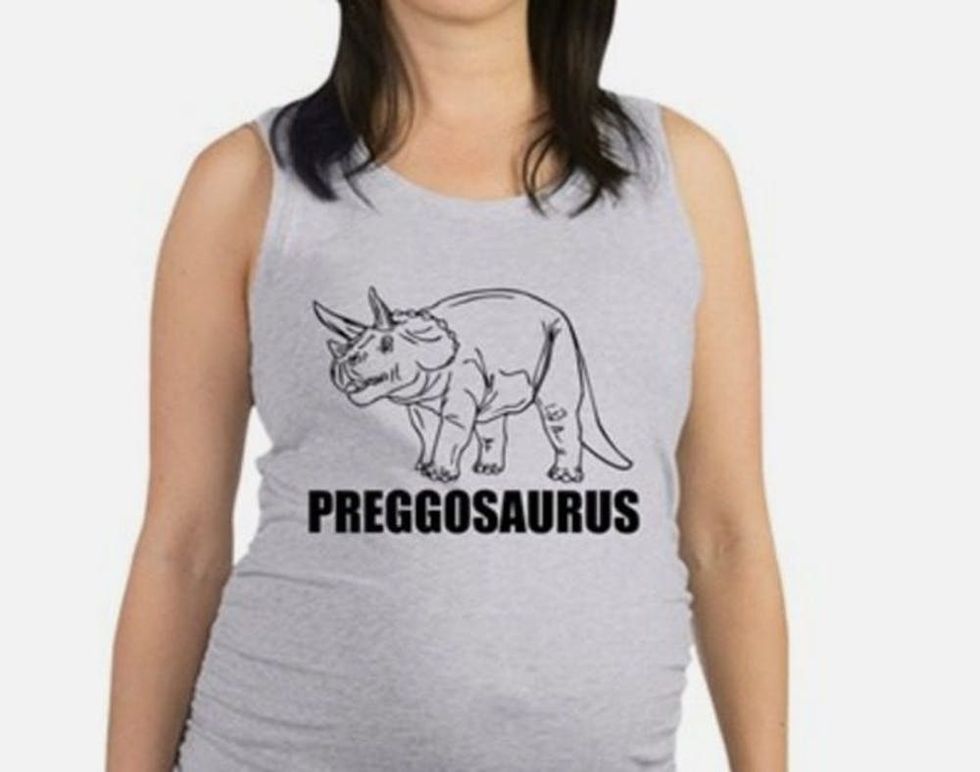 1. Cafe Press Preggosaurus Maternity Tank Top ($24): This shirt isn't just funny, it's made with preggosaurus mamas in mind. This all-cotton tank top is soft and stretchy with added length to hug your hips for a flattering fit.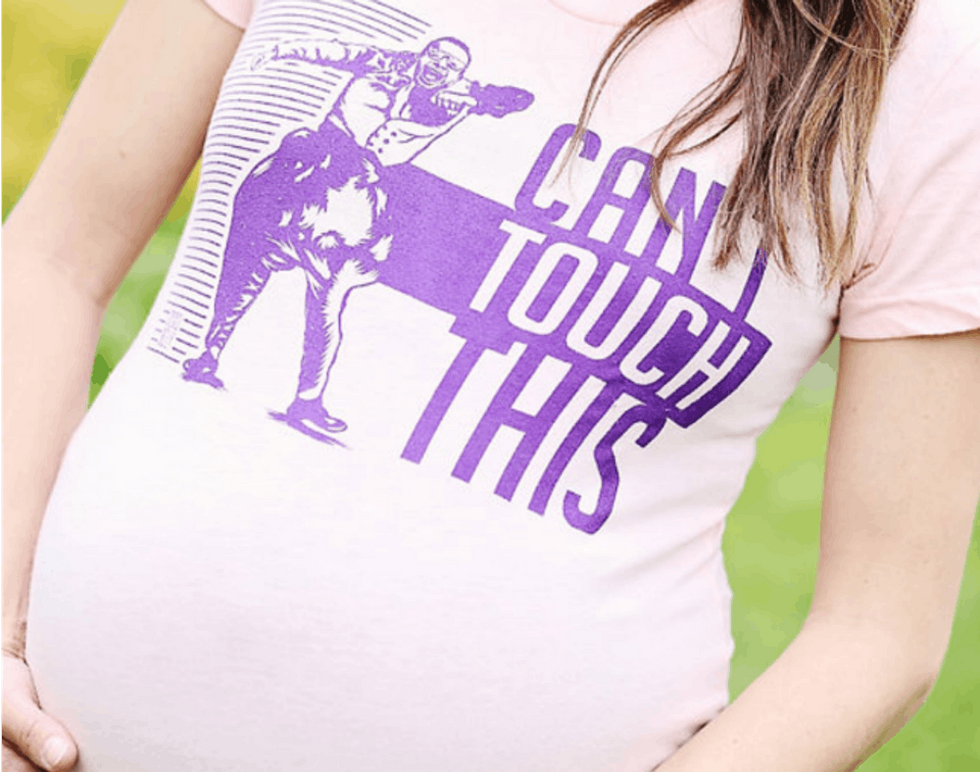 2. Disco Belly "Can't Touch This" Maternity Shirt ($22): You might hear "Stop. Hammer time!" all day, but the laughs will be worth it. This shirt also doubles as a clever way to tell pushy belly touchers to keep their distance with a little tongue-in-cheek message from your pal M.C. Hammer.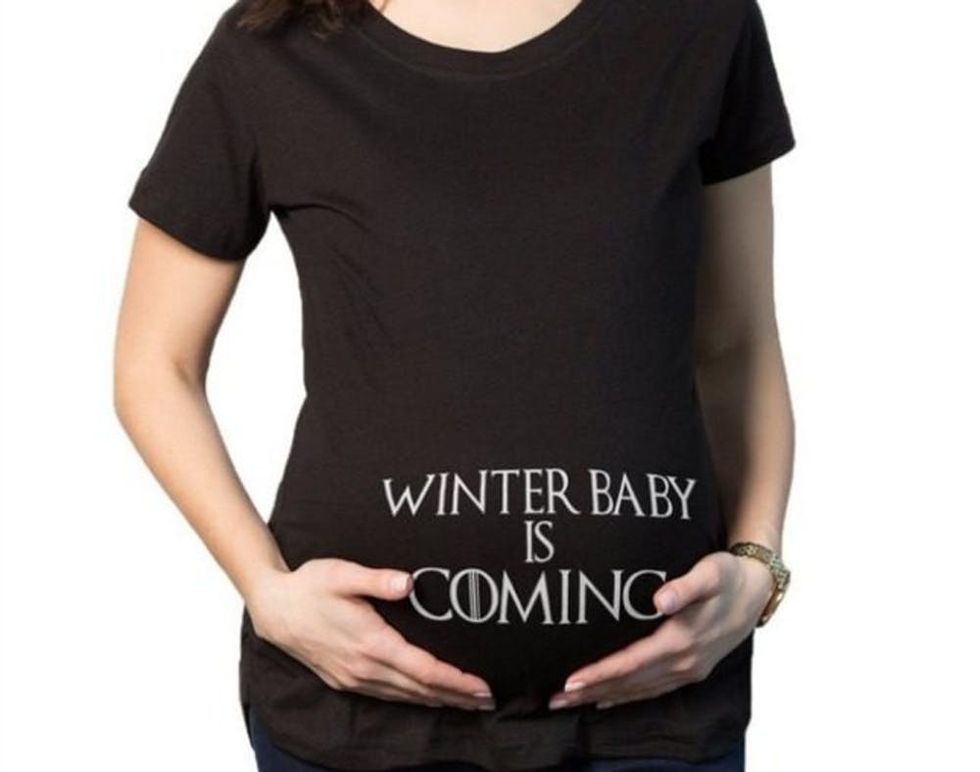 3. Crazy Dog T-Shirts "Winter Baby Is Coming" Shirt ($22): Tell everyone that your winter due date will not be ignored. Wear this while you wait to welcome the newest Stark, Targaryen or Lannister into your house.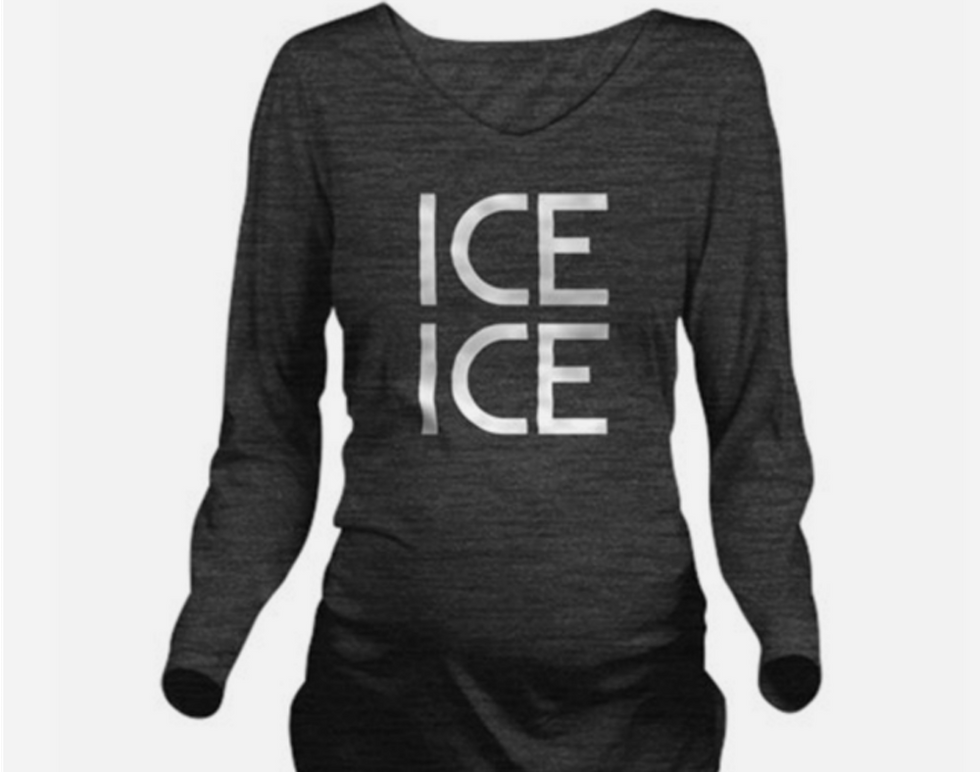 4. Cafe Press "Ice Ice" Long Sleeve Maternity Shirt ($43): Stay cool as ice with another iconic '90s song reference. Let your baby bump finish the line while you stop, collaborate and listen to the laughs from everyone who reads your shirt.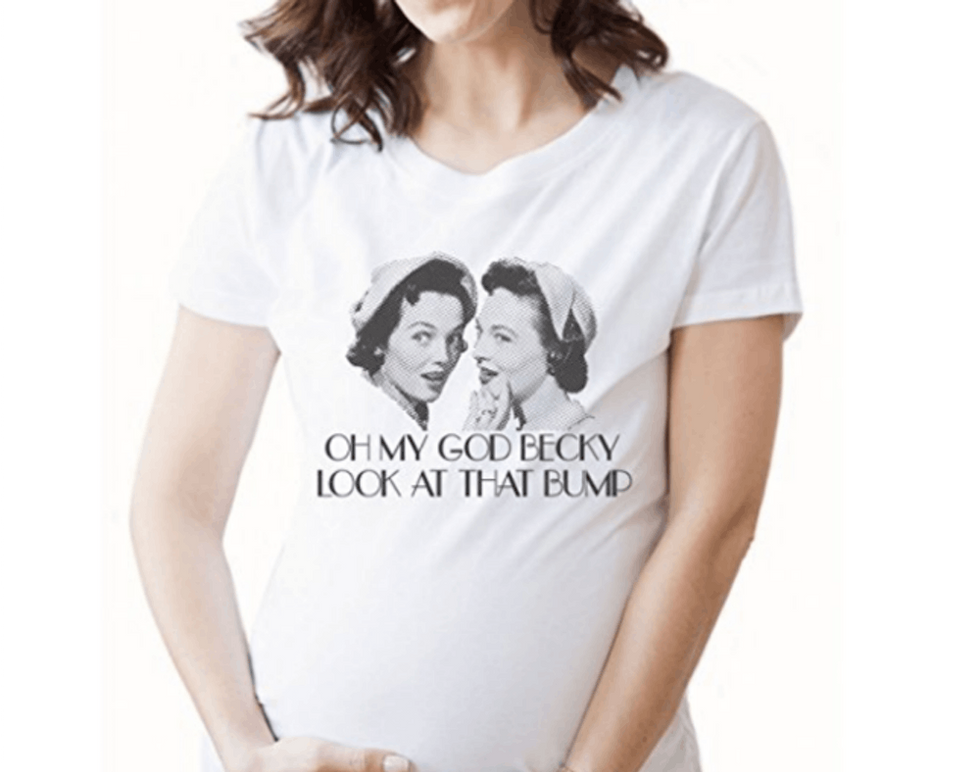 5. Crazy Dog T-Shirts "OMG Becky Look at That Bump" Shirt ($22): You may have the song stuck in your head the whole day from people spontaneously busting out the lyrics to this epic '90s hit. It's just too hard to NOT have fun with!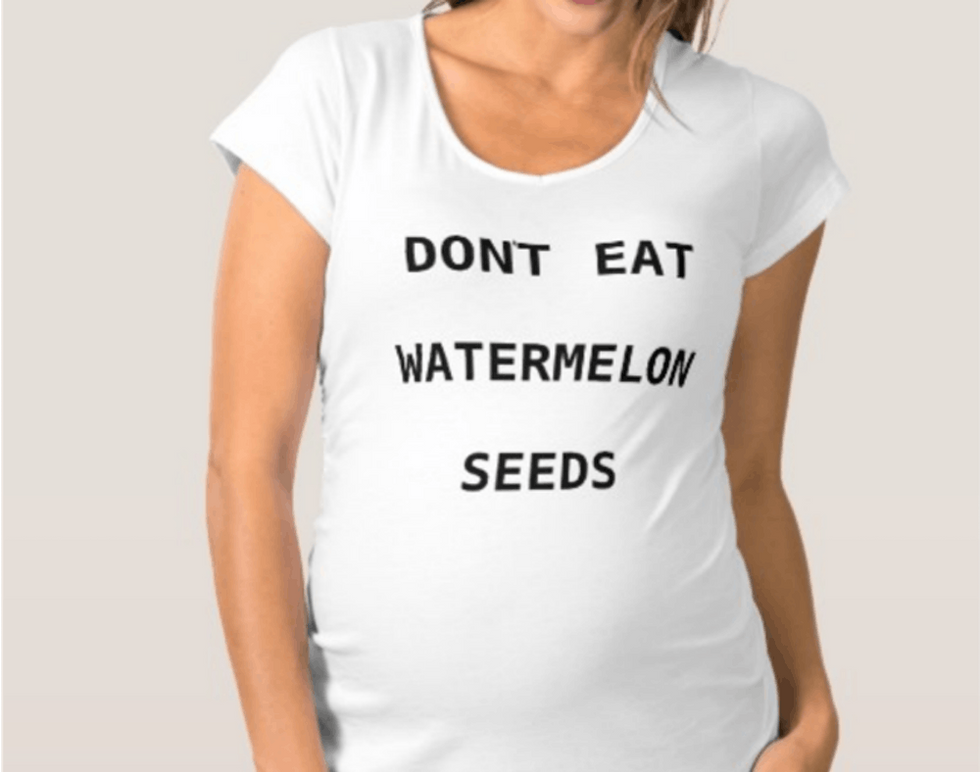 6. Zazzle "Don't Eat Watermelon Seeds" Maternity Shirt ($26): This shirt pokes a little fun at your growing belly in a sweet, but still hilarious, way. What's even better is the basic-but-cool style of this shirt can go from couch to casual Friday in the office.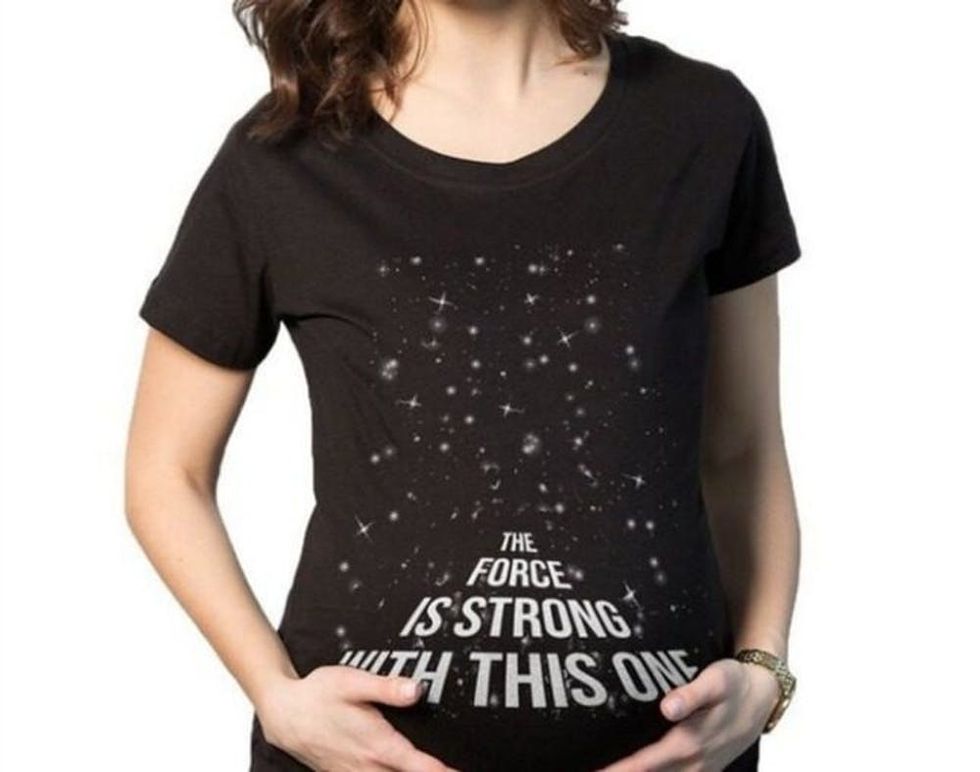 7. Crazy Dog T-Shirts "The Force Is Strong With This One" Shirt ($22): Give a sweet nod to your Star Wars obsession with a fun shirt that announces the arrival of your little Jedi.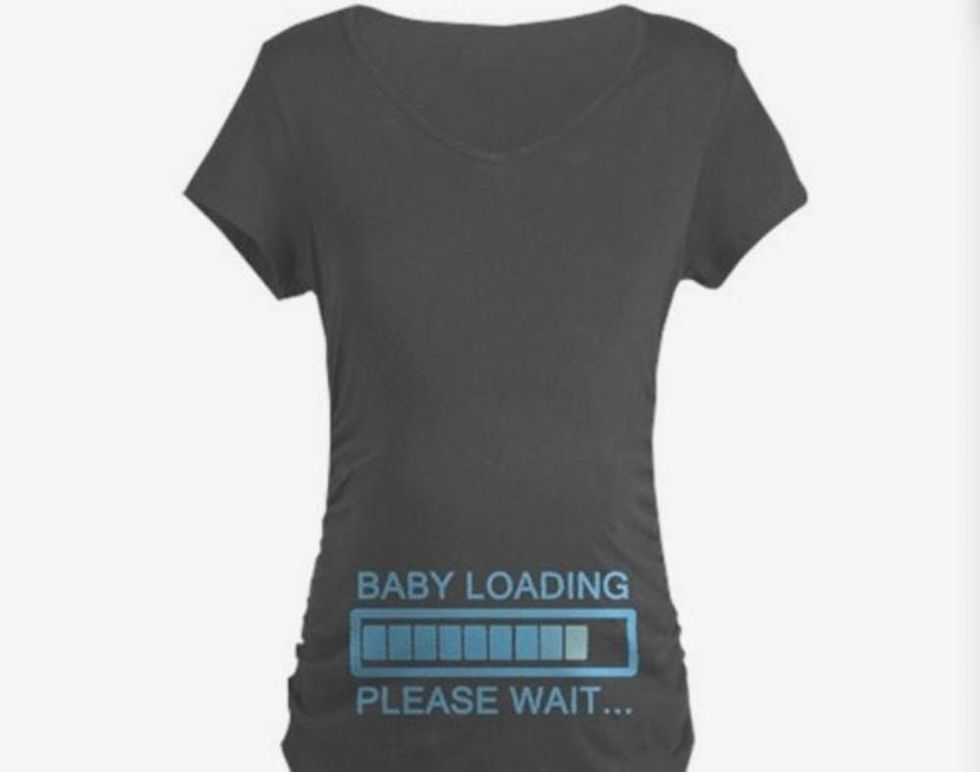 8. Cafe Press "Baby Loading Please Wait" Shirt ($39): Perfect for the techy mom-to-be, this shirt will get an easy laugh from everyone who reads it.
What funny maternity shirts have you been wanting to buy? Tweet us your faves @BritandCo!
Brit + Co may at times use affiliate links to promote products sold by others, but always offers genuine editorial recommendations.