Get Your DIY Skills in Order — This Cleopatra Costume Is for the Advanced
Aug 31, 2018
Not sure what to be this Halloween? Instead of joining a group of pals as yet another Snapchat filter, why not stand out with a costume that's part Ancient Egyptian, part badass babe? Cleopatra is the ultimate Halloween look, and with a little patience, some careful eyeliner, and well-chosen accessories, you'll be able to craft up a Queen-of-Egypt-inspired Halloween costume that's sure to blow everyone away. And since not everyone is a DIY pro, we're going to show you how to do a Cleopatra costume no matter whether you're a beginner or a master-level costumer.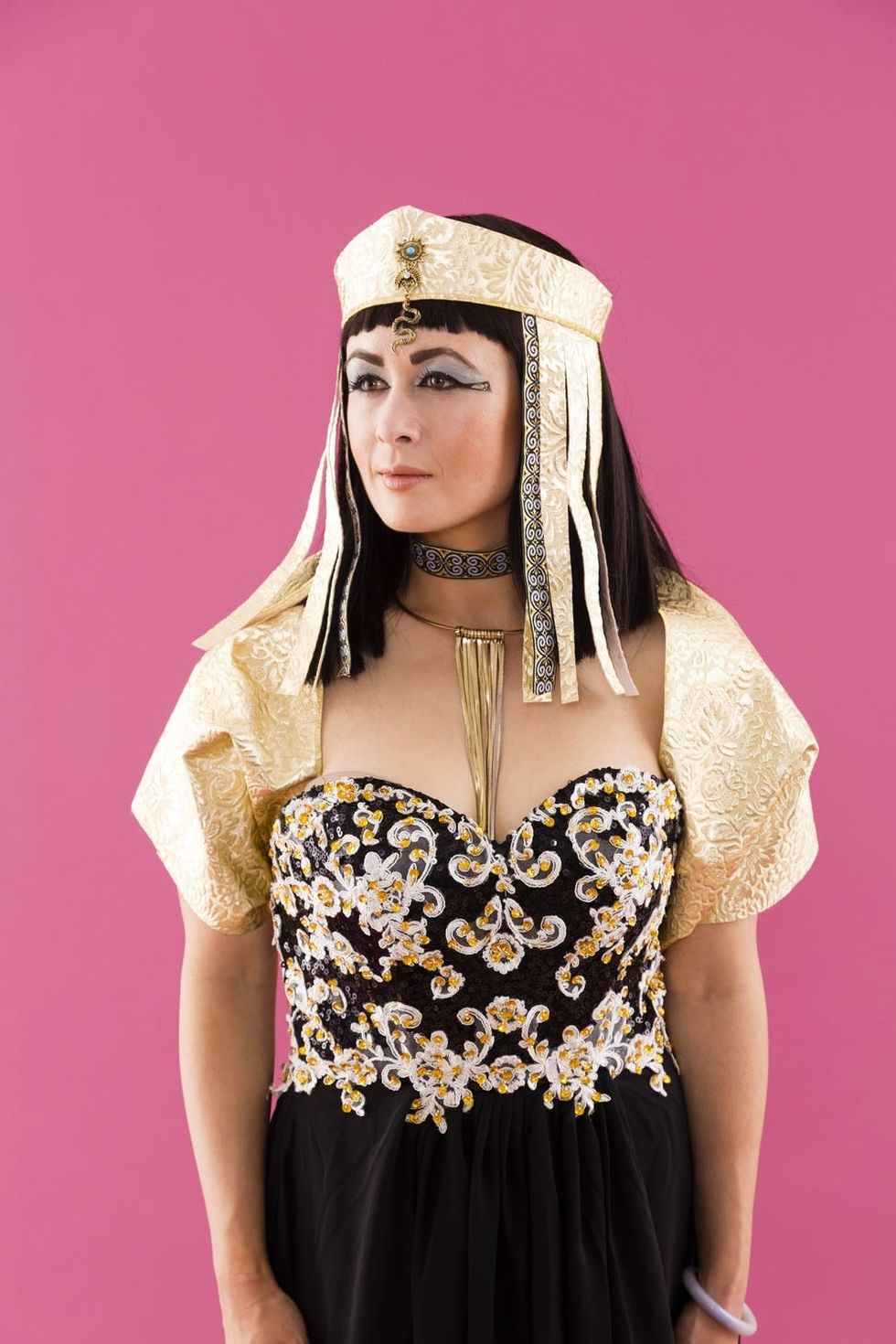 ---
This time around, it's all about a little DIY combined with a seriously advanced makeup and accessory game. Think: a blinged-out prom dress taken to the nines, paired with geometric winged liner to boot. Below we show you how.
What you'll need to bring your look to life:
bedazzled prom dress (thrifted)
gold fabric (we used a thrifted table runner)
gold drop necklace
trim with print
How to put it all together: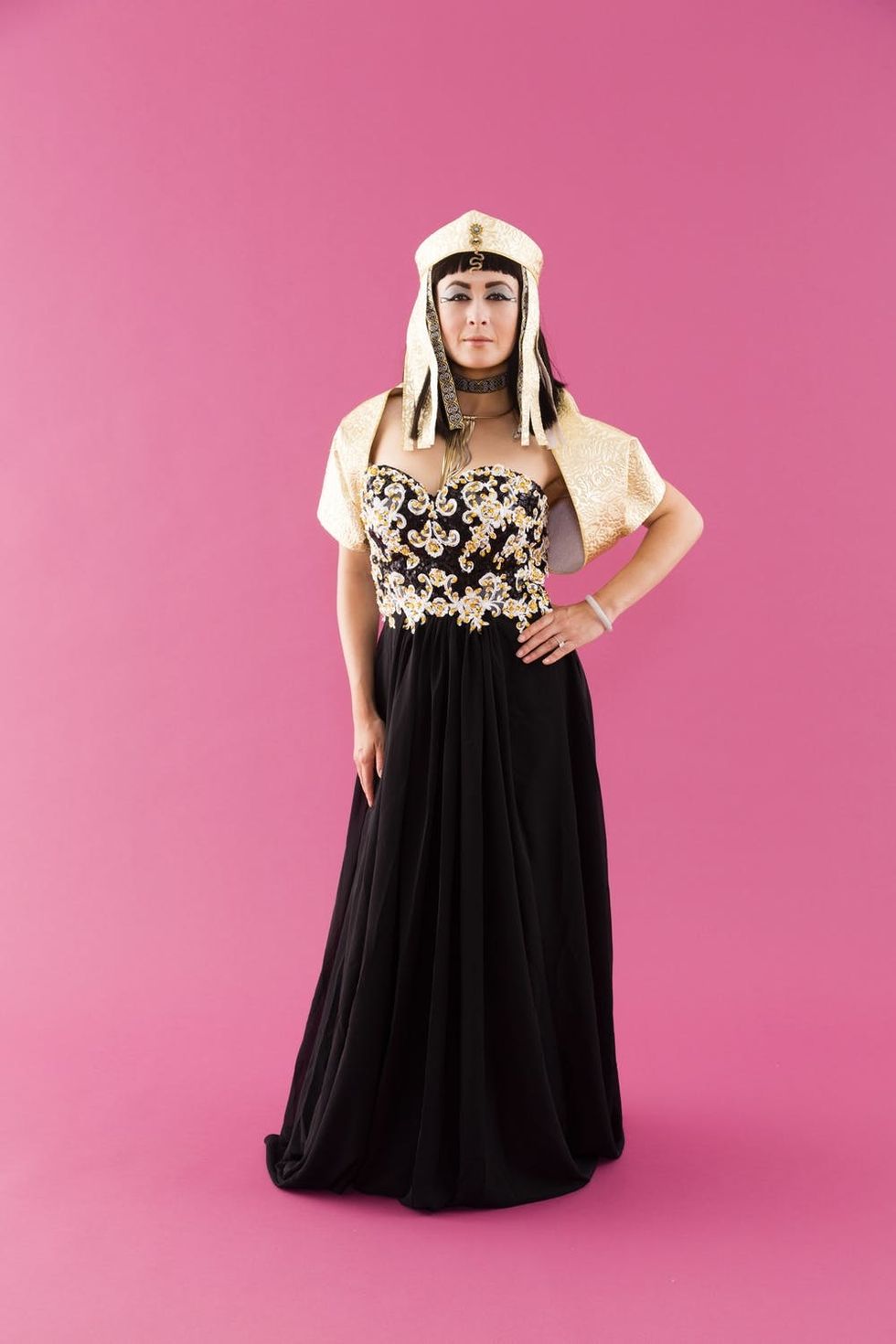 Try your hand at styling. Even though you've bought a wig with bangs, there's a good chance that they're not cut to Cleopatra's liking. Lay your wig flat and use a pair of ultra-sharp scissors to snip the bangs a tad shorter than they already are. The goal isn't so much baby fringe as it is micro bangs, so be sure to cut them about an inch up from your brows. To make sure you have the right length, try the wig on first to get a feel for how much to cut.
Create your custom headpiece. To make the headpiece, cut out a crown shape strip of your gold fabric and hot-glue it to fit your head.
Take it up a notch. Next, cut fabric strips to hang from the sides of your crown to create a Pharaoh-inspired look. Snip these pieces up the side to create a fringe effect and hot glue them to the sides of your headpiece. Next, add the patterned trim to each side, and use the leftovers to make an eye-catching choker to go around your neck.
Give your crown the finishing touch. Add the snake earring to the center of the crown for an embellished finish.
Slay your Cleopatra face beat. Start off with our flawless face tutorial to master your base. Next, sculpt your brows using black or deep brown shadow or a brow pencil. In true Cleopatra fashion, you want to *really* exaggerate your arches. After you've beat your brows to perfection, sweep a light blue metallic shadow across your eyelids, highlighting with a brighter, lighter blue on your brow bone, inner eye corners, and center of your eyelid. Next, apply a slightly deeper blue in the crease and outside corner to add depth and shape. Once you've nailed your eyeshadow, use liquid liner around the rim of your eye, extending it out to create a geometric wing. To really spice things up, go over your upper eyeliner line with a gold glitter liner and fill the triangle wing with the same light-reflecting color. Finish your look with a set of voluminous false lashes, a nude lip, and bronze-y blush — et voila! You're ready to steal the room as you walk like an Egyptian.
THE FINAL LOOK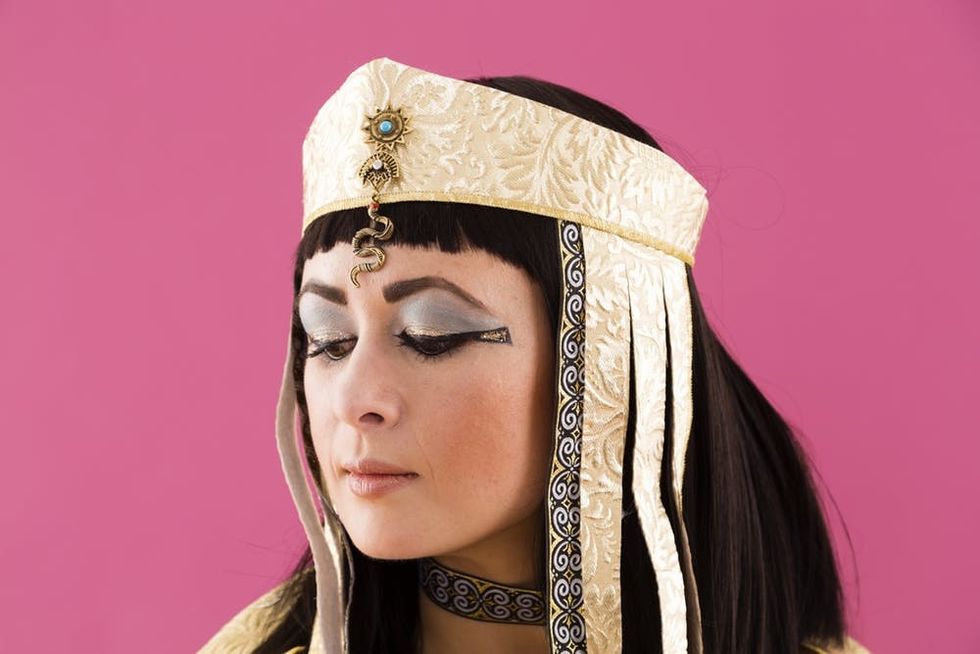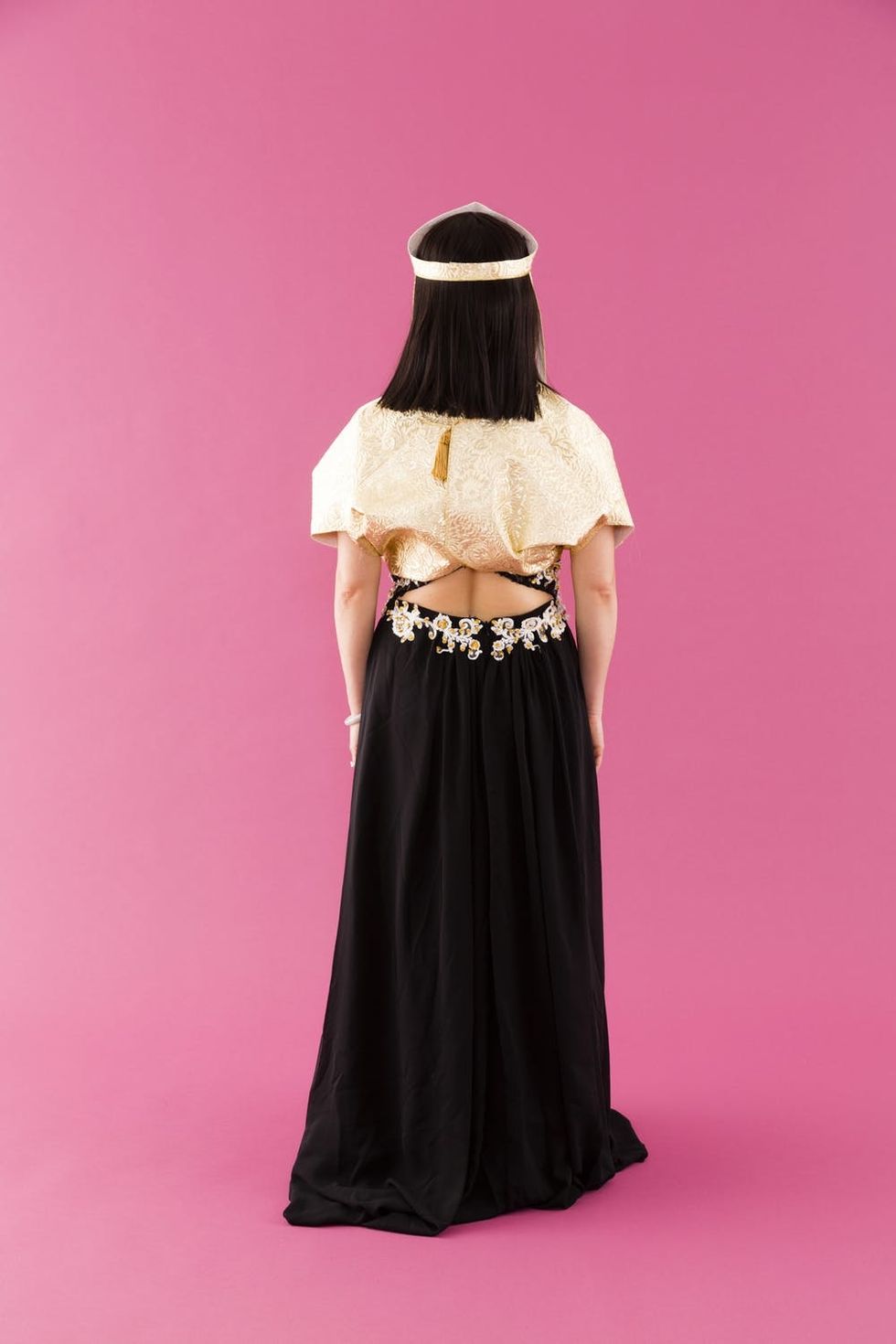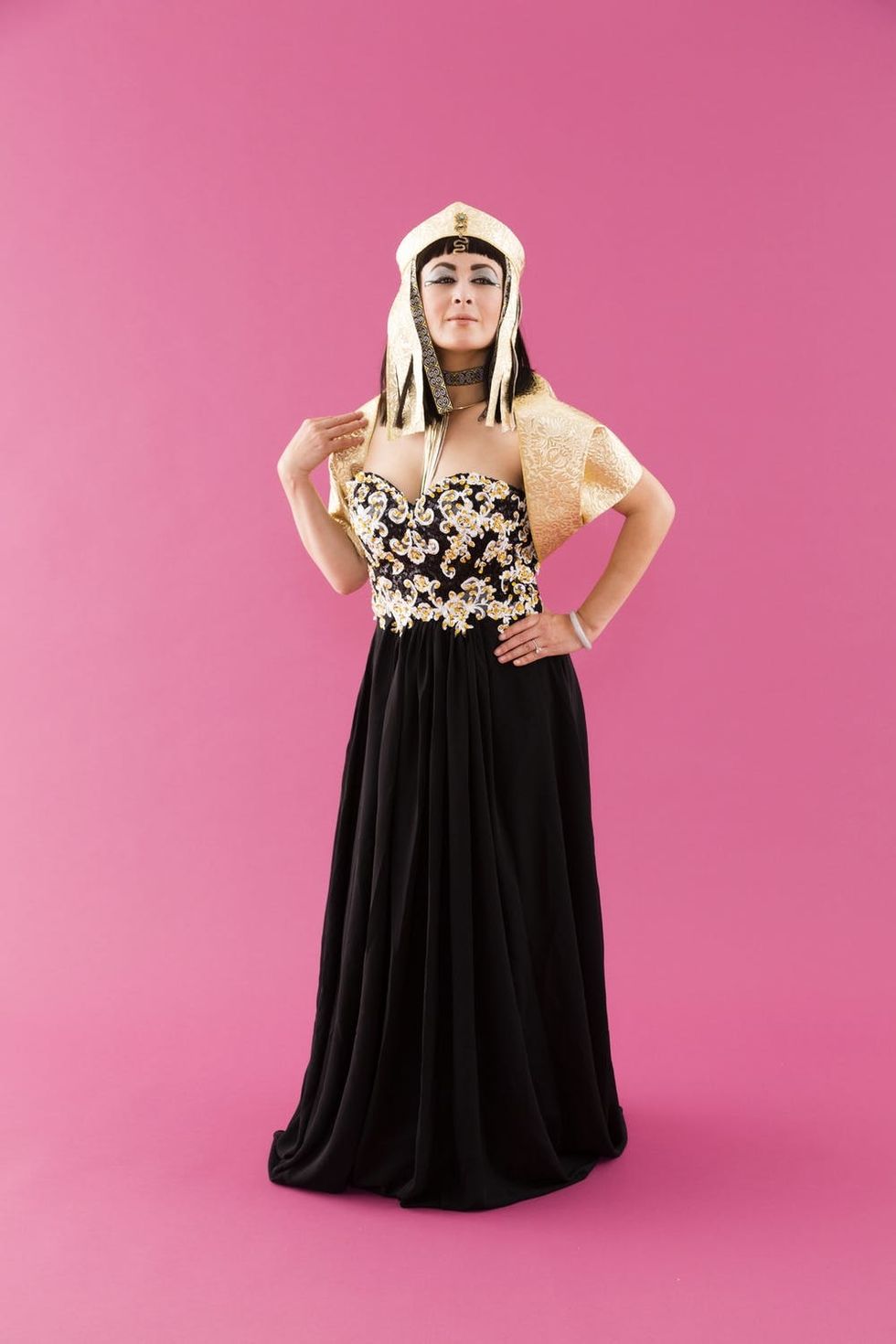 Looking for more good costume inspo? Head to our Halloween page.
Production, Wardrobe, Hair, and Makeup: Misty Spinney
Photography: Kurt Andre
Model: Rachel Florez
Additional reporting by Rebecca Norris
(All photos by Brit + Co)
Brit + Co may at times use affiliate links to promote products sold by others, but always offers genuine editorial recommendations.
Misty Spinney
Misty Spinney is a hair stylist, makeup artist, and fashion stylist with a strong background in design and deep passion for creativity.
Halloween Costumes