You Can Now Get Your Zodiac Sign Tattooed on Your Face — in Freckle Form
Nov 08, 2017
Freckles have seen a surge in interest lately, whether it's celebs revealing theirs on social media or people putting faux marks on their faces — both temporarily and semi-permanently. But now, there's a new trend in the freckle arena, and it has to do with your zodiac sign.
---
Jessica Knapik, a cosmetic tattoo artist at Depot Town Tattoo in Ypsilanti, Michigan, is now offering something called AstroFrecks. With AstroFrecks, Knapik hides a star sign in the layout of the semi-permanent freckles she tattoos on clients' faces.
She told Bustle, "As many people are right now, I'm super into crystals and what your best intentions can do, and sending your goals and wishes out into the universe. So [the idea for Astrofrecks] just sparked from that. I also love things with hidden meanings. This way you could get your Mom's astrological sign, your Dad's, your Grandma's, and kind of pay tribute without getting a giant heart that says 'Mom.'"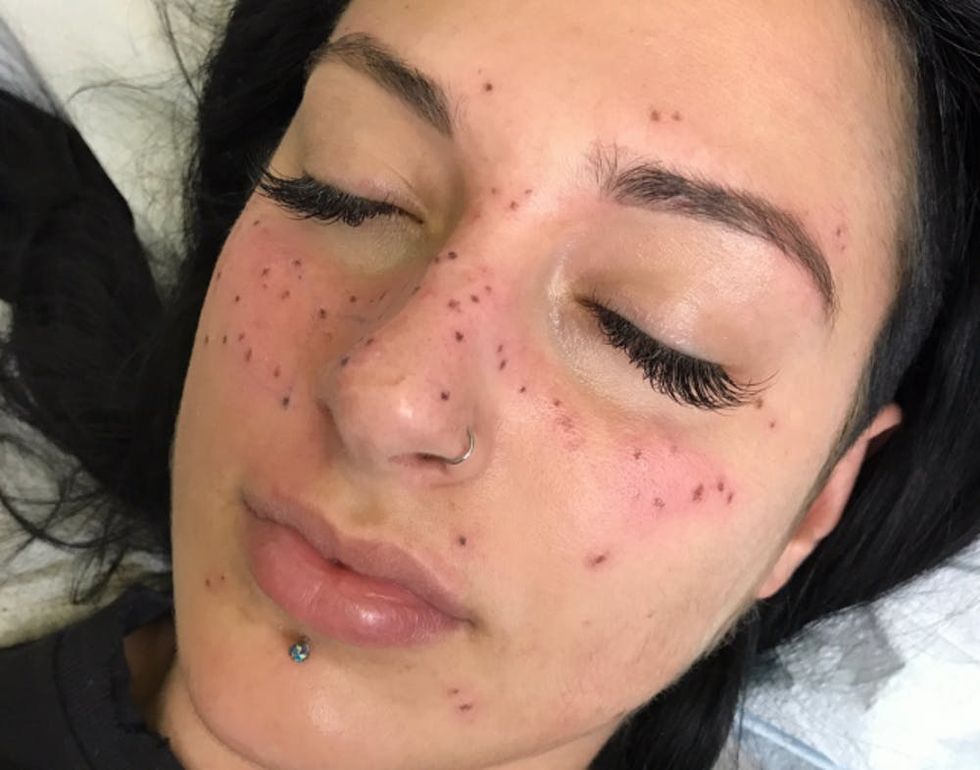 Knapik says she's only done one AstroFrecks tattoo, but considering how popular both astrology and faux freckles are, it probably won't be the last. Knapik says she'd love to do more: "I'm one of those people who can't just do things the easy way. I have to put my own spin on it. Yes, this does create a little more work and planning on my end, but it's totally worth it to do something unique and special for my client." Wearing your zodiac sign in your freckles? Certainly sounds like the stars are aligned on this trend.
Would you get your star sign tattooed in freckles? Tell us @BritandCo!
(Photos via Jessica Knapik/Instagram, Getty)
Shea Lignitz
Shea can be found in the nearest bookstore or brewery, exploring the great outdoors, or blasting Led Zeppelin. She grew up in the cold and rain of Northern California's redwoods but is currently wandering around Texas.
Beauty News
Still haven't taken up that new creative skills you swore you'd learn this year? Or ready to take your design skills to the next level? Let's say so long to the weirdest year ever by checking those big learn-something-new goals off our perpetual to-do lists.
We've teamed up with Clorox to give you the gift of unlimited creativity now through the end of the year. Once you sign up, you can take as many of our 120+ classes as you want for FREE for one whole month!
Here's how it works:

Head to brit.co/learn and sign up for the "All Access Pass."
Use the code "CLOROXCARES" at checkout to redeem your free month of classes.
You will be automagically signed up for Clorox's email list once you redeem your free all access pass. (It's the #1 Choice for Disinfection!)
Your pass lasts one month from when you checkout. This means you have unlimited access to all the classes during that month.
This offer is valid now through December 27, 2020.
Browse our catalog to find the right class for you, tell a friend and take the class together over Zoom, or organize a 'cocktails + crafts' night with a friend in your bubble so you can learn something new together.
What are you waiting for? Time to start learning all the things!

Thanks to Clorox for making this happen! When it counts, trust Clorox.
Lifestyle